Maximizing Mudroom Design with IKEA Cabinets and Semihandmade Customization
In This Article
Creating IKEA mudrooms that are affordable
Choosing custom door fronts to add style and function
IKEA cabinet hacks create clever storage options
You're an IKEA customer and you want something different with the new mudroom you're planning — but you don't know where to start. Maybe there's an awkward existing floor plan; or you have very unique storage ideas that require a deft design touch; or you need to accommodate the needs of your growing family (including your dog, "Fido" is a family member too!).
"IKEA mudrooms offer a unique opportunity to add value to your home with unique storage opportunities in a space that often needs to be durable, functional and stylish. IKEA cabinets give the client and us as designers a lot of options to make sure that happens," says IKD designer Daniel.
So, the answer can be very simple even if it seems like your design challenges are complex. Put another way: Custom design challenges often require custom solutions. And that means choosing custom cabinets.
By selecting IKEA's SEKTION kitchen system you can include custom door fronts from third-party custom cabinet door manufacturers, like Semihandmade (SHM), to complete your IKEA mudroom design. And your mudroom design is still open to IKEA cabinet "hacks," or modifications, to create the style and function you want.
Recently, IKD's design team did just that and incorporated Semihandmade custom doors and some clever IKEA cabinet hacks to create one-of-a-kind IKEA mudrooms that are stylish, functional and affordable. Oh, did we mention that part?
Yes, the mudrooms featured in this blog include custom elements and each were completed for under $3,000 while including all of the required design elements.
Let's see how to create IKEA mudrooms using Semihandmade doors!
---
Why Design
with IKD?
Why Design with IKD?
---
Unique Nine-Cabinet IKEA Mudroom Makeover
When you want an IKEA mudroom that is truly unique, it may require a cabinet modification or two. In the case of this IKEA mudroom for a family from Cincinnati, OH, it required nine.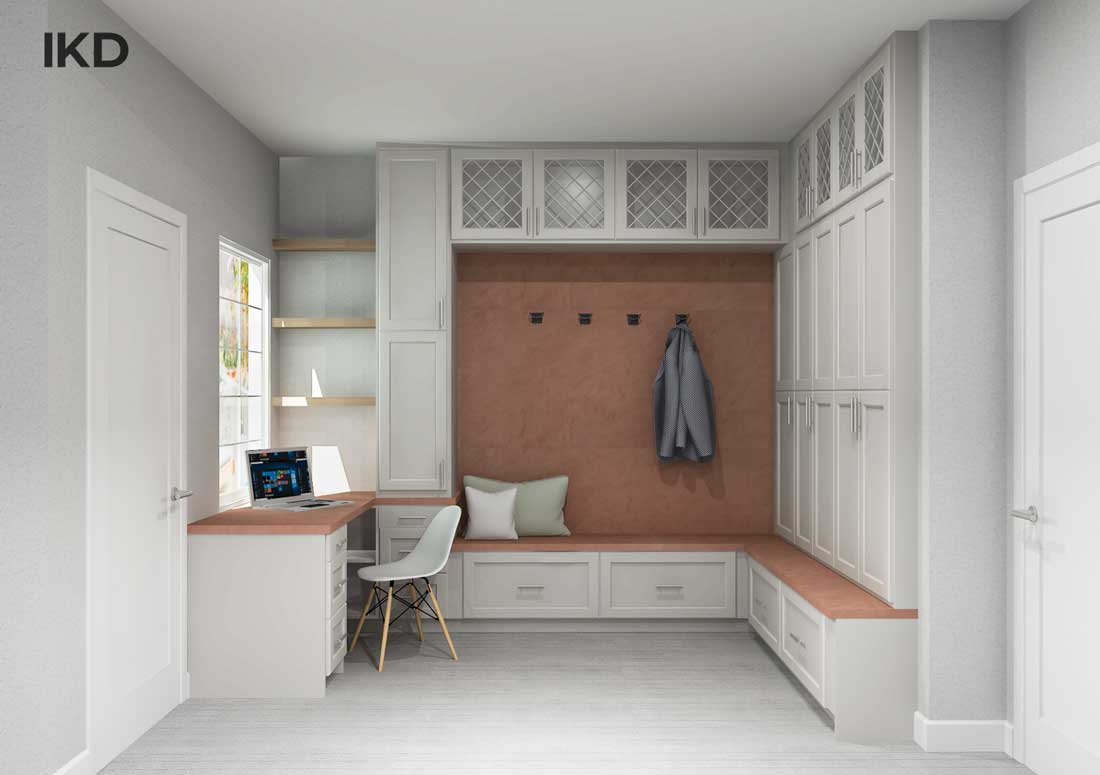 "We had three walls to work with for this mudroom. There was no available south wall which made the layout somewhat awkward and posed some space constraints. By incorporating a variety of IKEA cabinet hack modifications and some custom configurations, we were able to achieve the client's goals," says IKD designer Merari.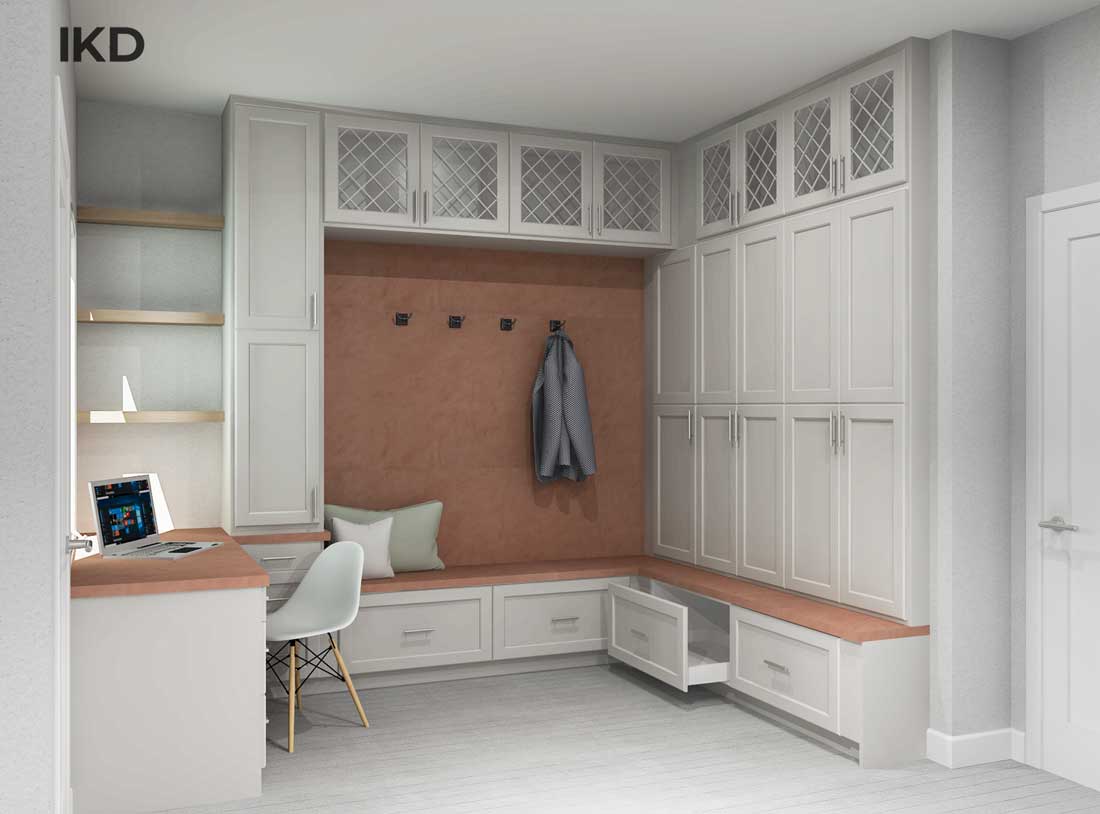 Indeed, the 98-square-foot space features 11 IKEA cabinet panels as well as a variety of shelves, IKEA MAXIMERA drawers and rack cleaning supplies. The client requested Semihandmade Supermatte Shaker Light Gray door fronts to be combined with IKEA's SEKTION kitchen system.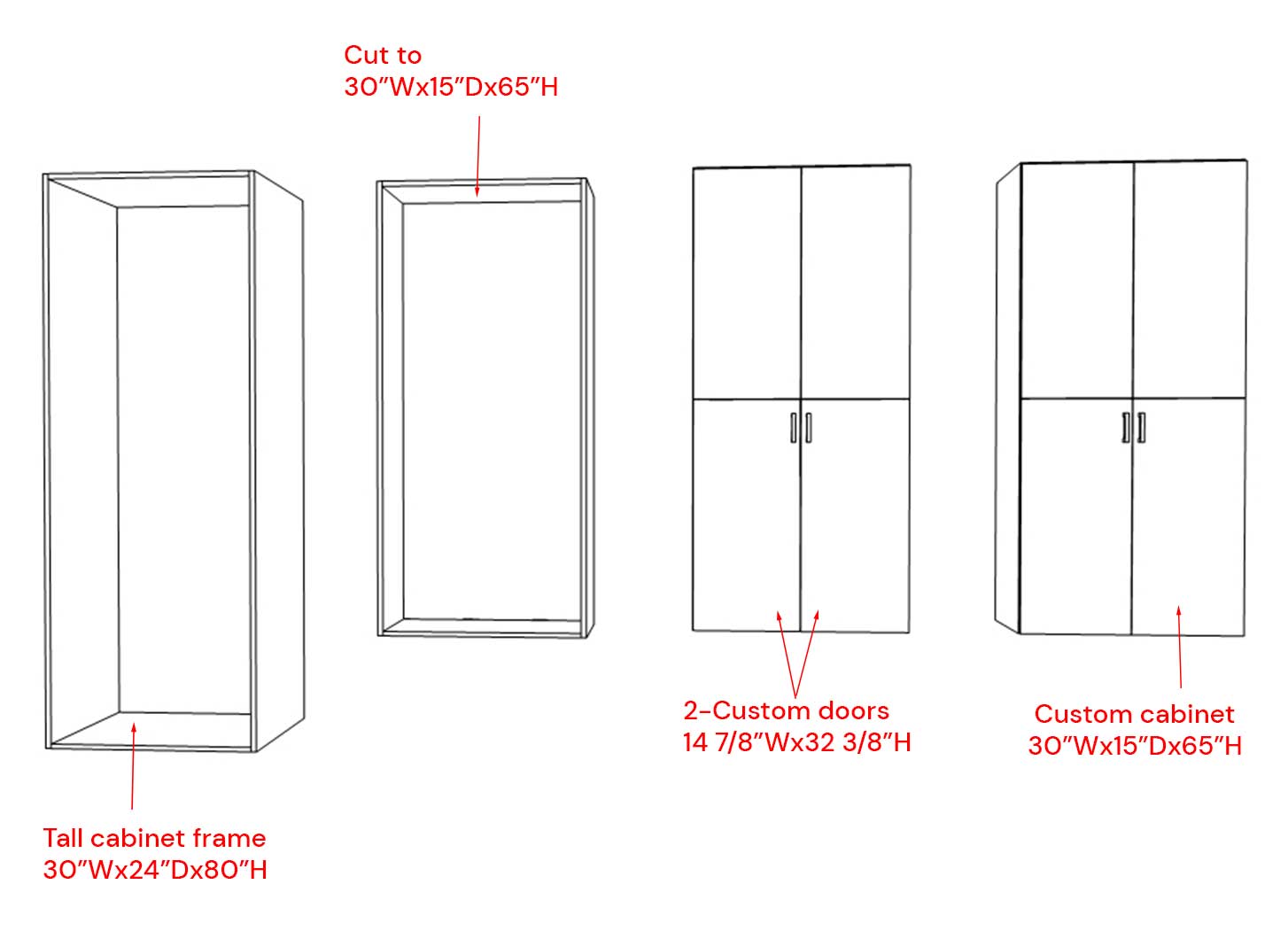 But the most unique aspects of the space are the multiple IKEA hacks Merari incorporated into the layout. For instance, on the 64″ east wall she took a 30″ (W) x 24″ (D) x 80″ (H) IKEA tall cabinet and reduced it to 30″ (W) x 15″ (D) x 65″ (H). This was repeated to create three sets of wall cabinets along with the custom SHM doors which measure 14-7/8″ (W) x 32-3/8″ (H).
This creates storage options for jackets, coats and shoes especially in conjunction with the solid butcher block bench area that wraps around the two walls. Above the wall cabinets are custom upper cabinets which reach the top of the 105″ (H) ceiling. These upper IKEA cabinets feature decorative diagonal wire mesh and glass doors (which the customer bought from a 3rd party supplier).
Meanwhile the open cabinet area on the north wall was custom cut to 24″ (W) x 15″ (D) x 25″ (H) to accommodate the client's request for open shelving (which is complemented by the adjacent small desk area as well). Next to the open shelving is another IKEA cabinet custom cut to 15″ (W) x 15″ (D) x 25″ (H) with the door front measuring 14-7/8″ (W) x 4-7/8″ (H) along with IKEA MAXIMERA low and medium drawers.
More custom mesh upper cabinets custom-cut to 18″ (W) x 15″ (D) x 15″ (H) are featured above the seating area on the north wall, perfect for seasonal storage items. A custom panel cabinet measuring 23-1/4″ (W) x 15″ (D) x 15″ (H) is featured between the upper cabinets of the two walls as well.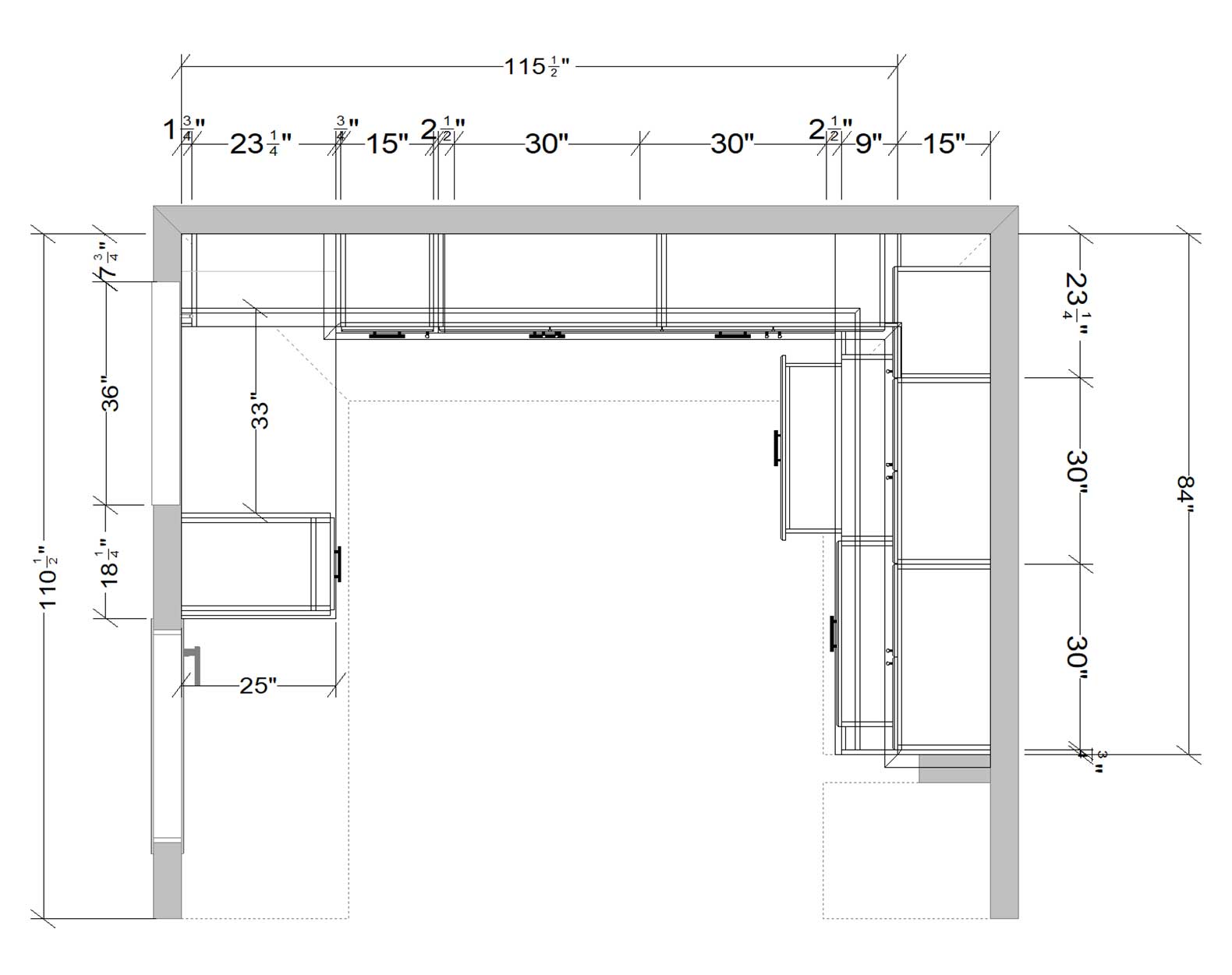 The IKEA base cabinets (which follow the bench area) feature custom configurations of 30″ (W) x 15″ (D) x 15″ (H) as well as IKEA MAXIMERA medium drawers, providing additional storage options. Lastly, the featured desk — a unique element in mudrooms — was custom cut to
15″ (W) x 24″ (D) x 25″ (H) and features a standard drawer front measuring 14-7/8″ (W) x 4-7/8″ (H) along with IKEA MAXIMERA low and medium drawers.
Impressively, this entire IKEA mudroom, including all IKEA products ($2,248) and Extra Items for hacks and installations ($451) totaled $2,699.
Family-Friendly Locker Style IKEA Mudroom
If you've got an active family with young children, it only makes sense to incorporate a locker-style into your IKEA mudroom.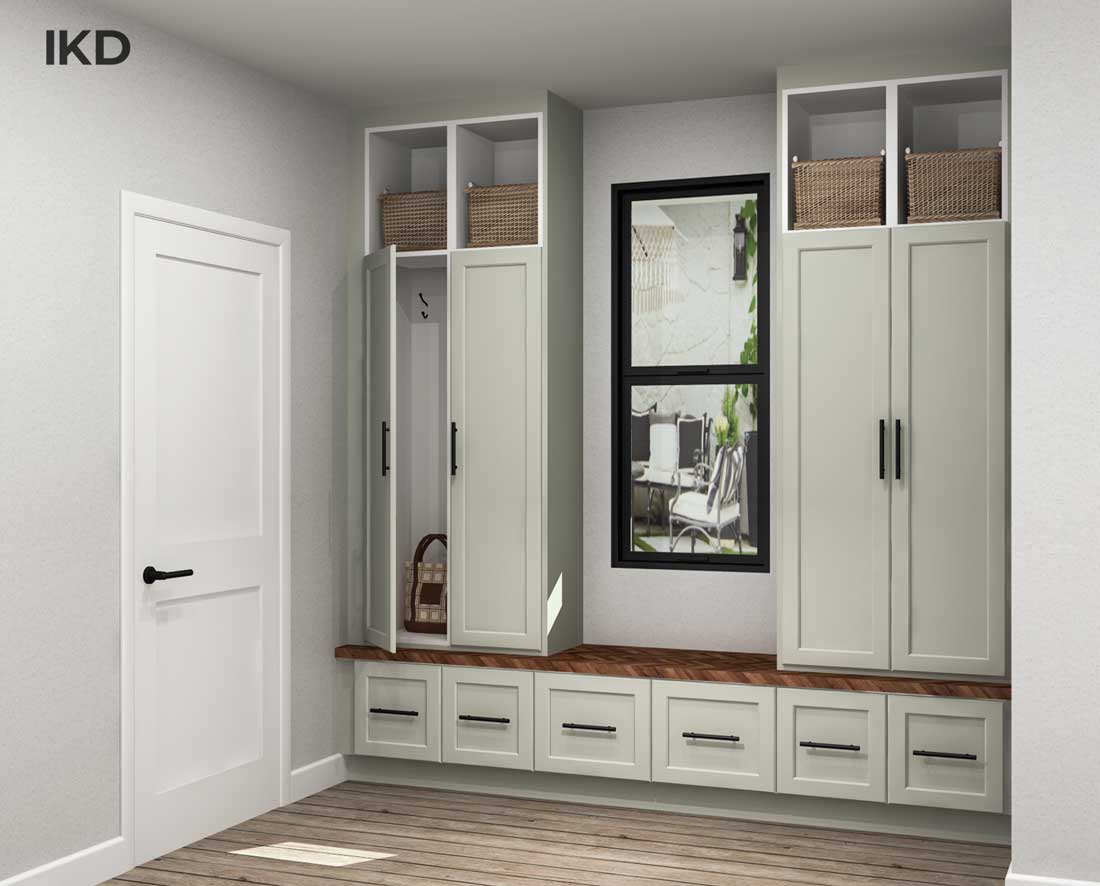 "These clients were a young family of four which asked for locker-style tall IKEA cabinets. These locks feature coat hooks and ample storage for jackets and shoes. This made the space very unique as did the four open upper cubbie areas which feature storage baskets," says IKD designer Frank.
While this IKEA mudroom features a very balanced, and traditional look it needed to be highly functional and durable. This required combining IKEA's SEKTION kitchen system with Semihandmade's DIY Shaker Vert de Terre custom cabinets in white and black IKEA BAGGANAS handles complemented by IKEA BARKABODA walnut veneer countertops for the bench area and IKEA MAXIMERA drawers. In total, this IKEA mudroom features four panels.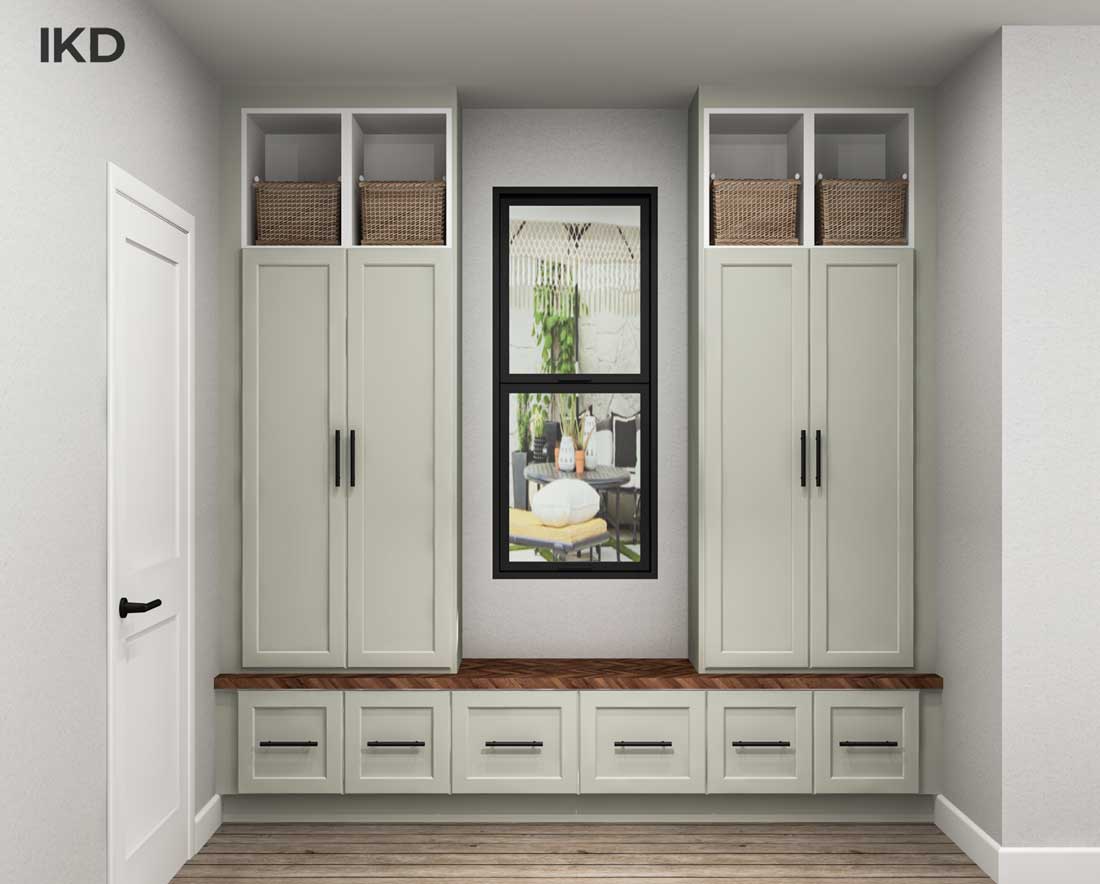 The client was very specific that they wanted to use the mudroom door as the primary entrance to make it more convenient to drop off their shoes, school bags, dog leash etc. and not have to bring those items through the house. They also wanted an integrated look so that any clutter was hidden. This is what sprouted the locker-style cabinet design. They also asked for a spot for a food and water bowl for their dog and somewhere to store her food, leash, etc.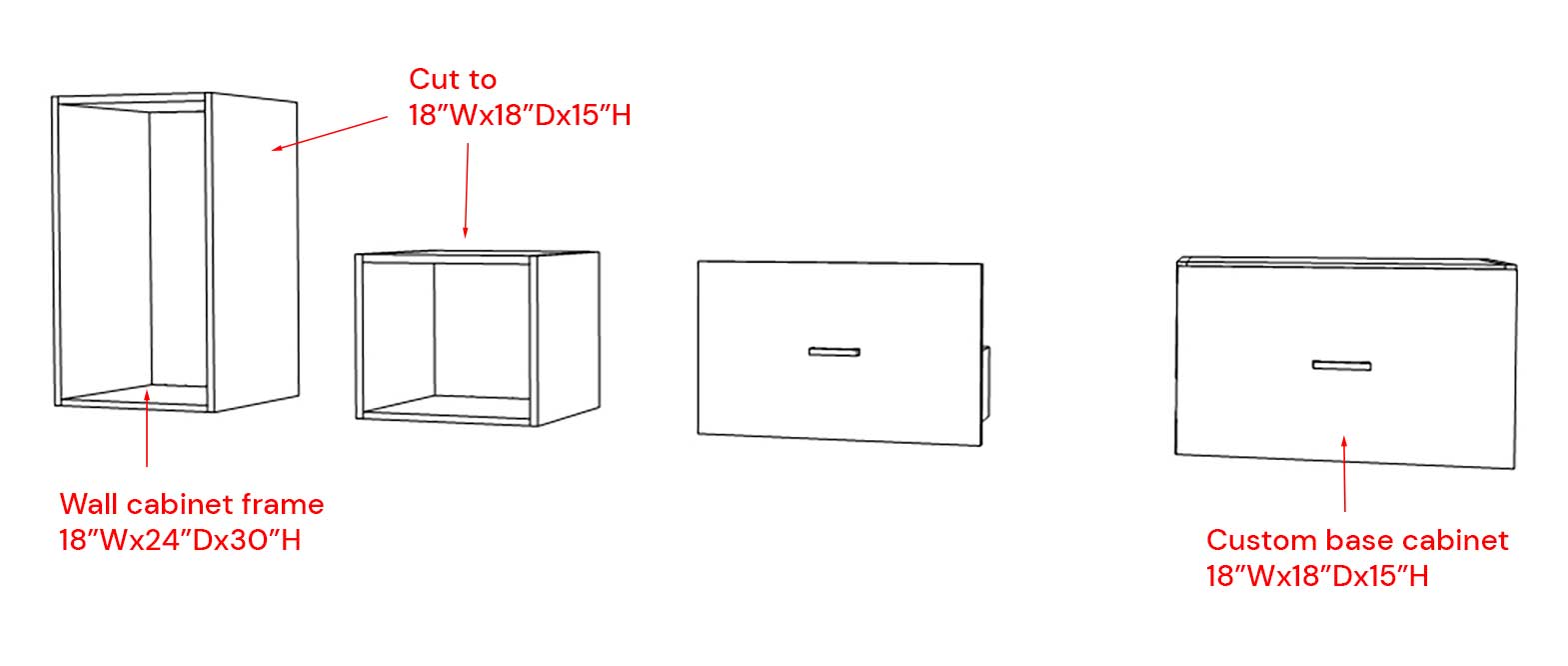 Therefore Frank incorporated several IKEA cabinet hacks to customize the design, including reducing an 18″ (W) x 24″ (D) x 30″ (H) IKEA SEKTION wall cabinet frame to 18″ (W) x 18″ (D) x 15″ (H) for the center base cabinets and cutting two others for the outer base cabinets to 15″ (W) x 18″ (D) x 15″ (H). This provides a perfect storage solution to store shoes, gloves, dog leash and other doggie supplies.
To create the locker-style feel he incorporated two custom configurations for the tall cabinets measuring 15″ (W) x 15″ (D) x 80″ (H) and a standard door with shelf measuring 14-7/8″ (W) x 59-7/8″ (H).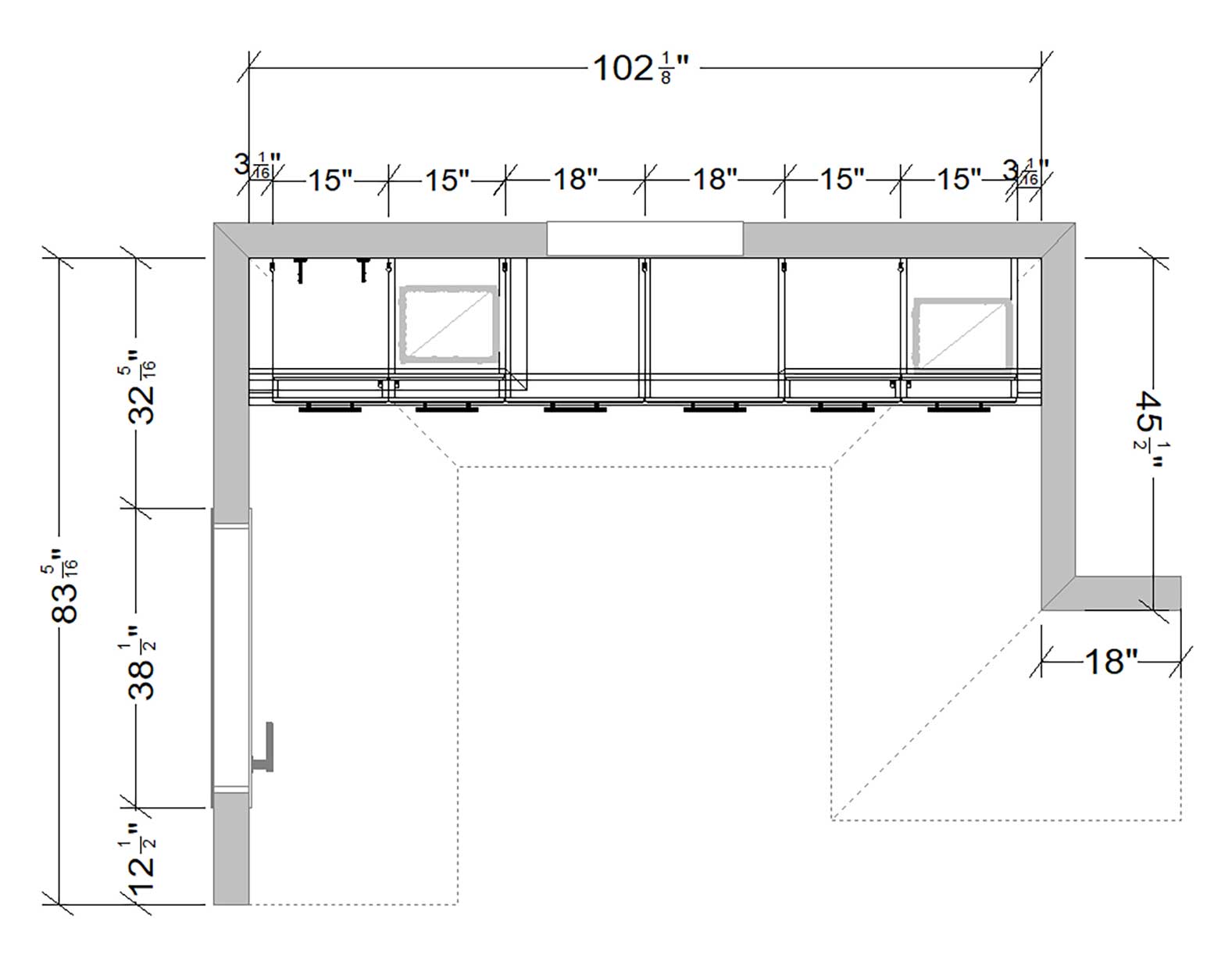 For this IKEA mudroom, all IKEA products cost $1,444 and Extra Items cost $966 for a total cost of only $2,410 — well under the client's budget of $5,000!
Modern Eclectic IKEA Mudroom
Sometimes clients know exactly what they want and the challenge is simply whether it will work in the space available. This was the case for this 36-square-foot modern eclectic IKEA mudroom designed for a family in Lake Grove, NY.
"This IKEA mudroom is unique because not only does it feature Semihandmade's SSS Quarterline Moss door fronts but it's also a multi-functional space featuring floating shelves, IKEA PINNARP countertops in ash veneer and a beadboard panel,' says IKD designer Daniel.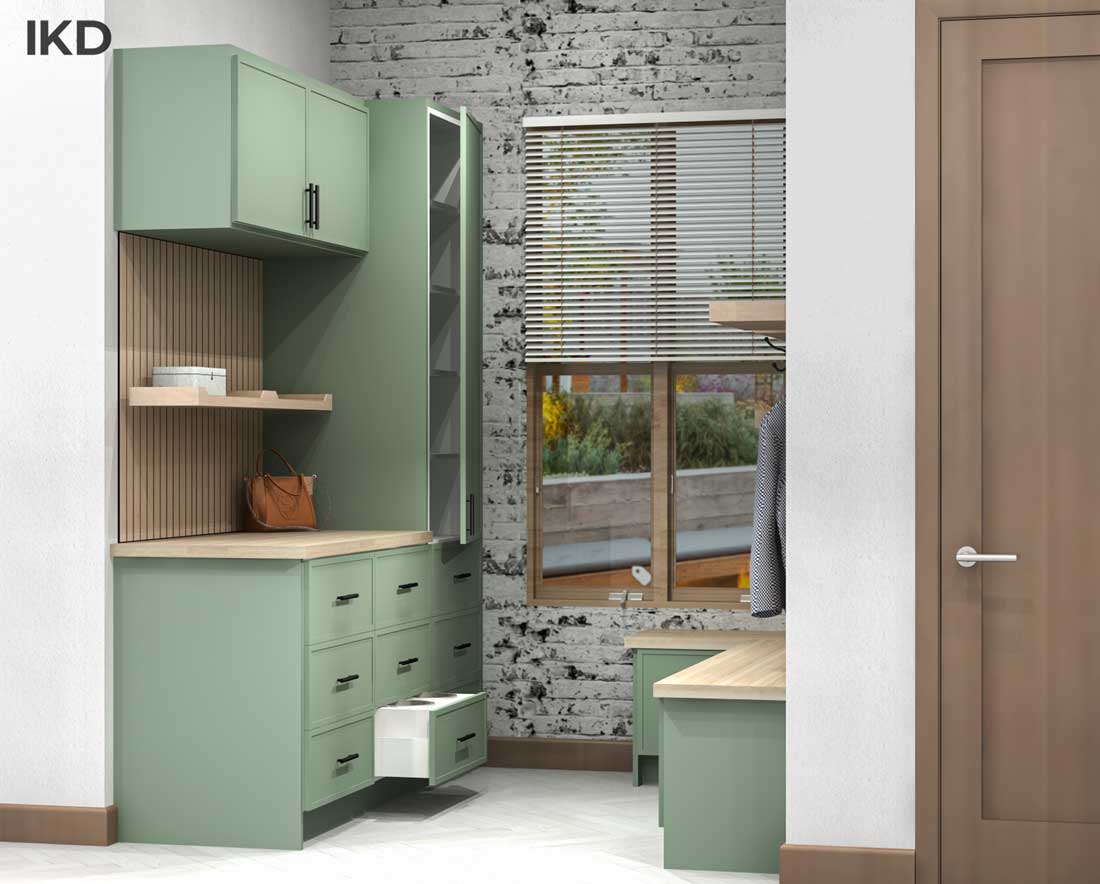 Specifically the clients wanted a space to drop their Amazon packages, have plenty of shoe and coat storage and a dog area for their dog "Belly." Daniel took the client's original IKEA kitchen planner concept for the space and customized it with two custom configurations.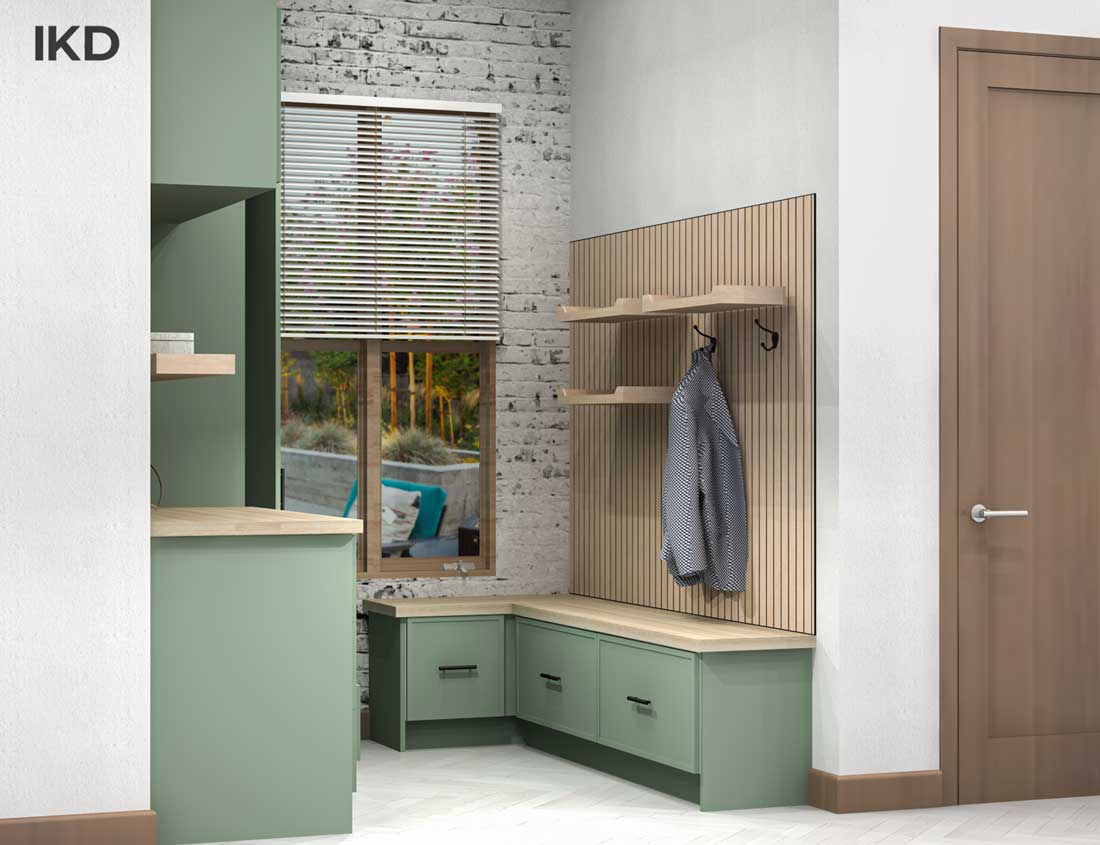 The unique bench area features two custom configurations with the IKEA base cabinets measuring 30″ (W) x 15″ (D) x 15″ (H) and the standard door measuring 29-7/8″ (W) x 14-7/8″ (H) along with medium IKEA MAXIMERA drawers in white.
Stylistically, the SHM Moss color creates a sense of warmth with the IKEA PINNARP countertops and functionally it provides accessible storage options for shoes, jackets and dog supplies, as well as providing options for dropping mail or packages.
Another custom configuration was included on the adjacent seating area under the window, measuring 15″ (W) x 15″ (D) x 15″ (H) and a base cabinet with a SHM door front (14-7/8″ (W) x 14-7/8″ (H)) which provides additional storage with a medium IKEA MAXIMERA drawer.
On the opposite side there is a variety of IKEA upper cabinets, tall cabinets and base cabinets with IKEA MAXIMERA drawers which complement the 120″ (H) ceiling as well as the beadboard panel backsplash.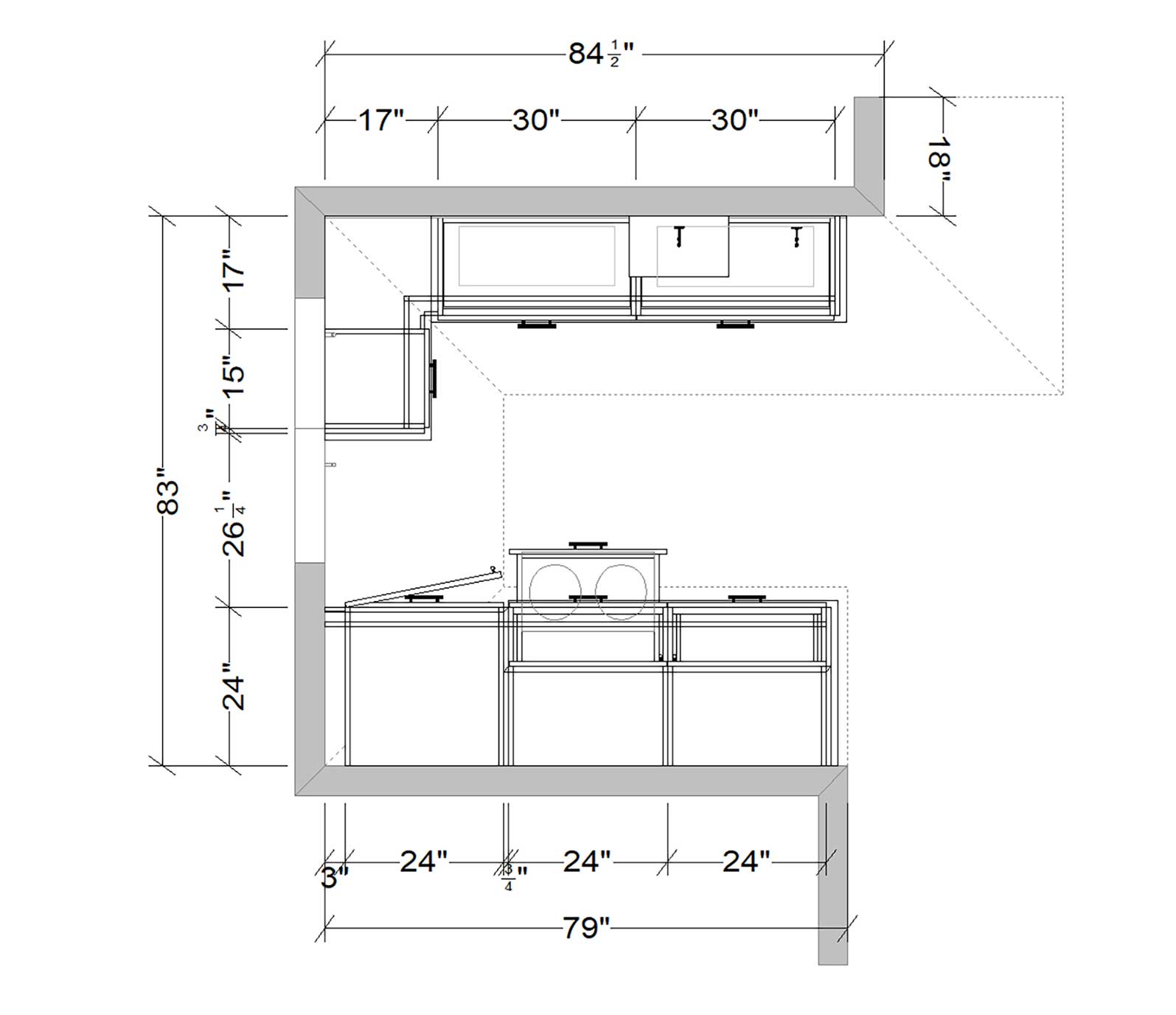 Overall, this mudroom features seven panels and a total cost of $2,724, including IKEA products ($1,968) and Extra Items ($756).
As you can see, IKEA mudrooms can be customized in both style and function by combining IKEA cabinets with custom door fronts from Semihandmade. If you are considering starting an IKEA mudroom project, our design team is here to guide you through the product selection process and the design process so that you too can create an IKEA mudroom that is customized for all of your needs. Let's get started!
Get a Professional IKEA Mudroom Design – All Online

Work with our certified designers to get a personalized mudroom designed around your needs and vision. If you're interested in learning more about our service, make sure to check out our IKEA Mudroom Design Services.