Comprehensive Guide to IKEA's Updated Kitchen Planning Services
2023 Update:
We first wrote about IKEA's planning service back in 2016. That was before COVID, before video chat became the norm, and before IKEA bought out Traemand. In short, a lot has changed, and we wanted to update this post to reflect the ways in which IKEA's services have changed.
2016:
Today's guest post is by Ray S.
IKEA offers a $199 in-person kitchen planning service. An IKEA kitchen planning professional visits your home, takes measurements, and spends 4 hours sitting with you to plan the kitchen you'll use for the next 20 years.
Is it better than working with Inspired Kitchen Design online?
Our secret shopper, Ray, hired them to find out… and boy, did we learn a lot.
Before you hire IKEA to plan your kitchen, you need to read this blog post.
2023 Update:
IKEA no longer charges for their kitchen planning service, but you won't be getting the same in-home, personalized service. Instead, you get a 90-minute appointment either in-store or online with an IKEA planning specialist. (Note: An IKEA planning specialist is not a professional kitchen designer.)
You are expected to have your measurements ready, but for a $49 fee you can hire a technician to perform the task for you.
---
Why Design
with IKD?
Why Design with IKD?
---
IKEA vs. Inspired Kitchen Design Services
2016:
There are three reasons why someone might choose IKEA's service over IKD's.
One-stop-shopping: IKEA handles the whole thing, soup to nuts. They measure and plan your IKEA kitchen in person and then you buy the kitchen from IKEA.
The $199 price tag: IKEA charges less for their service than the IKD design fee.
Any mistakes are IKEA's responsibility: If IKEA's service makes an error due to incorrect measurements, they must pay to fix the mistake.
Sounds pretty good on paper, doesn't it?
2023 Update:
IKEA used to be one-stop shopping. Someone would come to your home, measure, plan, order, and schedule installation. Now, customers are left handling much of the kitchen remodeling process on their own.
During the planning appointment, you essentially get one-on-one help using the IKEA online home planner. IKEA employees put the kitchen plan into your account so you have access to the images and can purchase the items in your shopping bag. Measuring costs extra, and the installation service is currently on hold.
Free is still less than IKD's design service. But what do you get for your money? IKEA's kitchen planning specialists can't call themselves kitchen designers because they don't possess that certification. They know how to put a kitchen together using IKEA products in the IKEA planner. That's it.
IKD isn't bound to IKEA-only supplies. Many customers come to us because they're looking for more from their internal organization and cabinet fronts, which is why we can offer internal design packages and designs with custom fronts by companies like Semihandmade.
That was the case with our customer, Ben. You can read his Houzz review of IKD's innovative design process here.
We offer step-by-step measuring instructions, provide a professional design package with 3-D renderings (and, yes, we also upload it to the home planner to make purchase easy), and we offer our customers access to Install Connect, a database of vetted IKEA installers.
(To learn more about how IKEA's online plans compare to IKD's design package, click here.)
Again, the measurement service is no longer included in IKEA's kitchen planning appointment – but we still give you peace of mind.
IKD offers two design revisions free of charge, and we offer step-by-step measurement instructions. If something goes wrong, you're covered by our pre-design measurement guarantee. If a measurement error results in additional labor and material costs to fix, we'll pay for it.
2016:
I learned 5 things when I bought IKEA's service that are important for IKD customers to know.
Navigating IKEA's Kitchen Planning Service Promotions
My "local" IKEA is an hour away. I like visiting IKEA, but that's about 100 miles roundtrip. I make that trip maybe a couple of times a year for a new bookcase or something.
Still, making the drive is better than waiting on the phone with IKEA.
I drove to IKEA about a week before the sale was announced. Even though I talked to the sales guy for a while, he never mentioned anything about the IKEA kitchen sale (which was only a few days away).
The sale offers a 15 percent refund on kitchens that cost more than $4,000 and would have been good to know.
2023 Update:
According to one IKEA representative, most associates aren't told about the IKEA sales more than a week in advance and are instructed to keep it under wraps. That way, if any inventory changes and they must amend the sale it doesn't require fielding a bunch of disappointed customers. So, unless you're very charming, you still shouldn't expect a heads up when it comes to IKEA sales (no matter how much you plan to spend on a new kitchen).
However, these days, a true IKEA Kitchen Sale is rare. You're more likely to find a sale that just features certain cabinet fronts, countertops, or accessories.
The Four-Hour IKEA Home Planning Service Experience
2016:
The IKEA staff person said the four-hour appointment would be spent like this:
Two hours to measure my kitchen
Two hours to plan my kitchen
My fiancée and I have a large kitchen, so two hours of measuring time sounded good. But only two hours for planning? I knew we'd have lots of questions and ideas to bounce around. I had thought four hours would be enough time, but now I wasn't so sure.
Would four hours be enough time to design the kitchen we planned to use for the next 20 years?
2023 Update:
When asked what would happen if someone needed more than 90 minutes to design their dream kitchen, the IKEA associate actually laughed – good-naturedly, of course. So, no, the design appointments are actually shorter in 2023, but you can always make another free appointment if you have additional questions and ideas.
Part of the reason the associate found the initial question funny is because of the following point: You're expected to do plenty of homework before the appointment.
Understanding the Fine Print and Homework for IKEA's Service
2016:
IKEA is pretty clear on what it will and won't do for your kitchen design. They don't give you a kitchen design like IKD will; they give you a "kitchen cabinet layout." There's a really big difference between those two things.
I was also surprised at how much written homework I had to do. Some of the questionnaire items were topics I wanted to go over with the planning guy's help, not figure out on my own.
2023 Update:
While the hard copy rarely makes an appearance, the pre-appointment checklist still applies. You should know everything about your kitchen, from measurements and electrical locations to the type of door fronts and hardware you want before showing up for your IKEA planning appointment.
IKP = IKEA Kitchen Planning Service
What is included
Enrollment in Traemand's customer portal My Kitchen Workspace where you will have 24 hr access to your project details.
A Planner will come to your job site during the service time scheduled at IKEA. Your appointment time will last up to 4 hours.
Measurements of existing walls, windows, doors, plumbing and obstructions will be taken.
A kitchen cabinet layout will be made based on the existing measurements or an alteration of said measurements as requested by the customer.
A PDF print out of the finished kitchen plan is made and uploaded to your MKWS account.
An estimate of the IKEA Cabinet costs is produced by the IKEA Home planner.
A list of the total extra parts needed for IKEA use to double check the Home Planner list.
Installation Estimate based on the layout.
All documents produced during the appointment will be uploaded to customer's MyKitchenWorkspace account within 24 hours.
A reminder email of customer portal login page will be sent to customer upon upload.
If customer needs General Contracting estimates, customer's information will be passed on a GC to make contact within 48 hours.
What is not included
Any advice on color or material selections.
Advice on removal of walls/soffits and moving plumbing/electric etc. This will need to be verified by your GC. Please have a general contractor verify viability of movements before your IKP appointment to get the most use of your time with the planner.
A second site visit to verify any changes after construction or major redesigns. This second visit will need to be done through a second scheduled IKP appointment.
Multiple plan options. The planner will be at your jobsite for up to four hours. You can discuss pros and cons of options but only one final will be produced.
Multiple pricing options. One pricing option will be given at appointment time. With IKP login you will be able to change your explore all pricing options with your finished plan.
Only one room will be planned per appointment. No additional spaces will be included.
Advice on countertop other than the IKEA laminate or butcher block.
IKD also has a pre-design form, but we're happy to answer questions and work through it with you without the pressure of a time limit.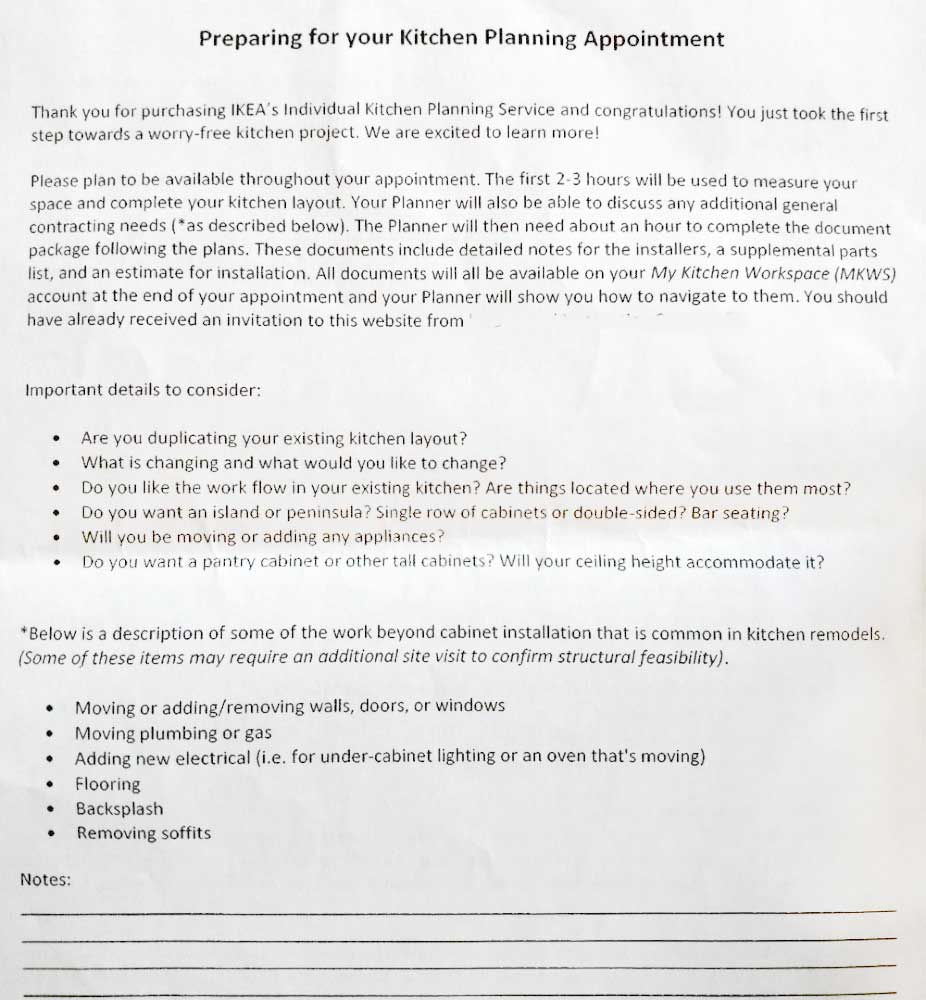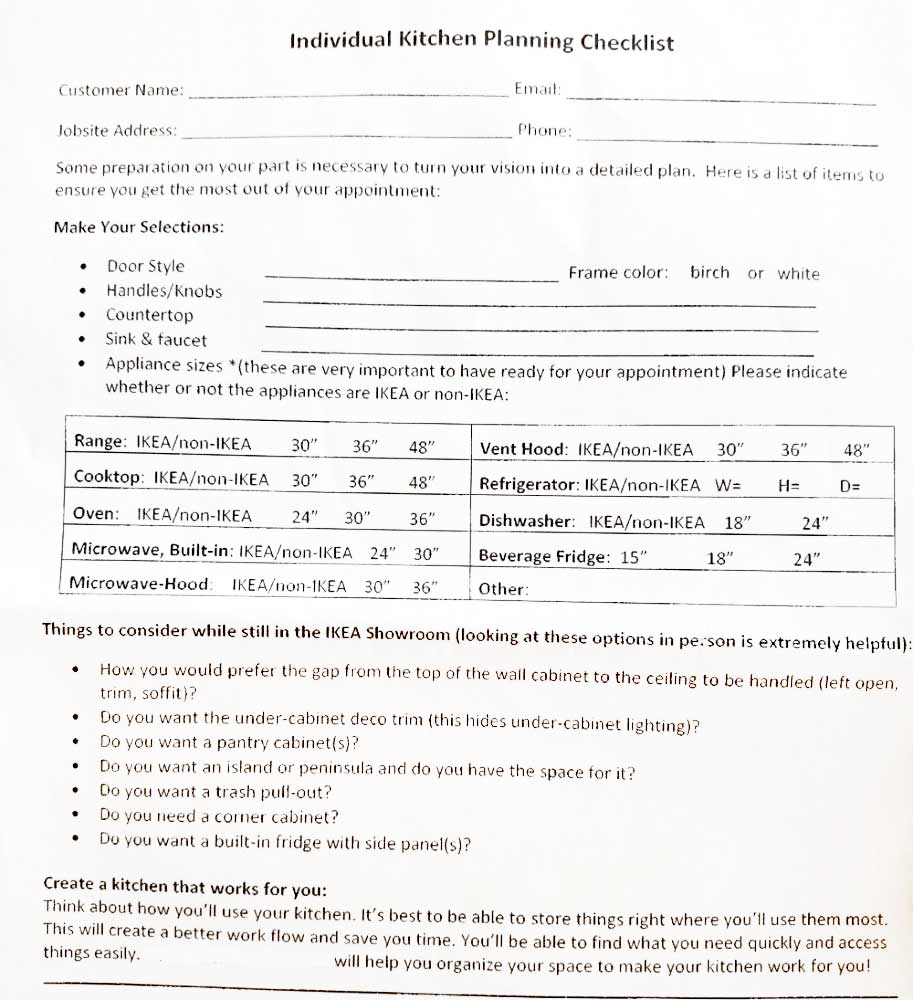 Pricing Structure of IKEA's Planning Service
2016:
The IKEA staff person then asked for my address and informed me the charge would be $249. I thought it was $199?
The sales guy explained that the service starts at $199. Because I lived farther away, it was $249.
Of course, in IKEA's eyes, that doesn't really matter. Right now, they're offering the deal that if you buy that service and then buy your kitchen before August 1, 2016, they will refund you the cost of the service – even if it costs more than $199.
I learned during my appointment that IKEA makes these price determinations based on zones. But the guy who came to my house actually lived close by. So why did it cost more?
2023 Update:
IKEA has several appointment options now, and if you put them together you get almost the same service you would with IKD. You can start with a 30-minute plan consultation appointment and schedule a 90-minute planning appointment from there. You can also schedule a 30-minute plan verification session where you review revisions or double check a plan you've put together yourself on the home planner (a service we offer at a discount). These services are free through IKEA.
IKEA even offers a new interior design service for $99/room. This consists of three virtual appointments with a professional designer.
IKD's process is all-inclusive and always has the same team. As one Houzz reviewer details, IKD's founder, Mike, answered their initial questions; design coordinator Florence onboarded the customer and handled questions and concerns throughout the process; and professional kitchen designer Javier created their new, beautiful kitchen design.
It's important to note that IKD's designs are always handled by certified design professionals. IKEA's interior design service does use professional designers, but the other services are provided by trained IKEA employees who know IKEA but don't necessarily understand all the design pitfalls IKD deals with daily.
There is also the fact that these appointments require knowing what you want from IKEA (and only IKEA) and dealing with several different planners and designers throughout the process. You know how annoying it is when you go to the doctor, and you have to explain why you're there to the receptionist, the nurse, and then the doctor? If there is a follow-up appointment involved, you'll probably have to explain it all again.
IKEA's system is like that, but for interior design.
With IKD, our design coordinator and one assigned professional designer/IKEA expert handles your design from start to finish. You can use the vendors you want to customize your kitchen, and there is no nickel-and-diming.
If You Don't Have Wi-Fi, Your Kitchen Planning Will Be Done Without You
2016:
The sales guy asked if I would have Wi-Fi available for the home planning coworker to use. I said yes, but what would happen if I didn't?
Basically, the IKEA planner would come and take measurements, then take notes on what I wanted – but he'd have to send me my design. The only way for IKEA to design my kitchen was through the IKEA Home Planner app.
I wondered if other customers were okay with settling for that. I set up my appointment for a week later.
Top 5 Lessons From IKEA's In-Person Home Planning Service
It sure seemed suspicious that nobody mentioned the sale. I mean, doesn't the sale make people want to buy?
If two of the four planning hours are spent on measurements, how much design help are you really getting?
If you don't do your homework, you're just eating into those four hours even more – and there is a lot of homework.
I wasn't exactly thrilled that it cost me an extra $50 for the service because I live an hour away, even though IKEA's service person was close by.
The Wi-Fi thing is important. Even if you have Wi-Fi, like I do, what if it's not working that day? I'd feel ripped off if I couldn't even sit next to someone while they designed my kitchen.
How Was IKEA's Planning Service?
So far, I haven't been impressed. The guy I talked to was very hands-off and he didn't exactly inspire confidence. Next week, I'll write about how the service actually went.
Get a Professional IKEA Kitchen Design – All Online

Work with our certified kitchen designers to get a personalized kitchen designed around your needs and vision. If you're interested in learning more about our service, make sure to check out our IKEA Kitchen Design Services.