Embrace Minimalism: The Appeal of Clean Lines and Simple IKEA Designs
In this article:
What is minimalist design?
What are the benefits of minimalist design?
3 IKEA mudroom designs that embrace minimalism
How IKD makes the minimalist magic happen
Why Choose Minimalist Design for Your Mudroom?
Minimalist home design is characterized by clean lines, neutral colors, and sparse detail. The idea is to draw the eye to essential elements of a room rather than décor. Minimalists believe a cabinet is beautiful in its own right and, therefore, doesn't require intricate hardware to be considered attractive; a single painting on a bare wall is more appealing than a gallery wall, and a few light colors are preferable to bold, overwhelming tones.
Scandinavian home design is often minimalist by default, so it's no wonder IKEA is the place to go when sourcing door and drawer fronts for a minimalist mudroom design.
Should you keep reading if you don't feel passionate about minimalist design?
As you'll see when we discuss the mudroom designs below, a minimalist design has plenty of advantages other than a pleasing aesthetic. Thanks to IKEA, we know it's easy to find mudroom cabinets, cubbies, and organizers in minimalist design. Minimalist mudrooms are also easy to clean, take up less space, and are often more affordable.
---
Why Design
with IKD?
Why Design with IKD?
---
Three Minimalist Designs for IKEA Mudrooms by IKD
Budget-Friendly IKEA Mudroom
Monique from San Diego, California had a budget of $4,000, and her cozy, built-in mudroom came in under $3,000 for materials. She used an IKEA PAX system in her closet and knew she wanted to use the brand for her mudroom, as well.
"I was familiar with PAX and wanted those functionalities in this space." –Monique, IKD customer
Monique had some space at the back of the house and wanted to ensure the additional storage blended with the rest of the home. When considering these blended design requests, a neutral (or minimalist) palette is often the way to go.
She also wanted a banquette, or seating area, with functional storage.
However, Monique asked for a few features PAX couldn't achieve, so the solution was more challenging than using IKEA's online PAX planner. That's why she called IKD.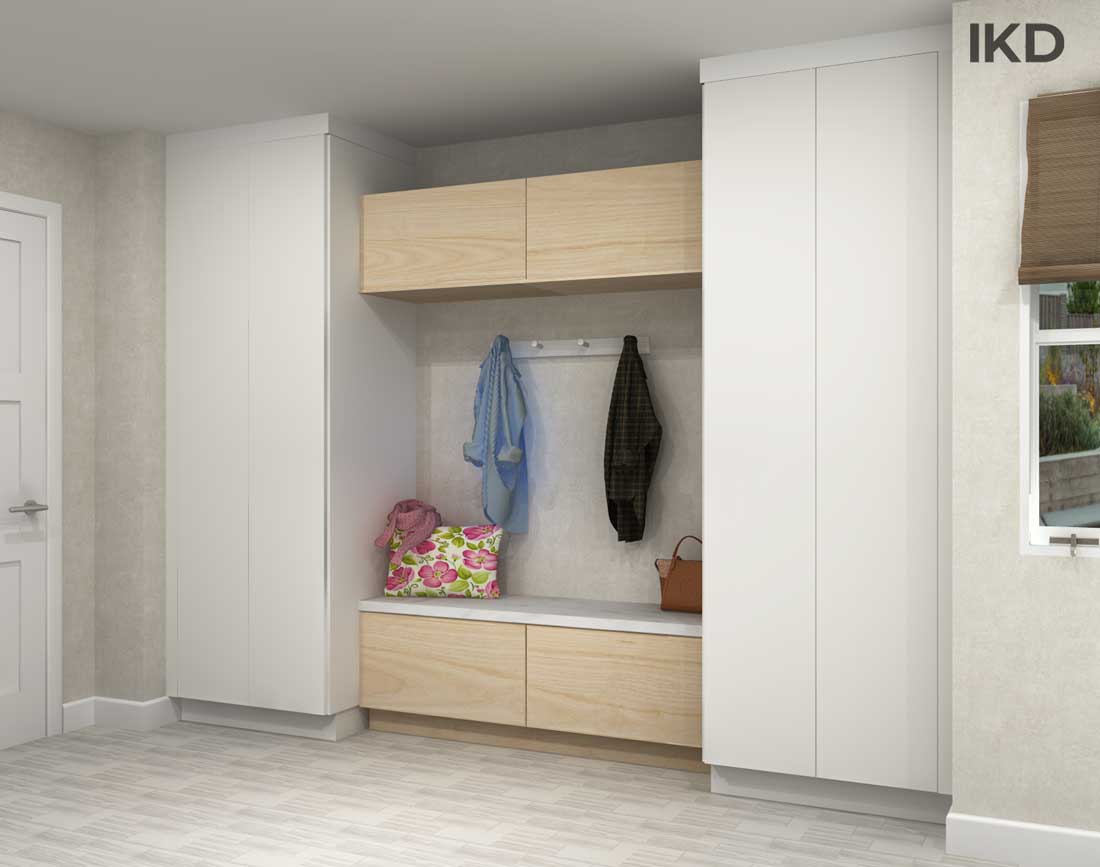 We designed a symmetrical, minimalist solution that seamlessly blends PAX, SEKTION, and UTRUSTA. On each side of the mudroom space, we placed two tall PAX cabinets with high-gloss light gray IKEA FARDAL doors for seasonal items, hats, gloves, bags, etc. Between the PAX frames, we designed the banquette using SEKTION cabinet frames with IKEA ASKERSUND doors in light ash effect and a precut laminate IKEA countertop for the bench seat.
We repeated the SEKTION cabinet above the banquette, adding more storage and balance to the mudroom design. Each cabinet door is equipped with UTRUSTA push-to-open hardware to eliminate the need for handles.
"I was so surprised at the results of my IKEA mudroom and so glad that it came in under budget as well." –Monique, IKD customer
IKEA Mudroom Design for Large Family
Minimalism doesn't have to mean small. The mudroom design below is roomy enough to include a sink and countertop, but it's still considered minimalist because of the gray and white tones and simple accessories.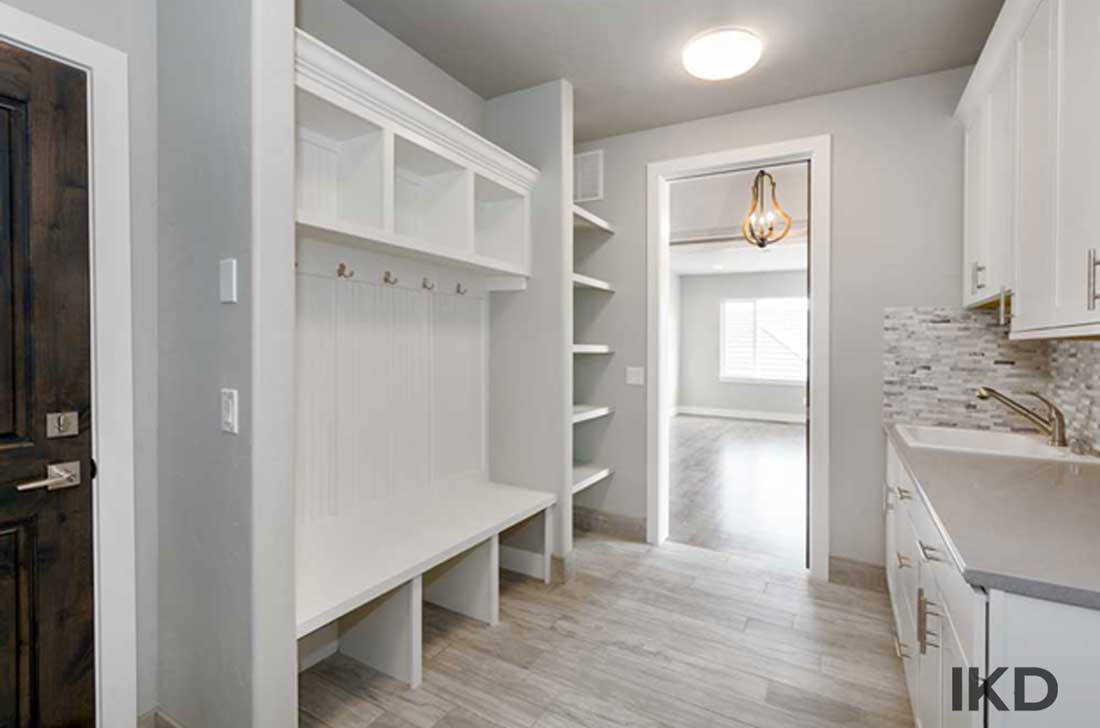 As you can see, this mudroom was designed to suit a large family, with plenty of room for sports and activities equipment, muddy boots beneath the bench seat, jackets and bookbags on hooks, and even extra storage above the wall cubbies.
Some would leave the storage above the cubbies empty for a cleaner look. Sometimes, especially with a large family, you have to use every square inch of space available.
IKD can design a minimalist mudroom similar to this using IKEA SEKTION cabinets, SEKTION panels, KALLROR handles, and white AXSTAD doors.
Transforming a Mud Corner into a Sleek, Low-Maintenance IKEA Mudroom
Laura from Seattle, WA transformed an uninspired mud corner with no outdoor access into a functional IKEA mudroom with a minimalist design from IKD. She wanted more than the dark, cramped, pre-built storage units had to offer.
"We wanted a door to the backyard, hidden storage, and more space to move around. We found the pre-built storage solution annoying, especially for larger shoes." – Laura, IKD customer
We offered floor-to-ceiling storage, a seating area, and cabinet doors with integrated handles. Although initially attracted to a design by a more expensive custom closet vendor, she liked that IKD could use low-cost products to create a similar high-end design. Also, IKEA had something this closet company didn't – flat VOXTORP cabinet fronts.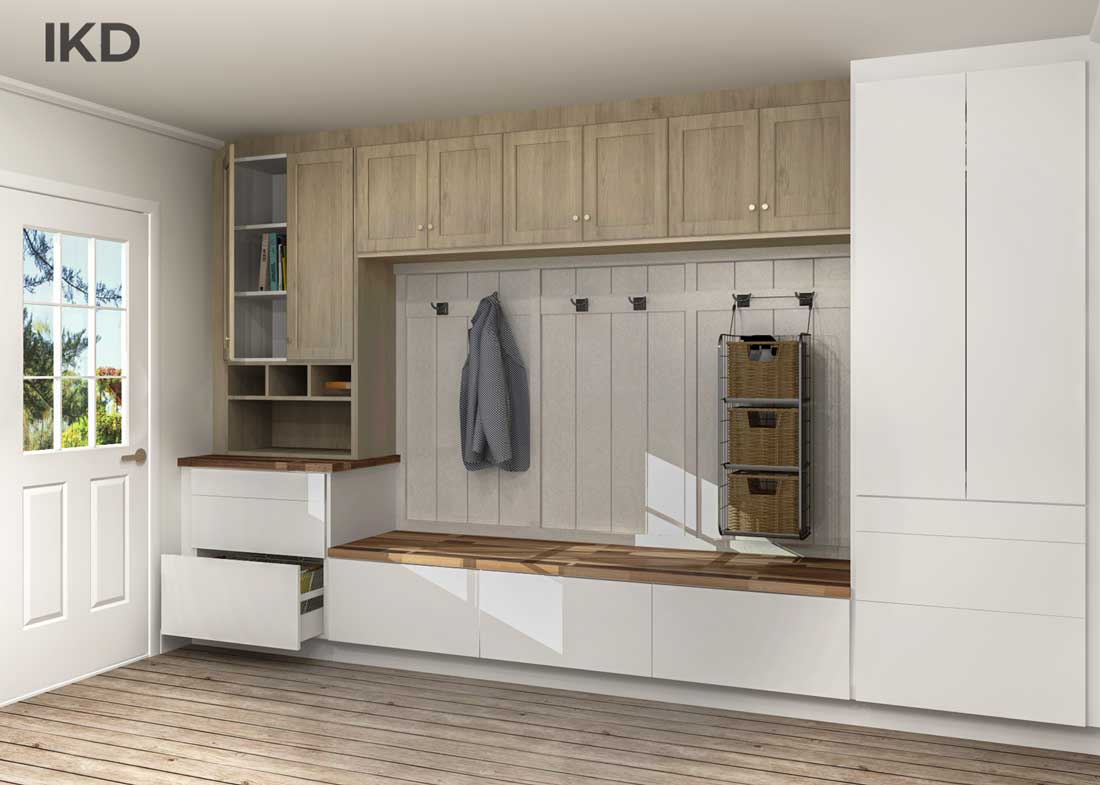 Having no handles and keeping a "clean, modern, minimal look" was vital to Laura's design.
"I wanted to keep the mudroom simple and keep the space open." –Laura, IKD customer
In addition to the easy-to-clean VOXTORP cabinet doors, the design included seven IKEA SEKTION cabinets with UTRUSTA shelves for storage. To create the base for the PINNARP countertop bench seat, IKD designer Florence included SEKTION hack instructions to trim two base cabinets to 24″W x24″D x 15″H. Additional storage can be found in two 24"W x 14 ¾"D x15"H wall cabinets above the bench.
This attention to detail ensured Laura got exactly what she wanted: a clean, bright mudroom space with no protruding handles – and she spent just $3,812 on materials.
Diverse IKEA Mudroom Designs by IKD: Beyond Minimalism
As you can see, mudrooms with a minimalist design are versatile, affordable, and easily achievable with IKEA products. IKD knows the IKEA brands and hacks that make these designs magazine-worthy.
However, we've got more than minimalism up our sleeves. Whether you're a fan of clean lines and neutral palettes or prefer a bolder look with custom doors and drawers, IKD's professional designers are ready to work on your full-color, high-resolution 3D rendering.
Get a Professional IKEA Mudroom Design – All Online

Work with our certified designers to get a personalized mudroom designed around your needs and vision. If you're interested in learning more about our service, make sure to check out our IKEA Mudroom Design Services.