Maximizing Small Spaces for IKEA Mudroom Designs
In this article:
Combining spaces to create an IKEA mudroom
Fitting IKEA mudrooms in small spaces
Prioritizing a custom mudroom over other options
Why hiring a professional IKEA mudroom designer matters
Mudrooms come in all shapes and sizes, and while it would be nice to have a room or hallway dedicated to storing items and containing mess, that isn't always realistic. By nature, designers are problem solvers – and lack of space is a problem IKD solves daily.
As you'll see, even if you only have a space measuring 5' wide, we can create a custom mudroom design to make the most of it. We often include mudrooms as part of a kitchen or laundry room design, or you may have a nook or closet you haven't considered a viable space before.
Just remember, even the most modest mudroom beats tripping over the shoes your husband left by the front door again.
---
Why Design
with IKD?
Why Design with IKD?
---
Combining Laundry and Mudroom in Compact IKEA Designs
Maybe you don't have 5' of space to spare directly by the back door, but you have extra space in your laundry room. As you can see in the design below, this mudroom design customer had plenty of closed and open laundry room storage and workspace, even if they sacrificed some square footage for a mudroom.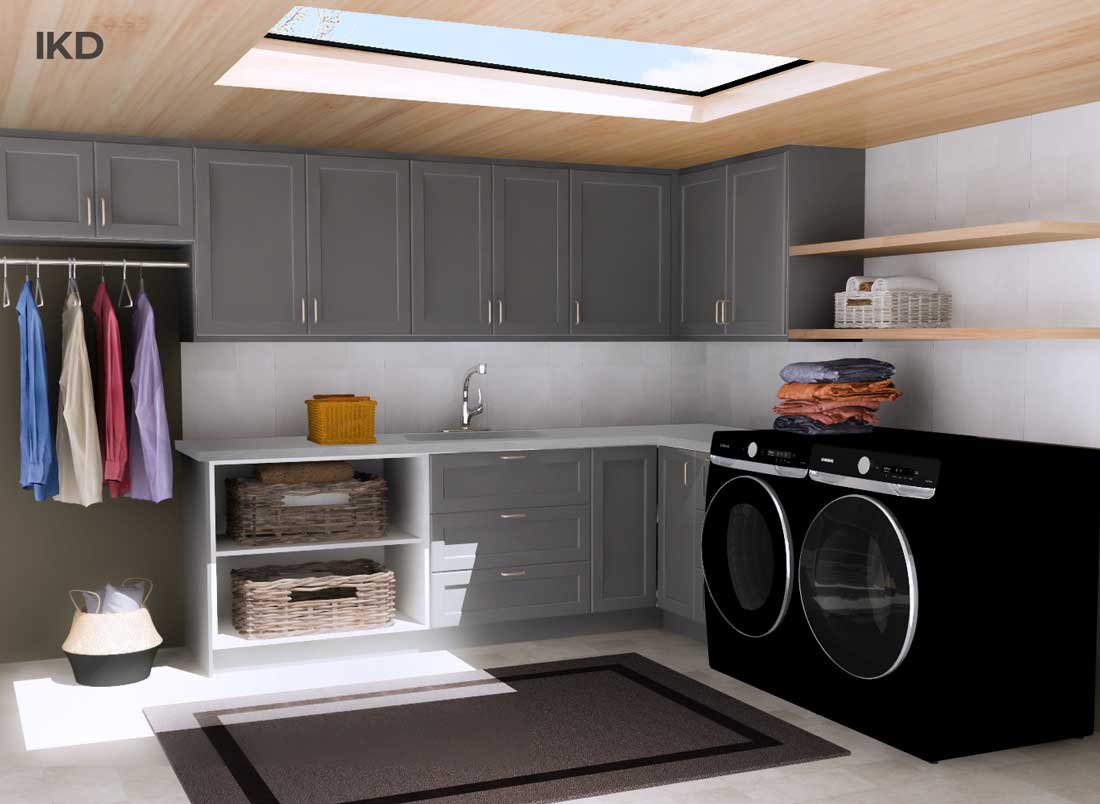 Although the customer initially planned to use the hanging space in the corner for items that needed to be put away, they saw the opportunity to transform it into a home for coats and jackets with a bench and shoe cubby beneath. Since this homeowner's laundry room was located near the backdoor, this move made sense.
The upper cabinet now holds baskets containing hats, gloves, and scarves. Our designers created this look using SEKTION cabinets and AXSTAD dark gray doors. They designed a bench seat with open shoe storage using FORBATTRA dark gray panels to match the cabinet doors and a LILLTRASK pre-cut countertop as the bench seat to match the countertop used throughout the rest of the laundry room design.
Combining spaces is a great way to get the mudroom you thought you didn't have room for.
Making the Most of Tiny Spaces: IKEA Mudroom Solutions
IKD customer Srijana wanted to include a mudroom solution in the 23 sq. ft. space between her garage and kitchen. She was renovating the whole area, but only a fraction would be dedicated to a mud area.
"Since we're a two-person household it was okay for minimum storage but we wanted a spot to hang our coats and some extra storage for cleaning supplies." – Srijana, IKD customer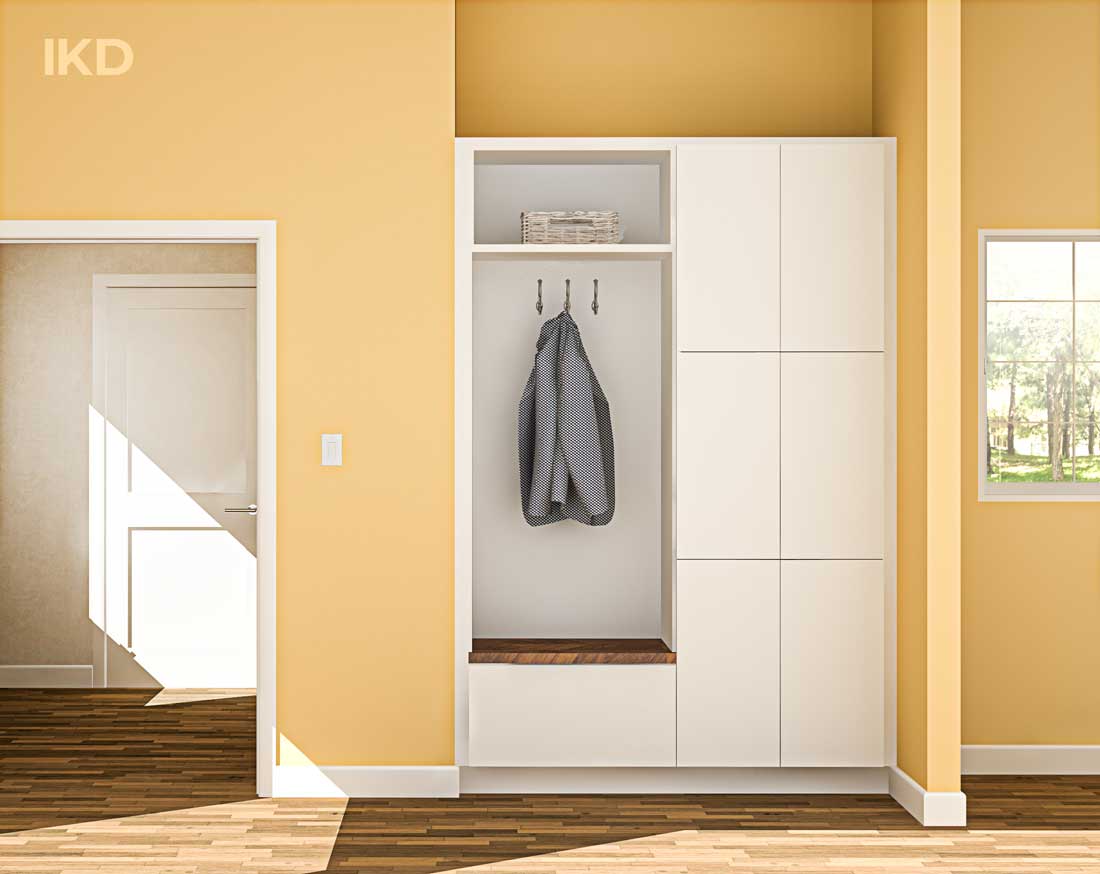 IKD designer Frank compiled this mudroom design package to include a 15" deep tall cabinet, which he designed by modifying a 30"W x 24"D x 90″H SEKTION cabinet. Beside it, he used a 30″W x 15″D x 15″H SEKTION wall cabinet to design a KARLBY countertop bench seat with a MAXIMERA drawer underneath for accessible storage. He finished the mudroom design with FORBATTRA cover panels and VOXTORP doors.
IKD designed this beautiful mudroom with a built-in look in a modest space measuring 64"W x 15"D x 90"H.
Transforming Underutilized Areas into IKEA Mudrooms
We often discuss how design is a collaborative effort between homeowner and designer – but, sometimes, you have to get a contractor involved, too. This was the case with Michelle, an IKD customer from Connecticut with a Colonial-style home.
The mudroom was the last unfinished room in her home, and due to its location by the kitchen, she could have just as easily made it a pantry. However, she and her husband are outdoorsy and desperately needed a functional mudroom in the narrow 53 sq. ft. space.
"We're avid hikers so we wanted a coat closet; to maximize shoe and other storage space; to add a new charging station (or two); to include a bench and to have shoe cubbies on the floor for muddy shoes and boots." – Michelle, IKD customer
IKD Designer Frank delivered.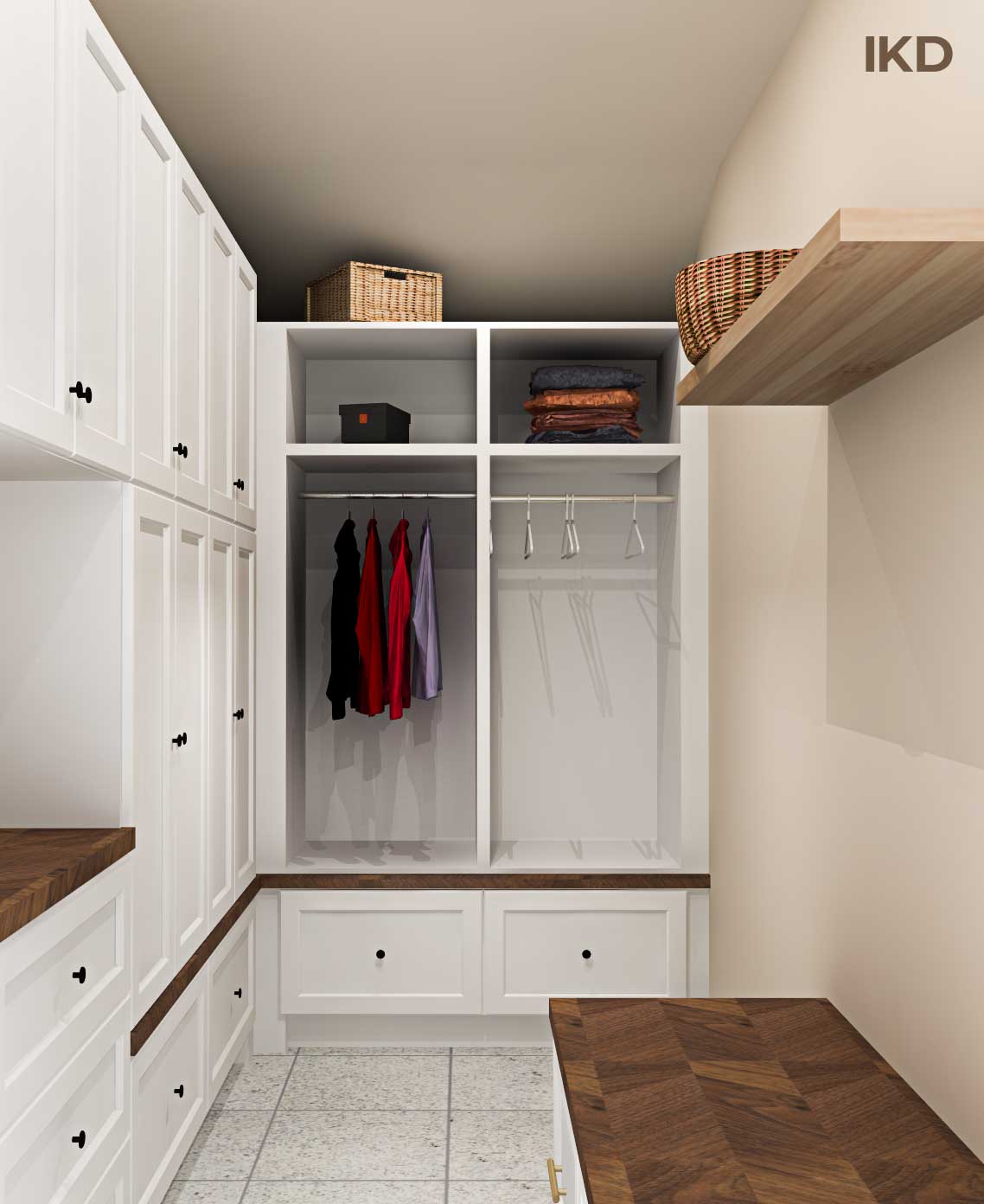 The mudroom has three walls, and Michelle and her husband tackled the installation herself. As we mentioned, they hired a local carpenter to help them complete some of the trickier hacks.
The ceiling slopes, so the SEKTION cabinets towards the back of the mudroom (including cubbies) are 86″H, while the rest of the cabinets are 102″H. The carpenter cut down the taller cabinets according to the instructions Frank included in the professional design package, and he also took care of making the cuts to the BARKABODA walnut veneer countertops. These countertops were used to create the wall shelf as well as the bench seating beneath the coat rack.
They chose white AXSTAD doors and drawer fronts for SEKTION cabinets and black BAGGANAS knobs. Due to its location adjacent to the heart of the home, they also wanted some display areas, a charging station, and some storage that could be allocated to office supplies and clunky kitchen items.
"IKEA has significantly improved the quality of their cabinets as well as the ease of assembly. We couldn't be happier!" – Michelle, IKD customer
The Importance of Professional Designs
We make the most of our customers' space by implementing creative storage solutions, maximizing space with frameless SEKTION cabinets, and using IKEA cabinet hacks to ensure all elements fit like a glove. You could try to put something together using IKEA's online planner or an in-store associate, but in IKD customer Michelle's words:
"We liked the ability to mix and match IKEA products in creative ways that go beyond what the IKEA store designers do."
Learn how we can help fit a mudroom in your home in a creative way.
Get a Professional IKEA Mudroom Design – All Online

Work with our certified designers to get a personalized mudroom designed around your needs and vision. If you're interested in learning more about our service, make sure to check out our IKEA Mudroom Design Services.