A review of how to get unique results for your IKEA kitchen using custom kitchen cabinets and a team approach.
Image 6 alt text: Farmhouse-style IKEA kitchen Remodel
In this Article
Creating an IKEA kitchen with a French Country Farmhouse-style
How custom cabinets create one-of-a-kind function and style options
Practical advice for future IKEA DIY kitchen remodelers
In Part 1 of this blog, we met Vicki and her husband from Villa Park, CA, who were remodeling the kitchen in their home in anticipation of renting it out so they could move into a new home and spend more time with their grandkids.
The couple selected IKEA's SEKTION kitchen system and used IKEA cabinets along with drawers and door fronts from third-party custom cabinet manufacturer Scherr's to create an inviting, two-toned French Country Farmhouse-style IKEA kitchen. Impressively, we also found out that Vicki and her husband did most of the project themselves — despite never having remodeled a kitchen before!
Time and cost were of the essence for the couple, and when we left them they were facing unexpected installation challenges posed by their initially small and inefficient space. By collaborating with IKD, the couple was able to incorporate some unique solutions that enabled them to reach all of their design goals.
Let's see how their IKEA kitchen finished up!
---
Why Design
with IKD?
Why Design with IKD?
---
IKEA Cabinet Hacks
Several IKEA cabinet modifications were used to provide practical and stylistic benefits.
"We modified the height of the oven cabinet and refrigerator top cabinet so we could use every bit of space, since IKEA's cabinets came in very limited heights (we bought the 90″ tall cabinet and reduced height by 4″). We made two 5″ cabinets for storing trays and wine; installed a 3″ spice pullout; installed a push-to-open Rev-A-Shelf waste pullout under the sink; and modified the depth of three cabinets behind the cooktop to 11″ deep to utilize what used to be unused space for bar seating. We also added four hidden drawers!" she describes.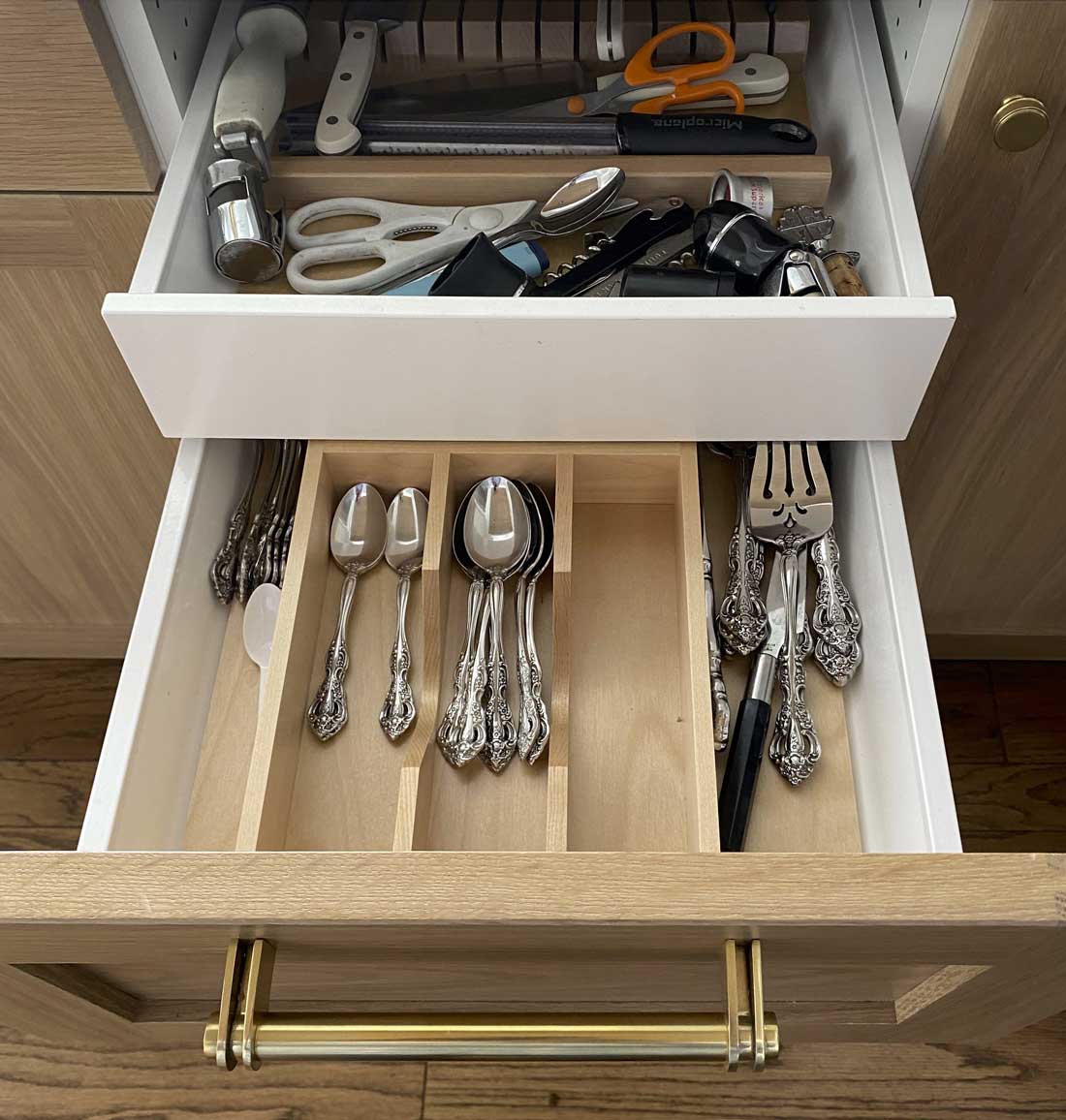 Frank had the couple custom cut the base corner cabinet [standard 47″(W)x 24″(D)x30″(H)] to 43-1/4″(W) x 24″(D) x 30″(H) and use one standard door measuring 14-7/8″(W)x29-7/8″(H). The top rail was replaced with a shelf to provide support.
To accommodate the Bosch refrigerator, the IKEA cabinets were custom cut to 36″(W)x24″(D)x10″(H) and featured two standard drawer fronts measuring 17-7/8″(W)x9-7/8″(H). Frank suggested a refrigerator with drawers at the bottom and at the top, with the doors starting at a height above the countertop.
Meanwhile, the custom door spice pullout measures 3-7/8″(W)x29-7/8″(H) and features a Rev-A-Shelf Pullout, providing convenient storage and access at arm's reach from the Bosch cooktop. (Frank suggested the Rev-A-Shelf filler as this accessory does not require a cabinet and the design needed 4″ space for the pull-out spice rack).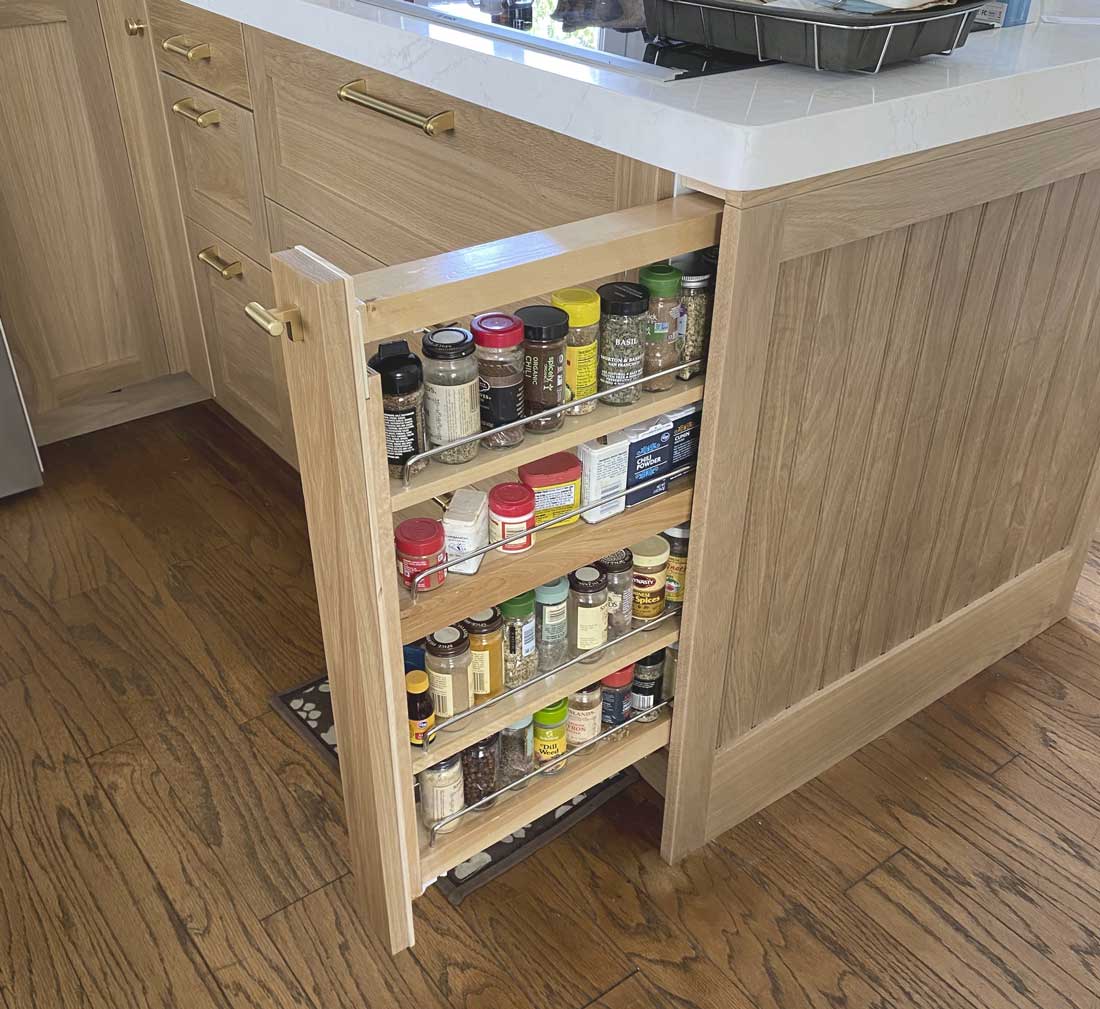 Also, the custom-cut pullout featured in the base cabinets on the kitchen cooktop run were cut from 12″(W) x 15″(D) x 30″(H). Here, Frank turned a drawer front vertically so it could be used as a cabinet door.
The custom cut pullout drawer next to the beverage center features one standard drawer front and two interior shelves and measures 5″(W)x15″(D)x30″(H), providing perfect storage for bottles of red wine. Notably, a 17-7/8″(W)x19-7/8″(H) pantry area is located adjacently from the peninsula island and provides extra storage options.
Appliance and Design Choices
To complement the French Country Farmhouse design theme, the couple selected a variety of high-end appliances.
This included a Miele (G7166 SCVi Auto Dos) dishwasher; a Bosch Benchmark 30″ induction cooktop featured on the peninsula island (Model NITP060SUC purchased at Home Depot); and a GE Café Smart Platinum Glass (Model CCR06BM2PS5) undercounter beverage center (also featured in the peninsula island).
"The biggest reason we chose our beverage center was its flush installation and integrated handle. It's in full view when you first see the kitchen, so installation mattered. We also needed it close to the kitchen door, so the flush handle was perfect," Vicki describes.
Image 8 alt text: A variety of high-end appliances for a French country farmhouse design theme
Other products include: A Faber High-Light Ceiling Flush Mount Hood in white matte (Model HILTIS36WHNB) and a Ruvati 33″ Workstation Double Ledge sink (Model RVH8222) paired with a Delta Marca single handle pull-down sprayer faucet (Model 19780Z SD-DST).
Note: The faucet was purposely installed with the handle facing front to minimize water collecting on the counter.
The product lineup concludes with a brushed nickel MAC Faucets electronic sensor liquid soap dispenser (Model PYOS-1100, purchased from Electronic Faucets in Paramount, CA) and light brown wood flooring.
Vicki adds that the two-toned cabinets, especially the stained base cabinets, are her favorite part of her IKEA kitchen because they create a timeless look. Another unique aspect is how they tied the look of the stained beadboard end panel in with the ceiling when they used beadboard in the recessed area where fluorescent lights used to be.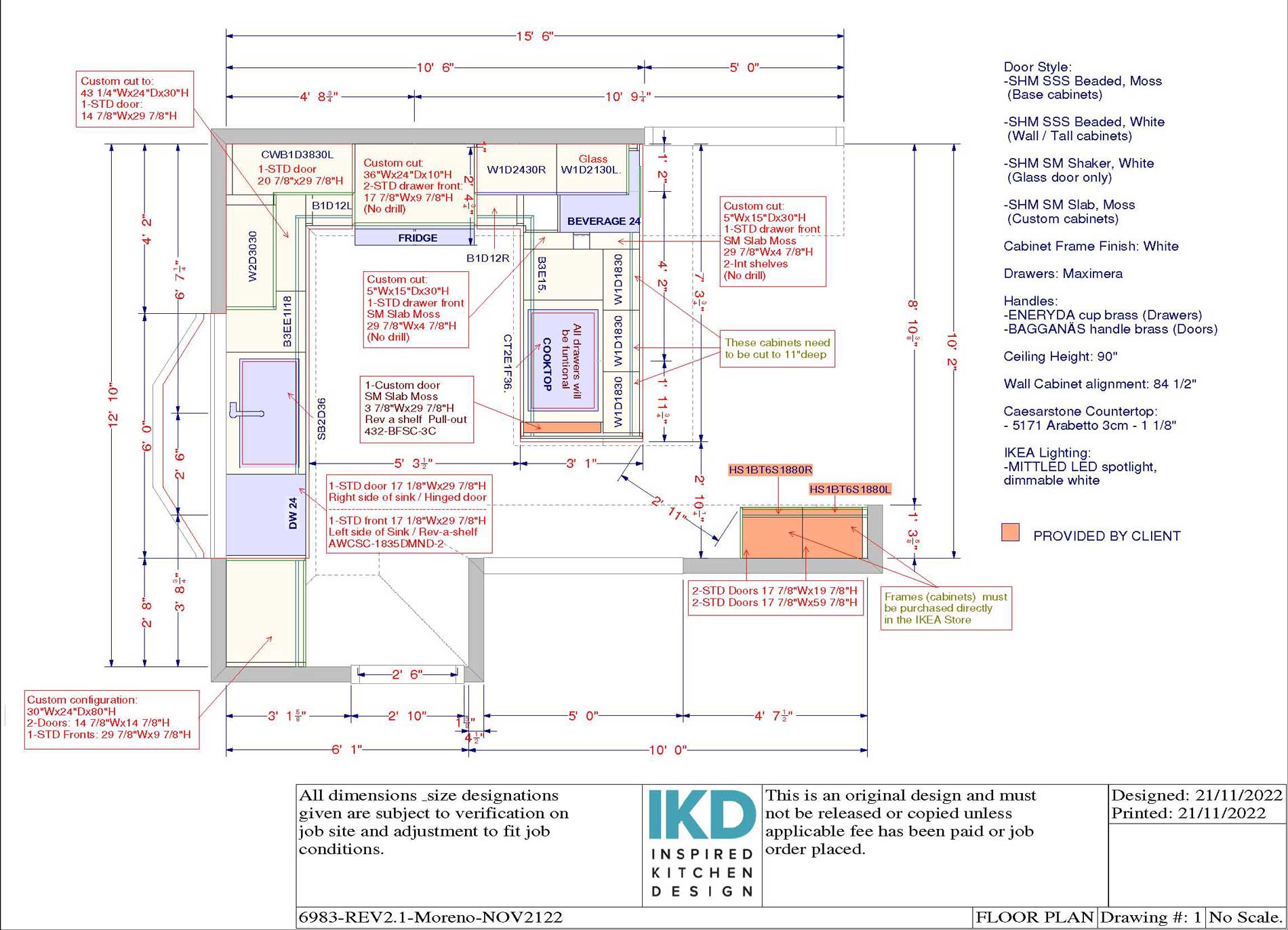 Expert Tips for IKEA Kitchen Remodeling
Vicki offers some valuable tips for future IKEA remodelers.
"Don't be afraid. When it comes to IKEA, there is zero shortage of people who have done whatever you're going to do. There will always be blogs, videos, HOUZZ, and Reddit forums and unlimited Instagram accounts for you to follow. I messaged people all over the world in the course of our kitchen remodel and found just about everyone was more than willing to answer questions. I also recommend that you research. It's time consuming, but consider it time well-spent if it saves you money on making expensive mistakes," she explains.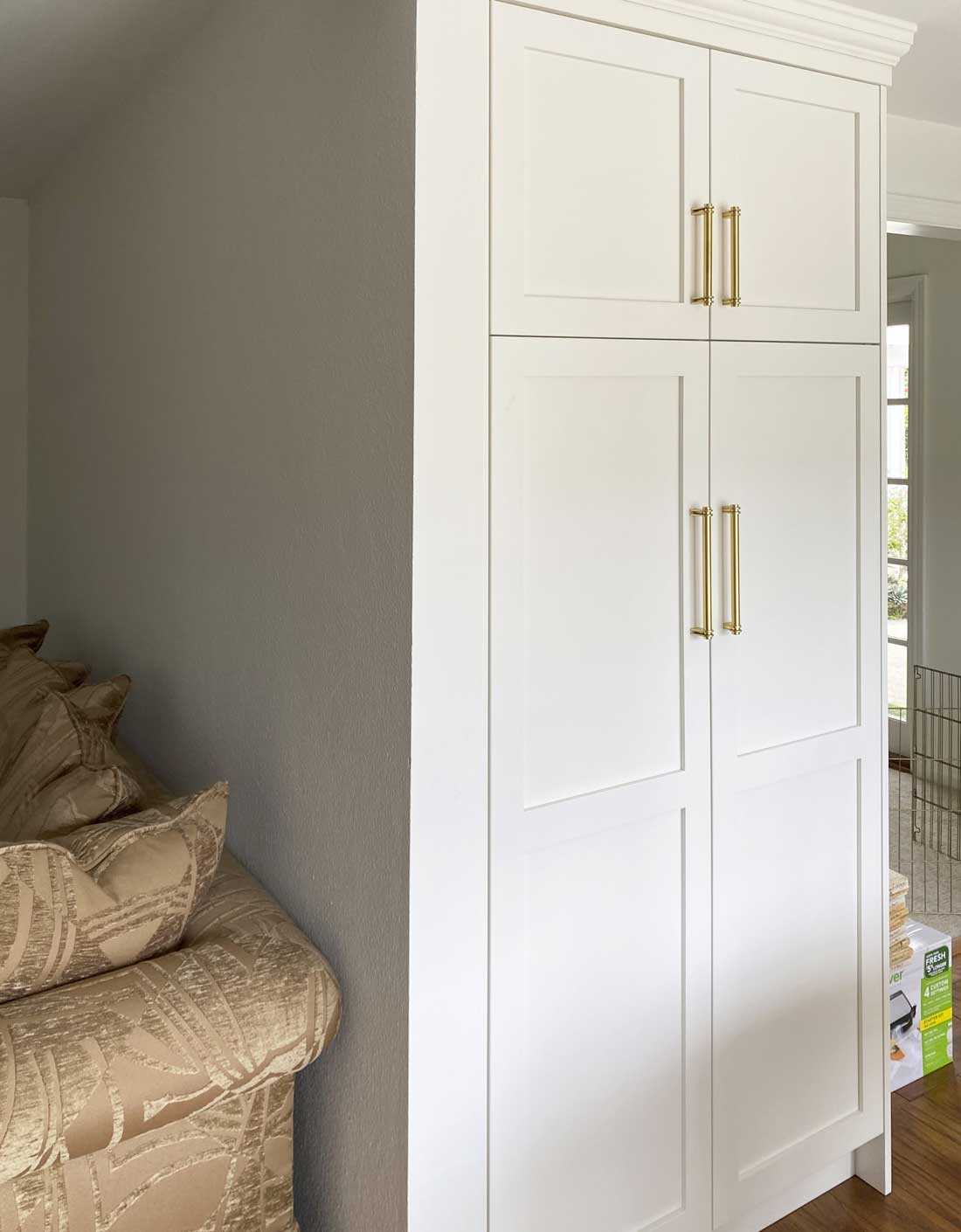 Remember, even first-time IKEA kitchen DIYers can navigate and execute the steps needed to create a dynamic kitchen layout. That is, of course, with proper guidance from qualified design professionals. Our design team is here to help you achieve similar results as Vicki's kitchen. Let's get started now!
Get a Professional IKEA Kitchen Design – All Online

Work with our certified kitchen designers to get a personalized kitchen designed around your needs and vision. If you're interested in learning more about our service, make sure to check out our IKEA Kitchen Design Services.