In this article:
Homeowners want a laundry room designer who listens.
How we work with multiple vendors to make a unique IKEA laundry design.
Why appliance details are essential for a built-in laundry look.
How we use IKEA SEKTION cabinets in creative ways.
Embracing Customer-Centric IKEA Laundry Design
If your IKEA laundry designer isn't customer-focused, they're doing something wrong. There is nothing we enjoy more than getting feedback from our design customers. That's how we know what we're doing right and what we may need to re-evaluate.
There are a few common reasons customers choose IKD over other options for their home design, including laundry room design. For example, we:
Pay attention to how you intend to use the space.
Create affordable designs using IKEA SEKTION cabinets and other IKEA products.
Imagine creative design solutions.
Maximize storage.
Most importantly, we make it a point to include you in the design process. Your laundry room design should be a collaborative effort, with the design professional considering your ideas, aesthetic, and unique workflow needs.
Collaboration made the following laundry rooms successful, and these homeowners were happy to share their thoughts and advice for future laundry room design customers.
---
Why Design
with IKD?
Why Design with IKD?
---
Essential Tips for IKEA Laundry Room Design
Going Beyond Conventional IKEA Designs
IKEA has a lot of great laundry room accessories for organization and creative storage, and Topeka, KS, customer Jan had some ideas of how to make SEKTION cabinets work in her laundry room.
"The most important thing for me was corner storage. It was just wasted space in my current laundry room design. I asked IKD to use SEKTION corner base cabinets." –Jan, IKD customer
She also chose IKEA AXSTAD matte white doors and drawer fronts for linen storage.
Other IKEA laundry accessories we often use in our designs include:
IKEA SEKTION base cabinets with MAXIMERA pullouts for clothes hampers.
Pre-cut laminate countertops for folding and sorting.
Hanging rods for drying or sorting clothes.
ELEVARI adjustable shelving unit for laundry basket storage.
However, one perk of using IKD is creating a design using alternative products – products that might work better than IKEA. IKD customers Pat and Carol from Chicago, IL, liked the IKEA KARLBY countertop for their laundry room design but were more drawn to Semihandmade for doors and shelving.
"Having the freedom to mix and match suppliers is one reason we chose to work with IKD. A cabinet box is a cabinet box, as far as we're concerned. Mixing Semihandmade with IKEA let us design with quality floating shelves and quality cabinet doors while staying in budget." –Carol, IKD customer
IKD customer William sourced his own floating shelf for the design below. It's a design that IKEA would never be able to produce in-store.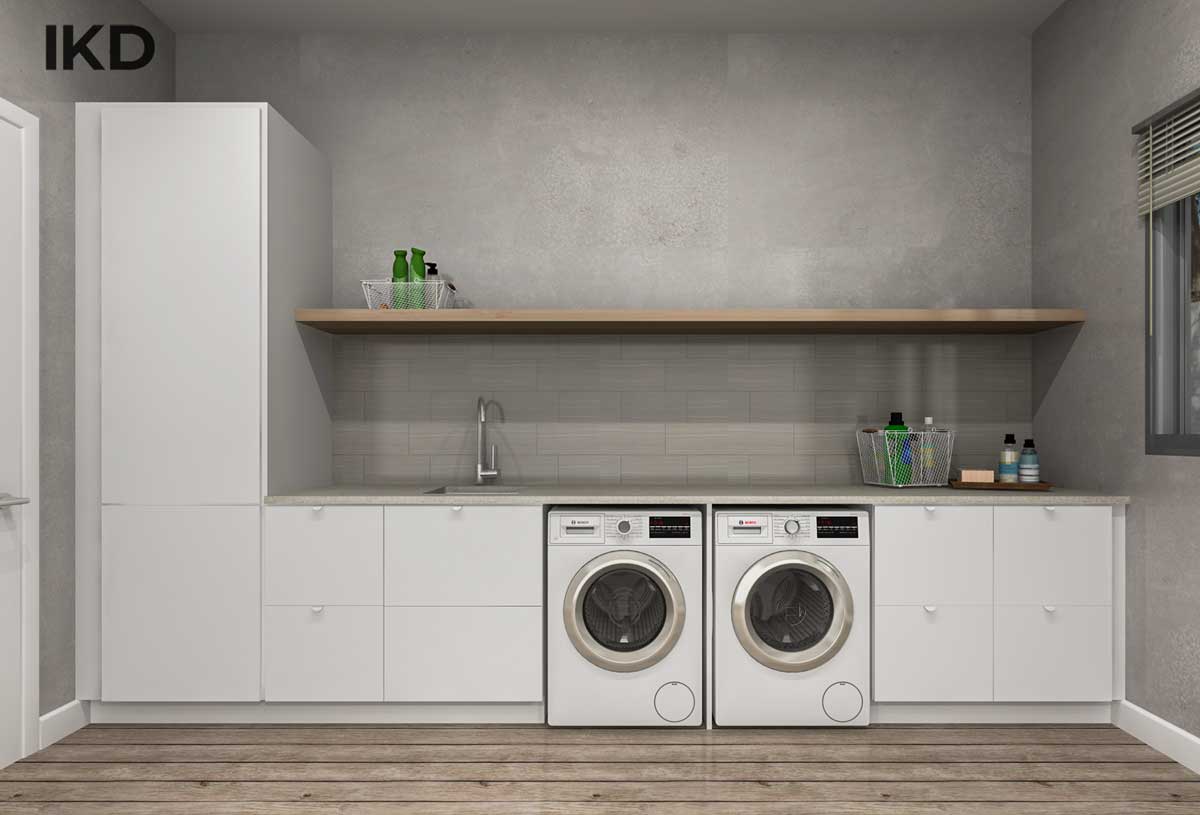 Understand Your Appliances for a Perfect Fit
Knowing your laundry room appliances before devising a final design is important.
The first reason is that designing with IKEA cabinets differs from most other cabinet brands. SEKTION wall cabinets have a 15" depth rather than the standard 12" depth. This has tripped up more than one contractor when installing appliances like microwaves in kitchens, and it's also something to consider in laundry room design to ensure your washer and dryer can properly function.
The second reason is that knowing the exact size, shape, and access points for your washer and dryer allows us to build the laundry room around the appliances. Designing around the appliances ensures your laundry room looks amazing and enables us to maximize every inch of available space.
While IKD can design a laundry room using standard appliance sizes, it's preferable to know the exact brand and model before the final revision. IKD must consider size, door clearance, lid clearance, and plumbing location and accessibility. These factors can affect the size and location of countertops, cabinets, and other accessories.
"I wanted this project done quick, and I wanted it to look good. All I had to do with IKD was send over the manuals for the washer and dryer, and they designed a laundry room that fit the appliances like a glove." –Dale, IKD customer
Our attention to detail allows us to give IKEA laundry rooms a built-in look, like in the example below.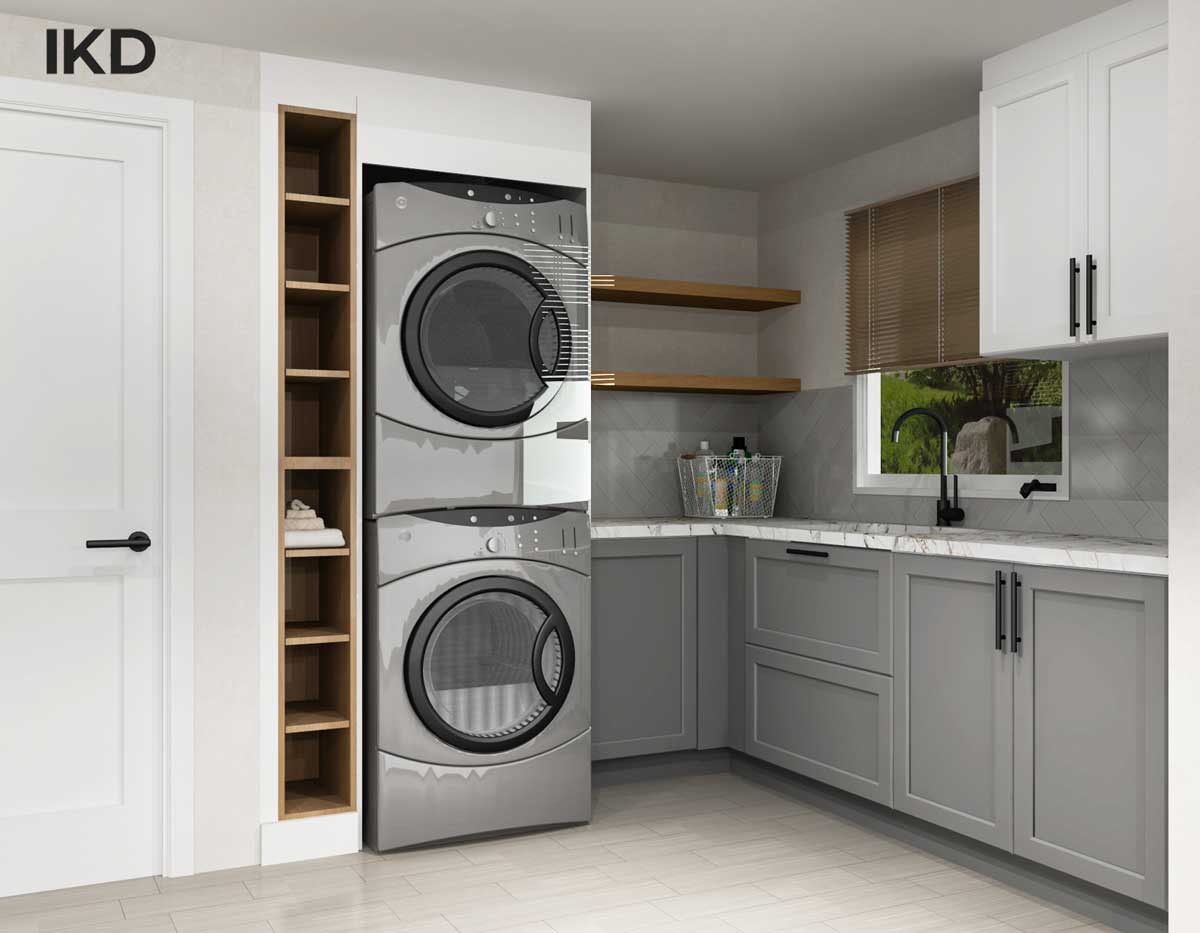 Engage with Independent IKEA Design Experts
We're IKEA design experts, but we don't work for IKEA. This is an important distinction. We know the ins and outs of designing with IKEA brands, but our goal isn't to sell products; it's to make our design customers happy.
For example, if you'd like us to build a design using IKEA SEKTION cabinet boxes, Semihandmade doors, hardware you found on Amazon, and countertops from a local vendor, we can do it. Try achieving this type of design through an IKEA store or the online planner, and you won't get very far.
Our differing goals and freedom from a parent company also shows in our popular IKEA cabinet hacks. We design hacks to make SEKTION cabinets work better in your laundry space and add creative storage and organization. Despite the known trend of cabinet hacking, IKEA can't recommend SEKTION hacks.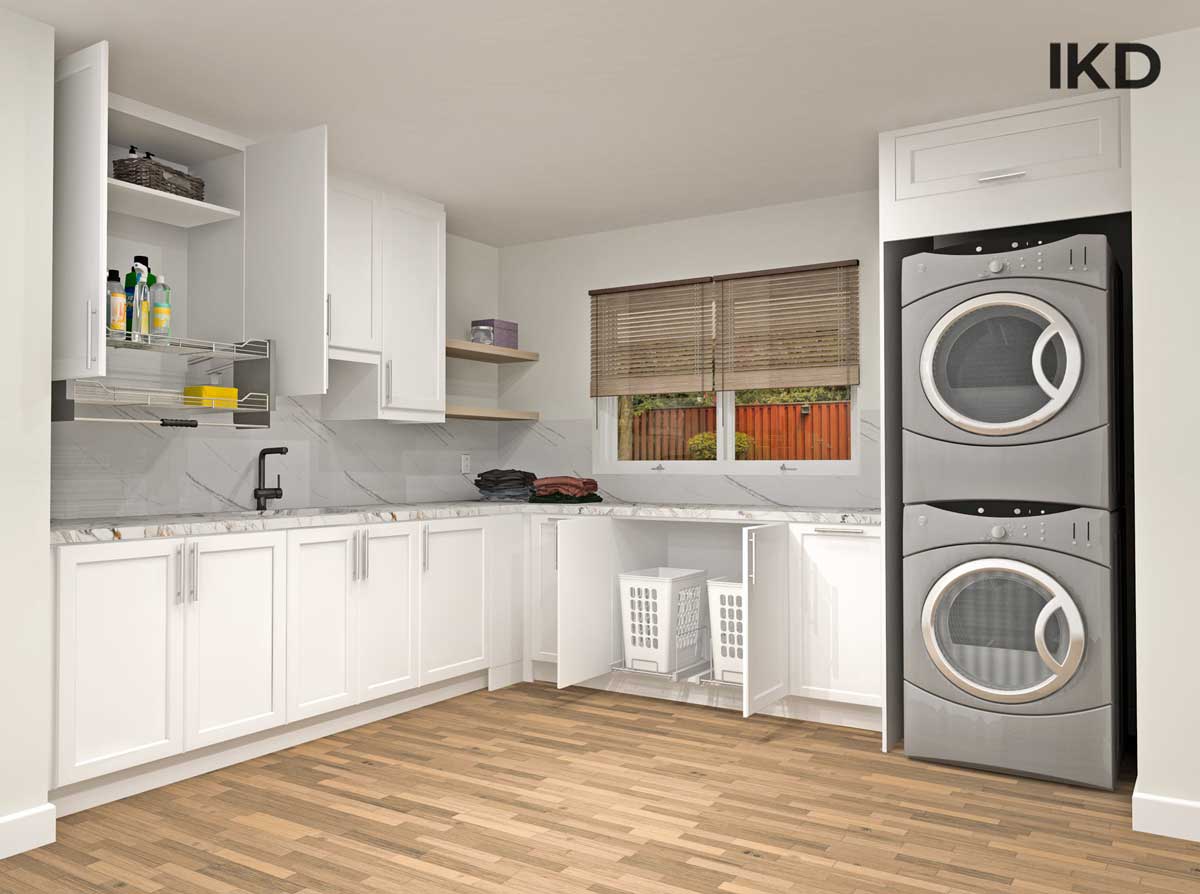 IKD customer Diane was thrilled with her laundry room design that included a hacked SEKTION cabinet with a Rev-A-Shelf full-extension sliding basket.
"This hack was such a great idea! Once the laundry is folded and placed in each basket, the kids just come to the laundry room and pick up their clothes." –Diane, IKD customer
Elise B. was also pleased to have a design company that worked to make her happy rather than make IKEA money:
"IKD seems to provide design expertise, knowledge of the IKEA line and of other options to customize the fronts. It seems like a great fit for my needs."
Transforming IKEA Laundry Designs with IKD
Our customers already know that more can be done with IKEA products than they've been led to believe. That's why they ask us for creative organizing solutions, hacks that maximize space, alternative door fronts, and designs with custom door fronts. They trust us to get the design right, despite differing appliances, laundry spaces, and design preferences.
This is the difference between planning with an IKEA employee and collaborating with an IKEA design expert.
Get a Professional IKEA Laundry Room Design – All Online

Work with our certified designers to get a personalized laundry room designed around your needs and vision. If you're interested in learning more about our service, make sure to check out our IKEA Laundry Room Design Services.