Organizing tips and products for your IKEA laundry design
In this article:
Say goodbye to laundry room clutter
How to utilize IKEA organizers
IKEA internal organizers vs. Rev-A-Shelf internal organizers
Laundry might never be fun, but an IKEA laundry design can get you as close as possible
You would be hard-pressed to find a homeowner who actually enjoys doing laundry. It's the same mismatched socks and dirty underwear week after week and hours spent folding and putting away just to wear the clothes again and then wash and fold them again.
And if you have kids, you know it's all going to end up thrown across the room while they're looking for their favorite [insert TV character here] t-shirt, anyway.
Unfortunately, laundry isn't going away anytime soon. However, remodeling your laundry room with a focus on organization can help make the task more tolerable.
---
Why Design
with IKD?
Why Design with IKD?
---
Your laundry room doesn't have to be a cluttered mess.
IKEA cabinets with doors help you contain mess and keep your laundry room looking beautiful. Multiple IKEA cabinet door options make it easy to choose a color you love – a color that makes you feel warm and happy even after realizing you've got fabric softener stains on your new jeans.
The following example combines custom doors from Semihandmade for the wall cabinets with turquoise IKEA HAVSTORP doors for the base cabinets.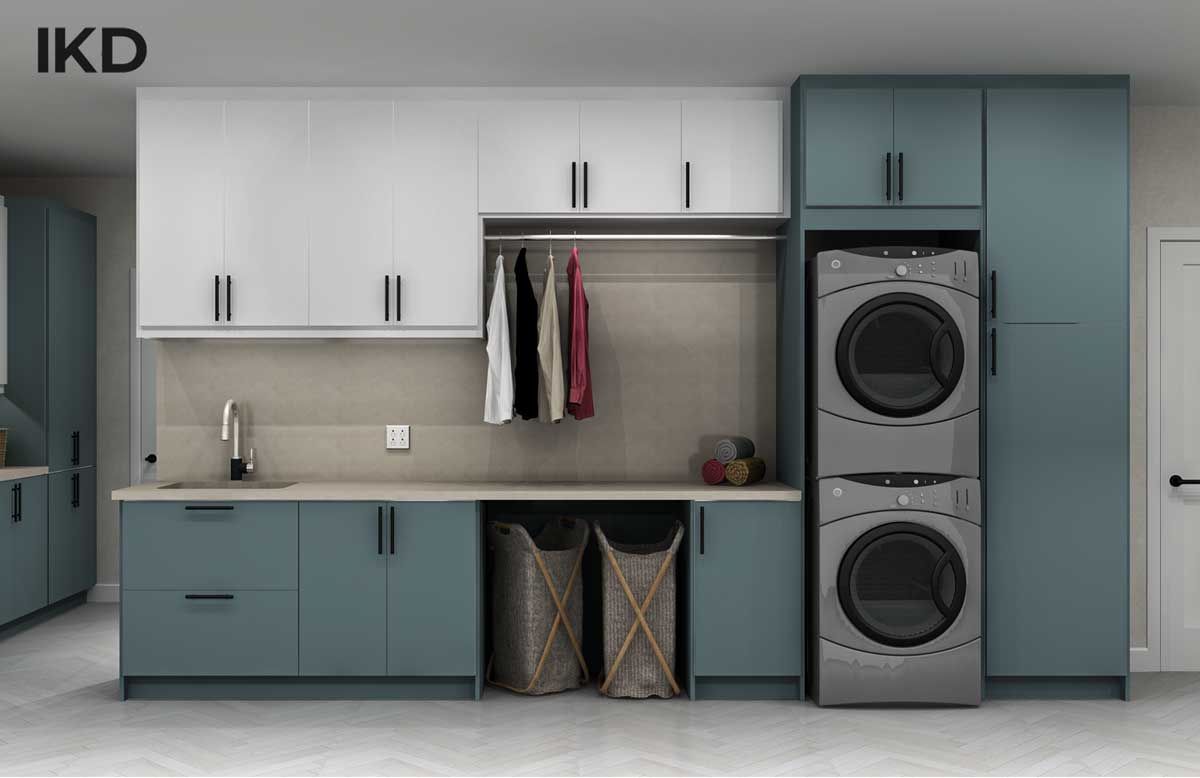 It's a very calming look.
For open cabinets, IKEA's baskets offer a stylish way to store anything from laundry detergent to linens and seasonal items. The hand-woven LUSTIGKURRE basket has an eye-catching design, and you can't go wrong with the basic BRANÄS basket.
For closed cabinets, we take an in-depth look at internal organizers below.
If you opt to use a laminate IKEA countertop (commonly known as Formica countertops), you'll have an attractive, functional laundry room with plenty of space to fold, sort, or lie down and contemplate life for about the cost of an average U.S. tax refund.
The only thing better than IKEA cabinets is IKEA organizers.
Being a European company, IKEA has many products ideal for small spaces. When it comes to laundry rooms, these include external organizers, like:
The ENHET laundry bin with casters – Convenient for sorting and hiding dirty laundry.
The foldable MULIG drying rack – Easily dry delicate clothing (or air your dirty laundry).
The MULIG clothes bar – Keep clothes wrinkle-free.
VADHOLMA open storage – IKD can integrate these with SEKTION cabinets.
SKOGSTA wall shelves – Store laundry room essentials.
The image below shows how VADHOLMA open storage can become an attractive and functional part of an IKEA laundry room design.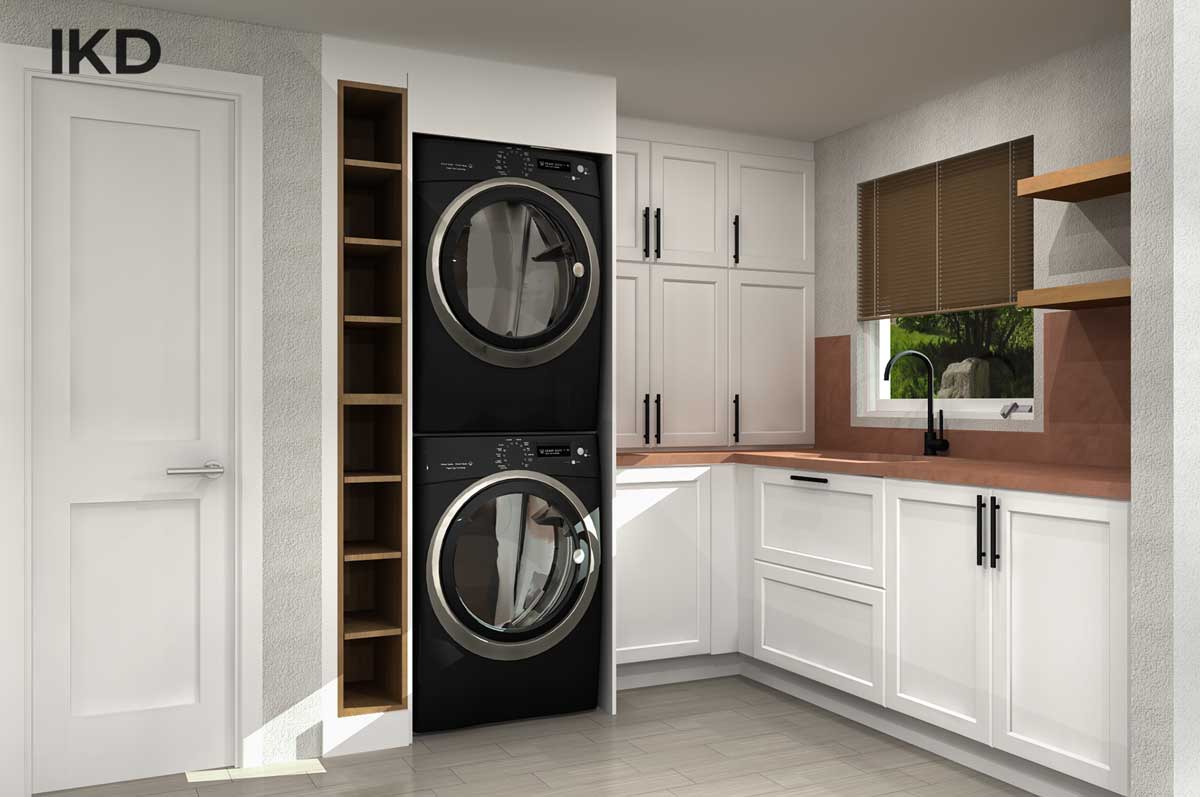 There are also a few IKEA internal cabinet accessories to choose from.
MAXIMERA drawers – Transform your SEKTION cabinet into quick-access drawers. These are ideal for laundry detergent pods, pet products, lint brushes, etc.
UTRUSTA shelves – We always recommend keeping laundry detergent, bleach, and other liquid items on a sturdy, stable shelf rather than in a drawer.
HALLBAR pullout frame – For trash and lint collection.
UTRUSTA pullout rack for cleaning supplies – If your laundry room includes a tall cabinet, this can be a great way to organize laundry and cleaning supplies.
Since IKEA has a clear kitchen focus, there aren't many internal organizers that speak specifically to IKEA laundry room customers – at least, not from IKEA.
The only thing better than IKEA internal organizers is Rev-A-Shelf internal organizers
Rev-A-Shelf is a company that specializes in internal cabinet organization, and one reason we enjoy designing with them is they are very compatible with IKEA SEKTION cabinets. Some RAS products we've used in laundry room designs include:
Pull-Down Shelf (5PD-24CRN) – Makes it easier to reach laundry detergent, bleach, and more.
Pantry Pullout (448-TPF58-14-1) – Turns fillers into functional storage space. It's great for laundry or cleaning supplies. Some customers use this feature to store backstock household items, like dish soap and shampoo.
Vanity storage rack (4VR-12-1) – Mounted on the interior of a cabinet door for additional storage. This could be a great spot for dryer sheets and smaller bottles.
The image below shows an example of two RAS products in one of our IKEA laundry room designs.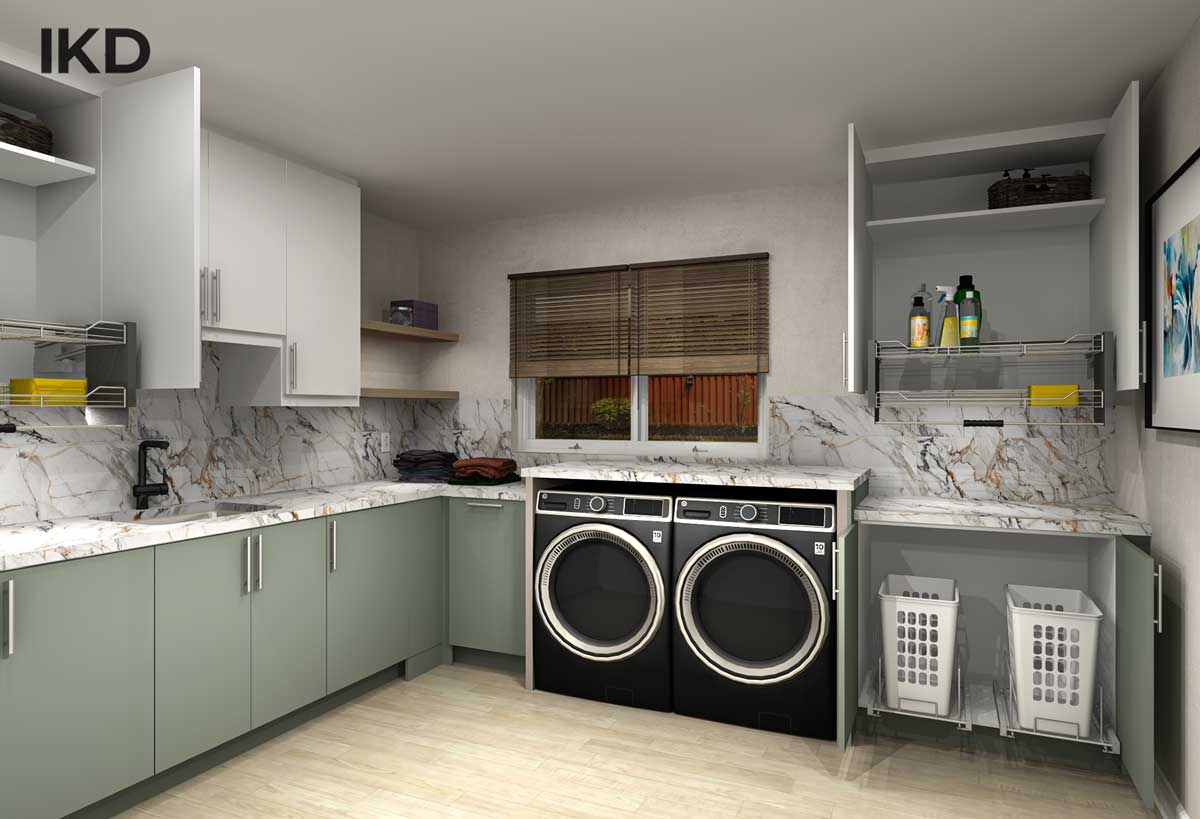 Rev-A-Shelf also offers several laundry-specific internal organizers, like:
Pullout laundry hampers (CH-241419-RM-211) – They come in all shapes, sizes, and styles to suit every household.
Drying rack drawer (4WDR-24HSC-1) – Transform a drawer into 18 linear feet of drying space for delicate items.
Elite Rotating ironing board (CROIBSL-14-SM-1) – A 13"W x 38"L ironing board that folds up to fit inside a 24"W x 14"D x 5.5"H cabinet. The days of finding room for a surfboard-sized contraption you never actually use are over.
IKD laundry room designs can include an internal organizer design package using Rev-A-Shelf products. Click here for an example of what our internal design package looks like.
Choose IKD for your IKEA Laundry Design
According to experts, an organized laundry room means you've got your life together – or, at least, you're on your way to having your life together. We're told there is some connection between organization and overall success, but let's start small.
In your new laundry room, everything will have a place, and you'll breathe easier. Sorting, switching, and folding the laundry might feel more like going to your happy place and less like running the gauntlet.
You'll also feel a sense of accomplishment. You didn't put off organizing your laundry room because no one ever goes in there. You changed it and made it work better for you – because, whether you like it or not, you spend a lot of time there.
In 2024, you deserve to have an organized laundry room you enjoy. And who knows? It might inspire you to redesign and organize other parts of your home.
Get a Professional IKEA Laundry Room Design – All Online

Work with our certified designers to get a personalized laundry room designed around your needs and vision. If you're interested in learning more about our service, make sure to check out our IKEA Laundry Room Design Services.