In this article:
Why homeowners turn to IKD for an IKEA laundry room design.
Pain points of small laundry rooms.
How IKD designs small laundry rooms to function in a big way.
IKD can create a functional IKEA laundry room in less than 50 sq. ft. of space
It's fair to say that U.S. laundry rooms are a bit of a luxury. In Europe, it's common for the washer to be in the kitchen with only a drying rack instead of a dryer. In the U.S., the average laundry room is 6' x 9'.
Even if you can't imagine having a washing machine where your dishwasher should be, it goes to show that it is possible to make smaller laundry rooms work. For the purpose of this article, we're calling a "small" laundry room anything less than 50 sq. ft.
---
Why Design
with IKD?
Why Design with IKD?
---
3 Common Small Laundry Room Design Roadblocks
1. Finding room to fold and sort clothes.
Sometimes, it's difficult for homeowners to look past the size of a space and imagine creative solutions. You may need a professional designer to reassure you that, yes, you can fit a countertop in that tiny space.
That's where we come in, and, no, the answer isn't always to stack your washer and dryer and stick a counter next to it. We designed a countertop for side-by-side appliances for one customer, Alexandra, back in 2020. She wanted a budget-friendly laundry room design with as much function as possible.
"Our budget for the laundry room project was a lot smaller [than our master bath]. I still wanted a custom look but didn't want to pay a custom price," Alexandra tells us. "We knew we wanted countertop space, a deep sink, and to maximize the cabinet space up top."
When Alexandra contacted IKD, she had a permit and a floor plan, and we helped ensure she was maximizing her space, even with side-by-side appliances.
She chose a third-party quartz countertop paired with Semihandmade's Agave Supermatte Shaker panels to build a countertop over her washer and dryer. It blends seamlessly with the adjacent SEKTION cabinets, MAXIMERA drawers, and SEKTION wall cabinets, also finished with Agave Supermatte Shaker fronts.
Alexandra was left with just one concern: How would she access the appliances if they needed to be serviced?
IKD recommended installing a hinge on the back of the countertop, allowing it to lift for easy access.
"It all ended up working perfectly!"
–Alexandra, IKD customer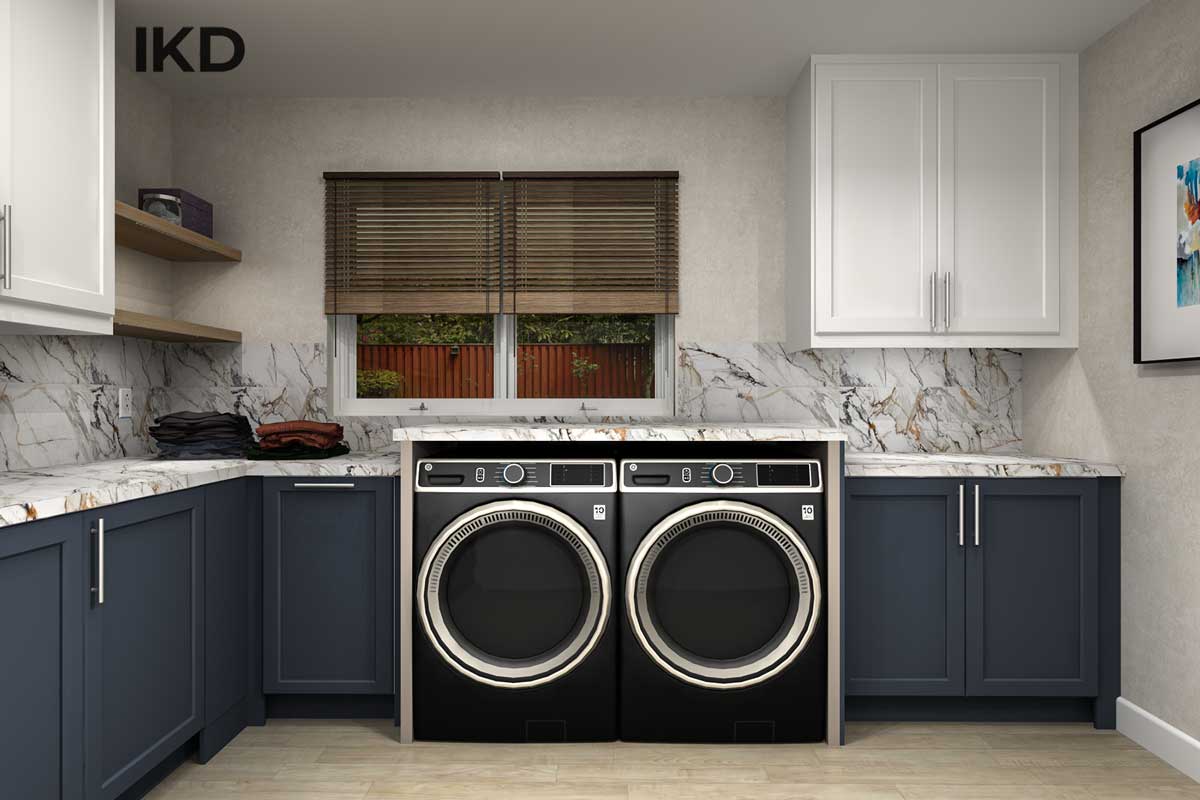 The other option for adding a worktop is having a workspace beside a stacked washer and dryer, as seen in this design.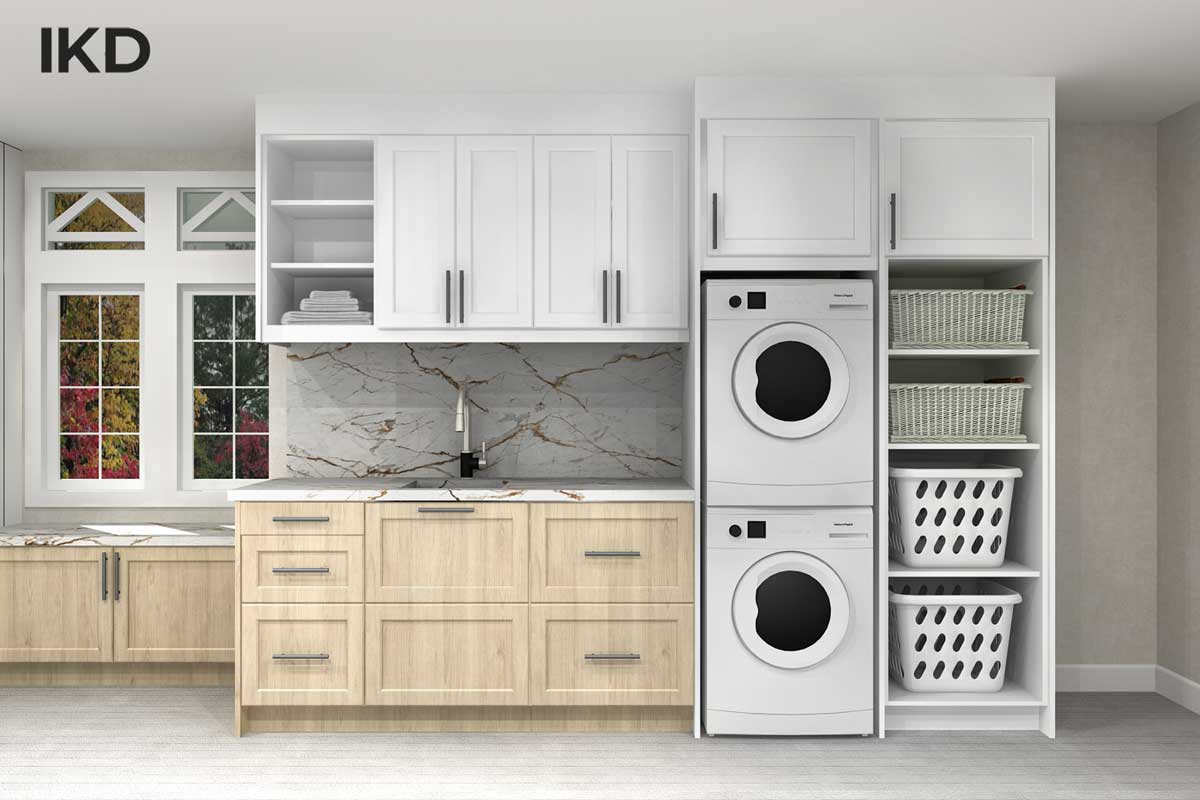 For this homeowner, sacrificing some counter space was worth it to have a sink nearby.
In our comprehensive design questionnaire, we ask you to reflect on how you plan to use the space, your aesthetic, your design concerns, and other details that will help keep you in control and make the design process run smoothly.
2. Optimizing laundry room storage
Going vertical can help with adding laundry room storage, as well. In the following design, we gave our customer floor-to-ceiling storage. Still, you have some decisions to make.
For instance, do you want to use GODMORGON in your laundry room or SEKTION cabinets? We design using both, but each product line has its quirks.
The main difference between the two options is that SEKTION is more customizable. With GODMORGON, your cabinet color options are gray, brown, or white. With SEKTION, you can choose from any IKEA door style, as well as custom third-party IKEA door fabricators, like Semihandmade.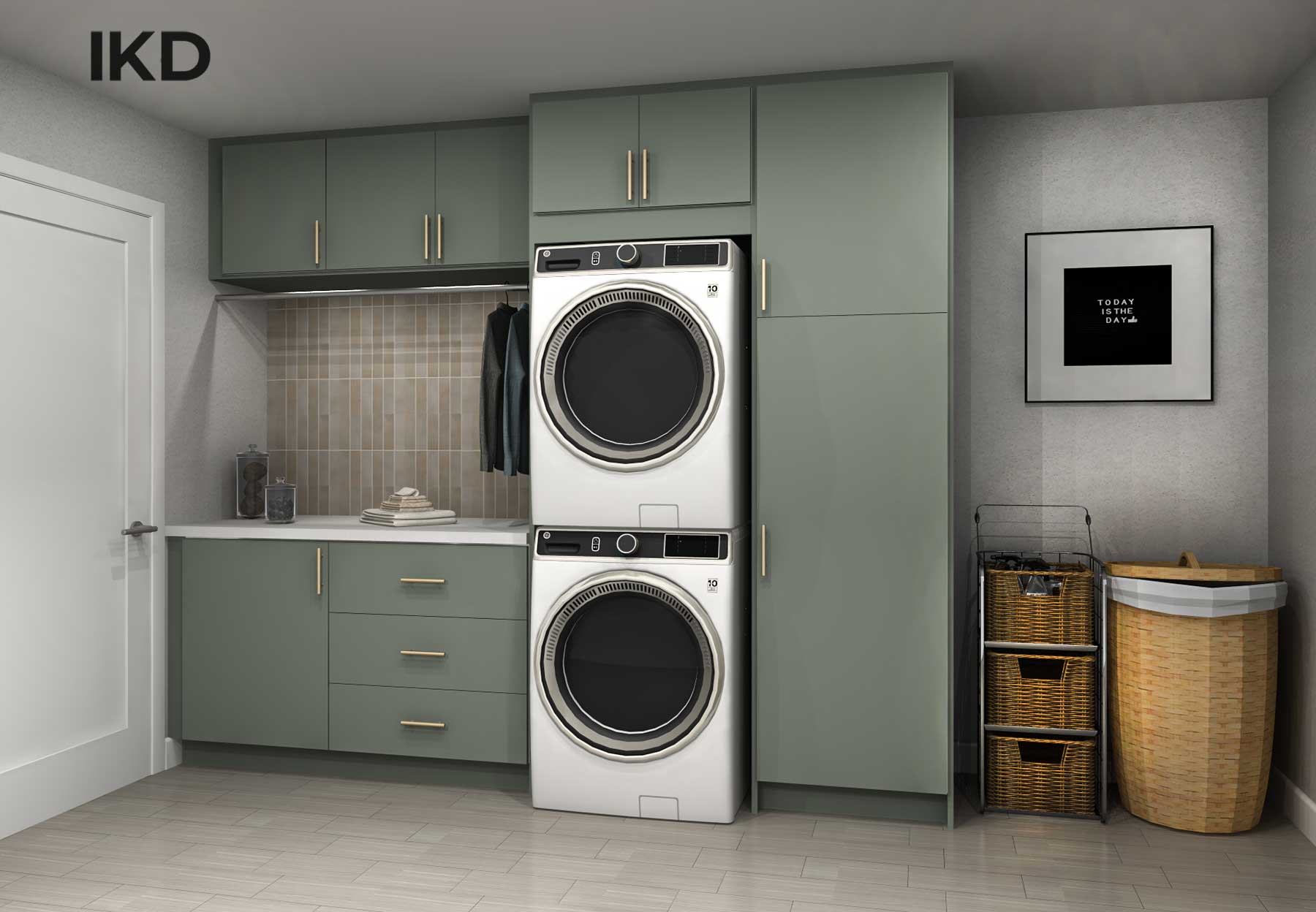 SEKTION cabinets are also more customizable because you can hack SEKTION cabinets. For example, to ensure no valuable space goes to waste, we can include detailed instructions on how to trim cabinets, create open cabinets, or even use a panel to create a custom 5" drawer, as seen in the hack diagram below.

Another way to optimize storage is to utilize our internal cabinet designs. By using internal organizers, like those provided by Rev-A-Shelf, you can make the most of your cabinets and even store a few welcome surprises, like a drying rack and ironing board.
The Rev-A-Shelf vanity ironing board (VIB-20CR) fits inside a vanity drawer between 14-1/4″ and 21″ wide, while the drying rack drawer (4WDR-24HSC-1) fits in a 21" wide drawer and offers up to 18' linear of drying space.
In the example below, we hacked a SEKTION tall cabinet frame to accommodate the Rev-A-Shelf pullout on the right. This was designed for our customer and foster dog mom, Chelsey, earlier this year.
"There were a few things that would make my life easier: a bigger laundry room, a place to keep shy foster dogs, and a place to bathe the dogs."
–Chelsey, IKD customer
This Rev-A-Shelf hack offered Chelsey easy access to pet products without leaving the wash station or having a cluttered mess of bottles and sprays on the floor next to her.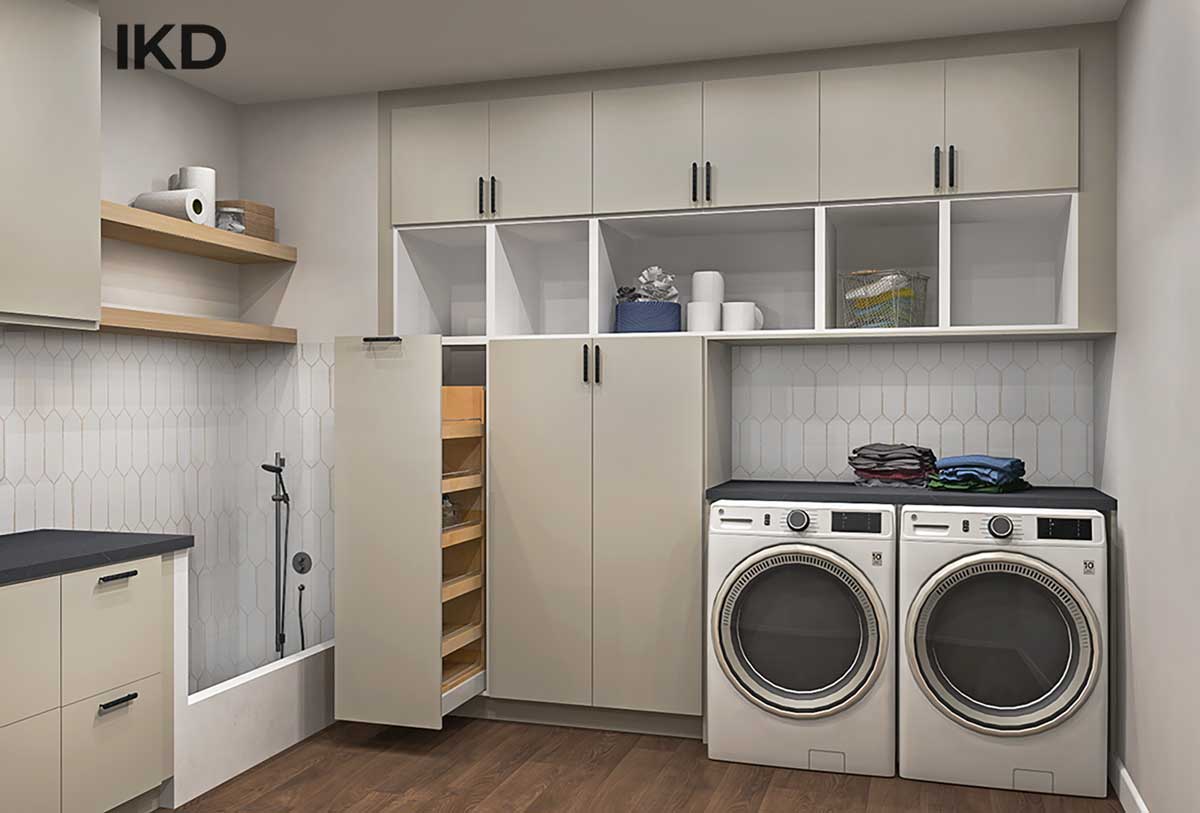 3. Making the most of awkward laundry spaces
Our designers shine when a homeowner comes to us with an odd or inconvenient architectural challenge. Vents, pipes, soffits, sloped ceilings, and even chimneys can make an already small laundry room feel impossible to navigate.
Sometimes, the bug is the feature.
For sloped ceilings, we include gap fillers and cabinet hacks to make the space functional and beautiful, giving the storage a built-in feel despite height differences. Below is an example of how we designed around a soffit for customers Glenn and Patricia.
By placing open BURHULT shelving in the upper right corner instead of a cabinet, we ensure the space beneath the soffit is usable.
Why Choose IKD for your Small Laundry Room Design?
At IKD, we don't just plug products into a program. We take the time to get to know you, your needs, and the space you're utilizing. Because we don't work for IKEA, we can recommend options that may better suit your needs, like Semihandmade doors, Rev-A-Shelf organizers, and IKEA cabinet hacks.
Our Laundry Room Design Package is just $395 and includes:
Floorplan
Elevation drawings
3-D color renderings
Lighting plans
Internal organization design
IKEA pricing and purchase guide
Get creative with an IKEA Laundry Room design from IKD
It's easy to think you would have a laundry room you love if you just had more space. But the truth is loving your laundry room comes down to the design. Even if you have little space, IKD considers your pain points, devises solutions, and presents a detailed design package that takes everything you love about large laundry rooms and puts it in a pint-sized package.
Get a Professional IKEA Laundry Room Design – All Online

Work with our certified designers to get a personalized laundry room designed around your needs and vision. If you're interested in learning more about our service, make sure to check out our IKEA Laundry Room Design Services.