In this article:
Don't settle for a hall tree when you could have a custom mudroom.
IKEA planners stick to the basics while IKD designers innovate.
We break down the cost of two mudrooms from design to installation.
IKEA Mudrooms vs. Traditional Hall Trees
A hall tree can cost between $850 and $1,500 on websites like Wayfair. These are wood, or faux wood, pieces that include a bench, cubbies, and coat hooks. If you're looking on a site like Etsy for a hall tree built to your exact specifications, expect to see price tags around $7,000.
These numbers have our home designers wondering: Why are homeowners spending so much on standalone furniture when they could purchase and install a custom-designed, built-in mudroom for $5,000 or less?
We can only think of one reason. Homeowners don't realize mudrooms can look this good and be so affordable. To raise awareness about the benefits of marrying professional design with IKEA products, we're continuing our series on cost transparency with this article on IKEA mudrooms.
---
Why Design
with IKD?
Why Design with IKD?
---
Unlocking IKEA's Potential: Beyond Kitchens to Customized Mudrooms
That's because IKEA showrooms only give you a taste of what you can achieve with SEKTION cabinets. If keeping the endless possibilities under wraps seems counterintuitive to running a business, look at it from IKEA's point of view.
They have thousands of mass-produced, high-quality products, and they need to sell. They offer one-on-one appointments with trained planners to help customers visualize how cabinets and furniture will look in their homes. However, it just isn't in IKEA's best interest to get too creative. That's why they plan; they don't design.
IKEA can't afford the time it would take to make their products work around unique structural features, specific design challenges, or individual customer design goals. IKEA planners want to play design Tetris, make a sale, and move on to the next customer.
As professional designers, we know IKEA can be so much more. Our designers have studied IKEA products, perfected IKEA SEKTION hacks, and learned to integrate IKEA with multiple cabinet accessory brands. We use this knowledge to create affordable IKEA designs for all parts of the home – including mudrooms.
View a sample mudroom design package here.
IKEA Mudroom Design #1: How IKEA Cabinets Revitalize Mid-Century Modern Mudrooms
Mudroom Design of Bare Entryway
The Carlsons began with a bare entryway in their mid-century modern home. They placed hooks beside the front door and a bench and black plastic shoe trays opposite. A few steps led up to the living room, and this power couple got used to throwing down their things and ignoring the 5' x 10' mud area.
"It got to the point where we felt most embarrassed about the part of the house that's supposed to feel the most welcoming. We didn't want to walk through it, and we didn't want our friends and family to see it. We had the space and knew someone with a better eye could find a solution while staying true to the architecture of the house. I saw some Houzz reviews for IKD where they'd worked in older houses and reached out." – Abigail C., IKD customer
Mudroom Design Cost: $395
IKD designer Meyer saw the opportunity to design a mudroom in the entryway by building a partial wall to create a nook. This nook would house the new 65" x 64" storage and seating area.
"Designing the mudroom with vertical storage allowed us to get really creative with corner storage, cubbies, and closed cabinet storage. Because Abigail and her husband were concerned with complimenting the original style of the house, I showed them a design that included lighter tones with VEDHAMN oak panels, beige HAVSTORP door fronts, and white accents." – Meyer, IKD designer
Some of these white accents come in the form of the marble effect EKBACKEN countertop used as bench seating and open SEKTION cabinet storage.
Instead of a jumbled mess, the Carlsons keep their mudroom organized with seven open cubbies, six closed cubbies, and hanging storage.
IKEA Cabinet Hacks for Corner Mudroom Storage
Meyer utilized two IKEA cabinet hacks in this mudroom design. The first was to make use of the corner by taking one 15"W x 24"D x 80"H SEKTION high cabinet frame and cutting it down to 15"W x 15"D x 58"H. The leftover material was used to create shelving, resulting in creative corner storage that is the perfect size for shoes, purses, umbrellas, water bottles, etc.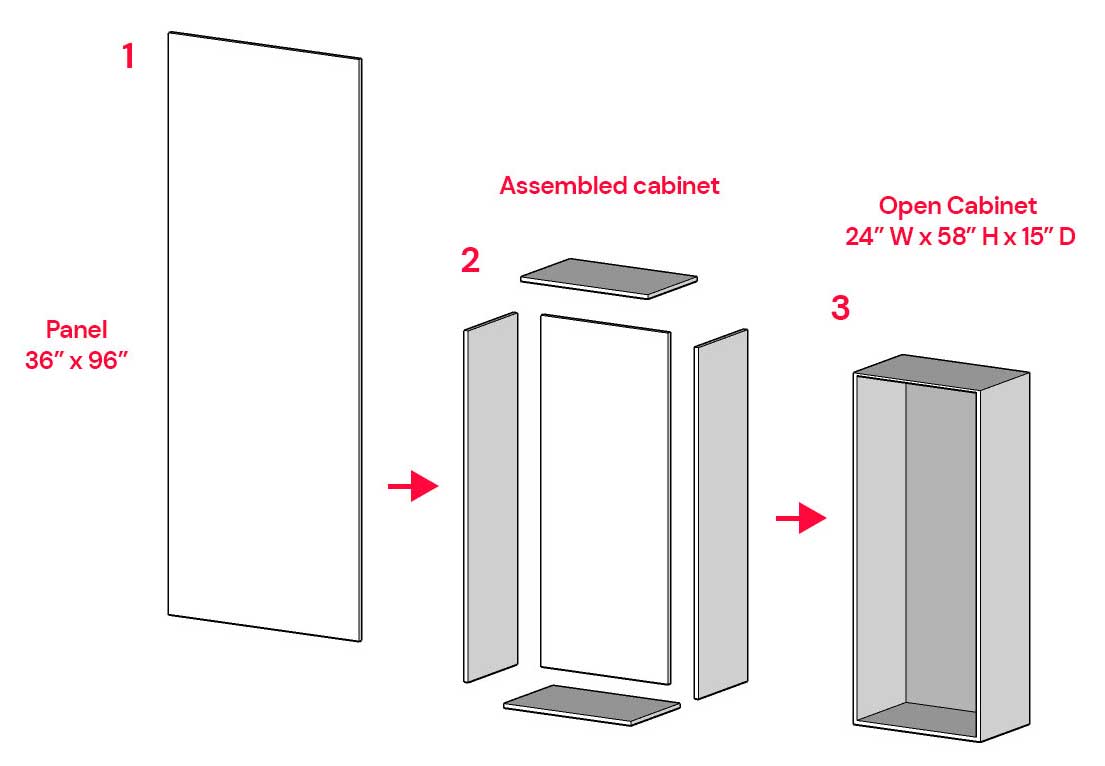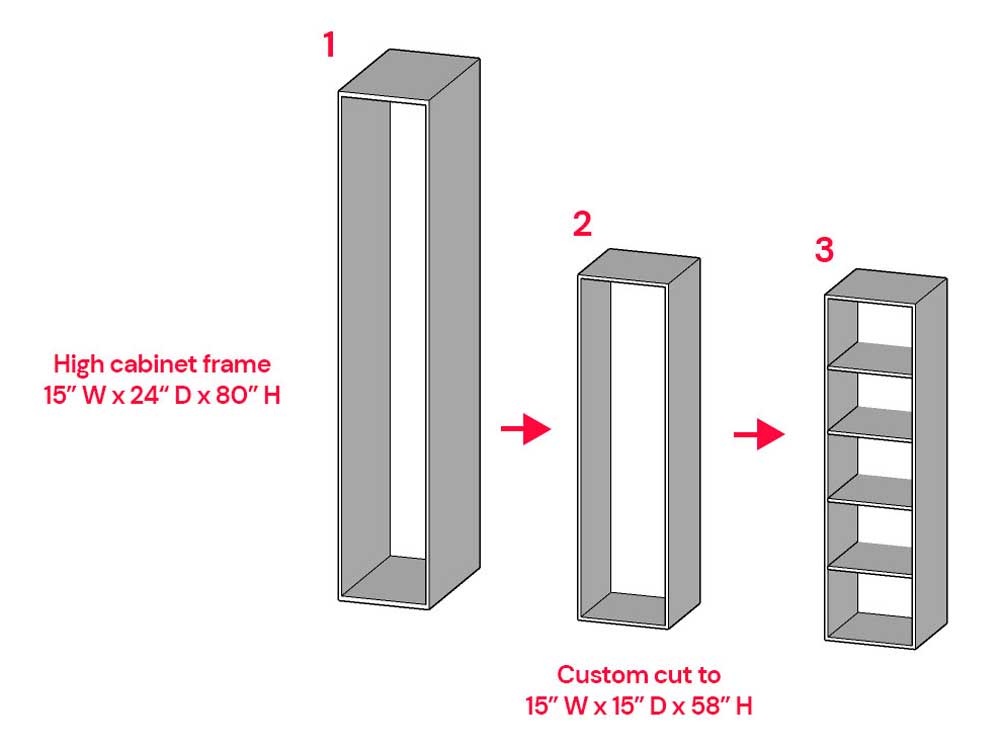 The second hack kept the natural wood look by cutting a 36"W x 96"H VEDHAMN oak panel to make a 24"W x 58"H x 15"D open cabinet for storage or seating as needed.
Mudroom Materials Cost: $3,517
SEKTION cabinets and fronts: $1,044
Extra IKEA items for installation (panels, supports, handles, etc.): $2,275
EKBACKEN countertop: $198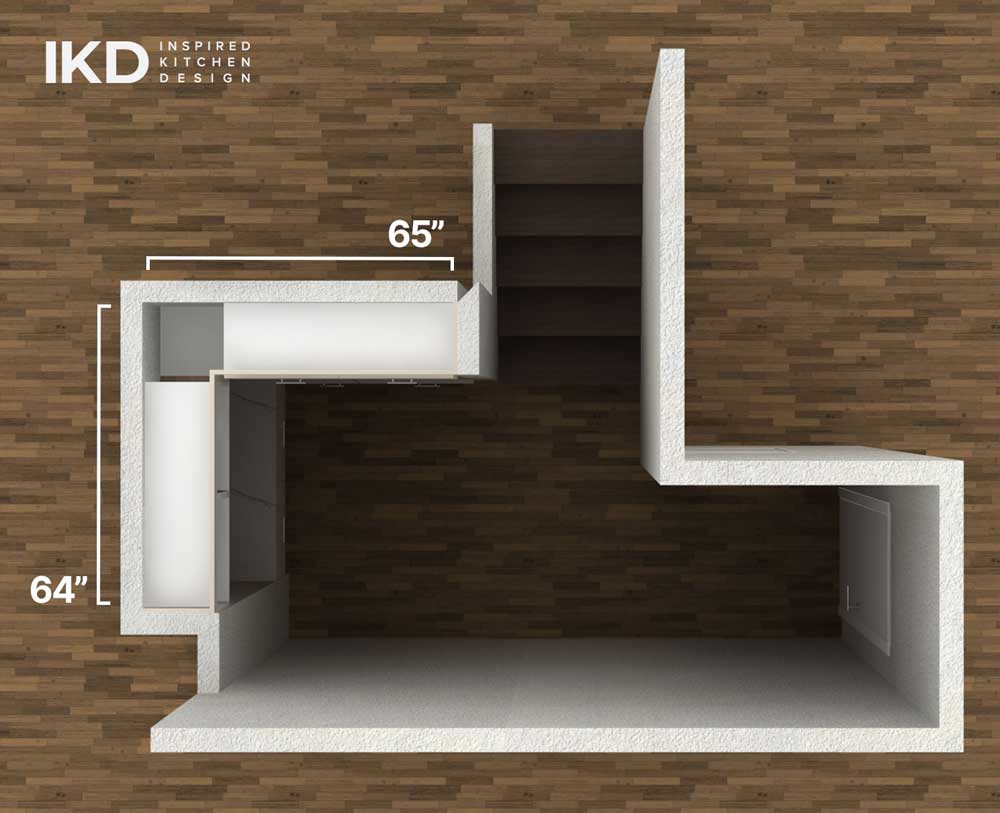 Cabinet Installation Cost: $1,450
Total Cost: $5,362
What isn't included in the cost of this IKEA mudroom?
This IKEA mudroom cost breakdown doesn't include the new walls used to frame the mudroom.
IKEA Mudroom Design #2: IKEA Mudroom Makeover for Busy Families
Mudroom Design of an Existing Space
This family of five decided to install the mudroom in an existing space rather than build a new one. While many homeowners are ditching the formal dining room in favor of the kitchen table, the Bucks went in the opposite direction. They kept the dining room and converted the kitchen eating area into a mudroom for the back door. By removing a wall of built-in shelving, they created a nook for this stunning IKEA mudroom design.
Comment "We used IKD a few years ago to design our IKEA kitchen, which has AXSTAD blue doors and butcher block countertops. Since the mudroom would be in the kitchen, we wanted it to match. IKD came up with a design that gives everyone in our family a space. We're really excited the muddy shoes and jackets aren't piling up in kitchen chairs anymore." –Bill B., IKD customer
Mudroom Design Cost: $395
Frank revisited the kitchen design he had created for the Bucks and used it as a jumping-off point for their new IKEA mudroom.
"Bill asked for floor-to-ceiling storage in the same style and color as the rest of the kitchen. They wanted storage for seasonal items at the top, shoe storage at the bottom, and of course an area to hang coats and jackets as well as a bench seat. We mixed the bold AXSTAD matte blue cabinet doors and drawer fronts with the earthier wood tones of VEDHAMN oak panels and a BARKABODA butcher block bench seat.
Since the kitchen walls are white, the open SEKTION cabinets don't look out of place in this design." –Frank, IKD designer
To finish with a cohesive unit that fit the measurements (110"W x 21"D x 106"H) exactly, Frank used a few IKEA cabinet hacks.
IKEA Cabinet Hacks for Open and Hanging Storage
To create the units for hanging storage on either side of the bench, Frank cut two 24"W x 24"D x 80"H SEKTION high cabinet frames down to 24"W x 21"D x 55"H.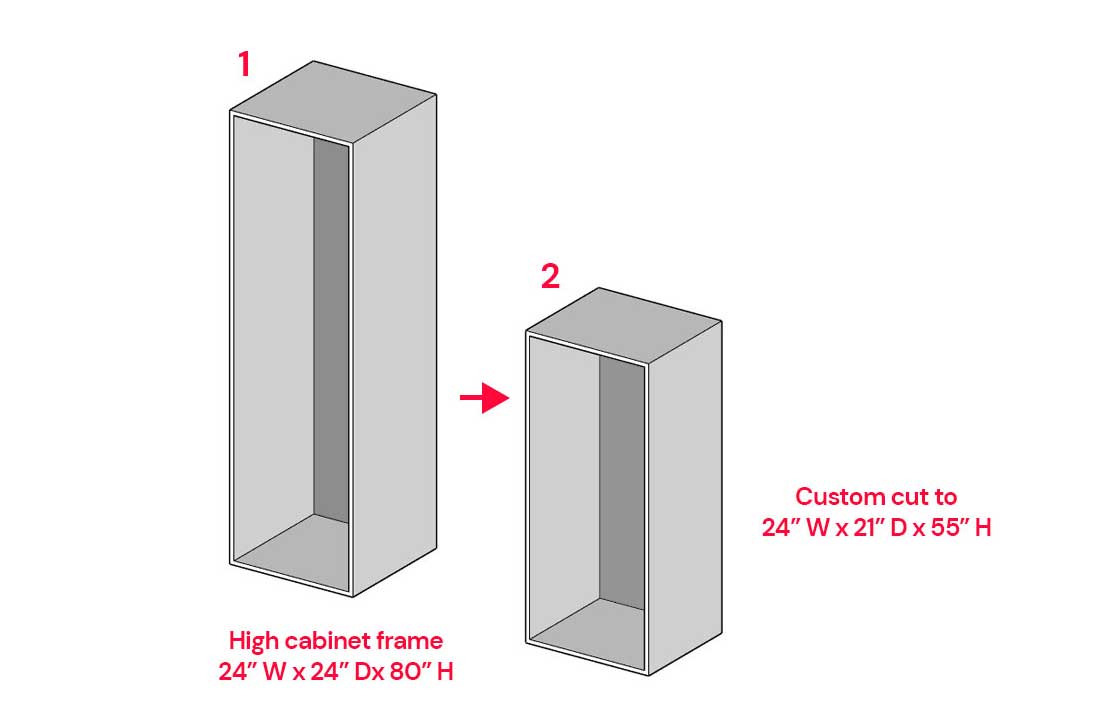 Two sizes of fridge wall cabinets were cut to depth, as well. Four 24"W x 24"D x 15"H and four 30"W x 24"D x 15"H SEKTION cabinets were trimmed to 21"D to create the closed cabinets.


For the open storage, Frank implemented a different hack. Since SEKTION cabinets only come in white and have unsightly holes for shelves and mounting hardware, he used panels to give the mudroom a more finished look. He used 36"W x 96"H white SEKTION and VEDHAMN oak panels cut to the same sizes as the closed cabinet storage.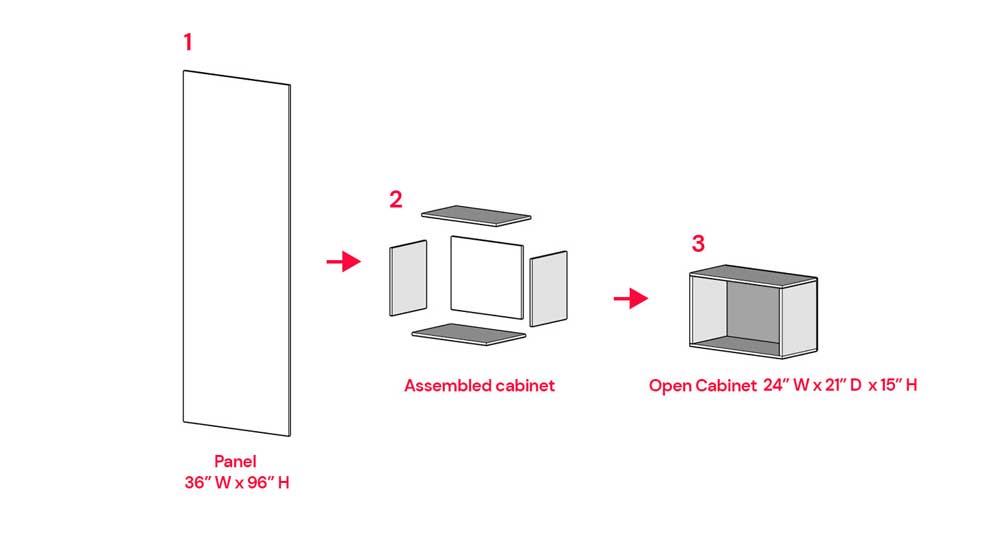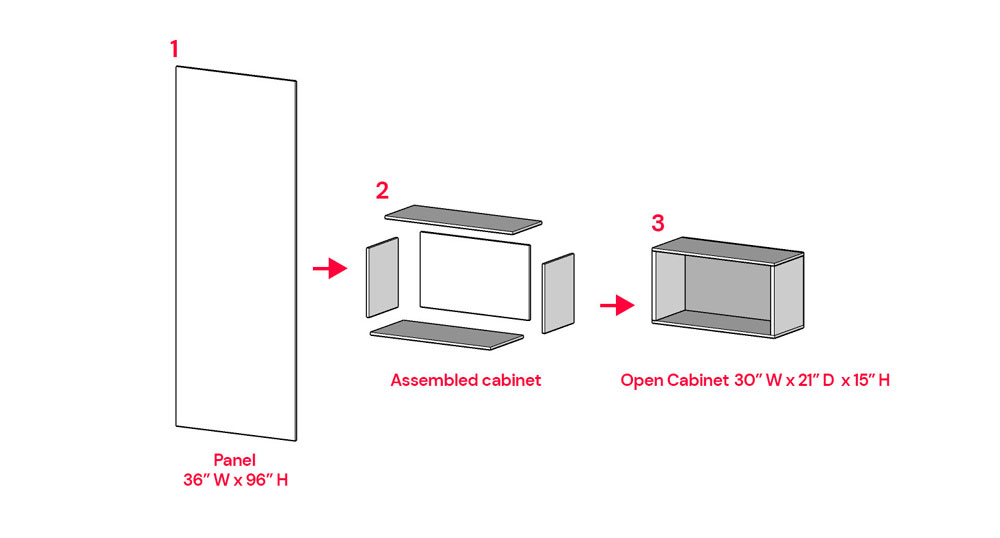 Hack instructions are included in every IKD design package.
Mudroom Materials Cost: $3,025
SEKTION cabinets and fronts: $1,632
Extra IKEA items for installation (panels, supports, handles, etc.): $1,114
BARKABODA countertop: $279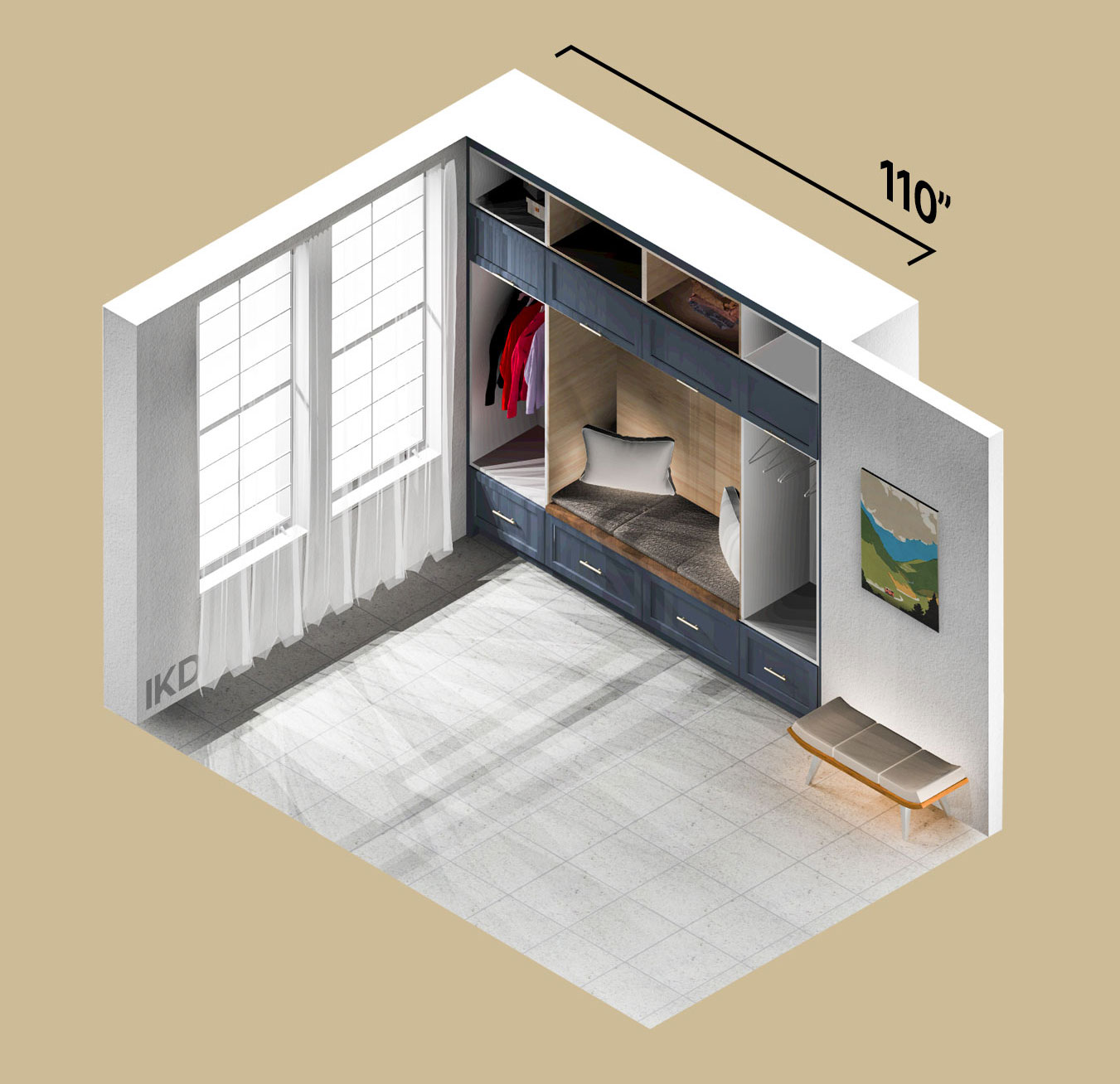 Cabinet Installation Cost: $1,940
Total Cost: $5,360
What isn't included in the cost of this IKEA mudroom?
The listed price includes everything for this mudroom design from start to finish.
IKEA provides and IKD designs.
IKD uses IKEA's affordable, versatile SEKTION cabinets to design custom mudrooms that fit seamlessly into any home. We offer creative, functional design solutions that give homeowners the HGTV look they crave without breaking the bank.
Get a Professional IKEA Mudroom Design – All Online

Work with our certified designers to get a personalized mudroom designed around your needs and vision. If you're interested in learning more about our service, make sure to check out our IKEA Mudroom Design Services.