In this article:
IKD maximizes storage in small IKEA bathrooms.
IKD's professional design package makes executing your bathroom project a breeze.
IKD knows IKEA products.
We look at Houzz reviews from happy customers.
IKD's Designers Offer Expertise in Bathroom Storage, Design Details and IKEA Products
IKD was formed over ten years ago to help homeowners interested in IKEA's ready-made, affordable kitchens who desired more customization options. These customers had an architectural anomaly, like a sloped ceiling or chimney. They had an accessibility issue, like needing a mobility device or aging in place. Sometimes, they just wanted different door and drawer fronts or a better way to organize corner cabinets.
These were issues best dealt with by a professional designer, but most third-party designers wouldn't use IKEA as a starting point. We did. Soon, we started getting requests like this one from a 2015 Houzz review:
I would absolutely used IKD if I ever had to do another kitchen and will recommend to my friends and family. My only question is…when are they going to start doing bathrooms?
Keep reading to learn more about what Inspired Kitchen Design can do for your IKEA bathroom.
---
Why Design
with IKD?
Why Design with IKD?
---
Maximizing the Space in Small Bathrooms
Customer Laura C. was kind enough to leave a 5-star review on Houzz, speaking to IKD's ability to "create a spa-like experience in a small space" and maximize bathroom storage.
There are two main ways we successfully maximize IKEA bathroom storage:
By employing IKEA cabinet hacks.
By believing the design of the cabinet interior is as important as the exterior.
IKEA Cabinet Hacks for Bathroom Storage
We helped one couple replace a linen closet in a bathroom with little width but plenty of height.
IKD designer Albert used that height to his advantage when designing a solution by stacking two 15"W x 30"H IKEA SEKTION wall cabinets on either side of the sink from countertop to ceiling. He then used two 60"H side panels to cover the seams and give the cabinets a built-in look.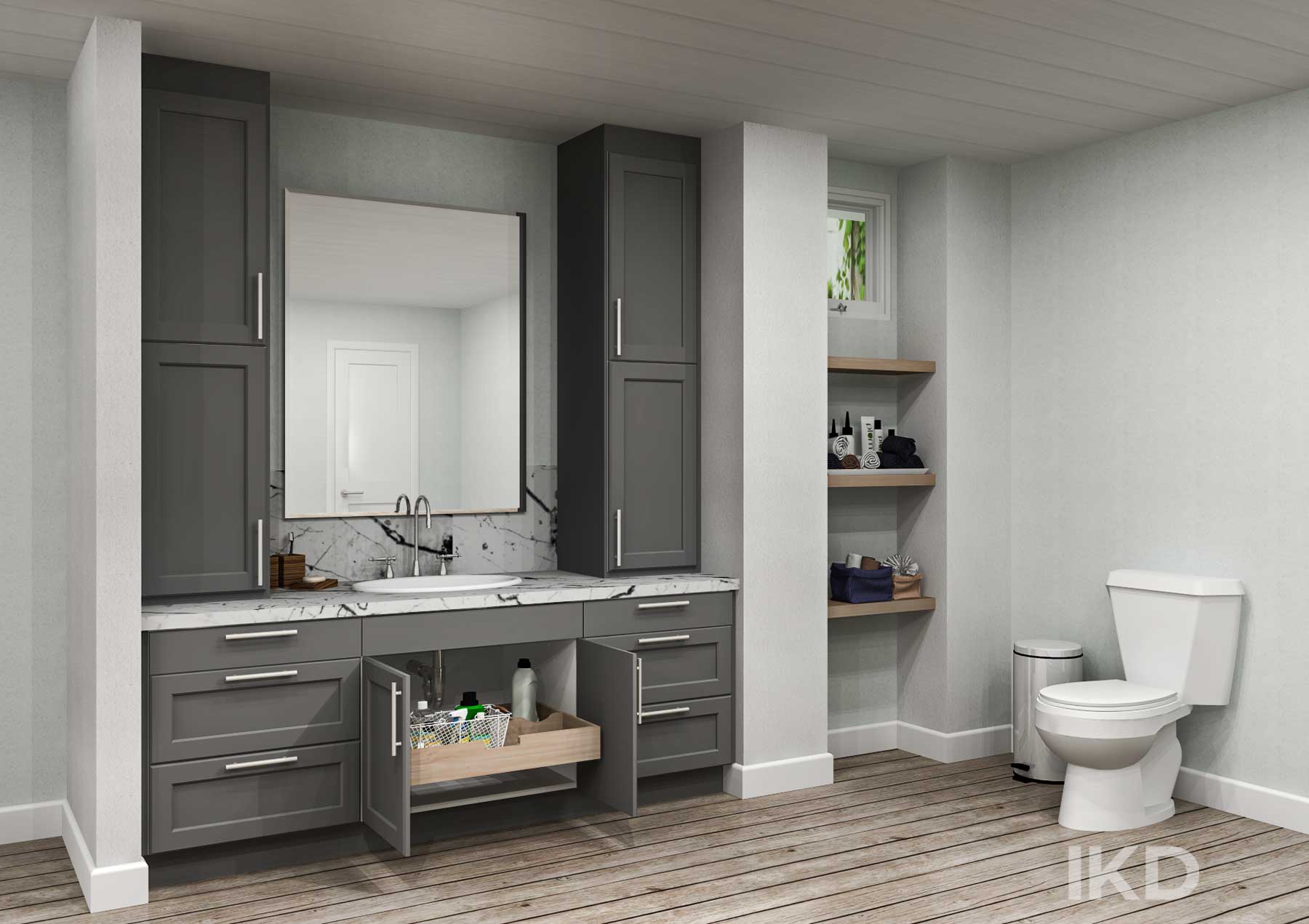 Nothing about this design represents how IKEA intended these products to be used, but our team lives for creative design.
Designing IKEA Cabinets from the Inside Out
We don't just think about the exterior of bathroom cabinet design but the interior, too. While IKEA plans limit customers to IKEA storage solutions, we're free to use the best available – even if they aren't IKEA. In many cases, we recommend Rev-A-Shelf.
One design for IKD customer Kristen included an 84"H tall cabinet with five shelves and two Rev-A-Shelf interior organizers. She appreciated the added storage a door-mounted organizer provided and the easy accessibility of the pullout bottom-mount waste container.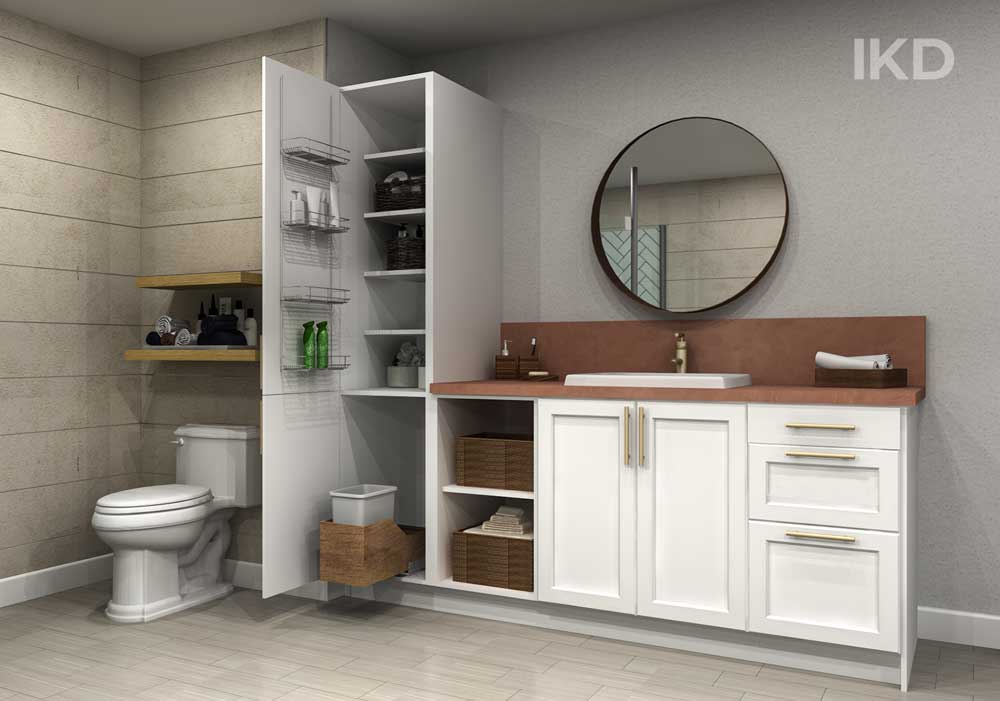 How IKD Simplifies the Bathroom Design Process
A 5-star Houzz review from a customer requesting kitchen, laundry room, and bath designs raves about the ease of the IKD design process. From the first email to design execution, we do everything possible to make your bathroom design package user-friendly.
The IKD bathroom design process includes the following steps:
We'll ask you to provide room measurements (using our handy Quick Measure Guide), project information, inspiration photos, style preferences, etc.
Working with an IKD designer is a collaboration; we expect some back-and-forth. We'll create a custom design based on the information provided and offer up to two revisions at no cost.
We provide a detailed lighting plan and an internal cabinet organizer design upon request.
Your final design package always includes a high-resolution 3-D rendering of the space, floorplan, elevation drawings, detailed IKEA cabinet hack diagrams, and a pricing & purchase guide that makes it easy to buy everything you need for your bathroom cabinet installation.
Often, the design turnaround time is three days or less.
You can get a custom IKEA bathroom design, purchase supplies, and even find a local IKEA installer, all from the comfort of your home. It doesn't get much easier than that.
IKD's Certified Designers are IKEA Product Experts
Not only are we professional bathroom designers, but we also make it a point to know all about IKEA products. We consider how products intended for the kitchen (like SEKTION cabinets) can be used in a bathroom and determine which third-party custom fronts (like those available from Semihandmade) might be compatible.
What sets us apart from most professional designers is how we embrace what IKEA has to offer; then, we let our creativity shine.
Our kitchen design coordinator, Florence, shared three specific instances in which IKD's knowledge really comes in handy:
Tall unit storage
Cabinet selection
Planning for gap fillers
Tall Unit Storage
Many clients request tall unit storage for linen cabinets, whether that means using a SEKTION tall cabinet or a GODMORGON high cabinet. However, location is vital to extending the life of the cabinet.
"Customers often try to place these towers next to the sink, which we do not recommend due to the potential damage to the panels caused by water moisture."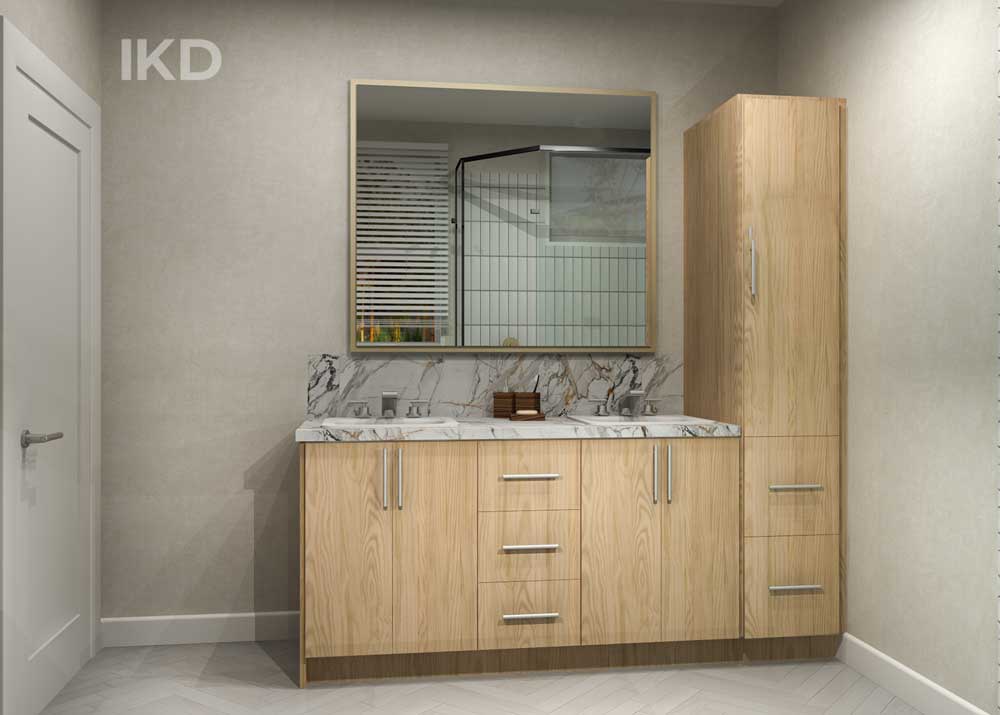 Cabinet Selection: SEKTION vs. GODMORGON
Though IKEA designed SEKTION cabinets for use in the kitchen, we appreciate the cabinets' versatility (and hackability) in all parts of the home. Of course, IKEA also has a line of cabinets for bathroom use: GODMORGON. There are pros and cons to each choice.
For example, SEKTION provides a more integrated look for the bathroom, but when used as a vanity, it's not possible to have a drawer directly beneath the sink. GODMORGON is designed to have a functional top drawer unless the customer prefers a drop-in sink. Florence adds,
"When using the GODMORGON system, it's worth noting that you can't have toe kicks reaching the floor like you can with SEKTION cabinets. If you use the GODMORGON system, you'll need to opt for floating cabinets or use the specific IKEA legs designed for this system."
These details and differences might make your head swim, but we consider them daily.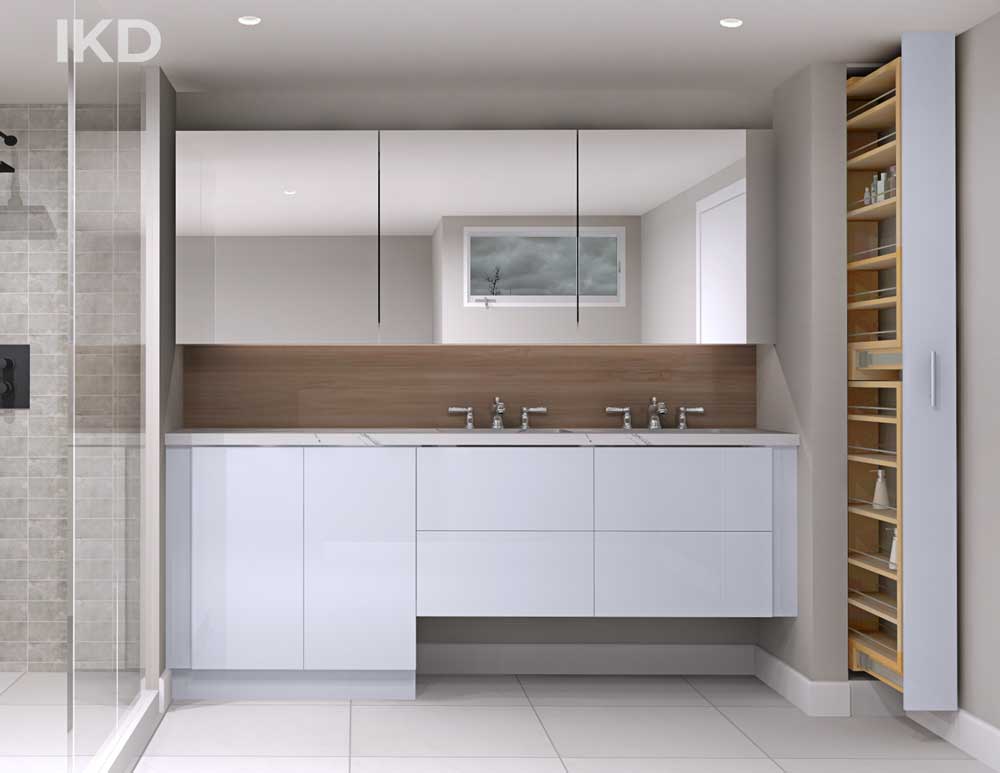 Gap Fillers for a Cohesive Design
We always prefer functional storage where there would typically be gap fillers, but that isn't always possible. Sometimes, fillers must be used, like in the following cases.
As we've mentioned in previous articles, it's rare for walls to be perfectly plumb or corners perfectly square. This often creates irregular gaps, and the only way to hide the irregularities is with gap fillers.
"Fillers contribute to creating a more uniform and aesthetically pleasing appearance in the bathroom."
It's important to note that fillers are functional as well as decorative.

"Fillers are sometimes essential to ensure that cabinets fit properly and allow doors and drawers to open without obstruction. For instance, if you have a cabinet next to a wall, you may need a filler to allow the cabinet door to open fully without colliding with the wall."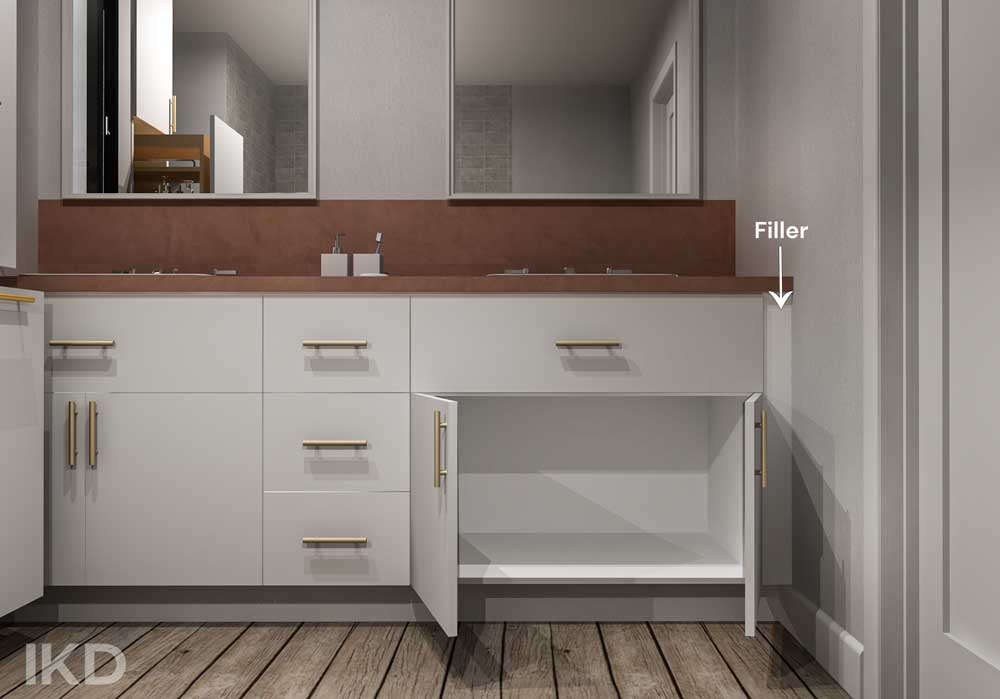 IKEA Bathrooms Designed by IKD Experts
We began as IKEA kitchen designers but branched out to include bathrooms, laundry rooms, closets, pantries, and mudrooms.
These days, we're known for more than IKEA kitchen design expertise; new and returning customers know our IKEA bathroom solutions optimize storage, fulfill stylistic requests, and look beautiful for years to come.
Get a Professional IKEA Bathroom Design – All Online

Work with our certified designers to get a personalized bathroom designed around your needs and vision. If you're interested in learning more about our service, make sure to check out our IKEA Bathroom Design Services.