Transforming a Kitchen with IKEA's SEKTION Cabinets and Semihandmade's Cabinet Doors
You want to renovate your kitchen and have had some experience with IKEA kitchens, having installed the one in your last home with the help of a family member. But that installation was over 10 years ago and that family member isn't available to help.
So how are you going to meet the vision you have of a modern kitchen space that complements your 1950's-era Mid Century Modern home? You do your research and find design professionals that don't work for you — they work with you.
This was the design challenge facing Ben and his wife Laine from Silver Spring, MD, who (while experienced remodelers) knew they needed professionals to reimagine their kitchen and maximize every inch with more storage and an overall warmer feel.
Comment: "We installed the IKEA kitchen in our last house 12 years ago. It held up very well and we were quite pleased with the IKEA system. Our only negative to our old kitchen was that it didn't look premium enough," Ben explains.
Having some previous experience with the IKEA kitchen remodeling process, the couple did some online research and found several kitchen design themes they loved. They then contacted IKD designer Daniel to design their premium-style kitchen.
So with a budget of $60,000, Ben and Laine chose IKEA's SEKTION kitchen system with custom cabinet doors from Semihandmade (SHM).
Specifically they chose SHM's Night Sky Quarterline doors for the base and upper cabinets and Plykea Premium Walnut (Quarter Sawn) cabinet doors for the base cabinets highlighting the uniquely shaped center island.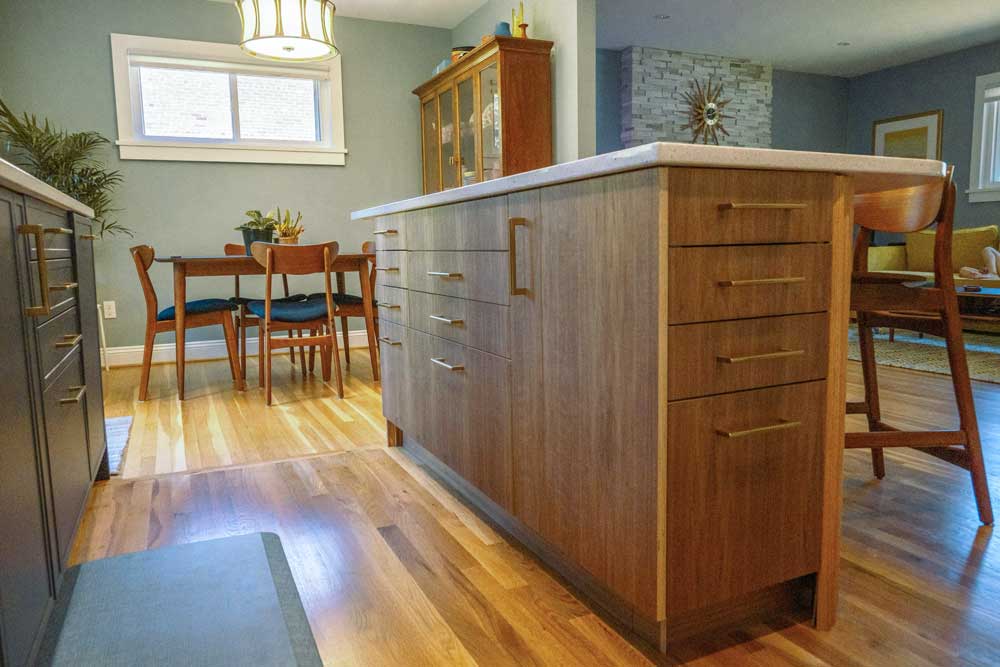 The product lineup features café appliances, including the five-in-one oven,the dishwasher, and 36″ refrigerator (all purchased from Home Depot); a Rev-a-Shelf trash pullout and Rev-A-Shelf internal cabinet organizer and an IKEA SARDRAG 30″ induction cooktop featured on the custom cut, IKEA "hacked" center island.
The look is completed with an Enigma Ash Blue tile backsplash and hardware from Summer Street Vail, including 6″ Satin Brass drawer pulls and Sumner Street KentKnurled 1-3/8″ Satin Brass cabinet knobs,also purchased from Home Depot.
Daniel moved the 28-1/2″ undermount sink from its original placement next to the oven to an adjacent countertop underneath the back wall window and across from the island.
He also took advantage of unused storage space above the refrigerator and custom-configured 30″ (H) x 24″ (W) x 90″ (D) upper cabinets in the corner area.
Meanwhile, the 10' island features IKEA MAXIMERA drawers for extra storage with a 36″ vent hood located in the 8' ceiling directly above the cooktop. Impressively, this entire IKEA kitchen remodel — including IKEA cabinets and IKEA Extra Items List —was completed well under budget.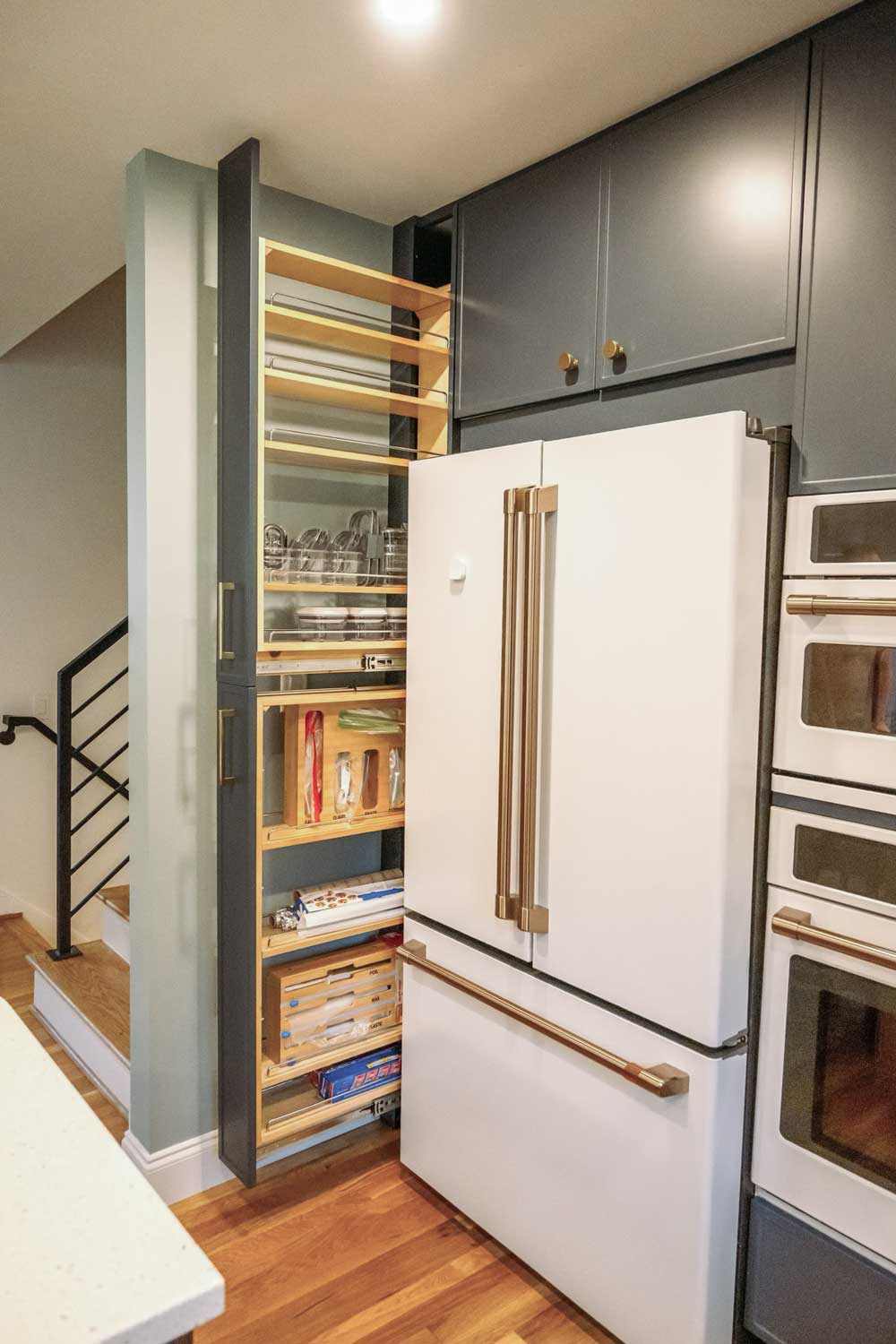 Let's see how Ben and Laine's IKEA kitchen came together!
---
Why Design
with IKD?
Why Design with IKD?
---
Kitchen Design Challenges: Product Delays and Proper Design
Ben and Laine originally ran into product delays which altered the outcome of their kitchen.
"IKEA had two cabinets that were delayed. While we were eventually able to purchase one of the cabinets after calling the store every other day for five weeks, one of the cabinet boxes never became available. We eventually realized we could buy two cabinet boxes and combine the pieces to [customize the look]," Ben explains.
In addition, his other main concern was making sure everything fit in the 200-square-foot kitchen properly. The couple wanted sufficient space between the drawers, refrigerator, walls and dishwasher. Not only that, but the new IKEA kitchen needed to be more efficient overall so the couple could enjoy when cooking meals together,
Creating a Modern Kitchen with IKD Professionals
In order to achieve the modern kitchen they wanted, Ben and Laine worked with IKD designer Daniel.
"We consulted with a handful of local designers who proposed non-IKEA kitchens. Those designers didn't seem to understand some of the look we were going for and their prices were not in line with our budget," Ben says.
The couple then started using the IKEA kitchen design Home Planner and developed a kitchen layout. However they were still unsure about some things.
They saw some posts online showing how to get custom fronts for your IKEA cabinets — and almost all of the kitchens they liked were designed by IKD, he says.So they reached out to IKD. Ben and Laine also hired an installer who specializes in IKEA kitchens and who had many IKEA cabinet spare parts available, as needed.
The IKEA Kitchen Design and Installation Process
With the design professionals now in place, the kitchen design and installation process began.
The couple opted for SHM's Night Sky Quarterline doors for the upper cabinets above the Cafe refrigerator and oven, then continuing over the white quartz back wall countertops.
Custom cabinet doors are included on the base cabinets on the perimeter of the kitchen as well. This includes the drawer under the oven and the base cabinets featured under the sink area, featuring IKEA MAXIMERA drawers.
The dark upper and base kitchen cabinets blend seamlessly with the white of the quartz countertops and the cool hues of the tile backsplash to provide a very clean, inviting look.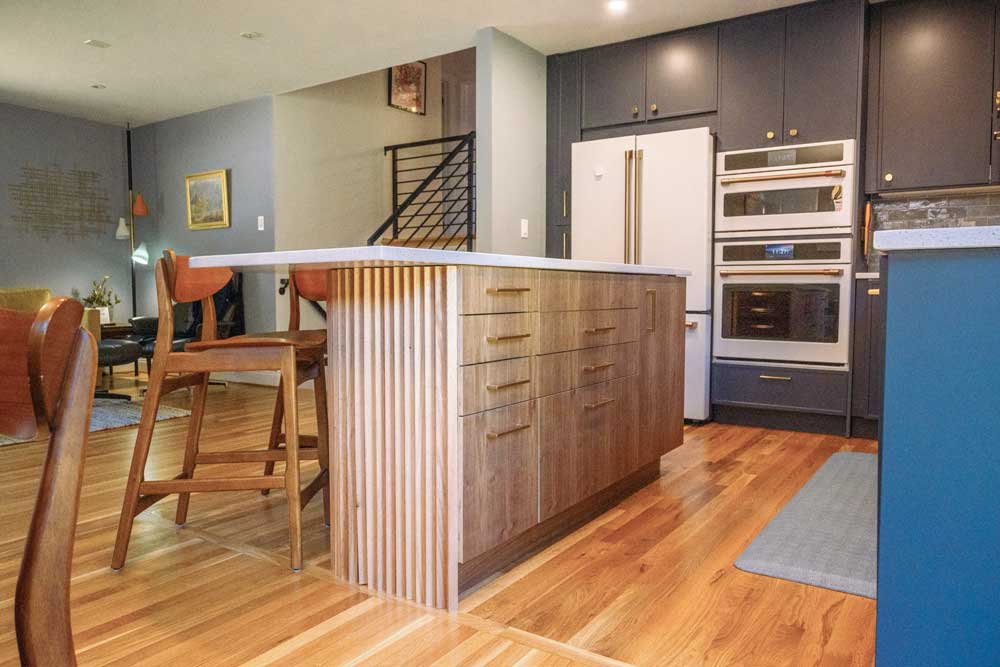 The look is also balanced out by the light, natural feel of the Plykea Premium Walnut (Quarter Sawn) cabinet doors of the island as well as the walnut wood flooring.
In addition to offering natural lighting, the kitchen also features IKEA under cabinet and drawer lighting to more easily see contents being stored (https://inspiredkitchendesign.com/avoiding-common-ikea-kitchen-remodel-pitfalls/).
Storage Solutions for IKEA Kitchen Cabinets
Proper kitchen cabinet storage was key to Ben and Laine's IKEA kitchen.
"Our design wishes included making good use of the limited space we have for storage. The Rev-A-Shelf solutions fill in the gaps that a uniform boxed IKEA system creates. I also think our storage solutions allow for all of our small appliances to be kept out of sight until needed.We were really stunned when we realized we somehow now have more space for storage than we have things to store!" Ben describes.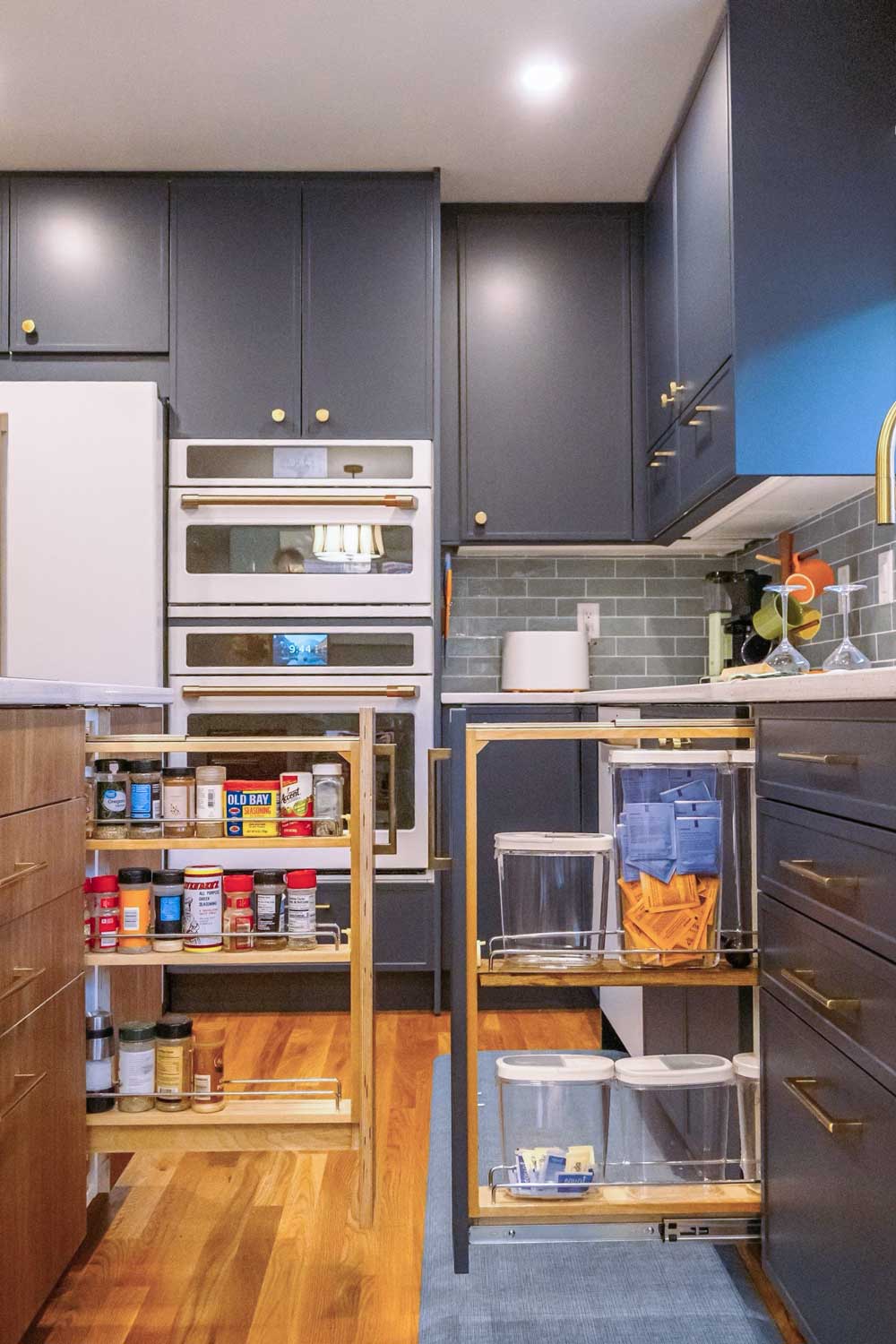 For example, the couple specifically requested a Rev-a-Shelf internal organizer so Daniel incorporated a Rev-a-Shelf pull out organizer with a 4" (w) x 29-78" (h) custom door in the base cabinet next to the sink.
Kitchen Island Provides Extra Storage and Seating
To accommodate the new center island, the kitchen design called for opening up the shared wall to the living room in this split level home. Ben considers it one of his favorite elements in the kitchen.
"We really enjoyed the back of the island. It's one of the main elements we did ourselves and Ithink it turned out exactly as we intended. I think our fluted island mixed with the blue and walnut shadesis kind of a different look. The rounded island counter being askew from the drawers also adds to this aesthetic," he describes.
The 10' center kitchen island — which was custom cut with an IKEA cabinet "hack" — features Plykea Premium Walnut (Quarter Sawn) cabinet doors and drawers and provides multiple storage options. It also serves as a focal point that divides the kitchen from the living room.
The island offers seating for three on the living room side as well as features the IKEA SARDRAG 30″ induction cooktop embedded into the IKEA KASKER white quartz countertops with mineral/glitter effect. This creates a unique cooking area that allows for easy conversation with company while preparing meals.
The ceiling mount range hood is Victory Sunset purchased from Victory. [Note: There is also a breakfast nook with a kitchen table adjacent to the kitchen.]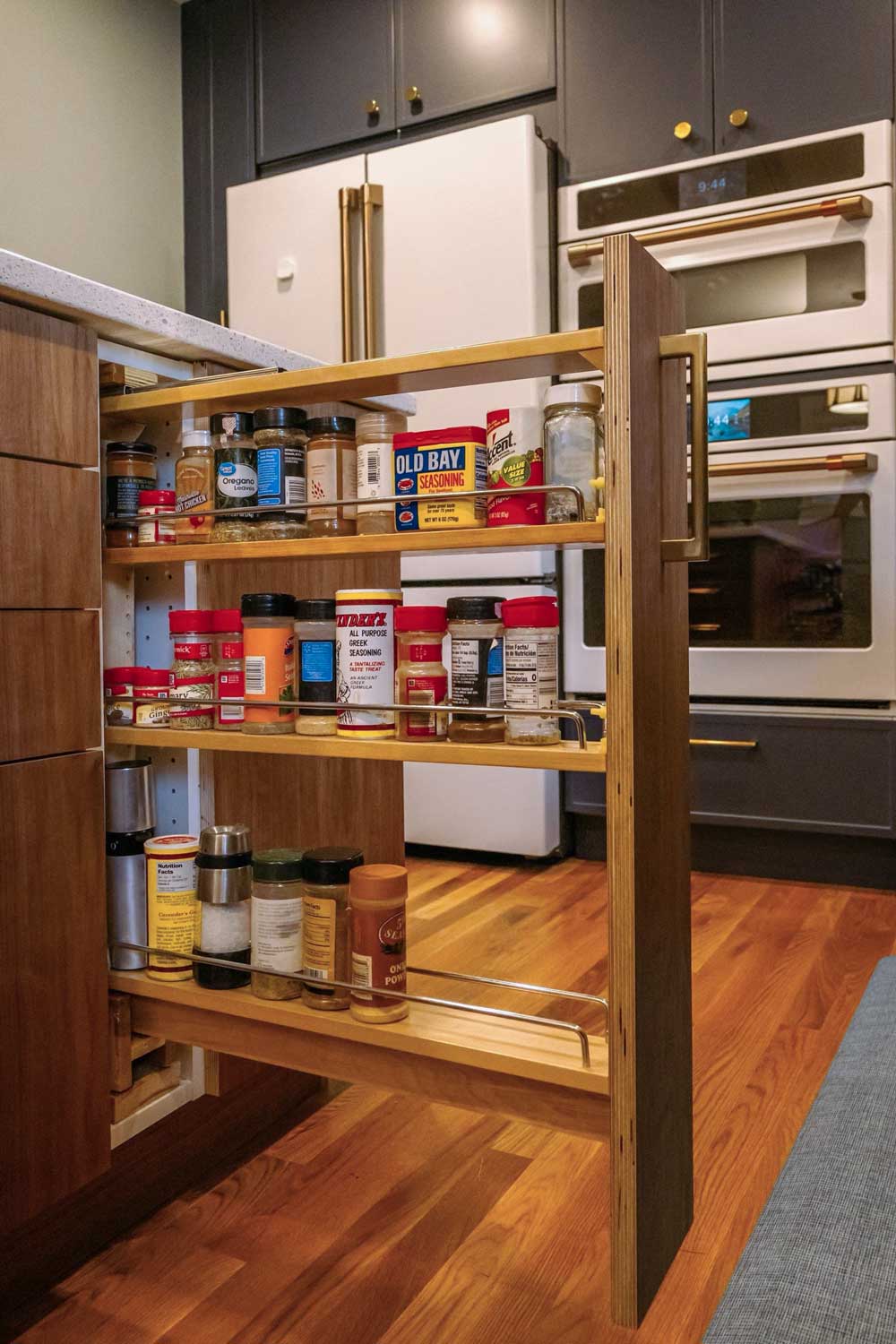 The backside of the half-moon shaped island offers new storage options utilizing IKEA MAXIMERA drawers.
Now the couple can easily storeplates, flatware or small appliances to make meal prep easier. There are even additional drawers on the side of the island for extra storage options that didn't exist previously.
Advice from One IKEA Customer to Another
Ben shared some advice for other IKEA customers ready to start their own kitchen remodel.
"The fact that we played an active role in the overall kitchen design and design choices feels fulfilling. But I would say to get in touch with IKD ASAP. Having IKD designers go through and note each corner and how much space you should have makes you feel so much better about the choices before they get put in," Ben states.
He also recommends using an IKEA installer and to "figure out your order fast because the cabinet fronts and drawer fronts can take some time".
Ben and Laine's modern kitchen shows it's possible to have a one-of-a-kind design using IKEA cabinets. Not only that, but you can reimagine your kitchen and find style options and storage in spots you may not have considered.
Our design team is here to help your IKEA kitchen reach its potential. Let's get started!
Get a Professional IKEA Kitchen Design – All Online

Work with our certified kitchen designers to get a personalized kitchen designed around your needs and vision. If you're interested in learning more about our service, make sure to check out our IKEA Kitchen Design Services.