Why You Should Consider an IKEA Kitchen Island
In this article:
What you need to know before designing your kitchen island.
Creating a kitchen island with a banquette and storage.
Integrating appliances in your kitchen island.
A kitchen island hack that maximizes storage.
If you want to make the most of your crowded kitchen, the solution might be right in front of you. By sacrificing just eight sq. ft. of floor space, you can have a small kitchen island with a couple of cupboards and a place to set down dishes. If you're willing to dedicate more floor space to a kitchen island, the design possibilities grow exponentially.
Designing Your Kitchen Island: Key Considerations
Any designer worth their salt will begin the design process by asking a few questions. Have your answers ready.
What Are Your Design Goals?
Why do you want the kitchen island? Do you want to add more storage, seating, or countertop workspace? If you want the sink and an appliance moved to the island, this means budgeting for plumbing and electrical as well as IKEA cabinet and countertop installation.
What is Your Aesthetic?
To make your kitchen island stand out, you can choose different doors, drawers, and countertops. Alternatively, you can make it match the rest of the kitchen. IKEA has multiple door styles, like the sleek white RINGHULT or classic ENKOPING. For more options, consider using an external door and drawer front supplier, like Semihandmade. We're able to design with any vendor, which is something that sets us apart from IKEA's planners.
What is Your Budget?
This can be the difference between designing with IKEA organizers and Rev-A-Shelf organizers or using laminate vs. granite countertops. IKEA products always look stunning, especially when coordinated by a professional designer and installed by an experienced contractor.
However, a lower budget may mean decisions like using the $89 LILLTRASK precut countertop vs. the $85 per sq. ft. KASKER countertop.
Once you have these details figured out, our designers can begin creating a kitchen island that will complement your style, fulfill your design needs, and improve the way you work in your kitchen.
Examples of Kitchen Island Designs
Kitchen Island Design #1: A Versatile Banquette Island and Art Station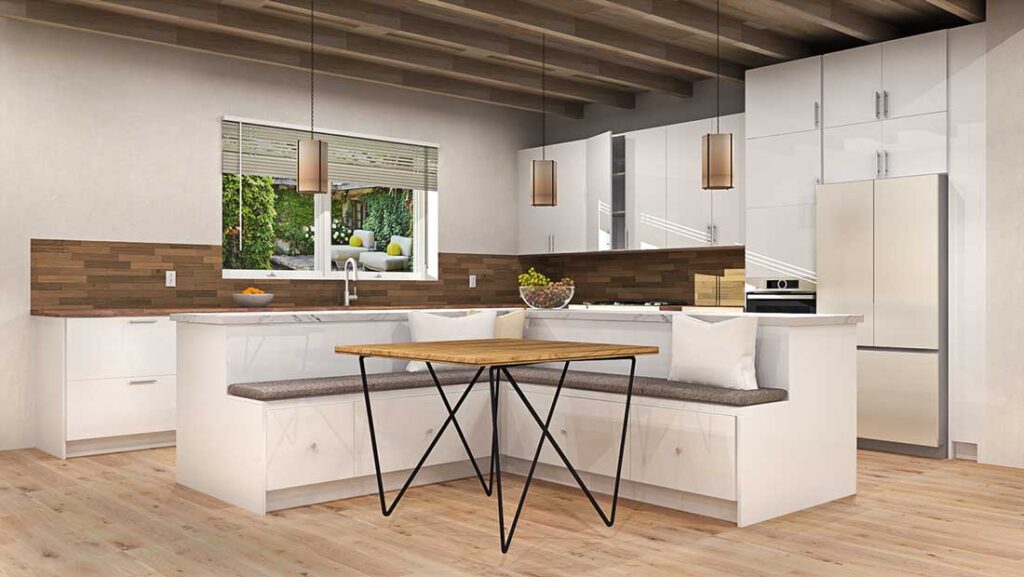 This kitchen design is an excellent example of letting your island be the showstopper aesthetically and functionally. The homeowners chose KARLBY butcher block countertops for the edges and EKBACKEN white marble for the island. This makes the island stand out and matches the RINGHULT cabinets used in the design.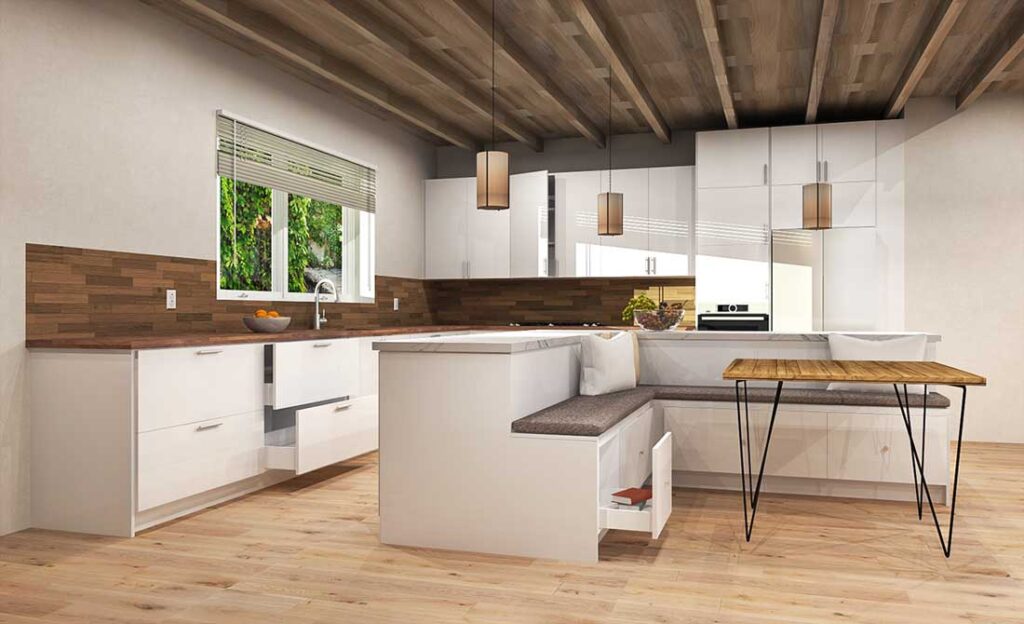 "These homeowners weren't as focused on added dining space as they were on creative space. They have three children who enjoy arts and crafts, and to encourage them to stay off the screens, they wanted to provide an arts & crafts station. The house didn't have an extra room, so they wondered if there was a way to create an art station in the kitchen that could also double as dining and kitchen storage. We had designed their kitchen a few years earlier, so they were glad to continue using IKEA products and our designs for this project." –Merari, IKD designer
To create this banquette kitchen island design, Merari used SEKTION base cabinets to create an L-shape measuring approximately 8' in one direction and 11' in the other. She topped this with the EKBACKEN laminate countertop, providing the parents with added workspace and storage.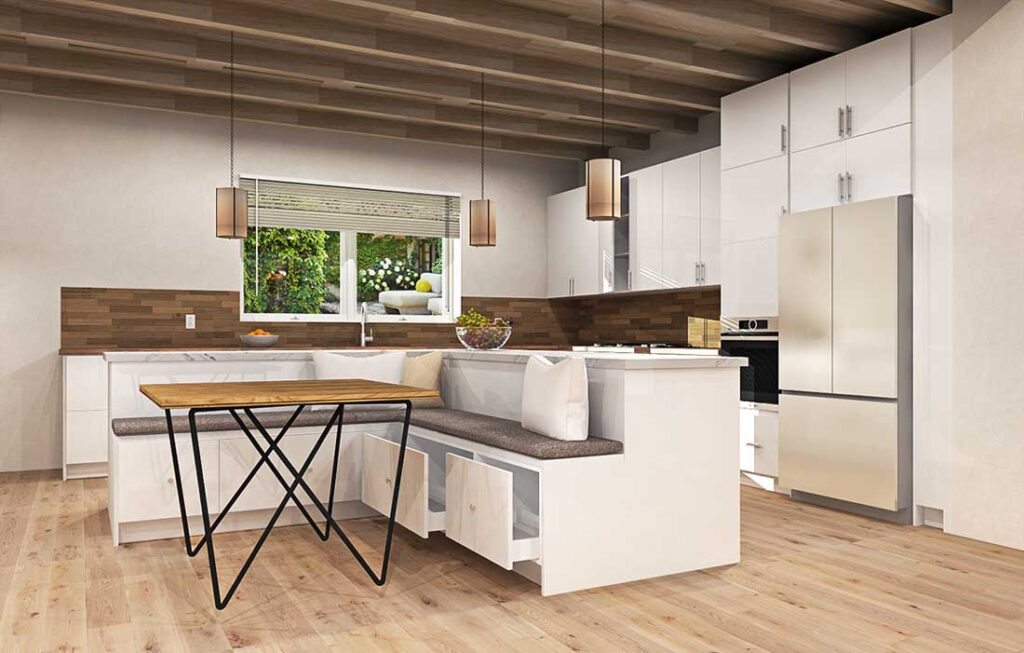 For the banquette section, Merari used standard 15" tall and 15" deep SEKTION wall cabinet frames as base cabinets with a 4.5" toe kick. This required the contractor to drill holes for the feet that are usually present in base cabinets. She also added two panels to create a bench seat on top, bringing it up to 21" in height. MAXIMERA drawers provide art supply storage beneath the seats.
Kitchen Island Design #2: Appliance-Friendly Island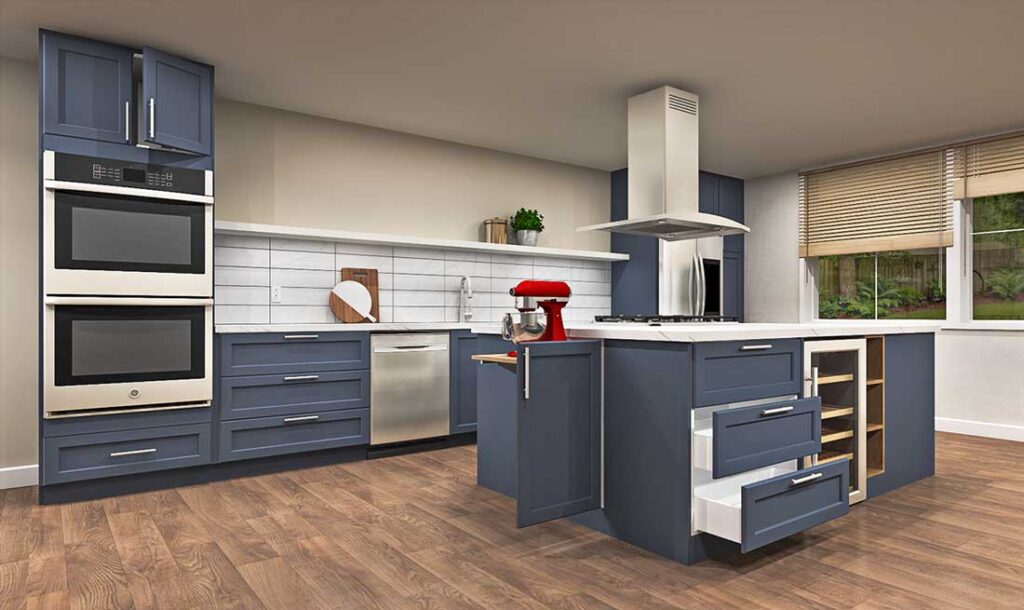 If you have a love of cooking and a small kitchen, an island like this will save you a lot of frustration. You need room for equipment, appliances, and a spacious work surface. This 8' x 5' island contains an oversized microwave, ample cooktop, wine fridge, and a secret space-saving weapon from Rev-A-Shelf: the heavy-duty mixer lift (RAS-ML-HDSC).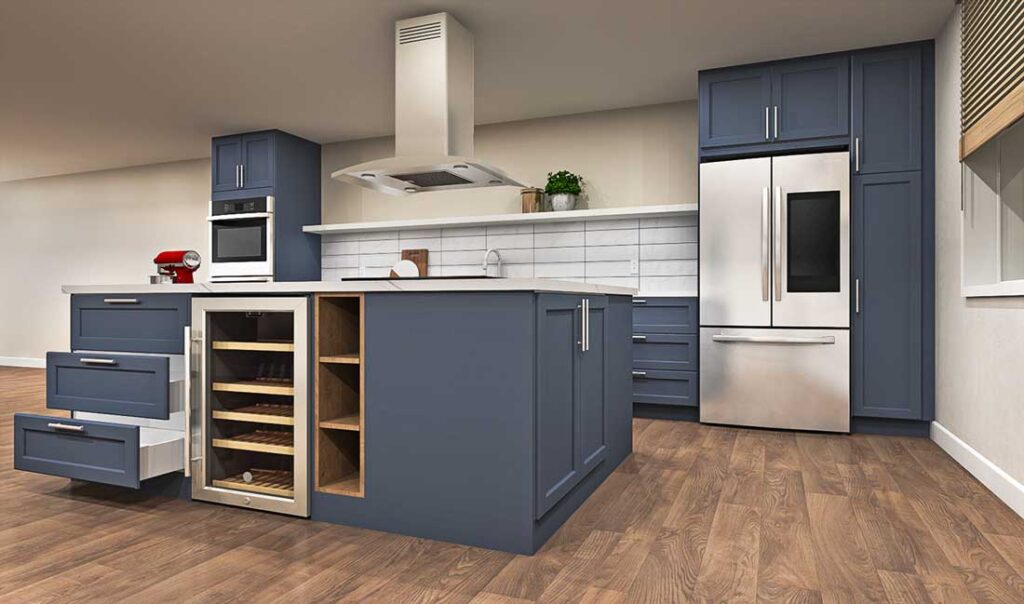 That leaves the kitchen counter space along the wall free for prep and washing up. In this case, the homeowner renovated the kitchen and added the island simultaneously. She chose AXSTAD matte blue doors and marble effect countertops throughout.
"I downsized after retirement, but I still invite my kids and their families for Sunday dinner. I needed a home and kitchen that wasn't too big but still big enough for me to host. I love cooking, so I use every appliance and every inch of counter space. I thought adding an island and putting the appliances on there might be a good way to conserve space, but I didn't realize how much could be done with an island until I spoke with Florence from IKD. Now every Sunday I feel like Rachael Ray." –Martha, IKD customer
Florence made Martha's kitchen island with a cooking area, a wine bar, and a space for baking preparation.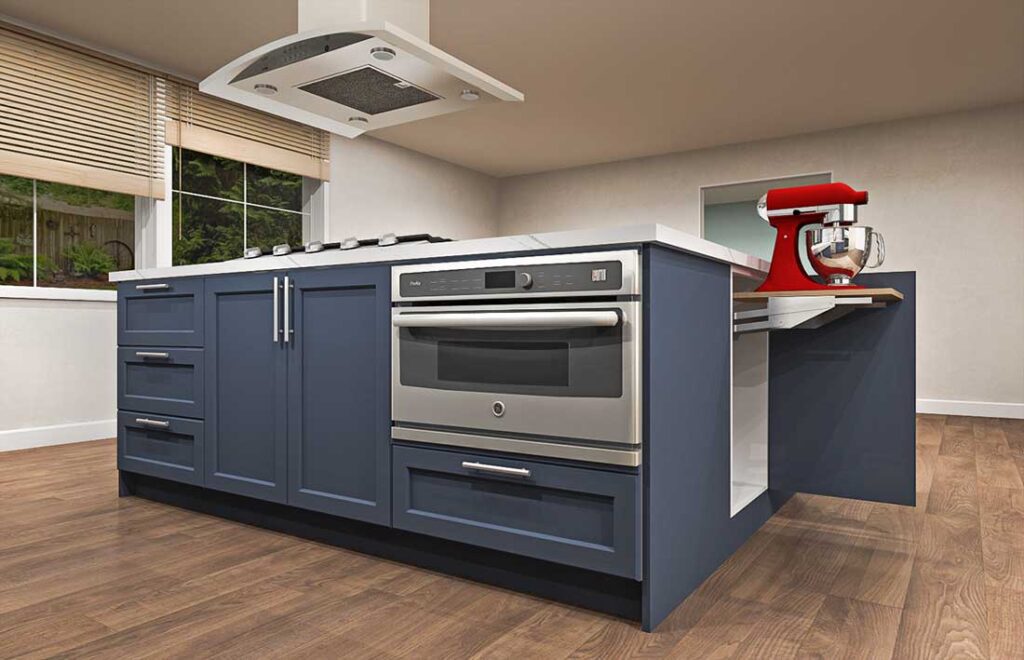 The cooking area has a microwave and stove close together, four drawers, and one cabinet for pots, pans, trivets, etc.
The opposite side has an integrated wine fridge, VADHOLMA open storage for glasses, and three MAXIMERA drawers for additional storage. There is a cabinet on each side of the island. The cabinet nearest the oven has a hidden mixer station by Rev-A-Shelf.
Martha can mix up batter, grab a pan, and bake a cake using this convenient work triangle designed by Florence.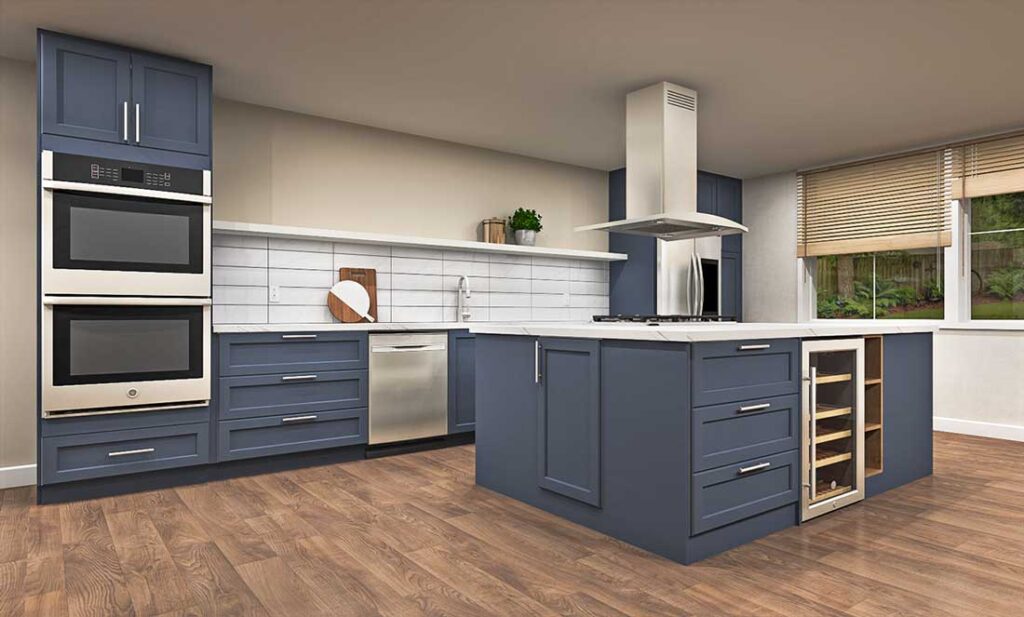 Kitchen Island #3: A Functional Divide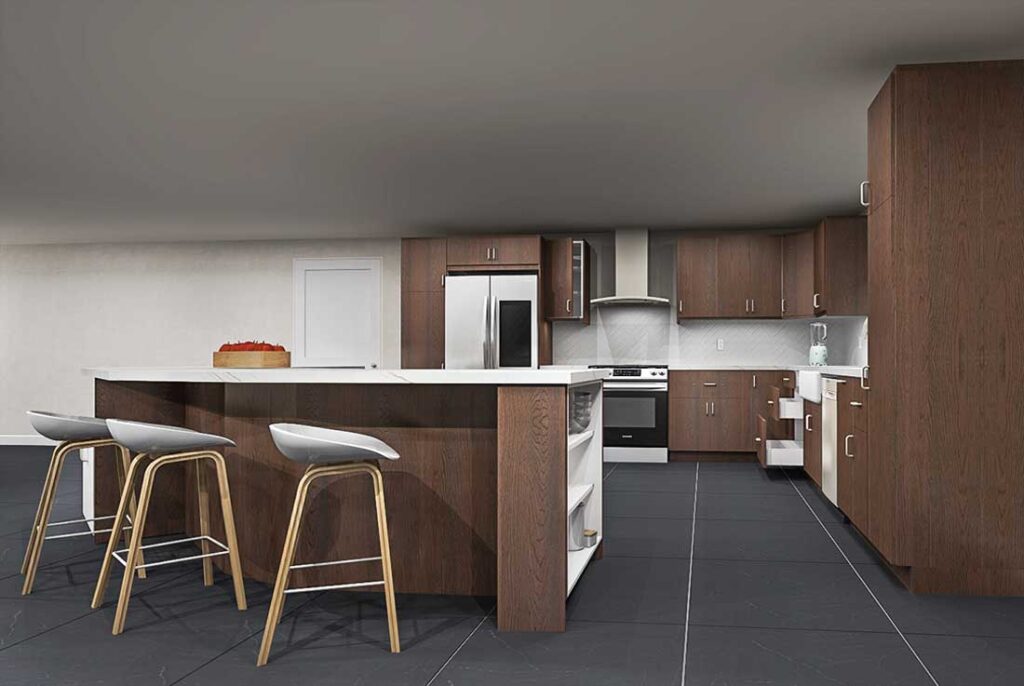 When designing an open-concept kitchen, the kitchen is separated from the rest of the house with furniture or low structures rather than walls. Josh and Xavier, who own a home, wanted to combine the look of a closed kitchen with an open one. They achieved this by placing an island around the edges of the kitchen instead of in the center.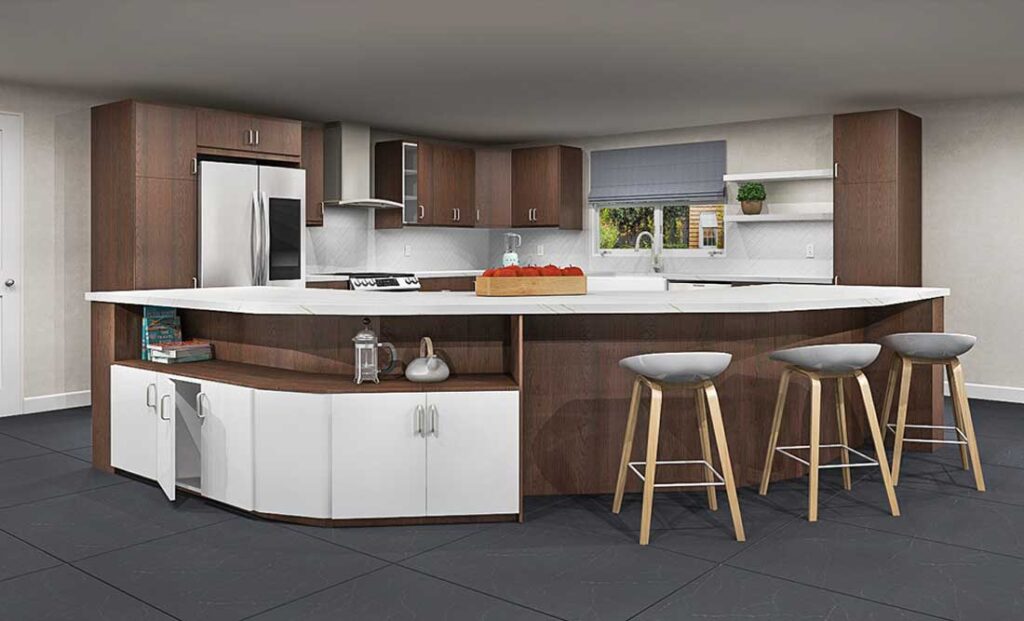 "An island doesn't have to be a square or rectangle," says Frank from IKD. "In Josh and Xavier's case, we designed a long, angled island with a full length of about thirteen feet. This provided a clear barrier between the kitchen and the rest of the home while also adding additional storage and seating. The outside of the island had more of a living area feel, with cabinets and shelves that could be used for books and knickknacks, while the side facing the kitchen is used for kitchen and dining storage. The kitchen is cohesive, but the island also works as a transition to the rest of the home."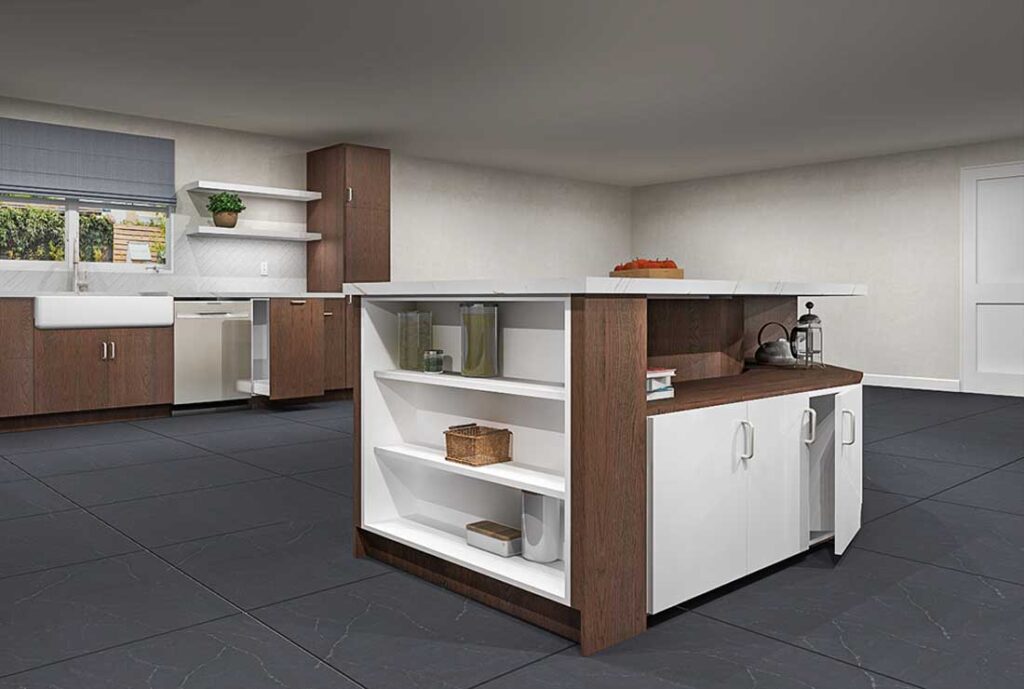 This unique design required some IKEA hacks and innovative design from IKD. Frank customized one 36"W x 30"H x 24"D SEKTION wall cabinet to create two 36"W x 30"H x 9"D open shelf cabinets for use on either end of the island.
SEKTION cabinets with brown panels create a shelf on the back of the island. They also offer storage next to the bar seating area. The side facing the kitchen has a mix of SEKTION base cabinets and MAXIMERA drawers with RINGHULT door and drawer fronts.
Custom Kitchen Designs with Professional Assistance
You won't find these kitchen island designs in the IKEA showroom, but they're all made using IKEA products. With a professional designer, you're never limited to a cookie-cutter creation; you get endless possibilities and a functional and beautiful addition to your kitchen workflow.
Get a Professional IKEA Kitchen Design – All Online

Work with our certified kitchen designers to get a personalized kitchen designed around your needs and vision. If you're interested in learning more about our service, make sure to check out our IKEA Kitchen Design Services.