IKD designed two unique pet station solutions using IKEA cabinet hacks
In this article:
Two IKEA kitchen designs by IKD
Two pet stations that used IKEA SEKTION hacks
How a professional designer can make unique design ideas a reality
Designing rooms to suit the whole family makes sense, and pets are a very special part of most families. In this article, we revisit two pet stations designed for homeowners who wanted to make sure their furry friends never felt left out.
The following pet stations were part of two full kitchen redesigns. Since pet stations, IKEA hacks, and internal organization aren't standard in the IKEA Home Planner, these customers had to look elsewhere to get the kitchen they wanted.
---
Why Design
with IKD?
Why Design with IKD?
---
Pet Station #1: Senior-Friendly IKEA Pet Station Design
"We love Casper, but we never loved tripping over his food bowl. We're growing older and so is Casper. We planned to redo our kitchen to make it easier for us to navigate, and we thought, 'Why not include the dog?' He's almost nine. We wanted to put his food bowls out of the way and raise them up a bit so he could reach them more easily. We also wanted his food containers hidden but easily accessible.

We almost gave up on the idea because we couldn't figure out how to get what we wanted at IKEA, and we weren't prepared to learn a new home store or pay for custom cabinets. We searched on Google, thinking there had to be some solution out there. We couldn't be the only ones who have run into this problem. We came across IKD and sent them an e-mail immediately." – Mateo, IKD Customer
Customized IKEA Kitchen for Aging in Place
"Many customers are moving away from natural wood, but Dennis and Mateo embraced the look with Impression Sonoma doors and drawer fronts from Semihandmade. We also encased the stainless-steel double oven and fridge in matching panels for a built-in look. They kept the wall color light and some upper cabinets white to keep the space from looking too dark." –Florence, IKD designer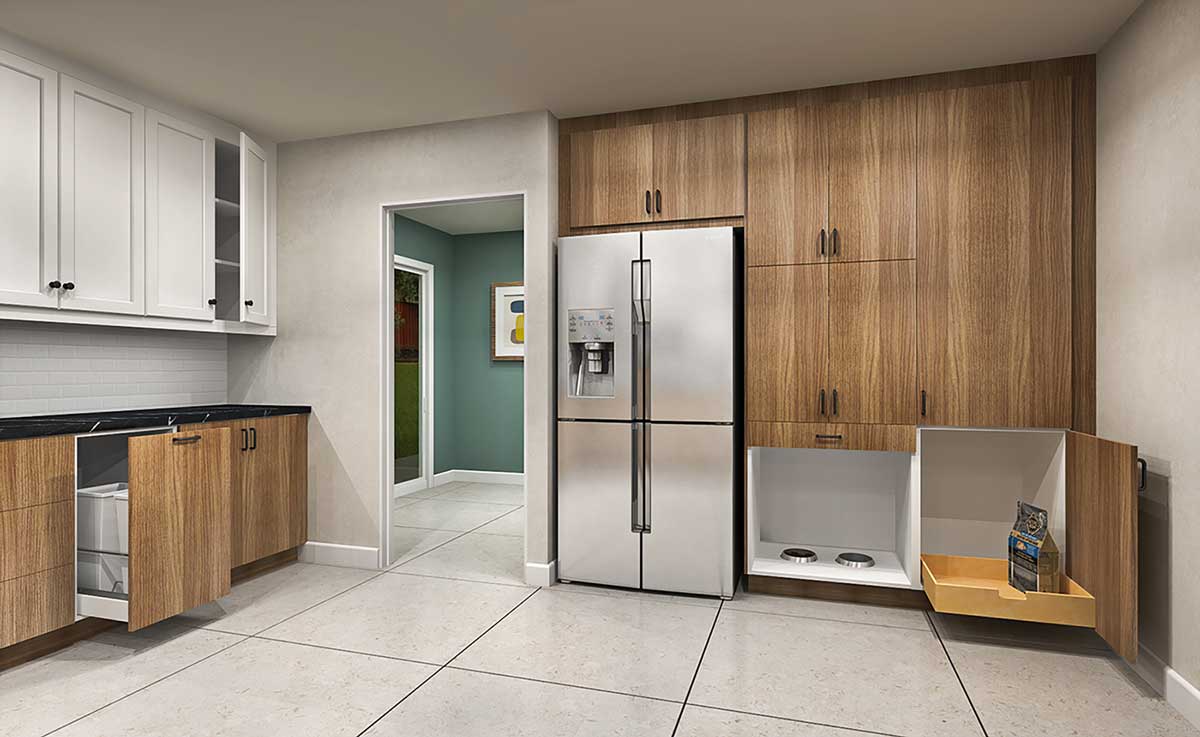 The kitchen design used KASKER quartz countertops with a black marble effect. To satisfy Dennis and Mateo's desire to make the kitchen accessible for years to come, IKD included several drawers in place of base cabinets and two of our favorite Rev-A-Shelf accessories.
Aluminum soft-close bottom-mount waste container: These rollout waste containers make prepping food and cleaning up after meals easier. It fits two 35-quart waste containers and is fully compatible with IKEA SEKTION cabinets.
Pull-down shelf: The pull-down shelf makes it easy to access the contents of an upper cabinet without needing to get on a step stool. Considering 1 in 4 older U.S. citizens suffer from a fall each year, the less those aging in place have to climb the better.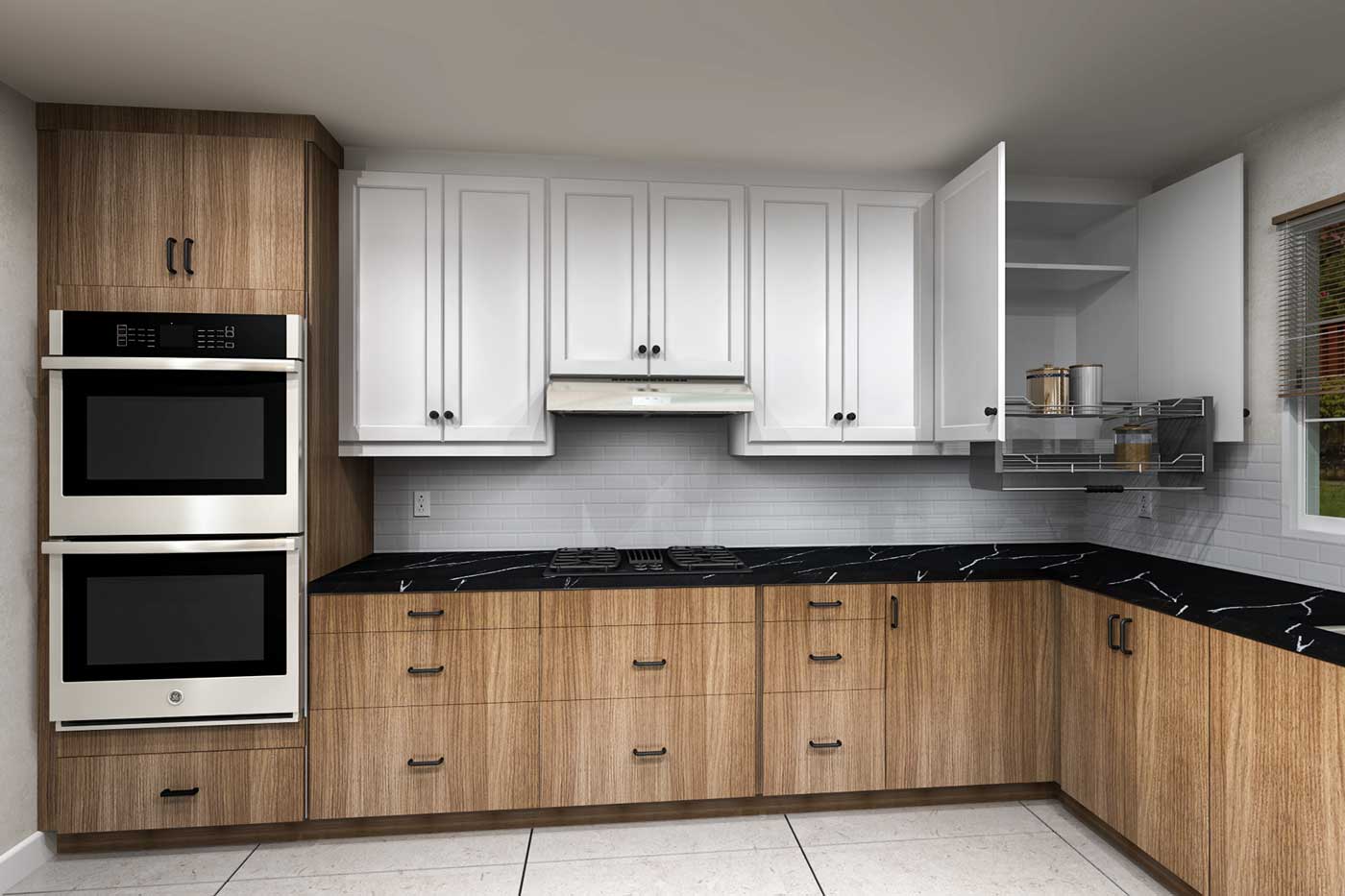 IKEA SEKTION Cabinet Hack for a Functional Pet Station
Casper's pet station included a simple but important Rev-A-Shelf accessory: the drawer pullout. In a standard 24"W x 30"H SEKTION cabinet, we included this pullout to make it simple for Mateo and Dennis to access Casper's food, treats, and other pet supplies.
The couple expressed a desire to keep Casper's pet station out of the way of the main kitchen traffic. For that reason, Florence suggested putting the food storage area and bowls next to the fridge, which was located on a more out-of-the-way wall than the rest of the appliances and countertops.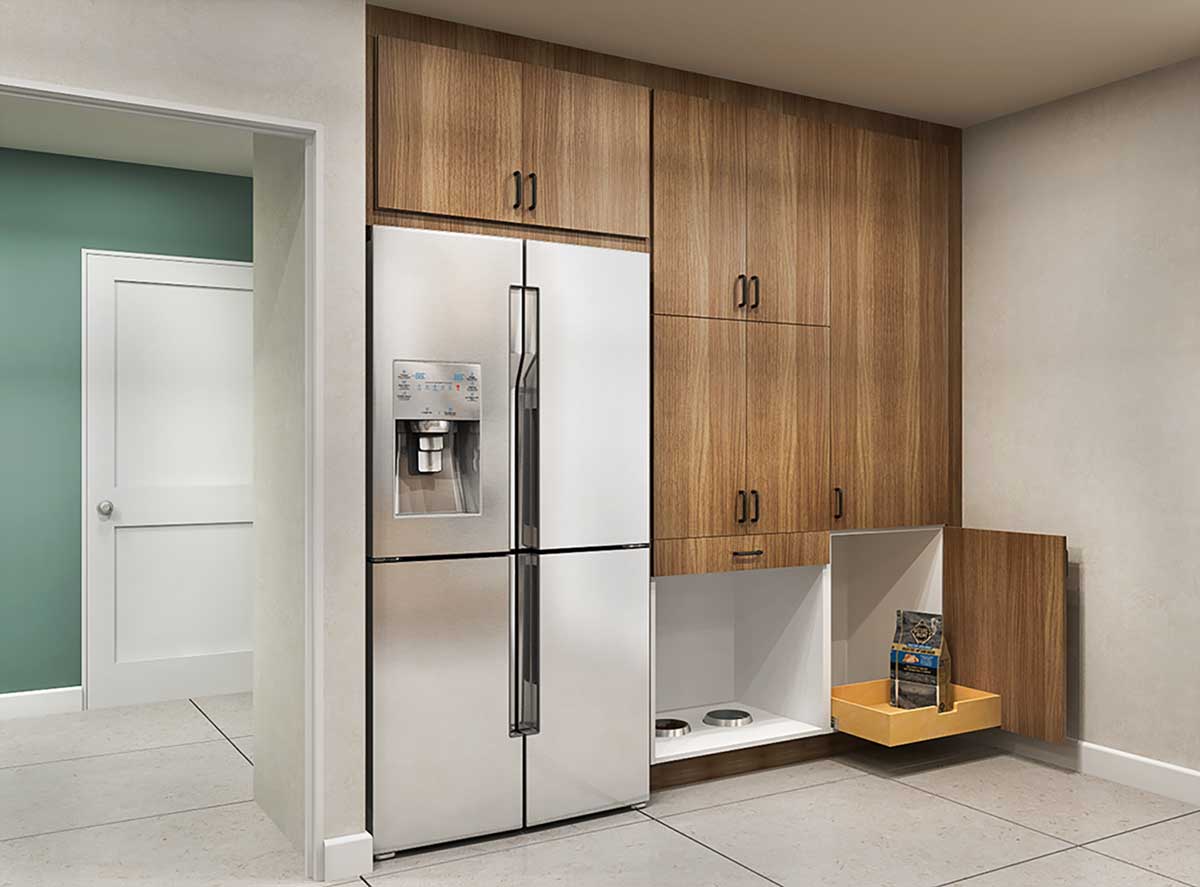 Between the Rev-A-Shelf pullout and fridge, IKD hacked a SEKTION tall cabinet to accommodate general kitchen storage as well as a small drawer designed to hold Casper's walking gear (leash, collar, etc.). Florence took a 30"W x 90"H x 24"D cabinet and used two sets of standard 15"W x 30"H doors to enclose the top half. Below the second set of cabinet doors, Florence used two 26"W x 36"H panels to create the compartment for the 30"W x 5"H drawer.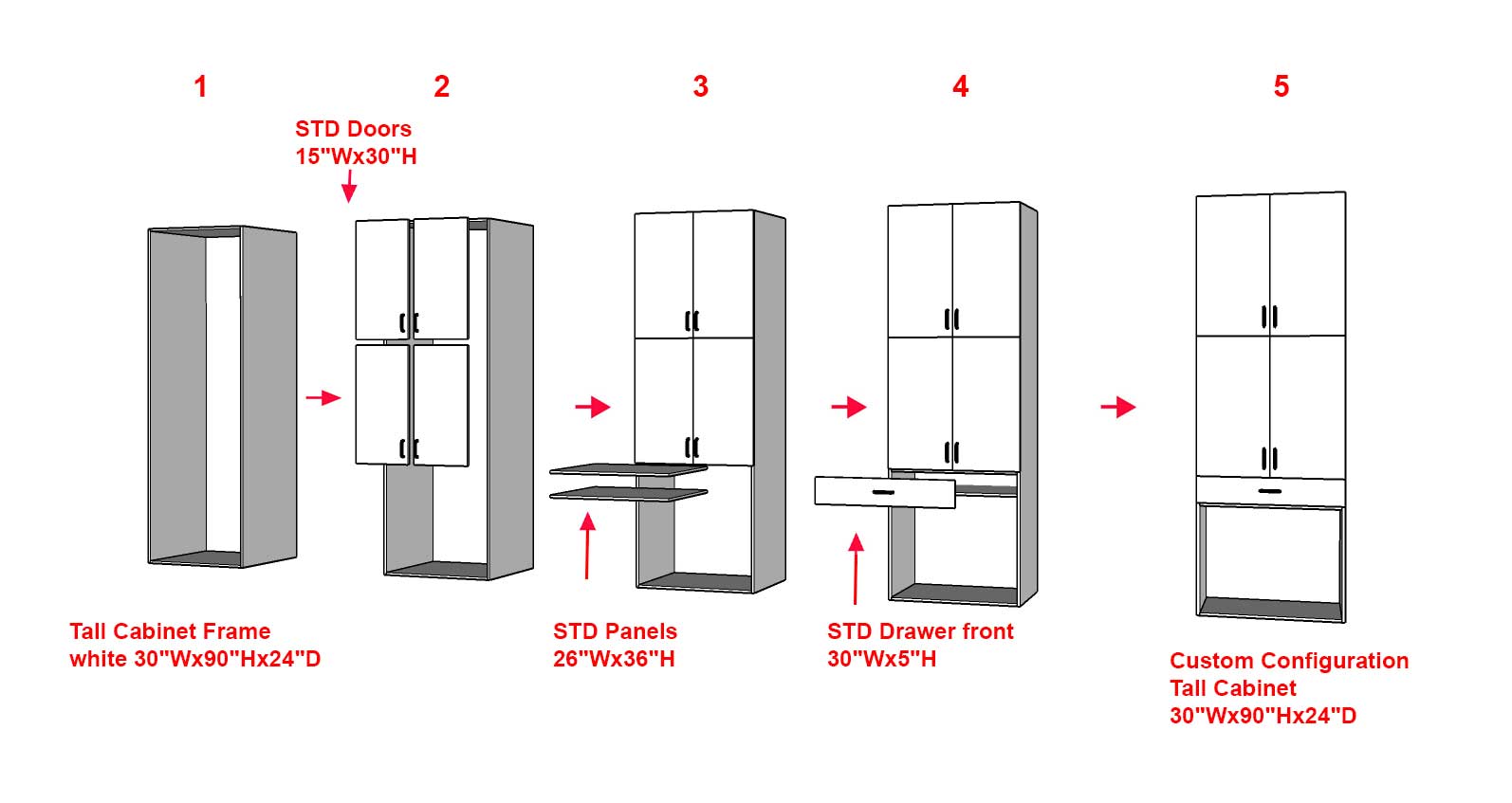 The bottom of the cabinet was left open, with two holes cut in the bottom of the cabinet box to allow Mateo and Dennis to insert Casper's food bowls.
"We're extremely pleased with how the entire kitchen—and Casper's food station—turned out. IKD knows so much about IKEA's product line and how to adjust it for specific needs. I truly believe we could not have gotten a similar design at a similar price anywhere else." –Mateo, IKD customer
Pet Station #2: Designing a Pet-Friendly Kitchen
"The kids are always asking why the dog can't eat at the table with us. Since we were redoing the kitchen, we thought we'd surprise them! The dog still isn't welcome at the formal dining table, but now the kids and the dog can have breakfast at the island before school.

We used IKD when we redid our bathrooms, so we knew they'd have some great ideas for the kitchen and be able to pull off the little feeding station for Ron [the dog], as well." –Tina, IKD customer
Customizing IKEA SEKTION Cabinets with VEDHAMN Panels
"Trevor and Tina were concerned that because SEKTION cabinets only have a white interior, any type of cubby we designed for the dog wouldn't fit the rest of the kitchen aesthetic," recounts IKD designer Frank. "When we explained that we could design an open cabinet with VEDHAMN oak panels to complement the black and beige fronts through the rest of the kitchen, they were fully on board."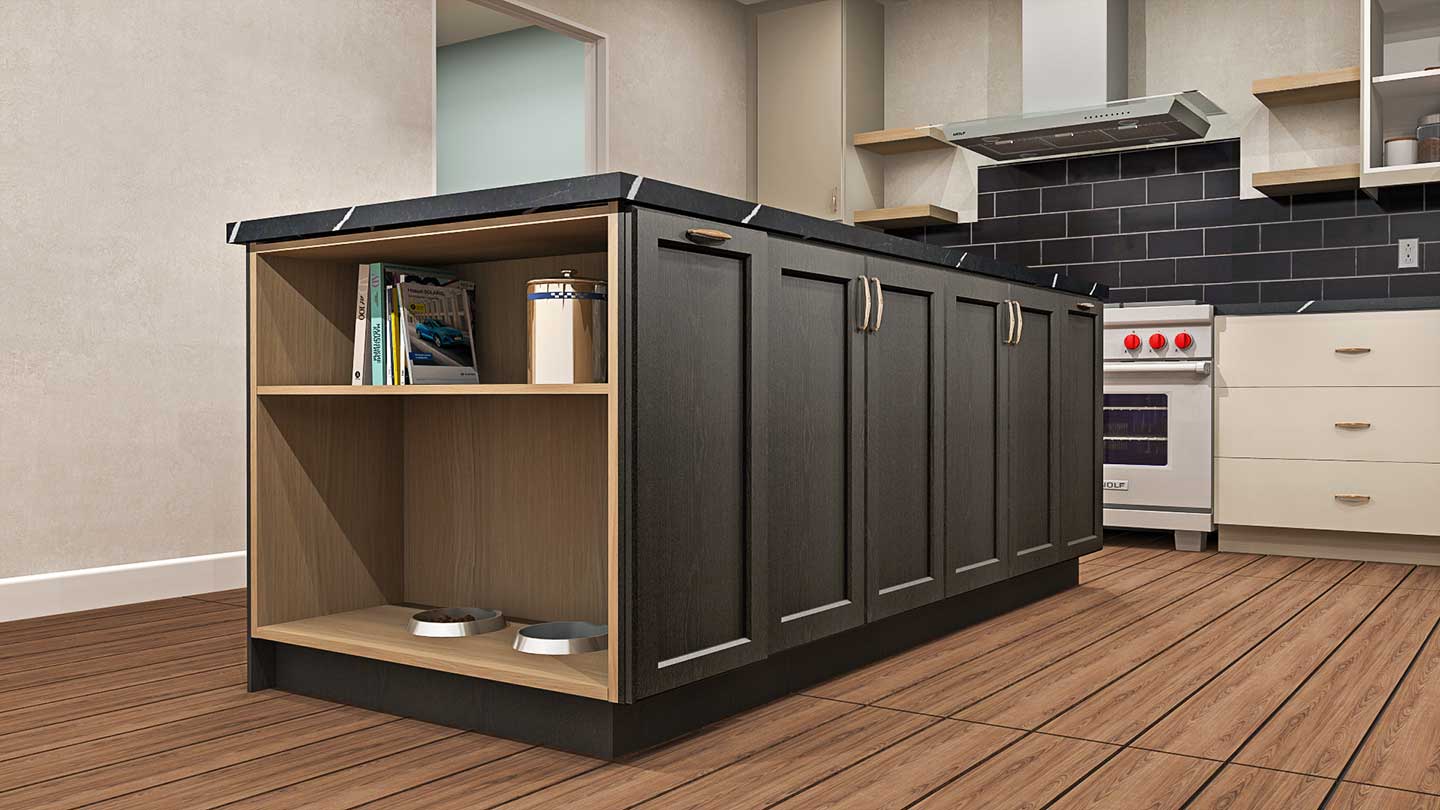 IKD designed a neutral kitchen with LERHYTTAN black-stained door fronts for the kitchen island. The homeowners mentioned their plan to do a black backsplash, so we were able to include it in the 3D color rendering. They also chose a KASKER black marble effect countertop, and the dark splashes balanced the overall color palette beautifully.
The perimeter SEKTION cabinets have IKEA HAVSTORP fronts in beige, and oak floating shelves from Semihandmade offer a pleasant mix of open and closed storage. This design decision is part of why Ron's open pet cubby blends in so nicely.
At the homeowners' request, we included a Rev-A-Shelf spice rack and pullout trash can.
IKEA Cabinet Hack: Integrating a Dog's Dining into the Kitchen Island
Trevor and Tina gave our designers Ron's height, so they could take that into account when judging the shelf height above the food and water bowls. Tina requested that the pet station be included in the kitchen island, and IKD saw an opportunity to place it in the island endcap.
"You can get very creative with kitchen island endcaps, but they often get overlooked." –Frank, IKD designer
Tina planned to keep the dog food in the island but said she'd like a shelf to display her Rae Dunn dog treat jar and training books. Inspired Kitchen Design achieved this pet station using a single 36"W x 96"H VEDHAMN oak panel.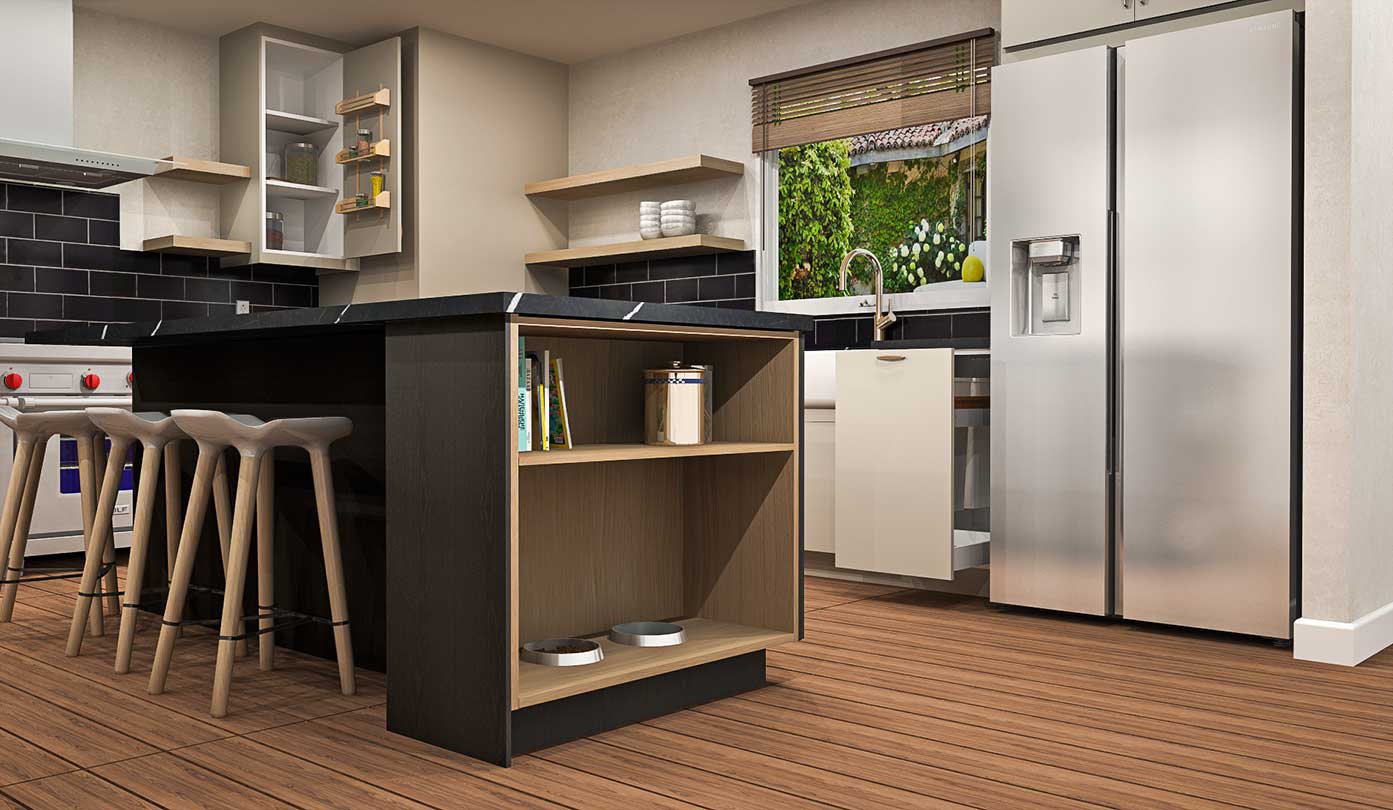 Trevor and Tina's design package included instructions for how to cut down the panel and create the pet station. The installer cut a 36"W x 30"H section to use at the backing. Then, he cut two 30"H x 15"D sections to make up the sides of the box and three 36"W x 15"D sections for the top, bottom, and interior shelf. The dog bowls are inset in the bottom of the cabinet to prevent them from sliding.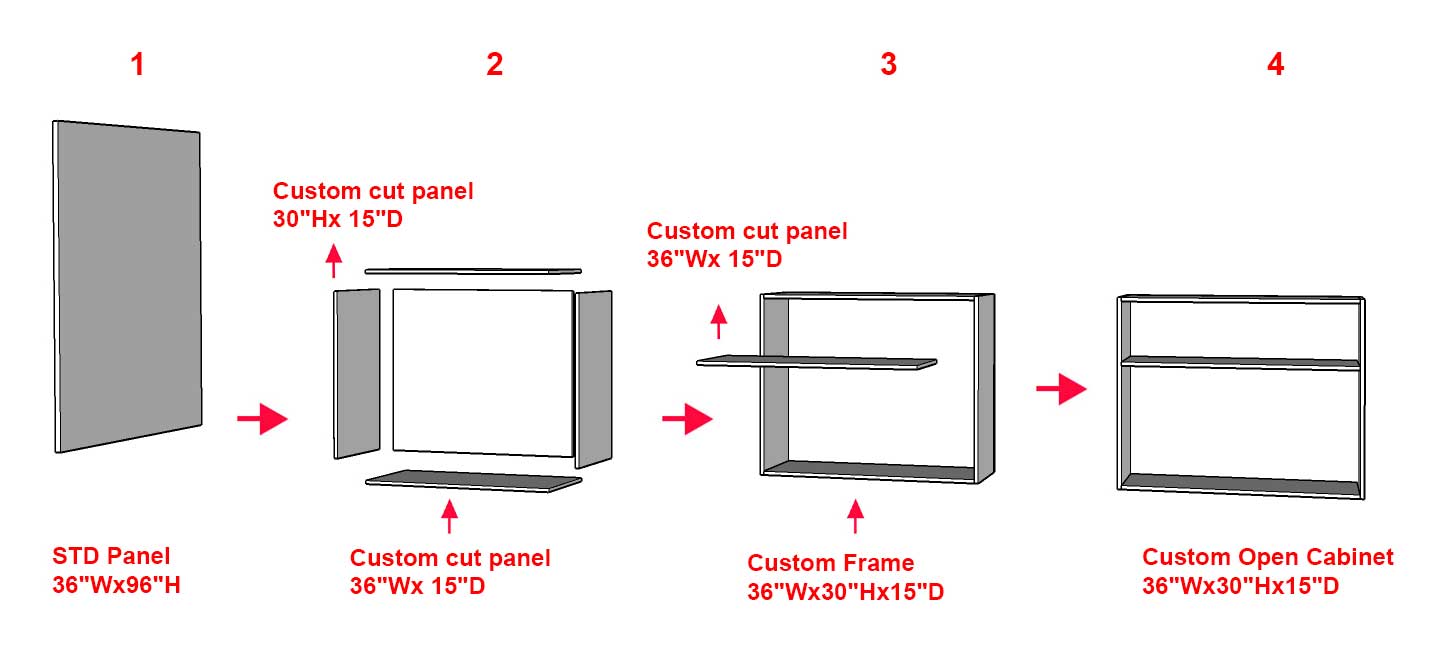 "The kids adore having Ron close by, and I like that IKD designed the feeding station and storage in a way that blends with the rest of the kitchen." –Tina, IKD customer
IKD Designs IKEA for All – Even Pets
These innovative pet stations are just two examples of the affordable, custom designs that are possible when IKEA meets professional design. We give customers the designs they wish IKEA could create. If you have a special design request and feel stuck on the online or in-person IKEA planner, it's time to reach out to a professional design company.
Get a Professional IKEA Kitchen Design – All Online

Work with our certified kitchen designers to get a personalized kitchen designed around your needs and vision. If you're interested in learning more about our service, make sure to check out our IKEA Kitchen Design Services.