IKD designers share the design, product, and installation cost for two IKEA laundry room designs
In this article:
Cost analysis for two IKEA laundry room designs.
Laundry room designs that solve problems.
IKEA cabinet hacks that maximize laundry room storage.
What it's like to work with a third-party IKEA designer to create your laundry room.
Cost Analysis for Two IKEA Laundry Room Designs – with Hacks!
It's hard to believe that two laundry rooms of similar size can be so unique when both are designed using mass-produced IKEA SEKTION cabinets, but the following examples of our work demonstrate that they can. A professional designer knows how to tailor basic elements to suit each individual homeowner, which we achieve with hacks, custom door fronts, and more in the designs below.
In this article, we'll share how we considered each customer's needs when putting together a stylish and functional laundry room design package for their home. But this article isn't just about how we solve design problems using affordable materials; it's also about how much a custom IKEA laundry room costs.
---
Why Design
with IKD?
Why Design with IKD?
---
Can you Afford a New IKEA Laundry Room?
If you're shrugging your shoulders, then you need to read this. We go over the design, product, and installation cost for two beautiful IKEA laundry rooms, both of which are about 100 sq. ft., and one of which cost less than $10,000.
IKEA Laundry Room Design #1: Plenty of Open and Closed Storage in Neutral Colors
Laundry Room Design Goal
Chelsey wanted a versatile laundry room that would be easy to keep clean and organized – even with multiple dogs on the loose.
"I'm a dog mom. I foster, plus I have three of my own. There were a few things that would make my life easier: a bigger laundry room, a place to keep shy foster dogs, and a place to bathe the dogs. I decided to convert one of my downstairs bathrooms into a laundry room/foster care room/puppy paradise." – Chelsey, IKD customer
Knowing that the room would largely belong to the dogs meant that Chelsey didn't want to spend a ton of money on cabinets, just in case she ended up with a scratcher or a chewer.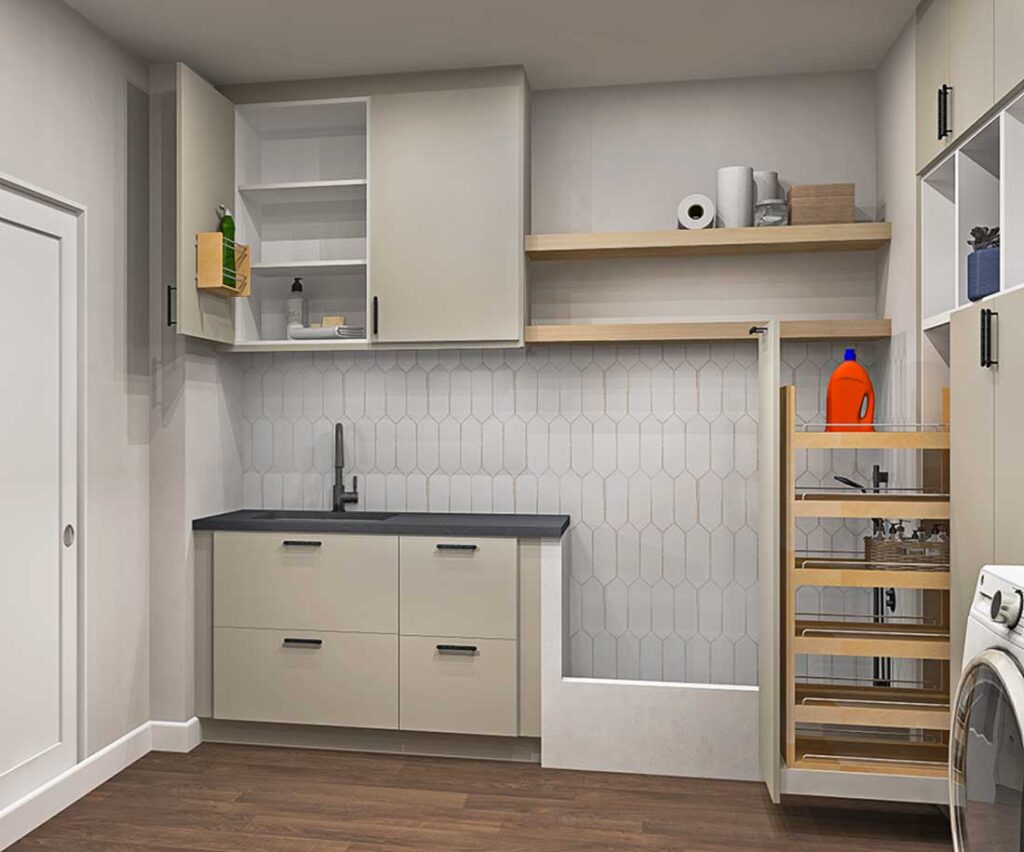 However, she needed plenty of storage for her laundry and dog care items and a durable countertop.
Laundry Room Design Cost: $395
"Chelsey expressed a desire to stick with IKEA cabinet fronts because of their affordability. They would be stylish, easy to clean, and cheaper to replace should they experience excessive wear and tear.

She wanted most of the design focus to be on storage and making the space work for multiple purposes. We provided open storage and closed storage and divided the room into two clear sections. One wall has the washer and dryer with a folding area, while the other has a dog washing station and even a pullout Rev-A-Shelf organizer so she can easily access pet products while on her knees beside the bath." –Florence, IKD designer
IKEA Cabinet Hacks
This laundry room design included three IKEA cabinet hacks. One involved reducing a 18" x 80" x 24" cabinet to an 18" x 60" x 24" cabinet to fit the Rev-A-Shelf pullout.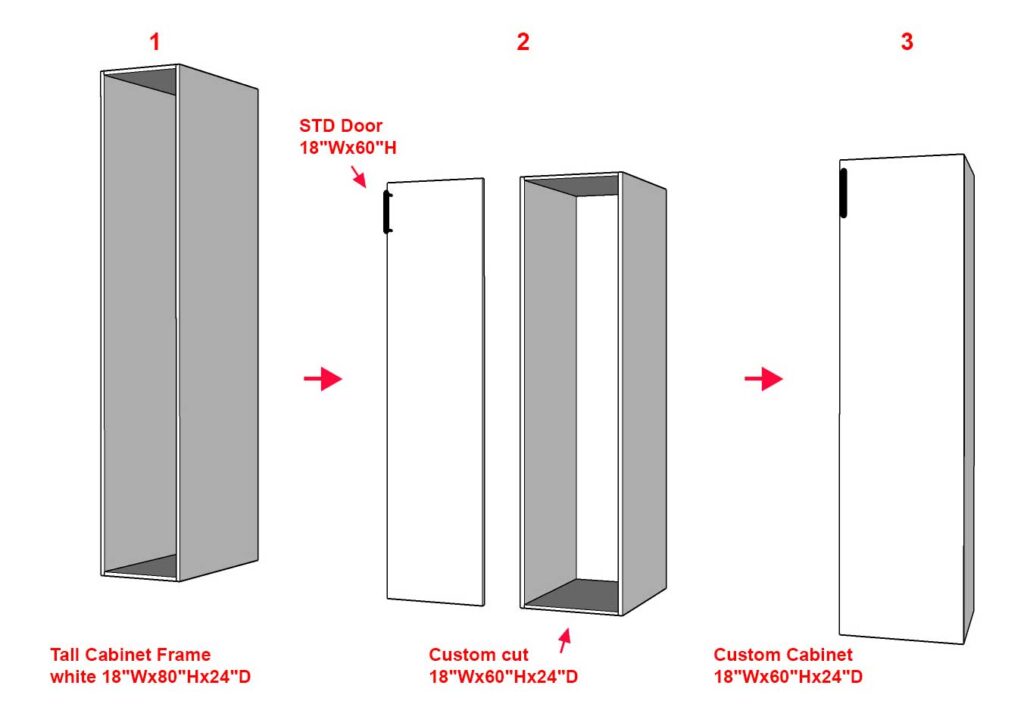 The second and third hacks used panels to form the open cabinets above the washer and dryer.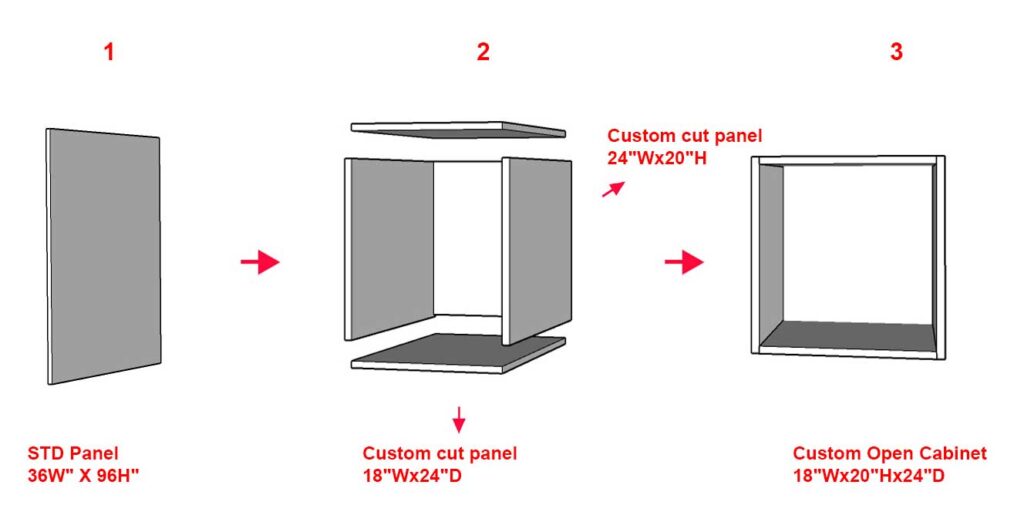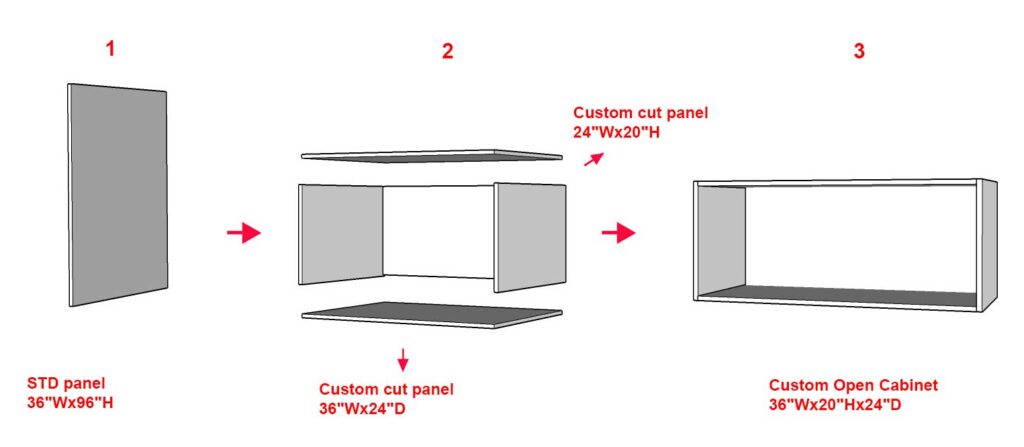 Chelsey really enjoyed the look and convenience of open cabinets, but we couldn't use SEKTION cabinet boxes without exposing the unsightly drill holes included in every SEKTION cabinet interior. The solution to this problem was creating custom open cabinets from panels.
Laundry Room Materials Cost: $6,908
Chelsey settled on HAVSTORP door and drawer fronts in beige. The total cost for these, plus the SEKTION cabinets, was $2,523.
IKD's laundry room design package includes the primary materials needed to complete a design and an extra items list containing IKEA products required for installation. These additional items totaled $1,530.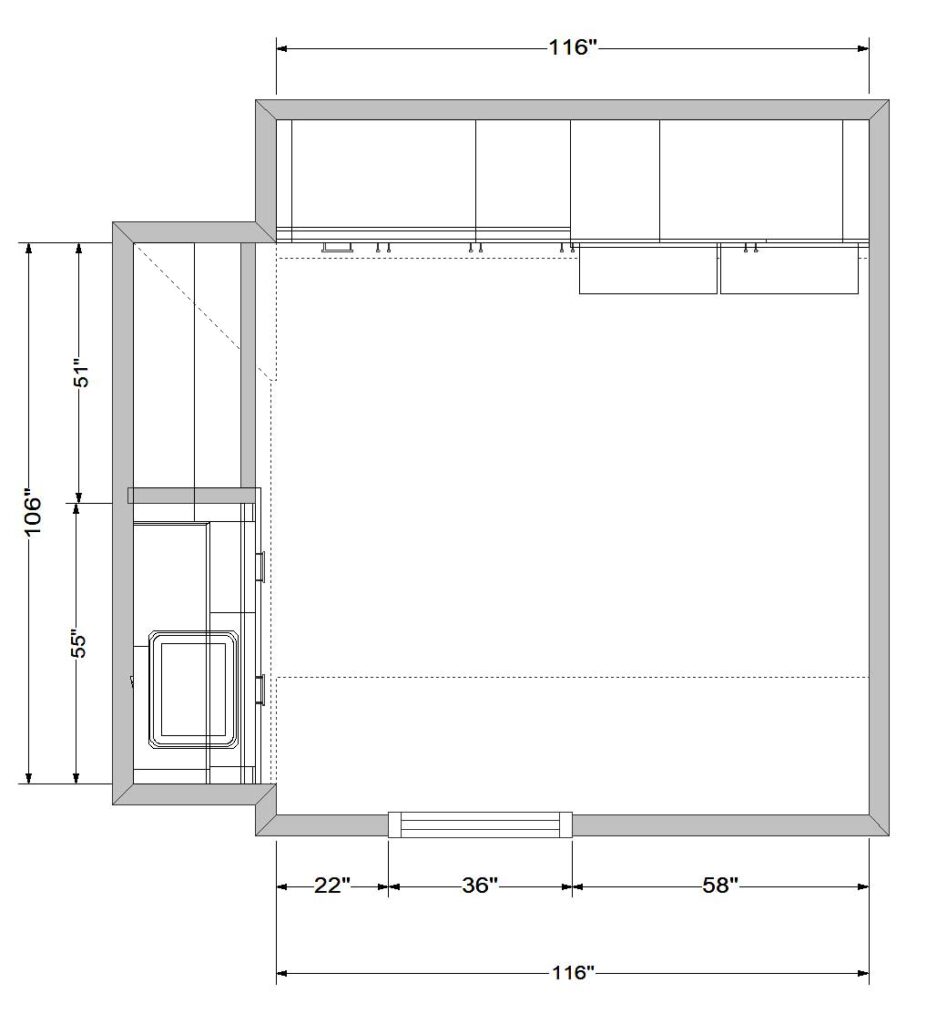 The KASKER countertop was $2,100 for materials and installation, including the materials used for the dog bath.
The Rev-A-Shelf storage solutions totaled $755.
Cabinet Installation Cost: $1,920
Chelsey connected with an IKEA cabinet installer via our Install Connect program. The total cost of the IKEA cabinet installation was $1,920.
Total Cost: $9,223.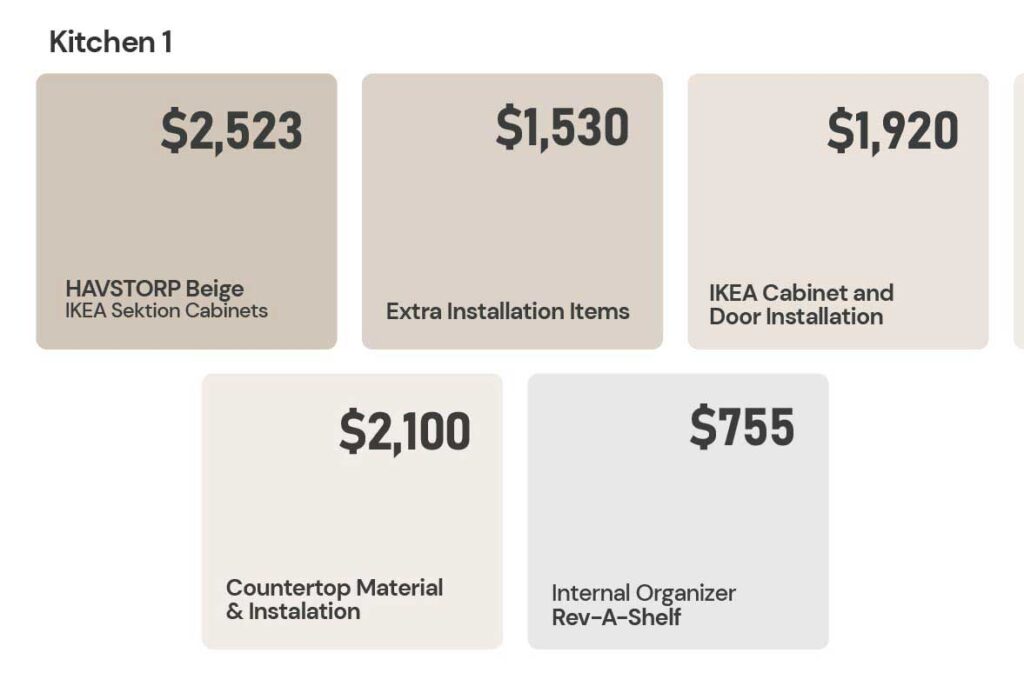 What Isn't Included in the Cost of This IKEA Laundry Room?
Demolition, flooring, tile backsplash, appliances, and plumbing are not included in this cost breakdown. In Chelsey's case, she didn't need to install plumbing, since she was using an old bathroom; she only needed to reroute it.
IKEA Laundry Room Design #2: Splurging on Semihandmade Doors for a Two-Tone Look
Laundry Room Design Goal
These homeowners have a family of four and need a place to wash and dry laundry, fold, store seasonal items, and remove stains from sports and other outdoor activities.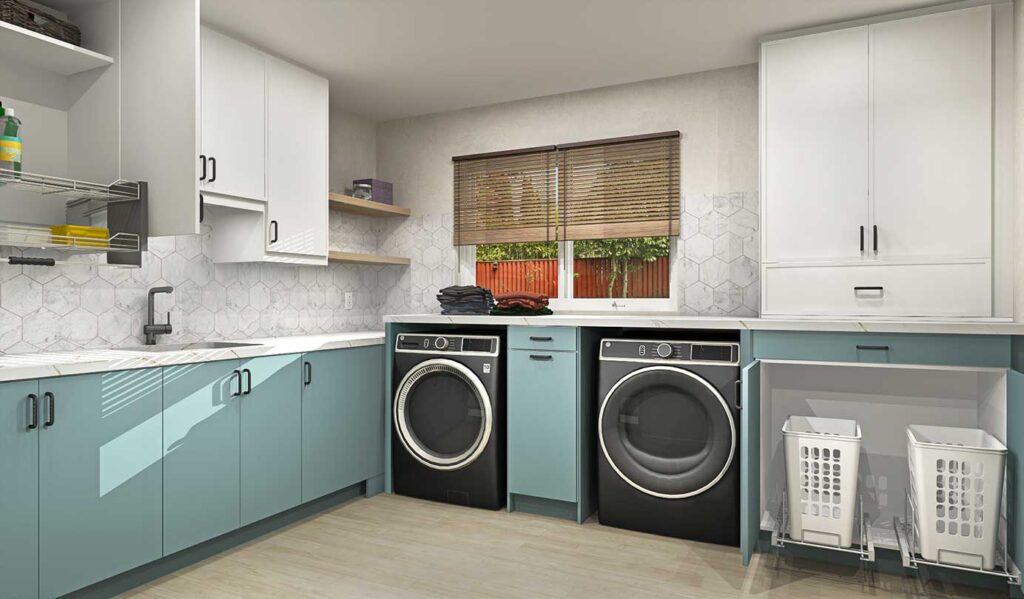 "We had a sizable laundry room when we moved in, but I never liked the way it was laid out. It had a window and a single-bulb light, so it was always dark and miserable. There were a few rickety shelving units for storage and an old linoleum floor. As soon as I went back to work, the laundry room was my first project.

We gutted it. I wanted a sink in the new laundry room because I'm always having to scrub jerseys in the kitchen sink, and it just isn't practical. I wanted real cabinets, bright overhead lighting, a folding station, and hidden hampers.

I described my frustrations to IKD, and they came up with a brilliant design." -Missie, IKD customer
Laundry Room Design Cost: $395
Frank designed Missie's laundry room to be a bright, open space.
"The laundry room is put on the bottom of the priority list when building a home. Function is more important than form, but since homeowners have to spend so much time in them, we enjoy turning them into pleasant spaces.

For Missie and her family, we used light colors on the door and drawer fronts of the SEKTION cabinets to keep the space bright. We used mostly closed storage to hide laundry soap, winter gear, and sports uniforms. With Rev-A-Shelf, we were able to give them the hidden hampers and even a pulldown shelf by the sink.

We also included plenty of counter space for piling and folding laundry." –Frank, IKD designer
IKEA Cabinet Hacks
This laundry room design included three IKEA cabinet hacks. The first two involved cutting panels down to make custom 5"H drawers when paired with a standard 5"H drawer front.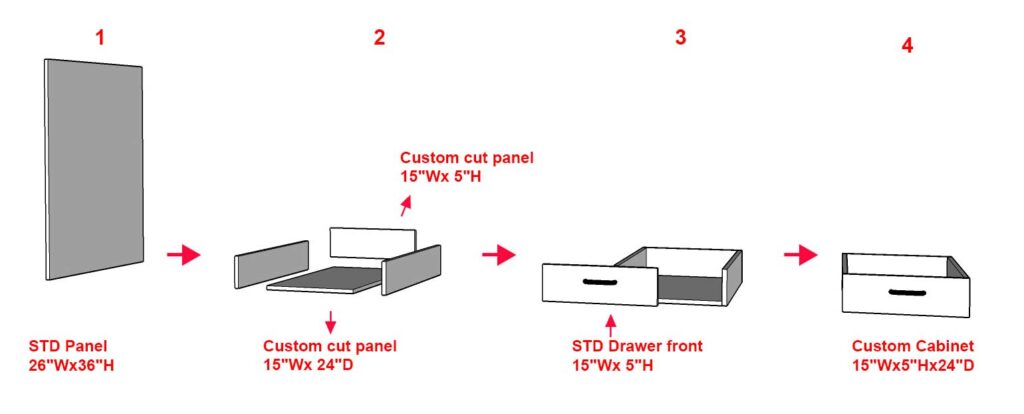 Missie was adamant that she didn't want wasted space in her new laundry room. These custom-made drawers, located between the washer and dryer and above the hampers, allowed her to gain extra storage instead of using fillers.
The third hack was used to build an on-counter cabinet for convenient and accessible storage above the hampers, which we achieved by cutting a 36" x 96" panel and adding doors and a drawer.

Materials Cost: $10,039
Missie had a sizeable budget for her laundry room renovation – around $20,000. She felt comfortable spending $2,899 on custom Semihandmade doors for the upper cabinets, but she loved the look of the IKEA HAVSTORP cabinet doors in turquoise. She used those for the bottom fronts, and with the SEKTION cabinet boxes, they totaled $1,620.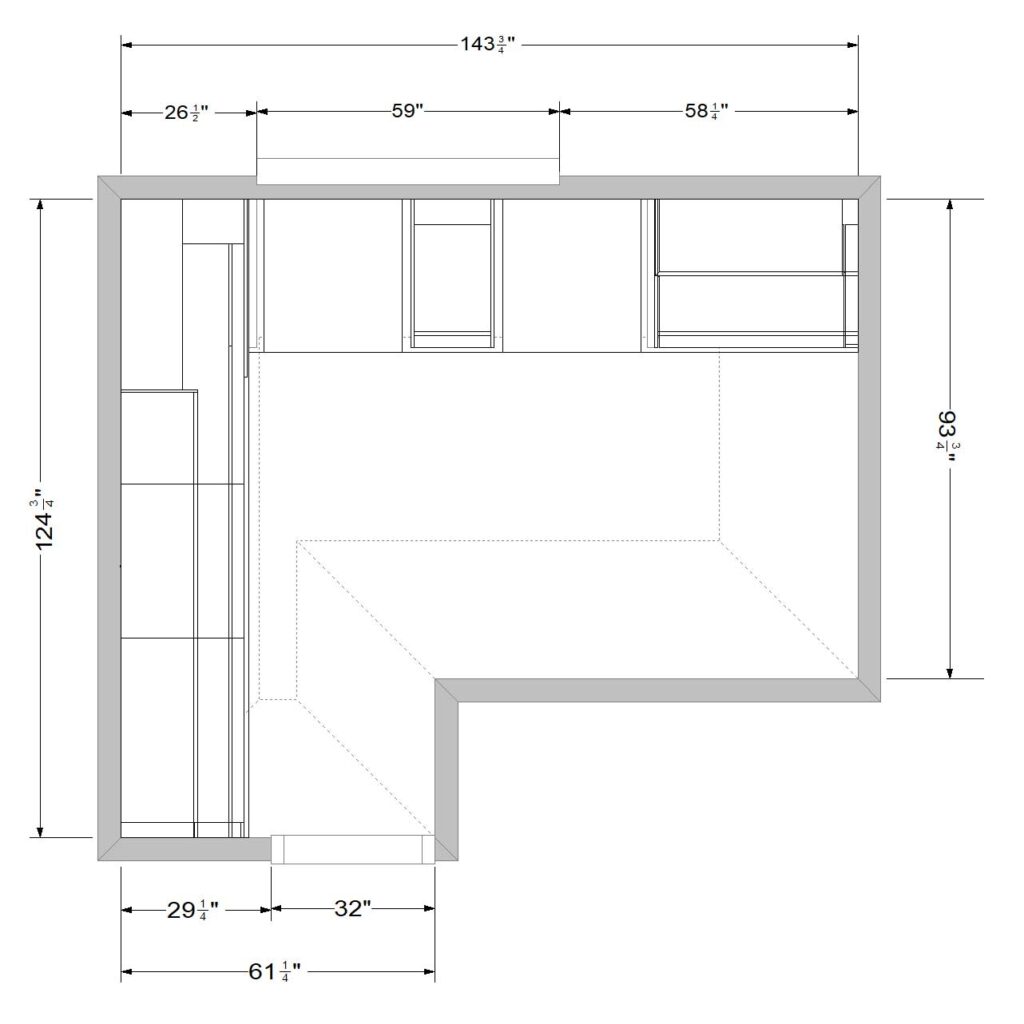 The extra items cost $1,276.
The large, custom countertops came to $3,400 for materials and installation.
The convenient Rev-A-Shelf pullout hampers and pulldown shelf totaled $844.
Installation Cost: $1,560

Missie hired a contractor to tear out the old laundry room, and she used the same team to install the new one, as well. Their installation cost for the IKEA materials and Semihandmade doors was $1,560.
Total Cost: $11,994
What Isn't Included in the Cost of This IKEA Laundry Room?
These prices don't include demolition, new flooring, sheetrock installation, appliances, plumbing, and electric. Although we came in well under Missie's $20,000 budget, we imagine she reached it once all the other elements were considered.
IKD Designs for Every Budget
If $10,000 is more than you'd like to spend on a laundry room upgrade, we have articles highlighting our IKEA laundry room designs with materials closer to $2,000 and $4,000. If you're open to a little sweat equity, you can also save big on installation.
IKEA products are meant to be used by DIYers, and our professional designs with detailed instructions make DIY renovation projects easy.
We're not here to make IKEA happy but to make our customers happy. Discuss your budget, design needs, and installation options with IKD. Chances are, a new IKEA laundry room is within your reach.
Get a Professional IKEA Laundry Room Design – All Online

Work with our certified designers to get a personalized laundry room designed around your needs and vision. If you're interested in learning more about our service, make sure to check out our IKEA Laundry Room Design Services.