Learn why we have a 4.8-star rating and 25,000 saves in this popular online home improvement community.
In this article:
What is Houzz?
IKD's Houzz reputation
How we've earned exceptional customer feedback
What is Houzz, and Why is it Important?
Houzz is an online community that mixes the features of Pinterest with those of Angi (formerly Angie's List). The website helps homeowners find reliable home service providers, like builders, interior designers, landscapers, architects, and even cleaners. Homeowners get to see honest reviews from real people who have used these services, as well as project photos to help them form their own opinions and make informed decisions.
Homeowners can also save these photos to a project album, keeping all their inspiration photos (and company contact information) in one place.
Houzz has a strict policy against fake reviews, so you can feel confident that you're seeing genuine examples of the work these companies provide.
Houzz asks customers to rate companies based on three factors:
Work Quality
Communication
Value
It's easy to vet a home design company via Houzz because its rating, reviews, contact information, credentials, and project photos are easily accessible.
---
Why Design
with IKD?
Why Design with IKD?
---
Where Does Inspired Kitchen Design Stand on Houzz?
IKD has been a member of Houzz since 2014 and has consistently won the Best of Houzz Service Award. This badge is awarded to companies with the highest satisfaction level from the Houzz rating community.
In 2022, we reached the milestone of having our projects saved to idea books 25,000 times. We are excited to know that our work has inspired so many homeowners.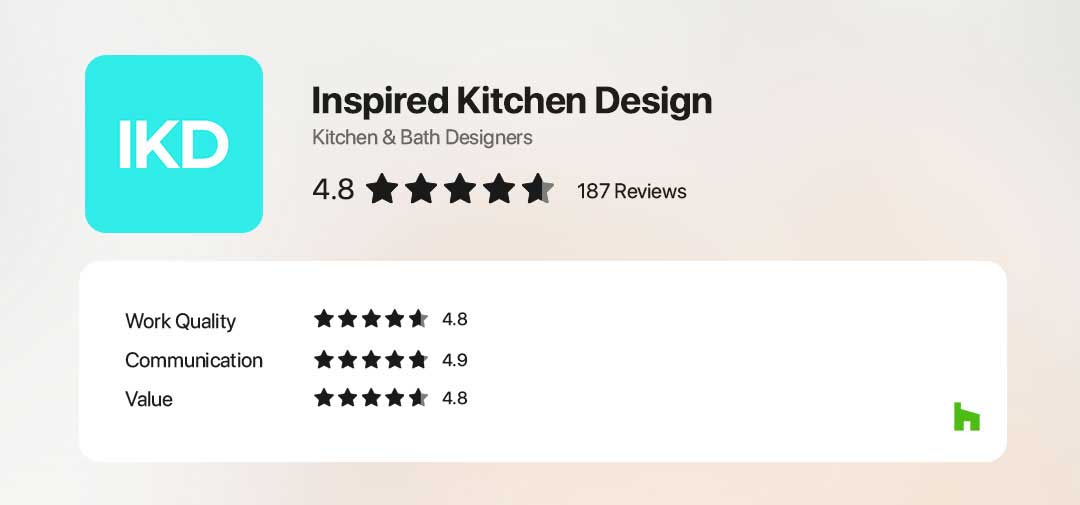 We currently hold an average star rating of 4.8 on Houzz from 187 reviews:
Work Quality: 4.9
Communication: 4.8
Value: 4.9
We take pride in our work and enjoy knowing that our dedication results in phenomenal customer experiences.
Why do Customers Enjoy Working with IKD's Kitchen Design Team?
Don't take our word for it. Below are some key reasons customers have taken the time to post about their personal experiences with IKD on Houzz. See more reviews by visiting IKD on Houzz.
We Have Experience Designing With IKEA
Our certified designers can plan with any materials, but we specialize in designing custom kitchens using IKEA products. Although we are a third-party designer, we can upload the design to the IKEA online planner and make ordering from IKEA easy. Customers often find working with us easier than working with IKEA.
"If you are considering IKEA cabinets and Semihandmade Door Fronts (which you should!), working with IKD is a definite must…it makes ordering from IKEA and Semihandmade go much faster."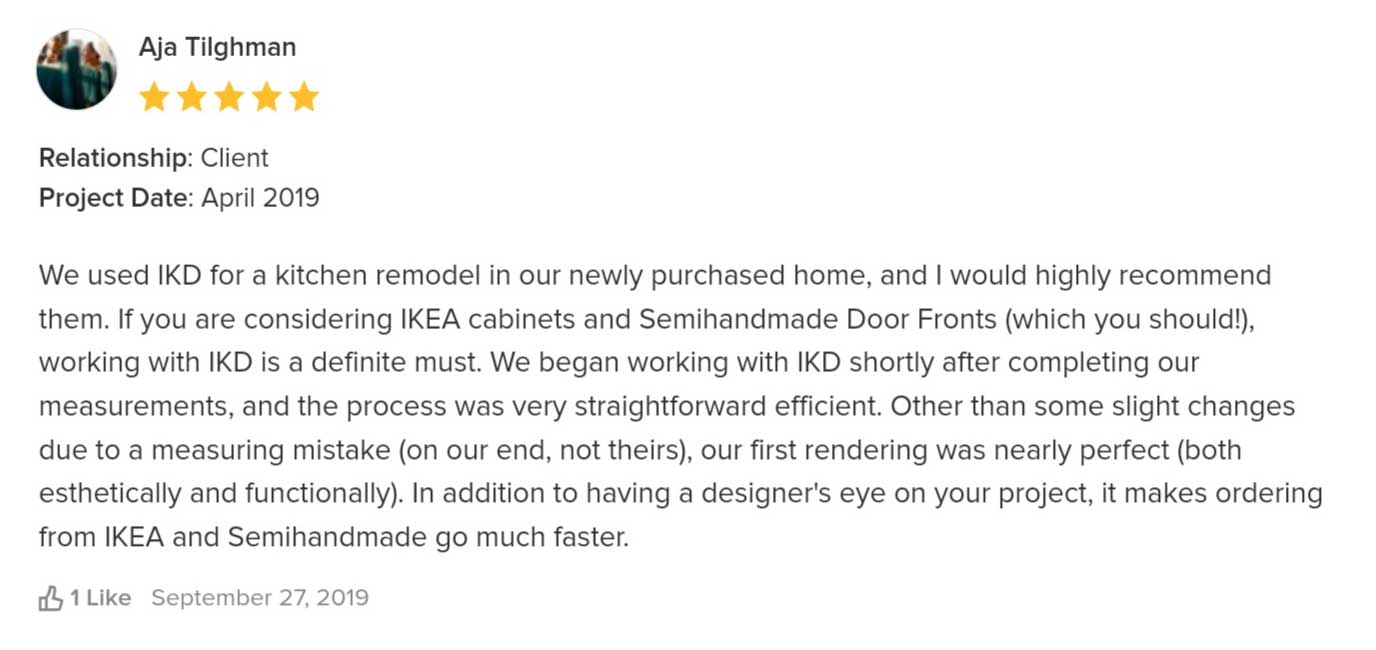 "Not only do they know IKEA cabinets, but they know the ergonomics of kitchen design…We also used a third party to make custom faces for the drawers and IKD took this all into consideration.

Probably the best part from my perspective is they provides a complete list of parts to order, so I simply took the list to IKEA and ordered the parts."

Once we decided on IKEA, we spent a fair amount of time in the showroom, but were stymied by the IKEA planning software…. I realized there must be someone out there who had made a business of doing what IKEA was doing poorly."

We Offer Professional Design Plans
Kitchen installers like our detailed and straightforward design plans, and customers value our innovative ideas and problem solving—especially when space is tight.
"The packet you get (complete with pictures, measurements, an assembly roadmap and shopping list) were key and ensured a smooth installation from our cabinet contractor."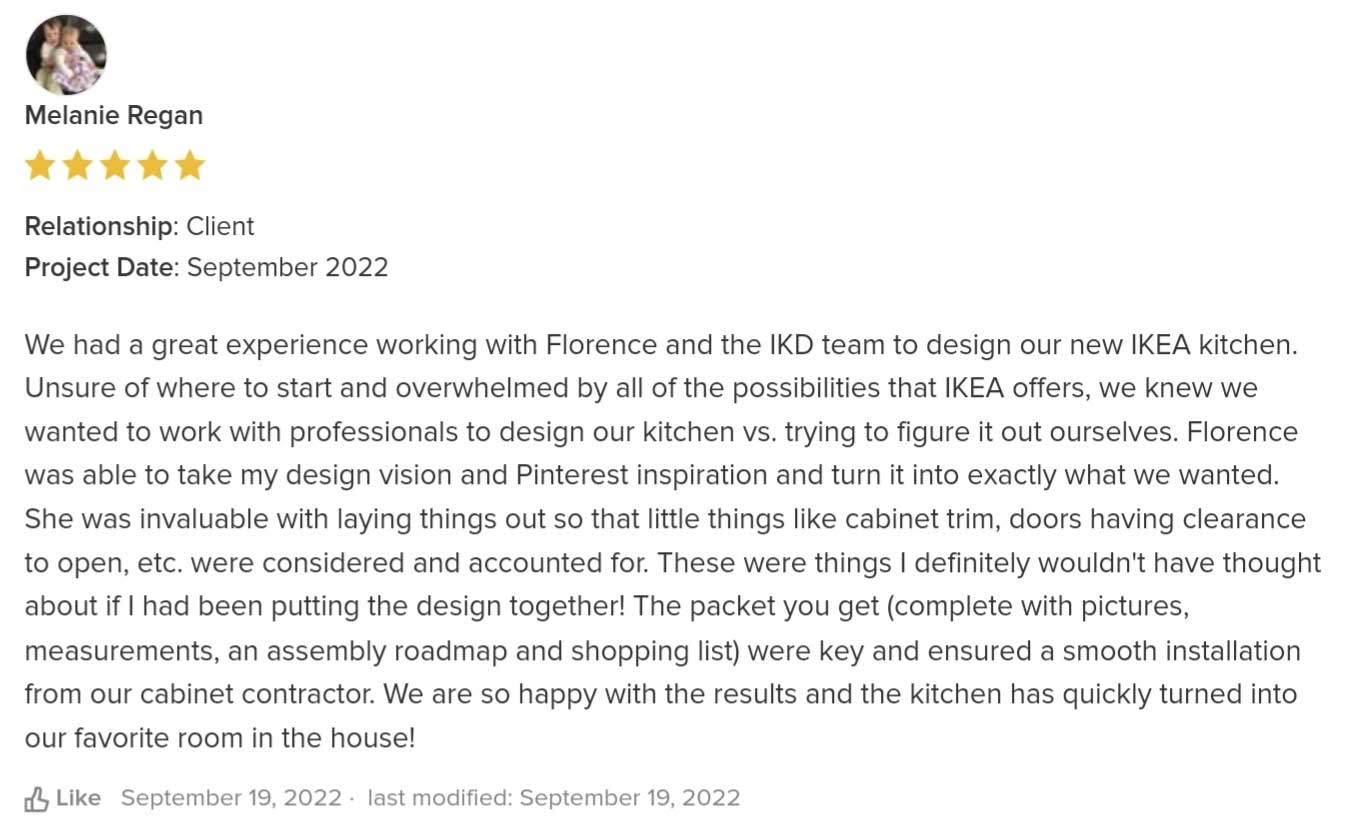 "They were able to take my ideas and turn them into a kitchen design that matched exactly what I wanted…. having the plan made it so much easier working with my renovation contractor, the countertop company and the custom fronts company!"

Our Designs Are Affordable
IKD is much cheaper than alternative design companies. We charge $445 for kitchen designs and $395 for other room designs, including two revisions. Our IKEA design plans match an IKEA budget, and our customers feel their finished product is worth the investment.
"A local designer probably would have charged 5 times as much to design our kitchen alone, with the downside of likely having never, if rarely, worked with Ikea products."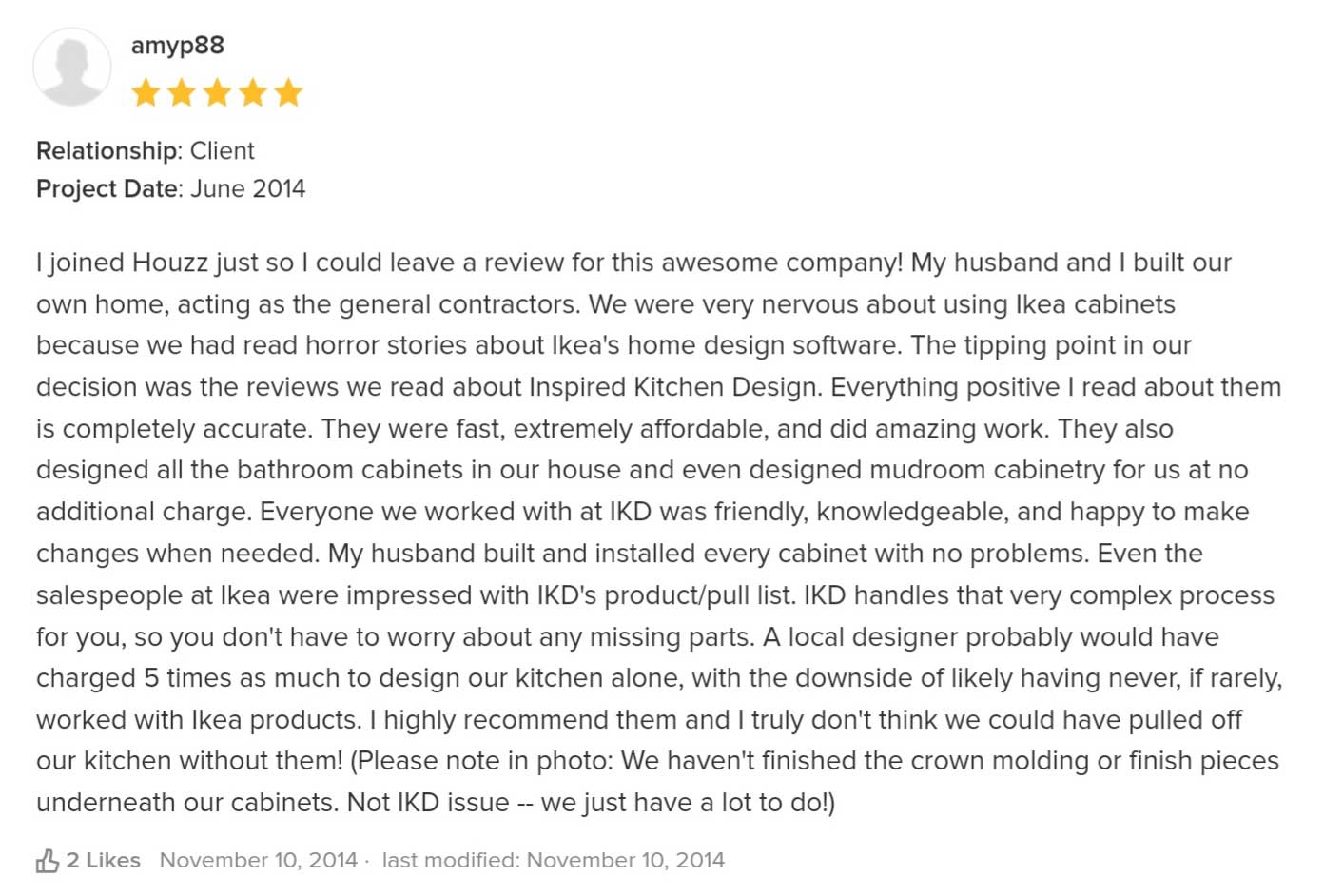 "I even had two interior designers come to my house and I couldn't believe the fees they quoted me. It was thousands of dollars and no one could even give me a preview of what they had in mind. I figured 'Why not' when it came to giving IKD a chance. Best decision ever."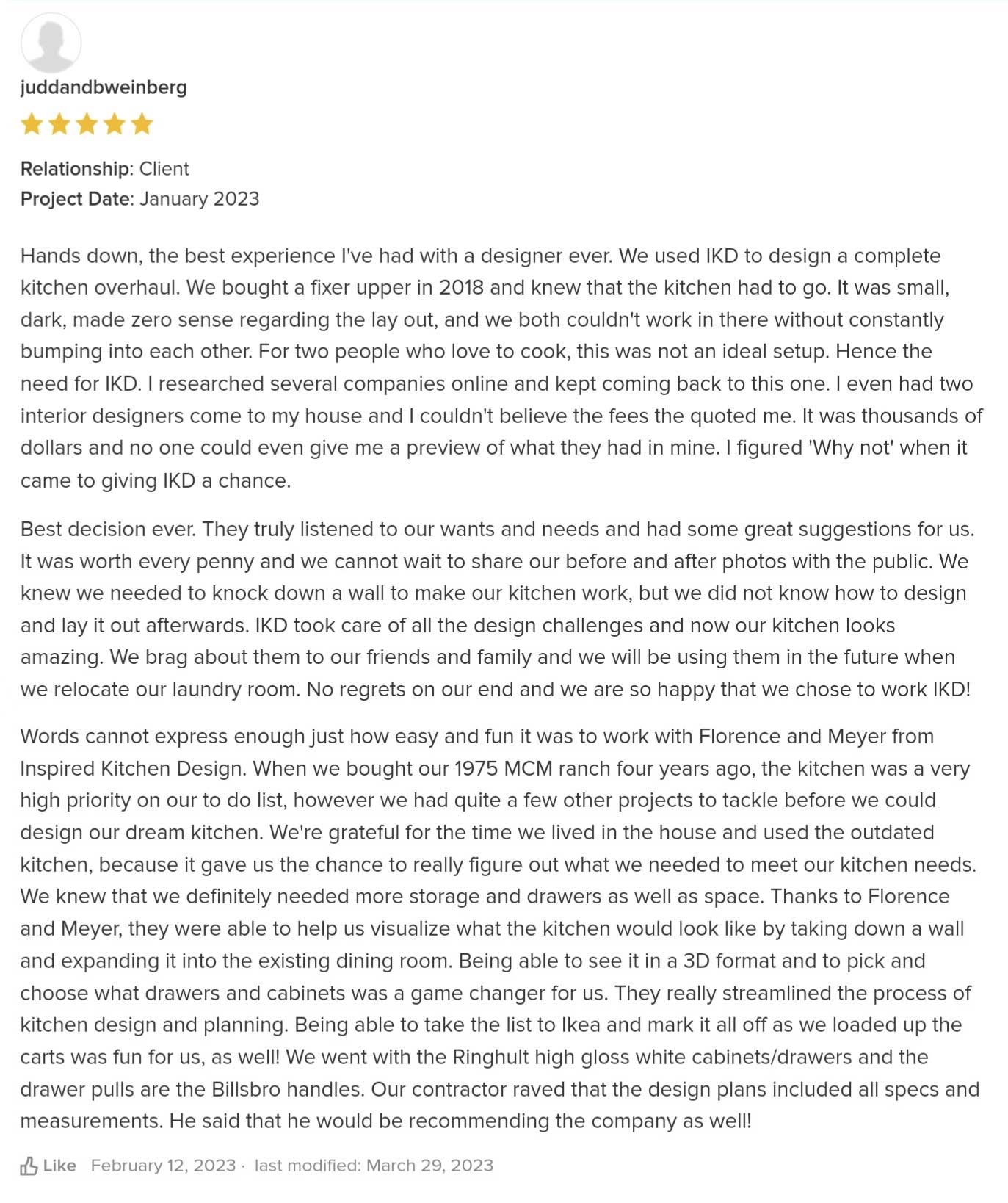 We Pride Ourselves in Excellent Communication
Our customers consistently cite communication as one of the benefits of working with IKD. We pride ourselves on quick and clear responses to design requests, changes, and questions.
"The communication that Florence and the entire team provided was outstanding and they were so easy to work with."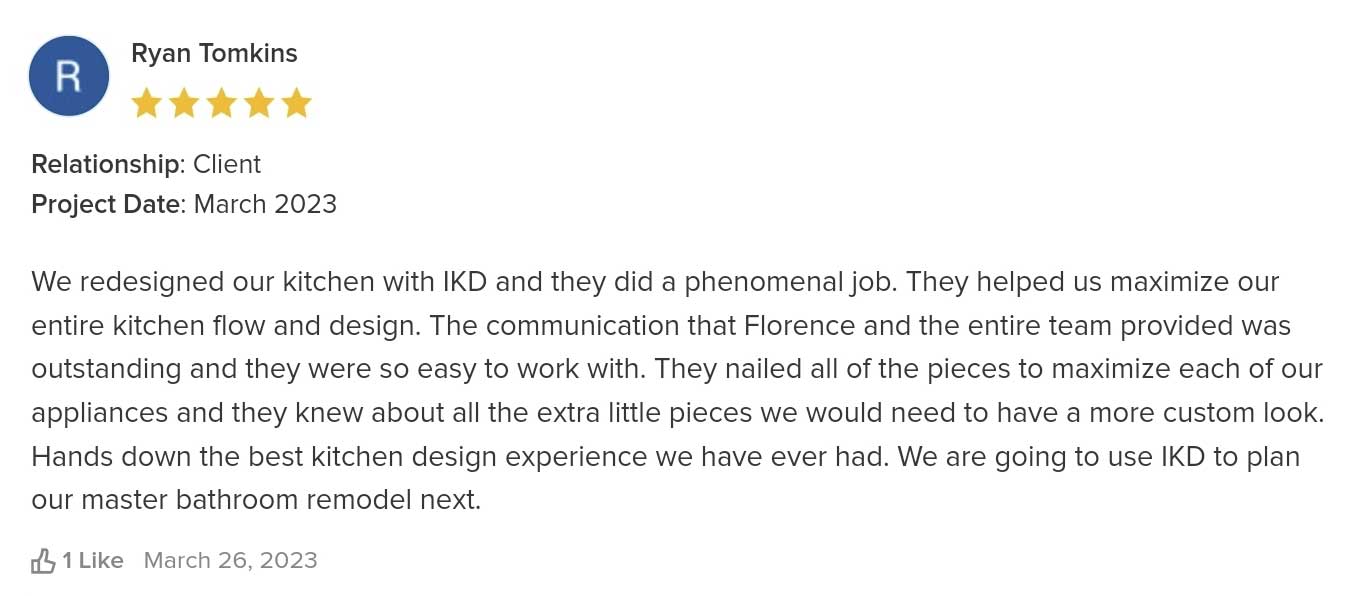 "We had a wonderful experience with Florence at Inspired Kitchen Design. She was super responsive and patient (even as we changed our minds about 50 times)."
Working with us is Convenient
We communicate primarily through e-mail, allowing our customers to reach out or respond to us when it's convenient for them. Our typical turnaround time for designs is three days, and we guide our customers through measuring, photographing, and filling out the online design survey form.
Our customers also enjoy the convenience of not having to learn to use IKEA's online tools.
"While researching kitchen remodels I found IKD's website and was so relieved there is a company specifically dedicated to designing IKEA kitchens. Their website is easy to use and there were detailed instructions for every step."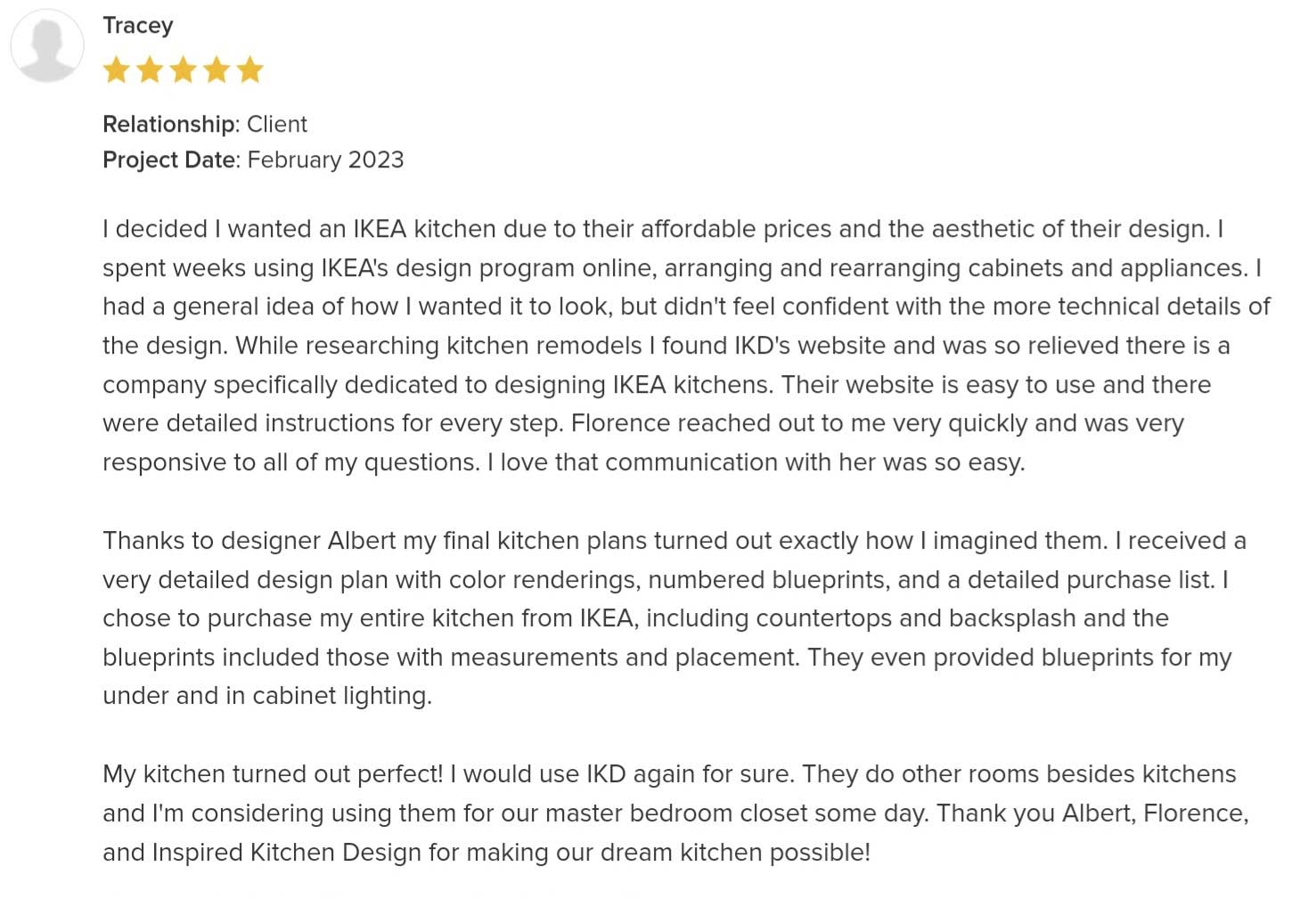 "They make the whole design process as easy and efficient as possible!"
"It was simple and easy to submit photos and measurements. I received a full rendering by the next business day… and the full Ikea shopping list is uploaded into your home planner. It was a very smooth experience!"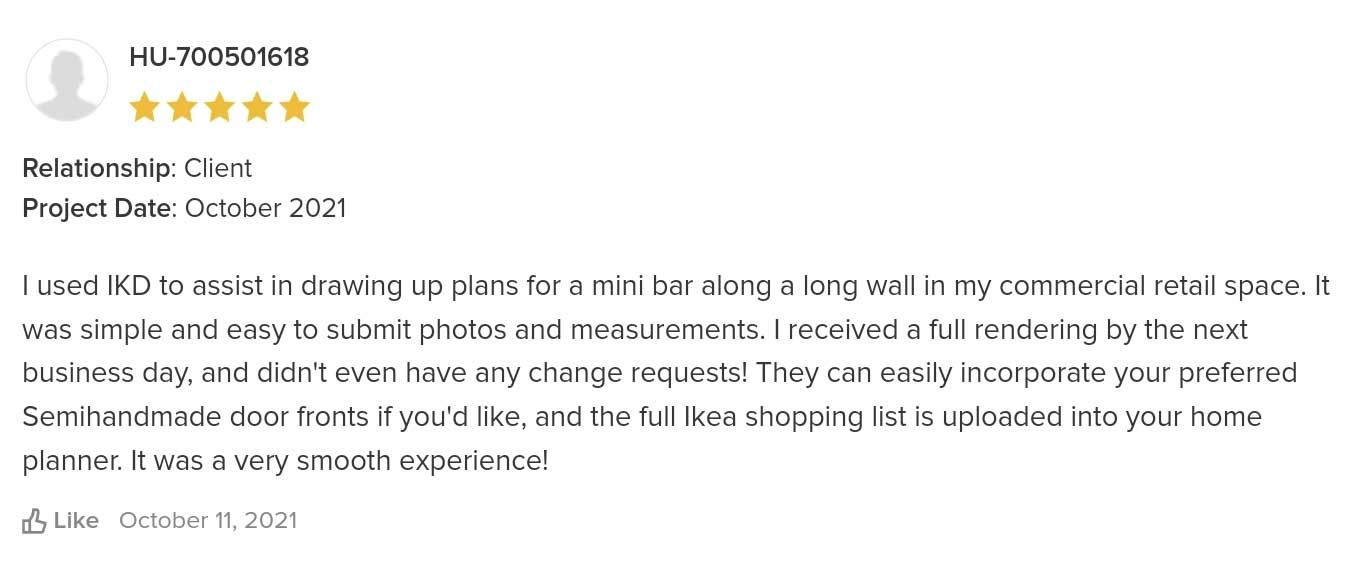 We Design More Than Kitchens
While we're best known as IKEA kitchen designers, our customers know they can come to us for IKEA bathrooms, mudrooms, closets, pantries, and more.
"Florence and Albert did a fabulous job designing our laundry room…. We have a walk-in closet to build next and would not hesitate to use inspired kitchen design again."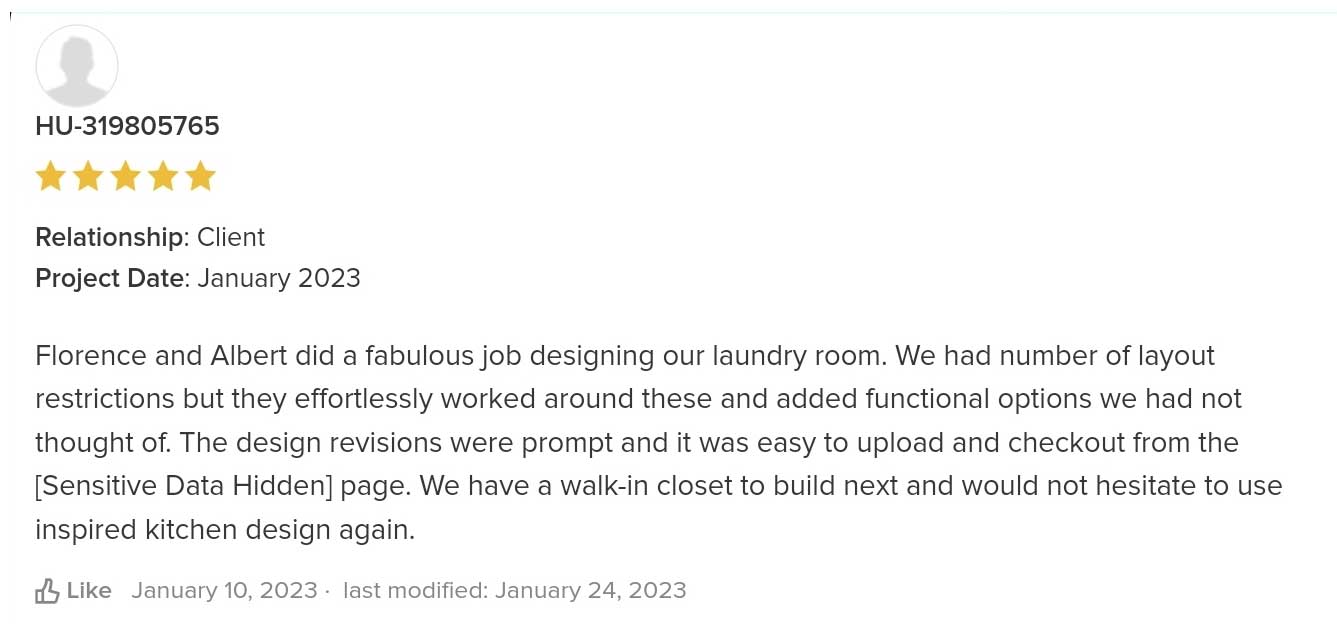 "IKD did an amazing job designing a unique mudroom for us…. I cannot wait to start our next project with IKD."

"The entire staff at IKD was professional, prompt and lovely to work with. We have a few more projects coming up in the next year or so and we will definitely be calling IKD again for help!"

None of These Accolades Would be Possible Without You
Consumers expect good service, so that means a company must do especially well – or especially bad – to inspire someone to leave feedback. We're thrilled that our kitchen design team has made such a positive impact on our customers.
We look forward to working with homeowners, old and new, on future IKEA kitchen designs.
Get a Professional IKEA Kitchen Design – All Online

Work with our certified kitchen designers to get a personalized kitchen designed around your needs and vision. If you're interested in learning more about our service, make sure to check out our IKEA Kitchen Design Services.