Are you happy with your current kitchen size? Curious how you can get creative with what you have? The National Kitchen and Bath Association defines an average small kitchen to be 70+ square feet. And that amount of space, especially for an avid home chef, might feel restricting. In fact, the most restricting issue facing small kitchens is space, from the layout to storage solutions. Especially for the entertainer, guests will always find themselves congregating at the source of food, making your next get-together a scene from the circus, where the headline is seeing how many people you can fit in the kitchen with it still functioning. And aside from legitimate space concerns, limited storage solutions will result in returning home from your weekly grocery runs to play a box-inspired game of Tetris in your cabinetry. And at this point, you might be curious…what can you expect when remodeling a smaller living space? What are the challenges and solutions?
Designing a smaller living space means getting creative and making the most of less. Common concerns that sprout from a small kitchen usually come from lack of functionality. Cooking a big meal? Less countertop space means being less able to multitask. Are you someone who enjoys entertaining and gravitating towards the kitchen? Likely you'll feel cramped. Do you enjoy stocking up on your favorite foods? A lack of cabinetry or other storage solutions means more times than not they will always be out in the open, creating a cluttered space. But as a homeowner, this doesn't mean you have to settle. Ever-evolving kitchen trends have taught us that the next best solution to your problem is right around the corner. So let's start by addressing some of the bigger concerns you can expect when designing a small kitchen.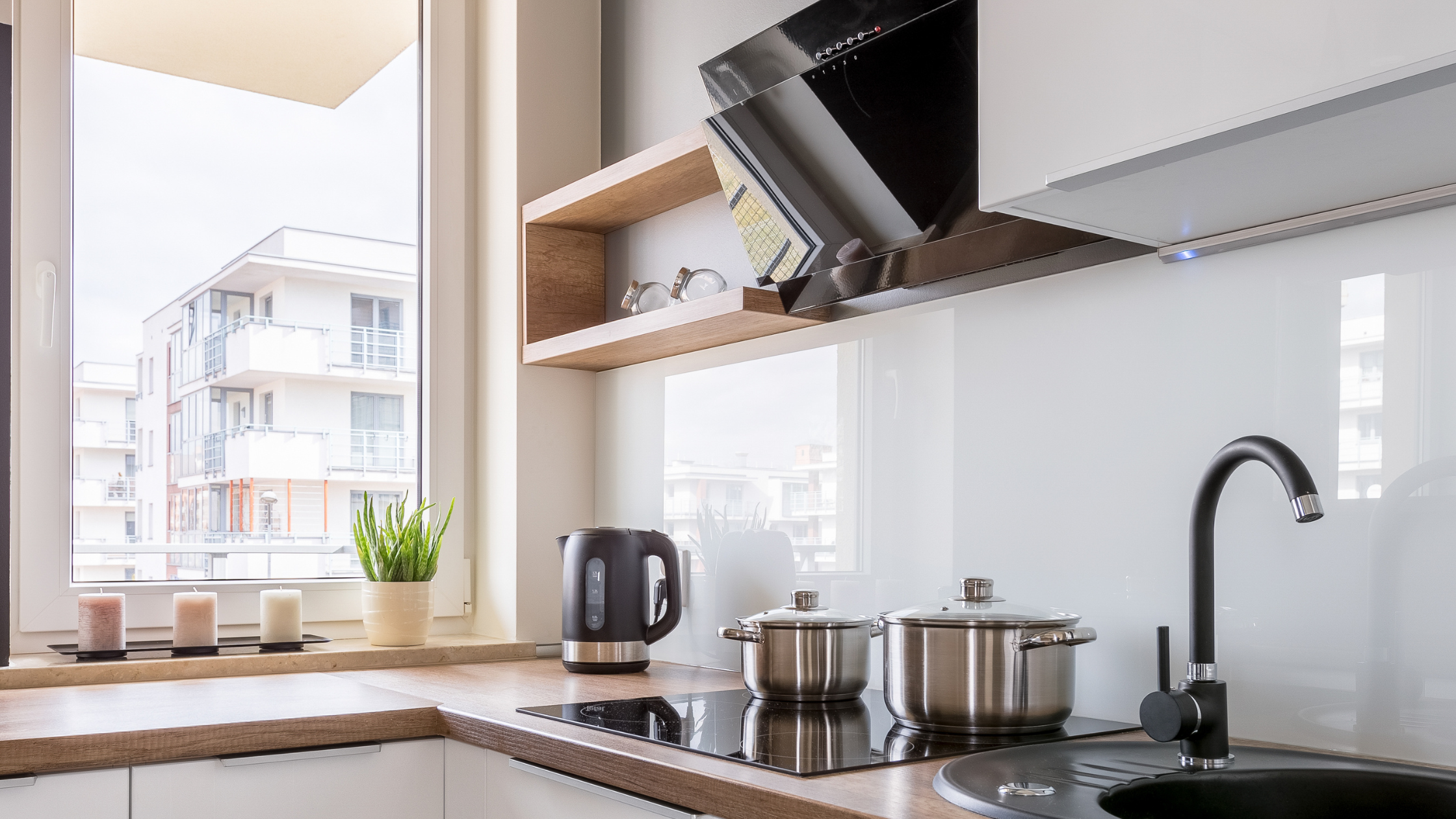 When designing a smaller living space like your kitchen, there's a few primary factors that should be taken into consideration first: Layout, Storage, Flooring, and Lighting. This is because these four will most readily affect how spacious your kitchen feels, not necessarily how spacious it actually is. Some examples of these factors in action, your layout will most definitely be the most apparent in the overall feel of your kitchen. Especially in smaller spaces, designers will recommend remodeling your kitchen with a proper work triangle in mind. For those unfamiliar, the kitchen work triangle refers to your stove, refrigerator, and sink being placed equidistantly from each other to contribute to a more efficient workflow and for better convenience. But kitchen layout really only begins with the triangle. Based on your personal wants and needs, there's a wide array of unique kitchen layouts that can fit any desired mold. Most often, homeowners will find themselves with less space than they imagined just by picking the wrong layout. Most designers or contractors will suggest one of the 6 most common kitchen layouts: L-Shaped, U-Shaped, G-Shaped, single-walled, galley, or kitchen island. Choosing the right layout in tandem with a work triangle will ensure the most ideal workflow, which will make cooking your next meal a breeze.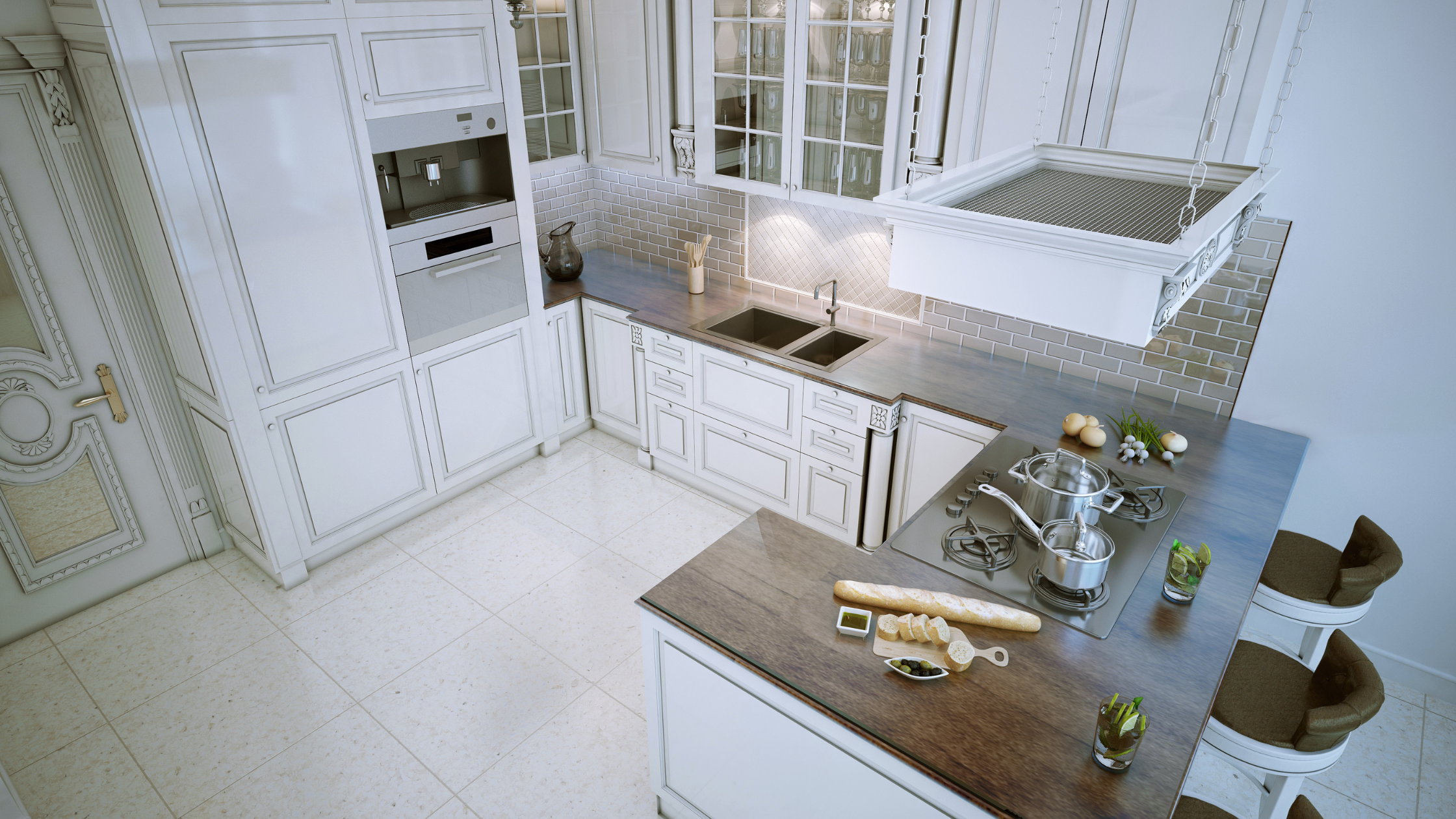 Triangles aside, let's address storage. Storage is that one element we all wish we had more of. But you can get creative with what you have right now. From hanging stemware to vertical cabinet solutions to open shelving, making the most of less starts with taking some design risks that will benefit you in the long run. Many homeowners find themselves in the same boat…the same cramped boat, where your countertops become secondary storage until it becomes a cluttered mess. A remodel is a once-in-a-lifetime, exciting experience so keep in mind that ample and creative storage solutions will be your best friend when designing your next remodel to not only keep your kitchen functional but also looking like a masterclass in kitchen design.
For our next consideration, watch where you walk. The world of kitchen flooring can be a confusing space, one which is often overlooked. But utilizing the right materials and proper placement can create an illusion of more space. This is why it's often recommended for plank flooring to run it horizontally instead of vertically, as it makes your kitchen space feel wider and less like a bowling alley.
And what best way to highlight all of these kitchen elements than with ample lighting. Incorrectly placing lighting or simply not having enough can make your space feel darker and less spacious. Gravitate towards bright whites or warm-colored tones that fill every part of your kitchen. Ample natural light will also work wonders while cutting down on your energy bill.
While the majority of these factors are based on more technical application, perhaps one of the most important factors is bringing your own personalization to the project. What is an aesthetic that speaks to you? It can be important to match your aesthetic goals to functional goals like wanting your kitchen to feel more spacious. Consider using light and neutral color schemes that can give off the illusion of a larger, more open space. Creamy whites, soft grays, or pale blues are perfect examples. Perhaps two other popular "visual tricks" are glass cabinet doors and mirrors. Glass cabinet doors create openness but are also a great opportunity for an extra layer of your personal creativity. From storing dry goods to family antiques to capturing a particular style, this gives you the option to showcase what's important to you. Mirrors on the other hand can help to reflect light and provide the illusion of a more expansive kitchen.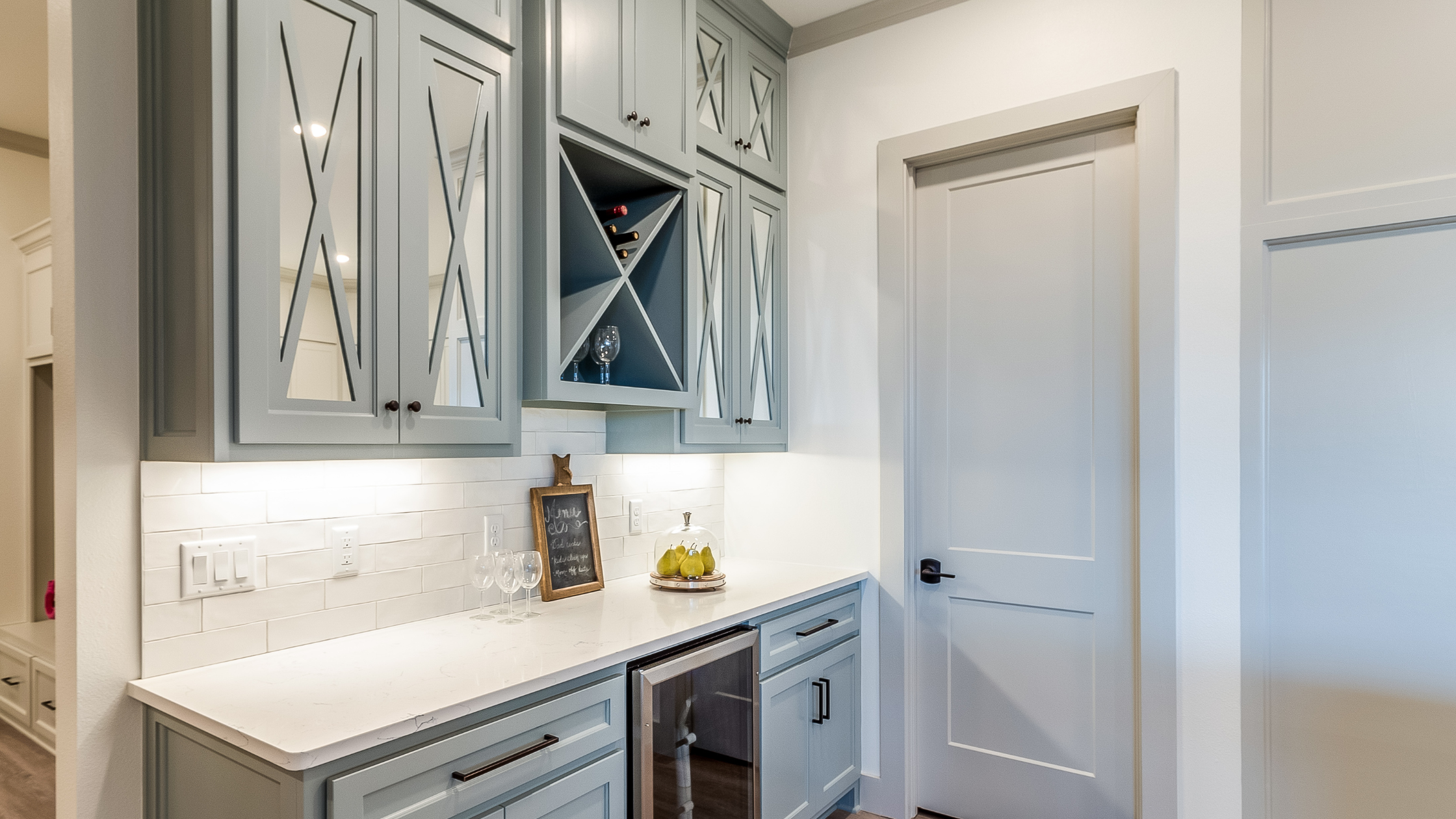 Finally, it's important to note that a small kitchen doesn't mean you have to sacrifice your style for functionality. Get creative with the kitchen elements available to you. Whether it's an exciting and eccentric backsplash, decorative hardware, or showcasing some of your favorite art pieces or décor, the only limitations to designing and remodeling a small kitchen is your imagination.