There are several similarities, but IKEA's in-house planner doesn't stack up to our professional kitchen designers.
In this article:
The T-word.
Why IKEA often isn't a one-stop-shopping experience.
Reasons customers prefer IKD's design package over IKEA's plan package.
About IKEA's Planning and Installation Service
We'll call IKEA's planning and installation division "the T-word." They used to be a third-party service, but IKEA's parent company acquired them in 2020. The transition period and supply chain issues from COVID put a temporary stop to IKEA kitchen installation services.
We expect IKEA to offer kitchen installation again soon, under a new name, but customers have been fending for themselves for months. Is that a bad thing? We don't think so.
Since the nationwide installer must use IKEA products and IKEA-approved hacks to maintain the service warranty, installers must often wait for products to restock rather than problem solve. That means the customer has to wait, too.
This doesn't sit right with us for two reasons:
Innovation is where designers are supposed to shine.
Every kitchen installer should offer a service warranty.
In our opinion, the convenience of one-stop shopping isn't worth hiring the first planner and installer that IKEA recommends.
Design Options Beyond IKEA's Kitchen Planners
Unfortunately, the following Reddit thread from May 2023 isn't a unique IKEA customer experience: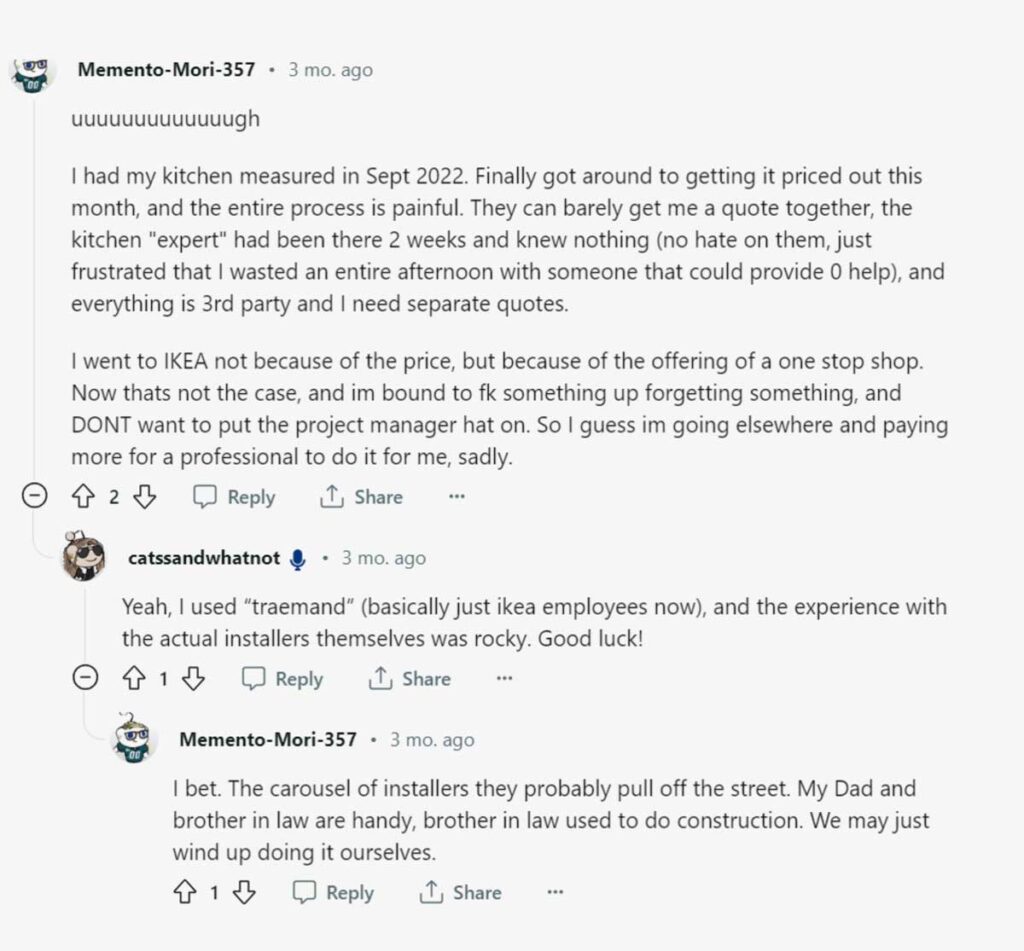 Inspired Kitchen Design often knows more about designing with IKEA than IKEA's kitchen planners, and we offer a list of experienced IKEA installers through our Install Connect program.
---
Why Design
with IKD?
Why Design with IKD?
---
Why Choose an Independent IKEA Kitchen Designer?
Many customers work with us over IKEA's in-house services because we offer what they expect from IKEA's design services but don't always get, like:
Certified designers who focus on customer needs before those of a parent company.
Guidance when considering design options and performing tasks such as measuring and photographing the design space.
Ability to design with custom doors and materials as well as IKEA products.
Designers who are knowledgeable about IKEA hacks and able to provide detailed hack diagrams.
Full room designs with 3D color renderings.
Access to vetted and experienced independent IKEA kitchen installers (who can often handle other needs, like plumbing and electrical).
Affordability.
This difference is especially stark when comparing IKD's kitchen design packages to IKEA's.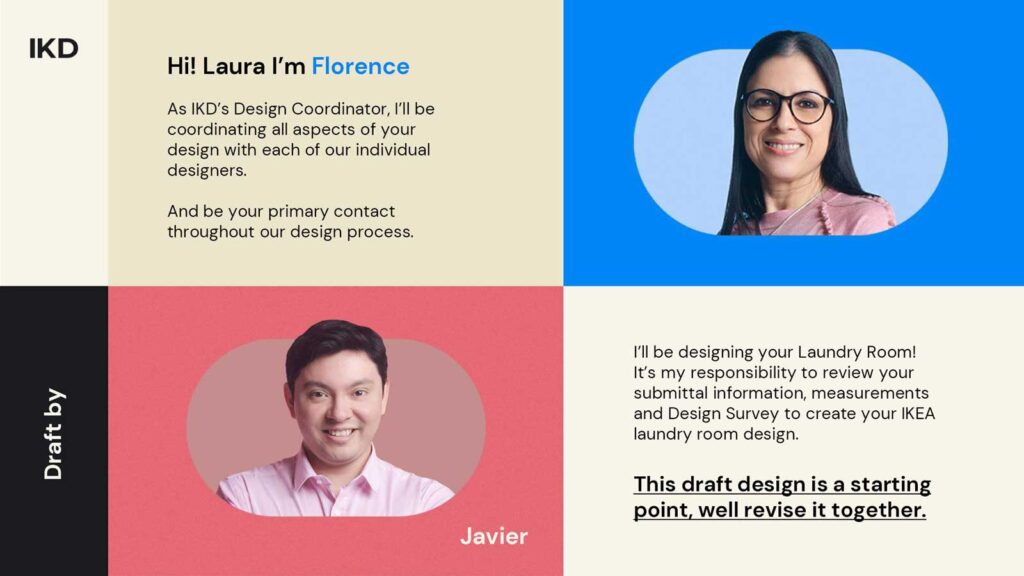 IKD's Design Package vs. IKEA Kitchen Planners' Package
You'll find that the T-word's plan package is more like a design review. It's a collection of floorplans and elevations you've discussed with your IKEA planner, with images direct from IKEA's online home planner. It also includes customer information and a shopping list.
IKD's design package is always a collaboration, with the ability to revise the plan, ask questions from your designer (rather than whichever IKEA employee is on duty that day), and drawings that detail every inch of your space. We use professional design software from 20-20 Technologies Inc., allowing us to include extras, like IKEA cabinet hack diagrams, lighting plans, and internal storage designs.
The difference is evident from the first step of your IKEA kitchen design.
Customer Intake Information
IKEA is Limited to Designing With the IKEA Brand
IKEA begins the kitchen planning process by encouraging customers to look around the showroom and write down the styles they like for cabinet doors, drawer fronts, hardware, countertops, etc. They'll ask for kitchen appliance measurements, room measurements, and information about layouts, workflow, and cabinets.
Since they know the design appointment will be limited to about two hours, they keep the questionnaire as limited as possible.
IKD's Detailed Design Survey Includes Non-IKEA Materials
We require the same information as IKEA when designing your new kitchen, but we also ask for inspiration photos with as many notes as possible to get an idea of your style and goals before designing. Our form has options for choosing custom cabinet doors and countertops from vendors other than IKEA.
Since we don't work for IKEA, we have more design flexibility. We also take as much time as we need to review the forms, communicate with our customers, and create the IKEA kitchen design.
The Design Process
IKEA Planners are on a Strict Schedule
You can meet with an IKEA planner in-store or online through a virtual design appointment. Have your questionnaire filled out so you can make the most of the appointment and dive into the online home planner right away.
Many of our customers (like Michael, who reviewed us on Houzz) feel the IKEA online planner is difficult to use.

The benefit of having an IKEA planner create your kitchen layout is that they are more familiar with the online planning platform than customers. That's why the service is free. They aren't bringing anything new and innovative to the table; they take two hours to input your information, check for missing elements and basic design mistakes, and make it easy to visualize your new kitchen and purchase the necessary supplies.
IKEA planners are not certified designers, and they basically just know how to fill in empty spaces in your design with cabinet boxes and countertops. They don't always succeed, either, as evidenced by the BBB report below.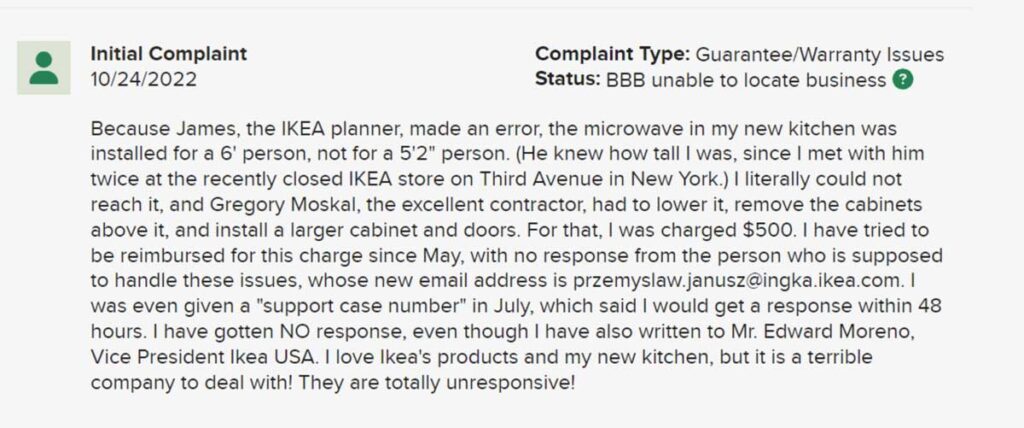 We Take our Time Creating Professional Designs
At IKD, you work with one designer who thrives on details. Your designer will take your information, ask additional questions, and provide a custom design within a few days. Our designers don't have to rush to the next two-hour appointment, so we can work carefully through every design challenge.
When designing, we consider who's using the kitchen, how they use it, and if our customers might benefit from cabinet hacks or internal organizers. We also include two design revisions with each design package and a convenient IKEA shopping list that can be transferred directly to the online shopping basket.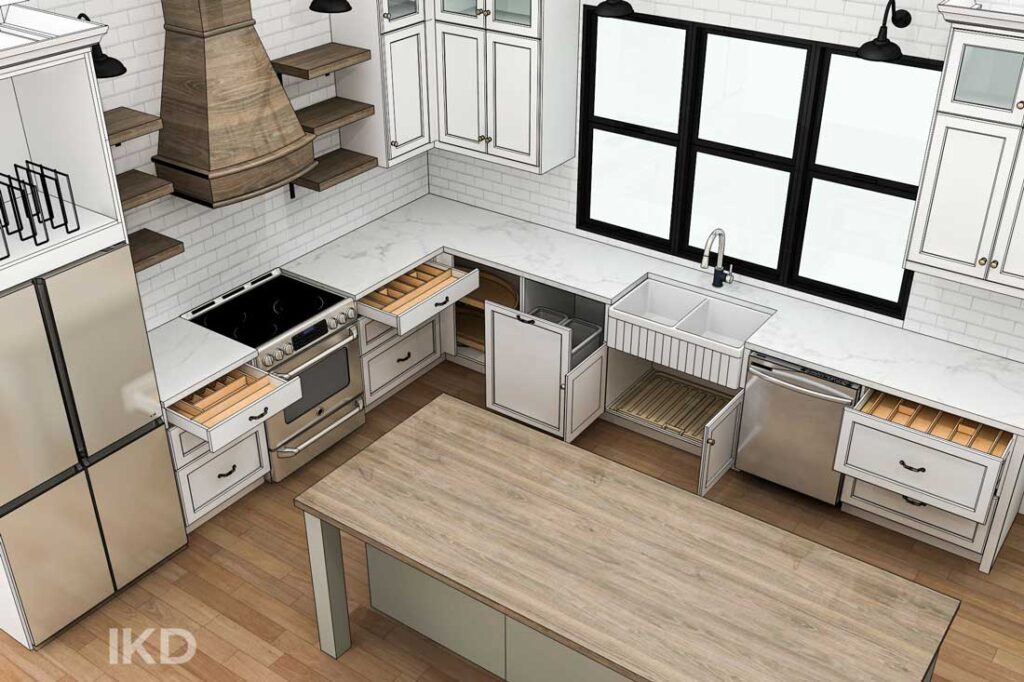 The Finished Product
The T-word's Plan Package includes:
A thank you note
Installation quote
Copy of home planner 3D rendering
Item list
Elevation drawings
Instructions for minor customizations, like cutting down cabinets to fit appliances
Complete shopping list
IKD's Design Package Includes:
An introduction to your design coordinator, Florence, and your personal IKEA kitchen designer
Professional, detailed 3D renderings using the latest design technology with corresponding elevation drawings
Full room, high-resolution color renderings
Floorplans
Lighting plans
An IKEA pricing and purchase guide
Extra items list
A separate internal cabinet organizer design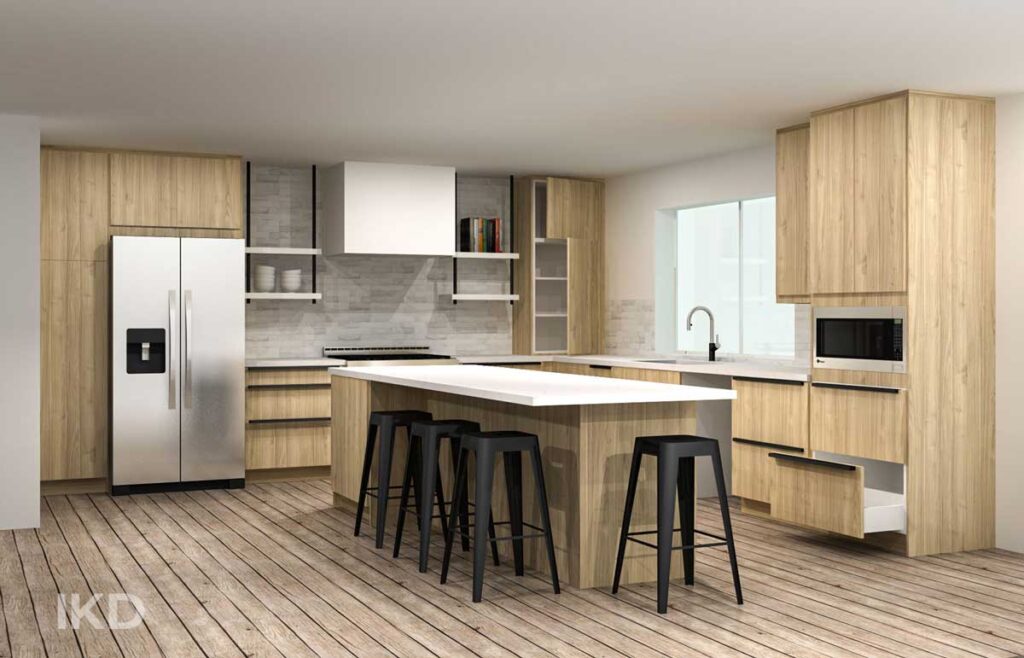 IKEA Kitchen Installation
With IKEA, you get:
A recommendation for a "third-party installation at their local store, where available."
With IKD, you get:
Access to our network of quality-assured third-party installers through Install Connect. These are installers who have successfully worked with IKD customers in the past.
What Sets IKD Apart from IKEA's Approved Installer?
The T-word offers a satisfactory design package if you only need a general IKEA design overview, shopping list, and basic installation.
However, if you need a more innovative kitchen design package (that's still affordable), you'll want to choose a professional design service like IKD. We offer customizations, personalized service, and detailed designs created by professional kitchen designers who know IKEA inside and out.
Get a Professional IKEA Kitchen Design – All Online

Work with our certified kitchen designers to get a personalized kitchen designed around your needs and vision. If you're interested in learning more about our service, make sure to check out our IKEA Kitchen Design Services.