According to the website Science of People, free time, money, and housework are the top three reasons couples argue – and home renovations involve all three!
In this article:
What is renovation fatigue?
How IKD can help relieve some of the stress before it starts.
Professional designs benefit DIYers and homeowners who use contractors.
A few years ago, Inspired Kitchen Design owner Mike Toth interviewed an independent contractor, Mark, to get the inside scoop on what homeowners can expect during an IKEA kitchen renovation. In addition to common details, like minor design changes, Mark mentioned that couples can expect to argue.
In fact, he's seen couples argue for two hours about drawer handle placement:
Comment "Each of them has a different idea where the handles should be placed. Then it turns into a question of who does most of the cooking…and from there, why doesn't the other person do more to help in the kitchen anyway…"
You may be thinking that this will never happen to you. You and your partner have agreed you need a new kitchen. You've walked through an IKEA showroom together, set a budget, and set aside time to get this done. Boom. Nothing left to argue about.
IKEA Kitchen Renovation Considerations: Overlooked Details and Budget Surprises
Chances are, there will be IKEA kitchen renovation details you and your partner didn't consider, for instance:
What's the best way to organize a blind corner cabinet?
What should you do with the extra space between the cabinets and the fridge?
Do you put the cabinets to the ceiling or leave room for storage? What kind of storage?
What color cabinets are you getting? White. Which white?
And, wait a second, we didn't budget for a plumber, but we need to move this faucet!
Before you know it, you've hit renovation fatigue before demo and installation have even begun.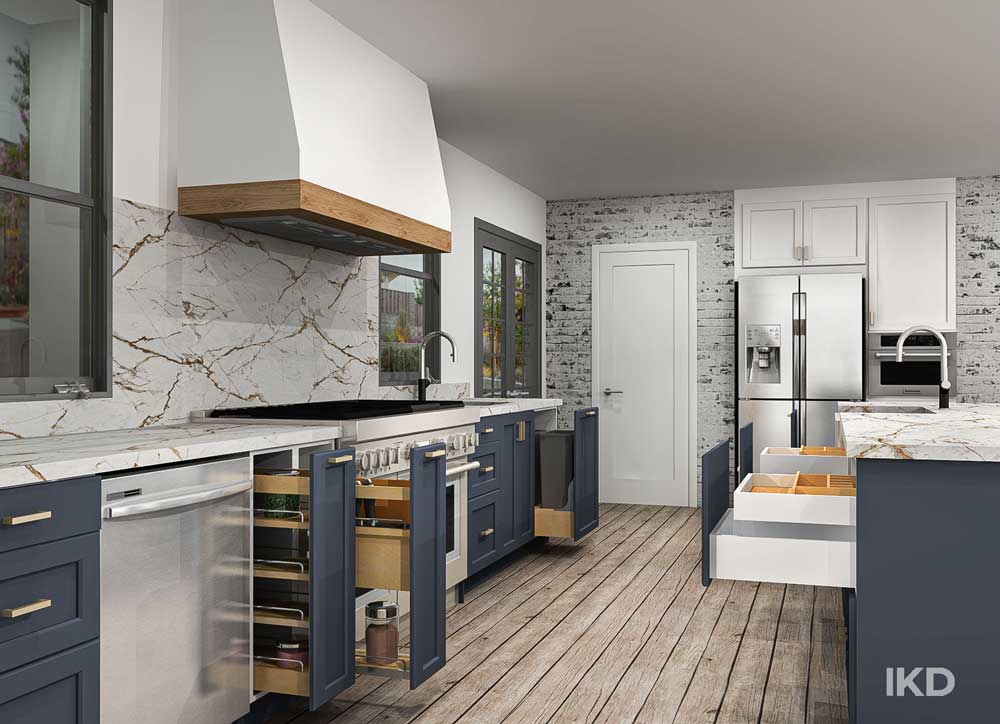 What is renovation fatigue?
Renovation fatigue is the point during a project when you are ready to be done, but done is still a long way off. You are tired, frustrated, and wondering why you ever started in the first place.
The best way to avoid renovation fatigue is by having a flexible timeline, a place to escape the chaos, and calling in the experts when needed. We often create designs for customers who find the process stressful on their relationship.
"We've tried designing our IKEA kitchen on our own but navigating all the different options has proven to be stress inducing for my partner and I. Seeing that there are pros that specialize in IKEA was the solution we are looking for." –Hannah Maria L., IKD customer

"One thing my wife and I are not…is planners and when it comes to IKEA, we really need a team to provide us with some options that will transform our space and make good use of it… all while helping us navigate the never-ending IKEA customizations." –Brandon B., IKD customer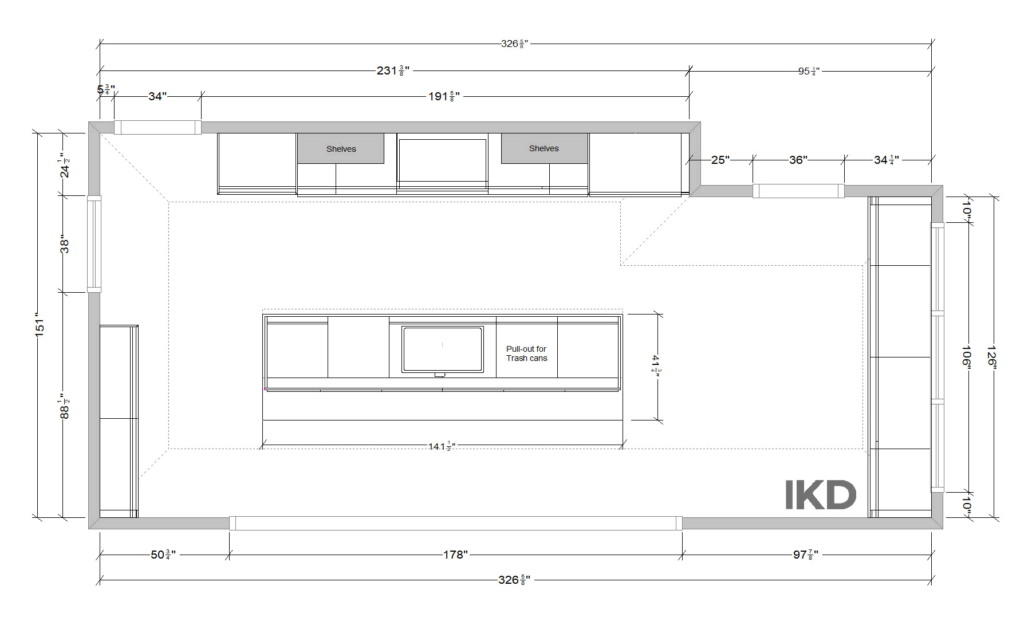 "I decided to use IKD mainly because I wanted a fresh approach to my renovations. Up until now I have been renovating together with my wife and we had hit a brick wall with our laundry space. The design block has been stagnating our process. When I saw your website, we both thought that it was about time we got a professional to help finish off our work and hopefully create a space we can be proud of and enjoy showing." –Val K., IKD customer
Benefits of Investing in a Professional IKEA Kitchen Design
Getting a professional IKEA kitchen design is well worth the $445 investment. Having a detailed design package achieves the following:
Relieves pressure on you and your partner.
Allows you to lean on the expertise of experienced designers who know IKEA products and SEKTION cabinet hacks.
Makes it easy to convey your needs to tradesmen and obtain accurate quotes.
Provides a detailed, click-and-buy IKEA shopping list.
Keeps you motivated with high-quality images of your end goal.
How Professional Kitchen Designs Streamline DIY Projects
If you plan to complete your new kitchen with minimal help, a professional design lets you save energy for heavy lifting.
The chances of your corners being square and your walls being plumb are minimal. You and your partner still need to agree on paint color and learn how to cut trim. A professional design ensures you begin the process with thorough instructions, a detailed shopping list, and a clear vision.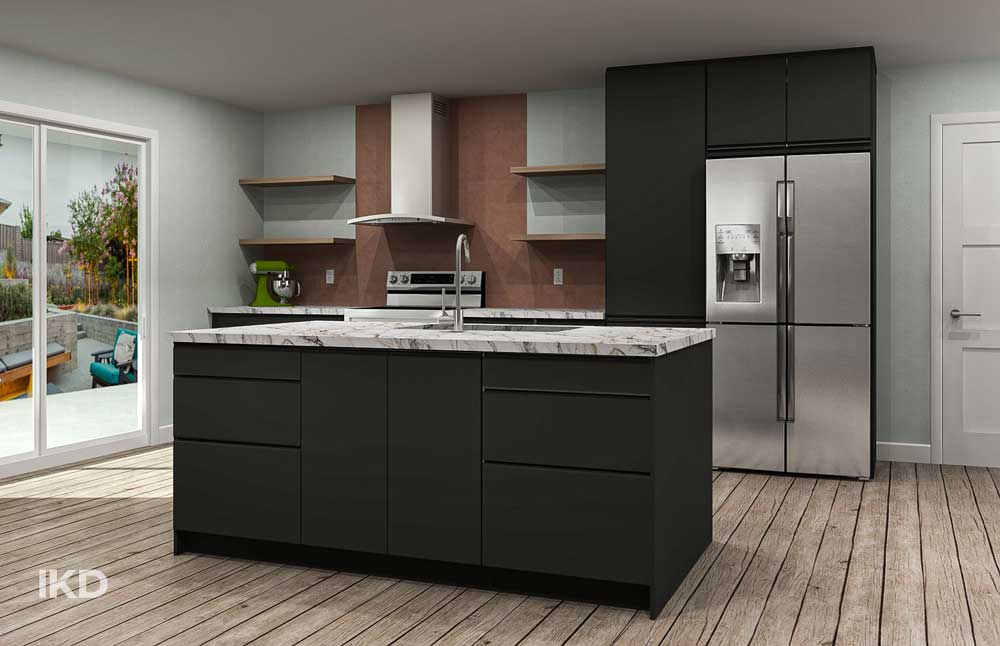 In other words, you get to begin the project while you're still excited about it instead of going into frustration. Trudging through a pack of graphing paper, learning to use design software, or attempting to figure out IKEA's online home planner would exhaust anyone.
How IKD's Professional Design Package Streamlines Contractor Communication
If you hire a contractor to take care of the kitchen renovation, communication is essential. A professional design package from IKD includes everything your contractor needs to know to provide an accurate installation quote.
Our design package leaves little room for error during installation. It includes a floor plan, elevation drawings, detailed hacks, and a clear image of the final look.
Having part of your home under construction while strangers walk in and out of your house and you eat takeout every night is stressful. Getting a professional design isn't.
Trust the Experts: How IKD Elevates Your IKEA Kitchen Renovation Experience from Start to Finish
In short, IKD simplifies the IKEA kitchen renovation process. We live and breathe kitchen design. Knowing IKEA products, hacks, and internal organization methods are job requirements. Save yourselves unnecessary stress by trusting the experts at Inspired Kitchen Design to deliver a kitchen design you and your partner will love through all stages of the renovation process.
Get a Professional IKEA Kitchen Design – All Online

Work with our certified kitchen designers to get a personalized kitchen designed around your needs and vision. If you're interested in learning more about our service, make sure to check out our IKEA Kitchen Design Services.