A review of how a DIY IKEA project can transform any outdated space in your home
In this article:
DIY IKEA kitchen and bath projects
Overcoming awkward structural issues
Transforming older homes with IKEA cabinets
Revitalize Century-Old Homes with IKEA's SEKTION System
If you live in a home built nearly a century ago, you know that some of the charm and nostalgia can get lost in cramped spaces; tricky structural dimensions and an overall style that is past its prime. It's time to remodel!
And if you're anything like customer Laura from Omaha, NE, and her husband Greg, then remodeling one room is simply not enough. They decided to remodel both their kitchen and bath spaces with an "Updated Traditional" style using IKEA's SEKTION kitchen system and featuring black IKEA LEHRYTTAN kitchen cabinets; turquoise IKEA HAVSTROP cabinets for the kitchen island and dark gray IKEA AXSTAD cabinets for the bathroom.
"We live in a home built in 1941 — which means we don't have a lot of square, level, and plumb walls. We wanted our new IKEA kitchen to become a more comfortable space for guests to visit, flowing into the backyard patio. We needed a layout which fit our new empty nester lifestyle while keeping the work triangle we had in the old kitchen. Our other goal was to turn the small bathroom into a spa-like experience, adding storage and incorporating a bubble tub," Laura explains.
Laura and Greg found IKD during their online research. There isn't an IKEA store near their town so they relied on IKD to select the correct items needed (they cited IKD's Extra Items list as what appealed to them). The couple also opted for IKEA cabinets due to their affordable cost and varied design options.
In fact, both projects feature custom configurations as well as a custom IKEA cabinet modification featured on the wet bar in the L-shaped kitchen. So with an original budget of $65,000 ($20,000 for the small bath and $45,000 for the kitchen), Laura began working with IKD designer Daniel to address her design wishes.
(Designer note: The entire project costed $74,000, mainly due to the demolition and construction that was needed to open old walls to accommodate the designs).
Laura and Greg chose quartz countertops from CKF, based in Omaha, for both the kitchen and the bath. The kitchen also features several Bosch appliances, including a Bosch gas stove (Model#HGS8655UC); Bosch Stainless Steel French Door refrigerator (Model# B36CL80SNS); Bosch dishwasher (Model# SHPM88Z75N) and Bosch exhaust hood (Model# HCP30E52UC); as well as IKEA drawer lighting and overhead lighting from Visual Comfort.
The cabinets in both the kitchen and bath are enhanced by hardware (pulls and knobs) from Emtek (kitchen) and Forge Hardware (bath); respectively. The sinks and faucets featured were found on Build.com.
Notably, this was a DIY project. The couple assembled the kitchen and bath cabinets and built out the bath countertops because they couldn't find a local contractor willing to work with IKEA cabinets. Laura says that once the IKEA bath remodel went smoothly they had more confidence to work on their IKEA kitchen.
Let's see how Laura and Greg's project came together!
Transforming a Cramped Bathroom with IKEA AXSTAD and Custom Storage Solutions
Laura and Greg started with their IKEA bath remodel to make sure they could handle both projects.
"In the bathroom we were taking space from another area which made measurements tough, pre-demolition. The available IKEA stock colors were a concern too. For instance, we wanted pink for the bath. But the IKD design gave us a lot of confidence we would end up with what we wanted. We now love how pretty and serene it is. After sharing a bathroom with three kids for years, it's now a great space for Mom to relax" Laura explains.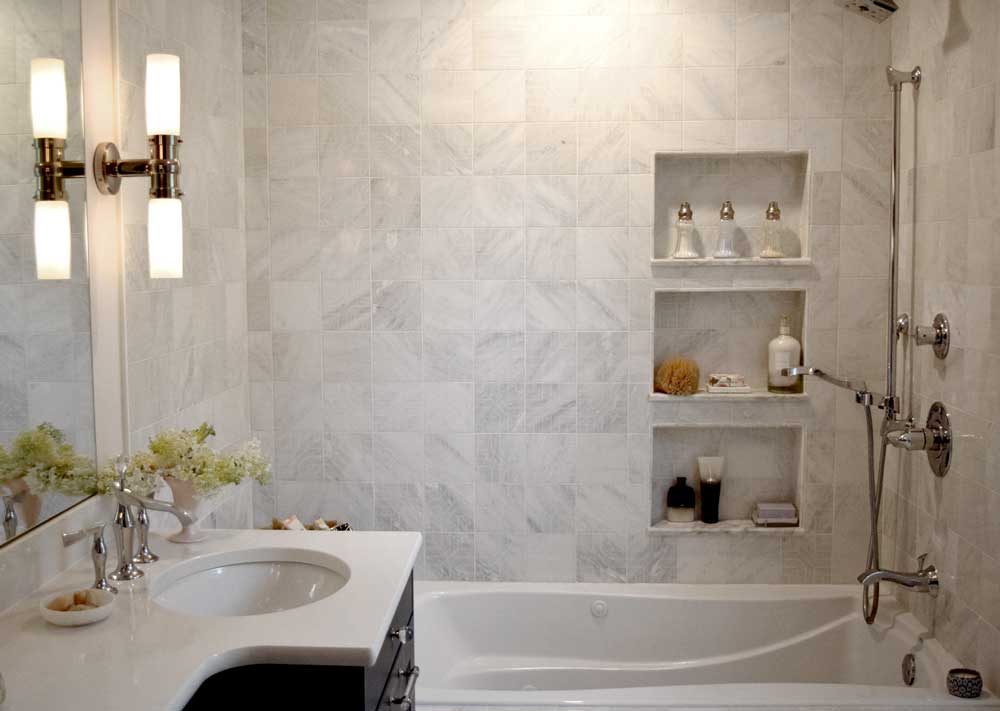 The bath — which features a 93-1/2″ (H) pale-colored ceiling — was transformed from a small, cramped space with little storage options into a warm, yet light, traditional-style oasis.
The couple selected the dark gray IKEA AXSTAD door style for the base cabinets and the 86" (H) wall cabinets. The look is complemented by white quartz countertops and white wall tiles with three carved shelves to hold bathing supplies.
The 24″ (W) x 5″ (D) custom wall cabinet along with the custom 24″ (W) x 5″ (D) IKEA MAXIMERA drawers are featured on the wall cabinet next to the vanity area. This IKEA cabinet "hack" establishes new storage options with plenty of drawer storage for towels and other beauty supplies, such as a hair dryer.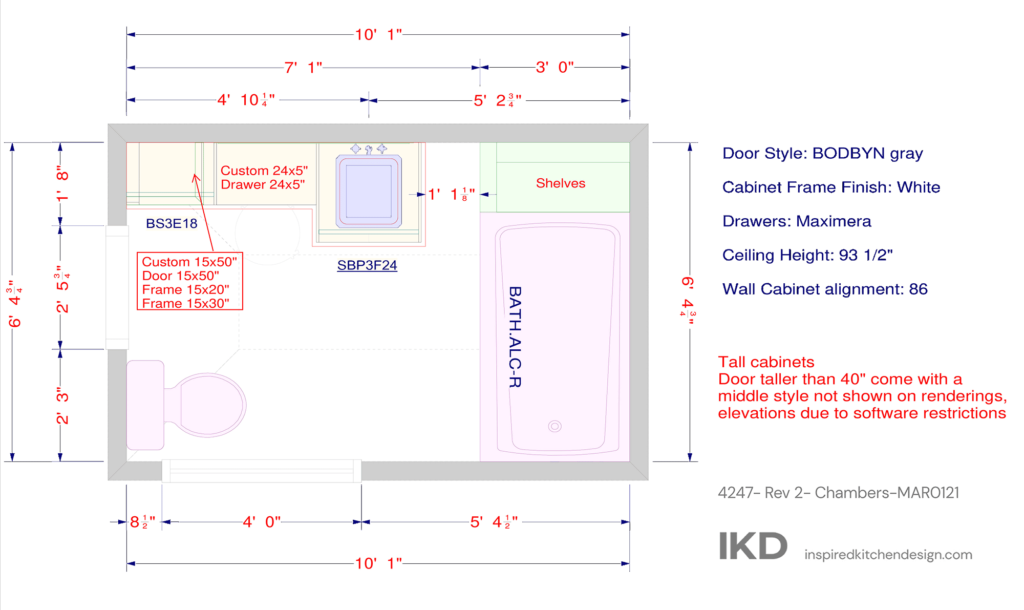 This IKEA bathroom was achieved by removing the wall behind the original tub and adding space from the closet to the working space of the bathroom. The shower and tub faucets were moved as well to accommodate the new 60″ (L) x 36″ (W) standard jet tub. The space is also enhanced by natural light entering from a large window across from the vanity area.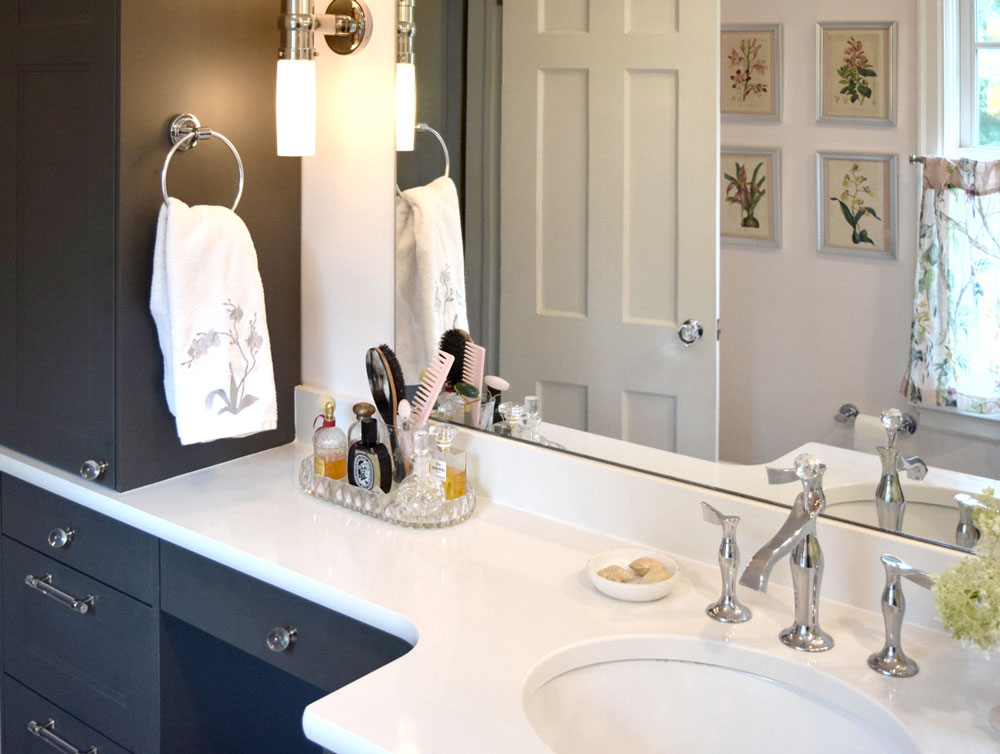 Overcoming Structural Challenges for a Cohesive L-Shaped Design
With their IKEA bathroom completed, Laura and Greg set their sights on their IKEA kitchen makeover. However, they quickly encountered a few challenges, including IKEA part delays and out-of-stock items, as well as structural issues with the home.
"The kitchen area has an L shape we wanted to make cohesive but we have a sloping ceiling to deal with in part of the L. The main goal was to get the whole area to flow into the backyard patio area," Laura explains.
Indeed, the kitchen ceiling has an unusual slope gradually going from 98″ to 81″ which led to some custom configurations, particularly with the wet bar wall cabinets.
The black IKEA LEHRYTTAN base cabinets with IKEA MAXIMERA drawers run the perimeter of the space, from under the coffee station by the window and under the wall cabinets, passing under the Bosch 36″ gas range and vent hood, following until the stainless steel Bosch French door refrigerator. Additional shelving and an IKEA LEHRYTTAN wall cabinet is featured there as well.
The look is highlighted by using black edge banding from Fastcap to cover the visible white cabinet box as well as IKEA EDVALLA drop pull brass hardware and the white quartz countertops.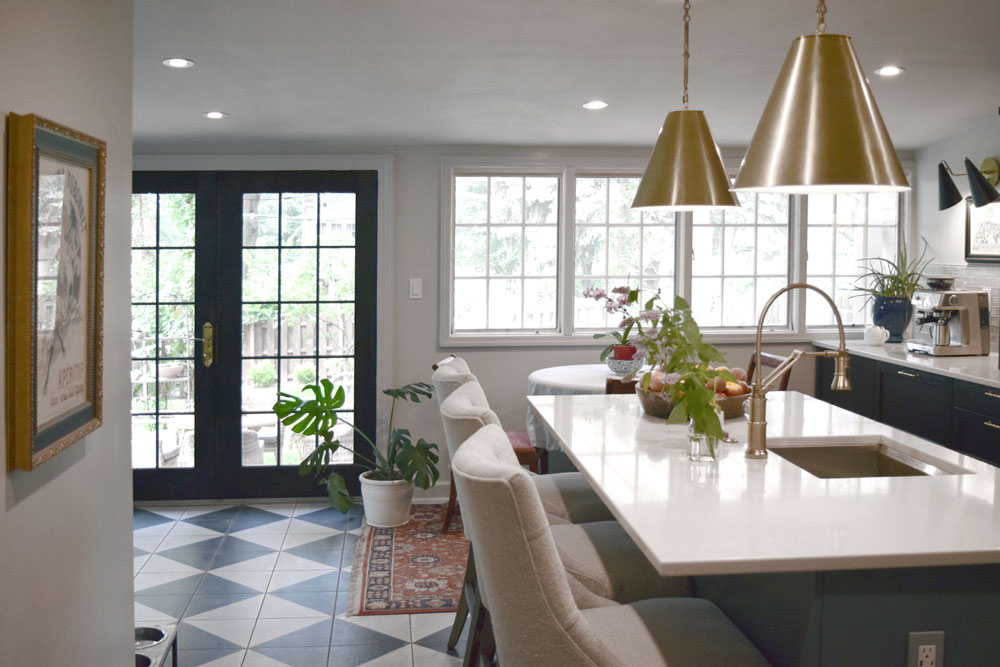 This all provides a ton of new storage options, including corner storage with a pullout serving as an appliance garage for mixers and other small appliances — ideal for when Laura is making desserts with guests. The MAXIMERA drawers also feature an IKEA MITTLED LED kitchen drawer lighting with sensor. The food prep area is illuminated by lights from the Bosch vent hood and the overhead lighting from Visual Comfort.
"My favorite part of our IKEA kitchen is the way people are enjoying coming over and cooking with us. Now that we are making better use of the space, pasta, cookies etc. are easier. Plus, everything flows into the double doors of the patio area which makes the space feel even bigger," Laura says.
Meanwhile, the 81″ (H) IKEA LEHRYTTAN wall cabinet (including with glass fronts) on the wet bar area was custom cut with an IKEA cabinet modification to accommodate the sloping ceiling which sloped from 98″ to 93″ to 81″. This clever treatment fulfilled Laura and Greg's wish to have the area across from the double patio doors become a little bar area with a sink.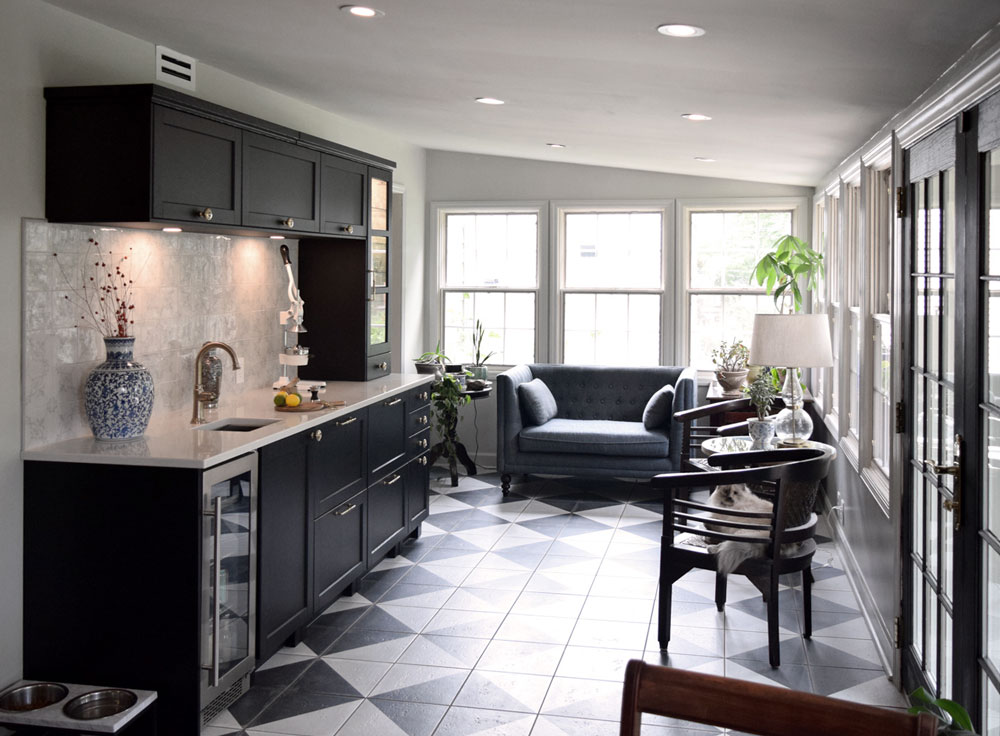 Center of Attention: IKEA's HAVSTORP Kitchen Island
The center island is an ideal example of the custom configurations found in this IKEA kitchen.
"For the kitchen island we wanted it to provide a zing of color. Even though we picked dark door style we like having the ability to swap panels in the future if we want. This is helpful when making future purchasing decisions," Laura describes.
The island features dark turquoise IKEA HAVSTORP doors for the base cabinets; a Bosch dishwasher; a 22″ (D) undermount sink and a pullout for a trash can provides additional storage and seating options for the couple and their guests (plus the adjacent kitchen table). Specifically, the island is custom configured to 15″ (W) x 15″ (D) x 45″ (H), simultaneously fitting into the overall flow of the L-shaped kitchen and retaining the idea of work zones throughout the space.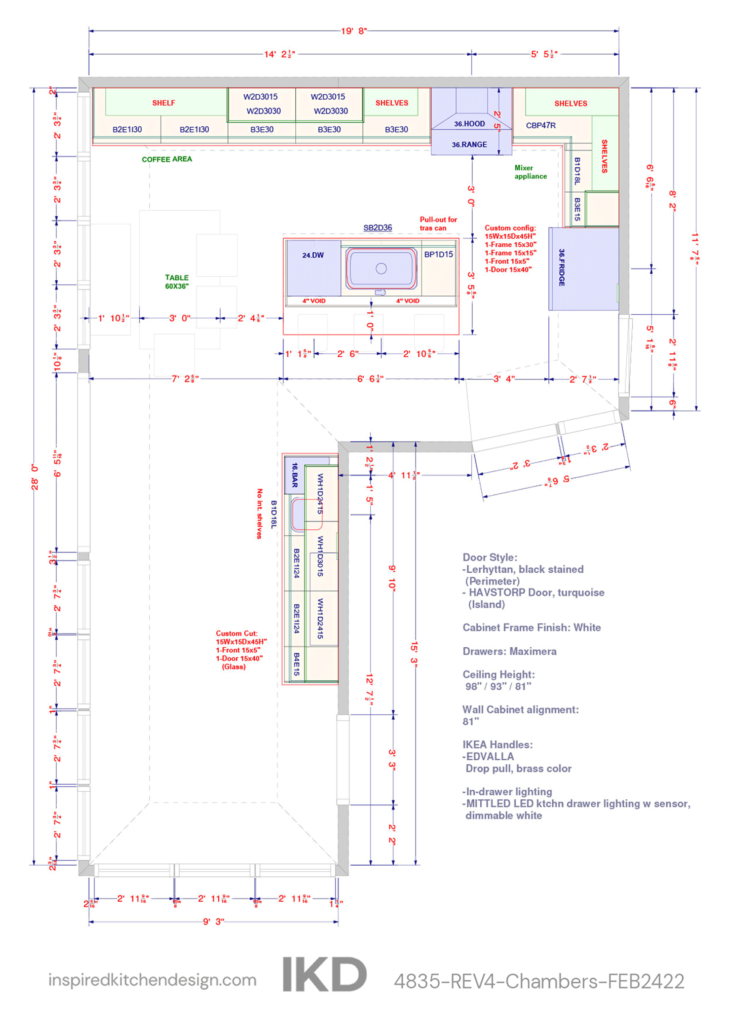 Tips for a Seamless Kitchen and Bath Makeover
For Laura and Greg, their DIY IKEA kitchen and bath projects left them with some useful tips to share to other IKEA customers.
"Accurate measurements make a big difference in the final results. We suggest you demand that contractors leave you with square, plumb and level walls and floors. This makes DIY installation much easier. We found this out the hard way!" Laura says.
She concludes that IKEA's cabinet lighting was a smart choice. It also helped them as they filled out their kitchen checklist and thought about their kitchen "work zones" before finalizing the design. She adds that this made a huge difference in making life in their kitchen even better, as did having a professional design plan to work from so everyone was on the same page.
As you can see, you can get great results for your kitchen, bath or other room using IKEA cabinets. Our designers are here to guide you so that you'll get equally impressive results with your IKEA kitchen or bath. Let's get started!
Get a Professional IKEA Kitchen Design – All Online

Work with our certified kitchen designers to get a personalized kitchen designed around your needs and vision. If you're interested in learning more about our service, make sure to check out our IKEA Kitchen Design Services.