New York City…the Big Apple. It's ironic for a city that boasts go big or go home that residents of this sprawling city find themselves fighting for space; and their kitchen is no exception. And especially in the melting-pot inspired region which influences eclectic and pronounced design choices, how do you create a New York City-inspired space, one that blends functionality and aesthetics?
Let's address the elephant in the room: space. NYC is known for its struggle with space. And the more creative you can get with what you're given is setting yourself up for success. In fact, the amount of room you have and how you utilize it will end up being the determining factor in a lot of the design choices you make.
Consider your layout and what might work best. Most will gravitate towards a galley kitchen, where storage solutions like cabinetry and appliances like your stove, dishwasher, and refrigerator all run parallel to each other. A layout like this allows for everything to be within arm's reach. Also consider your cabinetry layout. Try to experiment with verticality. High reaching, floor to ceiling cabinetry can ensure you have the space you need while keeping your kitchen from feeling boxy. Also consider hanging stemware, from your wine glasses to pots and pans to free up the most valuable cabinetry space. Hanging stemware, from stainless steel to copper, can give your kitchen a classy, professional look; a space that looks lived in and used on a daily basis.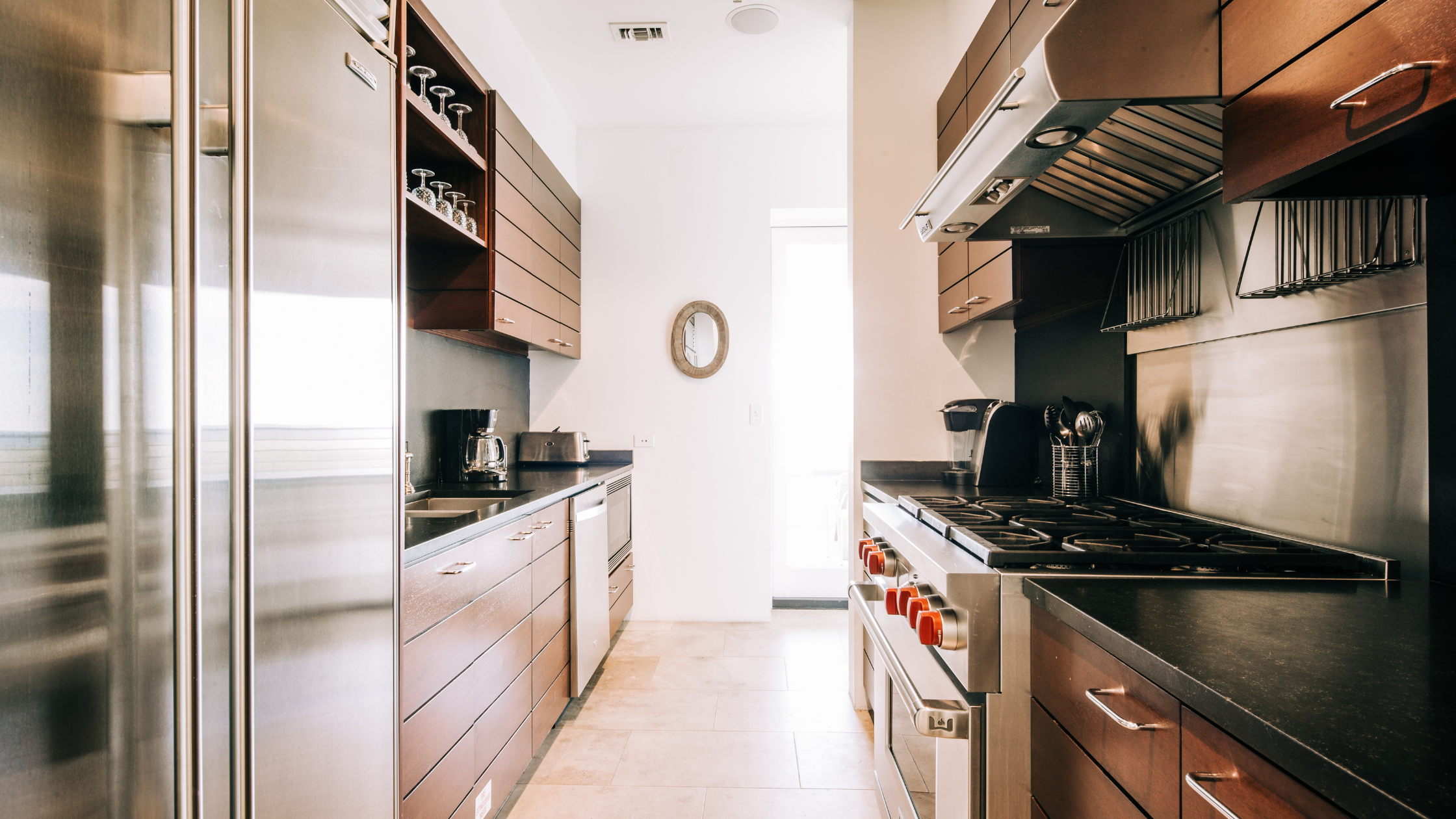 But space can be altered in more than one way. Consider a less is more mentality. Try keeping dry goods, larger cookware, and more behind your cabinetry to free up more space on your countertops, making your kitchen feel more spacious. A minimalistic approach to designing your kitchen and getting creative with the space you're given is the backbone of NYC-inspired design. Compact appliances and furniture that's foldable and flexible to the space you're working with are steps in the right direction.
Also consider your lighting. Light colors can work wonders especially in smaller kitchens. Choosing to go with a lighter color palette can make your kitchen feel more expansive and airier. Whites, creams, and soft pastels can create the feeling of openness and play a big part in elevating your kitchen's ambience. Additionally try to incorporate a blend of both natural and artificial light. A well-lit kitchen can improve your personal workflow as well as give an illusion of additional space.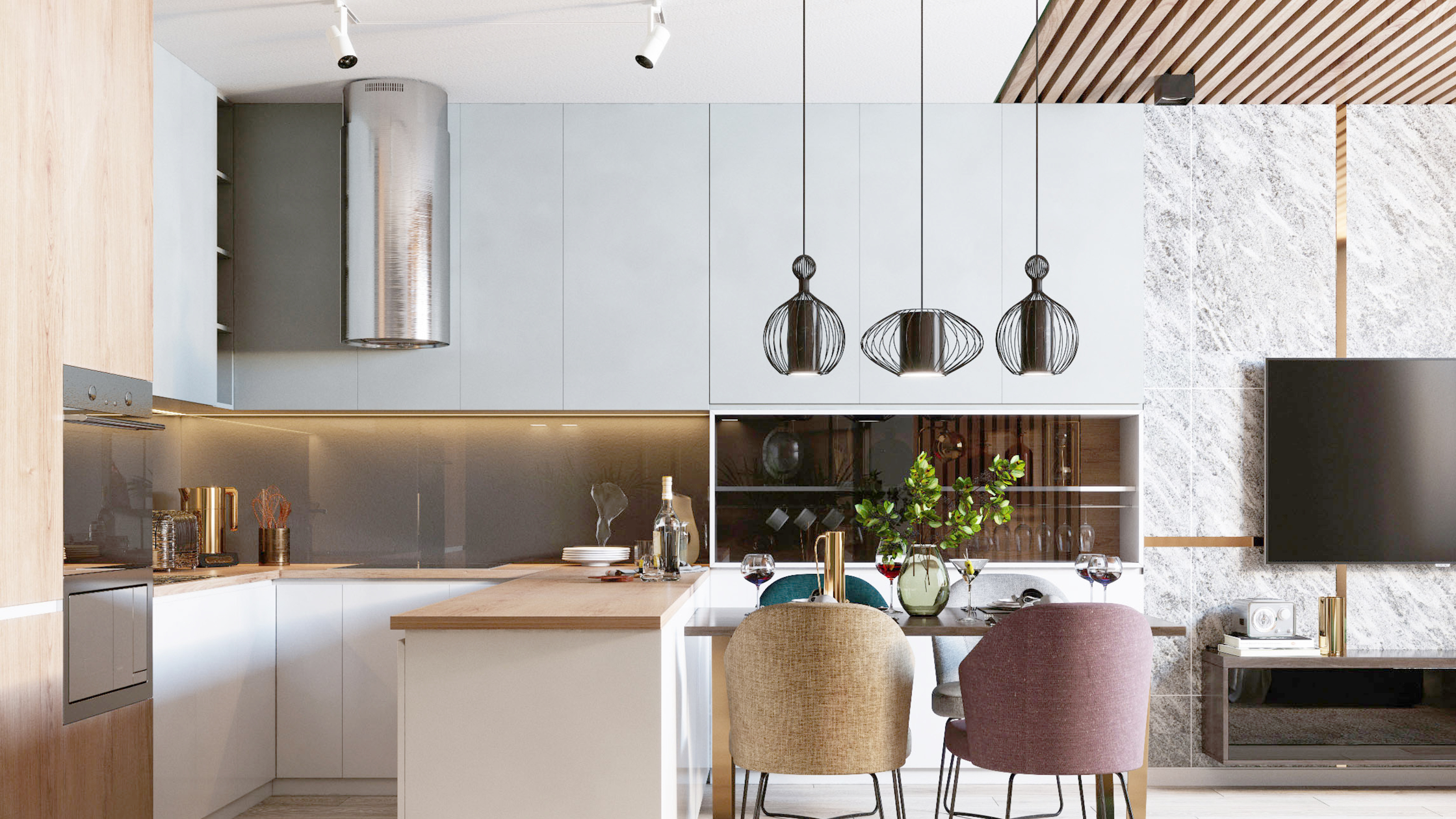 Finally, consider cohesiveness when designing your kitchen. Especially in NYC where rooms are more open and flow from one to the next, creative visual continuity between your rooms can make your entire living space feel bigger, but also more design-oriented and aesthetic.
Aside from spacious concerns, NYC kitchens can be as unique as their residents. New Yorkers are loud and proud, and this can influence a lot of their design choices. After all, a kitchen in many ways can reflect yourself. There's modern minimalism that values clean, single tone black, greys, and whites for the majority of your kitchen's elements. Stunning, top of the line, stainless steel appliances dance around a functional space that reflects the glossy, over the top look and feel of the external cityscape. But in the concrete jungle, there's more than one way to have the wow factor. Industrial style kitchens are popular in this sprawling city, receiving inspiration from a mixture of steel and exposed brick. Exposed beams from the ceiling can bring a cool and calculated approach to your aesthetic while a butcher's block or concrete countertop is a classic finishing touch. But for the fan of the eclectic, don't be afraid to take a risk on color and let several elements pop and clash.
Designing a NYC-inspired kitchen is all about not necessarily wanting more, but getting creative with what you already have. And when you get creative, you'll be surprised just what you can come up with and where it'll take you on your remodeling journey.