How Semihandmade cabinets created a custom look for this IKEA kitchen remodel.
So, you want to renovate your kitchen. You have considered IKEA cabinets. However, you need assistance because you cannot do it by yourself. This is definitely no DIY project!
There are many existing problems, like a small, inefficient kitchen layout, no proper appliances, and no workflow. It's time to call in the design professionals.
This was the case for customer Evan from San Francisco who turned his outdated and inefficient galley-style kitchen — part of a 950-square-foot Mid Century Modern home built in 1953 — into a gorgeous 200-square-foot L-shaped space featuring IKEA cabinets with custom Semihandmade Desert Grey Slab style doors to match the home's existing style.
"I needed my new IKEA kitchen to have great functionality and flow. [The original kitchen] was cramped and had no usable work space. It actually had sheet metal lower cabinet drawers, no dishwasher and no workspace next to the stove. We obviously needed a major improvement!" Evan explains.
His cooking got better during lockdown, so it was important for the new space to have a good flow. He also wanted to connect the kitchen to the dining area and make it blend with the style of the house.
Evan's parents used IKEA cabinets for their kitchen remodel, which inspired him to use them for his unique design. Semihandmade referred Evan to IKD with an original budget of $30,000. With designer Daniel, IKEA's kitchen system was combined with slab doors, KitchenAid appliances, and quartzite countertops, among other things.
The kitchen was completely transformed by IKEA. It included everything he wanted, like KitchenAid appliances, bright overhead lighting from Lamps Plus, and natural light. Now, he can cook for his loved ones and enjoy the process.
Let's see how Evan's IKEA kitchen came together!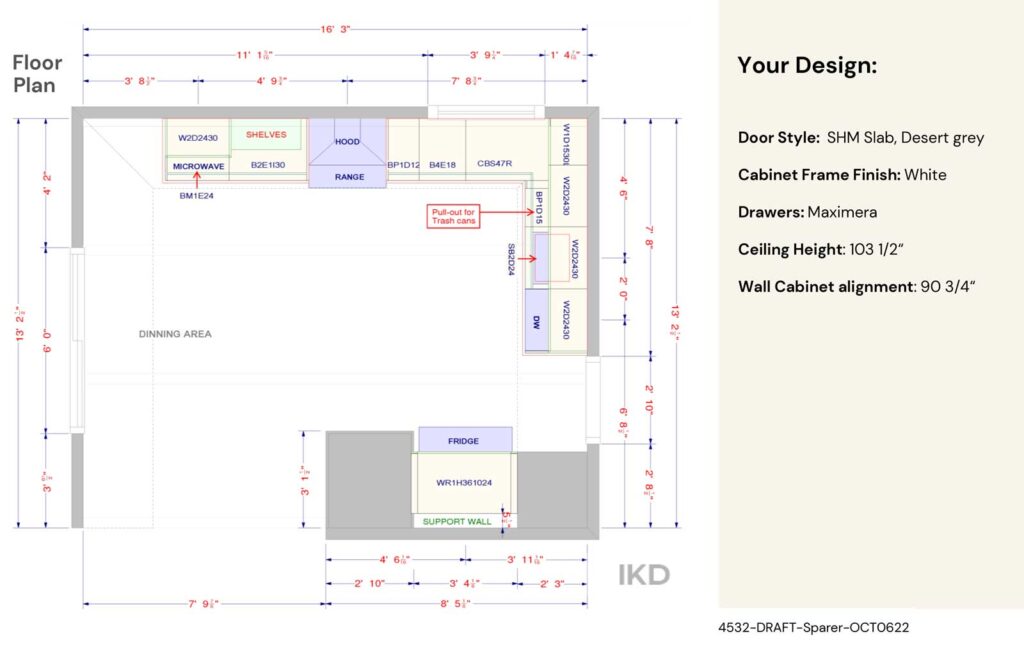 Hiring a Team of Kitchen Experts
From the start, Evan knew this was not a remodel project to undertake without the guidance of experts.
"We hired a contractor who specialized in kitchen and bathroom remodels. The main reason being is we wanted it done right, and we wanted a level of accountability so DIY just didn't make sense. I believe that assembling IKEA cabinets requires a professional with experience," he says.
He chose to work with IKD on the recommendation of Semihandmade. Specifically, he credits IKD designer Daniel for creating multiple design concepts for the kitchen layout until he chose the final design.
"Daniel provided a lot of great input to improve the kitchen layout and functionality. His suggestions really helped take an initially overwhelming situation and made the entire design and product selection process flow really nicely," Evan says.
Aside from working with IKD, Evan also hired a contractor; cabinet installer and electrician to bring the kitchen design to fruition.
Making It Work with Unexpected Installation Issues
The biggest challenges were scheduling the project properly and an unexpected installation issue with the original tile chosen.
"The real obstacle was keeping the contractor schedule on track. There were no issues with any of the IKEA or Semihandmade products. There was a bit of a debacle with the white brick tiles I chose for the backsplash. I had selected a local handmade tile manufacturer and bought 2nd and 3rd quality tiles for a discount.
The installer had a lot of trouble with these," Evan explains.
In a hurry, he searched and found extra tiles for a good price. It turned out to be the perfect quantity, and the installer was able to use it with no issues.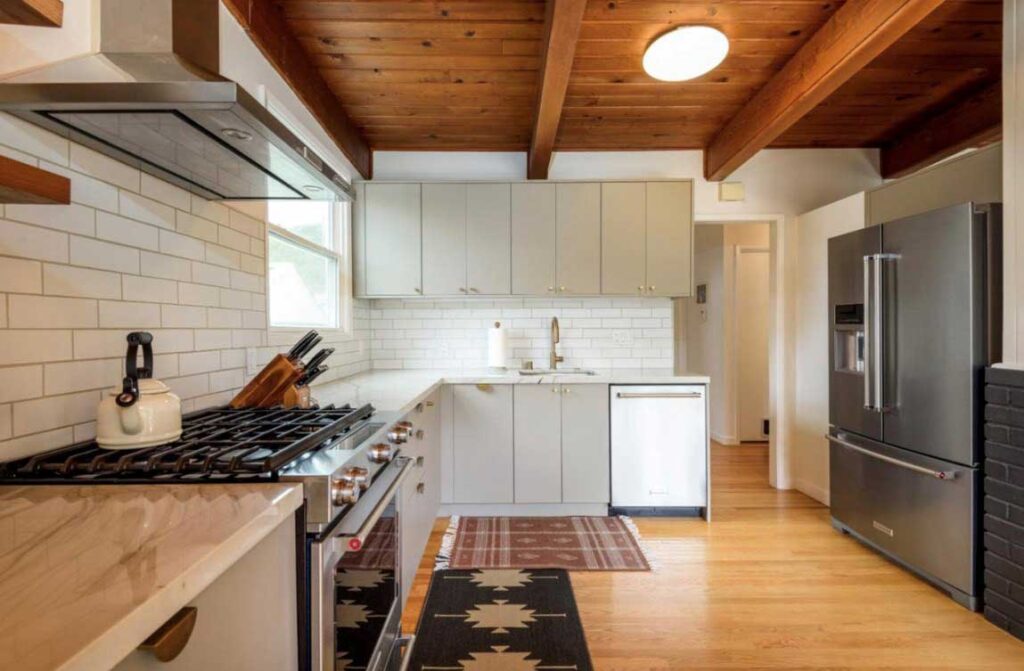 Evan concludes that the stainless steel KitchenAid refrigerator also needed to integrate into the space better, both functionally and stylistically. Instead of relocating the refrigerator or selecting a different type, Evan elected to take what he initially considered an "afterthought" and chose other products to accent it, such as the Semihandmade cabinets, the countertop material and the designer door pulls.
Wishes Granted
Evan also opted for some specific product upgrades (purchased from Best Buy on sale) which pushed the final kitchen cost to approximately $45,000.
This included the stainless steel KitchenAid refrigerator; the KitchenAid stainless steel oven with six-burner cooktop; a KitchenAid warming drawer; a KitchenAid dishwasher; and the KitchenAid stainless steel hood. (Best Buy was able to hold the appliance delivery until the project was ready, which made the process smoother).
He selected quartzite natural stone for the countertops, which matched the natural feel of the rest of the kitchen. The natural stone is durable and stain resistant, which Evan cited as another key selling point. He had the electrician install IKEA under-cabinet lighting to illuminate the countertop, which makes meal prep easier and safer while adding a dramatic effect at night.
Putting It Together with IKEA's SEKTION Kitchen System
The true inspiration for the kitchen remodel came from the Semihandmade Desert Gray Slab doors.
"While researching kitchen designs, I found Semihandmade mentioned a lot with IKEA kitchen remodels. As soon as I discovered Semihandmade, the design ideas really started pouring in. The pictures I found on Instagram gave me some great inspiration for my planned kitchen remodel," Evan describes.
Specifically, the Desert Grey Semihandmade Slab doors (again used with IKEA's SEKTION kitchen system) are featured along the perimeter of the kitchen with both upper and base cabinets. The gray upper cabinets run from above the sink area (for practical storage of dinner plates, bowls, and glassware) with another floating wall cabinet featured above the warming drawer. This provides storage for serving plates and other cookware items.
The base cabinets also complement the design and offer more kitchen storage options. For instance, the base cabinets are next to the dishwasher and wrap around the perimeter to the stove and cooktop.
This includes a combination of pullout IKEA MAXIMERA drawers and doors below and next to the warming drawer. These storage options make food prep and cleanup much easier. Workflow accomplished!
From Outdated Layout to Open Concept
Compared to the original outdated layout, the results of Evan's kitchen are night and day.
"To create this open concept kitchen we knocked down one partition wall that separated the original galley kitchen from the small dining area. We opened this up and made the kitchen an L shape," Evan says.
The old kitchen had a small cubby with an oven and not much space for cooking or storing food. It also completely blocked visibility from the kitchen to the dining room. He used the open concept to make the most of the natural light and show off the existing wood floors.
IKEA Kitchen Remodel Increased Resale Value
Evan sold his house this year and believes that renovating his kitchen with IKEA helped him get a higher selling price.
"Kitchen upgrades are money well spent. While not cheap, IKEA cabinets with Semihandmade are certainly a great option. We just moved into our new house and the kitchen is from 1983! So I'm already making plans with IKD and coming up with a budget," Evan says.
So what is Evan's favorite part of this project? Simply put, it was using the kitchen right after it was completed. During the pandemic, Evan found the kitchen to be a great source of joy and it made his cooking more enjoyable.
Image #3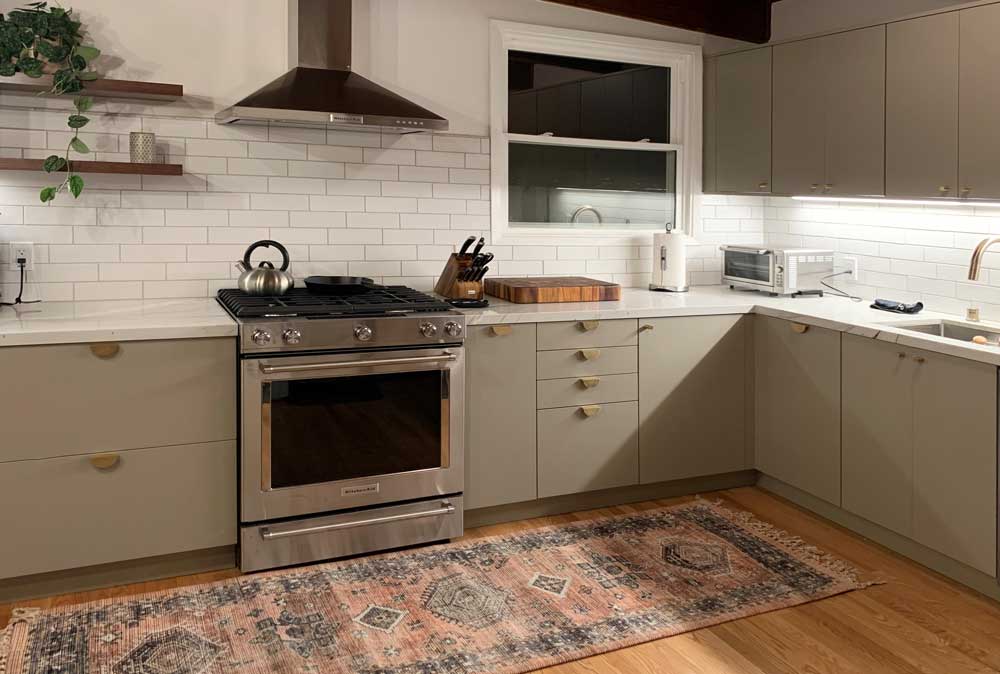 As you can see, even the most outdated and cramped galley kitchen can be transformed into a sparkling new design concept. All you need is a vision and the right design professionals to help you achieve it. Our design team is here to guide you every step of the way, just like we did for Evan's Mid Century Modern kitchen. Let's get started!
Get a Professional IKEA Kitchen Design – All Online

Work with our certified kitchen designers to get a personalized kitchen designed around your needs and vision. If you're interested in learning more about our service, make sure to check out our IKEA Kitchen Design Services.