In this article:
Unique bathroom designs require professional designers.
Hacking a tall IKEA cabinet to replace a linen closet.
Hacking a tall IKEA cabinet to provide hidden nook storage.
Designing with new IKEA fronts: NICKEBO and VALLSTENA.
How Rev-A-Shelf helps provide functional storage.
Why Standard IKEA Bathroom Designs Don't Cut It: The Need for Personalized Solutions
Customers come to us because they aren't getting what they need from alternative bathroom design solutions. Most of these unsatisfactory designs come from computer programs, untrained individuals, or other subpar services.
Those looking for a basic design in a square room may get away with using the IKEA online planner or taking the advice of an IKEA co-worker. Customers with unique needs should consult a designer, even if they are using IKEA products.
In a previous article, we looked at two IKD bathroom designs for individuals with unique requests. Today, we'll examine two more.
IKEA Bathroom Design #1: Maximizing Storage in a Galley Bathroom
You've heard of a galley kitchen, but what about a galley bathroom? That's essentially what Jeff and Tom of Los Angeles, California had to deal with in their new-to-them home.
Design Challenge: Creating Efficient Linen Closet Storage in Limited Space
Jeff and Tom wanted functional storage that would allow them to age in place in their newly remodeled bathroom.
"We're both in our late forties, and we agreed that when we finally bought a home together, it would be our forever home. We expected to have to do some renovations to accommodate our current and future needs, like replacing the bathroom closet with a walk-in shower. The tile work and plumbing ate up a chunk of our budget, so we used IKEA to save money where we could. Tom invests in house flipping and has used Inspired Kitchen Design before. We knew they would find a way to give us back the storage we'd lost in a nice-looking way while staying within our budget." –Jeff, IKD customer
Cabinet Hack: Transforming a Tall IKEA Cabinet into a Compact Storage Solution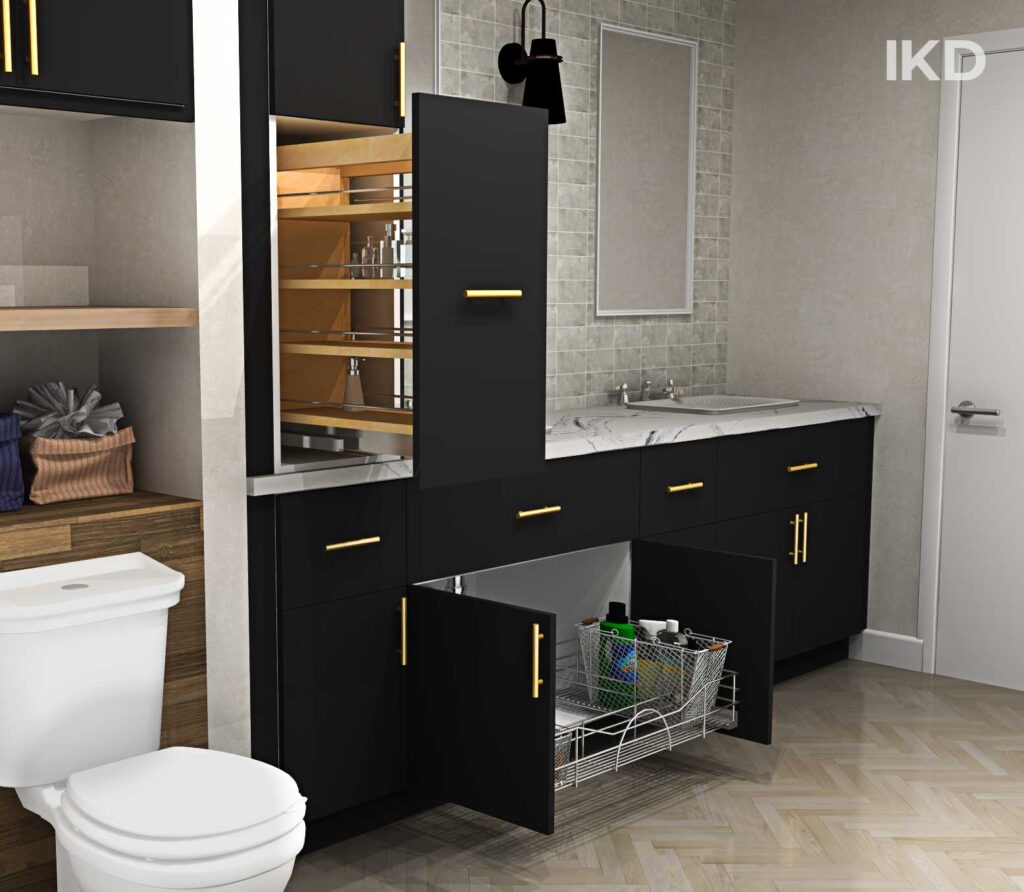 Florence designed the bathroom cabinet with Jeff and Tom's help. It has NICKEBO matte anthracite fronts and GRIBBOL brass handles. The couple wanted to stay in their home as they got older. To make it easier for them, she added u-shaped wire shelves under one sink and a pullout trash can. This way, they could always reach these lower areas easily.
To replace lost storage from the closet demolition, Florence considered stacking cabinets on countertops as a solution. She took a 15"W x 24"D x 80"H high cabinet frame and cut it down to 60"H. This IKEA cabinet hack allowed her to separate the frame into equal parts using two 15"W x 30"H cabinet doors. The top half has traditional shelving, while we outfitted the bottom half with a Rev-A-Shelf base cabinet pullout organizer.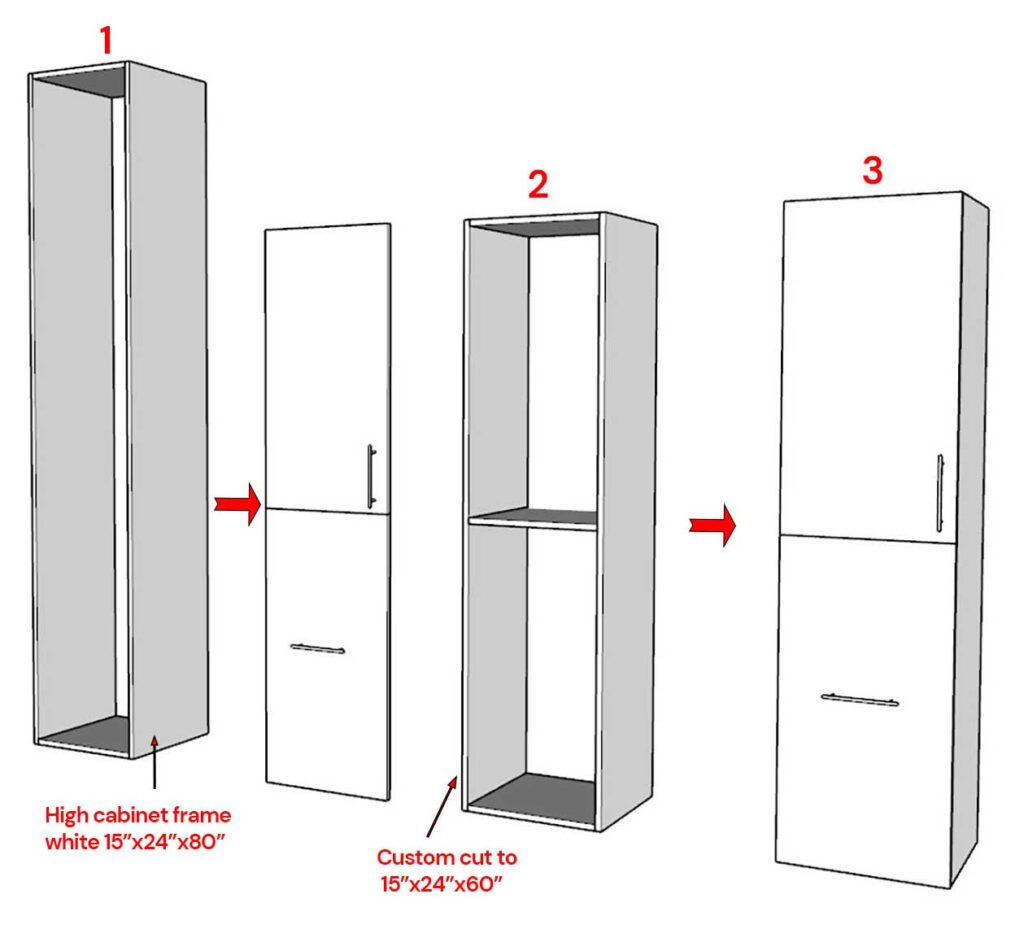 IKEA Bathroom Design #2: Small Bathroom Transformation
Mandy from Richmond, Virginia had a small, awkwardly shaped bathroom that was not working for her and her husband.
Design Challenge: Finding Storage Solutions in a Small, Awkwardly Shaped Bathroom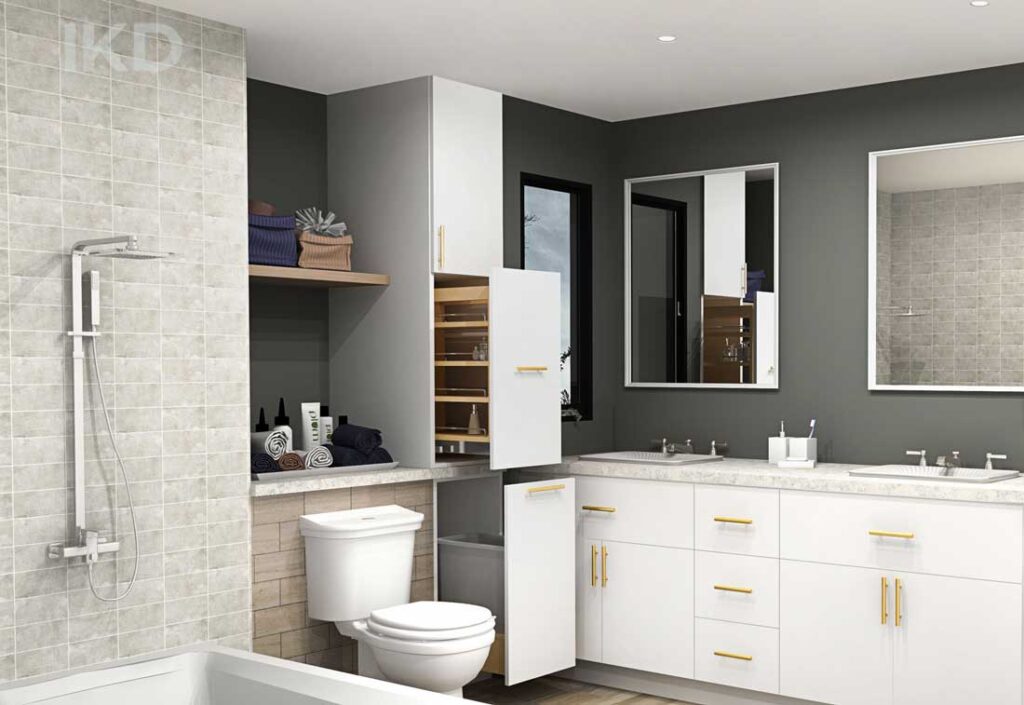 Mandy originally set her toilet in an alcove. Because one wall contained towel hooks and the other had the door, their bathroom had never had much storage room.
"We sent a sketch of our bathroom floorplan to IKD, hoping they could help us find more storage. We'd never thought of moving the toilet forward and using that space for storage instead. We really liked Frank's combination of open storage and hidden storage, so the room didn't just feel like a boring box. We had to hire a drywaller and plumber to move the toilet and create the half-wall behind it, but it was absolutely worth the money and trouble." –Mandy, IKD customer
Cabinet Hack: Creative Use of Space with Revamped Tall Cabinet
The hack in Mandy's bathroom matches the one in Jeff and Tom's bathroom, but the shortened and divided cabinet sits in the alcove instead of being positioned on the vanity. The 15"W x 24"D x 80"H high cabinet frame has been trimmed to 60"H, but another 30"H cabinet has been placed beneath the countertop to allow a Rev-A-Shelf pullout trash can to be accessible beside the toilet.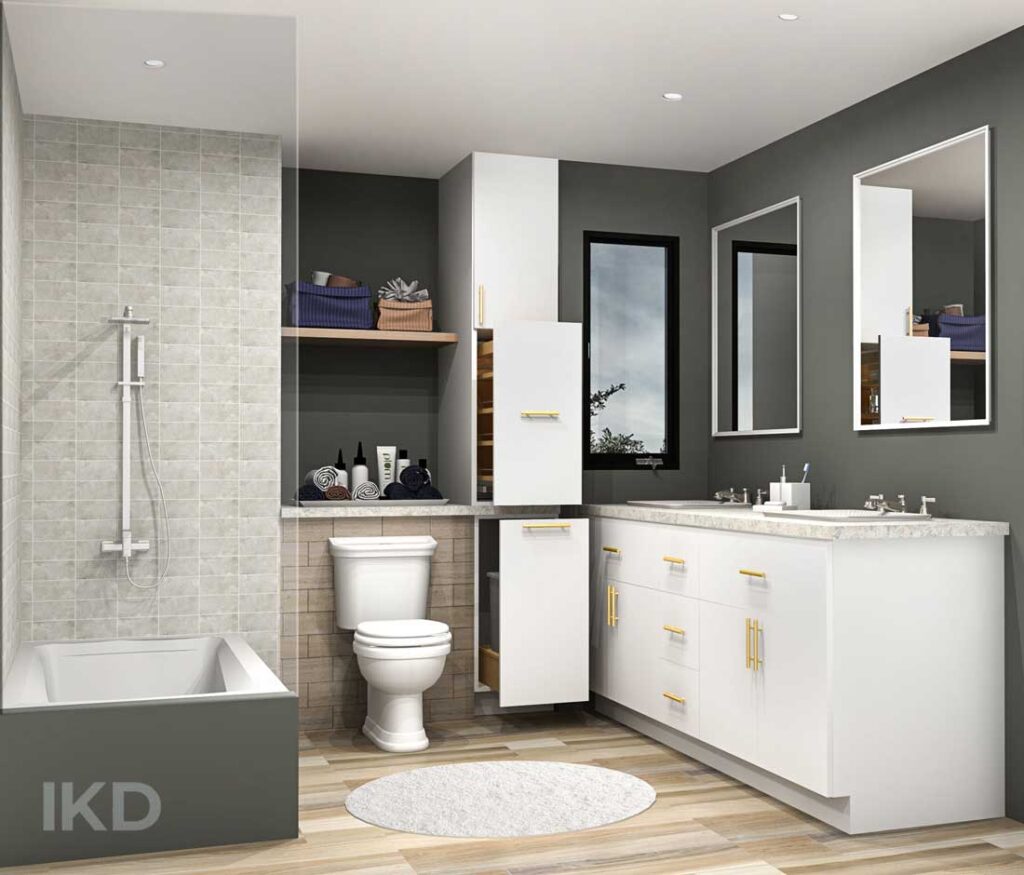 Above the countertop, the split cabinet has the Rev-A-Shelf base cabinet pullout organizer (perfect for storing soap and shampoo bottles) with a traditional cabinet above. The two bottom organizers had to slide open instead of swing to fit the vanity.
To pull the room together, Mandy also decided to change the appearance of the rest of her bathroom. Frank designed the bathroom using white VALLSTENA doors and drawer fronts with brass GRIBBOL handles.
Don't just tolerate your IKEA bathroom design when you could love it.
If you're renovating your bathroom, you're probably tired of settling for the current layout and storage solutions. You don't have to spend big bucks on custom cabinets or an expensive in-person home designer to never settle again; you need someone with a designer's eye to look at your floorplans, ideas, wants, and needs to get the bathroom design that best suits you and your family.
IKD is a team of professional, third-party designers specializing in IKEA designs for just about every room in your home. Let us put IKEA cabinet hacks and innovative organizational tools to work for you so you can stay within budget and in love with your home.
Get a Professional IKEA Bathroom Design – All Online

Work with our certified designers to get a personalized bathroom designed around your needs and vision. If you're interested in learning more about our service, make sure to check out our IKEA Bathroom Design Services.