In this article:
Rules for an ADA compliant kitchen.
Utilizing IKEA cabinet hacks in an ADA kitchen.
How Rev-A-Shelf can make an ADA kitchen even more accessible.
Why does hiring a professional designer matter?
Two ADA-Compliant Kitchen Designs that are Stylish, Practical, and Affordable
Most kitchens in home magazines and popular renovation shows don't feature spaces designed for those with disabilities. However, we know there's a demand for ADA-compliant IKEA kitchens because we design them.
Homeowners needing special accommodations for wheelchairs, scooters, and other mobility devices deserve a kitchen that reflects their style, is a joy to spend time in, and doesn't cost a fortune.
This article provides two examples of kitchen redesigns that were created using affordable products and meet all ADA requirements.
What are the Guidelines for an ADA-Compliant Kitchen
For a kitchen design to be considered wheelchair accessible, it needs the following:
A 30″ x 48″ clearance in front of sinks, countertops, and appliances.
Sinks and countertops that are no more than 34″ from the ground with knee clearance.
User-friendly appliances, like stoves with knobs on the front rather than the back.
Accessible storage, like open shelving and drawers rather than cabinets.
As you'll see, IKD designed the first kitchen below to suit an individual, and the second as a universal kitchen, accommodating individuals with varying abilities. Both examples satisfy ADA requirements.
ADA Kitchen Design #1: A Low-Maintenance Kitchen With Low Cabinets
Our first highlighted design was for Rick from California, who found a house that suited his needs well except for one issue: the kitchen. The house came equipped with a ramp and ADA bathroom, but the older resident, who used a wheelchair and lived there before, hadn't done any of the cooking.
That wasn't what Rick wanted.
"I live alone, but I have friends over all the time. I take a lot of pride in hosting, but I've never really felt comfortable using an oven, so I didn't ask for one in the new design. I stick to the stove, microwave, and toaster oven.
IKD designed a peninsula for extra seating and made sure everything was at a level I could reach. I could tell they'd done designs like this before, which made me feel really confident that they would design a great kitchen for my needs." –Rick, IKD customer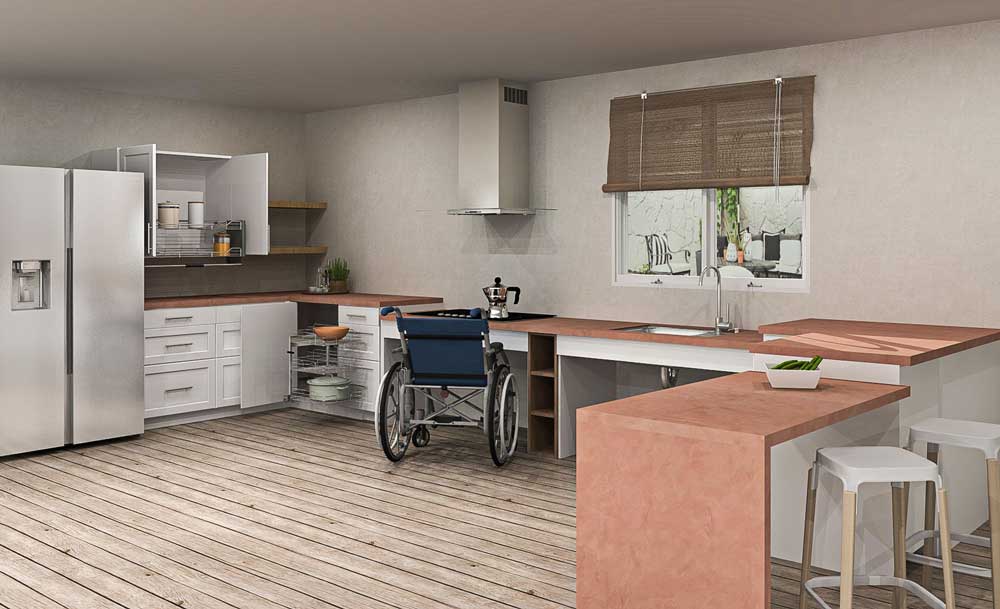 The Design
Countertops: The countertops were designed to reach a maximum of 35″ H with many sections at 31″. The counters containing the sink and stove have a knee clearance of 25″.
IKEA cabinets: We used standard SEKTION base cabinets with 3.5″ IKEA CAPITA legs for the taller counter surfaces and the SEKTION base cabinets with no legs for shorter counter surfaces. Located just 48″ off the ground, the wall cabinet is more accessible.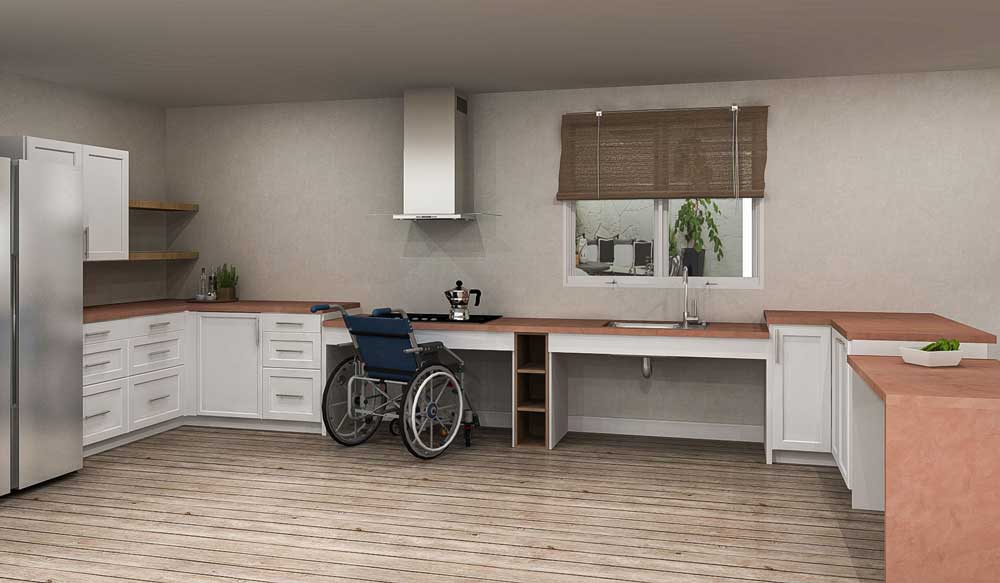 IKEA storage: There is one wall cabinet with handles as far down as possible, allowing Rick to open it with minimal effort. Most kitchen storage is in the base cabinets as MAXIMERA drawers with AXSTAD matt white fronts. VADHOLMA open storage acts as extra accessible storage and added support for the 114″ low countertop.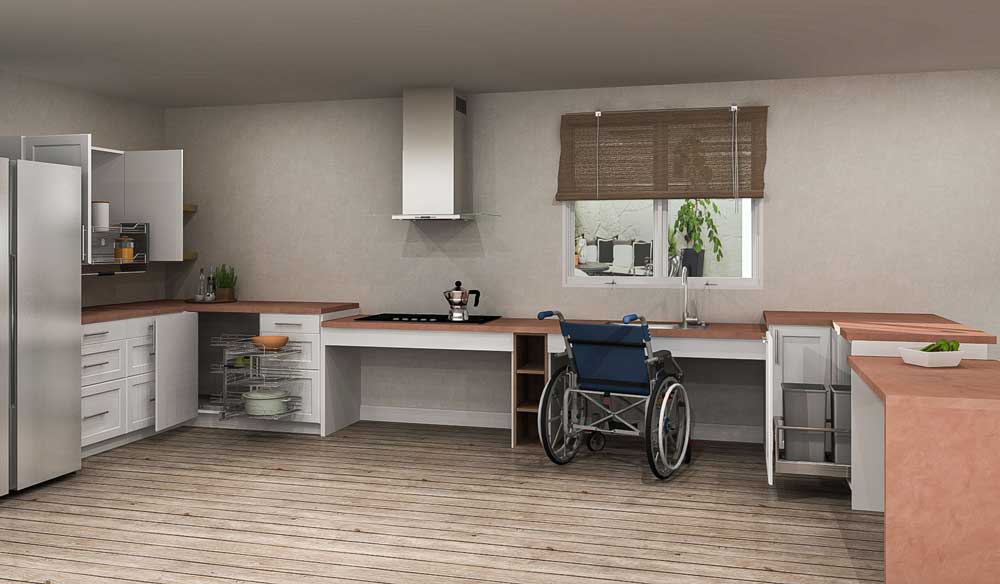 Extras: Rev-A-Shelf has organizational solutions that make every home easier to navigate, but their products are beneficial when designing an ADA-accessible kitchen. A pullout shelf in the upper cabinet, blind corner cabinet optimizer, and bottom mount waste container bring kitchen items to Rick instead of forcing him to go to them.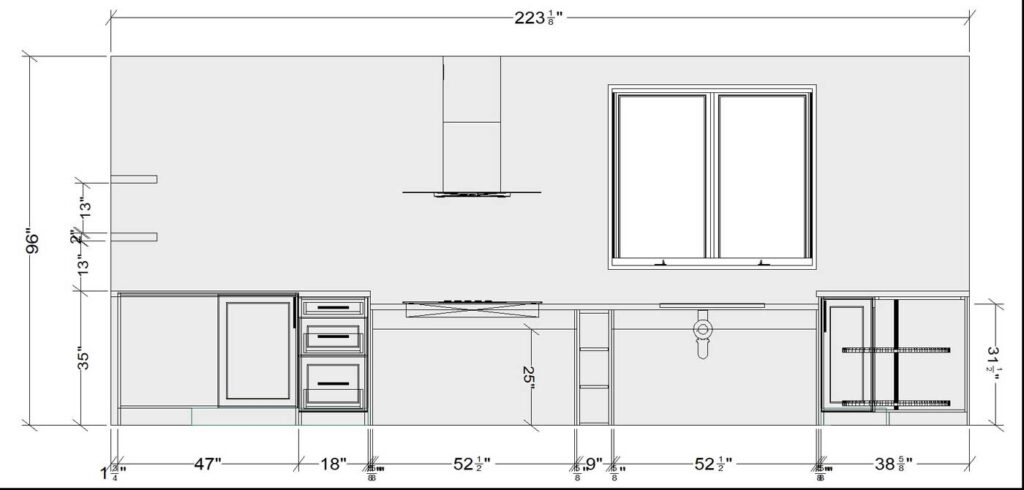 ADA Kitchen Design #2: An Accessible Kitchen for a Young Couple
Our second design was for a Seattle landlord named Donnelly. He had a young couple moving into a studio apartment that needed ADA accommodations. Because one tenant used a wheelchair while the other did not, he requested the space be ADA-compliant but also have a universal kitchen.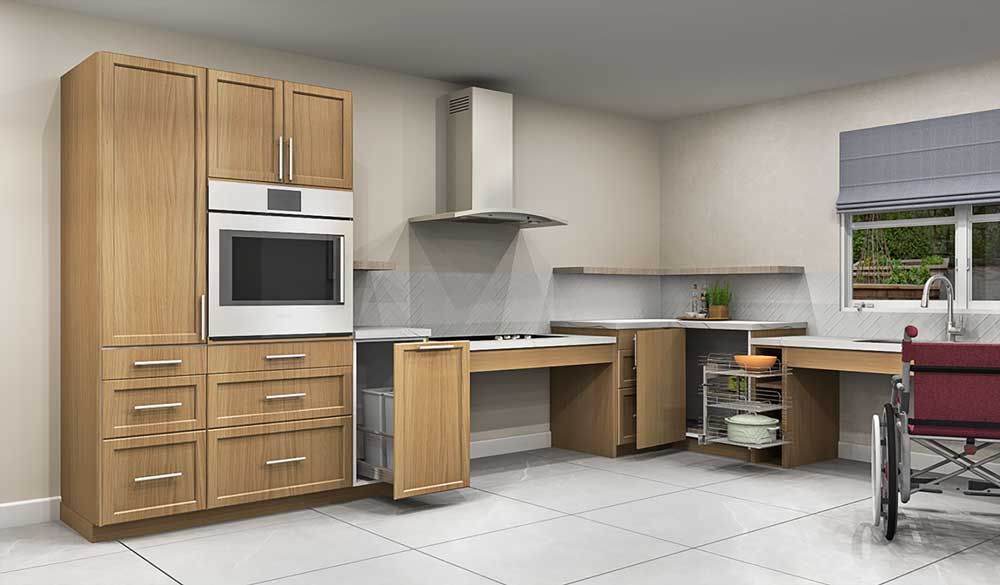 A universal kitchen accommodates both traditionally- and differently-abled individuals.
"The kitchen needed to be redone, anyway, and I was excited about making it an ADA-compliant space. I can advertise it as a handicap-accessible unit in the future, and my current tenants are happy. I needed this done quickly, within a month, so full custom was out of the question. I've used IKD before and knew they'd get the design done quickly using IKEA. I had my maintenance guy drop everything to get this done, and it turned out great." –Donnelly, IKD customer
The Design
Countertops: The white marble effect quartz countertop reaches 35″ H in the work surface areas and 31″ H at the sink and stove, much like our previous featured design. The landlord (and tenants) required an oven in this case, and IKD designed an elevated one with a recommended slide and hide door at the right height for someone using a mobility device.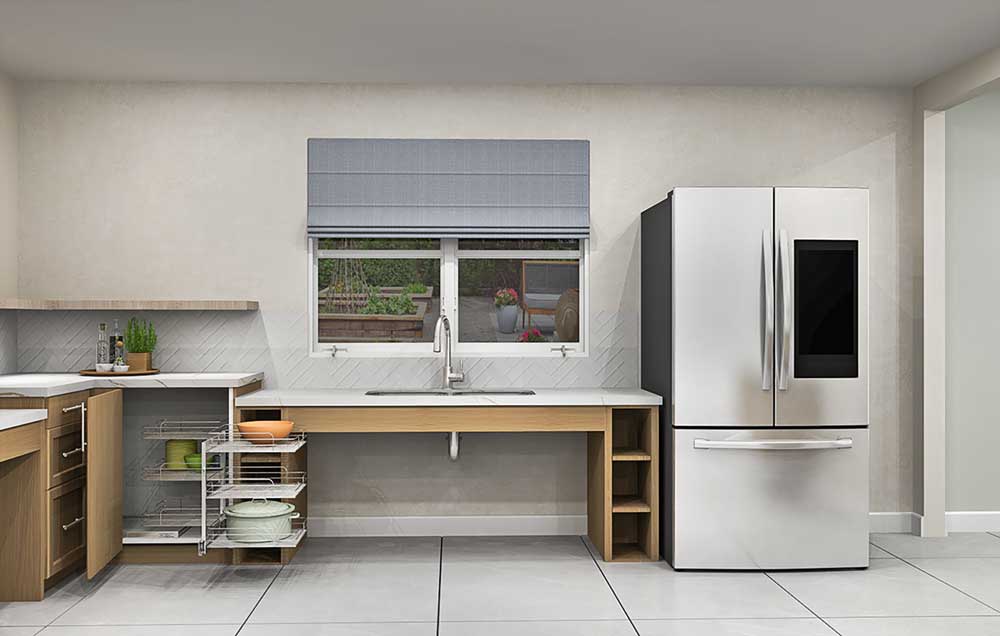 IKEA cabinets: We designed this ADA-compliant kitchen using IKEA SEKTION cabinets with CAPITA legs to reach the 35″ height. In this instance, we used an IKEA cabinet hack to create the two storage shelves supporting the kitchen sink countertop. This involved taking a 36″ D x 96″ H panel and cutting it to make two 9″ W x 24″ D x 30″ H open cabinets.
IKEA storage: Besides the open storage beneath the kitchen sink, this design includes nine MAXIMERA drawers, one cabinet above the oven, and a large cabinet beside the stove with a lower, easy-to-reach handle. The door and drawer front style is VEDHAMN oak.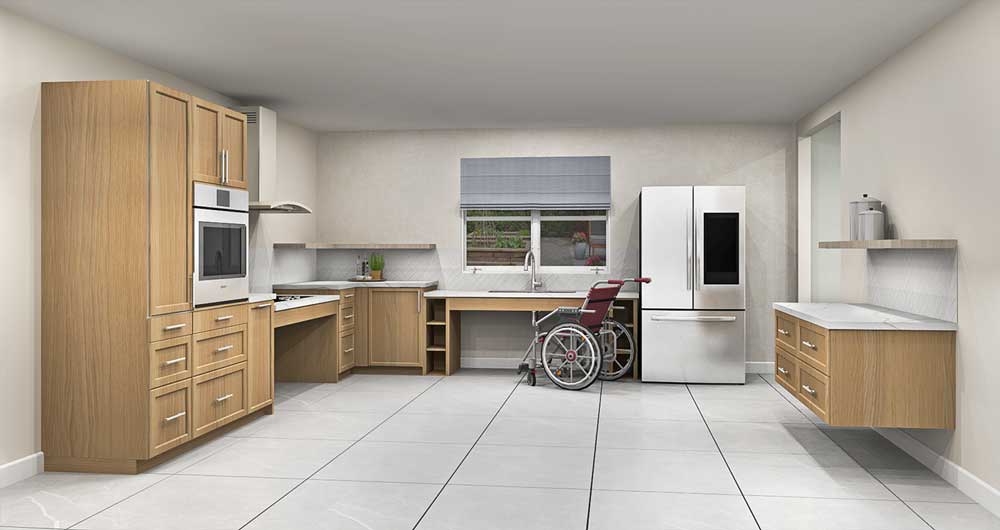 Extras: Rev-A-Shelf comes to the rescue again with a bottom-mount waste container and bottom blind corner optimizer. Two floating oak shelves provide additional open storage at a lower-than-average level.
Professional designers create unique spaces for unique individuals
At IKD, we believe that kitchen designs should have the ability to accommodate everyone. Individuals of all ability levels deserve a kitchen they enjoy and a designer who works with affordable products, like those from IKEA. IKD knows all the tips and tricks, like outfitting IKEA cabinets with Rev-A-Shelf organizers and utilizing IKEA hacks where it will make a real difference in functionality.
Get a Professional IKEA Kitchen Design – All Online


Work with our certified kitchen designers to get a personalized kitchen designed around your needs and vision. If you're interested in learning more about our service, make sure to check out our IKEA Kitchen Design Services.