Justyna and her husband loved the new, open-concept home they bought, but the kitchen wasn't exactly a selling point.


They never even used it. The day after they moved in they took the kitchen right out, along with the wall that held the refrigerator.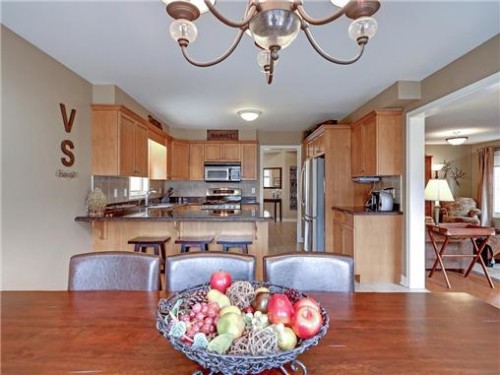 "The old kitchen stuck out like a sore thumb," said Justyna. "I wanted a kitchen that didn't look like a kitchen. I wanted it to look like just part of the living space."
She also needed her kitchen remodel to be affordable. IKEA turned out to be just the right choice for a high-end looking Italian-style kitchen for a fraction of the price.
What do you think – did she get the look she wanted?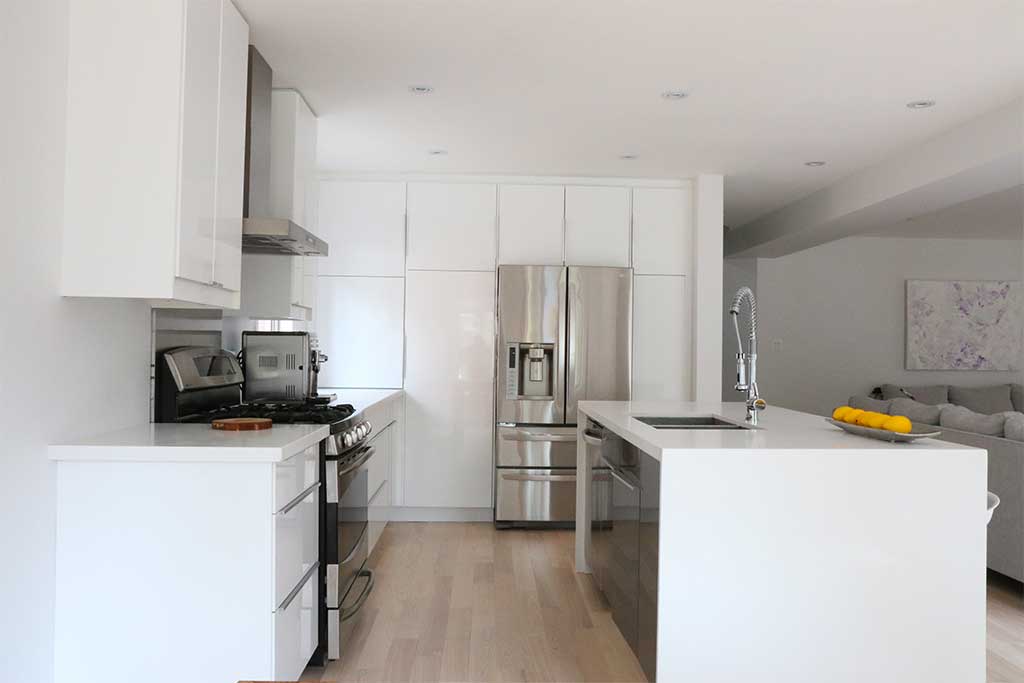 Molto bello! Here's what's inside.
First rule of Italian-Style IKEA kitchens is: don't let anyone know it's a kitchen!
Justyna was struggling with the IKEA Home Planner, and couldn't figure out how to add in the custom cabinets she wanted. Luckily she found IKD on Pinterest (hey, check out our IKEA kitchen inspiration boards!).
"I wanted my kitchen to be like a piece of artwork," said Justyna. "We entertain a lot, and our guests always seem to congregate in the kitchen. It needed to look good without screaming 'kitchen!'"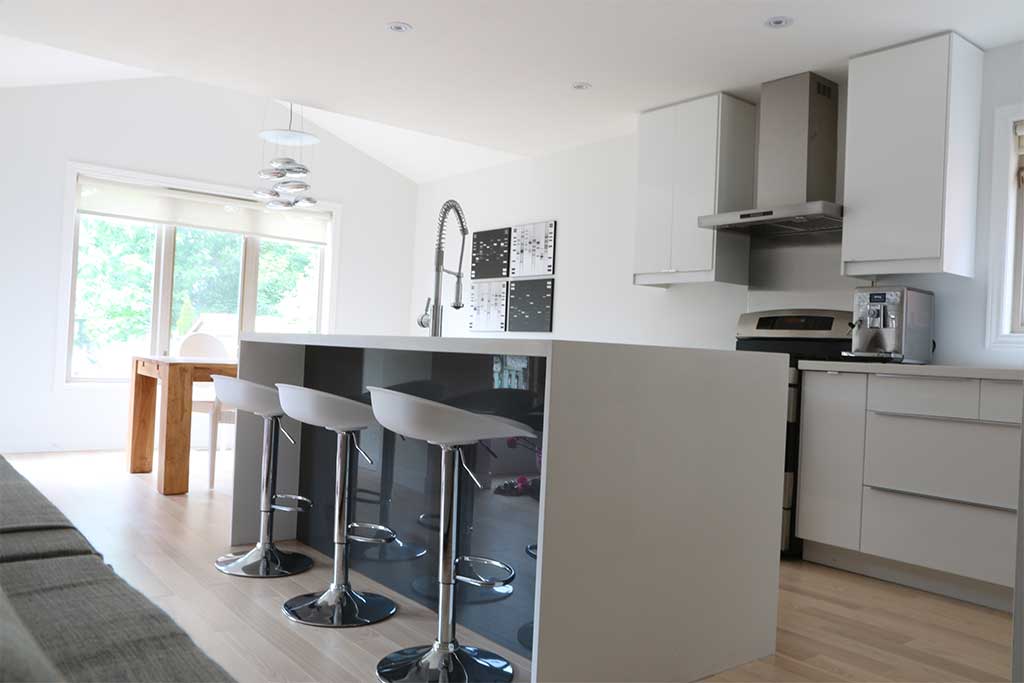 Italian-style kitchens reduce the screaming to a mere whisper by concealing large appliances. IKEA Europe has always had more options for doing so. Both the previous line FAKTUM and the new one METOD have options for concealing the dishwasher and the refrigerator.
IKEA USA only has an option for concealing the dishwasher. Justyna chose not to do this, but it doesn't seem necessary when the dishwasher faces inward.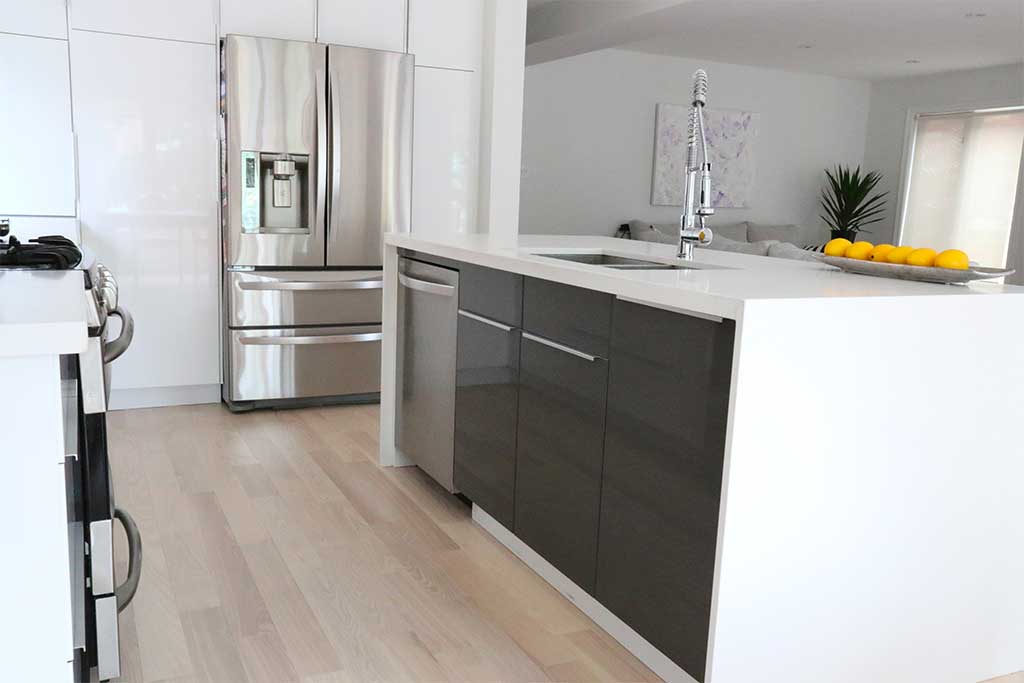 Concealing small appliances, however, was a snap. With IKD's help, Justyna made liberal use of pull-out drawers in her cabinets. Can you guess where her custom appliance garage and microwave are hiding?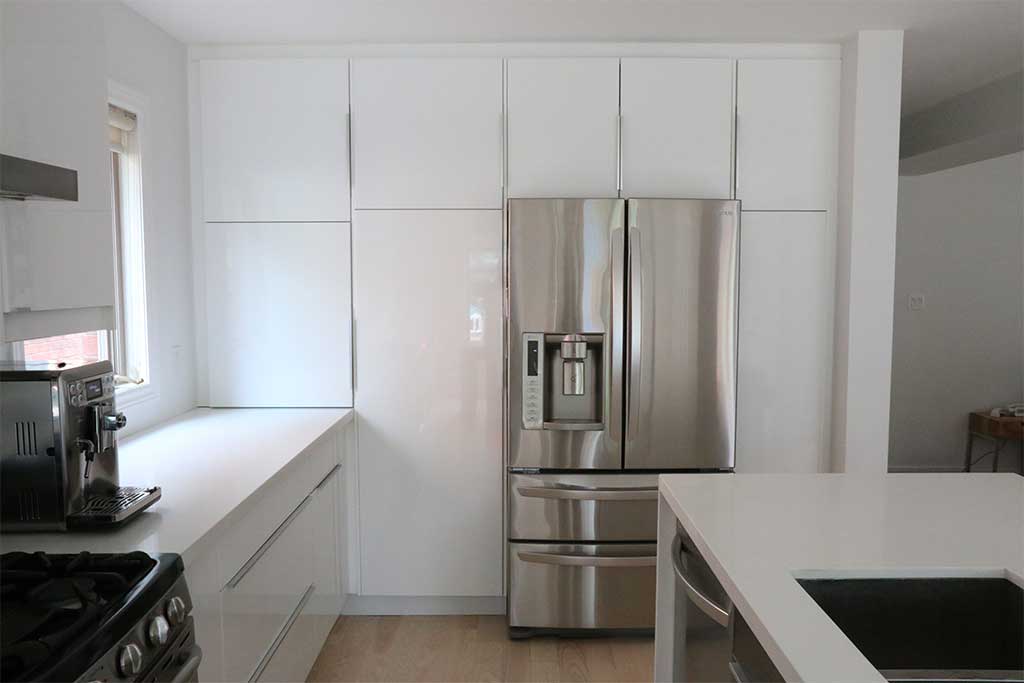 This is her custom IKEA appliance garage: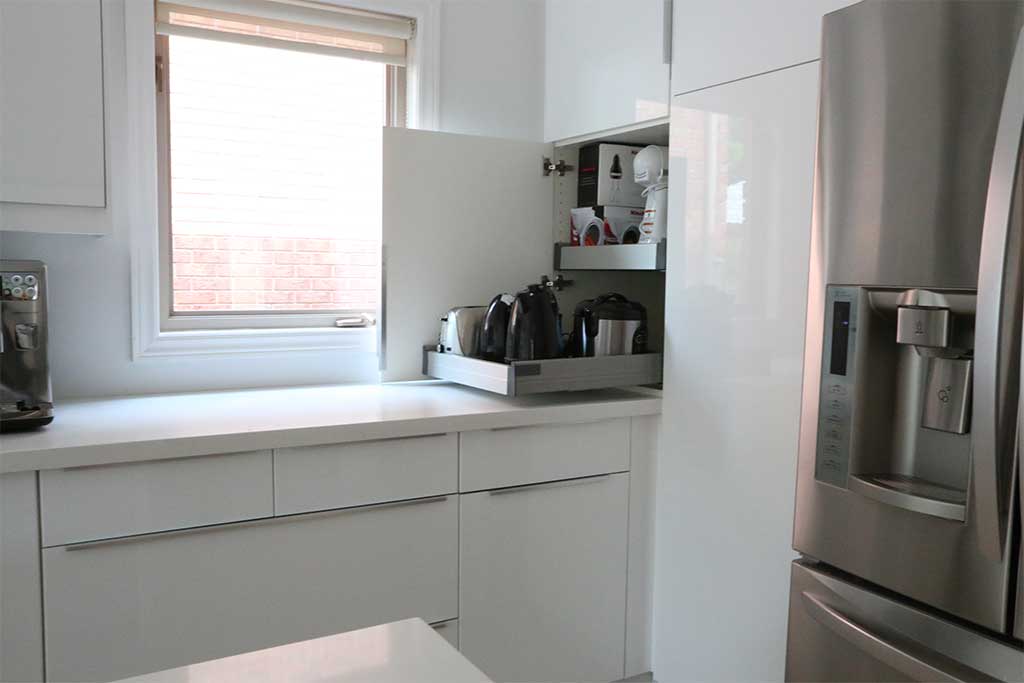 Ta-da! And here's where Justyna hid the microwave: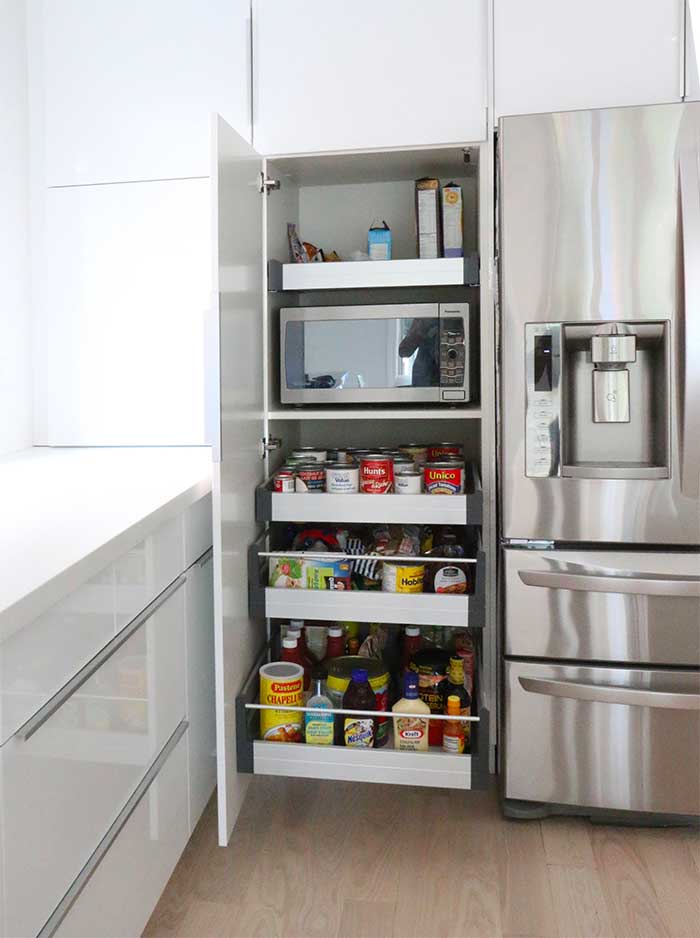 Of course, this is an Italian-style kitchen. So there is absolutely no reason to hide the espresso maker: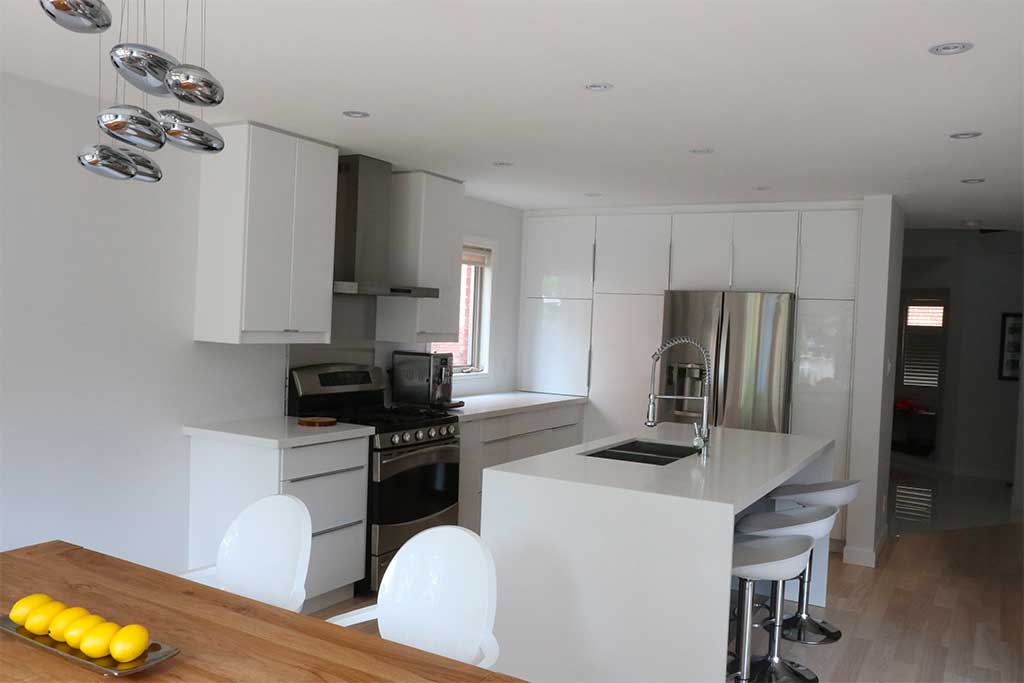 Italian-Style IKEA cabinets, doors, and drawer fronts
Italian-style kitchens also have flat door styles and integrated handles. Justyna built her kitchen using IKEA's AKURUM line, but the SEKTION door equivalent here is the high-gloss white RINGHULT. The slim handles are called BLANKETT.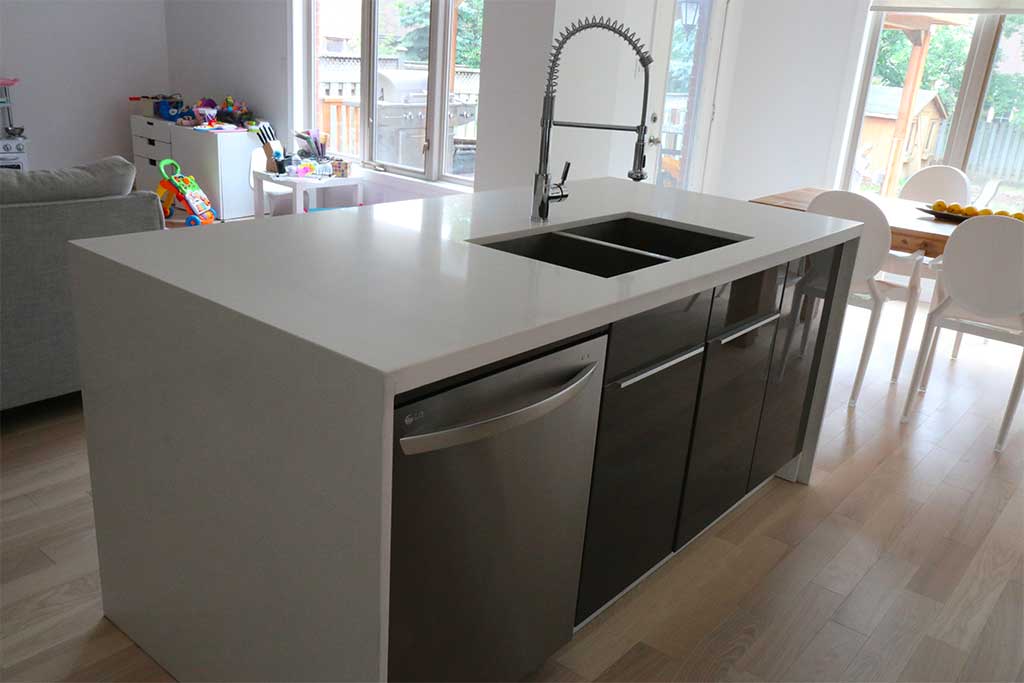 The IKD custom-built island uses the AKURUM GNOSJÖ doors (called TINGSYRD in SEKTION). Of course, that's a HJUVIK faucet in the sink.
IKEA kitchen drawers designed for maximum storage
Justyna wanted deep cabinets, but also didn't want to have move 30 different cans of food out of the way before she found the one she wanted. So, she opted for pull-out drawers for every single cabinet except for the two that hold the plates and the cups. To the left of the oven: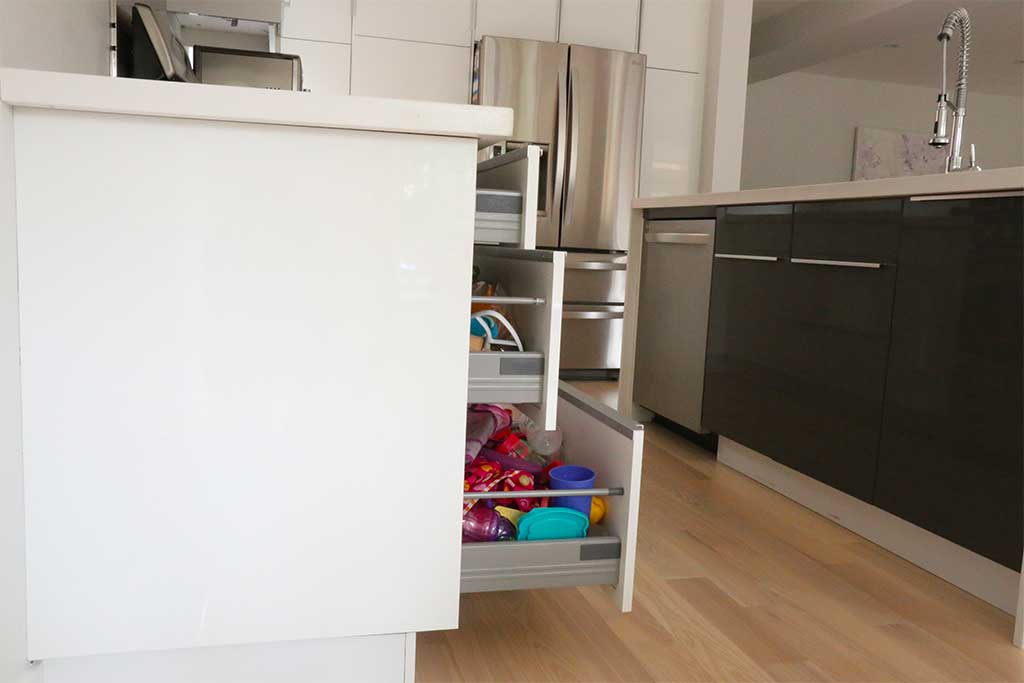 Or to the right of the stove. Please note, IKEA's new SEKTION line has lots of opportunities for drawers within drawers with its two different drawer styles, MAXIMERA and FÖRVARA.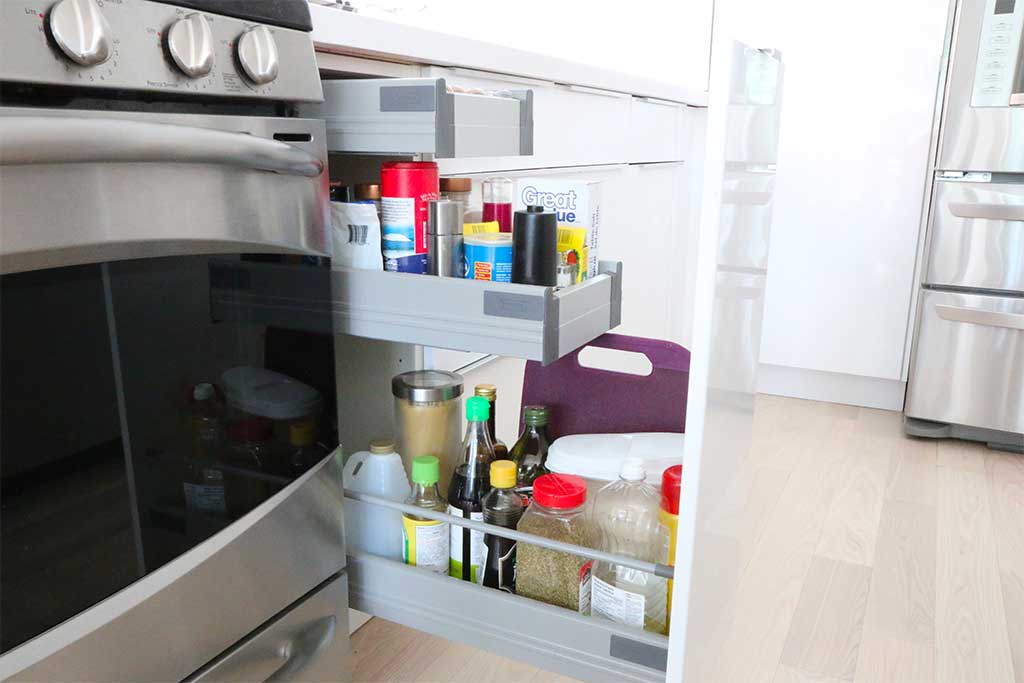 Or to the right of the refrigerator: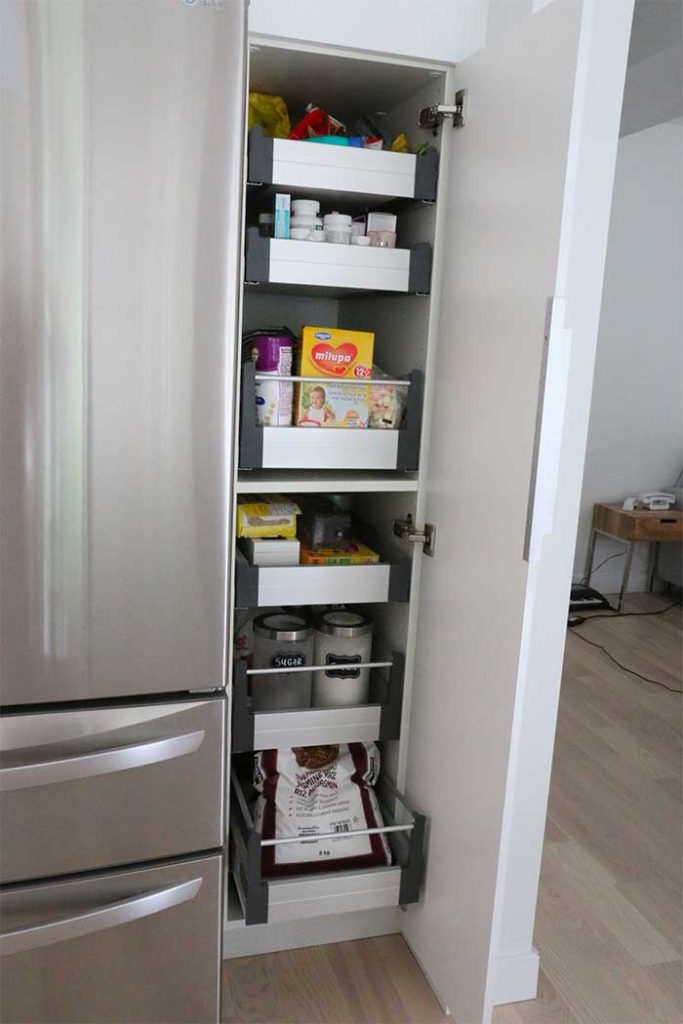 Or the RATIONELL corner base cabinet pull-out fitting (now called UTRUSTA):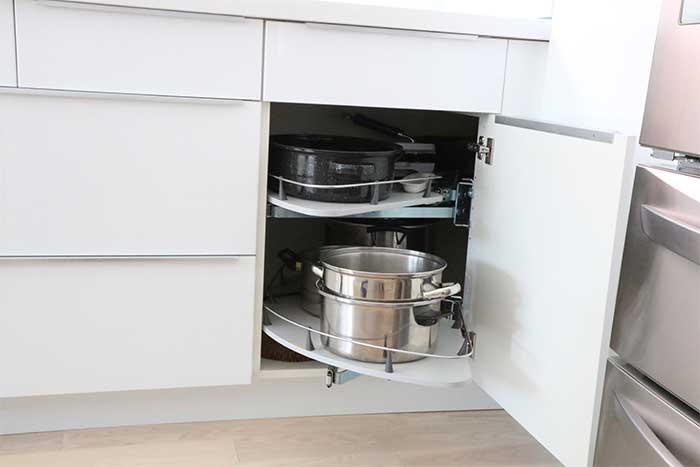 Everything can be so easily tucked away.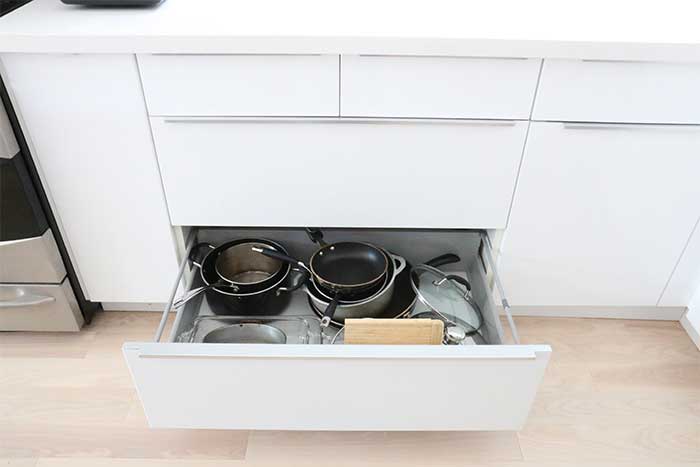 A few last views of justyna's IKEA kitchen
We're so lucky Justyna sent us so many photos of her new kitchen. It wouldn't be right if we didn't share them with you, too!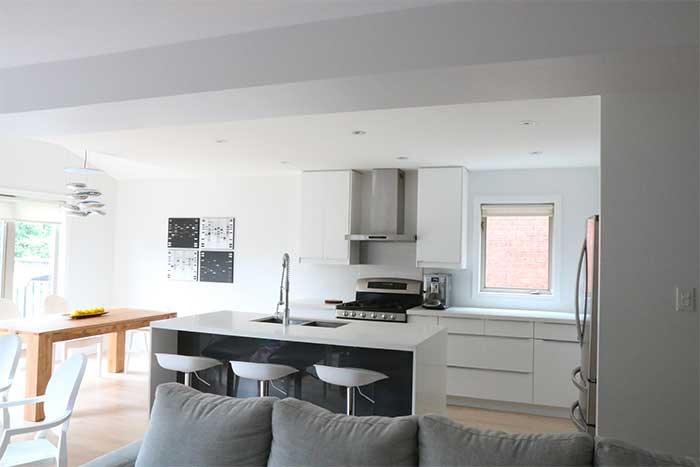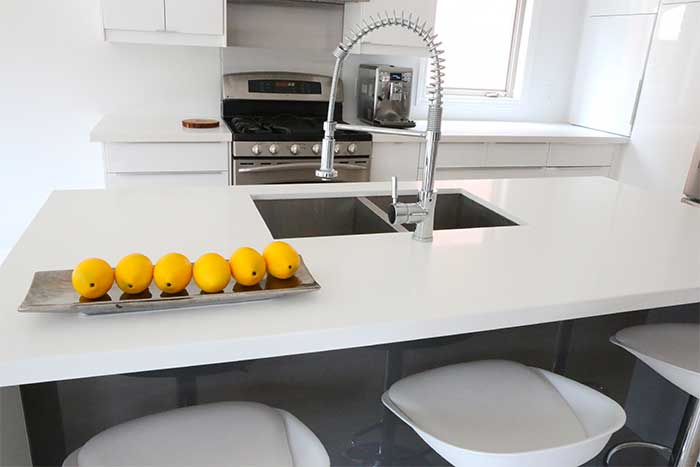 What do you think, is it time Justyna had a party in her IKEA kitchen and we were all invited??
You don't have to wait to get a great deal on your IKEA dream kitchen
Justyna spent a total of $6,896 one her new IKEA kitchen cabinets and the KORTVARIG range hood.