As an IKEA customer you've likely wondered how to customize your IKEA kitchen to best meet your family's needs. And there's quite a few factors to consider, right? There's the size of your kitchen layout (don't forget to take accurate measurements) , the design theme (IE: modern, traditional, transitional), and how ergonomic the space is (remember to make a design checklist) so that you and your family can reach items easily and safely.
Nevertheless, one of the key factors you'll need to decide on is whether or not you want to invest in custom cabinet doors or drawer fronts for your IKEA kitchen – and if so, how much more expensive are they compared to IKEA's?
In this article, we'll discuss how much more expensive IKEA custom cabinet door fronts for IKEA kitchens are compared to IKEA's. We'll also provide some tips on how you can save money while still achieving the look you want in your kitchen. Let's get started.
Are Semihandmade custom doors an affordable option?
One way IKEA customers customize their IKEA kitchen is by choosing door fronts from third-party custom door manufacturers like Semihandmade (SHM).
You might be saying: "Sounds great, but it also sounds expensive and I'm on a strict budget!" We understand. The reality is that custom cabinet doors do carry a cost, but are not much pricier than IKEAs' — if you consider some of the added value — and where to cut costs.
"Semihandmade is more expensive than IKEA but I believe many customers prefer it as it looks better and is of better quality. Semihandmade also offers a DIY option in slab, shaker and quarterline door styles that gives IKEA customers the ability to choose their own color," says IKD founder, Mike Toth.
IKEA kitchen cabinet
and door prices
Below, is a side-by-side (or let's say apples to apples!) price comparison of three IKEA kitchens designed by IKD using IKEA cabinets and doors – and then re-imagined using IKEA cabinets with SHM custom door fronts.
IKEA Askersund kitchen
A small kitchen measuring 142 sq. ft. was designed for customers named Roy and Linda from Green Bay, WI. They opted for IKEA's ASKERSUND door style in Light Ash Effect for their base and wall cabinets. Since Roy and Linda love to cook, it was important to have enough storage space for their plates, bowls, serving utensils, and favorite spices.
The couple was able to achieve their desired style using IKEA kitchen cabinets for just $2,855.
IKEA Bodarp kitchen
The 195-sq.-ft. medium IKEA kitchen designed for Greg and Terry from Miami, FL features IKEA BODARP in Gray-Green for the base cabinets and upper cabinets. This creates a very streamlined look along with the existing stainless steel appliances that were in place, creating a seamless and transitional-style design theme. It features extra storage in the center island and a pantry area featuring a tall IKEA BODARP cabinet.
In total, the couple completed their IKEA design with a total cabinet cost of only $6,768.
IKEA Axstad kitchen
Last is a large 265-sq.-ft. kitchen designed for Shelly from Los Angeles, CA who has a very busy work schedule and who plans to host gatherings at her home. Shelly wanted IKEA's AXSTAD Matte White cabinets to create a clean, minimalist look to go along with her stainless steel appliances, including a Frigidaire refrigerator and a Jenn-Air hood.
Working with IKD designer Frank, she selected a variety of upper, tall and base IKEA cabinets throughout the layout, including glass-fronted wall cabinets to display plates and glassware.
Impressively she finished her IKEA kitchen (including the Extra Items List) for only $14,067.
Comparing IKEA and Semihandmade
Now let's take a look at how much the same IKEA kitchens would cost re-imagined with Semihandmade custom door fronts — and let you decide which kitchen cabinet option works best for your budget. We've designed hundreds of IKEA kitchens with SHM doors; homeowners ask most for: Super Matte Shaker White followed by the Impression Slab Tahoe then the Super Matte Slab Moss.
Small kitchen cabinet door prices
For purposes of price comparison, we re-imagined Roy and Linda's small kitchen remodel with custom cabinets. Specifically, we used one of Semihandmade's highest-selling doors — the SHM Impression Slab Tahoe— for all the kitchen cabinets in this design.
"IKEA kitchens with custom doors make it look more expensive and less like IKEA. However, customizing SHM's doors is expensive, so it's best to avoid it," says IKD designer Meyer.
To highlight Meyer's point, keep in mind that a standard 18″ x 30″ SM White Shaker door from SHM (the company's top selling door front) costs $171 compared to the same-sized IKEA AXSTAD Matte White door, which is priced at $95. A customized 20″ x 30″ SM Shaker White door from SHM costs $225.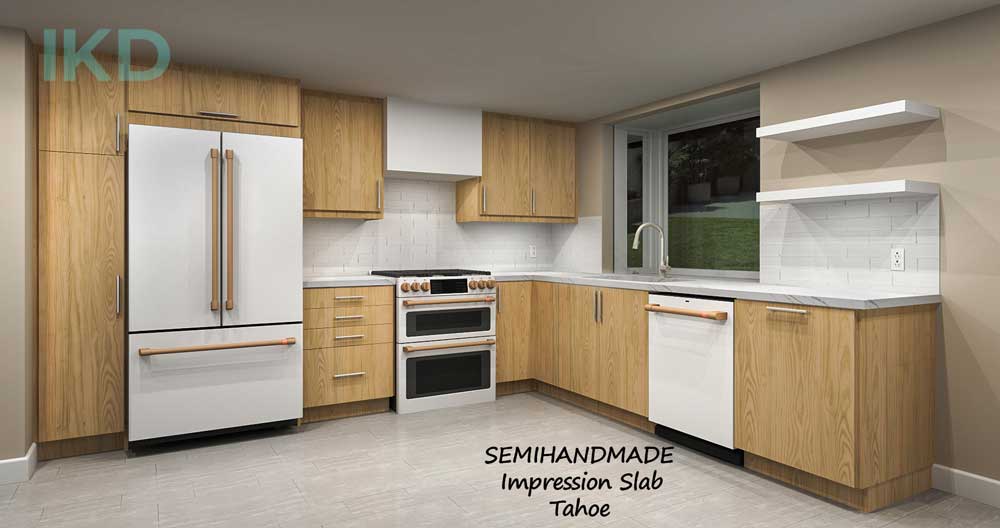 For Roy and Linda's kitchen the colors of the IKEA ASKERSUND door style in Light Ash Effect and the SHM Impression Slab Tahoe are similar in their lighter tones. One difference here is that the SHM door has a vertical grain direction and IKEA's ASKERSUND is horizontal.
This SHM version of Roy and Linda's kitchen would cost a total of $6,450 — a 34% difference compared to using IKEA cabinets and doors ($3,855).
Note: This price includes the doors; drawer fronts; toe kick and trim for filler; molding and panels. In total, Roy and Linda's kitchen features eight doors, six drawers and seven panels.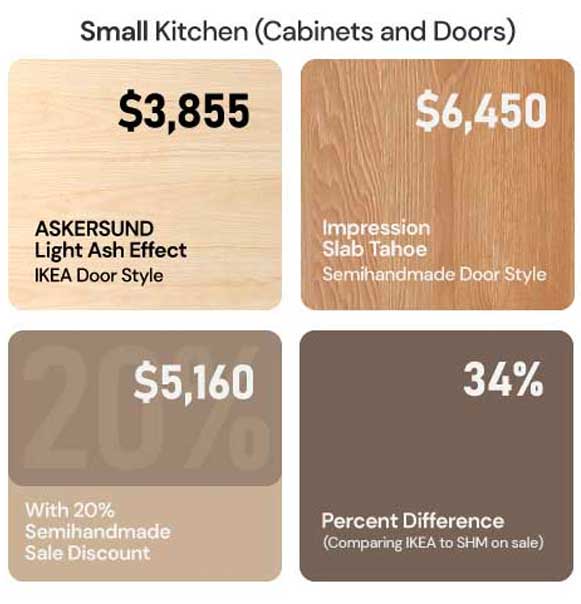 Medium kitchen cabinet door prices
For Greg and Terry's re-imagined IKEA kitchen we used SHM's Supermatte Slab Moss fronts.
"The colors here are similar to the IKEA BODARP Gray-Green cabinets from the original design. The Moss color adds a very nice contrast to the built-in stainless steel appliances as well," – says IKD designer Daniel.
The original kitchen includes some 16 cabinet doors, 14 drawers and 17 panels. This re-imagined version featuring SHM Supermatte Slab Moss fronts costs $11,731 — a 39% increase from using IKEA cabinets — which cost $6,768.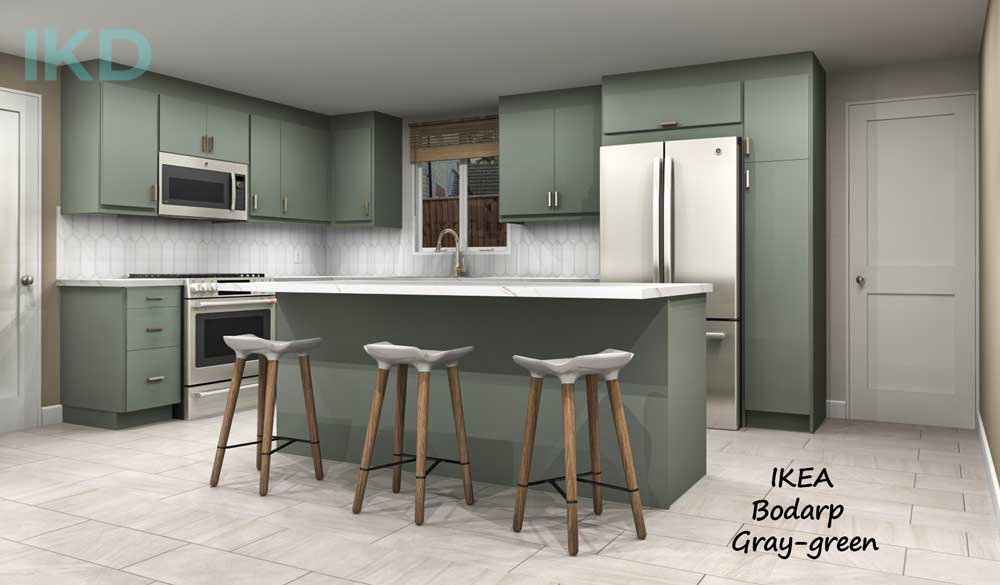 If this seems too pricey, there are options for IKEA customers to reduce cost.
SHM is frequently running sales, so visit the Semihandmade Website often to take advantage of these sales. IKEA's kitchen sales events happen very infrequently.
IKEA customers can save money by assembling the cabinets themselves
Since there are built-in appliances in this design, an important consideration is that the customer must verify the specifications of each appliance and confirm that the appliance is panel ready or integrated. IKEA customers should also check with the door supplier if the required false front size can be manufactured to accommodate the appliances.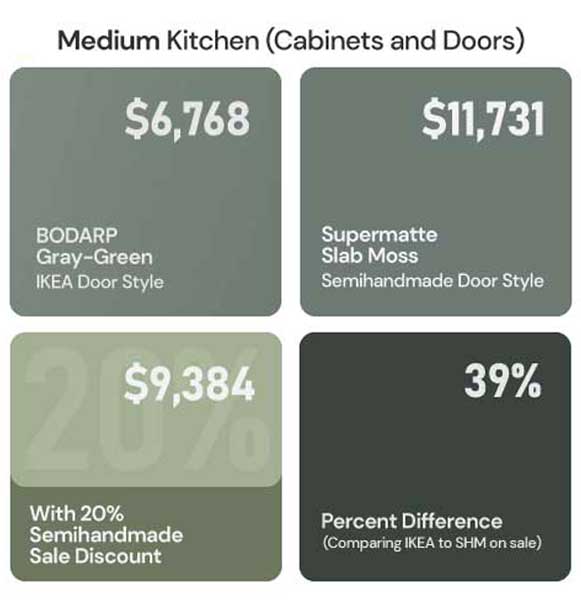 Large kitchen cabinet door prices
Lastly, we re-worked Shelly's original kitchen layout using IKEA cabinets — which cost $14,067 — from using IKEA's AXSTAD Matte White cabinets to SHM's SM Shaker White fronts.
"With the SHM Super Matte Shaker White fronts we selected a comparable color to the IKEA AXSTAD Matte White door style that Shelly chose. With the SHM fronts her large kitchen (265 square feet) maintains the same clean, minimalistic look while being more durable and low-maintenance – perfect for a customer who is busy, yet who wants to host guests on occasion,"
– says IKD designer, Frank.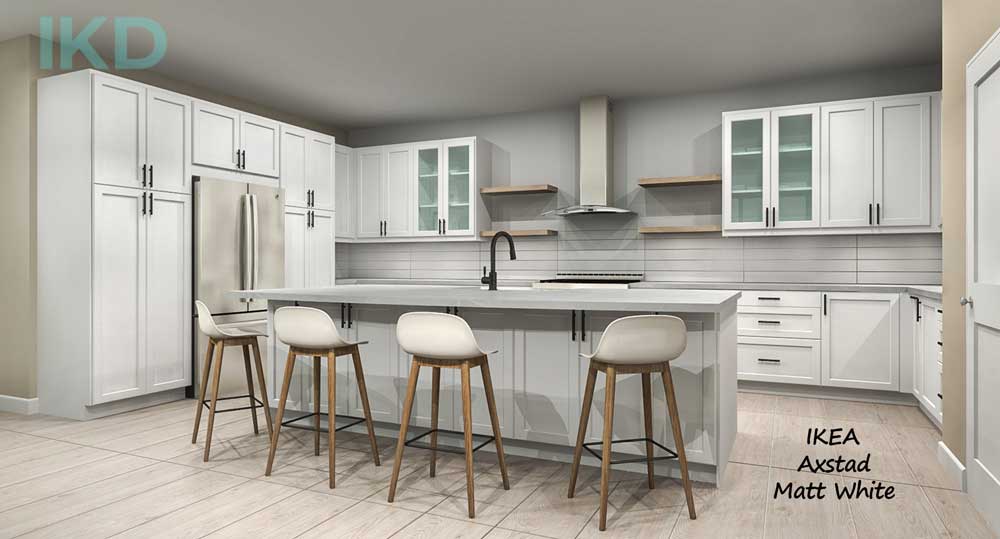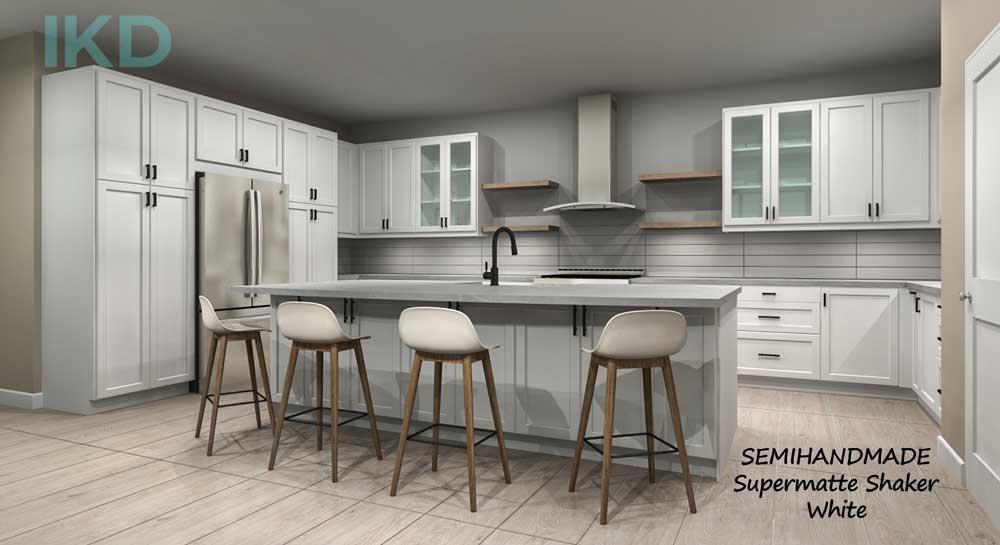 This new design treatment, featuring SHM base and wall cabinets, would cost $23,352 —including the Extra Items List — for a 33% price increase from Shelly's IKEA kitchen.
Note: Shelly's custom kitchen features 35 cabinet doors, 25 cabinet drawers and 17 panels in total.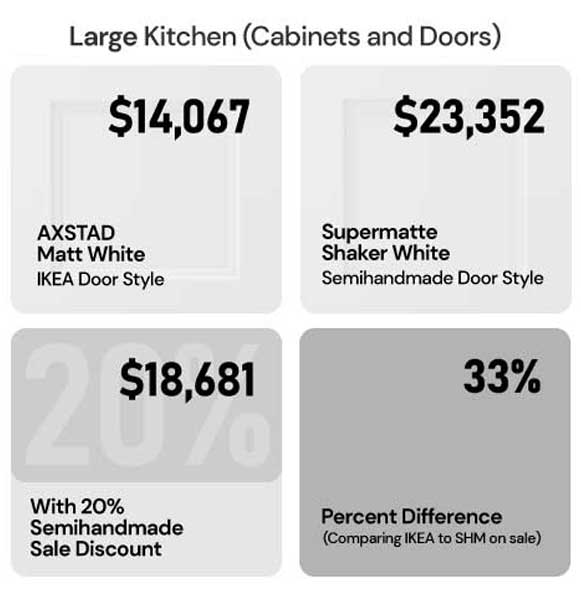 In the end, what you're spending on custom cabinets is an investment in resale value from the added durability and elevated style. And the results will make your space one-of-a-kind. Our design team is here to guide you through the design and product selection process for your IKEA kitchen.