Prepping an Outdated Kitchen for BODBYN and SEKTION Installation
Since moving in, Thomas has been struggling with the tiny kitchen in his 1870s Maryland farmhouse. After attempting several DIY solutions, he decided it was time to sell the place—and make the kitchen a main selling point.
With the help of IKEA expert and realtor Baltimore Betsy, he began a complete overhaul using an IKEA BODBYN design by Inspired Kitchen Design.
Read more about Thomas's DIY struggles, the design process for his new IKEA kitchen, and shopping for supplies in Part 1 of this series.
To see the finished product and learn more about the final touches, check out Part 3 in the series.
Kitchen Demolition Begins
With the design process completed, the next step of this IKEA kitchen installation is demolition.
Thomas had already removed the upper cabinets from his small kitchen, saving the contractor some trouble and his wallet cost in labor.
The contractor moved his appliances out of the way, except for the stove and refrigerator, which can remain in place until the day of installation. He also removed the tile backsplash, old base cabinets, and countertop. Next, he'll fix the drywall and prepare the walls for BODBYN cabinet installation.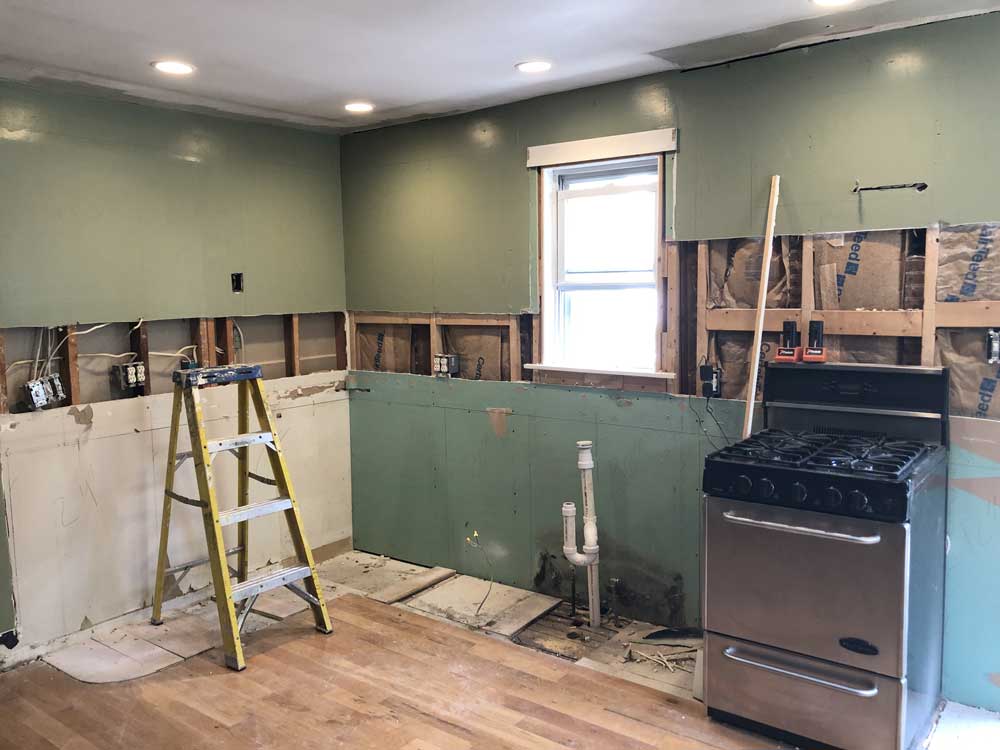 Choosing the Right IKEA Kitchen Color Scheme and Updating Designs
At this point in the renovation, Thomas had to make some critical decisions about the walls and flooring. He decided to keep the hardwood floors but paint the walls gray to complement the sleek white cabinets and new KASKER quartz countertop with an anthracite stone effect.
Thomas's contractor rebuilt the half-wall Thomas had previously demolished to prepare for the countertop seating area. Although initially designed as a 20″ tall bench, Betsy switched it out for a lower, 15″ option.
There will always be changes during construction. You may not like the paint color or crown molding you picked out. Maybe you realize having an extra outlet in a particular place will be helpful. It's always easier to make these changes as early as possible.
IKEA SEKTION Cabinets are Ideal for Quirky Older Homes
We're calling them "quirky" to avoid hurting the house's feelings. It's no secret that older homes have experienced much settling over the years, resulting in asymmetry. Thomas's home is no different.
Before installing cabinets, his contractor must level the floor and ensure the walls are square.
The bad news: Level floors and square walls in a home that's 150 years old is asking too much.
The good news: IKEA makes working around an unlevel floor and walls that need to be plumb (a perfect 90-degree angle) easy.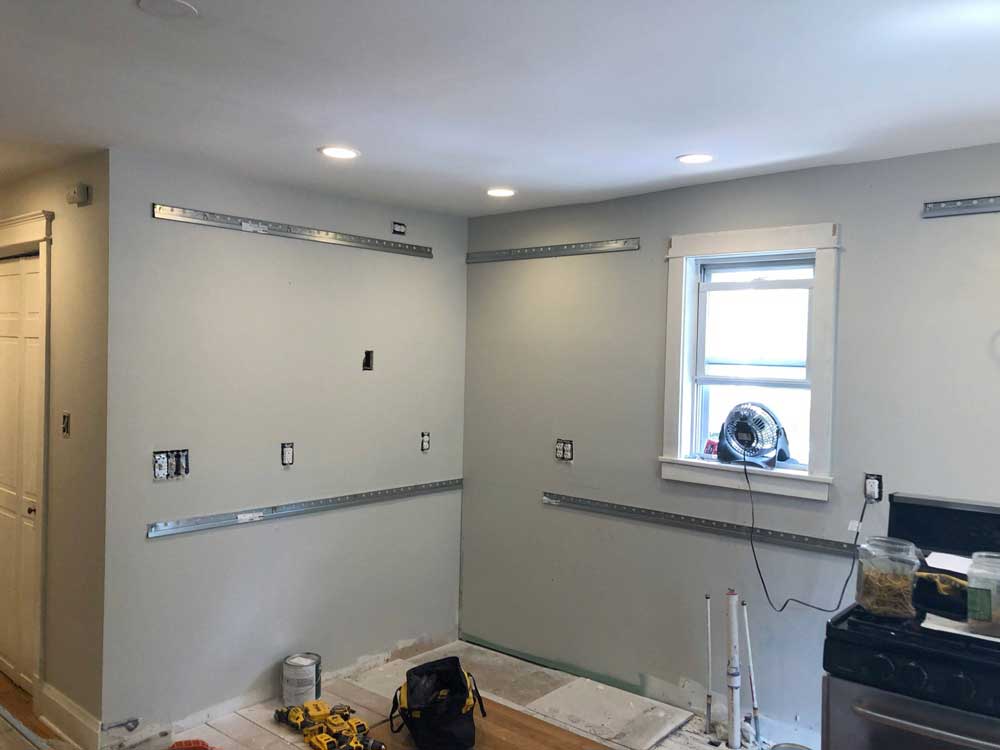 IKEA Cabinet Rails and Adjustable Feet Help with Unlevel Floors
The main difference between IKEA cabinets and those you'd find in a big box store or through a custom cabinet maker is that IKEA SEKTION cabinets are suspended on rails. In contrast, other cabinets are attached directly to the wall.
With IKEA cabinets, you can check whether the rail is level and attached to a stud before mounting the cabinets, giving you an extra chance to get it right. Betsy explains that if you level the suspension rails for the cabinets from the highest point in an unlevel floor, you'll be fine. The IKEA installation guide gives the proper heights for all cabinet sizes.
As for the base SEKTION cabinets, they have adjustable feet to help you level your cabinets. Of course, you want to get it as close as possible from the start because if you adjust them too much, you'll have to cut your toe kicks.
IKEA Kitchen Installation Cost in an Old Farmhouse
The previous article discussed Thomas's supply costs, which came to about $8,600.
When going through IKEA for a kitchen installation, customers will get a quote for cabinet and laminate countertop installation. A separate company must install luxury countertops, and owners are on their own for plumbing, electrical, trim work, etc.
Regardless of whether you must hire a contractor or be your own, it might make sense to skip IKEA's installation services and get the whole estimate upfront. This is the route Thomas took since he had some structural changes to make.
Thomas's contractor quoted $11,000 for the following:
Remove old cabinets and countertop
Assemble IKEA drawers and cabinets
IKEA kitchen installation
Install doors, drawer fronts, and knobs
Install fillers, toe kicks, and trim
Build a new half-wall bar
Remove tile backsplash
Repair drywall
Prime and paint
Electrical (i.e., relocate range hood, install an additional outlet, install new lights)
Plumbing (i.e., install valves for the sink, hook up new faucet)
Clean up
Thomas's contractor was very pleased with the quality of IKD's plans for this kitchen renovation project:
"The elevations and the lighting plan were perfect! I appreciated the attention to detail missing in the standard IKEA planner drawings."
Having someone on your team who is familiar with IKEA cabinets is vital to the project's success. Betsy knows that even the most experienced cabinet installers will struggle if they aren't experienced with IKEA installs. The cabinet rails can throw them off, as do the differences in cabinet depth.
IKEA Cabinet Depth vs. Competitors
Most wall cabinets have a 12″ depth, the same as most microwaves and vent hoods. Experienced IKEA installers know the solution is an IKEA NYTTIG filler piece to bump out microwaves and hood vents to match IKEA's 15″ cabinet depth.
Betsy has encountered several instances where the contractor forgets, is unaware of the issue, or thinks the dimensions will miraculously differ for them. If the filler is omitted, the microwave doors won't open, the exhaust hood won't vent properly, and the contractor will have to reinstall the piece.
What to Look for with IKEA Cabinet Rails
The cabinet rails have also caused issues. For example, the rails create a small gap between the cabinet and the wall. IKEA provides bumpers to level the back of the cabinet. If the contractor needs to remember to attach the bumpers (which has happened before), the homeowner has some very uneven cabinets. At that point, the only solution is removing and reattaching the cabinets correctly.
As Betsy reminds us:
"Having extra hardware left over after an IKEA Kitchen install is not a good thing!"
When Betsy is involved in an IKEA kitchen project, she watches the contractor with a teacher's heart and builds the cabinet boxes to intercept these common issues. In Thomas's case, he has an excellent contractor who knows all the ins and outs of IKEA cabinet installations.
"I actually LOVE building IKEA SEKTION Cabinets and the MAXIMERA drawers."
Pro Tip: Making Your Kitchen Work During the Demolition Phase
Your kitchen has been demolished, but you still need to eat! Betsy reminds us that it's common for homeowners to get so excited about their kitchen renovation that they forget one small detail: once the stove and sink have been taken out, you no longer have a functioning kitchen.
While designing and planning your future kitchen, take the time to plan a temporary kitchen. You'll need:
Food storage
Access to water
A way to keep food cold
A way to cook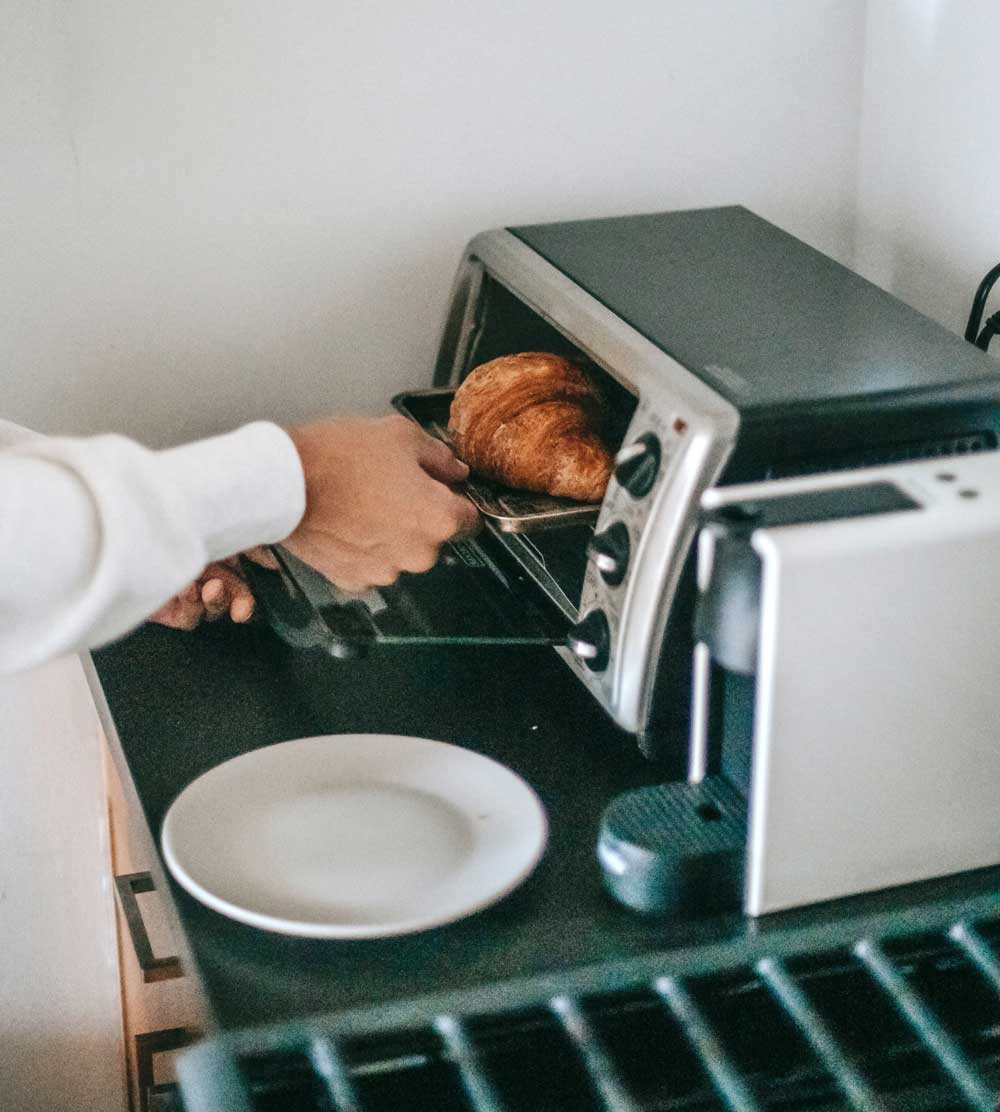 Your version of a temporary kitchen may be different from someone else's. If you're a bachelor like Thomas, you might order takeout or make do with a few microwaveable meals and a relocated coffee pot. If you're cooking for a family, consider moving the fridge to the garage and scheduling your kitchen renovation during the warmer season, when every night can be grill night.
No matter how you organize it, we know one thing: paper plates and plastic utensils are your friends during any home renovation.
Up Next: An IKEA kitchen transformation using BODBYN Cabinets
The next step is to bring this IKEA kitchen design to life. The SEKTION cabinet boxes are built, the plumber and electrician are scheduled, and the walls are prepped and painted. We're sure you're as anxious to see this beautiful new kitchen as we are!
Get a Professional IKEA Kitchen Design – All Online
Work with our certified kitchen designers to get a personalized kitchen designed around your needs and vision. If you want to learn more about our service, check out our IKEA Kitchen Design Services.