How customizing IKEA cabinets can lead to a functional bathroom design
One significant quality professional designers have over those thrust into the occupation — such as IKEA in-person planners — is innovation. Our IKD designers have the skills and creativity to take mass-produced IKEA bathroom products and customize them to fit our customers' needs while ensuring they look and feel like a luxury design from a home magazine.
This article looks at two bathroom designs and showcases the challenges faced and hacks used by our designers to add unique organization and storage using IKEA bathroom cabinets.
IKEA Bathroom Design #1:
Floating Vanity and Dual Medicine Cabinets
In our first example, we meet IKD customer Lacey who wanted an extended floating vanity with storage and his and her medicine cabinets.
Bathroom Design Challenge: Extended Vanity
This unique floating IKEA bathroom design not only looks beautiful and modern, but it also protects homeowners from unexpected flooding. However, IKEA doesn't make an 86″ floating bathroom vanity or medicine cabinets with pullout side storage.
The homeowners wanted a floating vanity and more counter space than a standard IKEA vanity provided.
"I always say that before I bought a house, I loved water. Since we became homeowners, we've had a leaky roof and a flooded basement, and you can't forget about overflowing toilets and misdirected shower sprays!

We really liked the idea of avoiding water damage in the bathroom by using an IKEA floating vanity, but none of the options we found were long enough. Since we only have plumbing for one sink, we couldn't see a way to put two together. I Googled 'IKEA designs,' and Inspired Kitchen Design popped up."
–Lacey, IKD customer
Solution: Cut Cabinets to Lengthen the Bathroom Vanity
IKD designer Frank designed an 84″ floating vanity by hacking three IKEA wall cabinets. To create the end cabinets, he took two 36″ wide, 24″ deep, and 20″ high SEKTION cabinets and reduced them to 24″ wide by 21″ deep cabinets to fit two 24″ wide by 10″ high MAXIMERA drawers each. The center cabinet is a 36″ wide, 24″ deep, 20″ tall cabinet reduced to a 21″ deep by 20″ high cabinet to fit two 18″ wide by 20″ high AXSTAD matte white doors.
Bathroom Design Challenge: Dual Medicine Cabinets with a Single Mirror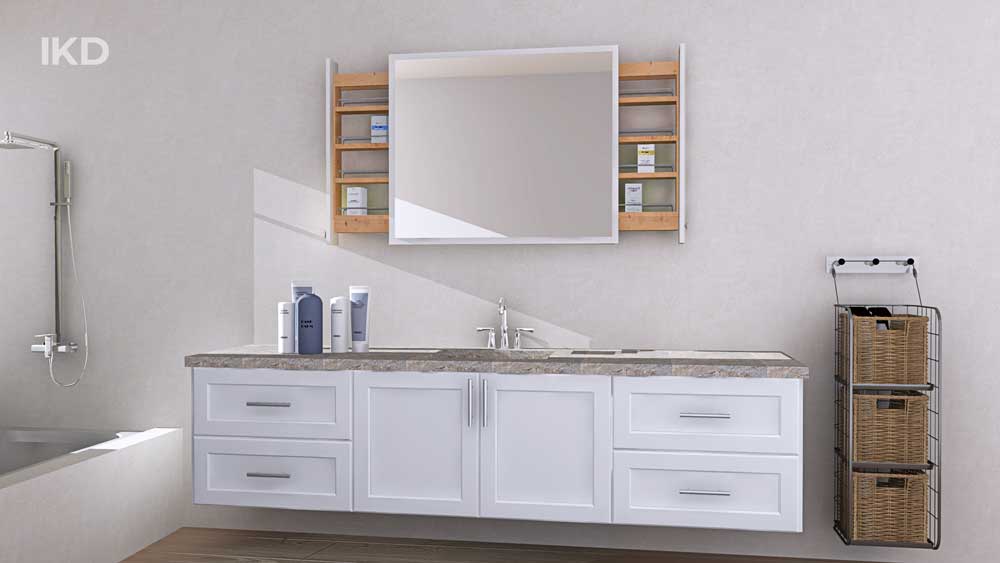 Lacey and her husband didn't want the cost or hassle of hiring a plumber, so they kept a single sink in the bathroom vanity. However, she explained that separation plays a significant role in keeping them happy in their relationship.
"We like the idea of having his & hers counters and drawers in the bathroom, even if we decided against his & hers sinks. I'm messier than he is, and it drives him crazy. We wondered if there was a way to have a medicine cabinet with separate sections, too. Frank came up with a really cool design, and we jumped on it."
– Lacey, IKD customer
Solution: Custom-Cut Medicine Cabinet with Rev-A-Shelf Kitchen Cabinet Filler
Frank combined an IKEA cabinet hack and a Rev-A-Shelf product for this unique medicine cabinet design.
He began with a standard 36″ wide, 15″ deep, and 30″ high SEKTION cabinet and reduced its depth to 5 inches. He then divided the interior equally into 18″ sections and covered it with a panel. This created a shallow box with recesses on either side that were the perfect size for a Rev-A-Shelf base cabinet filler (432-BFSC-3C). Two 30- by 5″ drawer fronts on either side of the cabinet box with matching stainless steel KALLRÖR handles made the fillers accessible. A large, epoxied mirror completed this unique medicine cabinet solution.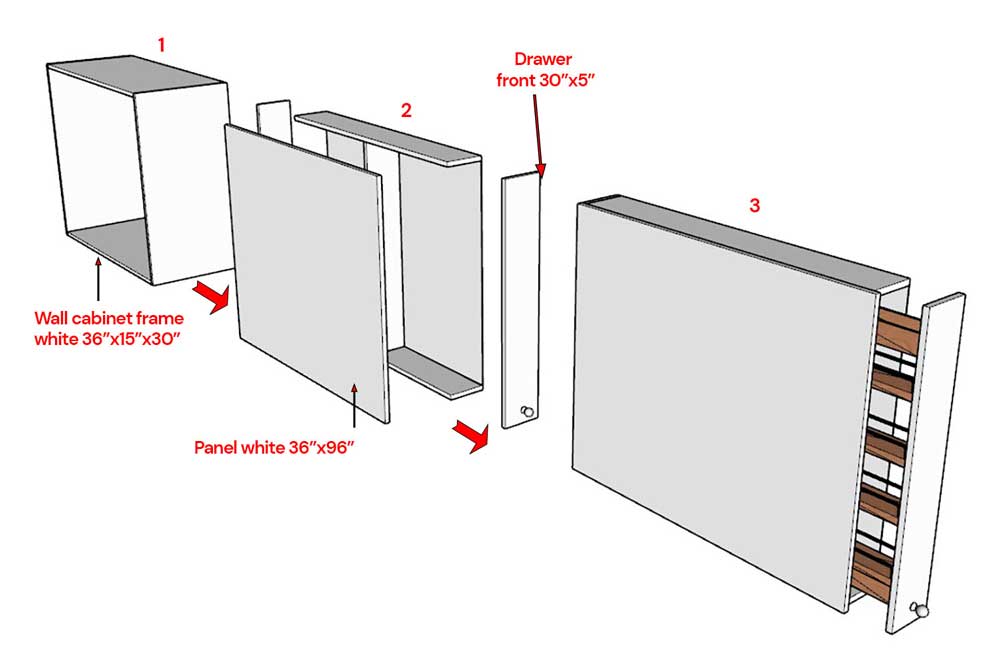 IKEA Bathroom Design #2:
Maximum Storage and Organization in a Small Space
In our second example, IKD customer Cherise had a small bathroom and big storage needs. IKD designer Florence used every inch of wall space and a few IKEA cabinet hacks to create sleek, handle-free storage solutions.
Bathroom Design Challenge: Small Space that Requires Maximum Storage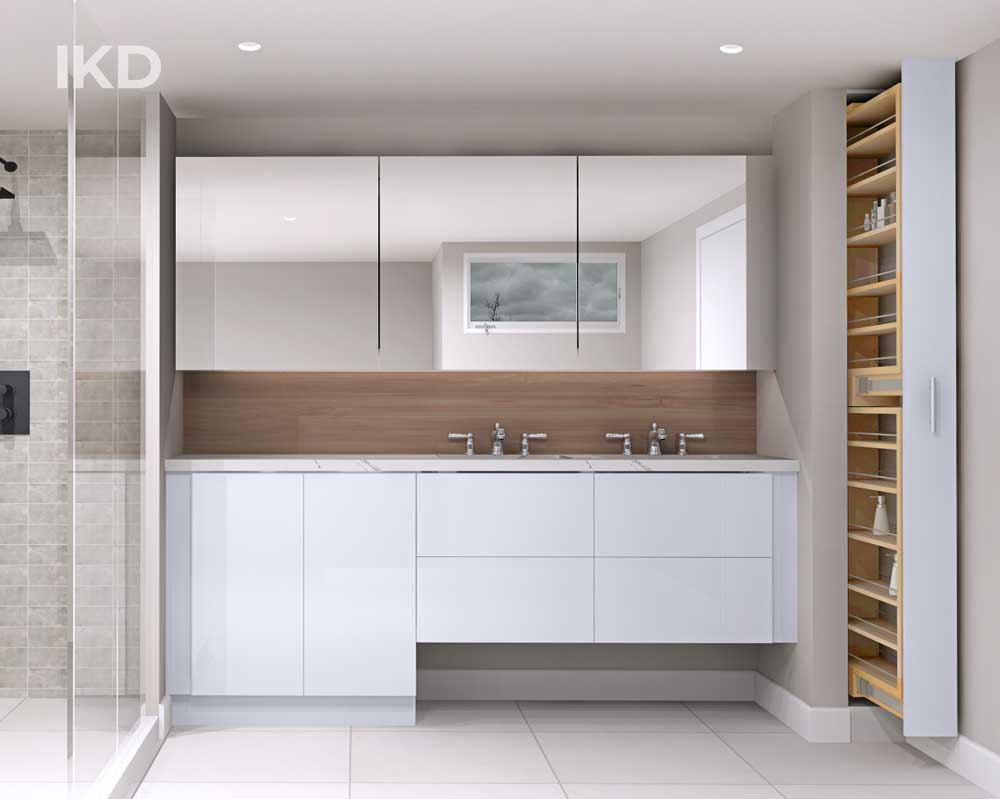 Cherise lives with her sister, and they needed more storage to accommodate their bathroom necessities.
"We both have high-maintenance, curly hair, so we come with a lot of products. Since my sister moved in, the main thing we've struggled with is sharing a bathroom, so we pooled our money and decided to renovate. We always hit IKEA for home goods. We started looking there and got an idea of what we wanted. But we couldn't find a combination that would really give us the maximum amount of storage. We started looking at cabinet hacks and realized we needed to call in the professionals. We found IKD on Pinterest."
– Cherise, IKD customer
Solution: Combining Different IKEA Cabinets to Maximize Storage
Cherise and her sister liked the look of the GODMORGON sink cabinet with four drawers, thinking they could store slippers and other small items beneath the floating cabinet. However, they also wanted to use the leftover space between the vanity and the shower stall. Designer Florence took a 30″ wide, 24″ deep, and 30″ high SEKTION base cabinet and reduced it to 18 inches in diameter to match the depth of the existing vanity and give them a sizable cabinet for hair tools and towels.
Adding this cabinet was especially useful since the small bathroom didn't have a linen closet.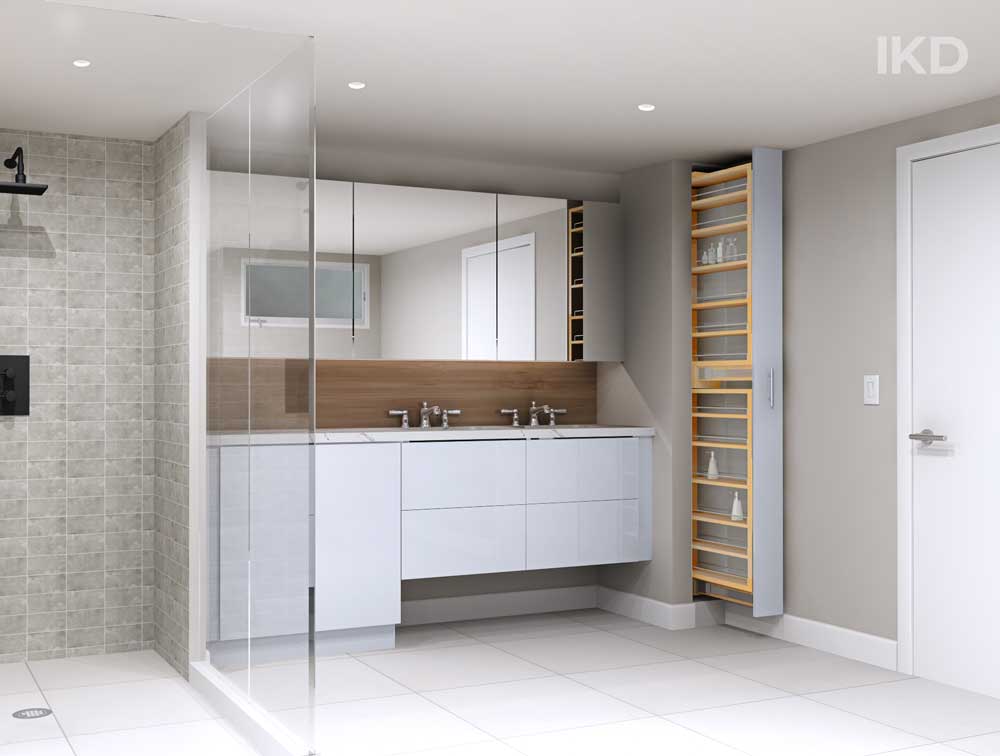 Solution: Toiletry Organization Using Rev-A-Shelf's Tall Kitchen Filler Pullout
Florence came up with an innovative design for hair product storage. A 12½" space remained against the opposite wall. It reminded Florence of the space homeowners are often left with next to a fridge in the kitchen; in those instances, she recommends filling that space with a Rev-A-Shelf tall filler pullout (432-TF39-6C). Luckily, that hack worked just as well in this bathroom design.
Cherise's father built a drywall frame according to Florence's specifications for the pullouts. This custom frame allowed her to hack a 15″ wide, 24″ deep, and 80″ high cabinet down to 8 inches wide so that it would fit in the niche and hold two stacked Rev-A-Shelf tall filler pullouts. This provided Cherise and her sister with 12 six" wooden shelves—the perfect size for hairspray, curl cream, and shampoo bottles.
Florence's design included cutting down a high side panel, so it was eight inches wide, creating the door for the pullout storage system. Three mirror panels built out from the wall to allow room for hidden LED lighting completes the bathroom design.
Get Professional IKEA Bathroom Designs from a Professional Designer
This level of design expertise could never be found in the IKEA online planner or an in-person IKEA planner appointment. While IKEA co-workers may be skilled in providing design advice for basic IKEA products, the only way to ensure you get what you want is to use a professional design company that employs a slew of creative designers.
That's what you get with IKD. We know how to combine IKEA products with multiple sources to give you a more than just another basic IKEA bathroom design.
Get a Professional IKEA Bathroom Design – All Online
Work with our certified designers to get a personalized bathroom designed around your needs and vision. If you're interested in learning more about our service, check out our IKEA Bathroom Design Services.