I'm not one to change things around in my house all the time, although I do like to freshen things up every few years. Our family room is one area that hasn't changed a whole lot since we bought our house 6 years ago. I used many of the pieces I had in my old house and the only new thing I bought was the 2 swivel chairs which were needed to fill out the smallish space we have. I also worked with a brand along the way and replaced a side table and lamp in here, but it was time again to do another refresh since I had the same rug and tables/lamps for many years now.
I'll show you the room as it evolved to this after we moved in and it's largely been the same for the last 5 years.
There was nothing wrong with the room, but even Mark wanted me to change out the side tables and lamps and when your husband starts talking about that, well I guess it's time. I worked with Arhaus a few years ago and had gotten the ottoman, left side table, left lamp and this coffee table from them and never really loved the table, it was a bit higher than the sofa arm. So the ottoman and coffee table are staying, I still love them a lot. I was gifted this HGTV rug by Shaw Floors over 10 years ago in my old house as a house warming present and I have loved it for many years too.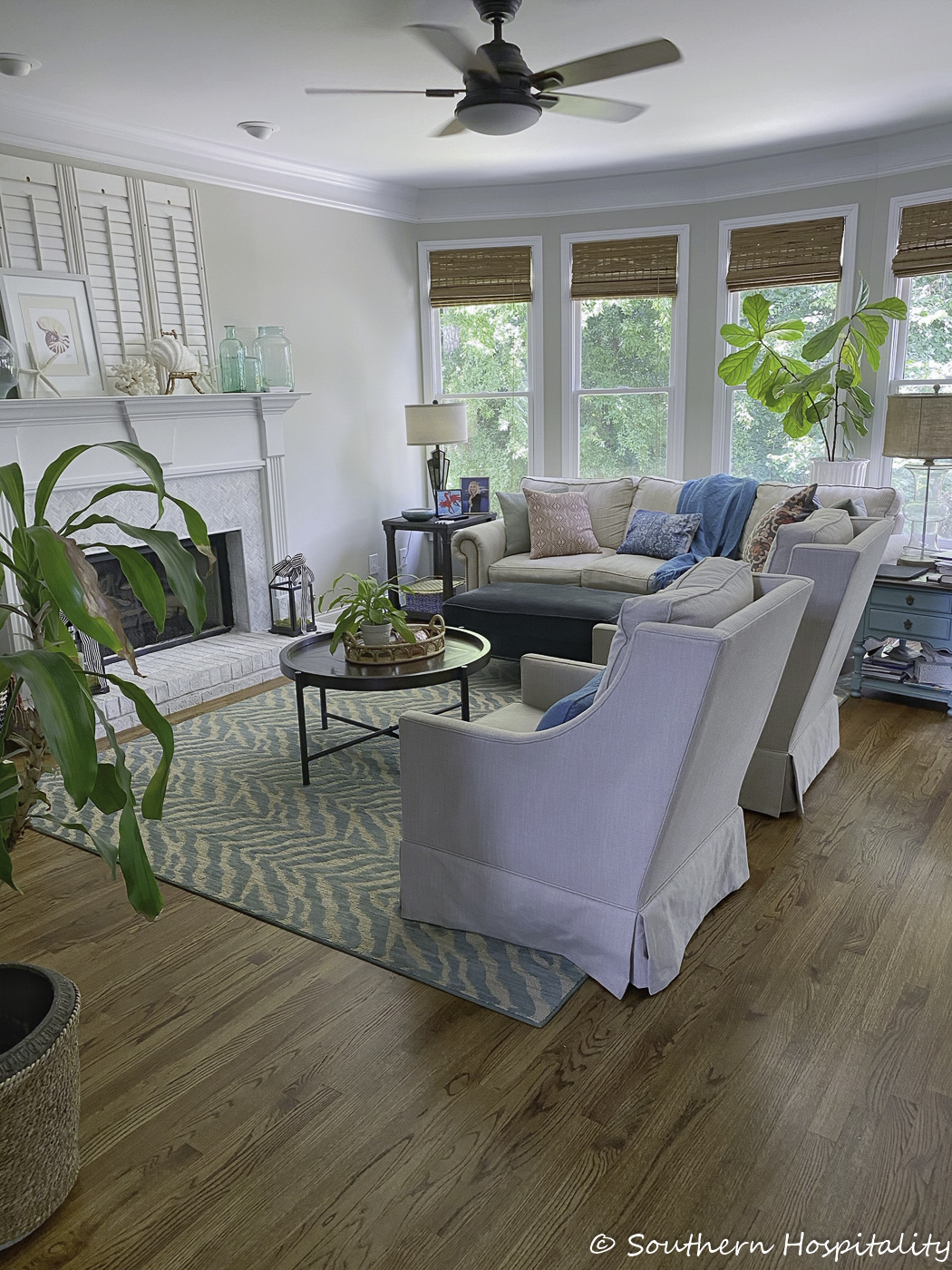 I bought all those pillows years ago too at Homegoods and I really don't change out my pillows often. Mark really hates throw pillows and all the ones on his side end up on the floor so I took his out and stored them away and only use pillows on my side. But for pictures, I'm putting out the pillows! That end table on the right (vintage colonial Ethan Allen) was a thrift store find years ago in my old house and I painted the bottom of it and left the top stained. I'm selling all these extra pieces on Facebook marketplace this weekend, so most of it will be gone. I love selling things I'm not using anymore and passing them onto others is a good thing.
So, let me show you where we are now. The room is quieter and a little more muted than before, which I'm really loving. Another thing I wanted to do was get a new rug and I had that opportunity this week when I went to an early sample sale with Jaipur Living, who happened to have moved their headquarters and new showroom right here to Acworth, GA where I live. I've been to their grand opening in January and really wanted to work with them on getting a new rug for our family room. And that happened this week! I'll tell you more about the sale below, because it's going to be open to the public next weekend.
So here's the new look and I really love it. New side tables, new lamps, new pillows and a new rug. The rug is the star of the show I think! Normally, I would take out Daisy's toys and dog bed to take pics, but I decided to just declutter and let you see the real room as we live in it. This is where we live every single day!
It is very muted and the sun wasn't out when I took these pics, so I did the best I could with them. I do like the fact that the rug isn't as loud as the other one was. It's much more of a background piece now. Daisy was napping on the sofa in some of these and then I took some later with her throw gone and the sun out more.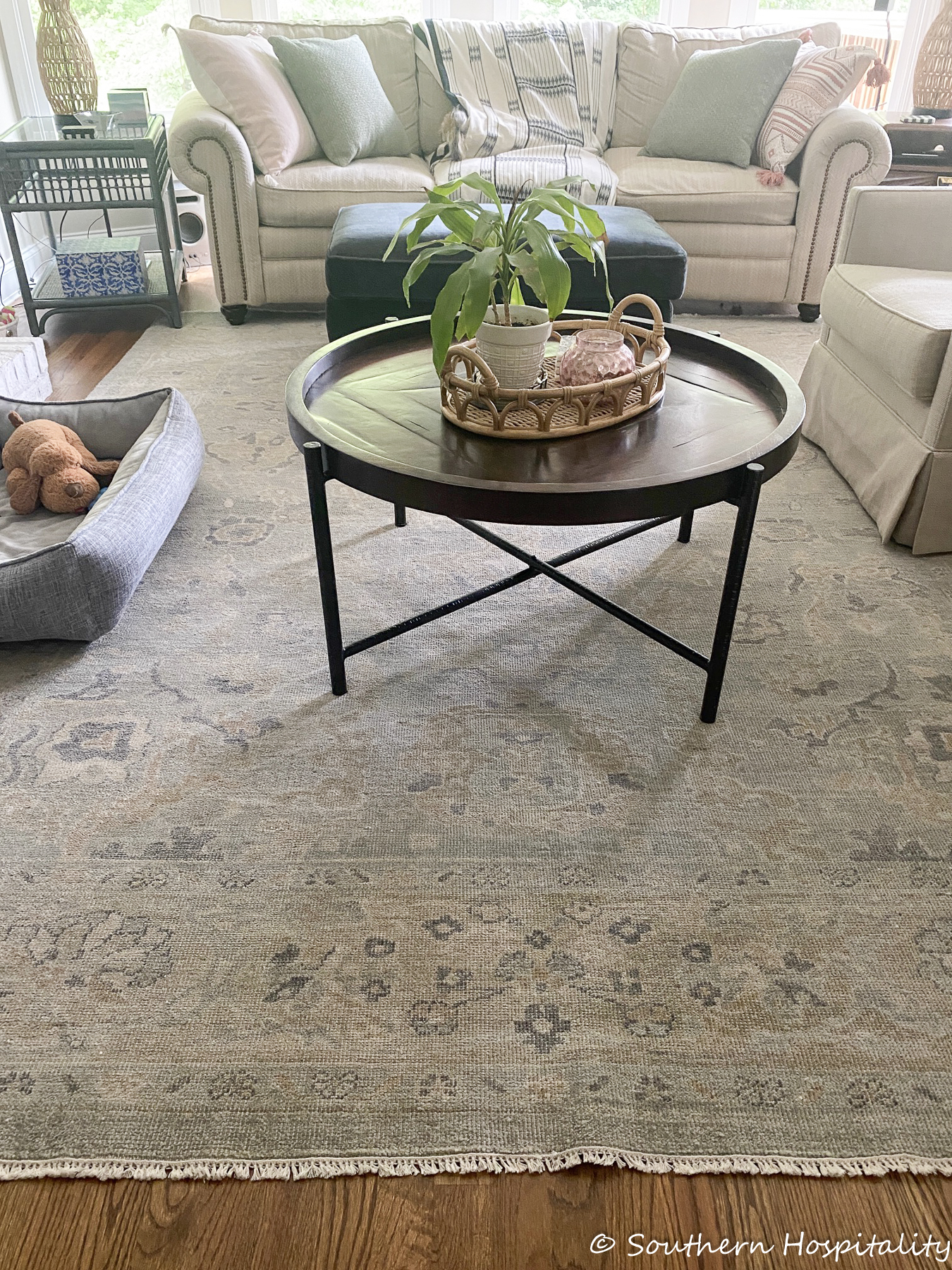 I love the soft tones and it's a hand knotted wool rug made by Jaipur Living. This company has beautiful rugs in all different price points and if you're local you may want to hit the sale next weekend.
I went through stacks and stacks of their 8×10 rugs to find the one that spoke to me the most and this was the winner. I'm really happy with it. I almost went with one that had a bit more blue, but ultimately chose this one and I'm glad I did.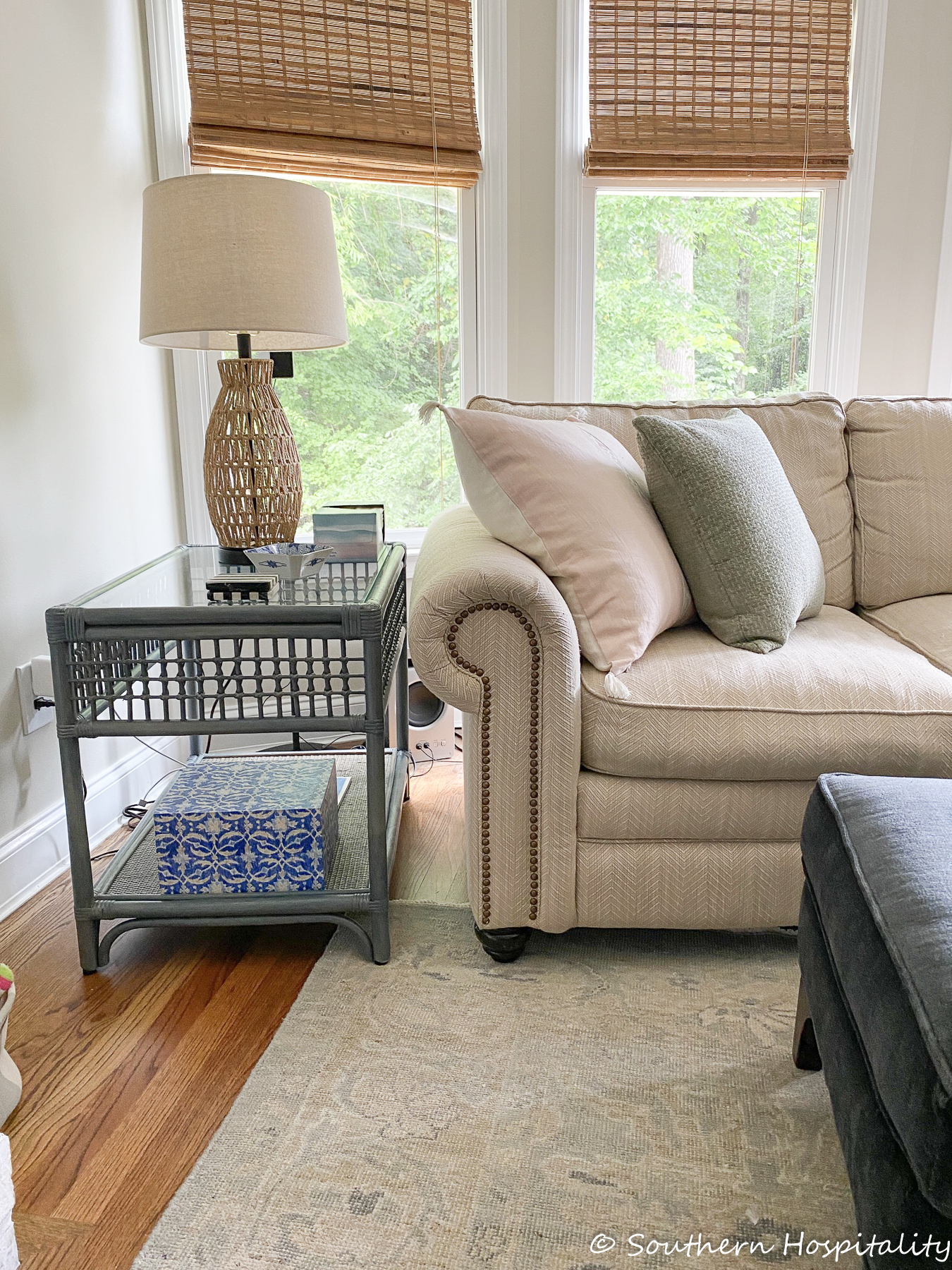 Affiliate links used below.
I'll tell you about the rest of the pieces that I added. None of this was sponsored, I just hunted down things that I liked and put them all together, which is the way I like to shop. It was a fun process to put together and wasn't over the top expensive at all. The Beverly Rattan side table is from Ballard Designs and they were having a sale when I bought it. I love the rattan and the smokey blue shade and it works great in our room. I had to find tables that were a certain size to fit our space too.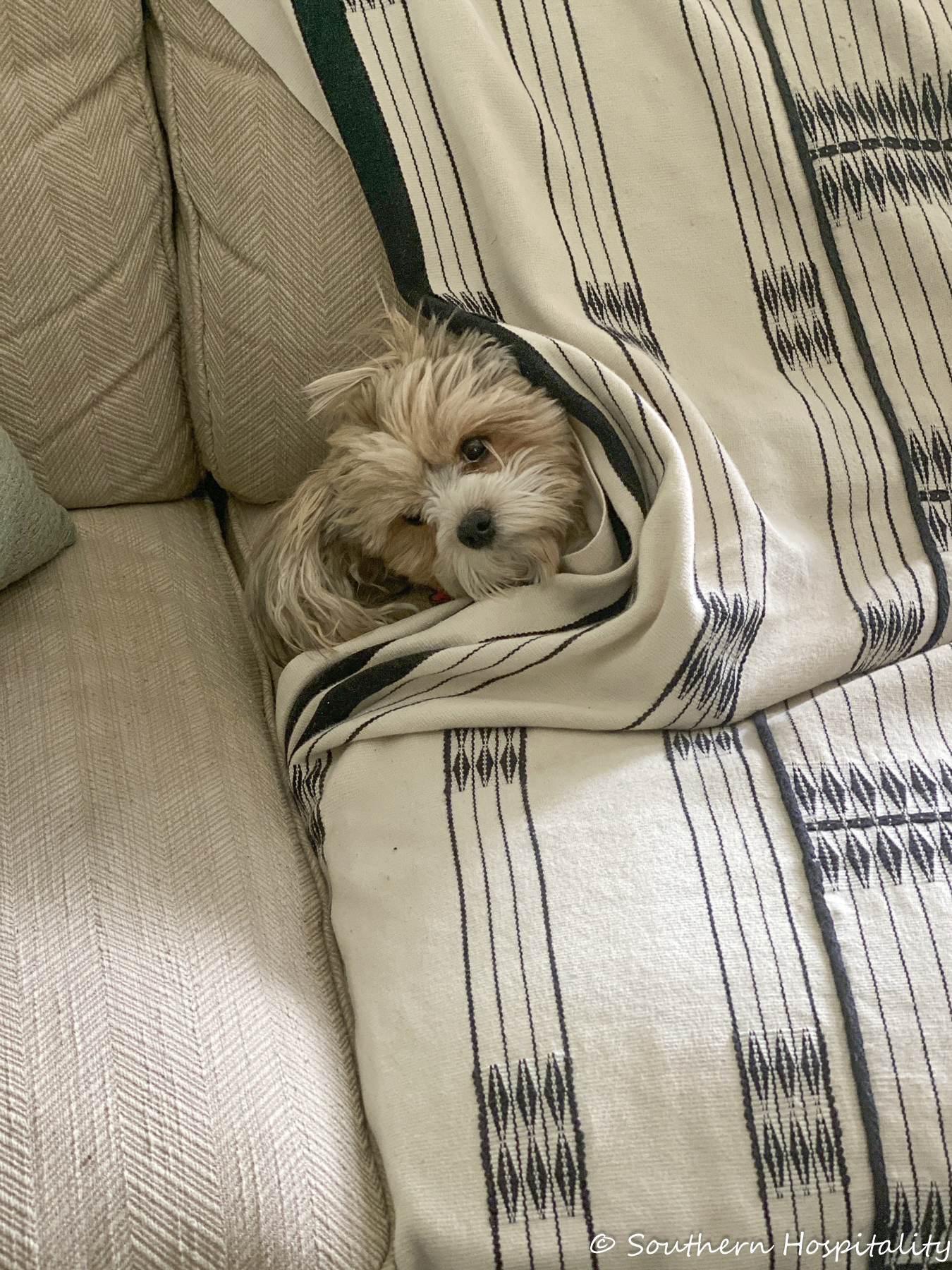 Daisy looking at me like, mama I'm trying to sleep here!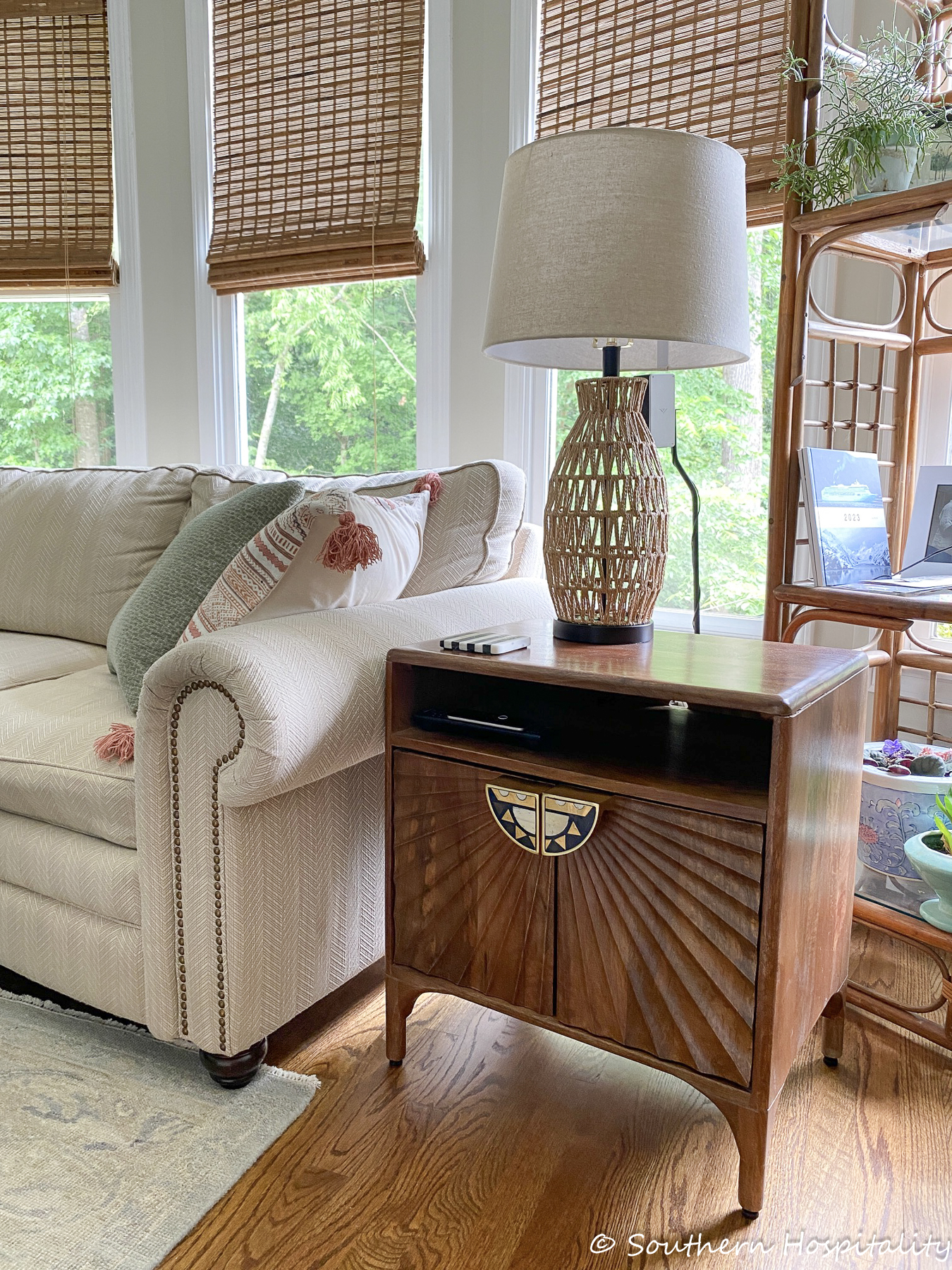 The other side table I found at Anthropologie. They have very unique things, not super high end, but nice pieces for the price and this one was on a good sale when I bought it ($300). The Daybreak nightstand was a good size for our space, I needed something smaller and compact. Mark really likes this piece too since it has an Art Deco feel. It had a little flaw in it when it arrived (where 2 pieces join) and I contacted the company and they gave me $75 credit. It's not something I can't live with but it wasn't perfect so I asked for credit and got it so it ended up being $225, which I really like. It's unique and a nice size for our room and it's all wood too.
The pair of rattan lamps are from Lamps Plus and I really love them in the room too. They are smaller scale than the old ones.
I'll also show you the 2 new pillow covers I picked up at the Jaipur Living sale. These were $6 each and I love the colors and texture. I'll have to figure out where to put these since they will end up in the floor anyway.
I already had the soft blue pillow, so it will stay.
On my side of the sofa, I added this pretty blush linen pillow cover with a stripe detail, again $6.
I couldn't resist getting a couple new pillow covers for that price!
So that's a look at my latest refresh! I'm really loving the room a lot.
The changes definitely give it a more calming vibe and that's just fine with me. Mark really likes the rug too.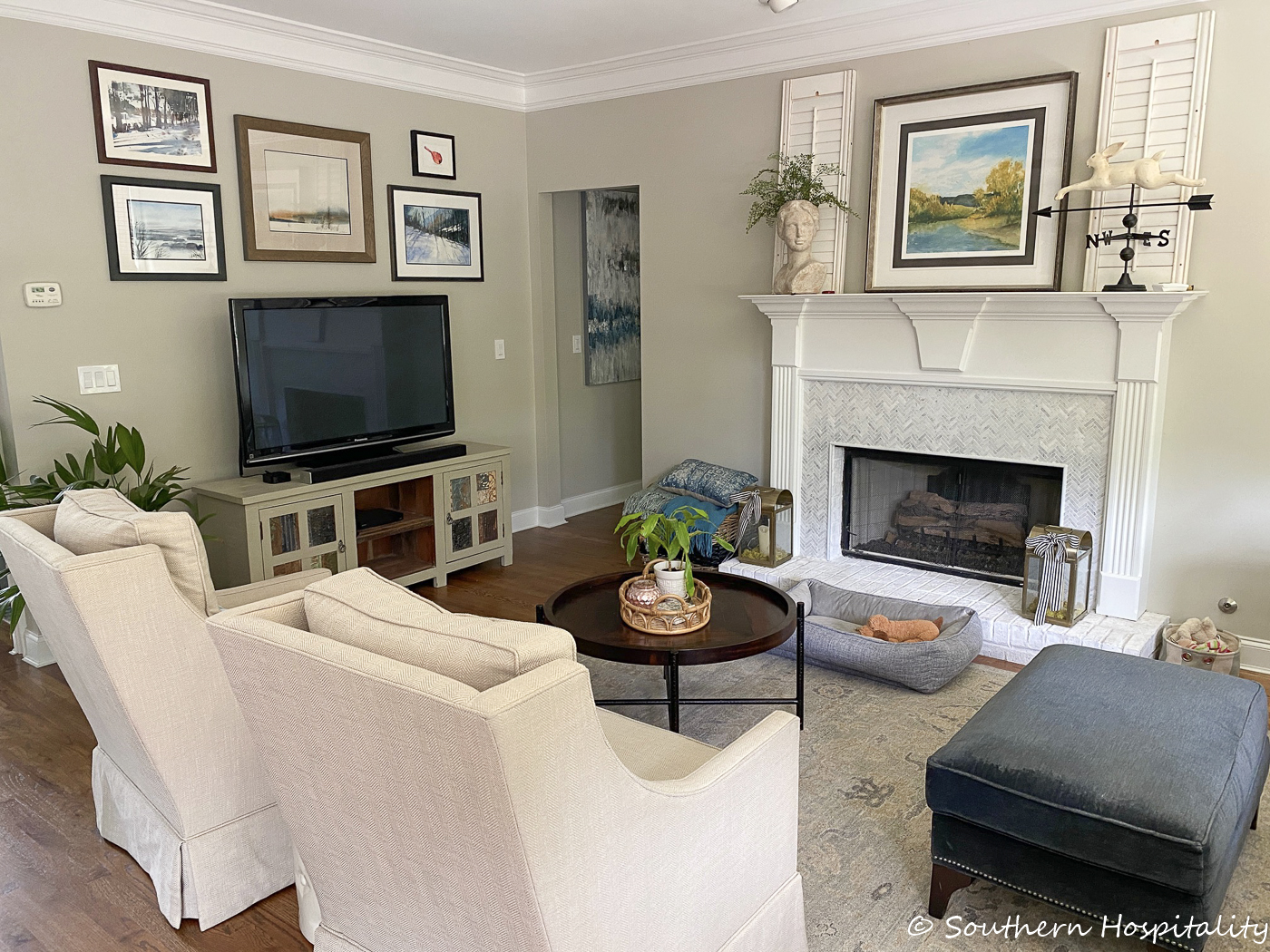 I love how the rug just grounds the space and blends in so well with all the furniture. Now one of the best things about the rug is the price. It's an 8×10′ hand knotted wool rug and the sale price was $299. I'll post the other prices below. I was invited to the preview of the sale and was actually the very first person to shop so I got first dibs. It sure was fun!
So here are the particulars on the rug sale: The sale is next weekend, July 21-23 (Friday through Sunday) from 10 to 4 pm at the Jaipur Living studio space warehouse, 1800 Cherokee Pkwy, Acworth, GA. Go to the back of the Cherokee office park and you'll see them and just follow the signs to the Studio on the right.
Dress very casually, as this is in a warehouse and it's hot. Here are the prices for hand knotted and power loom rugs. Of course, the hand knotted rugs are very desirable and I'd love to have more.
Related
Don't Miss a Post, join my list!