It all starts with an idea, solving a problem or addressing a concern. This is exactly what JT Norman, design expert at Kitchen Magic, wanted to accomplish. A big part of design is constantly trying to push the envelope and see what's possible. In an ever-changing landscape, what's next? And what are the ways you can contribute to influencing the course?
Sitting down with JT, there is a sense that the overall landscape of design and, particularly kitchen design, has been evolving rapidly. Only a few years ago, most households found themselves locked indoors, having to adapt to a new way of life. Families began gravitating towards unconventional rooms for new activities. From remote work to remote school to cooking and game nights, the ecosystem of a home's functionality found itself turned upside down, leaving designers to the Wild West of a new era.
JT assigns his process to a "function first, design second" creed. [It's all about] "Going in and changing lives…allowing people to live more organized and simplistic lives…how do we create a space with some type of innovation and help them gain space without sacrificing functionality or design?". It's this push and pull as well as a heavily influenced NYC and Euro-inspired mindset that has led to some of Norman's most recent product innovations. In a post-COVID-19 world, many households have adopted a less is more, minimalistic approach to many rooms in their home, ideas that have been apparent in places such as New York City and Western Europe where creativity equates to not necessarily how much space you have, but how you utilize it.
And as the kitchen has become the melting pot of activity, creativity, and functionality, Norman set his sights on the pinnacle of the kitchen: the countertop. "We're entertaining more", says Norman as he refers to how in many parts of the world, that yearning for true connection has been returning to households once more. And with his latest product feature, JT Norman brings together all of these influences through the sliding peninsula.
Featuring a barn-door inspired rack and a slate look countertop, this countertop piece slides, locks in place, and adjusts to the room based on the current needs of the kitchen. "The countertop is central and can be centered as a peninsula. You're afforded the opportunity to push it off to the side for other functional uses". Opting for lighter surfaces such as laminate in a slate design or butcher block pattern allows the peninsula to move seamlessly and with ease. Whether you lock it in place for an intimate dinner night or push to the side to become your in-home office, the sliding peninsula is an example of creating compact coziness while retaining a sleek, minimalistic and modern feel.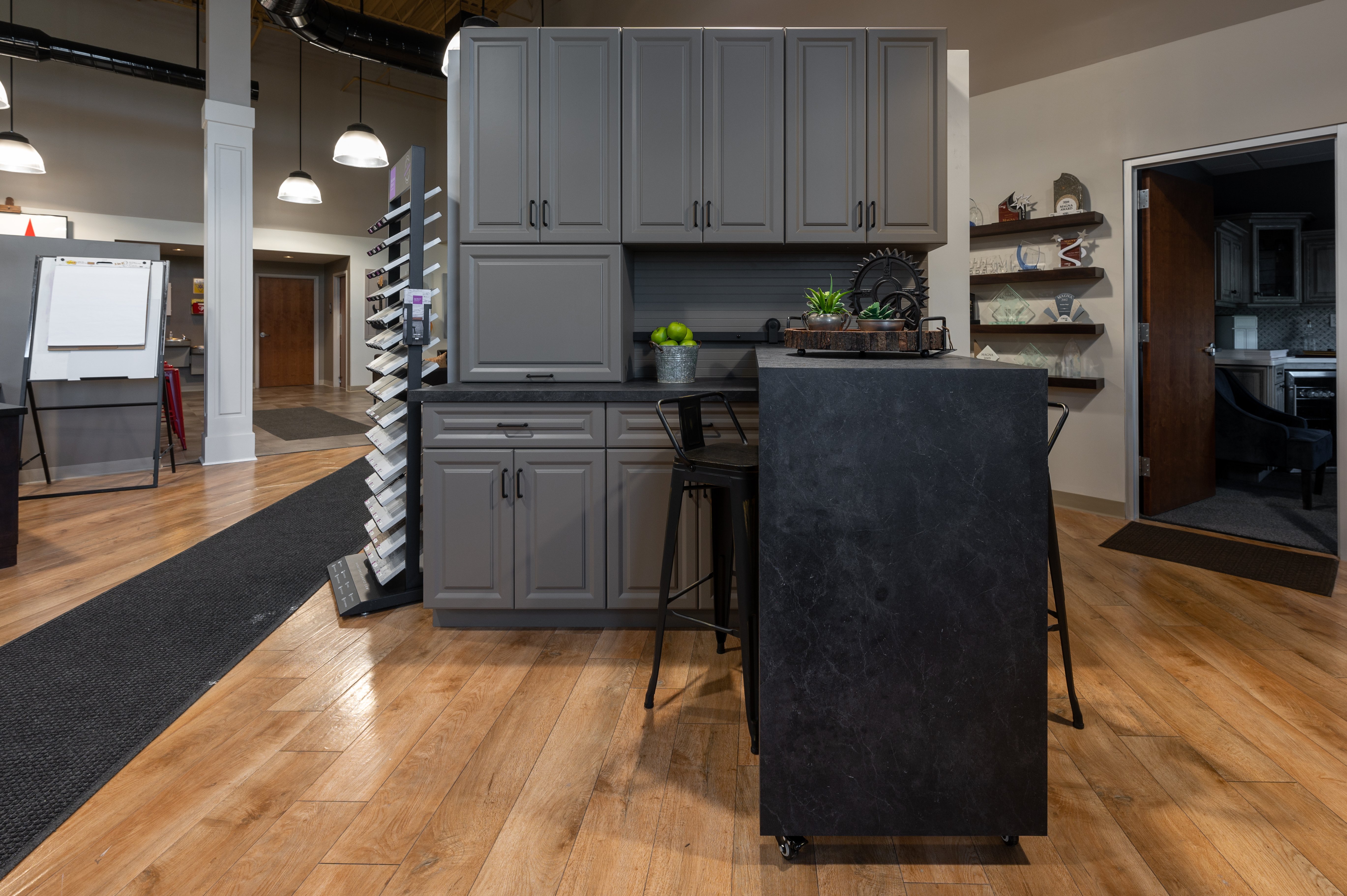 Through trial and error and collaboration between Norman's vision as well as the production team and in-house manufacturing at Kitchen Magic, the team is proud to feature and begin offering this innovative solution for flexible spaces to households that are looking to take the next new and exciting leap in kitchen design.
"(My) mind is back to functionality…hide away design…function that is useful and used on a daily basis but also stored and hidden," says Norman when asked what's next for innovation from the Kitchen Magic team.