I've shared out backyard pictures with you several times since the pool was finished last year, but I haven't shared a lot of night time pics. So today, I've got some new ones sharing how we light up our backyard and make it such a magical spot at night. We've added lots of special lights back here and wow, what a difference it makes!
I added some solar lights to the backyard a few months ago and really like them and just recently discovered these starburst type solar lights, so I added 4 of those as well. They come 2 to a pack and I found these on Amazon. Affiliate links used below
I've been very happy with these other solar lights that are back there too and I have these in the front yard and backyard.
I snapped a few pics after I put them in and they are so magical and pretty!
They add such a pretty starburst look (almost like a sparkler) and add a lot to the others I already had back there. You can see one of the regular solar lights peeking out behind a bush. When you get the starburst solar lights in, you have to arrange each strand the way you want it, but it doesn't take long.
Arrange them, put the stake on them and then put them in the ground, making sure they are in the ON position. They have a solar panel that collects energy from the sun. I love how they look!
We so enjoy our backyard at night and turning on all the lights adds such an ambience to our outdoor spaces. We just replaced the lights over the patio (the other set had some bad sockets) and Mark got those from Harbor Freight and we worked together to get them up.
You can see the mix here of both lights glowing at the same time. I love them!
I have a set of outdoor candles that I add in those hanging lanterns and they do a great job of adding ambience as well.
I love these! They are plastic so don't melt and take regular AA batteries.
Battery Candles
This isn't one of those candles, but it's so pretty so I'm sharing. This lantern came with a candle attached and I love having it out here too. All those lights make a difference at night, don't they?!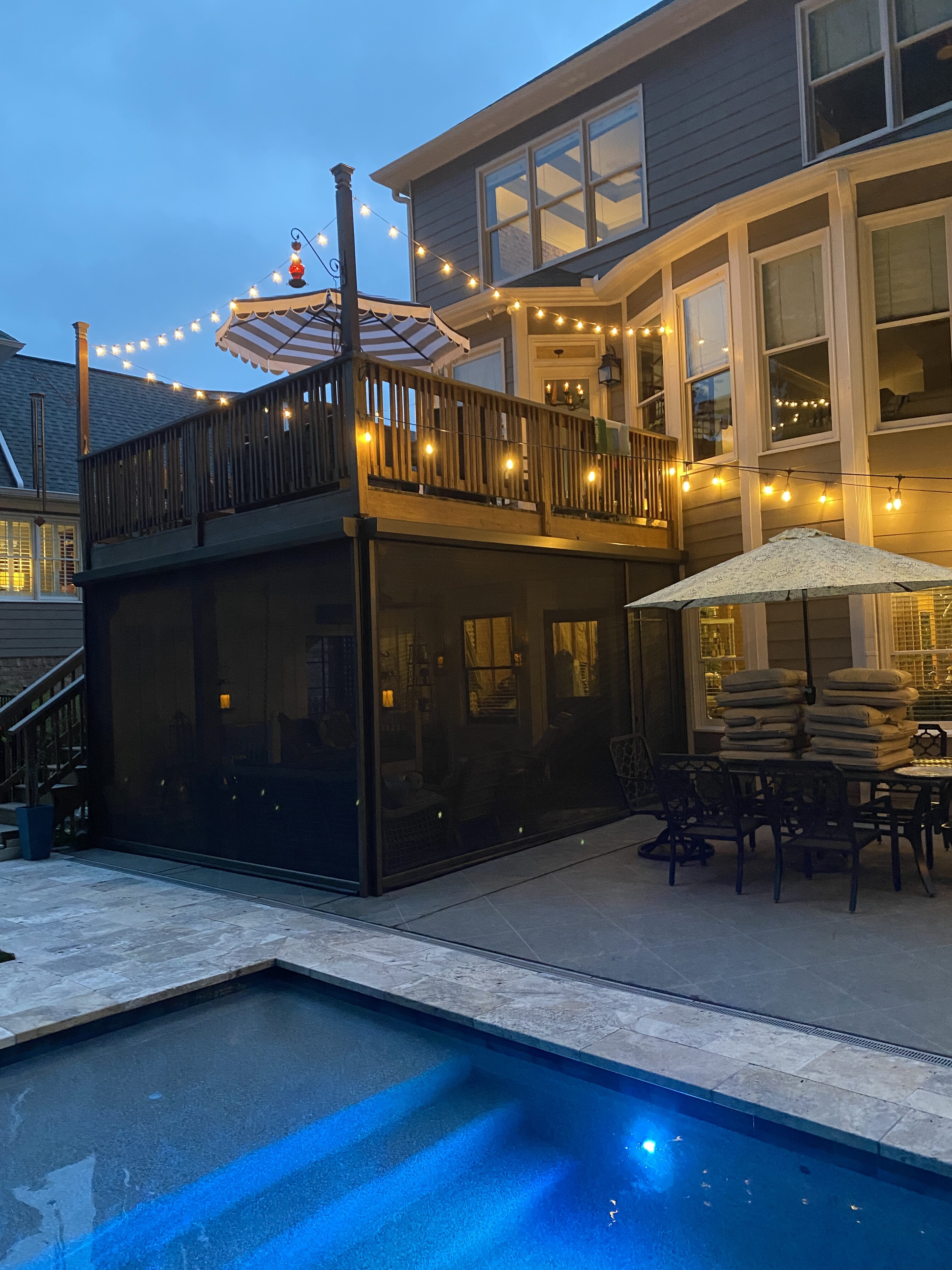 We've had so much rain that I keep my cushions piled under the umbrellas until the sun comes back out again.
Miss Daisy loves it out here and we spend a lot of evenings outside on the patio.
I share Daisy on Instagram and everyone thinks those balls are floaters in case she falls in the pool. Nope, as you can see they keep her INSIDE the fence. She would be out chasing the deer otherwise! You can find that ball harness here on Amazon. It's been a lifesaver for us.
I'll also share our pool floats that we both have and love. We look forward to spending more and more time out here if the rain would finally slack up. We've had a much cooler than normal summer, but the heat is finally coming this week I think.
Related
Don't Miss a Post, join my list!