Today I'm sharing the second part of our Hawaii cruise on NCL, with stops in Maui and Hilo. I hope you've enjoyed our vacation with us as we look back at all we saw and did on this 16 day NCL cruise from Hawaii to Alaska. I've got lots more to share, but today we'll finish up Hawaii. I wanted to document this trip for us, as well as share with you all too. We had never been to Hawaii or Alaska, so it's nice that we can check those 2 states off our travel bucket list. We have decided that we are more Hawaii people than Alaska peope and would definitely like to go back to Hawaii at some point and see more of the islands.
Our next stop in Hawaii was the island of Maui. I had heard lots of good about Maui and it was beautiful, although I'm sure we only scratched the surface of what there is to see on the island. Again, a cruise just allows you to see just a tip of the iceberg so to speak on what a destination offers. Then you can decide where to go back and spend more time exploring.
As with Kauai, we did not have excursions booked with the cruise ship or otherwise, so we decided to wing this stop as well and figure out what we would do when we got off the ship. This plan didn't work quite as well as Kauai, when we found a couple to share the costs with. This stop, in Maui, we did the same thing and went off the ship and listened to conversations around us as people were trying to determine what to do. We ended up with a couple from MS and a mother/daughter duo (mom had a walker) who were looking to share a taxi for a look at Maui, so we all got in a shared taxi for a look around. It was a little more difficult pleasing everyone with 6 people instead of only 4, so while it wasn't bad, it wasn't as ideal as our first excursion with strangers.
We told our taxi driver what we wanted to see, just highlights of Maui in about a 3 to 4 hour window, so he proceeded to take us to the hot spots as he knew them. We stopped first at the Maui Tropical Plantation and Mill House, a plantation fruit tour and a restaurant on site. After looking around a bit, we all decided that taking the tour would take a big bite out of our time on the taxi ride, so we made the decision to head on with the taxi and see as much as we could in the time allotted.
The plantation looked beautiful, even though the weather was a little misty that day.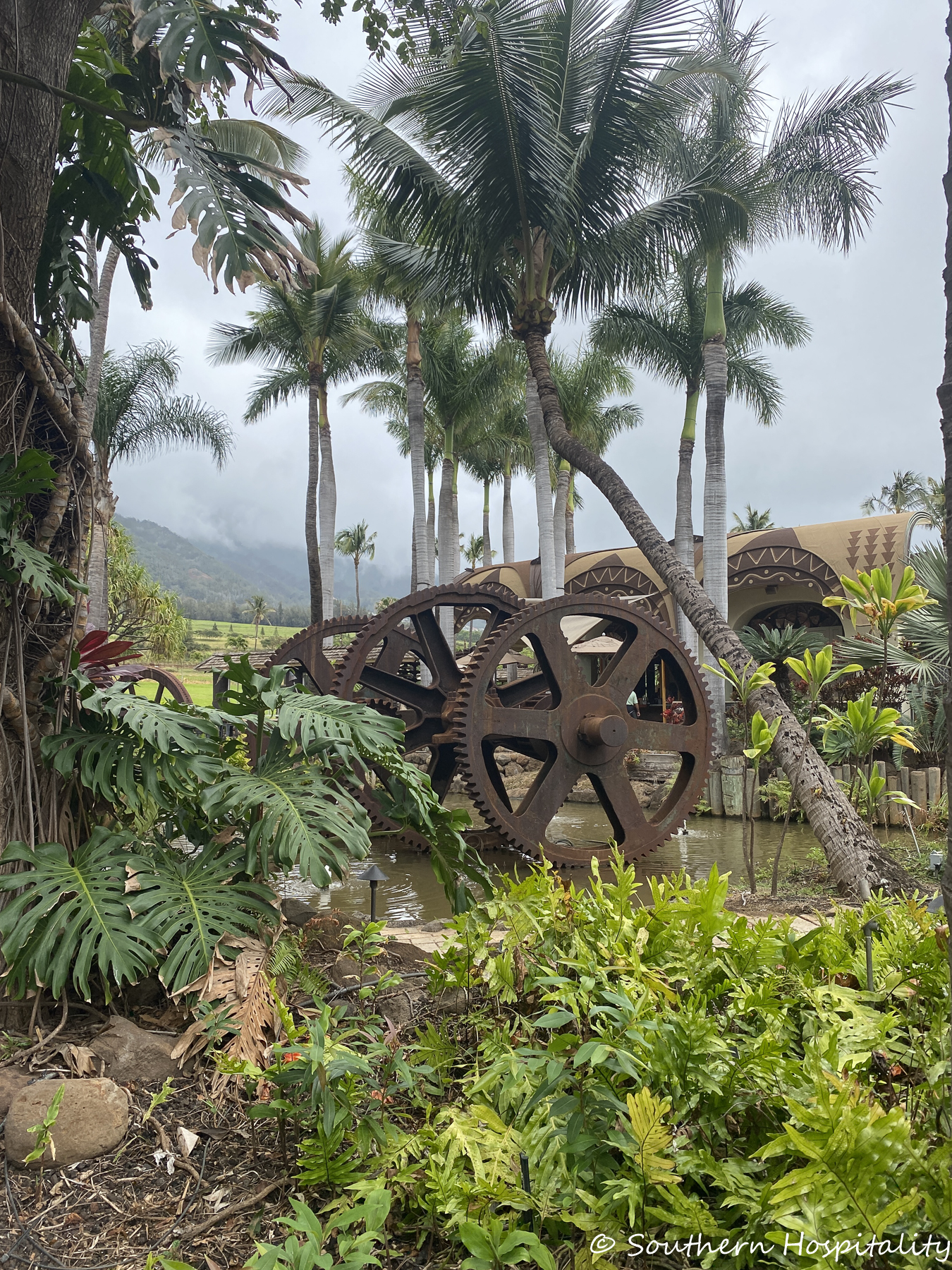 There's a tram tour and also a restaurant to try on site, the Mill House.
It was pretty to walk around and look at the beautiful vegetation and mountains in the background.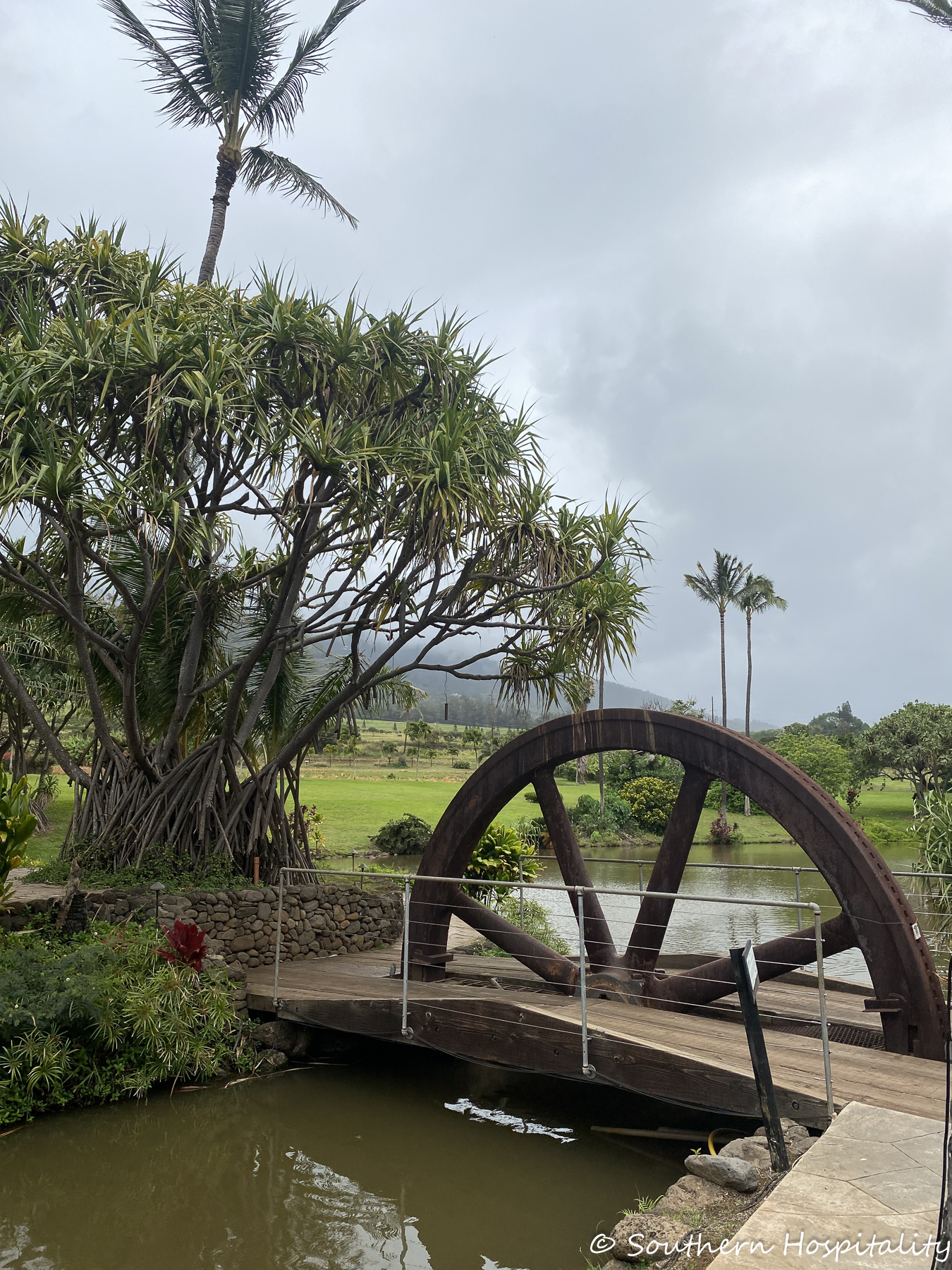 It was a quintessential Hawaii view, just what I imagined the islands to look like.
It's amazing all the birds around the islands, they are everywhere!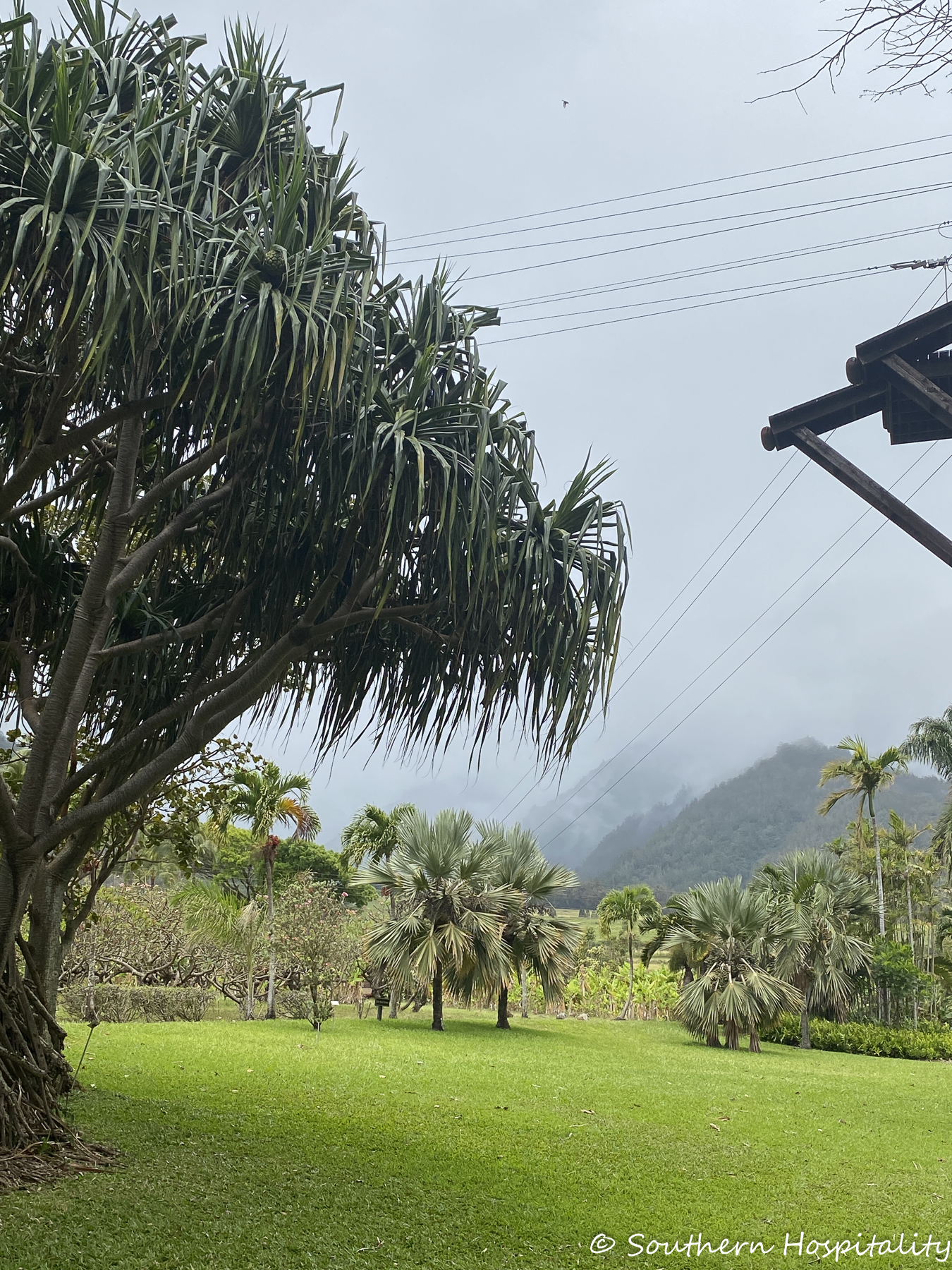 Our next stop on the taxi tour was the cute and quaint town of Lahaina. We only had about 30 minutes here, but it was such a cute town.
It was nice to see the local art and crafts featured here.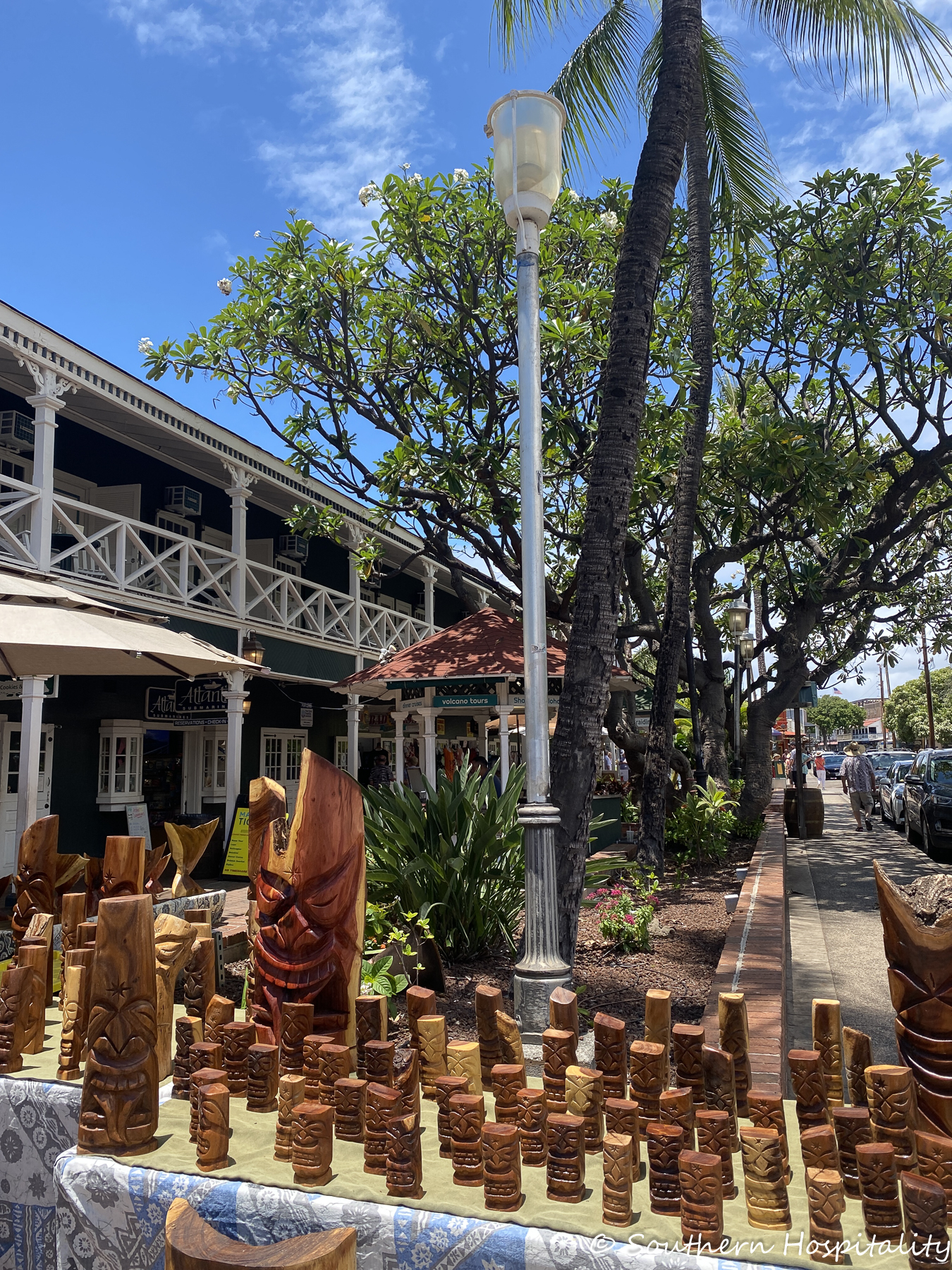 The highlight of Lahaina was the giant banyan trees in the middle of town, what a beautiful view it was.
I was so fascinated by these trees all over the islands. The banyans are stunning trees!
We had fun walking around this cute town for a bit, taking it all in.
The gelato looked so good, should have tried it!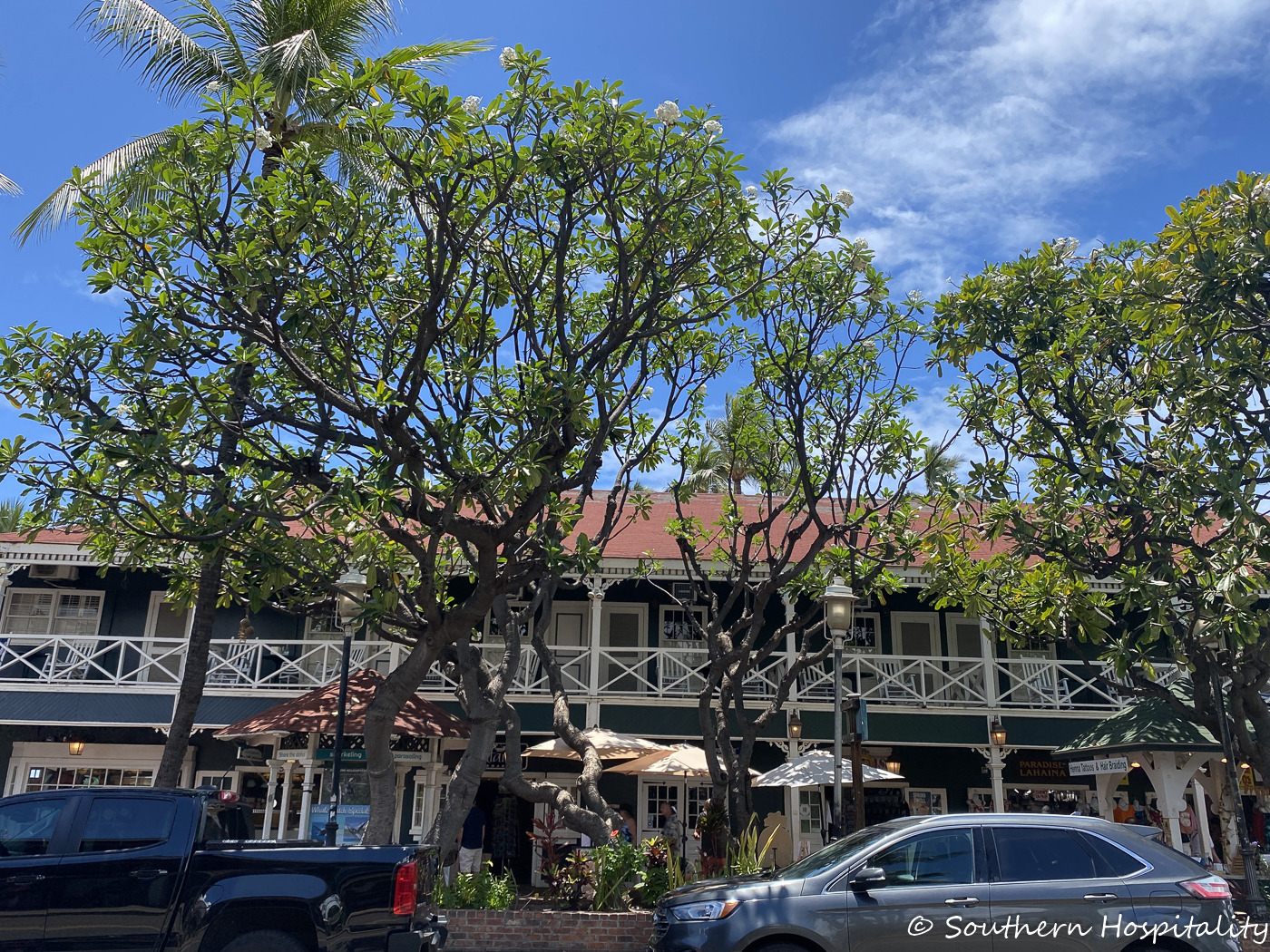 We made another stop on the way back to our ship, all about the humpback whales. We would see the humpback whale on our visit to Alaska.
More stunning views in Hawaii.
We ended our day in Maui at a local beach where sea turtles were resting in the sand. They were beautiful to see.
Another night on the ship and dinner time.
The next day we pulled into the port of Hilo and this is where Mark's daughter Lyndsey lives with her family. She's super close to the cruise port so we met up with her as soon as we could get off the ship.
It was another beautiful day in Hawaii and we had our own personal tour guide on this stop.
We got to see where they are living and she packed up the car for our outing that day, getting all 4 kids ready to go. She also stopped by her favorite convenience store to get snacks and also the Hawaiian delicacy known as Musubi (pronounced musa-bee). Have you heard of that? This was a new one on me, but apparently Hawaii's love of Spam goes back to World War II, when they fed the soldiers that potted meat and the Hawaiians adopted it. A good name seems to be redneck sushi, it's simply rice and spam wrapped in seaweed wrappers and shaped into a small loaf. As you can see, the boys love it! This is Jaxton on the left and JJ on the right, the oldest grandchildren of 9.
I had never heard of musubi before, but Lyndsey had told us about it and that she and the kids like it. I was game to try a bite, so I did. It was OK, but not something I would love. Mark ate a whole one and liked it a lot. Even the two younger ones love it.
Kilauea Volcano
Our first stop of the day was up the mountains to Kilauea volcano. It's a national park and I had no idea what to expect, but it's really interesting. They monitor the volcano daily for dangerous eruptions. A search shows that the volcano last erupted into a lava lake September 2021 to December 2022. They don't feel too much danger from living below the volcano as it is monitored all the time. I think I'd be a little nervous about that. Just driving into the park, there was smoke coming out of holes in the ground everywhere, which was very surreal to see in person.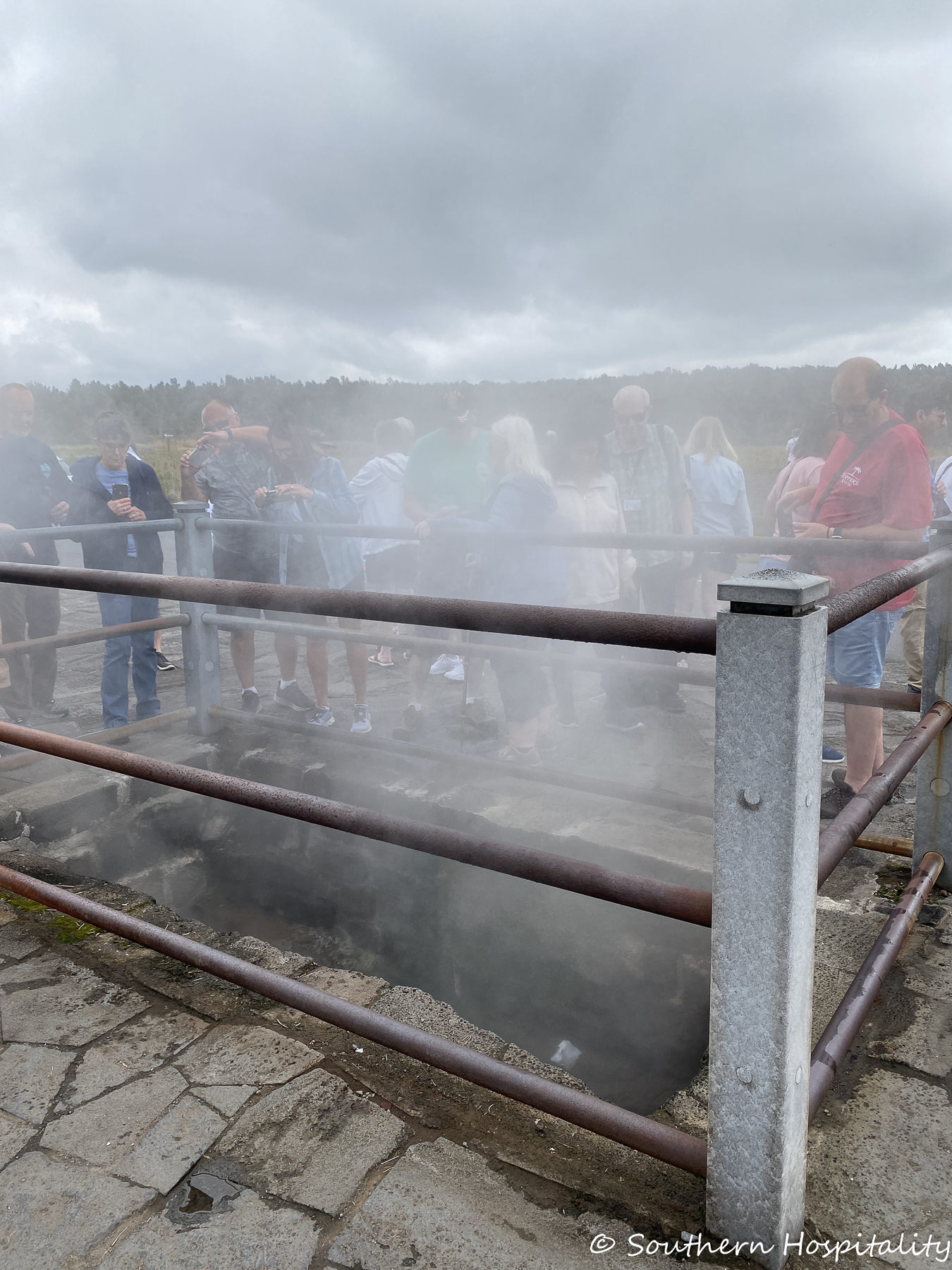 This hole off the parking lot was surrounded by fencing to keep people from falling in.
And it's amazing how big the crater of the volcano really is.
All the smoke coming out of the ground was completely fascinating to see.
Our first time being this close to a volcano, it was very enlightening.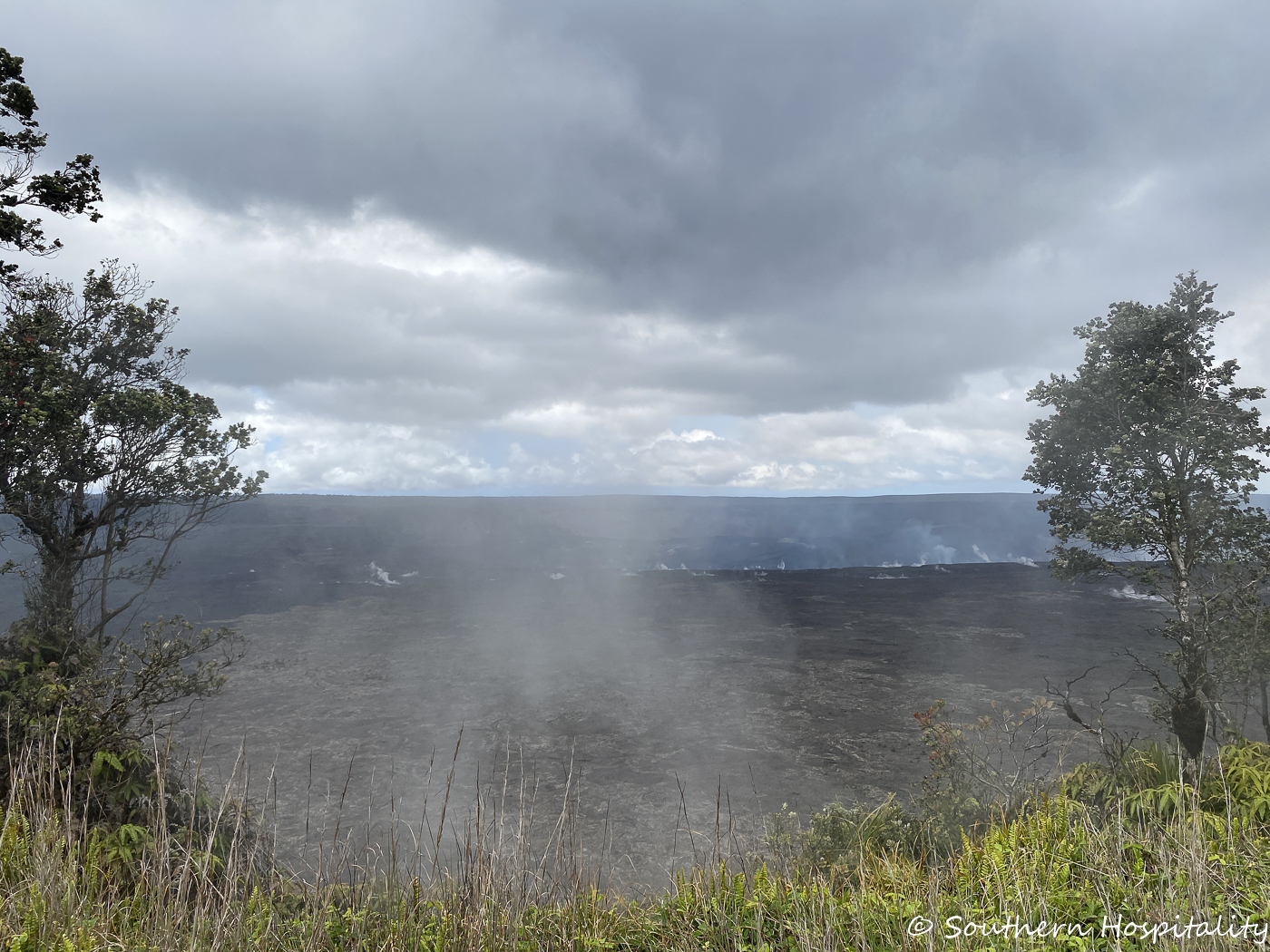 My pictures do not even do it justice as to how deep and wide the crater of the volcano really is.
Lyndsey told us at night it glows red from all the heat and that would be neat to see. Maybe next trip!
Rainbow Falls
Next on our stop was Rainbow Falls right there in Hilo. It's a beautiful waterfall and we got out and walked closer.
There's a walkway to get to a good viewing platform. This is what I imagined Hawaii to look like, waterfalls and lush greenery everywhere.
It was gorgeous!
Onekahakaha Beach Park
We also went to a nice beach area that she takes the kids too and they call it a swimming pool. It does sort of feel like a swimming pool with clear water and rocks surrounding making it a great place to swim.
There were even rock steps built down to the water.
You can see the stairs here to the right and they were on both sides of the rock wall.
All the black rock is lava.
The water was so clear and not too cold.
I took water shoes just for this reason and they came in handy here in Hilo.
We had a nice time for over an hour here at the beach park and Mark played football with the boys in the water.
They all love the water.
Pop and his boys.
This little cutie is Ryanne, she's 3.
And the youngest is Justice Jr., 2 years old. They are so cute and all 4 of them love the water.
Kealoha Beach Park
We had to get going to get back to our ship, so before we headed back Lyndsey took us to one more beach park which was very close to the first one. She told me if you think the first one's pretty, wait til you see this one! She was right! It's absolutely stunning.
We only had time to drive there, get out of the car and walk around for about 15 minutes. I snapped as many pictures as I could and it was beautiful from every angle.
It was a Friday, but not very crowded at all. Some people were there, with chairs, blankets and picnics and what a place to spend the day.
Truly a tropical Hawaiian paradise.
I'm sure if we had more time, we would see plenty of sealife here. We did see a turtle. I just noticed the thong in the pic above, I should have cropped that out! Ha! That's not anyone we know.
So much beauty and I couldn't get over the water colors.
I would definitely come back to this spot again.
Everyone was pointing at the sea turtle.
There was plenty of shade trees to get out of the sun.
Truly paradise!
There were built in rails and steps here too.
And that's a look at some of the beaches we visited. We had to say our farewells to Hawaii, but it sure was a fun visit!
We will definitely want to go back to Hawaii at some point. There's so many places I do want to see and so we have to budget and plan for more travels.
I'm so glad we got to do this trip, it was truly the trip of a lifetime, seeing Hawaii and Alaska in one long trip.
We had the best time on all the excursions in Hawaii, especially the two days with family. That was really special for Mark, to be able to see his daughter and the grandkids too. Made my heart happy for him!
That's a wrap on Hawaii, but I'll be back with at least 2 more posts breaking down what we saw and did in Alaska. I took a lot of pics there too! Talk about diversity in scenery, Hawaii and Alaska couldn't be more different!
If you missed my first posts, catch up here:
Related
Don't Miss a Post, join my list!