Hello friends! I've just visited the 2023 Southeastern Designer Showhouse presented by Atlanta Homes & Lifestyles magazine. This annual event is always a treat to enjoy, as well as their Holiday edition during the Christmas season. I hope you enjoy touring with me today and I also hope you'll consider going to the showhouse in person if you are local. You can find ticket information there as well as days and hours the house is open.
The house is located off W. Wesley Rd. in Atlanta and there is a shuttle bus nearby to bring you to the showhouse. This 8,500 s.f. custom built estate on Normandy Drive is the latest projects by builder and developer Benecki, architect William T. Baker& Associates, landscape architect Land Plus and interior specification designers Source.
I'll mention up front that the interior of the house is architecturally outstanding with curves and arches throughout and huge banks of windows and doors all over the house. It's a stunning house! Design-wise most of the designers chose a more contemporary aesthetic, which I know doesn't appeal to most of my readers, but please browse with an open mind for the beauty of the house and not just the furnishings. It may not be my favorites house to date from a designer standpoint, but it is stunning and was a pleasure to tour. Enjoy!
The beneficiary this year is Camp Twin Lakes.
The transitional home and overall design aesthetic is Streamline Moderne with Art Deco and Art Nouvous influences. Gold, burgundy and deep purple hues can be found and the Venetian plaster finishes and French Oak hardwood floors are a luxurious statement. I definitely noticed the Art Deco influence in all the interior doors which I show closeup a couple of times.
Enjoy this magnificent residence near Buckhead, GA.
A statement making grand entry features a curved glass and iron door.
View from inside looking out.
Foyer floor
I'll be listing all the designers below with their rooms.
Foyer & Study:
Kelly Wolf Anthony, Wolf Design Group. Inc.
Notice the Art Deco door design here.
Dining Room:
Whitney Ray, Wyeth Ray Interiors.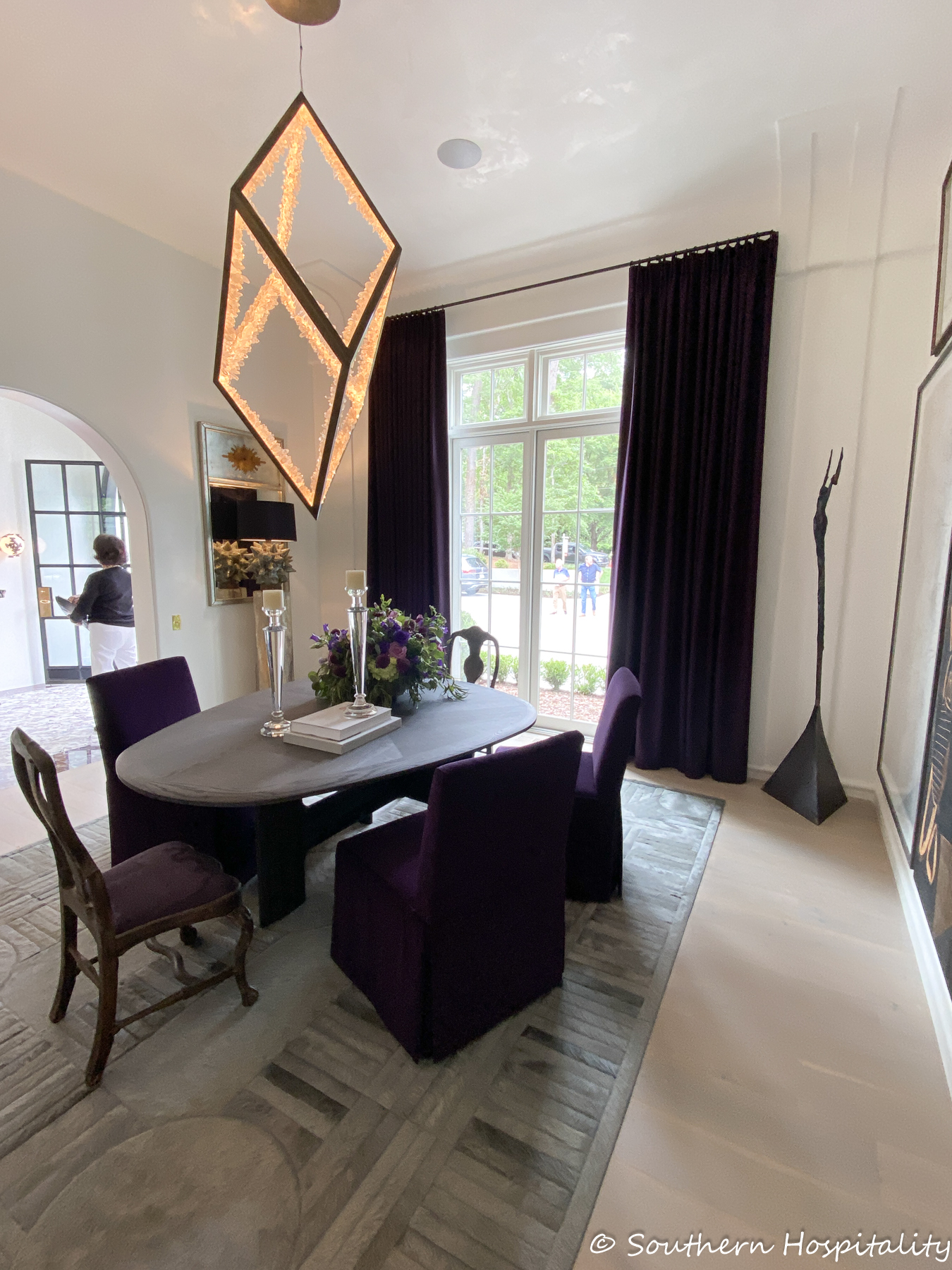 Kitchen & Butler's Pantry:
Natalia Makarova, Karpaty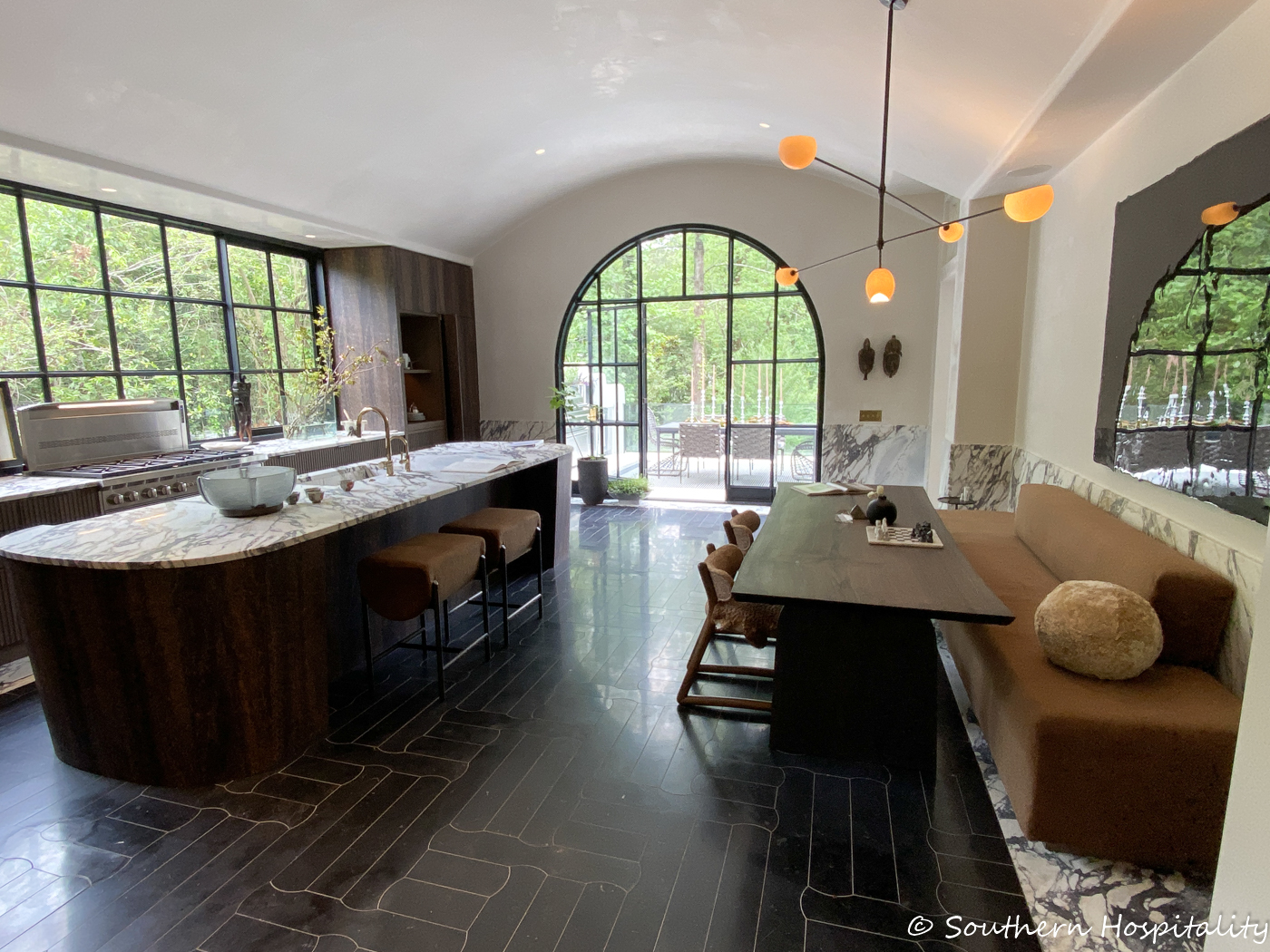 I loved this brass and glass hanging shelf, great look!
Mudroom, Laundry, Desk Space:
Katie Kirby, Katie Kirby Interiors
Note the wall tile wrapping to the ceiling, very unexpected but pretty!
Upper Terrace & Pool Deck:
Shelby Adamson, Little Black Fox
Salon:
Michael Habachy, Michael Habachy Designs
Primary Bedroom:
Melanie Turner, Melanie Turner Interiors
Primary Bathroom / His & Hers Closets / Formal Powder Room
Source
Stair Halls, Upstairs Laundry Room, & Linen Room
Evan Millard, Millard
Upstairs TV Room & Hall:
Michele Johnson, Michele Johnson Design
Bedroom & Bathroom 2:
Sara Hillery, Sara Hillery Interior Design
Bedroom & Bath #4:
Sande Beck, Sande Beck Design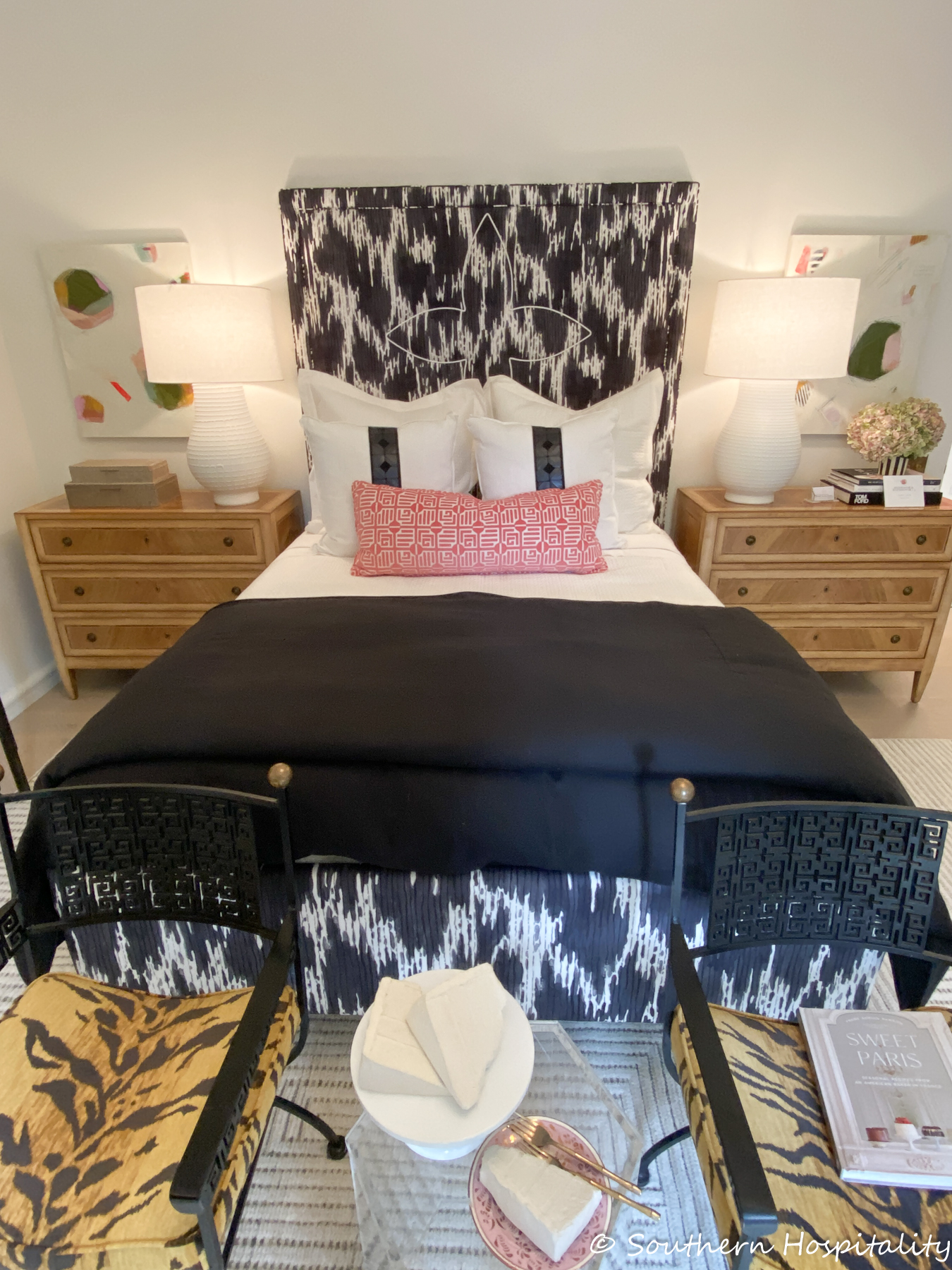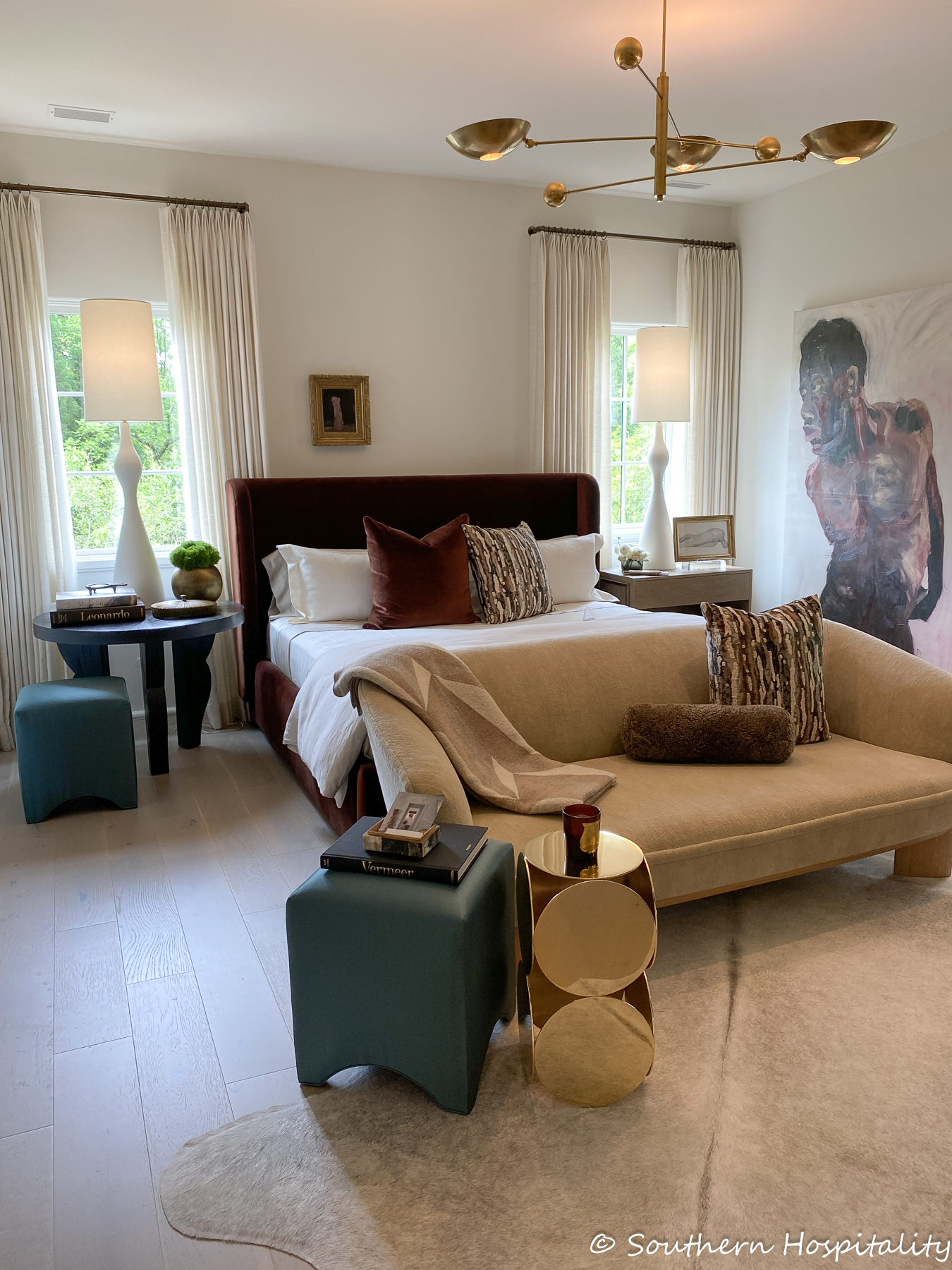 Bedroom & Bathroom #5:
Andre Jordan Hilton, Jordan Hilton Interiors
Jr. Primary Bedroom & Bath:
Woody Yeoman, Mrs. Howard
I confess this is my favorite room in the house!
Lower Terrace Level
Bar & Wine Room:
Source
Note the mirror that looks through the wine room to the other side.
Lower Lounge:
Jessica Kain Barton, J Kathryn Interiors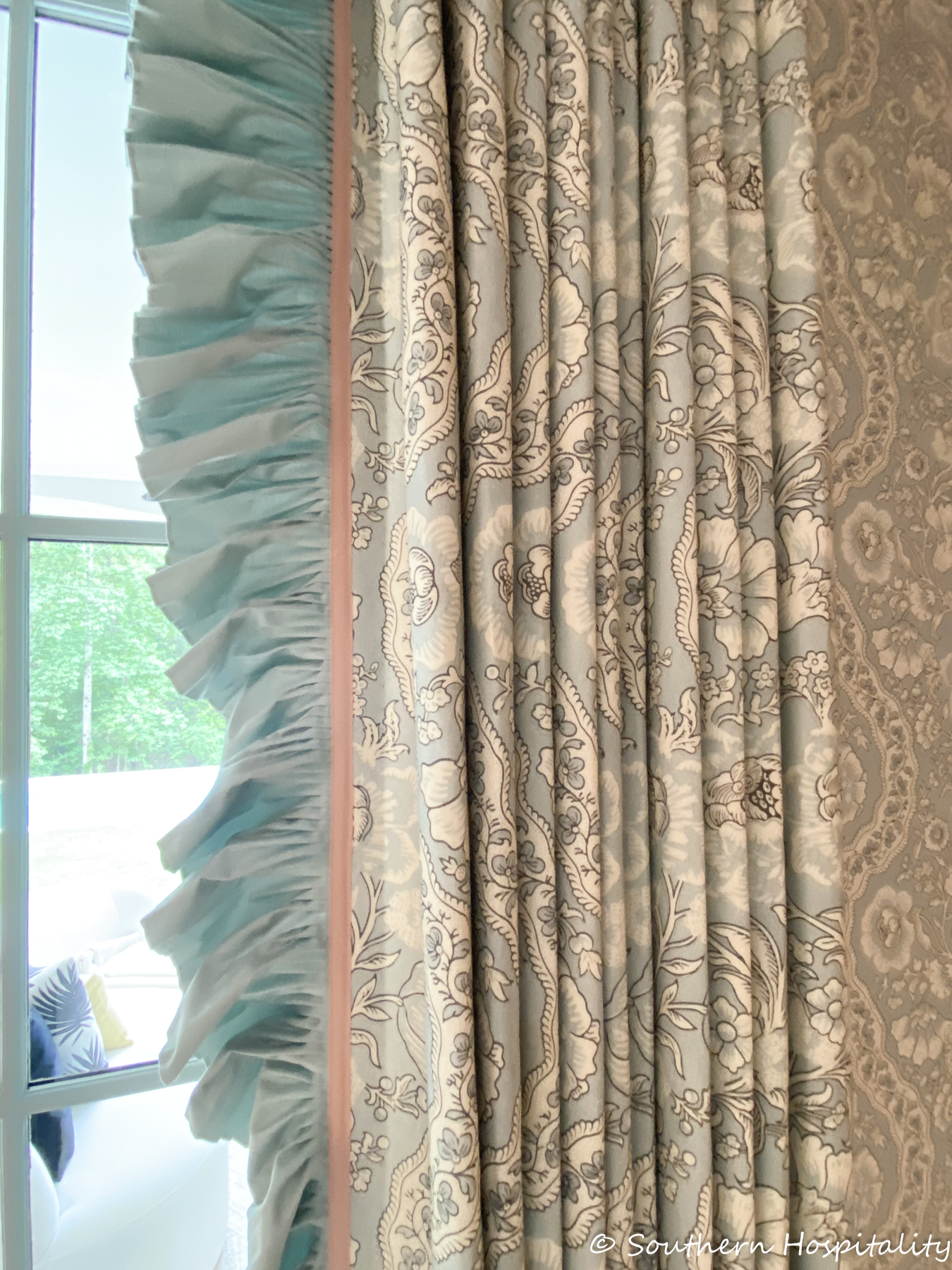 Game Room:
Elizabeth McKay, Venture Games
Home Theater:
Marie Cloud, Indigo Pruitt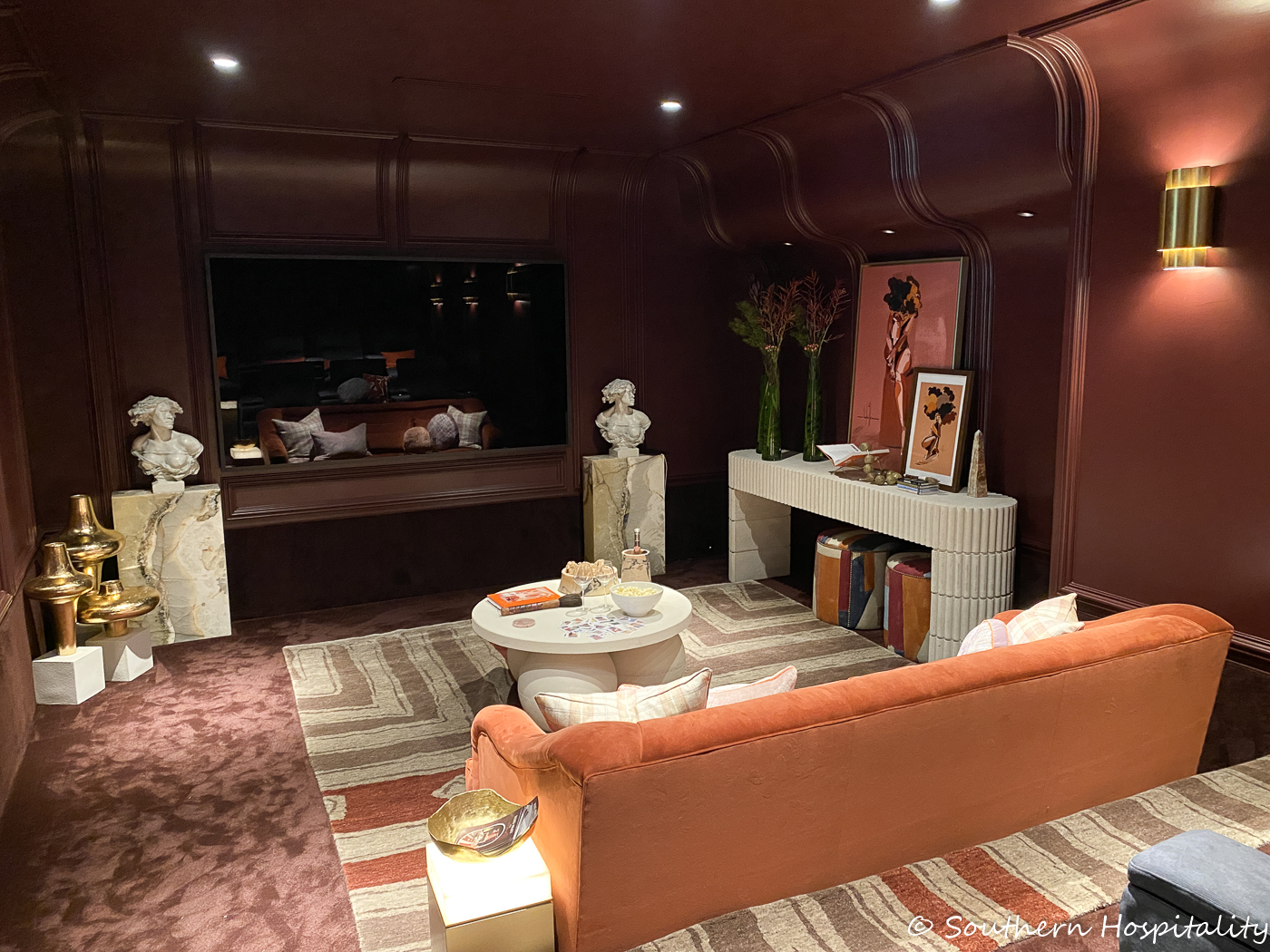 Lower Patio:
Kit Castaldo, Kit Castaldo Design
I hope you enjoyed the tour this year of the Southeastern Designer showhouse and I always remind you that these houses are a compilation of designers, coming together for a common cause and charity and they put a lot of work and effort into presenting a house of this magnitude. So applaud the effort of pulling off the design and execution, even though it might not be your particular aesthetic. I know how much work goes into these houses and it's truly a grand effort to achieve! I enjoyed the tour and seeing this magnificent house in person was a treat.
Related
Don't Miss a Post, join my list!