If your countertops only have a few prep or cooking items stored on them, your kitchen isn't as clean-looking as it could be and it's certainly not as healthy as you might think.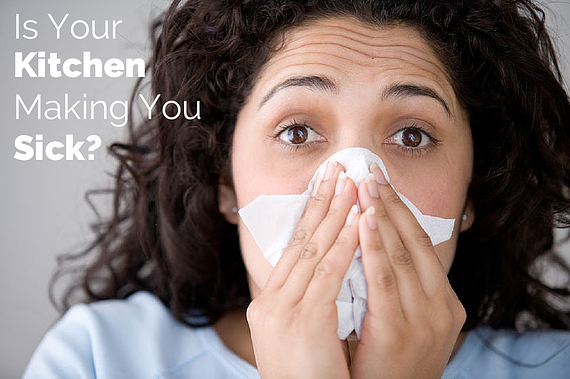 If you regularly dust, glossy plastics and shiny metals on countertop items can still become dull and sticky from exposure. This grimy buildup happens so organically with daily kitchen usage that it can actually seem normal over time. Even if you do notice, you must heavily scrub and polish to maintain your countertop items.
Why expose yourself or loved ones to an unhealthy situation? Why eat away at your time with extra cleaning? With a local kitchen remodeling company, all of this could be easily resolved and your kitchen could be well-organized and easy to maintain.
Why does my kitchen get so dirty?
Particles from a variety of sources float around every day and land on kitchen surfaces where they slowly and insidiously accumulate.
The three most common sources are the human body, foods and cooking oils.
Moldy food briefly exposed to the air releases spores. Raw, uncooked and old foodstuffs can expose a kitchen to harmful bacteria.
If you use your kitchen sink as a utility sink, you've likely also exposed countertop items to toxic particles from cleaning supplies, paint or even motor oil.
Burning petroleum-based candles for a romantic dinner or power outage also creates toxic ash.
Utensils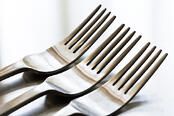 Countertop caddy utensil storage can easily result in accidental consumption of toxins.
Tip: Instead of wiping or rinsing every utensil before use, invest in a cutlery drawer holder or custom drawers with sliding plastic or wooden covers.
Small Appliances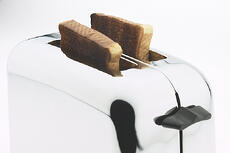 Besides the issues already mentioned, small traditional countertop appliances, such as toasters, coffee makers, blenders and stand mixers, pose another hazard. Grimy accumulations and lightweight larger pieces of material in the air can cause expensive damages because of exposed heating elements
If you use paper towels or unwrap plastic-sealed foods near appliances with exposed elements, such as a toaster, even a tiny piece of paper or plastic can burn and release toxic fumes, short out the element or cause a fire.
Tip: Invest in countertop-to-ceiling cabinets and custom hidden cubbies with sliding doors where you can tuck away toasters and other small appliances. When you need to use one, you merely open a door, slide the appliance out onto the counter and turn it on.
Countertop Containers
Countertop sealed canisters, jars and racks are a cook's best friend. They provide immediate access to foodstuffs commonly used during prep and cooking, such as different types of sugar, flour and spices.
Additionally, these containers usually make beautiful decorative accessories that help a kitchen to appear well-used and welcoming. On the other hand, they are also huge dust collectors.
Tip: Invest in deep-style cabinet drawers or pullout racks to store these items. With either option near a stove, sink or workspace, you can just as quickly access what you need without dirtying your hands and then any food.
Looking for improved kitchen organization? Contact #1 kitchen remodeling company in the area!
As professional kitchen remodelers, we understand the importance of a well-organized kitchen for easier maintenance. A kitchen makeover isn't just about aesthetics, it's about creating a functional space that simplifies your life.
Contact us and one of our designers will come to your home to assess your space and propose ways to improve it. It's finally possible to create your dream kitchen with less stress, at a lower cost, and in less time. Just give us a call for a free in-home estimate so we can get started!