Step aside all-white IKEA kitchens; black is back with NICKEBO & UPPLOV Fronts!
Last month, there was a huge sale on KUNGSBACKA and RINGHULT door and drawer fronts. We knew that part of the motivation was to give customers a taste of the IKEA kitchen sales that were the norm before COVID. It turns out IKEA was also clearing out KUNGSBACKA products to replace them with something new: NICKEBO.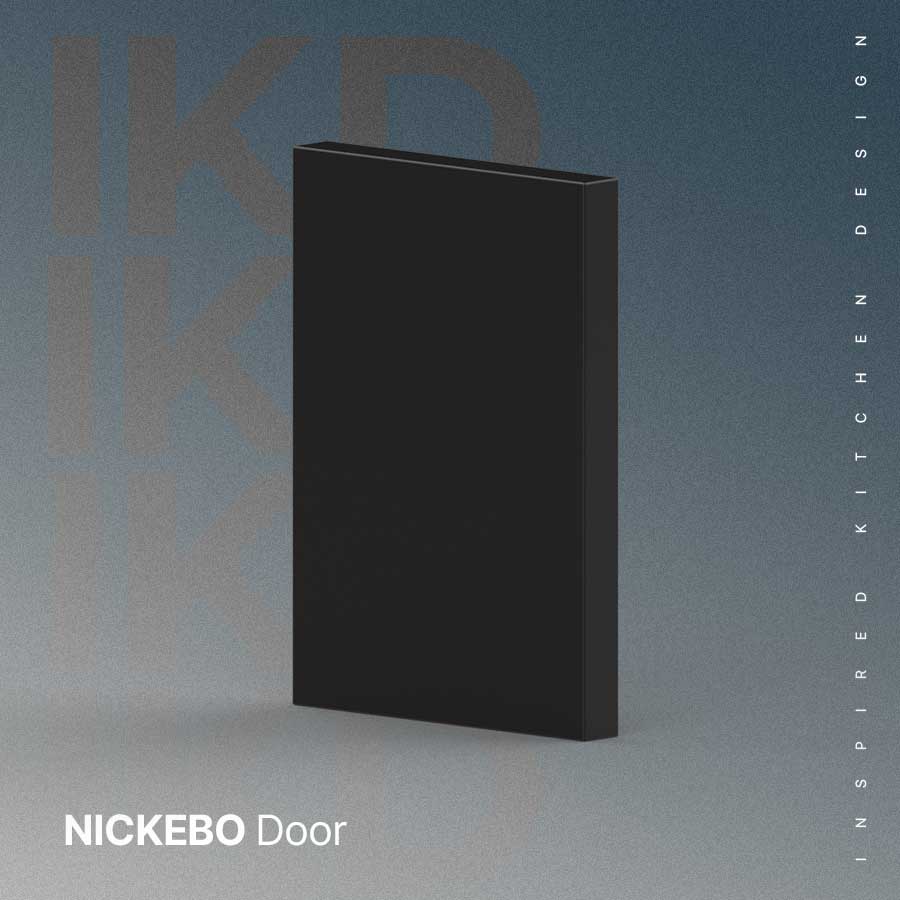 Of course, RINGHULT door and drawer fronts are still available; this popular, glossy white finish is one of our favorite design looks. When it comes to KUNGSBACKA, however, it's listed on the website and in-store as Last Chance to Buy!
But that's okay! IKEA has rolled out two new black door and drawer fronts. NICKEBO is similar to KUNGSBACKA, and UPPLOV has the same sleek, black look plus integrated handles.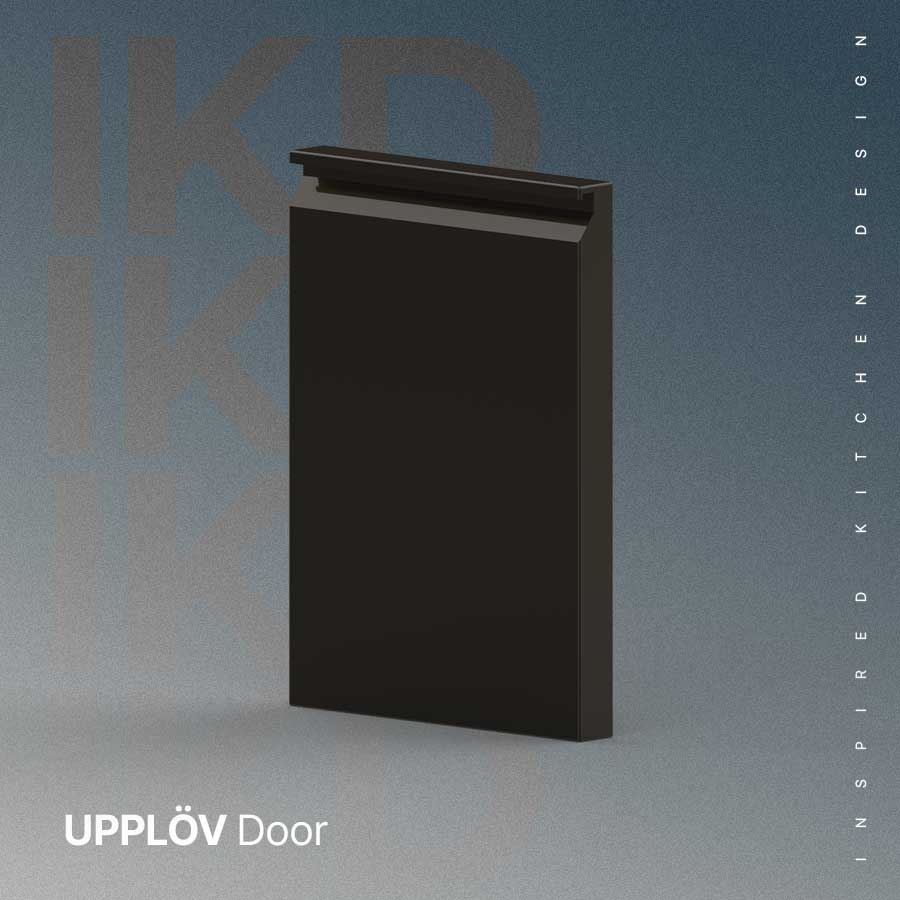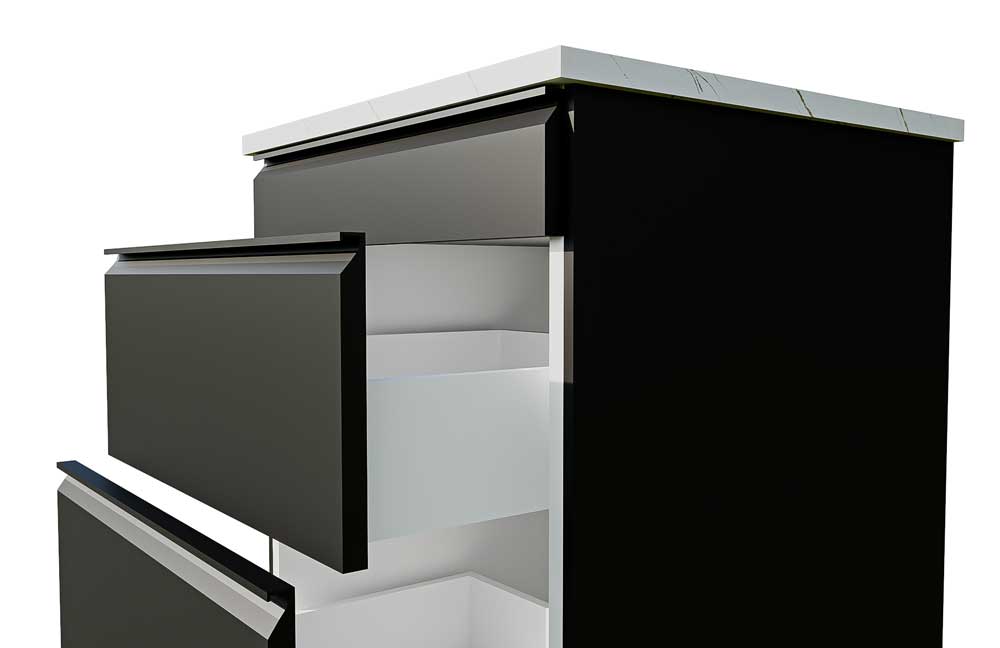 Why choose a black IKEA kitchen?
The "modern kitchen" has always meant white. It equates to clean, bright, minimalist, and open-concept, and white counters and cabinets make achieving that design aesthetic easy. However, as IKD designer (and resident modern kitchen expert) Javier points out,the definition of "modern" is flexible—and it's all about what speaks to you.
"Black is bold, but it's still possible to achieve minimalism. Pair black cabinets with white walls and accents for a balanced, yin-and-yang feel. Black doors with stainless steel countertops and appliances give the modern kitchen a sleek, industrial look. I find that mixing the new UPPLOV doors with butcher block countertops looks very sophisticated." –Javier, IKD designer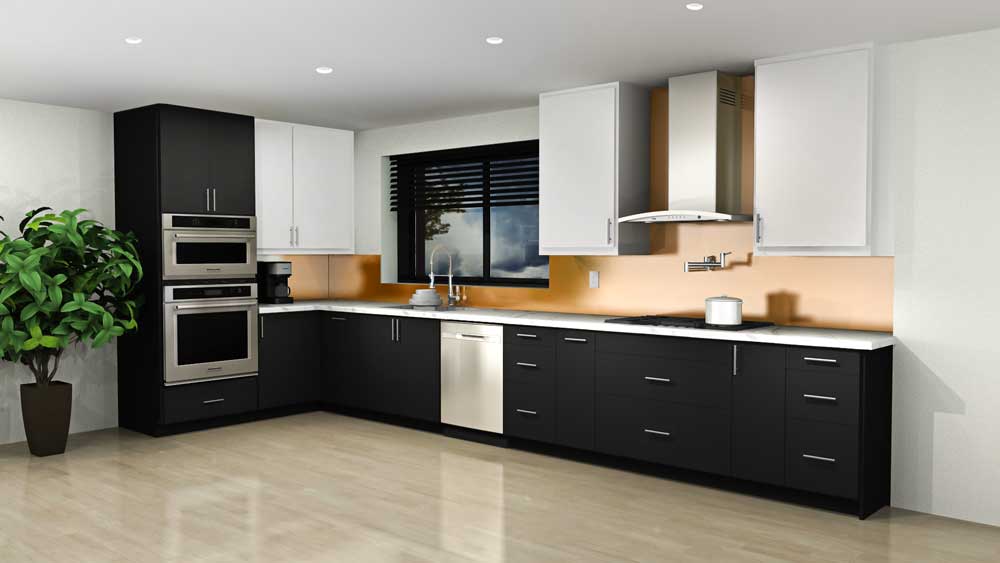 Comparing KUNGSBACKA and NICKEBO
IKEA seems to have taken KUNGSBACKA and divided its features between NICKEBO and UPPLOV. UPPLOV got the chamfered edges, while NICKEBO got everything else. NICKEBO features a matte anthracite finish, and you can choose whether to mount it from the left or right side. You can also choose the hardware you'd like to use.
The main difference we see is that NICKEBO has square edges rather than the sloped edges of the KUNGSBACKA. NICKEBO is also a bit pricier than KUNGSBACKA, but not significantly. While a 24" x 30"KUNGSBACKA door costs $76, a NICKEBO door of the same size costs $87.
UPPLOV: The Bold Response to VOXTORP
VOXTORP door and drawer fronts have integrated handles, which is why IKD customers often choose them. As Laura from Seattle said of her mudroom makeover, she "wanted to keep the mudroom simple and keep the space open."To her, that meant integrated handles and white cabinet fronts.
Handles are an added cost (and decision), and going without them helps make a small space look larger. It's a design no-brainer.But where does VOXTORP leave IKEA customers who love the look of darker cabinets and integrated handles? While available in dark gray and walnut, VOXTORP's options still won't satisfy everyone.IKEA must have realized there was a gap in their product lines because they developed UPPLOV.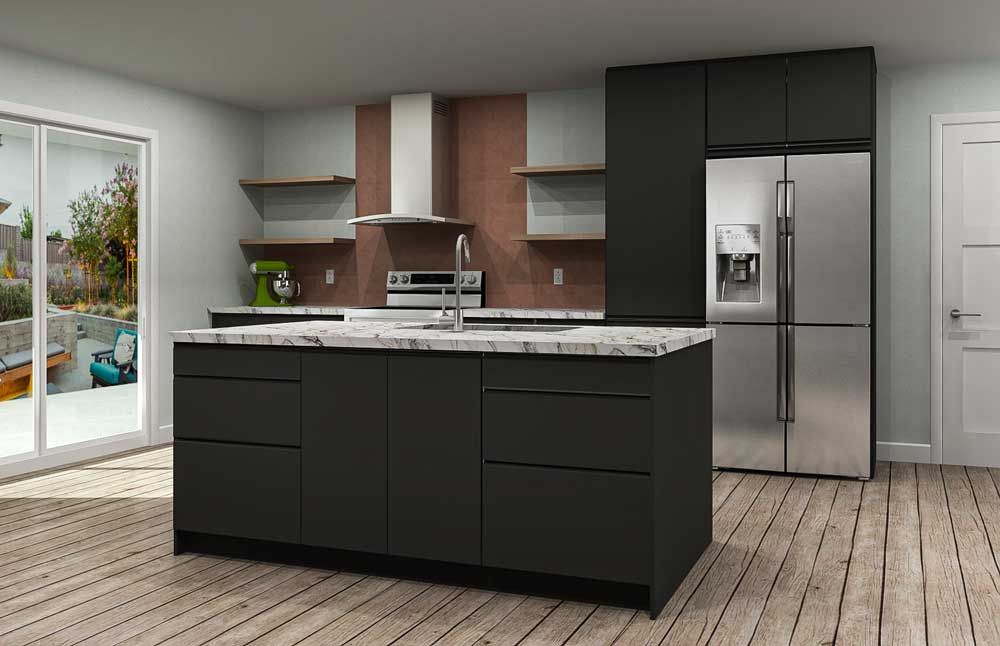 UPPLOV is a line of matte anthracite door and drawer fronts made of recycled wood and plastic materials. The sloped edges add additional character to the smooth black finish, and the integrated black aluminum handles blend in beautifully.
A 24" x 30" UPPLOV door costs $194.
Keep a Traditional Feel with LERHTYTTAN
If you want to design your kitchen using dark colors, but the flat black look isn't right for you, IKEA's LERHTYTTAN offers a more traditional alternative. With LERHTYTTAN door fronts, a solid wood frame with beveled edges surrounds a wood grain veneer panel. This IKEA product is a more classic alternative to the sleek black look of UPPLOV and VOXTORP.
"It's natural for homeowners to want to put their own twist on trends. I enjoy designing with LERHTYTTAN because it has a farmhouse feel with a twist. When you have the farmhouse sink, butcher block countertops, and subway tile,your kitchen looks fine. But if you add those black wood grain cabinets, it becomes something completely unique." –Javier, IKD designer
A 24" x 30" LERHTYTTAN door is $165. It's also available in light gray.
UPPLOV & NICKEBO aren't just for the kitchen.
IKD is always ready to design with the latest IKEA products. These new UPPLOV and NICKEBO door and drawer fronts will make any part of the homelook chic and expensive. Imagine sleek UPPLOV drawers in a home office or NICKEBO cabinets in a laundry room.
When you combine IKEA's on-trend products and IKD's custom designs, the end result will be a home you love for much cheaper than you thought possible.
Get a Professional IKEA Kitchen Design – All Online

Work with our certified kitchen designers to get a personalized kitchen designed around your needs and vision. If you're interested in learning more about our service, make sure to check out our IKEA Kitchen Design Services.