Last year we began a new decorating Instagram called Inspired Room Style. Each week we feature classic and current pieces to help followers decorate their home affordably and with ease! It's been so fun. Many of our readers on the The Inspired Room have asked us if we could share our Inspired Room Style finds here on the blog (we know many of you are not on Instagram!) So today I wanted to offer a round up of last month's faves from Inspired Room Style (according to our followers there!) so you can enjoy them, too.
Here's how Inspired Room Style works. We scour the web weekly to personally select pieces we love at a variety of price points (but mostly very affordable). We even share one of kind original art pieces, handmade or vintage finds we love! When possible, we share photos of the items "in real life" in store or in our own homes, too.
There's no cost at all to you, it's just a super simple and convenient way for you to get inspired and gather stylish pieces over time. You'll find things you'll love, and save money, time and frustration trying to find the best of the best options!
We want to make it easier to decorate your home and make style choices with confidence.
I hope you enjoy this month's Inspired Room Style favorites!
Scroll down to find several style boards and lists featuring Inspired Room Style followers' favorite items in April!
You can also follow along with The Inspired Room Style on Instagram where we share daily inspired finds and style tips in stories, and bookmark our shops here!
Sources for Above (click each for details):
1. Bistro Table and Chair Set – I have a similar set in black and white on our front porch! Get inspired by 6 bistro table mood boards in this post.
2. Welcome Doormat – This was one of TIR followers favorites from our ultimate doormat roundup we shared recently.
3. Window/Railing Planter Box (self watering) – I put these on our front porch railing last year, I love the curb appeal and fun pop of color they added! See photos of mine, how we hung them and more details here.
5. Natural Concrete Tall Planter – This has multiple color options and great reviews.
6. Outdoor Storage Shed – I had this at our old house for storing outdoor cushions, it was great! See photos of mine and learn more here.
7. Stacked Stone Firepit – We love using a fire pit in the summertime! This one looks beautiful, you can see photos of it "in real life" in the reviews.
8. Live Hydrangea in Basket – I cannot wait to get hydrangeas planted in our new yard!
9. Blue and White Scallop Outdoor Rug – I love the scallop border! I have a different blue and white outdoor rug this reminds me of, you can see photos of it on my porch here. See more outdoor rugs here.
These ones below are all your favorites last month from our Amazon shop!
Sources for Above (click each for details):
1. Faux Tulips – I shared these a couple years ago, they look and feel so realistic and come in several colors. You can see photos of them in my home here.
2. Loloi Rug – I have a couple different Loloi rugs: this one I'll be putting in my living room, and this one up in The Snug (see photos of that one in my home here). They are so beautiful and great quality.
3. Antique Brass Kitchen Faucet – This is the same brand of faucet I had in my last kitchen (I had this one), we were happy with it and it's a great price. You can see all 4 kitchen faucets I've had and a round up of others in this post.
4. Brass Wall Sconces with Linen Shade (set of 2) – These are the wall lights I've used without needing to hardwire! I use these rechargeable bulbs (see more details and photos here). I have them in both black and brass.
5. Rechargeable Lightbulbs – (the bulbs I use with that sconce above)
6. Down Alternative Pillows – These have tons of raving reviews! Some of my favorite sheets can be found here and more bedding here.
7. Blue Lightweight Reversible Throw Blanket – I have these affordable, reversible, and washable throws in several patterns. They're perfect for tossing over furniture as an added layer, and especially great for keeping furniture clean if you have pets or kids. I've even used them to cover a bench seat cushion. So many of you have told me you grabbed these per my recommendation! The patterns I have are this gray and white cross one, this blue geometric, this blue and white cross one, and this floral one). I shared more about them and photos in this post.
8. Rattan Door Cabinet – I love little accent cabinets like these. I have used them as an "entry command center", and for storing different things like office supplies, bedding, and entertaining items. You can see a post with more small accent storage cabinet sources and photos of how we use them in our homes here.
9. Marble Scalloped Ruffle Bowl – I hadn't seen this before but it's stunning! It's made from natural marble and would be a beautiful serving bowl, a special statement piece styled on a coffee table, on a nightstand for holding jewelry, or a lovely accessory to display on shelving.
10. Cordless Hardwood Wet/Dry Floor Cleaner – This looks amazing and has so many good reviews! I've shared a different steamer mop I love in this post.
11. Portable Carpet and Upholstery Cleaner – This is the #1 best seller in upholstery and carpet cleaners. These work absolute wonders, especially in a home with pets or kids!
Sources for Above (click each for details):
1. Dimmable Chandelier – This pretty chandelier was in one of the cozy room mood boards on the blog last week. It comes in multiple finish options.
2. Round Rattan Mirror – This looks just like the Serena & Lily one for a fraction of the price! It comes in white as well. You can get this one at PB here or Amazon here.
3. Patterned Rug – I just got this rug for our living room in the ocean/gold color. Our house is still a construction zone but I couldn't resist a speak peek of it with our new floors (see the peek here). It's also available on Wayfair.
4. Pom Tassel Stripe Curtains – I've had these for years (see photos of them in my guest room here). I'm still deciding where to put in my new house but they will definitely find a home. Mine are the navy and they come in cream or grey, too.
5. Striped Upholstered Swivel Chair – I stumbled upon this chair recently and thought it was so cute, blue and white stripes get me every time!
6. Two Door Cane Accent Cabinet – My daughter Kylee has these and combined 2 together to create a long console (great money saving hack!). See photos of them in her entry here.
7. White Bookshelf – I had these in our old guest room (see photos here) and in our basement office (see photos here). They are flat on the sides so they have a great built-in bookshelf look when pushed together!
8. Rattan Table Lamp – I have this lamp, it's a nice substantial size which I love but I also love that it's still airy and open with the rattan material (see photos of it in my room here).
9. Brass Pharmacy Floor Lamp – I have this in my bedroom (see photos here).
That's all for this month's favorites, I hope you found this helpful!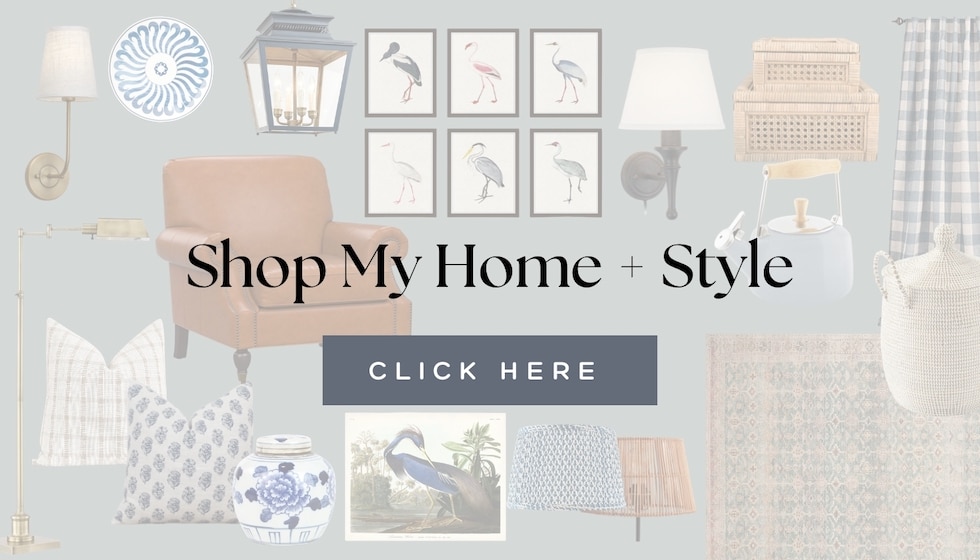 Follow along on Instagram @theinspiredroom for inspiration and daily house updates, and @theinspiredroomstyle for daily decor finds!