Open kitchen shelving has gained a lot of traction recently. Some consider it a lovely option, as seen in many modern Pinterest kitchens. Others think open shelving is an impractical choice that gathers dust.
Should you try this trend or go for classic cabinets? This post features the pros and cons of open kitchen shelving so you can decide if it works for your needs!
Pros of open kitchen shelving
Open kitchen shelving is a versatile choice that flatters many different kitchen styles. It's ideal for displaying seasonal items and showing off your decorating skills.
Spacious feel
Open kitchen shelving makes the space look roomier. Having these as an alternative to cupboards makes a kitchen feel more open. Plus, open shelving lets the beautiful backsplash stand out.
Affordable
If you're concerned about price, keep in mind that open shelving is cheaper. It takes more materials to construct cabinets, so this solution will reduce the overall cost of your kitchen.
Fits any space
The shelving is easily customizable so that it can even fit odd kitchen layouts. Think of that awkwardly placed window or ceiling slope that makes it impossible to add cabinets. In such cases, open shelving creates visual balance in your kitchen design.
Perfect for creating stylish displays
Open kitchen shelving isn't only reserved for storing dishes. You can also create a stylish display of your wooden charcuterie boards, favorite cookbooks, pitchers, or any other decorative objects that strengthen your decor theme.
Have everything within arm's reach
Open kitchen shelving is perfect for storing your ingredients and spices to keep those countertops tidy. People who love to cook will appreciate having everything within arm's reach.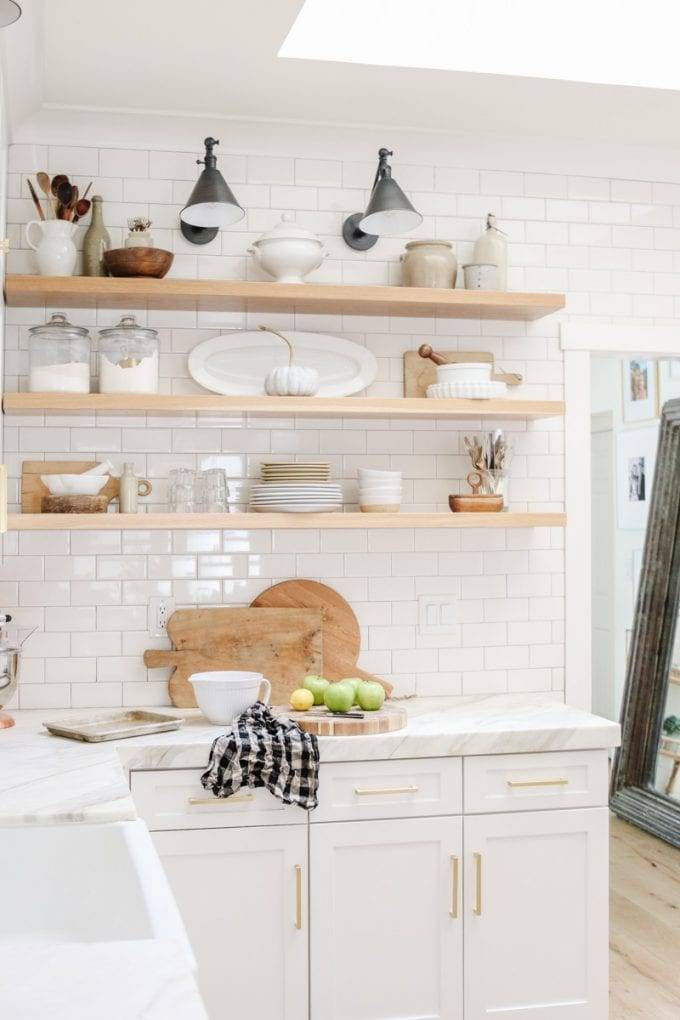 Cons of open kitchen shelving
Open shelving can look cluttered and messy if you don't curate it. Also, you might need to get new dishware that matches your design aesthetic.
Hard to maintain
Open shelves in the kitchen take a lot of work to maintain. Also, all the dust and dirt comes into contact with your dishes, so you must clean the shelves frequently. If you don't have the time and energy to do so, it's probably better to go for closed cabinets.
Everything is on display
Since everything is visible, you want to be picky about the items you show off. Remember, you need to display your best pieces for your kitchen to look stylish and tasteful. Those chipped mugs might not bring the aesthetic you're looking for, so a new matching set might be in order.
Cluttered appearance
When you look at all those dreamy Instagram kitchens, that open shelving is a desirable aesthetic. Of course, they were styled before shooting, and every single detail is perfect. However, this will probably not work in everyday life since you might not have the time to style your kitchen every day.