With multiple options available, there is a sink for every style and budget. It's essential to determine how often and for which purposes you will use the sink. Then select the size you need and the setup to accommodate the sink plumbing and accessories. Finally, you can decide the best kitchen sink material for you in terms of maintenance, durability, and affordability.
Single Bowl Sink
Single bowl sinks feature one large basin with no dividers and are an excellent choice for small kitchens with little counter space. They make cleaning large cookware and dishes more manageable because you can lay pots and pans flat at the bottom of the sink and not have to worry about debris spewing onto your counter.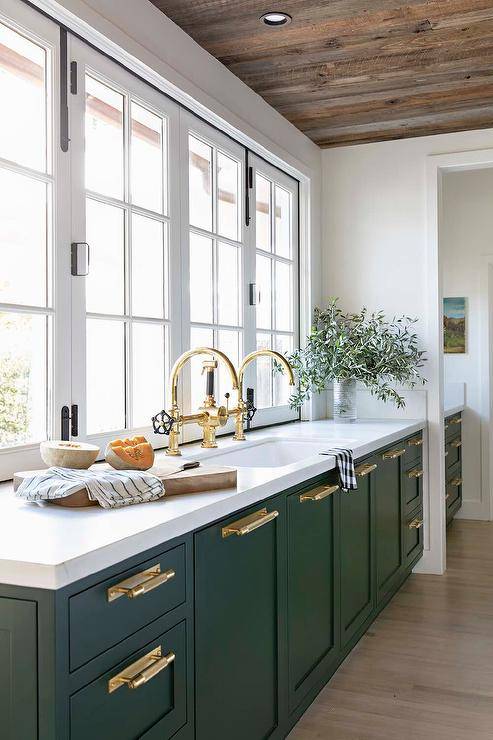 Single bowl sinks aren't ideal for multitasking, like cleaning and cooking simultaneously, so they're advised for smaller households or single individuals.
| | |
| --- | --- |
| Pros | Cons |
| Work well in small kitchens – These sinks use less valuable countertop space than double-basin sinks. | May make hand-washing complicated – Without a separate basin to rinse or dry dishes, hand-washing dishes will seem less efficient. |
| Roomier – One large basin makes it more manageable to clean larger cookware, like roasting pans and boiling pots. | Will need a drying rack – If you can't use one basin to dry dishes, you'll likely need to place a drying rack next to your sink. |
| | Hygiene can be a problem – With a single-basin sink, there's no way to separate contaminated dishes, like those used for raw meat, from other dishes. |
Double Bowl Sink
If you intend to hand-wash your dishes, double-basin sinks can contribute both functionality and style. These sinks have a divider, so you can nominate one side of your sink for washing dishes and the other for rinsing, drying, or food preparation.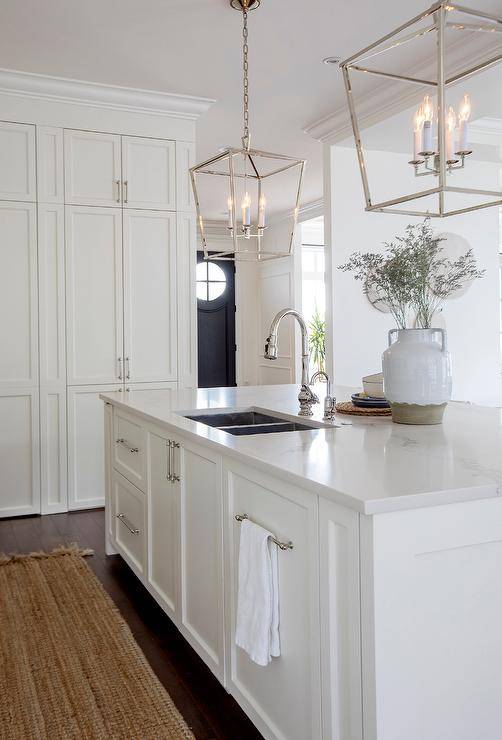 These sinks were popular before dishwashers became routine, but this traditional design has yet to go out of style. double-bowl sinks come in various sizes, colors, and styles, making them effortless to integrate into your kitchen design.
| | |
| --- | --- |
| Pros | Cons |
| Perfect for hand-washing – Individual basins for cleaning and rinsing make double-bowl sinks the most suitable choice for washing dishes by hand. | Not great for washing large cookware – these sinks are often larger than single-bowl sinks, but separate basins mean less room to wash large pots and pans. |
| Garbage disposal – Generally, a garbage disposal is installed in the secondary basin, so it's still accessible when the main basin is filled with water or dishes. | Less under-counter storage – A sink base cabinet has no shelves or drawers, so you'll sacrifice even more storage space for a larger sink. |
| Better for food prep – You can appoint one basin for dirty dishes and another for food prep while preparing a meal. | Takes up more space – Double-bowl sinks can measure up to 4 feet long, making them not ideal for small kitchens. |
Overmount Kitchen Sink
An overmount kitchen sink, also known as a top mount or drop-in sink, drops into the counter, which creates a lip or rim around the sink. This is an excellent option because it's easy to install and provides extra support, meaning that you can use almost any material, no matter how heavy.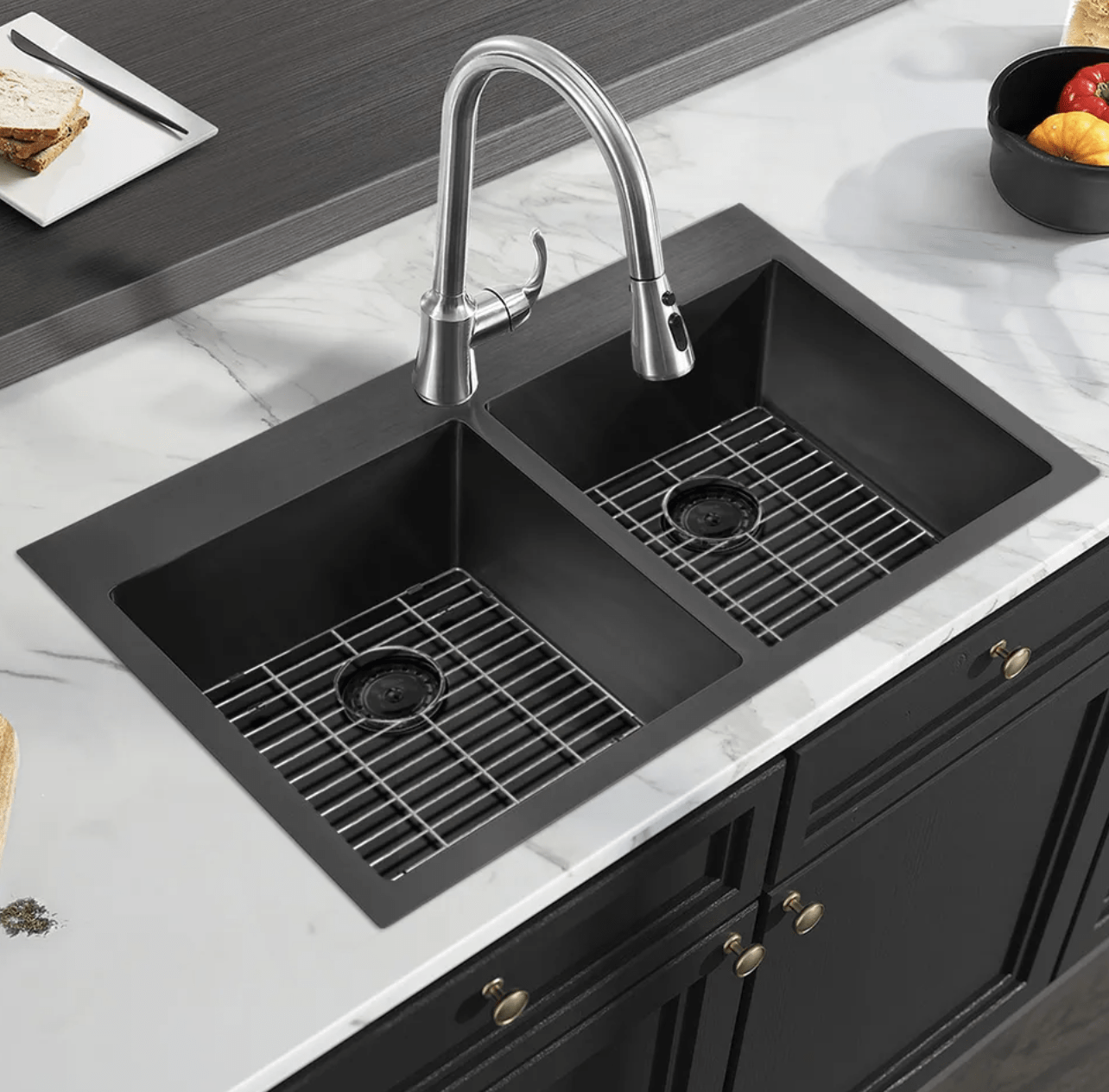 One factor to consider is that grime and debris can get caught on the lip and can make cleanup more difficult.
| | |
| --- | --- |
| Pros | Cons |
| Suitable for porous countertops – Overmount kitchen sinks provide a barrier to prevent water damage on the surrounding countertops. | Takes up countertop space – If you need every inch of countertop space, an overmount sink is not the best choice. |
| Easy installation – Properly referred to as drop-in sinks, you should be able to install a top-mount sink yourself. | Interrupts countertop flow – The raised lip around an overmount sink may collect crumbs and debris, resulting in mold. |
| Affordable – Even with professional installation, over-mount sinks will cost less than under-mount sinks. | |
Undermount Sink
An undermount sink is installed directly under the counter, making for a seamless look from countertop to sink. This type of sink is adaptable and works with most kitchen layouts. Not only do these sinks look sleek, but they also make for easy cleanup because debris can be pushed straight into the sink without catching on a lip or rim.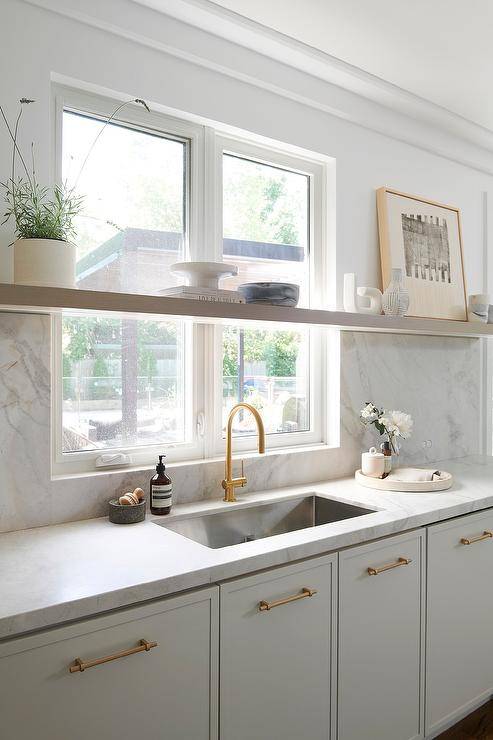 It's worth considering the weight of the sink you choose since it is commonly installed with glue that attaches to the underside of the counter and the sink. Most fireclay or cast iron sinks will not work with this installation method because of their heaviness.
| | |
| --- | --- |
| Pros | Cons |
| More counter space – If you use an undermount sink, you'll be able to use your counter space right up to the edge of the sink. | Complicated installation – Hiring a professional to install this type of sink is critical to avoid severe leakage and improper support. |
| Easy to clean – You'll be able to wipe away crumbs straight into the sink since the lip is below the counter. | Doesn't work with all countertops – Laminate or tile countertops may not be strong enough to support an undermount sink. |
| Seamless style – Because the sink lip is flush against the countertop, these sinks create smooth lines perfect for a modern kitchen. | Price – These sinks are often more costly to install since you'll need to construct a custom hole in your countertop. |
Stainless Steel Sink
Stainless steel sinks are lightweight and easy to install, making them a practical and favored option. They come in various styles, such as farmhouse, under-mount, and over-mount. While these sinks are typically more costly than porcelain, they're an inexpensive option compared to other high-quality materials like granite.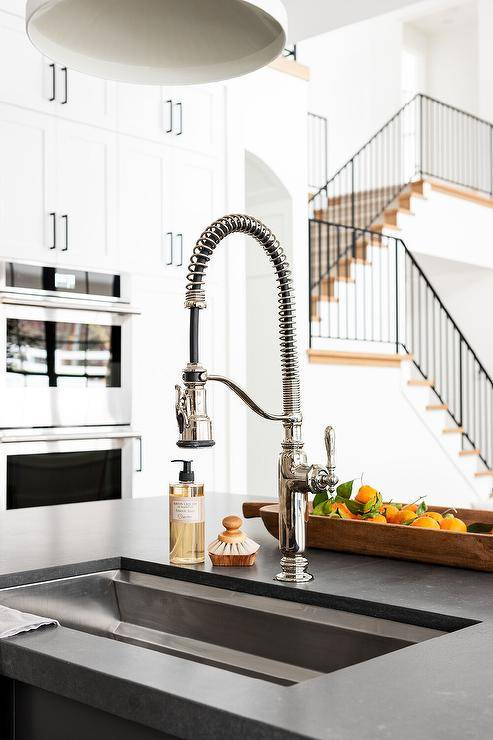 Stainless steel sinks are classified by sheeting thickness or gauge. A thicker gauge means the sink will typically be heavier and cheaper, while a thinner gauge will mean the sink is lighter and often more pricey. Stainless steel sinks tend to be noisier than other sink materials, and they can dent, but they offer excellent heat and stain resistance.
| | |
| --- | --- |
| Pros | Cons |
| Versatile – These sinks complement every color or style of kitchen. | Easy to scratch – Abrasive cleaning agents or metal utensils can cause tiny scratches in the steel over time. |
| Durable – Stainless steel sinks never tarnish or rust, and they hold their shine for years. | May dent – Depending on the gauge, stainless steel can dent under pressure. |
| Good value – For a high-quality sink, stainless steel is a great middle-of-the-road option that will last forever. | Noisy – Anticipate a lot of crashing and banging when cleaning dishes in a stainless steel sink. |
Farmhouse Sink
A farmhouse-style sink, also known as an apron sink, extends over the edge of your counter. This type of sink is generally used in a classic or rustic farmhouse-style kitchen and can be designed with a single bowl or double bowl.
These sinks are earning popularity with the resurgence of rustic and farmhouse interior design. They generally come as fireclay or cast iron and are highly durable and easy to clean because of their nonporous material. Farmhouse sinks have a deep basin perfect for big families, large pots and pans, and easy cleanup. They can be pricey and are more difficult to install because you have to cut out a large portion of your counter.
| | |
| --- | --- |
| Pros | Cons |
| Functional – A large single-basin sink can serve many household purposes, from washing clothes to bathing babies. | Heavier build – Depending on the material, you may need to modify your existing cabinetry to support the additional weight. |
| Durable -These sinks come in durable materials like fireclay, copper, and cast iron. | Challenging to install – You have to cut out a large portion of your counter to fit a farmhouse sink. |
| Chic design – Farmhouse sinks pull inspiration from vintage design, making them a timeless trend. | Price – These sinks are usually made from more costly materials. |
| Versatile – Most farmhouse sinks don't include pre-drilled holes for a faucet so you can choose the best faucet for your needs. | Space takers – Apron sinks are more significant than your average kitchen sink and may not work in smaller kitchens. |
Cast Iron Sink
Cast iron sinks are sprayed with a porcelain enamel coating that gives them a glossy white finish, which appeals to many homeowners looking for a sink to complete their vintage, farmhouse, or country-style kitchen.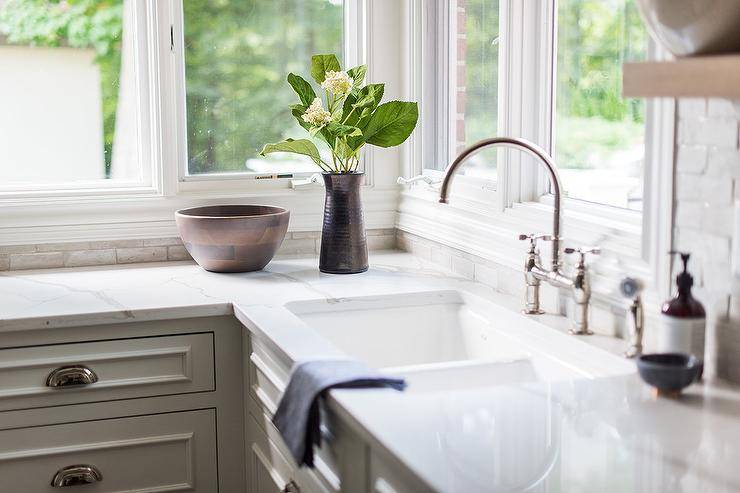 Cast iron sinks are heavier and more durable than others, but the porcelain enamel can chip easily. These sinks are not meant to be cleaned with abrasive cleaners, as they will wear down the enamel coating. You'll also need to use caution when washing dishes since the hardness of this sink can easily chip your dishware.
| | |
| --- | --- |
| Pros | Cons |
| Durability – Cast iron sinks rarely receive cracks and dents and will last a very long time when cared for properly. | Staining – It's possible the porcelain coating will become stained over time. |
| Easy Maintenance – The smooth porcelain surface permits quick wipe-downs to prevent buildup. | Cost – Cast iron sinks are some of the most expensive sinks to buy and install. |
| Keeps heat – in most sinks, water cools down halfway through washing — with a cast iron sink, heat is maintained for longer. | Can chip – Abrasive cleaners can cause the porcelain coating to get scratched or chipped, leaving the cast iron vulnerable to rust. |
Granite Composite Sink
Granite composite sinks are made by gluing crushed granite with a resin filler. This type of sink is extremely durable, stain-resistant, and delivers cutting-edge modern style to any kitchen.
If you're thinking of a granite composite sink, they are heavier than stainless steel sinks, so you may want to add structural support to adapt for the extra weight. Granite composite has an intrinsic sound-absorbing effect due to its thickness.
| | |
| --- | --- |
| Pros | Cons |
| Upkeep – Granite composite does not require chemical cleaners and hard scrubbing to keep it looking brand new. | Bulkiness – Due to their size and weight, you'll want assistance installing these sinks and should evaluate reinforcing the areas around your sink drop-in. |
| Durability – Granite composite sinks have all the durability of a full-granite sink, but the composite materials used will also reduce the impact when dishes are tossed in the sink. | Cost – Though more affordable than traditional granite options, granite composite is much more costly than stainless steel or other materials that offer comparable benefits. |
| Sanitary – Unlike natural granite, granite composite is highly nonporous, meaning there aren't many places for bacteria to grow. | Chipping – Granite composite sinks can chip or crack if heavy pots and pans are thrown around recklessly. |
Fireclay Sink
Fireclay sinks are almost identical to cast iron sinks but tend to be slightly more durable. Fireclay sinks are made from clay and glaze fusing together at very high temperatures, upwards of 1,600° Fahrenheit. They won't chip, etch, or stain, and you can use abrasive cleaners, unlike on a cast iron sink.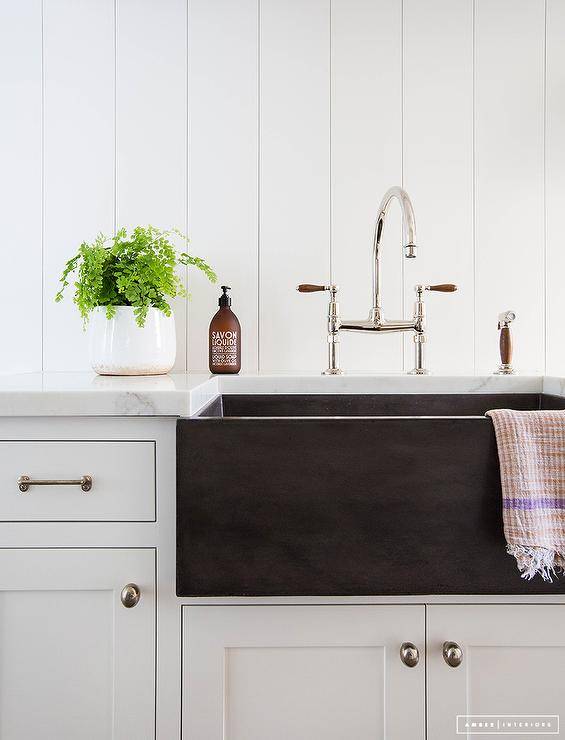 Fireclay sinks are generally more costly than cast iron due to the more comprehensive fabrication process. This material is often used for farmhouse-style sinks, making it an excellent fit for country or farmhouse kitchens.
| | |
| --- | --- |
| Pros | Cons |
| Cleaning – Can use virtually any cleaner on a fireclay sink | Variations – Because fireclay sinks are handcrafted, small variations in size and shape can occur even with the same model. |
| Chip-resistant – Unlike cast iron sinks, fireclay sinks are less likely to scratch or chip. | Costly – Even though fireclay sinks are nearly indistinguishable from cast iron sinks, they tend to cost more. |
| Non-porous – Fireclay is nonporous, resistant to acids, and easy to keep clean. | Limited design options – Almost all fireclay sinks feature a single-basin, farmhouse-style design. |
Low Divide Kitchen Sink
A low-divide kitchen sink, or a low-score sink, has a low center divider that only rises halfway up the basin. This gives you room to wash larger dishes that wouldn't fit in a double-bowl or single-bowl sink while still being able to organize washing and rinsing into separate basins.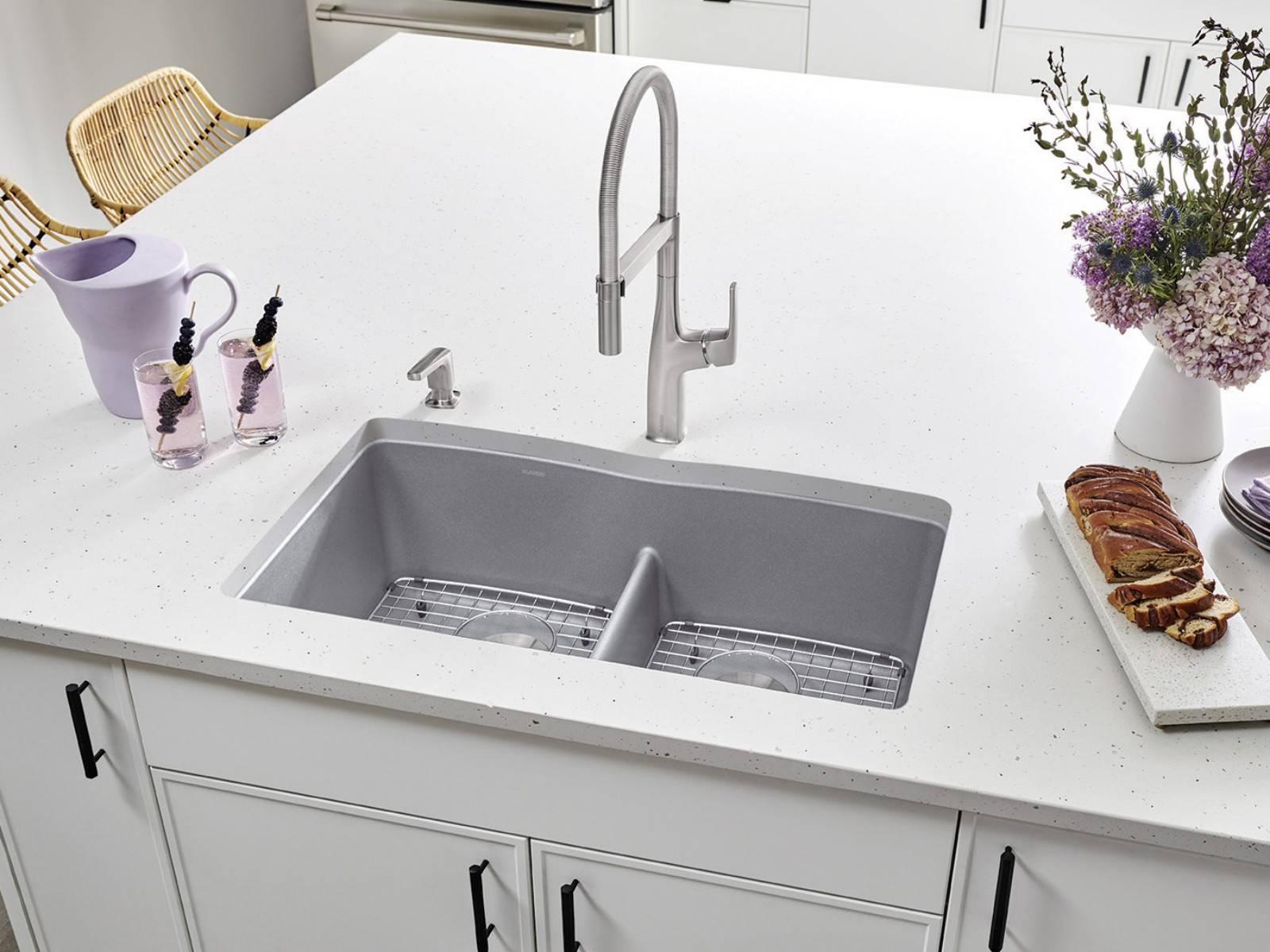 | | |
| --- | --- |
| Pros | Cons |
| Illusion of single bowl – If you want to follow the single-bowl kitchen sink trend without sacrificing the divider, this option is for you. | Shallow basins – You won't be able to fill either side of your sink past the low divide, which proves problematic if you need deep water. |
| Separate basins – With a low-divide kitchen sink, you'll still be able to designate one basin for cleaning and the other for rinsing or drying. | |
| Large cookware – A lower divider provides more room to wash large pots and pans. | |
Different Materials
When looking for a new kitchen sink, how it will be used will impact the materials you can choose from. If you maintain a busy lifestyle, you may not have time to take care of a particular surface. If your home accumulates a lot of dishes, you'll need a deeper basin. A kitchen sink should always be durable and capable of withstanding deep cleaning. Nevertheless, it is also crucial to pick a sink made of a material that complements the rest of your kitchen style and fixtures.
Stainless Steel:
The most favored kitchen sink material, stainless is available in various styles, including drop-in, farmhouse, and undermount.
Provides an ideal balance of cost, durability, and ease of cleaning.
Higher quality stainless steel sinks are made of 18 to 16 gauge to avert dents and scratches. Gauge is a measurement of the thickness of stainless steel. The lower the number, the thicker the material.
Look for vibration-damping foam insulation or pads on the underside of the bowls to deaden water drumming.
Brushed satin finishes tend to hide water spots and scratches.
Cast Iron:
This type of sink is cast iron and coated in porcelain enamel to deliver a hard, durable surface.
Has a smooth, glass-like finish that makes it uncomplicated to clean.
Cast iron is guaranteed not to chip, crack or burn.
Extremely heavy and requires two people to install it. Not normally suited for wall-mount installation.
Granite/Quartz Composite:
Made of 80 percent quartz and 20 percent resin to supply a sturdy, low-maintenance surface.
Scratch, stain, and heat resistant; available in drop-in, farmhouse, and undermount.
Available in a range of colors.
Withstands hot cookware.
Fireclay:
A hard-fired clay material, it's primarily used in farmhouse-style sinks.
Comparable in appearance to cast iron. Has a smooth, glazed, non-porous surface.
Exceptionally durable material. Fireclay resists chips, scratches, and acid damage.
Mainly sold in white, but other colors and textures are available.
Copper:
Highly durable metal that does not rust; needs little maintenance.
The surface takes on an aged patina over time.
Each sink is individually handcrafted and unique.
Copper's anti-microbial properties kill bacteria and viruses.