Pullout waste containers are a staple in modern kitchens. Find the one that best suits your needs with Rev-A-Shelf.
How often do you think about your waste container? Hopefully, the answer is never—at least, not unless it needs to be taken out. However, if the placement, size, or style bothers you, you probably think about it every time you throw something away.
It's time to do something about that—especially if you're planning an IKEA kitchen renovation. Nothing goes together like Rev-A-Shelf and IKEA for internal organization.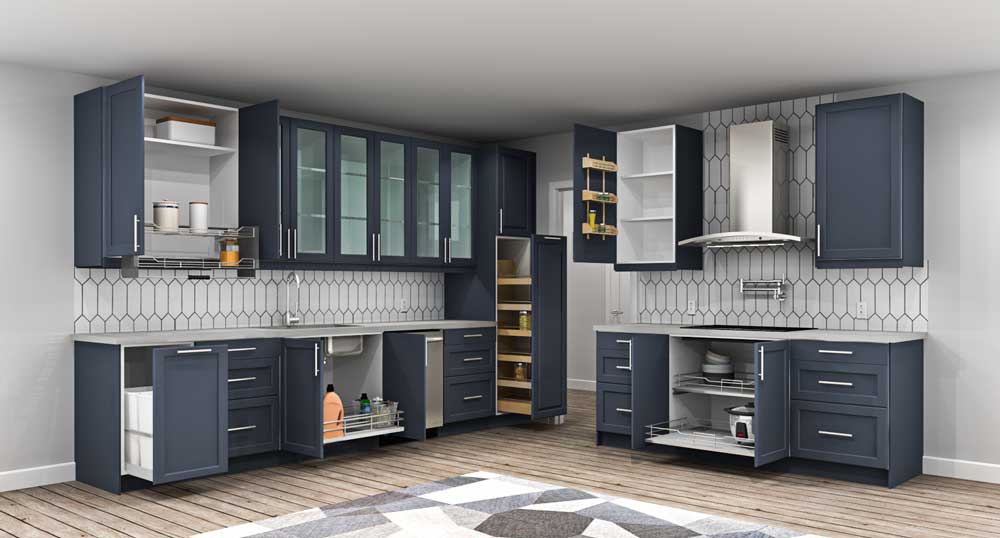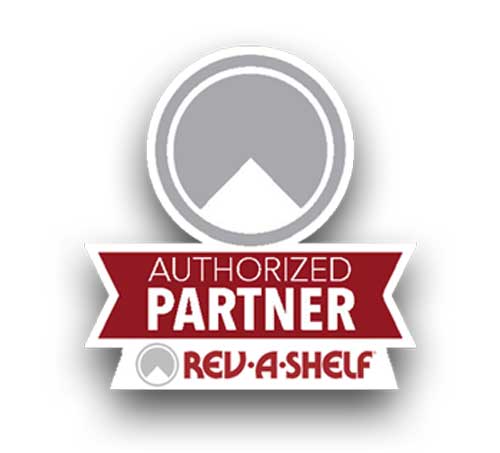 You probably know that we think highly of Rev-A-Shelf, not just for the company's product quality but also for its product range. While IKEA trash bins come in two styles, Rev-A-Shelf offers dozens of styles in multiple sizes and finishes.
"IKEA has the plastic HALLBAR pullout frame, designed to fit one 6-gallon HALLBAR bin or two 3-gallon HALLBAR bins. They also have a SEKTION base cabinet for recycling that can be paired with a MAXIMERA drawer for trash and recycling. While you can get a few different sizes with this choice, IKEA just doesn't have as many options as Rev-A-Shelf. I want to design the best organization for my client, and that usually comes from Rev-A-Shelf." –Frank, IKD designer
Rev-A-Shelf has a pullout waste container solution for every IKEA kitchen.
The Large Family
As we mentioned, IKEA's HALLBAR pullout system can contain a single six-gallon trash bin or two three-gallon trashcans. If you have a large family, you'll be lucky if that contains a day's waste.Rev-A-Shelf's wooden bottom-mount waste container (4WCBM-2150DM-2) has two 12.5-gallon metallic silver waste containers. The 4WCBM series has a combination to fit 15″, 18″, 21″, and 24″ base cabinets, but this large waste container solution would require using a 24" SEKTION base cabinet. All combinations in this series come mounted on Rev-A-Shelf's soft-close slides, and the smaller options also feature a small storage space for trash bags and cleaning supplies.You might also consider the pullout top-mount wood and silver waste container (4WCTM-15DM2-343-FL), which includes the added storage in the double 12.5-gallon size. The top mount pull waste container solution comes in a maple or walnut finish and is rated for 150 lbs.
"Florence designed our new kitchen, and we asked for hidden trash and recycling. It was something we didn't have in our existing kitchen, and that meant we usually had a full trashcan out in the open with a bunch of cereal boxes piled up next to it. Most of the pullout trashcans I've seen are small, so I was really excited about the 12-gallon Rev-A-Shelf system. We have three children and two dogs, so trash basically makes itself in our house."–Lynda, IKD customer
The Home Cook
Some of our customers who are avid cooks and bakers prefer to have their trashcan outside of the cabinets because it often travels around the kitchen with them. Any of Rev-A-Shelf's pullout waste containers can be lifted out of their mount to fulfill this need, but it isn't always the easiest solution—especially if the trash is nearly full.However, Rev-A-Shelf has come up with a creative solution: the stainless-steelcounter mount waste container (8-060-11SS). When designing your new kitchen, you can include a hole for this 11- or 13-liter waste container in the countertop template. It has a stainless-steel lid, a removable container that sits in the cabinet beneath, and a rubber ring to seal in odors.Whether you want to use this little beauty for trash or compost, cleaning up after meal prep has never been easier.
The Neat Freak
One concern we often see about installing pullout waste containers is the mess. It's a trashcan, after all. There will be spills, overflows, germs, and everything that would make a neat freak squirm.We suggest ditching the wood and going for wire.Rev-A-Shelf's wire under-sink pullout waste container (5SBWC-815S-1) is compact, requiring a SEKTION cabinet as small as 12" wide. However, it does hold up to 75 pounds of waste. This chrome wire is easy to clean and can be mounted to the bottom of the cabinet, or you can purchase a door mounting kit.The steel bottom-mount waste container (53WC-1550SCDM) with soft-close comes in a multitude of sizes and colors. This model mounts to the cabinet door and floor, so all hardware is included, and it holds up to ninety pounds of waste. Finishes include champagne, metallic silver, and Orion gray. Stay small with a single 8.75-gallon single trashcan that would fit a 15" wide SEKTION cabinet, or go for a larger solution with the Double 50 qt. Containers designed for an 18" wide SEKTION cabinet.No matter what solution you choose, you know you'll have a rollout waste container that is sturdy and clean.
"My parents had a hidden trashcan, but it wasn't on rollers or anything. It was just a small trashcan under the sink, and they pulled it out when they needed it. Because it was just sitting in a wooden cabinet, if a soda can spilled, it stained, and if something fell out, they didn't always notice until it had been there for a while. One time they found maggots. I could have died.I handled their design from IKD and asked for a better solution, and Frank suggested the wire waste container meant to go under the sink. It wouldn't stain, and the waste container came with lids. It was probably the easiest decision of the entire renovation." –Annabeth, IKD customer
The Person Who Needs a Helping Hand.
We'd be remiss if we didn't mention Rev-A-Shelf's maple bottom-mount waste pullout with Servo-Drive (4WCSD-1535DM-1). It comes in sizes appropriate for most 24" deep SEKTION base cabinets.This motorized pullout waste container system is an excellent option for those who want the look and freedom of an under-mount waste container but may struggle to open and close cabinet doors. Just touch to open, and the waste container comes to you.
Pullout waste containers aren't just for the kitchen!
We often design using Rev-A-Shelf pullout trash cans in laundry rooms, mudrooms, and home offices.
The 5-gallon Universal Waste Pullout (RUKD-1432RB-1) fits beneath vanity sinks and in small base cabinets. It comes in multiple sizes and has a chrome finish.#8
The white aluminum vanity waste container with Rev-A-Motion (5149-15DM18-111) mounts to the cabinet door and comes with a white or metallic silver trash bin.#9
The pivot-out under-sink waste container (8-010314-15) lifts its lid as you open the cabinet door.
Looking for an example of how pullout waste container can work outside of the kitchen? Look at this small IKEA bathroom we designed using a Rev-A-Shelf wood bottom mount waste container (4WCSC).
Key Takeaway
You can choose from hundreds of Rev-A-Shelf pullout waste containers, which knocks IKEA's two options out of the park. Every home and family is different, and your IKD designer will explain your options and help you choose the pullout waste container that best fits your lifestyle.
Get a Professional IKEA Kitchen Design – All Online

Work with our certified kitchen designers to get a personalized kitchen designed around your needs and vision. If you're interested in learning more about our service, make sure to check out our IKEA Kitchen Design Services.