This Seattle homeowner wanted a clean, minimalist look with plenty of storage and wood accents in her IKEA mudroom.
What do you do with a small mudroom when it has to hold so much? Coats, shoes, packages, sunscreen, hats, and people all land in this space, whether it's designed to hold it all or not.
IKD customer Laura, from Seattle, Washington, knew that her mudroom was not as functional as it could be. When she and her husband moved into their home, the small mudroom had no easy access to the outdoors, nowhere to sit, and sub-par storage options.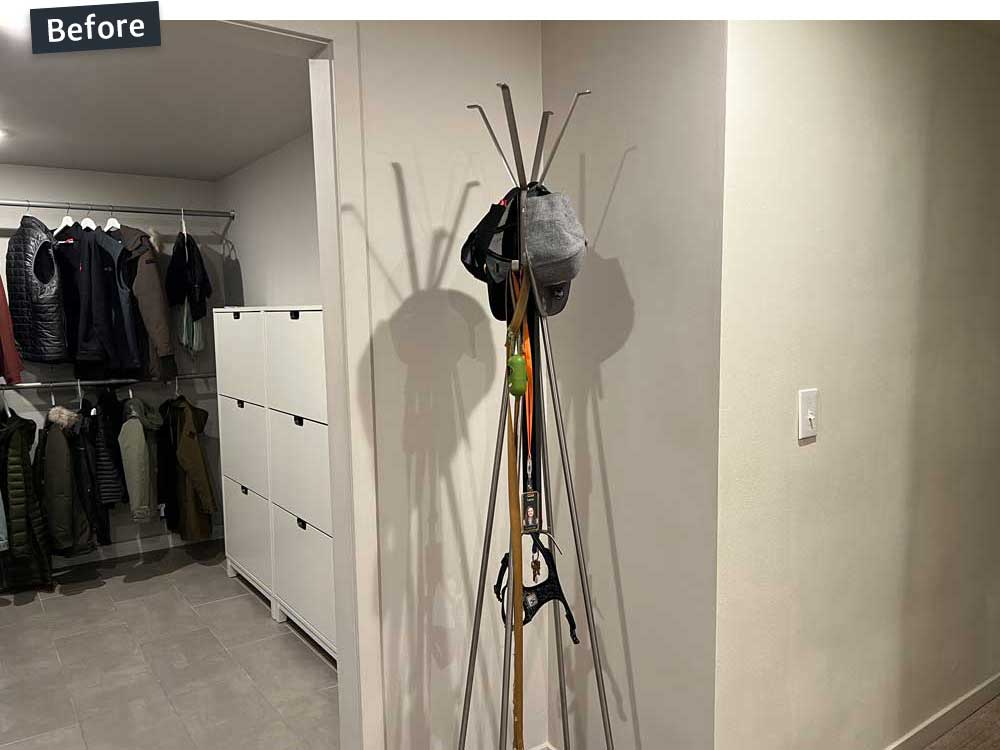 Laura knew it could be so much more, and the first step was having an exterior door installed. That's right—this mudroom had no door leading directly into it.
She outlined her design goals:
"We wanted a door to the backyard, hidden storage, and more space to move around. We found the prebuilt storage solution annoying, especially for larger shoes."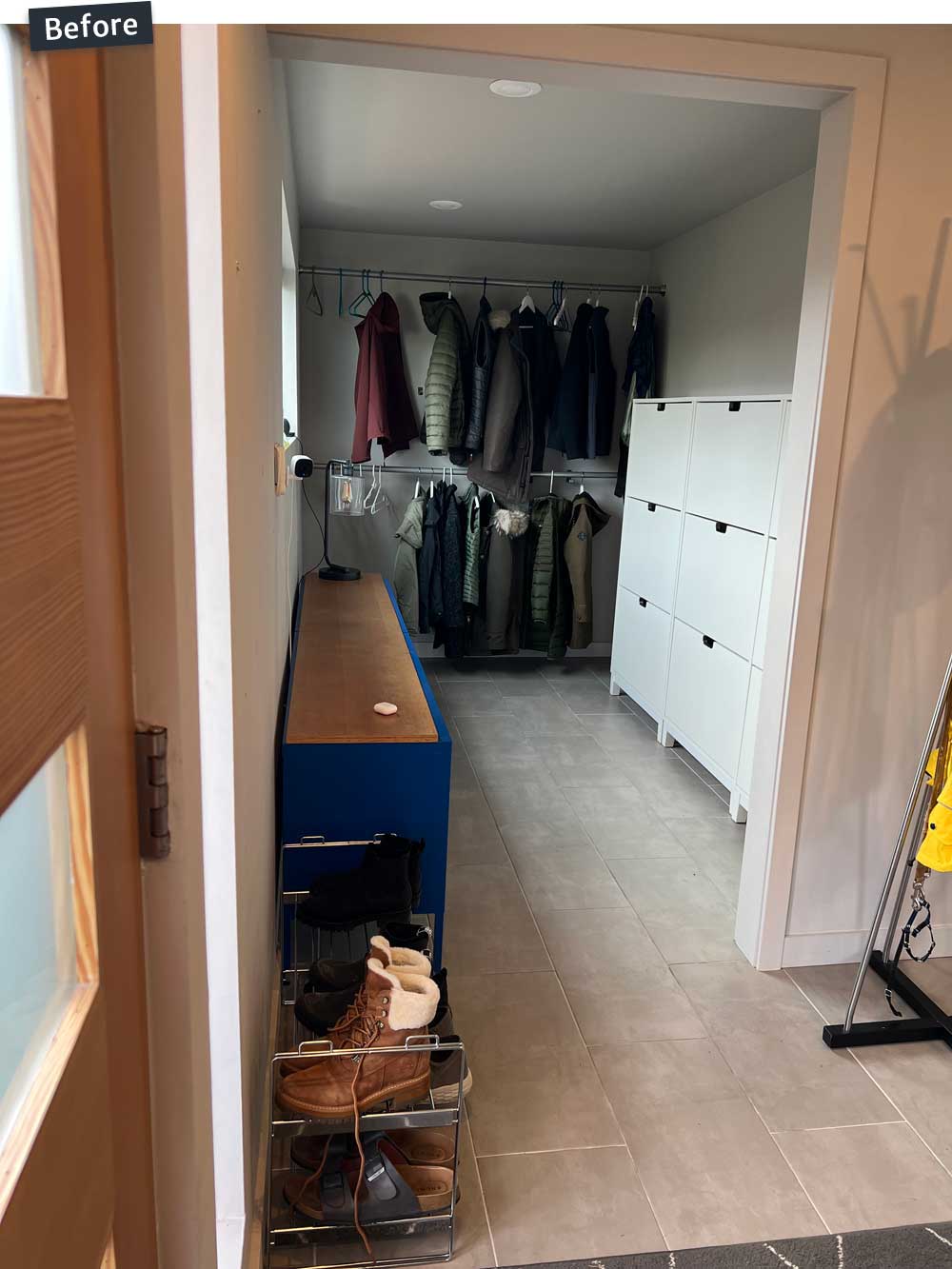 The prebuilt storage Laura refers to is the IKEA STALL shoe cabinets, which she's re-purposed for non-shoe storage under the stairs across from the mudroom.
Personalized IKEA Mudroom Designs
Created by Certified Designers
Our IKEA Mudroom Design Package is everything you need
to complete your new mudroom with confidence.
She turned to Google for design solutions.
Laura scoured the internet for closet and mudroom designs, and that's how she and her husband discovered IKD's website. She'd also found a design from California Closets, but she liked the idea of using low-cost IKEA products to create a high-end design. The deciding factor was that IKEA could offer the flat VOXTORP cabinet fronts, while California Closets only had doors with protruding handles.
"I wanted to keep the mudroom simple and keep the space open." –Laura, IKD customer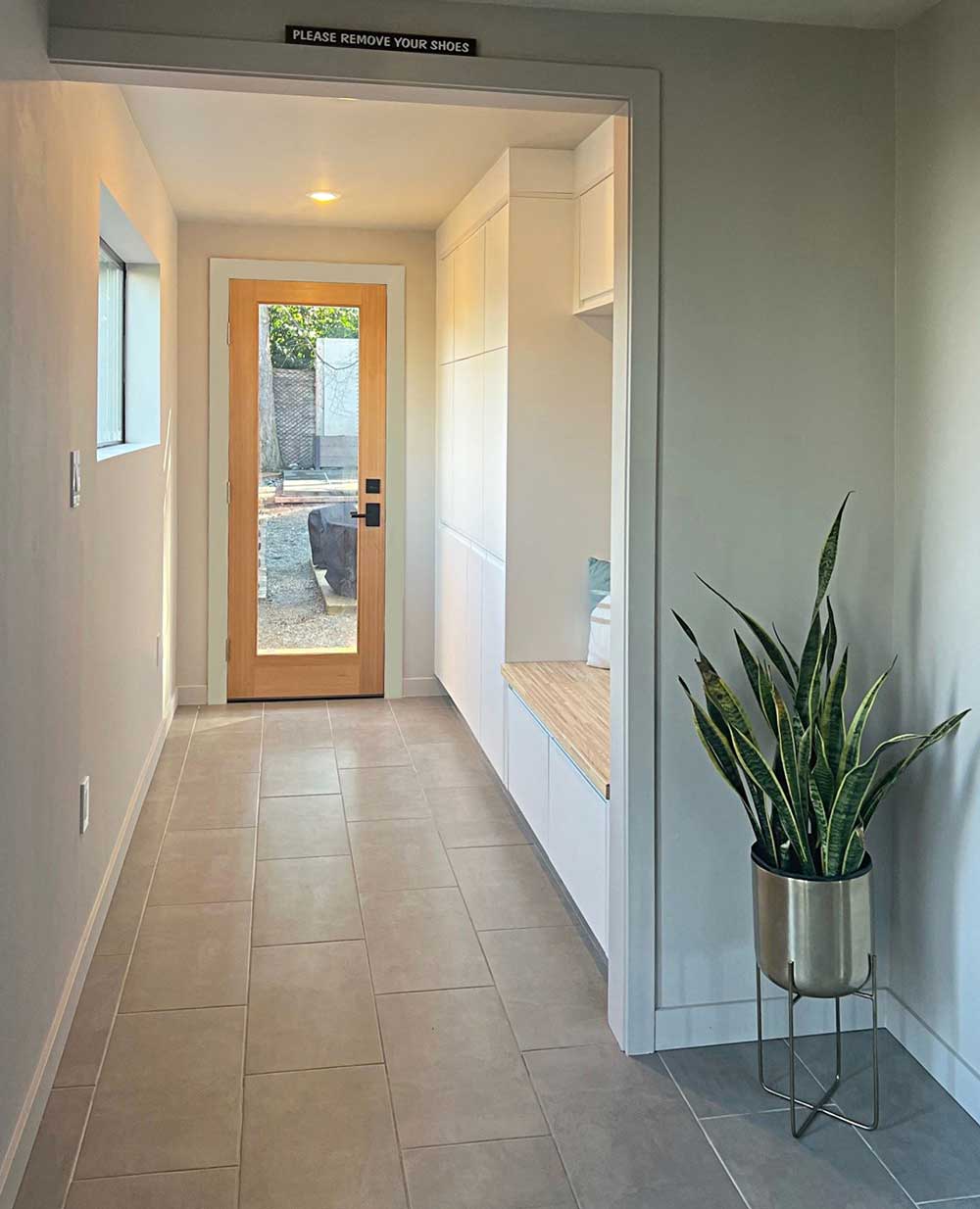 However, she wasn't sure she needed a professional designer. She knew products like the PAX combinations were relatively easy to work with, so she opened the online IKEA planner and gave it a try. In the end, she decided that paying IKD's more experienced designers – to create the design for her – was well worth the investment.
"I basically just opened IKEA's Planner and was like…it's much more complicated than I thought." –Laura, IKD customer
IKD brought this homeowner's mudroom design to life.
Drawing inspiration from her original California Closets design, Laura asked for matte white storage with wood accents to match the stairs and fence outside their home. She provided IKD designer Florence with the following list of design requests:
Clean, modern, minimal look
No handles
Wood elements to match the rest of the home
Open shelving for shoes
Integrated bench
Full-depth closet
Florence created an IKEA mudroom design that ticked all the boxes for a total cost of $3,812.
Laura's IKEA Mudroom Design
It's no wonder Laura ran into trouble using the online IKEA planner. Florence had to hack SEKTION cabinets with custom cuts to make them work in the space.
She created this sleek mudroom design by using seven IKEA SEKTION cabinets with VOXTORP doors and UTRUSTA shelves. She placed three tall cabinets, all of which had plenty of shelving and hanging space, beside the new exterior door. She included instructions to trim two base cabinets from 24″W x 24"D x 30″H to 24″W x24″D x 15″H to create a bench seat base with shoe storage beneath a PINNARP countertop. Two 24"W x 14 ¾"D x15"H wall cabinets provide additional storage above the bench.
IKEA mudroom products were in stock in Seattle.
Laura admits she was nervous about something she needed for her design going out of stock and checked the website constantly. However, she didn't need to worry. When it came time to order from the shopping list IKD provided, only one shelf was out of stock.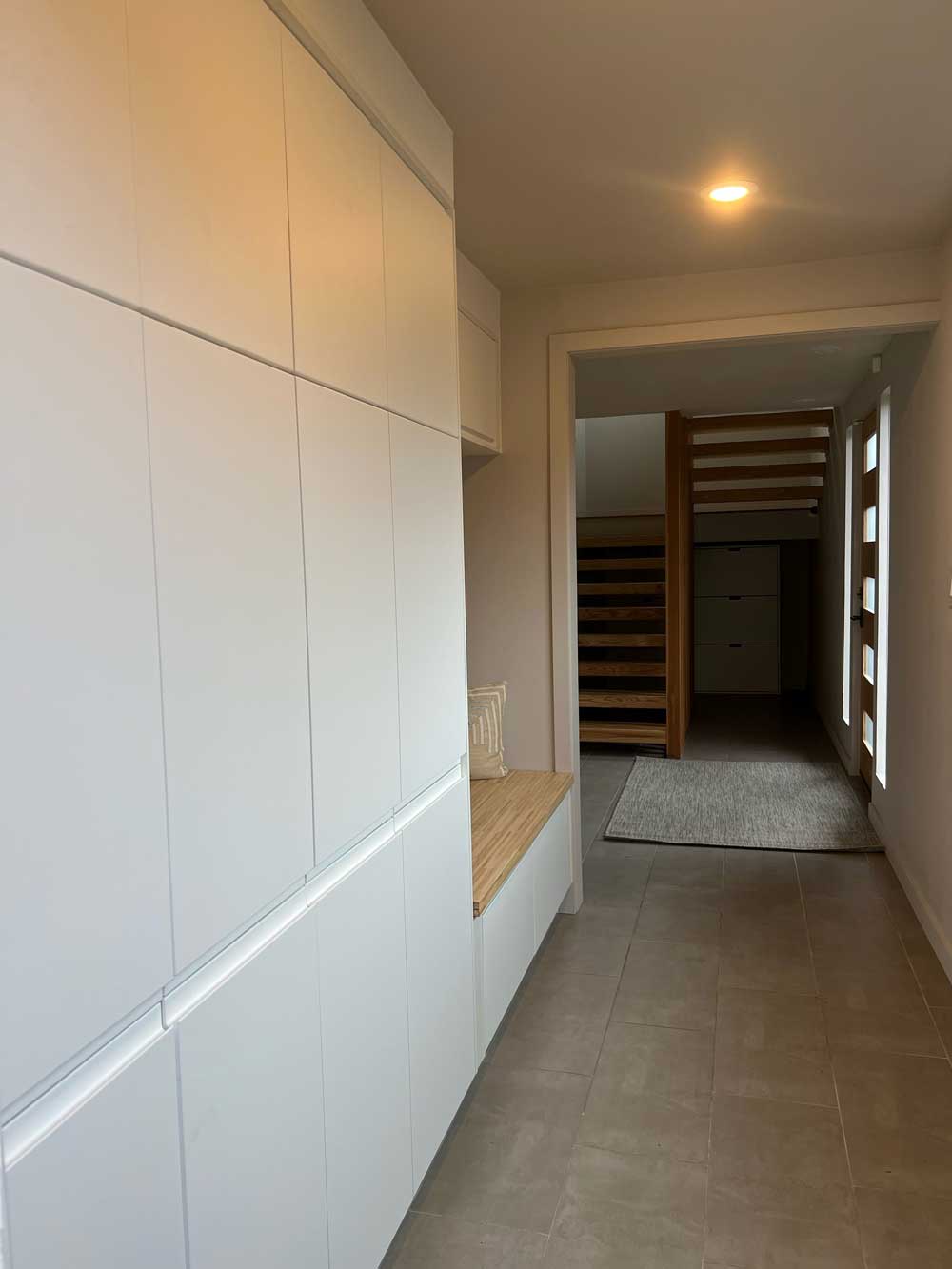 She found a quick solution by purchasing one size up and cutting the shelf to fit.
The Final Step: Installing Laura's IKEA Mudroom
She ran into a bump in the road that many IKD customers do: the contractor wasn't an IKEA installer. Laura tried to contact an IKEA installer in her area, but they all had a 5-6 month wait time.
The couple decided to use the same contractor that installed their exterior door.
"IKEA has no perfect solution, so hacks are necessary, but the contractor wasn't very familiar with IKEA." –Laura, IKD customer
The mudroom turned out great, but she and her husband did have to do some handholding, especially with the bench seat hack. Since IKEA installs are a bit different from the average cabinet install, they often had to remind him to follow the design instructions closely. When he did, everything ran smoothly.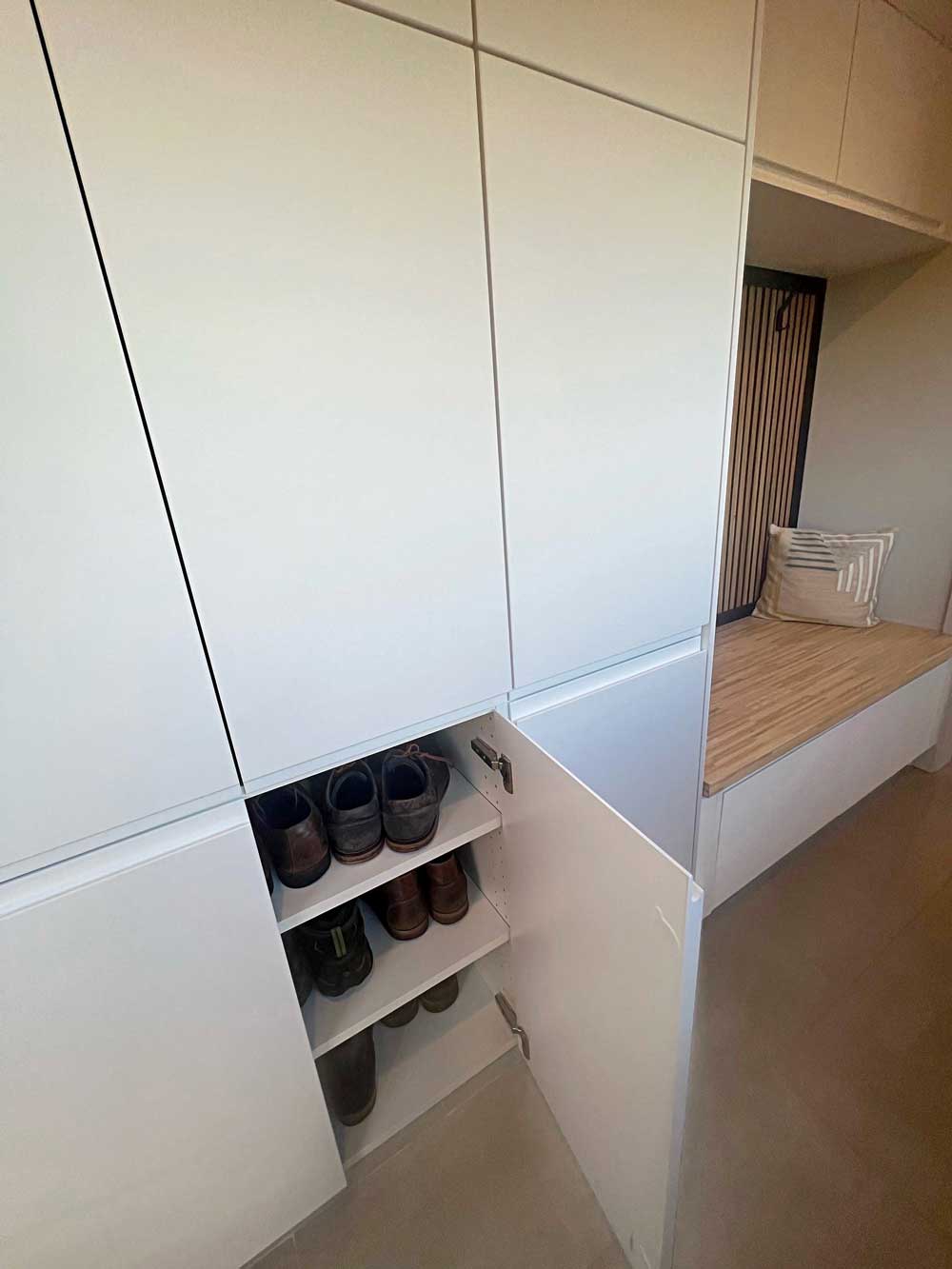 The only other issue they ran into was that the mudroom walls weren't perfectly square, but otherwise, the installation was straightforward, and the result was beautiful.
Inspired Kitchen Design was the right choice for Laura and her husband's IKEA mudroom design.
Today, Laura tells us she's happy with her IKEA mudroom. For anyone considering their own mudroom design, she offers two pieces of advice:
Work with a knowledgeable IKEA installer.
If someone had been available in her area in a reasonable amount of time, she would have liked to have someone familiar with IKEA hacks and product assembly install the mudroom.
Find out the installation quote beforehand.
While Laura believes the total cost of installation and IKEA products were worth the investment, she did experience some sticker shock when they were quoted $4,000 by her contractor. That included cabinet assembly, hacks, prep work, and installation.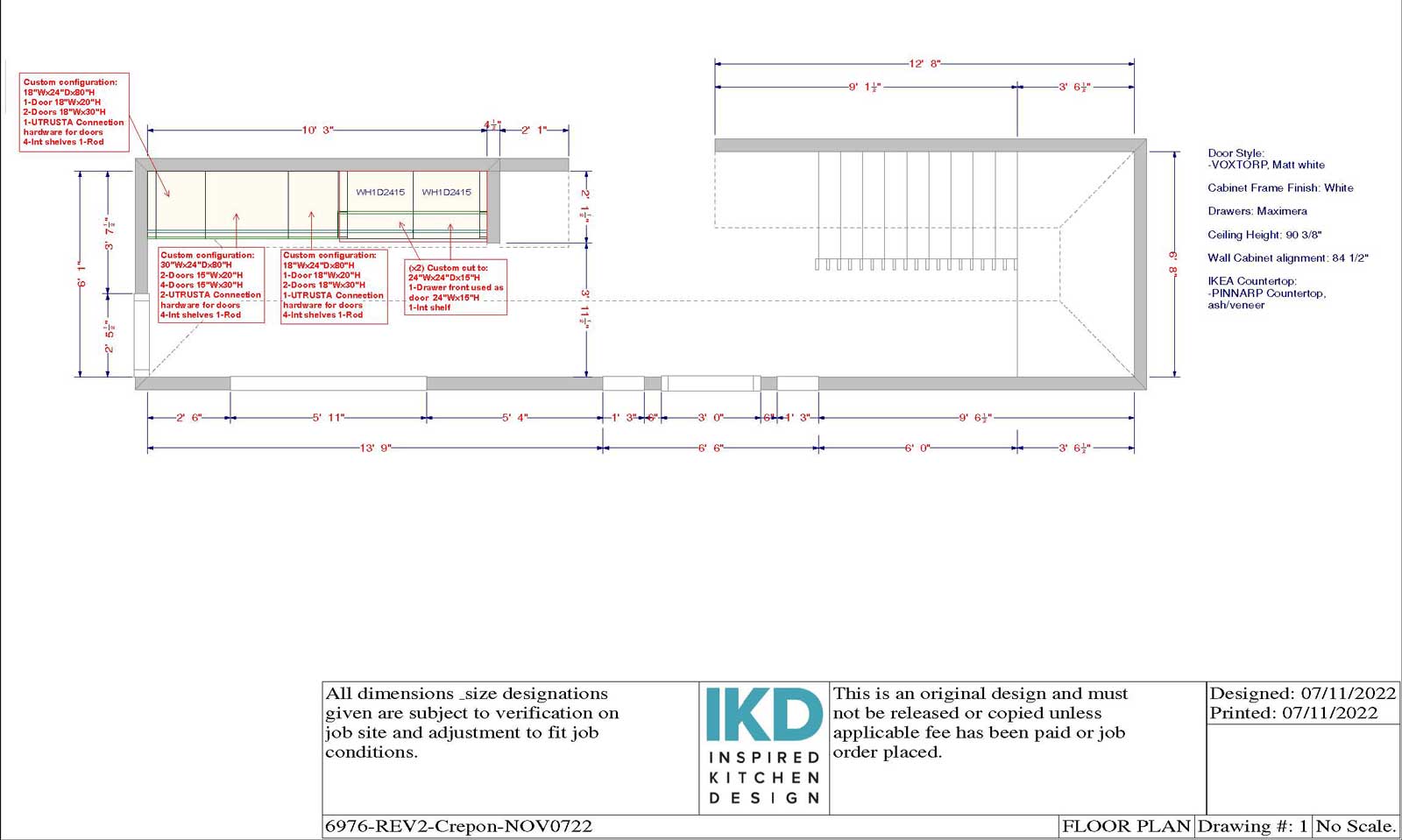 Laura and her husband asked that this mudroom design be suitable for them, a dog, and two children. Although they haven't yet grown their family, we're proud to have designed a mudroom that helps this couple visualize their future.
Get a Professional IKEA Mudroom Design – All Online

Work with our certified designers to get a personalized mudroom designed around your needs and vision. If you're interested in learning more about our service, make sure to check out our IKEA Mudroom Design Services.