IKD's Inside-Out designs show which provides more functional storage.
IKEA sells internal organizers in addition to everything else they provide, like cabinets, furniture, countertops, appliances, Swedish Meatballs, pink toilet paper, dog-butt wall hooks, and succulents. The point here is that while IKEA is an amazing place to shop for household products, they don't specialize in a particular area of the home.
Meanwhile, Rev-A-Shelf's focus is clear: home storage and organization.
Rev-A-Shelf provides an array of innovative organizers for every home from pantry and blind corner pull-outs to bathroom vanity and bedroom closet solutions.
IKD is proud to be an authorized Rev-A-Shelf partner.
Personalized IKEA Kitchen Designs
Created by Certified Designers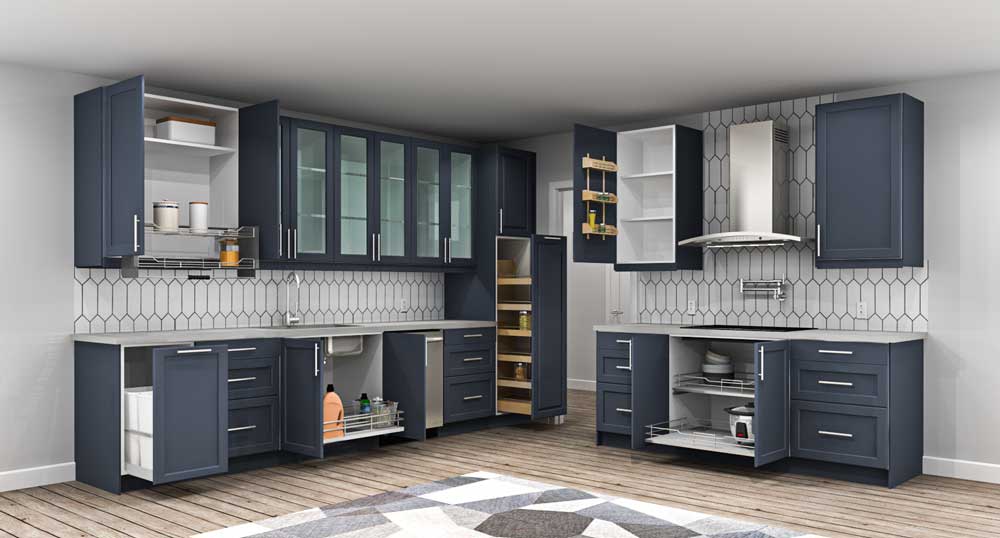 How you organize your cabinets is just as important as how your cabinets look.
IKEA knows their customers want organizers, so they try to provide the basics through their UTRUSTA and HALLBAR lines. These products include a few pull-out racks, pantry organizers, corner base cabinet carousels, and a pull-out frame for recycling bins.
One of the most-requested organizing solutions is a pull-out trash bin.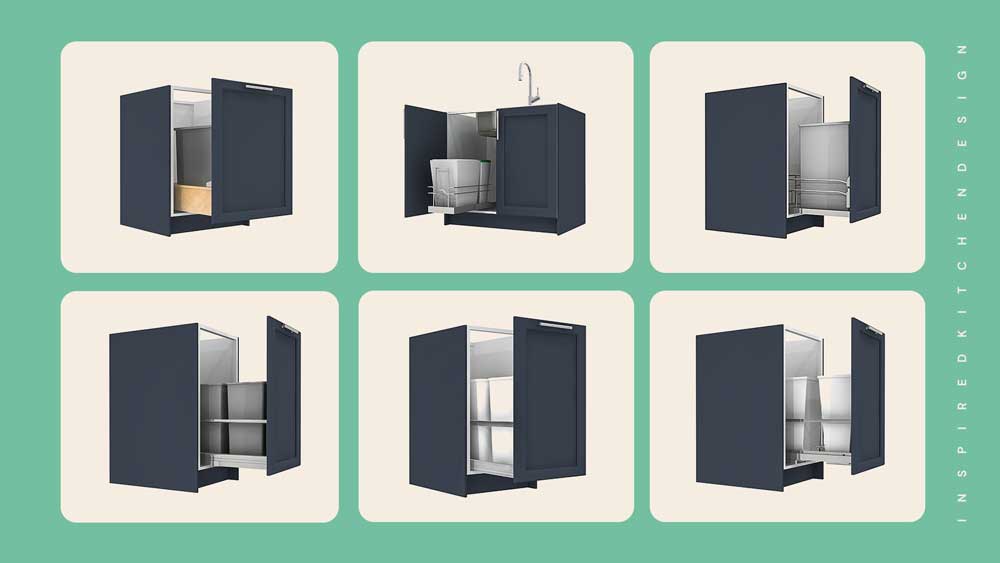 While IKEA offers one type of pull-out frame for recycling, Rev-A-Shelf has ten options in the maple finish alone. Depending on your budget and goals, a pull-out recycling system from Rev-A-Shelf can cost between $100 for a basic wire solution and $1,300 for a solid wood touch-to-open contraption. You can also choose a small trash can that swings out when the cabinet door opens (perfect for a bathroom vanity), or one that sits in a recess in your kitchen counter.
This stark contrast shows itself in every area of the home. IKEA has a few internal organization options. Rev-A-Shelf has every option.
Why Customers Choose Rev-A-Shelf Over IKEA for Internal Cabinet Organization Solutions
"Rev-A-Shelf helped maximize my space."
When it comes to cabinet fillers (or making the empty space between cabinets look pretty), IKEA has several decorative panels to choose from. However, the company does not have cabinet fillers that offer extra storage.In one small kitchen design, IKD designer Albert fit two 6" Rev-A-Shelf fillers on either side of the oven. Where there would usually be wasted space, the homeowner now has storage for spices and other small items. Rev-A-Shelf offers the same solution for vacant space between the fridge and cabinets by featuring 6" cabinet fillers that can reach up to 96" in height.
"Rev-A-Shelf made my kitchen safer and easier to navigate."
When helping a customer reach items in the kitchen with ease, IKEA offers…step stools. Rev-A-Shelf brings the cabinet's contents to you with their pull-down shelving system. In fact, they make it easy to access anything in your cabinets with several pull-out shelving options.In this kitchen design, IKD customer Patricia greenlit six Rev-A-Shelf products: one pull-down shelf, three pull-out shelves, an adjustable spice rack, and a pantry pull-out. It was very important to Patricia that everything was easily accessible.IKEA offers a pantry pull-out system with eight baskets, four of which attach to the interior of a cabinet door. It pulls out automatically when the door is opened, preventing items from getting lost in the back and using valuable, yet often untouched, real estate on the interior of the cabinet door.The Rev-A-Shelf pantry pull-out used in Patricia's design requires just 12" of unused space and slides out similarly to the company's cabinet filler designs.
"Rev-A-Shelf had more practical solutions to my corner cabinet storage."
Since so much of IKEA's business comes from kitchen sales, they put more effort into solving the blind corner cabinet problem. When you have a U or L-shaped kitchen, you will have corners, and they will be a pain.IKEA offers a corner base cabinet with a pull-out fitting. This looks like two half-moon plastic plates that slide out for easy access. However, you are limited to the space available on those plastic plates. Rev-A-Shelf, on the other hand, offers blind corner optimizers with 2-3x as much storage space and sturdier materials.IKEA also has a carousel option. Again, this is a plastic product, and the shelves on the carousel are fixed in place. Rev-A-Shelf offers an alternative option made with heavy-duty chrome wire and adjustable shelves.
Let IKEA handle the cabinets while Rev-A-Shelf handles the cabinet organization.
IKEA offers very basic organizing options, and while they may be cheaper than those offered by Rev-A-Shelf – though the Rev-A-Shelf organizers will serve you better, last longer, and add more style to your kitchen renovation.
It's why so many IKD customers choose Rev-A-Shelf products over any other brand.
Get a Professional IKEA Kitchen Design – All Online

Work with our certified kitchen designers to get a personalized kitchen designed around your needs and vision. If you're interested in learning more about our service, make sure to check out our IKEA Kitchen Design Services.