"We started the project with a local kitchen designer, but then found that our requests were not being prioritized."
You're looking to make a bold statement with a major kitchen remodel (including tearing down your existing kitchen and establishing a new kitchen in another part of your home), and you know you want to use IKEA cabinets. But, there's a rub. You (and your spouse) work full-time and have kids. Say no more: You've got big remodel plans and no time to get it done!
This was the case for customer Heather from Reston, VA, when she and her husband decided to remodel their previously inefficient kitchen space (as part of a larger home remodel) into a modern 12′ x 23′ IKEA kitchen featuring custom cabinets; tons of storage; an eye-catching beverage bar area and a large center island for their family to enjoy.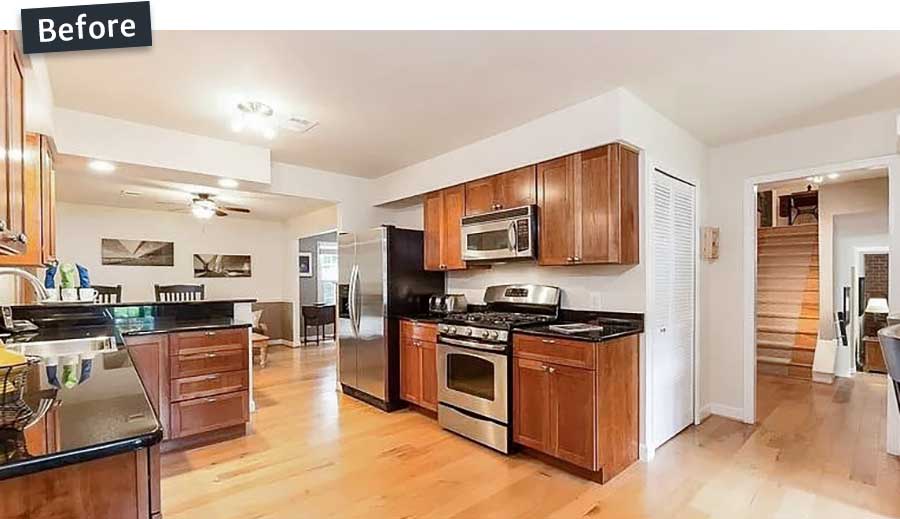 "We wanted something timeless and not boring. We always liked the way white kitchens looked but that didn't match our aesthetic. Ultimately, we opted for darker, custom cabinets using IKEA frames. Once we finalized the cabinet color, the rest fell into place," Heather says.
With a total budget of $90,000 for her kitchen project (including $50,000 set aside for installation), Heather worked with IKD designer Albert to combine IKEA's SEKTION kitchen system with Semihandmade's (SHM) unfinished MDF shaker doors (which she had custom-painted). This created a warm, eclectic space complemented by a variety of appliances, including a 36″ GE induction cooktop; a Sharp drawer microwave and a GE Profile Twin Flex convection wall oven. The product lineup also includes IKEA MAXIMERA drawers; honed Carrara marble countertops; white backsplash tile from Wayfair; a Dutch door from Rustica and cabinet hardware and a farmhouse sink from Amazon, among others.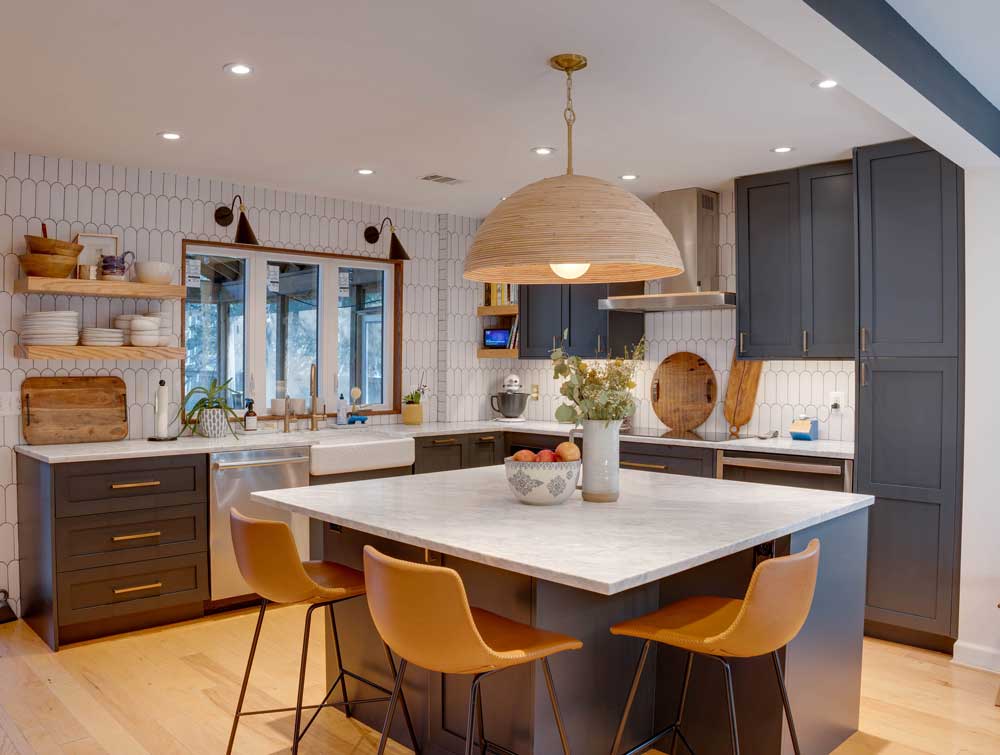 The project stands out for another reason: The family tore down the existing old kitchen and had IKD design a new kitchen floorplan that effectively flipped the original kitchen and dining room locations. This enabled Heather to achieve all her design wish list items including a larger dining room; more pantry storage and a large kitchen island. Overall she considers the island, the backsplash tile as well as the Carrara marble countertops as the most unique aspects of her design. By combining the IKEA total price ($6,213) and the Extra Items list ($789), Heather's IKEA kitchen cabinets were completed for only $7,002, which enabled her kitchen remodel to stay under budget as well.
Let's see how Heather's IKEA kitchen came together!
Personalized IKEA Kitchen Designs
Created by Certified Designers

Working Together
Heather knew that a DIY project was not feasible due to their busy schedules.
"We started the project with a local kitchen designer but then found that our requests were not being prioritized. We knew what challenges we were facing and what we wanted, but we needed IKEA design experts to help guide us and to make the final plan for our contractor. Working with IKD and our contractor turned out to be a great fit," Heather says.
The contractor installed the cabinets as he was very familiar with IKEA products. He also consulted often with Albert to double check any assumptions and make sure everyone was in agreement.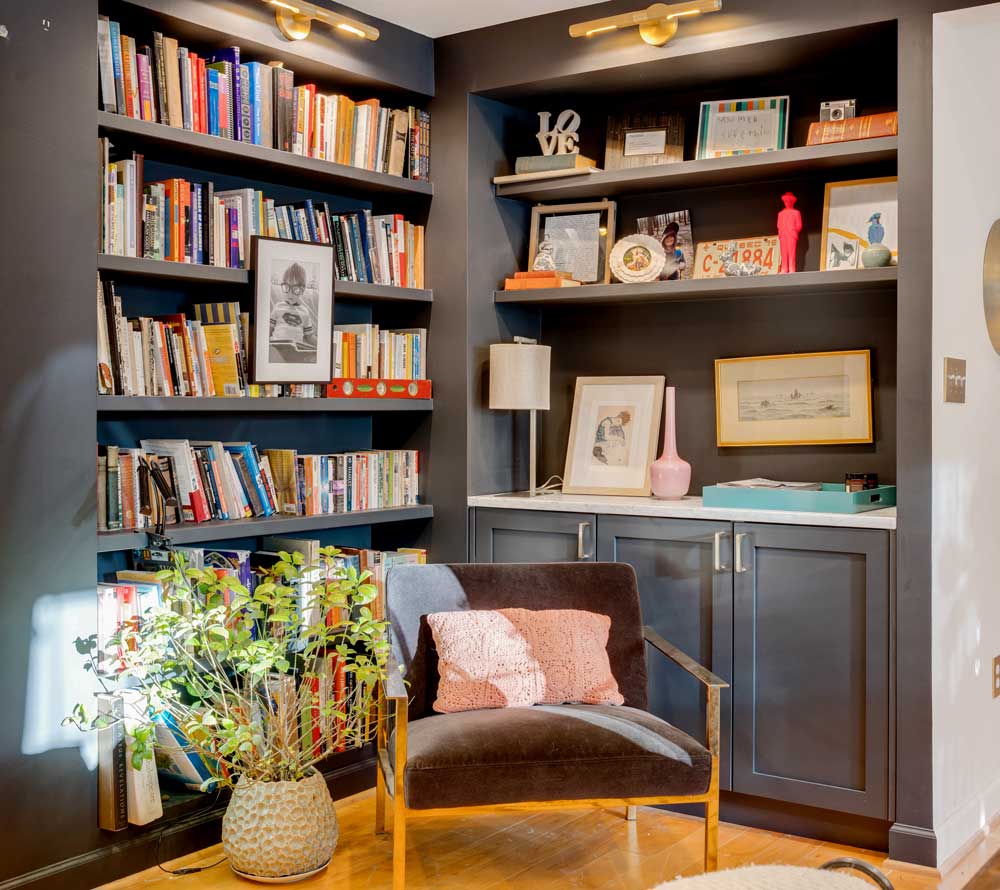 A Bold Move
Heather tore down her old kitchen and set up her new IKEA kitchen in a different side of her home.
"We completely changed the footprint of our first floor, moving the kitchen to a completely new spot. The kitchen stayed on the same floor [but] we moved it from one side of the first floor to the other. We basically switched the dining room and kitchen. This gave us a lot of freedom," she says.
However this also presented some interesting design challenges. For example, since the home is a split model, the first floor held a lot of the load-bearing walls. Once everything was ripped out, she and her husband needed to figure out where to put the footer and support beam and then build around it. It wasn't until they took the walls down that she was able to give Albert the exact measurements he needed. This was crucial, as the teardown left a long, rectangular bit of unused space, which Albert was able to incorporate into the layout.
"It was challenging taking exact measurements. We had a few failed attempts and then ended up paying our contractor to do it for us. It's okay if you're off by half an inch in the initial planning phase, but for the final design, it has to be perfect," Heather explains.

Heather also insisted that the refrigerator remain about four feet farther away from the cooking zone because changing the orientation of the refrigerator meant it was visible from the living room, which she did not want. She concludes that even though the refrigerator is farther away, it was worth it to have it tucked away from the cooking area. (It keeps "refrigerator browsers" out of her way while she's cooking!)
IKEA Cabinets on Display
This IKEA kitchen provides a dynamic and dramatic design theme — which was exactly what Heather wanted.
"We originally wanted a white kitchen, but then I wouldn't have been able to get the white Carrara marble counters, which I had my heart set on. I wanted something with a little bit of drama, that was also classic. Dark navy bordering on black fit the bill!" Heather says.
The IKEA upper cabinets feature Semihandmade's DIY door fronts painted with what Heather describes as close to Benjamin Moore's "Raccoon Fur" color. The upper cabinets are balanced throughout the layout, seen at the top of the refrigerator station and then beginning again over the range and farmhouse sink. This creates ample storage for plates, utensils and other cookware for everyday meals as well as other dishware for entertaining guests.
The IKEA base cabinets run the perimeter of the kitchen, again featured at the coffee station and refrigerator area, and then running the outside of the dishwasher and along past the farmhouse sink; past the cooktop and ending by the oven. The base cabinets by the sink are complemented by the stainless steel dishwasher (held over from the old kitchen); the Cararra countertops; open wood shelving (for cookbooks and smart devices) and the white tile backsplash. This creates a transitional to the space while providing plenty of surface area for meal prep.
Meanwhile the beverage station features a combination of the Semihandmade custom fronts, IKEA MAXIMERA drawers and doors with the IKEA upper cabinets. This provides a lot of storage options for plates, small appliances and coffee and tea for their morning routine. The look is complemented by open wood shelving (to display the couple's favorite bottles) as well as an undercounter wine cooler to chill wine bottles for guests. It is enhanced as well by the Carrara countertops (with room for a coffee maker) and a farmhouse sink for easy cleanup. Other products include: IKEA FIXA countertop support fixtures; IKEA FORBATTRA toe kicks and an IKEA UTRUSTA hinge, among others. The design theme is completed with can lighting and ample natural light.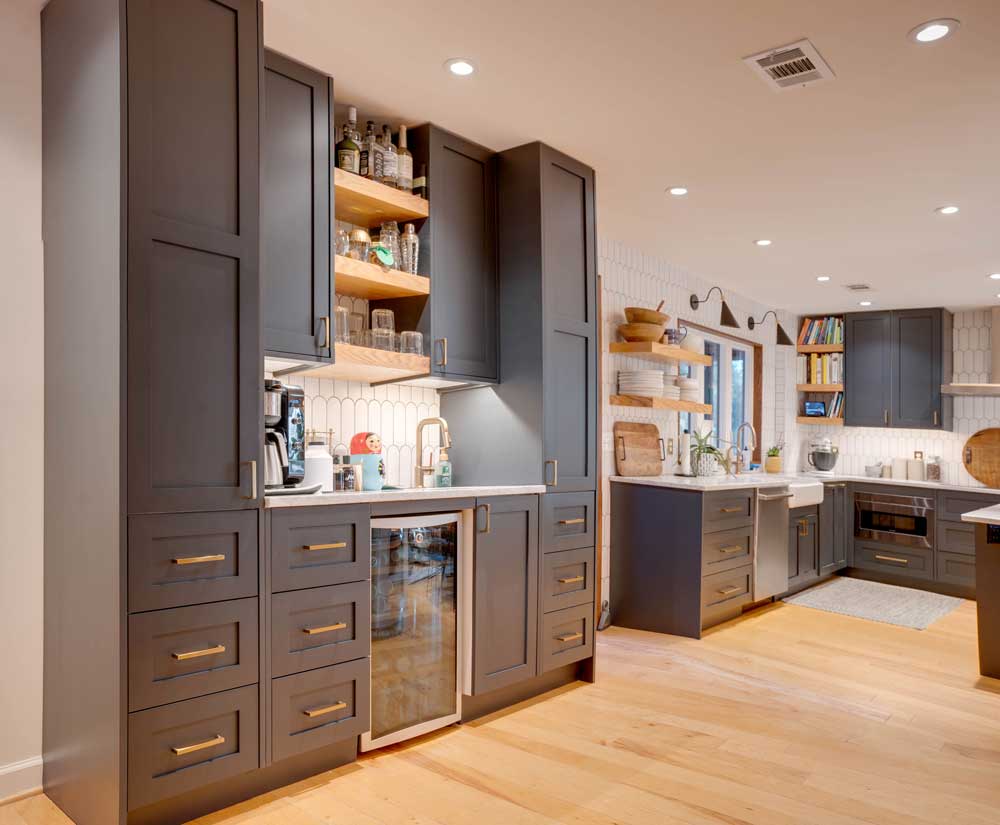 IKEA Pantry Designs
With a busy schedule and three kids, Heather needed extra pantry storage.
"Having more pantry storage was one of our main concerns. Part of the reason we did this remodel was because we wanted our kitchen to grow with our active (and hungry!) family. The layout of our old kitchen didn't do that, but our new IKEA kitchen definitely does," Heather says.
Using IKEA's SEKTION kitchen system, Heather decided against having one large pantry, opting instead to create a cook's pantry with 18″ full height cabinets next to the stove and a snack pantry featuring two 15″ full height cabinets by the beverage station/refrigerator area. This solution not only takes advantage of the 96″ ceilings, but the two separate pantries make mealtime easier (and stress free) with a more efficient, uninterrupted workflow.
Fantasy Island
The center kitchen island represented a new look for Heather's home.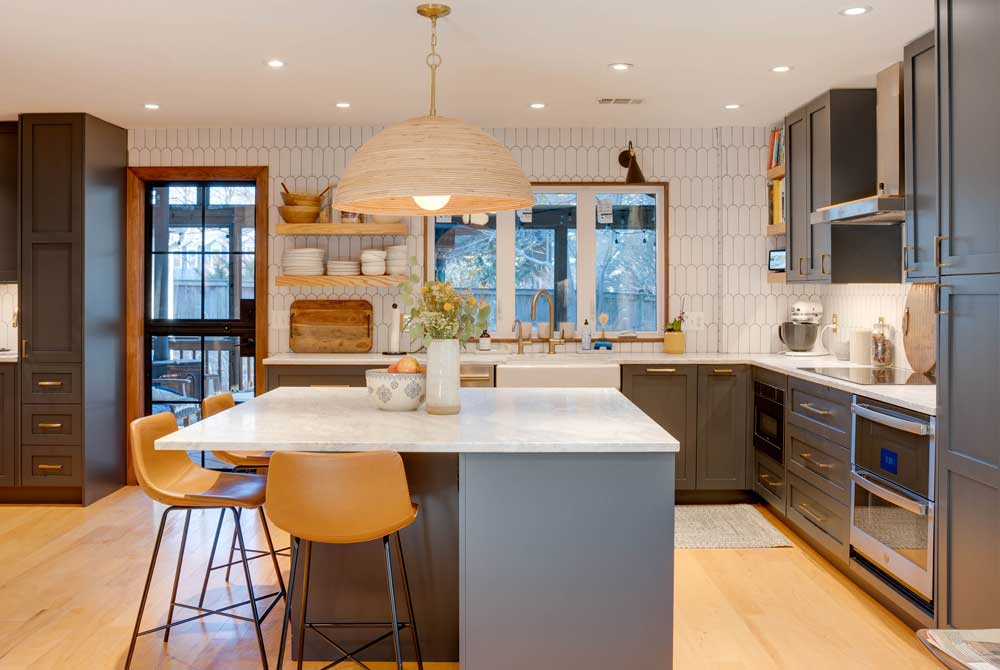 "I have never had a kitchen island before, and it had always been a dream. Unfortunately, our house just didn't seem like a suitable space. But with some planning a reconfiguring, we ended up with the island of my dreams," Heather says.
The island also features the custom-painted SHM fronts with a combination of drawers and doors to provide perfect storage options for linens, additional kitchen utensils and baking items, like mixers. Heather requested the island be square-shaped (so people can look at each other) and packed with outlets and storage. The island features a Carrara marble top with overhang, and also comfortably seats three. This improves workflow as it provides a landing surface for plates during prep time and clean up.
Back orders
An issue that threatened to derail Heather's IKEA kitchen project were supply chain delays.
"We encountered a brief cabinet delay. On average, it was a three-week wait. IKEA was great about it. We were always on the look-out for an email from IKEA saying that a cabinet piece was available — we paid for it immediately! They only hold new inventory for so long, so it was important to act quickly," Heather says.
One solution Heather used was to drive about an hour to the Baltimore area IKEA. Here she purchased several pieces, with one cabinet found in the closeout section. Overall she says they very engaged and active in making sure they had everything before their kitchen remodel began.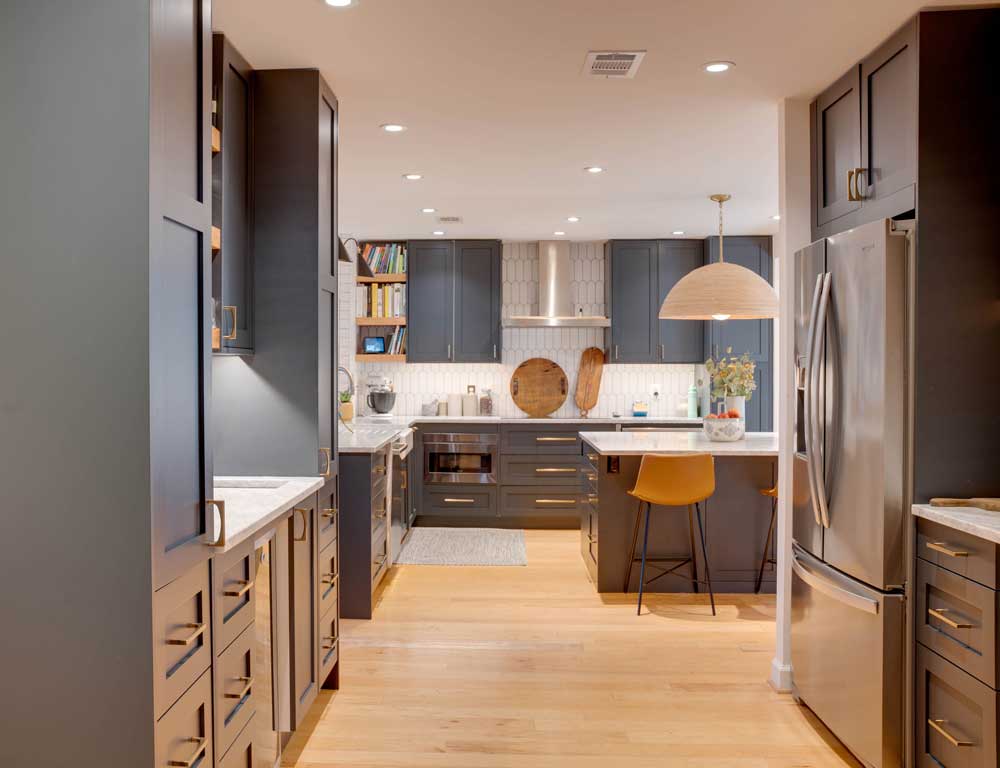 Words of Wisdom
Heather shares some advice to future IKEA remodelers looking for similar results.
"Go with your gut, but listen to the experts when they strongly recommend that you do something a certain way. The rules are there for a reason! IKD was incredibly knowledgeable and responsive. They are perfect for homeowners who have strong opinions about how they want things done but no understanding of kitchen design," Heather explains.
As you can see, Heather's IKEA kitchen provides a great example of what is possible with IKEA cabinets. This includes custom options without compromising function, or your budget. Our design team is here for any IKEA customers looking to accomplish similar results with their IKEA kitchen. Let's get started now!
Get a Professional IKEA Kitchen Design – All Online

Work with our certified kitchen designers to get a personalized kitchen designed around your needs and vision. If you're interested in learning more about our service, make sure to check out our IKEA Kitchen Design Services.