And, no, (laundry room) size doesn't matter.
Laundry rooms are multitaskers. They serve their purpose as a convenient space to do laundry, but they're also a catch-all for cleaning supplies, overstock items like toilet paper, and even gift wrap. (After all, a folding surface can also serve as a gift-wrapping surface.) How do you organize such a versatile space?
The answer is flow.
Skilled designers know that, like a kitchen work triangle, laundry rooms need to make sense for the tasks you're completing.
There are five main components to doing laundry, and your IKEA laundry room design must accommodate them:
Sorting
Washing
Drying
Ironing (If you're into that.)
Folding
You may be thinking, That's great for people with an actual laundry room. But what about my little laundry closet? Don't worry—there's room for flow there, too.
Personalized IKEA Laundry Room Designs
Created by Certified Designers
One of the great things about this design is that we have before and after photos. Sorting laundry in the old design involved tossing the laundry on top of the dryer and working between the two appliances. The laundry detergent was stored on top of the front-load washing machine, and if you've ever done laundry, you can probably guess how many times those jugs fell over.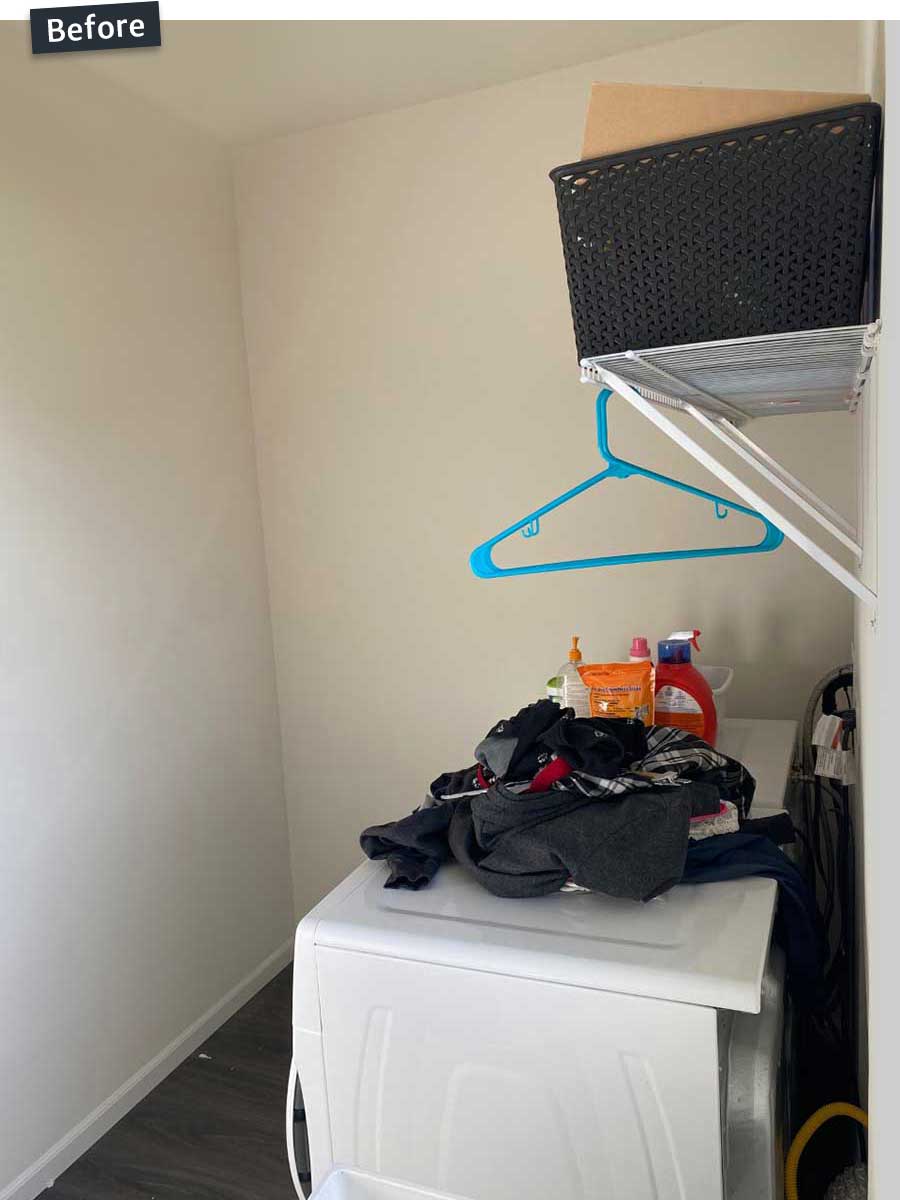 A slop sink with no counter space made rinsing clothing and transferring it to the washer or drying rack more of a chore than it needed to be.
IKD designer Albert took on the challenge and made this laundry room flow. Stacking the washer and dryer created space for SEKTION cabinets and a sizeable IKEA quartz countertop around a stainless-steel sink. Now, the homeowner can take the laundry out of the AXSTAD pullout cabinet, sort it on the counter, place it in the washer, move it to the dryer, iron the clothes on the countertop, and fold them.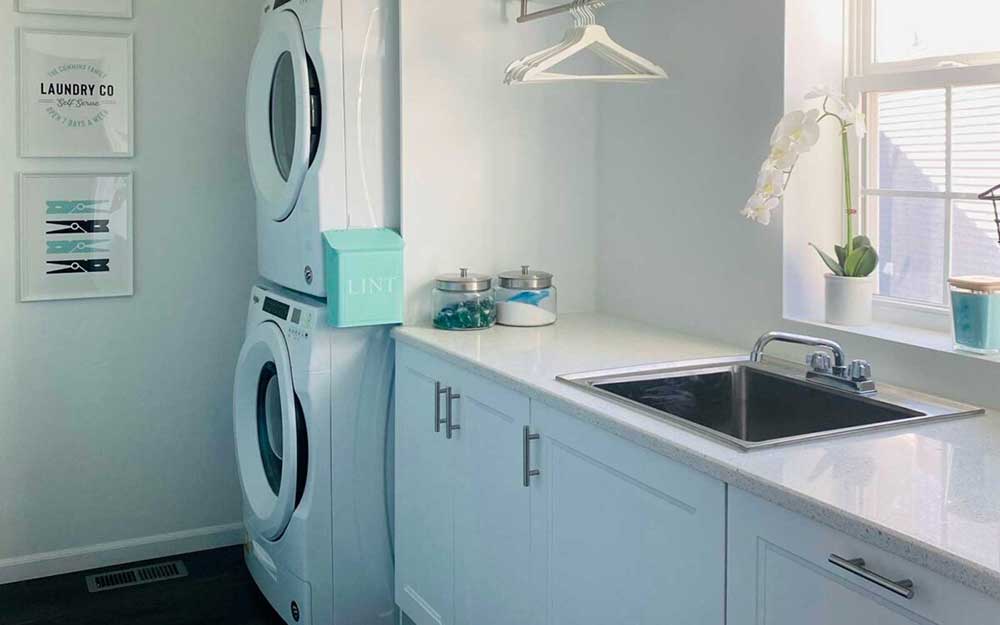 If something requires a little more rinsing, soaking, or handwashing, the sink is easily accessible, and the clothing racks above can be used for hanging dry clothes or drying delicates.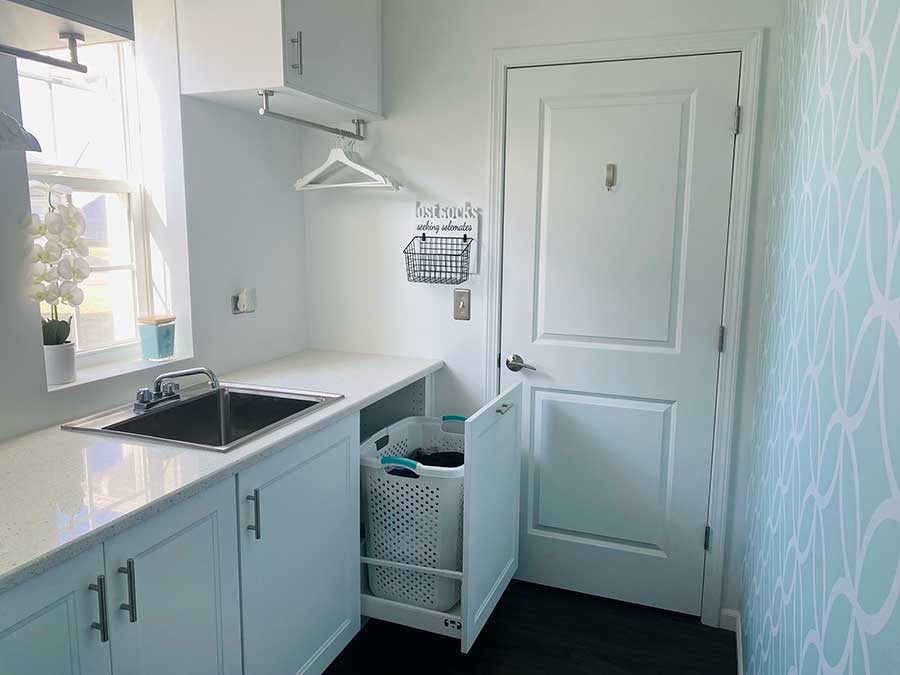 We also created effective laundry room flow within this much smaller space.
This laundry room is more of a laundry nook, but IKD didn't even need to stack appliances to create flow.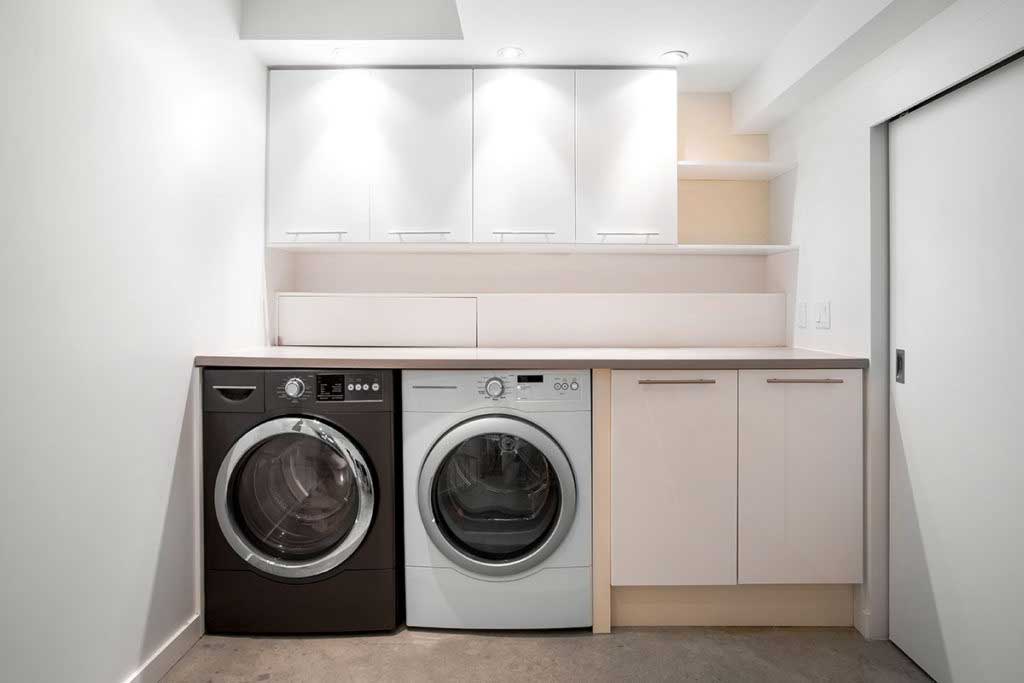 The homeowners mixed and matched materials to create an aesthetic they loved because—let's face it—we all spend more time than we'd like tending to our laundry; we may as well enjoy the space. IKEA VOXTORP cabinets and BURHULT shelving provide ample storage, while the countertop above the washer and dryer offers a space to sort and fold laundry.
Although this more modest design does not feature a sink, it passes the laundry room flow test with flying colors.
Note that these designs also allow for another essential laundry room function: storage.
As we mentioned above, you'll be hard-pressed to find a laundry room that only stores items related to laundry. A roomy cabinet is usually enough for a small trash can, detergent, stain remover, dryer balls, etc., but what about all the other stuff?
IKEA cabinets offer great hidden storage for backstock items, like toilet paper and paper towels. Rarely used items that still make sense to stock, like party supplies, can find a home in the laundry room, as can cleaning supplies (especially if the design involves a tall cabinet like this one).
Shelves, like LACK shelving from IKEA or floating shelves by Semihandmade, offer an ideal place for aesthetically pleasing storage, like sunscreen in baskets or laundry pods in clear containers. Or, use the shelves for plants and candles (assuming, like some of us, you also have about thirty Bath & Bodyworks candles that need a home.)
You can find ways to make extra room in your IKEA laundry room with creative storage methods. Rev-a-Shelf makes a pullout ironing board, pullout hamper, and pulldown racks.
These storage designs allow you to make room for more items without interrupting your laundry room flow.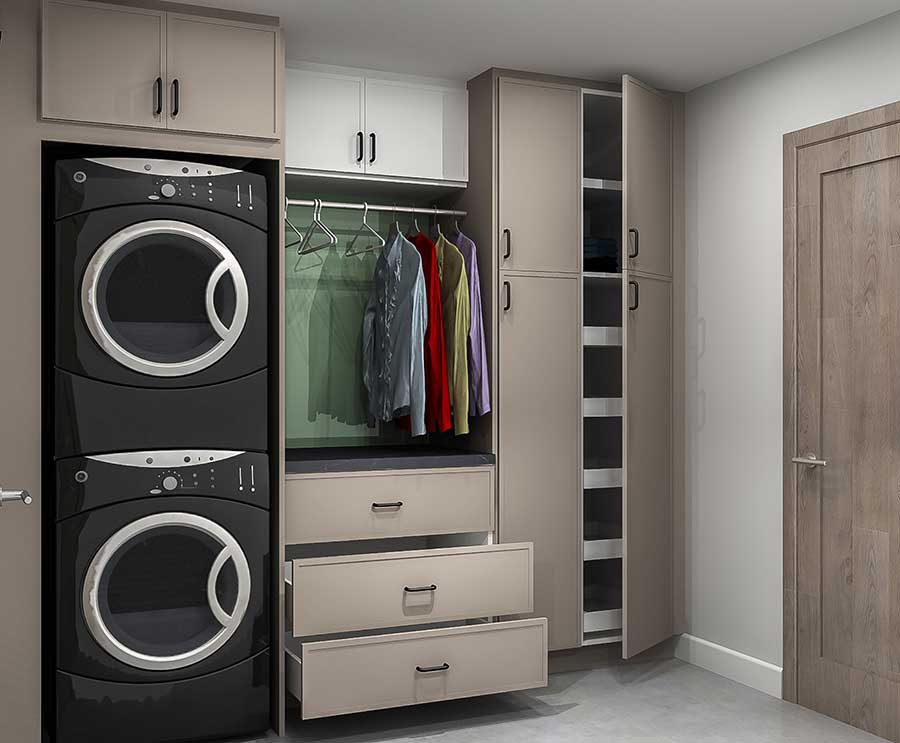 The best laundry room design complements your lifestyle.
Your laundry room has to work for you, so your designer should work with you. Family size, room size, storage needs, and personal style all affect what kind of IKEA laundry room design will give you and your family the best flow.
Get a Professional IKEA Laundry Room Design – All Online

Work with our certified designers to get a personalized laundry room designed around your needs and vision. If you're interested in learning more about our service, make sure to check out our IKEA Laundry Room Design Services.