Plumbing, electric and tiling are also in his scope of work.
For most IKEA customers, starting their kitchen remodel is a big step. We understand this, especially for those unfamiliar with the process. However, finding the right certified IKEA cabinet installers in your area will make an enormous difference in the success of your kitchen renovation. This includes keeping the project on track through potential delivery delays; making sure all necessary parts are on site; and above all, making sure that your IKEA kitchen is completed correctly to your needs.
These are the sentiments of Andriy, owner of San Diego, CA-based UCON Contemporary Interiors, who recently shared information about his cabinet installation company; cabinet installation pricing options; and how to best collaborate as a team (including with professional designers) to ensure a successful end result.
As the final installation (get it?) in our first, four-part interview series, the following information will surely help IKEA customers better understand the keys to a successful IKEA kitchen project and what to do to make the kitchen installation cost easier for you and your family.
Let's hear from Andriy!
IKD: Let's start with a brief explanation about your company's history. How did you get involved with IKEA kitchen cabinet installations?
Andriy: I'm a general contractor and I've got a license. I install all kinds of European-made cabinets, including IKEA and Reform [third-party custom fronts]. It's a similar installation and similar maintenance, I can work with, if necessary, with millimeters or the metric system and with the material. I've been installing here in the United States for about eight years. I have guys and I have tools. I also have 14 vans. We're working in San Diego, Orange County and Los Angeles. We're also able to do projects further out in Palm Springs, so we know how to handle these types of projects.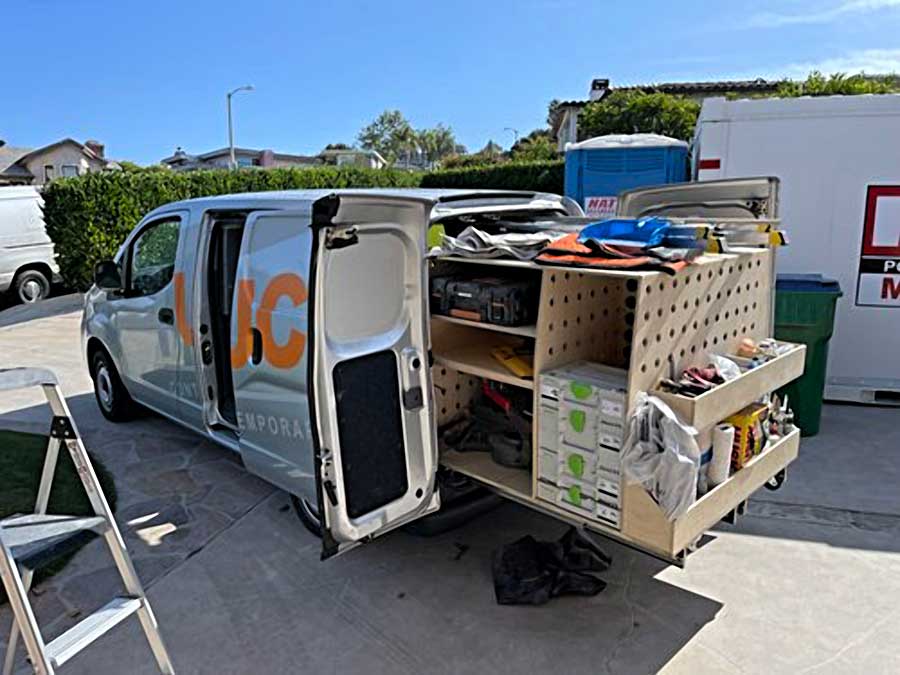 IKD: So, what's the radius that you serve?
Andriy: We go everywhere including Orange County, LA County, and San Diego County. If clients have the budget, the furthest we've travelled for a project is Lake Tahoe, which is an eight-hour drive from San Diego.
IKD: How do determine how much the kitchen installation cost will be?
Andriy: Typically I got the plans and then I give my quote. A galley kitchen is less expensive, an L-shaped kitchen maybe a little bit more, And maybe a U-shape is a little more expensive. But flat price is like $150 per base cabinet, $150 per wall cabinet, and $300 per tall cabinet.
IKD: How do you charge for cabinet hacks and custom pieces?
Andriy: In my projects, they don't have a lot of customizing. If it's just small customizing, I will not charge extra but if we have to customize some appliances, or maybe install the lights. I'm charging $60 per hour for the kitchen installation cost.
IKD: Can you talk a bit about the cabinet installations and your approach?
Andriy: Of course I've done some IKEA installation with customization. Sometimes it's difficult because materials are hard to find. But between my experience and the experience of the guy whose working for me, we do the project in shop. In Europe you can buy from the big brands, from the factory, and if you have your own shop and you can do anything similar with very quality products and be more flexible than the cabinet company. All my guys have experience to do the cabinets in the European way. It becomes an easy fix.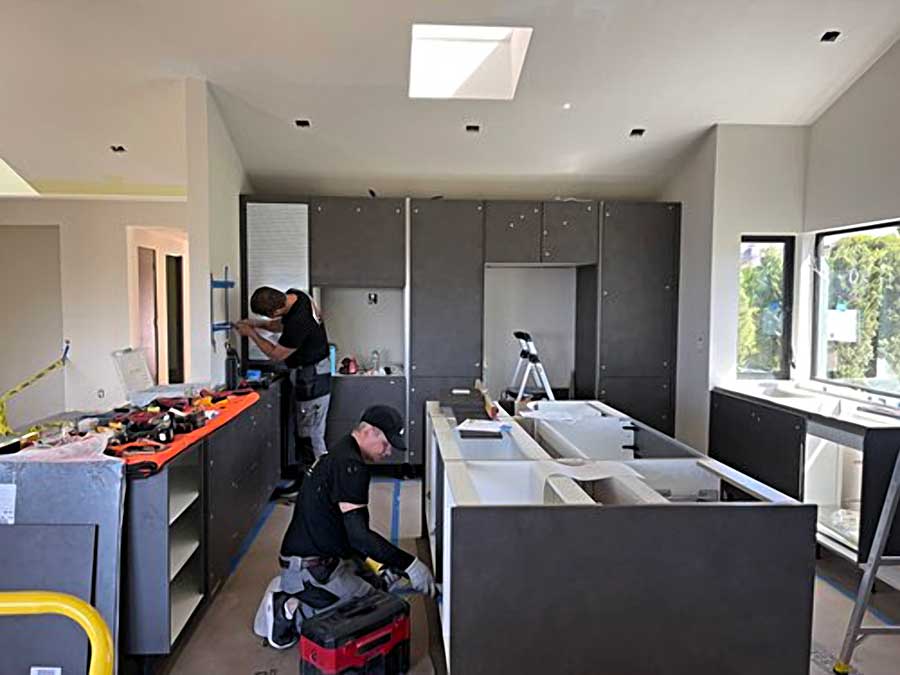 Once we have the cabinets ready to be assembled, most of the shops are doing this type of manufacturing. We know how to assemble and once we get the IKEA delivery usually there are 50% damaged cabinets. So with our small shop we can do some restorations on those cabinets. So I can restore the extra panels, cover panels, extra doors and extra laminate. If needed I have my own table saw, so I can do customization and I can order if it's something special.
IKD: Can you share with us the importance of a professional design plan and how that helps the cabinet installation? How does it make things go more smoothly?
Andriy: Based on my experience, a good design saves me a lot of time. If I have good design, I can install projects very fast — especially if it's detailed, it's clear and I have the information I need.
Some designers give me just a simple plan, like a sketch. So, the typical design plan includes the mechanical plan; the elevations; the top view with and all dimensions in metric and inches. If we have the cabinet, it's typically in metric, but if we have appliances, we have them in inches. It's a very common problem in Europe and America, because we have appliances made for America, and we have the cabinets made in Europe.
What am I expecting from designers? The architectural plans;, the 3-D drawings with the numbers of items and the packaging list. Also, I need the mechanical plans, so before we start the project, I'm going to check and see if we have all the needed plans, and if we have all the water outlets.
IKD: Who usually brings the cabinets to the project, the homeowner, or do you?
Andriy: The showroom. Once I've got the plans, I can count the boxes.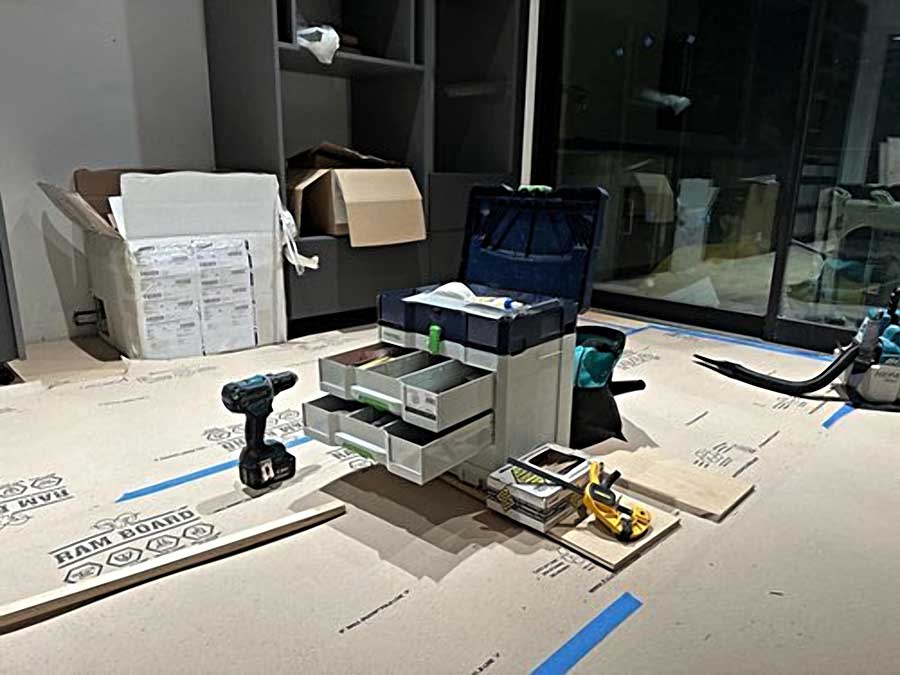 IKD: How have you handled the supply chain issues that IKEA's been dealing with?
Andriy: I'll switch to another showroom. You have to do something, right?
IKD: Could you talk a bit more about how a bad design plan can negatively impact the installation process?
Andriy: Mistakes may put a hold on the project. If I have tall cabinets and it doesn't hit up to the ceiling it becomes a big headache. Sometimes I can cut the legs and make the kitchen a little bit shorter.
IKD: Do you do anything with plumbing or electric?
Andriy: Yes I'm licensed for doing installation, I'm not looking for a plumbing job or an electrical job, but we're able to do that definitely. We're able to do tile, we're able to do under the crawl space utilities. This happens when the client has like a peninsula and he wants to have an island. So we run the drainage, water and power.
IKD: Is there anything homeowners can do leading up to the installation, during the installation, that could make things easier or cut costs?
Andriy: Sometimes I have to call the homeowner and say something can be installed one way or another and which way do you like more? It helps if the homeowner is next to me, but if somebody is looking over my shoulder it doesn't.
IKD: Do you include other room installations in your services?
Andriy: Yes, we do the kitchens; vanities; closets; bedrooms and media rooms. We also do panels; open shelves; lights; drawer cabinet and base cabinets, under the socket panels and things like that.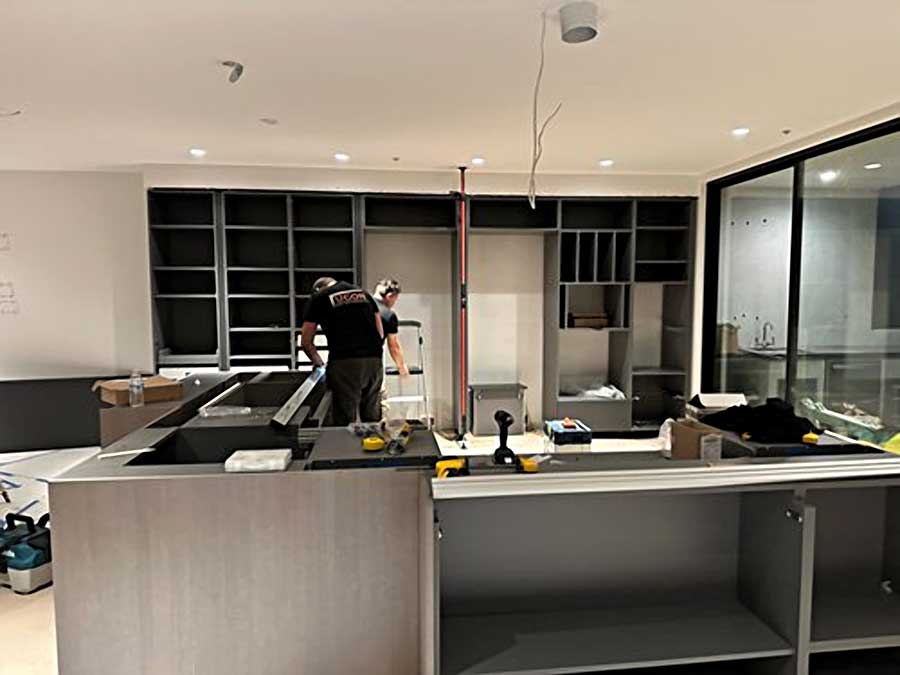 IKD: Can you walk us through the typical cabinet installation process?
Andriy: The typical project is two phases. The first phase is when cabinets are installed and ready for countertop template, and the appliances installation. We're able to do appliances, but most of our project is installed by appliance supply companies. They prefer to sell with installation to give the client an extra warranty. This way we have to install our cabinets and have them ready for appliances and ready for countertop installation. Some companies supply laminate countertop and some companies supply it already pre-cut.
If we have a quartz countertop, we have to wait until somebody makes the template fabricated in a style. So everything is done in two phases. The first phase is cabinets installed, and ready for appliances and countertop. The second phase is after the countertop is installed, and the appliances installed, we come back to finish the project. We do installation for dishwashers, or dishwasher panels; refrigerators panels, or toe kicks because if you install the toe kicks, it's their appliances that are going to damage it. We do some final adjustments, which are like a final cleanout.
IKD: Generally speaking, what is the average budget of your customers?
Andriy: I think the average kitchen installation cost is like about $8,000-$9,000. My biggest project combined for one residential house, is like $97,000. And the last project was a small budget of $2,000-$3,000 That would be a small bar or a small closet.
IKD: So what's your favorite part of your job?
Andriy: Once you do your job right, it's an exciting moment. There's also a lot of showrooms and they are in competition. But if I can do a good job for you, it's good for everybody.
IKD: Do you see IKEA cabinets that much different than some of the more expensive European brands?
Andriy: It's the same but different. If you take the hinge from IKEA on one hand, and a similar hinge from any other manufacturer, you can feel the IKEA a little bit lighter. But everything else looks similar. The same adjustable legs, the same rails. I can say the IKEA boxes look okay.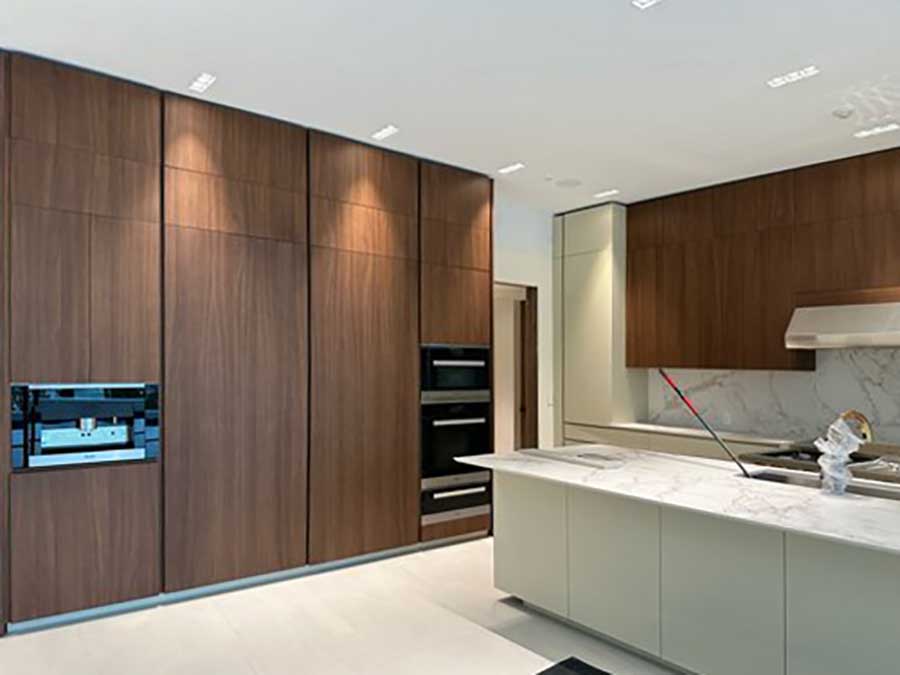 IKD: What do you think are some of the qualities of an outstanding IKEA kitchen design?
Andriy: I would say the mechanical plans and the dimensions, the mechanical plan, and maybe a visualization quality.
IKD: What are the differences that people could expect between a project installed by you versus installed by the homeowner.
Andriy: I'm a professional. You can handle it without any experience but in reality, for a kitchen it is not going to work. It's more complicated. I did finish maybe three or four projects when somebody starts to do IKEA kitchen cabinets. Then the lady calls me and says that her husband has started the project and asks if I can come finish it because it's taking forever!
Get a Professional IKEA Kitchen Design – All Online

Work with our certified kitchen designers to get a personalized kitchen designed around your needs and vision. If you're interested in learning more about our service, make sure to check out our IKEA Kitchen Design Services.