Today I have a kitchen renovation update for you! Things have been moving right along over the past two weeks! The addition is also coming along but more of the attention recently went to the interior projects. The next two weeks will be fun to see as the addition will start to take shape, too! I promise to share more in an upcoming post.
The fun thing about this project so far is there has been a LOT of progress already! Yet there are still so many details and design elements we are looking forward to (such as trim pieces, crown molding, glass doors, bookcases, lighting and ceilings!). We are very pleased with how beautifully it's coming together already, so we're feeling very good about each decision.
I will share more specifics on our design decision process in future posts, but for now I wanted to give you a peek at where we're at so far and a few hints as to what is to come!
WOOD FLOORS:
Once the interior spaces were gutted (kitchen, dining room and living room/entry flooring) the new European White Oak flooring went it. It's STUNNING! We are thrilled with the casual beachy look and feel the floors brought to our home. The first thing we noticed was the pleasing indoor outdoor connection we felt between the wood tones inside and the organic beauty of our surroundings.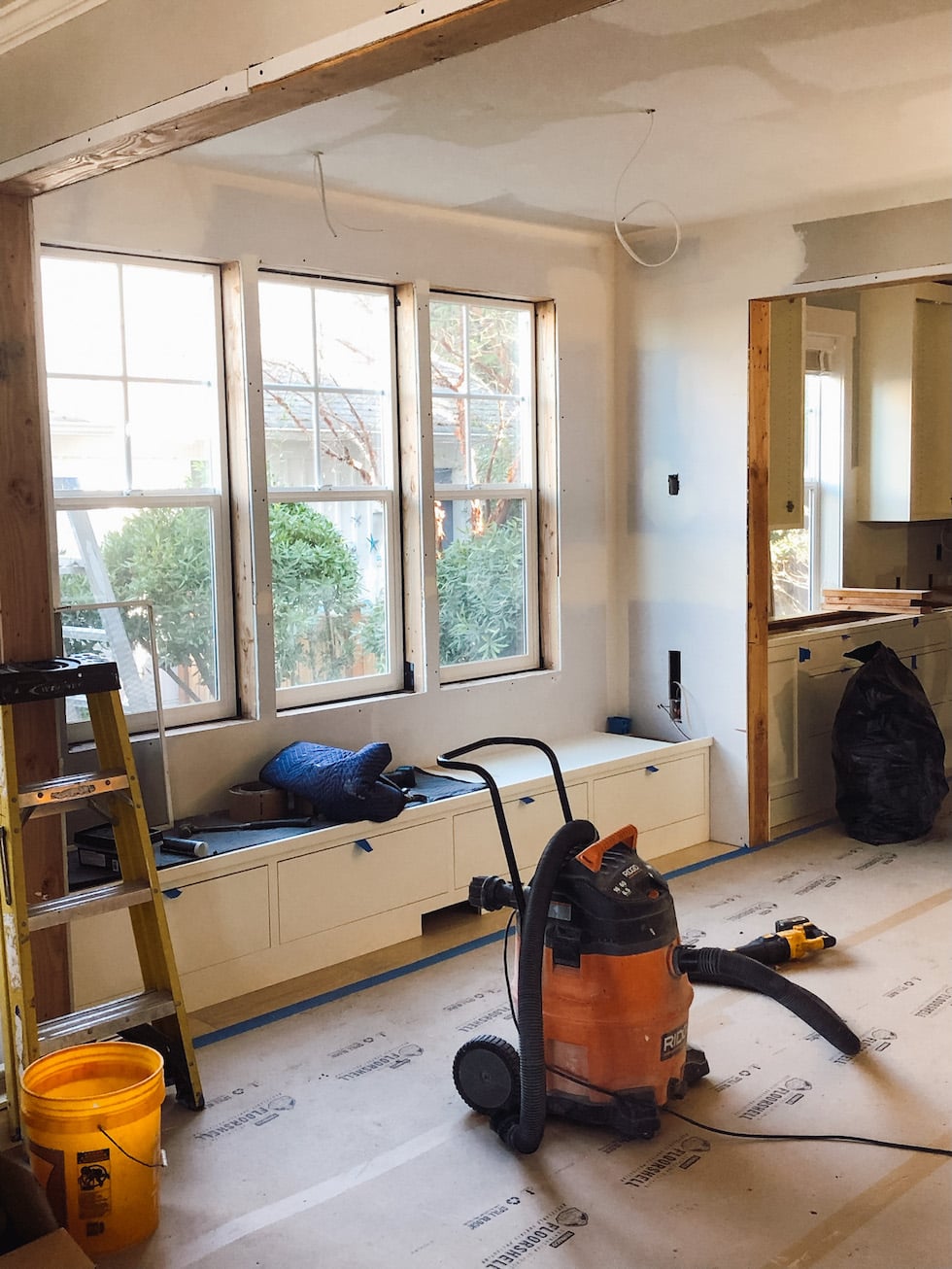 DINING ROOM WINDOWS AND WINDOW SEAT:
The existing windows from the back of our home were relocated to the new dining room. Not only did this change bring in so much more light, we also got a new unexpected water view! In my last update I had said the windows were for light and no view would be opened up, but I WAS WRONG!
While it's not a sweeping view from that side further back on our home, any view of the water and islands beyond makes me happy. Plus, this new view can be easily seen through the dining room windows as you walk around the kitchen, so it's a pretty fun surprise!
It isn't easy to show the new view in a photo or video, and we definitely need to trim a large bush that is blocking probably half of it, but you can kind of see it below! Once the bush is trimmed down a bit it'll be more apparent. I love to get a glimpse of water as I walk through the house, simple joys for this sea-loving gal :).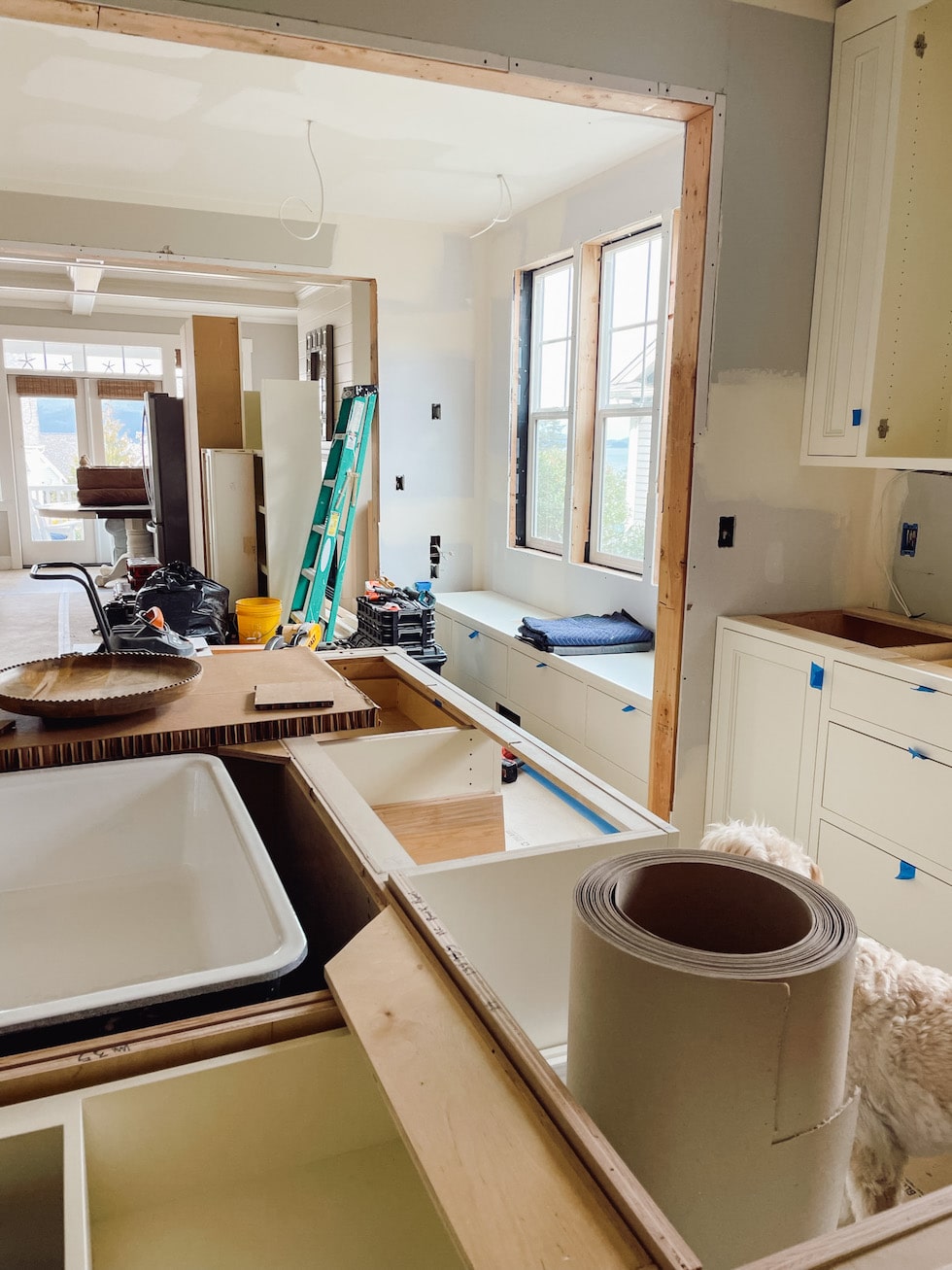 Right below the windows our new dining bench (with drawers below) was installed. Not yet in are the two bookcases, one will be on each side. I wanted to add a few spots with open storage/display for books or seasonal pieces. And of course we can't wait to add a comfy bench cushion and have fun with color, pattern and seasonal pillows, too. I'm really loving the arrangement here as each room feels like an extension of the others, but also has a sense of its own unique place in the home.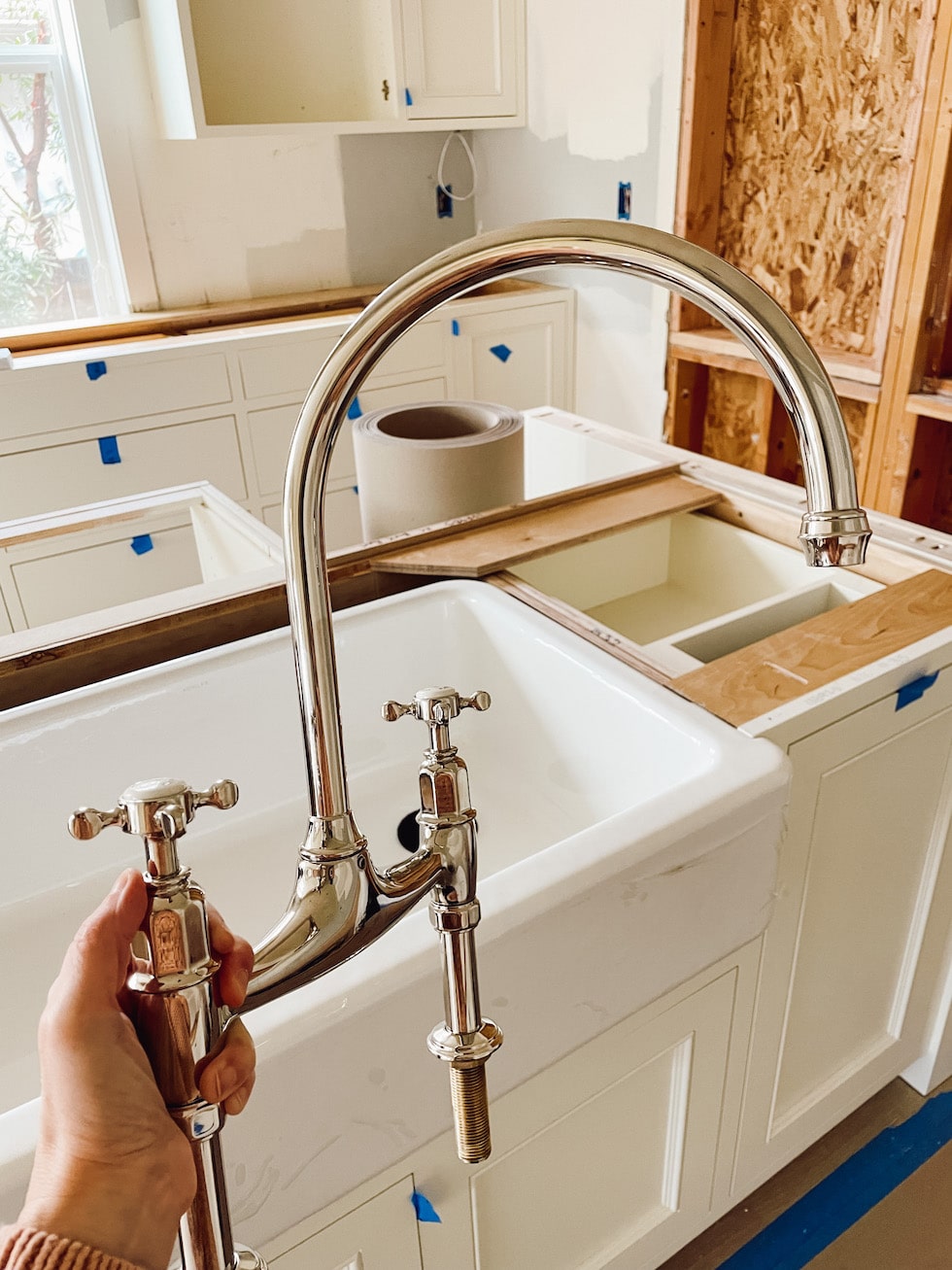 WHITE APRON FRONT SINK AND POLISHED NICKEL FAUCET:
The new sink was set into place so the counter people could come measure! I'm in love. I don't know if I'm the only weirdo who does this but as soon as the contractors leave every day, I'm walking around gazing at everything, setting up little vignettes because I love seeing all the PRETTY things together! I shared the details about our faucet in this post.
INSET CABINETS AND ISLAND:
I am in love with the cabinets. They turned out just as I dreamed they would! They just feel so homey, light and happy, and have beautiful details (many of which aren't even in yet!). We chose traditional cabinetry with a mix of styles and details like beadboard, inset drawers and doors, slab and beaded shaker profiles.
The finish is so smooth and GORGEOUS, I'm really happy with them. There are more cabinetry details to come like some feet and trim pieces, brackets, glass doors and a pretty dish display area, too.
We're also thrilled with how the layout feels to be in the space. We didn't have a lot of walls to work with as it has wall to wall doors/windows on one side and the opening to the dining room on the other, but it is coming together just exactly as I wanted it to. It just feels so cozy and inviting! We also made the most of our storage and counter space, too, which was important to us in a smaller home!
Our floors are covered but I found a few discarded scraps to lay out along with other elements that will be represented in the space. It's fun to dream about each new element that will be added!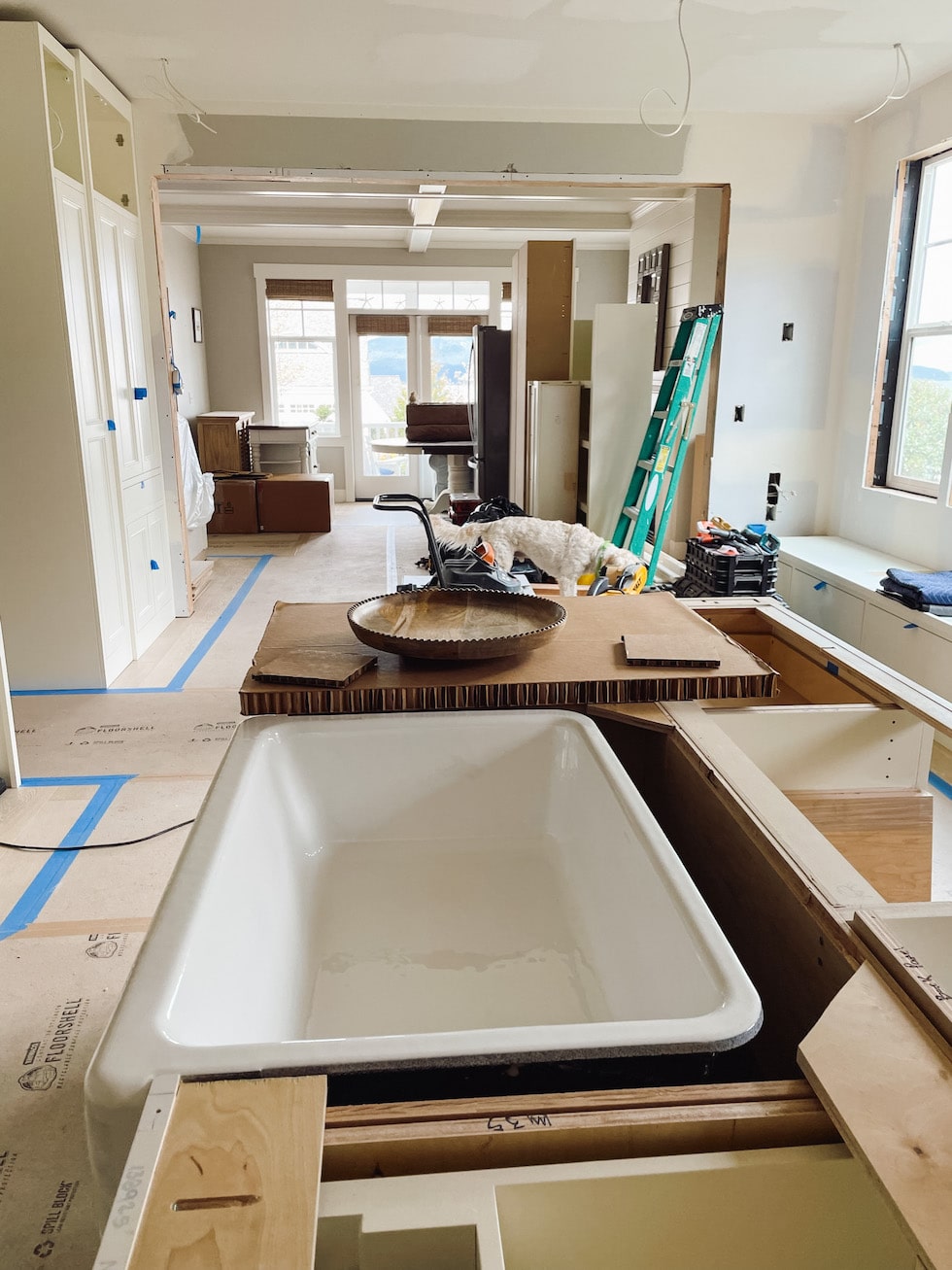 Speaking of the cabinets and layout, I'm so glad we put the sink here. The windows you can see all around are just lovely as is the light that comes in. I love that you can look over and see the dining area, too. Lifting and widening the two openings between these rooms really was a dramatic change that we're loving, too. (By the way, I shared our kitchen design floor plans in this post if you want to look back at the before and plans.)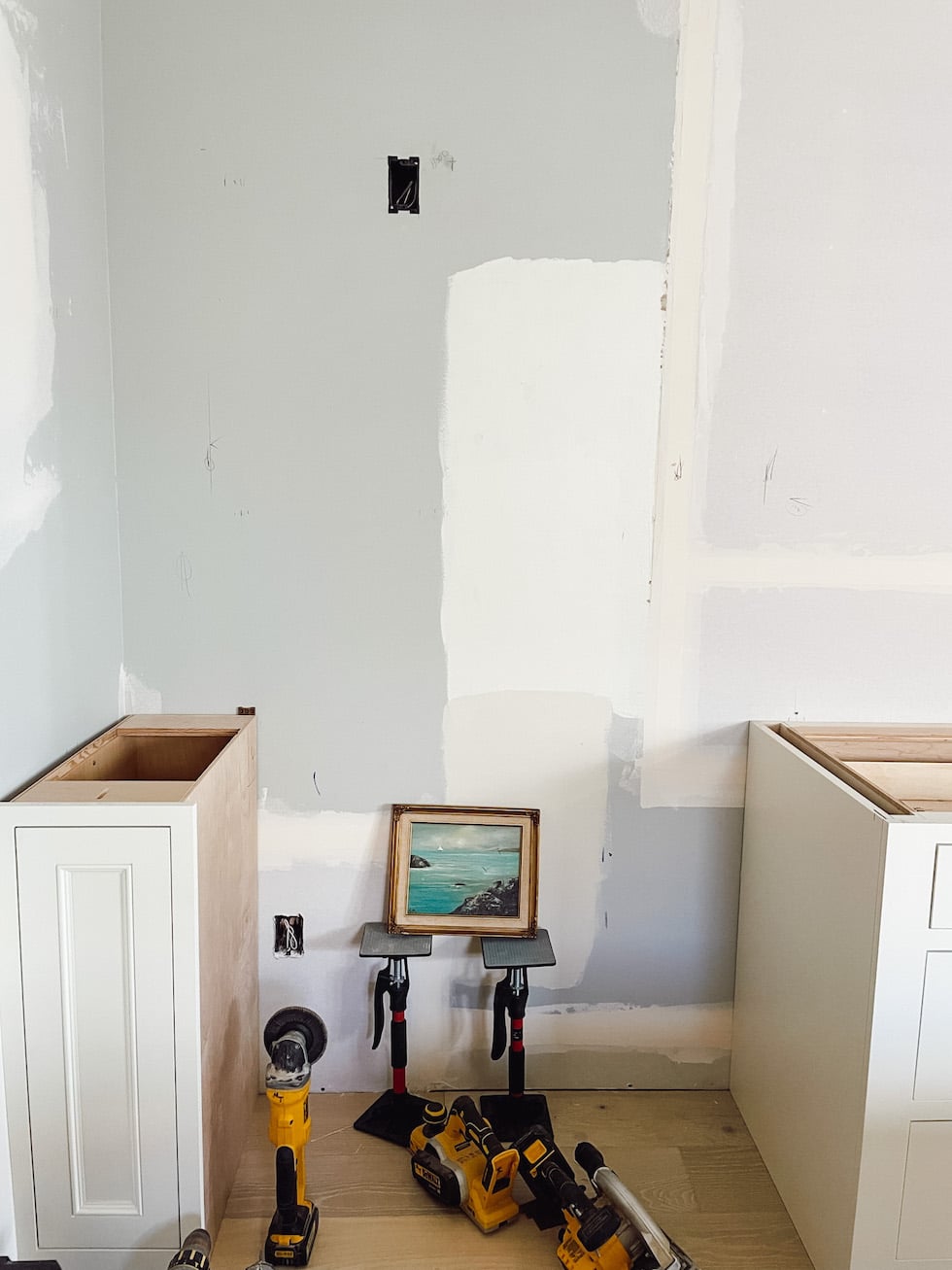 The Queen Bee Range Wall:
While the Queen herself has not yet be set on her throne here :), this little art represents her color palette. I'm excited for the pop of color! We're still missing one cabinet that goes on the right and the hood and some other details here, but I can already tell Beatrix will be so pretty and fit right in.
I shared more about our stove choice (lovingly named Beatrix, ha!) in this post.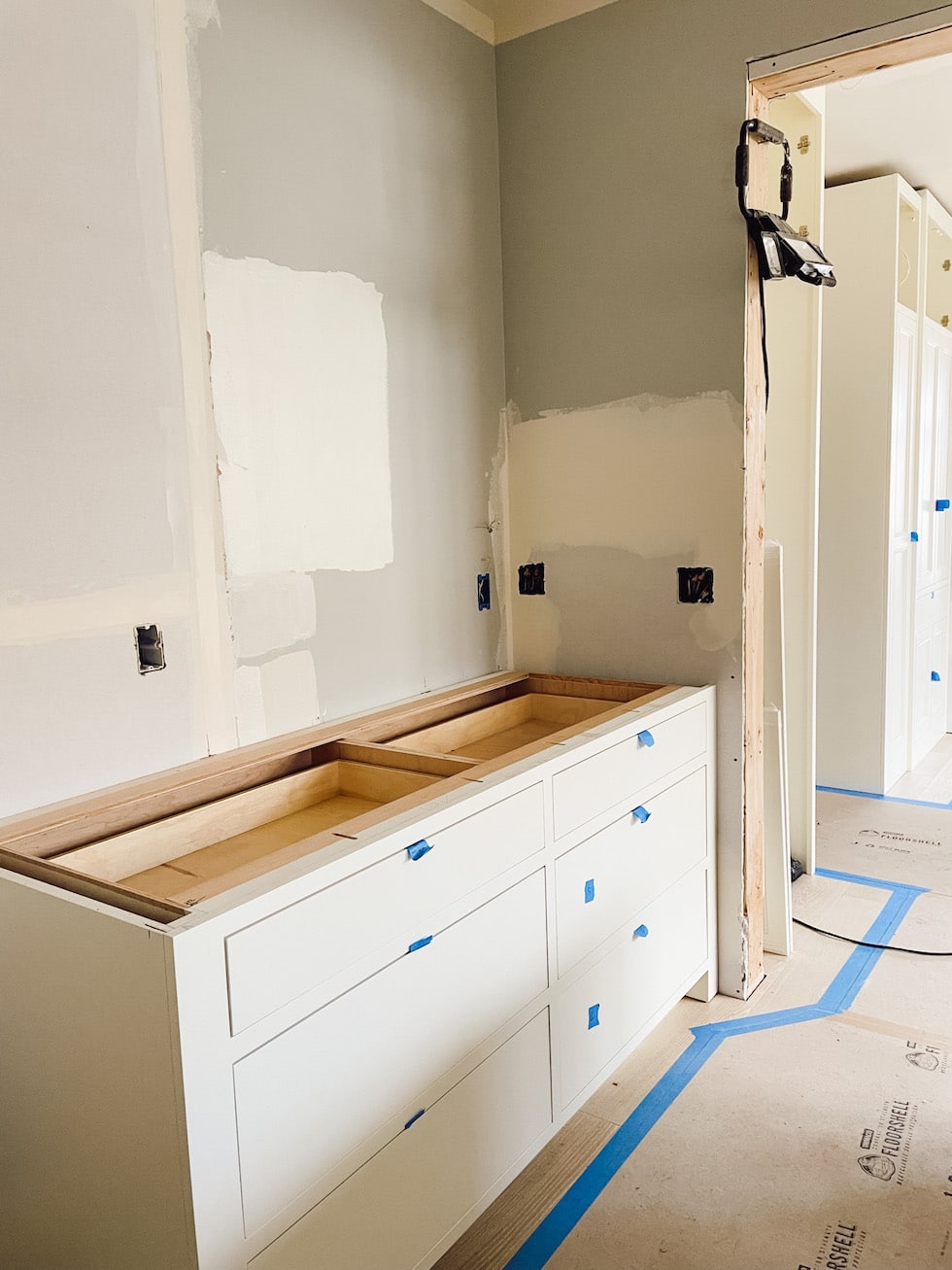 This cabinet wall is going to be special too, you can only see part of it so far :). You can see the spot for the fridge to the right of this space, too.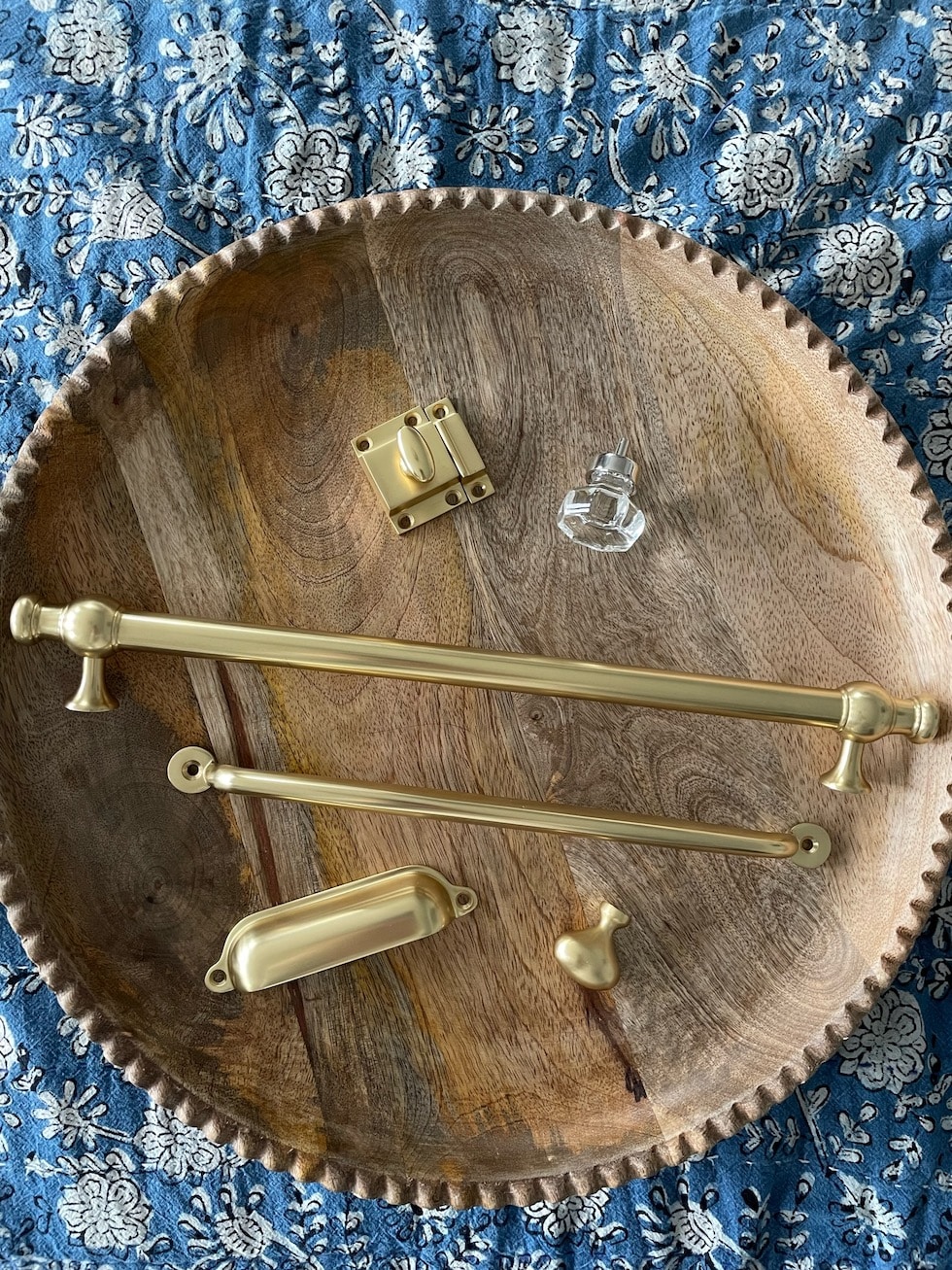 HARDWARE AND LIGHTING:
The hardware arrived, too (along with our lights!). We love it! I wanted a timeless classic look for our kitchen, so we chose a mix of traditional hardware with a warm antique brass finish that is just so beautiful (as well as glass knobs and some touches of nickel).
Sources: Oval Knob // Drawer Pull // Appliance Pull // Glass Knob // Bin Pull // Cupboard Latch
I don't have photos of the lights yet, but you can see them HERE (and our whole kitchen design mood board here).
We ordered these adorable coastal solar lights for outside, I just love them! Next I have to choose exterior lights for our new back porch!
So much more to come, but I hope you enjoyed this peek at our renovation! I can't wait to share more about the addition, too.
I try to share regular updates on my Instagram, so if you like to keep up with the dailies, that's a good place to be.
More Posts about Our Kitchen Remodel:
My New Kitchen Floor Plan + Parents' Addition and Exterior Elevation
Our New Kitchen Design Mood Board (and five questions that helped me make decisions!)
Adding Character in a Kitchen Remodel: The Tale of Our New Range and Faucet
Kitchen and Dining Room Renovation Update! Projects Have Begun!