We kept their design theme while separating kitchenware, sinks and storage.
You're an IKEA customer currently with an outdated, inefficient kitchen and ready to start your new remodel project. You have specific design ideas in mind, but you also know that a DIY approach is way beyond your ability. Also, you keep a kosher kitchen — and that presents further unique design challenges — especially the need to find appropriate storage options.
So the question becomes: How do you double the amount of storage in your new layout to keep your kitchenware properly separated, without increasing the square footage — and upgrade the design theme as well? This was the challenge set before customer Benji from Skokie, IL, when he and his wife decided to renovate their space into a timeless IKEA kosher kitchen.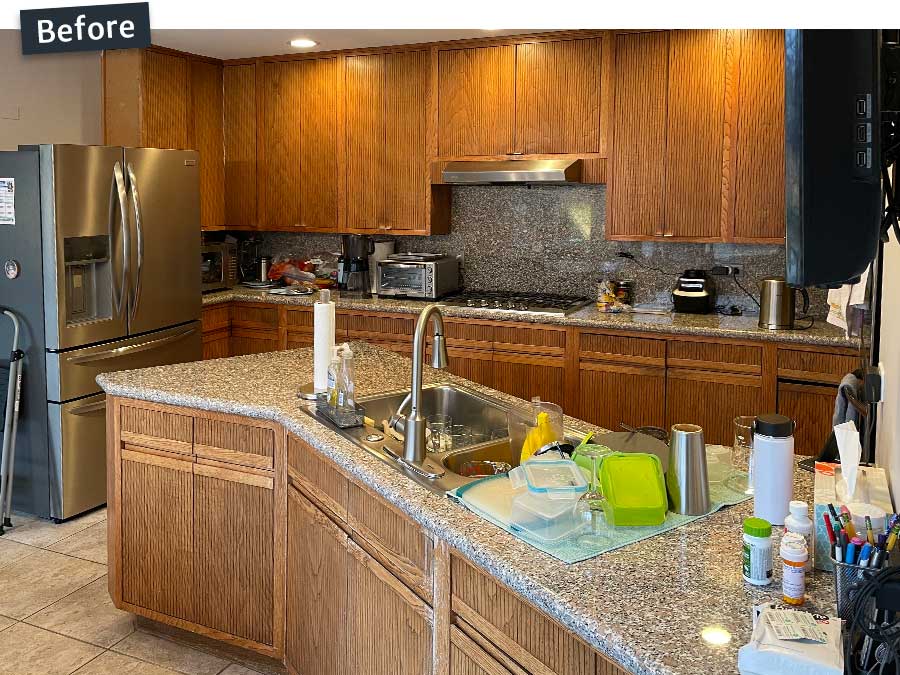 "We liked the clean, timeless and simple look of IKEA kitchens. But, since we keep kosher, it was imperative that the kitchen had adequate cabinet space for everything that we have, including double the amount of dishes, pots and pans, two sinks, etc." Benji says.
Add to that his preference for custom design solutions using IKEA cabinets (such as an IKEA cabinet "hack") and the original space was now going to be completely transformed. But one challenge emerged: a brief backorder delay affected the timing of getting two IKEA cabinets. Though, the project was not on a specific deadline.
So with a budget of $35,000, Benji began working with IKD designer Frank to remodel the 250-sq.-ft. space using IKEA's SEKTION kitchen system along with Semihandmade (SHM) Shaker white custom door fronts on the perimeter and 3cm thick IKEA KASKER Quartz countertops with white marble effect. The couple hired Grand Installers from Chicago to install the white kitchen cabinets. The look is enhanced by white IKEA UTRUSTA shelves (perfect for decorative items) as well as can lighting featured in the 95″ high ceilings.
Meanwhile the peninsula island – a must-have wish list item for the couple — features SHM's SM Shaker Night Sky base cabinets and is paired with additional KASKER countertops to create a seamless look. The island also features a 22″x18-1/8″ IKEA NORRSJON stainless steel sink (to complement the second IKEA NORRSJON sink in the adjacent corner) which is ideal for food prep.
The product lineup also includes: IKEA UTRUSTA hinges with built-in damper for kitchen; an IKEA UTRUSTA drawer front; white IKEA MAXIMERA drawers; white IKEA FORBATTRA toe kicks; an IKEA FIXA countertop support fixture; a chrome-plated IKEA FIXA diffusion barrier and an orange IKEA FIXA drill template. The appliances include a Frigidaire bottom freezer refrigerator; a Viking Range five burner cooktop; a Miele Silencer Plus dishwasher and a Whirlpool microwave and double wall oven, among others.
Impressively, the IKEA total cabinet price ($3,819) and all extra items ($764) came to only $4,583 — helping the couple stay well under their total design budget. So it's very possible to transform your kitchen using IKEA cabinets — even if there are very particular design needs involved — and have it be affordable and function exactly how your family needs.
Let's take a look at how Benji's kitchen came together!
Personalized IKEA Kitchen Designs
Created by Certified Designers

Twice As Nice
With any kosher kitchen it's imperative to account for twice the amount of kitchenware items needed (one for meat, the other for dairy). This calls for unique design solutions.
"We really wanted two sinks, one on the island and one in the corner. The key was they both be as large as possible and undermount. We saw the IKEA NORRSJON sink and knew right away it could work for the peninsula island," Benji says.
To accommodate this request, Frank implemented an IKEA cabinet hack in the corner area near the cooktop. Specifically, the IKEA base cabinet in the corner area was modified to 38″x38″ and combined with the SHM SM Shaker Night Sky door front. This enabled the second sink to fit and still maintain a seamless look to the design. By designing the space with two sinks it allows for washing cookware while keeping to their kosher needs. It also provides clear zones so the family can better enjoy meal prep and cleanup together.
Storage With Style
It was crucial for this IKEA kitchen to gain storage options without sacrificing space — or efficiency.
"We wanted adequate cabinet space, a clean design — no kitchen table — and a large peninsula to prep and eat on. Our old island took over most of the original layout and made it difficult to manage food prep and cleanup. [We're pleased] that all of our wishes were addressed and incorporated into the design plan," Benji offers.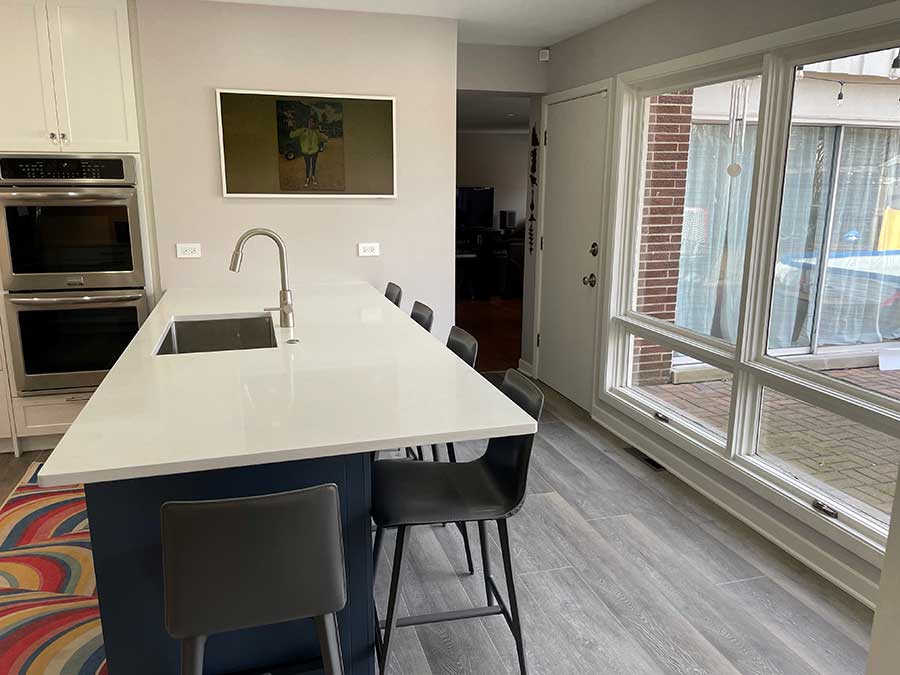 The IKEA upper wall cabinets run along the perimeter from the wall with open shelving, then above the Frigidaire refrigerator, over the microwave and cooktop, around and above the corner sink area and finally above the double oven. Each cabinet features IKEA KALLROR stainless steel handles and white IKEA MAXIMERA drawers giving the space a clean, transitional feel. This leaves the rest of this wall (which is connected to the peninsula island) free to hang a flatscreen TV. IKEA STROMLINJE LED countertop lights are featured under the wall cabinets on either side of the refrigerator and also highlighting the corner area with the second NORRSJON sink. This provides ample task lighting during meal prep, and a touch of ambiance at night. The wall cabinets are ideal for storing and separating plates, glassware and utensils in order to keep a kosher space. This includes storage for seasonal dishware and other items for important religious holidays.
It was also important for Benji to have custom cabinets that could be used to stand up cooking trays and cookie sheets, as the couple are avid bakers. This was addressed with IKEA base cabinets under the Whirlpool microwave (purchased from ABT in Chicago). This base cabinet also features a custom cabinet modification "hack" as the divider keeps the baking trays properly separated and an upper slot can be used for additional baking tray storage as well.
Overall, Benji says he considers being able to accommodate the extra dishes needed for keeping a kosher kitchen — and still having ample space — as the most unique part of the layout.
Supply Chain Struggles
One small challenge was supply chain delays in getting all of Benji's IKEA cabinets
"We weren't on a deadline or in a rush, so (the backorder delays) didn't cause any inconvenience, other than having some boxes in our living room for a few weeks. Our installer was understanding and worked with us," Benji says.
To accommodate the issue, IKEA told him to call his local store. He says that he was diligent and called to check on the status of the missing cabinets and parts.
Pantry Placement
To better utilize the existing layout an IKEA tall cabinet pantry was added.
"We wanted an additional pantry that is full length. The wall we chose was basically being unused in our original kitchen aside from one light switch that was never used. Now we have so much more storage," Benji says.
With an extra 60″ now to work with, Frank added four 15″ IKEA tall cabinets, featuring Semihandmade (SHM) Shaker white custom door fronts, as well as four 15″ upper cabinets. The entire pantry area reaches 94-1/2″ to the top of the ceiling. This creates a tremendous amount of new storage space so the family can easily store ingredients, such as non-perishable items, which makes meal prep easier as well as unloading grocery packages.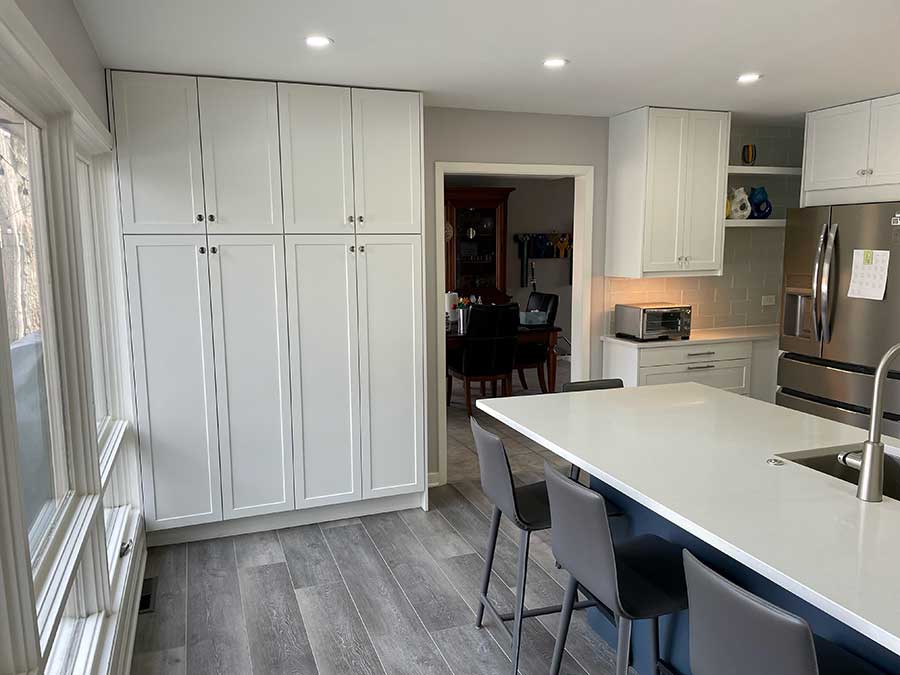 A second full-length pantry is featured near the Whirlpool double oven as well. This provides additional storage above the oven with an IKEA upper cabinet and features a 30″ (w) drawer below the wall oven.
Island In the Stream
Eliminating the original, strangely shaped center island that consumed most of the old space was paramount to Benji's IKEA kitchen.
"We asked for a rectangular island in the center that juts from the wall. It was important for the workflow of the new design to include our dishwasher, sink, and trash/recycling cans there as well. Since our family preps and eats at the island, we also wanted a 15″ overhang and ample seating — preferably with five seats," Benji says.
Here, Frank paired 24″ and 36″ IKEA base cabinets (along with the 24″ Miele dishwasher) as well as a pull-out trash can to create storage for trash bags, detergents and other cleaning supplies.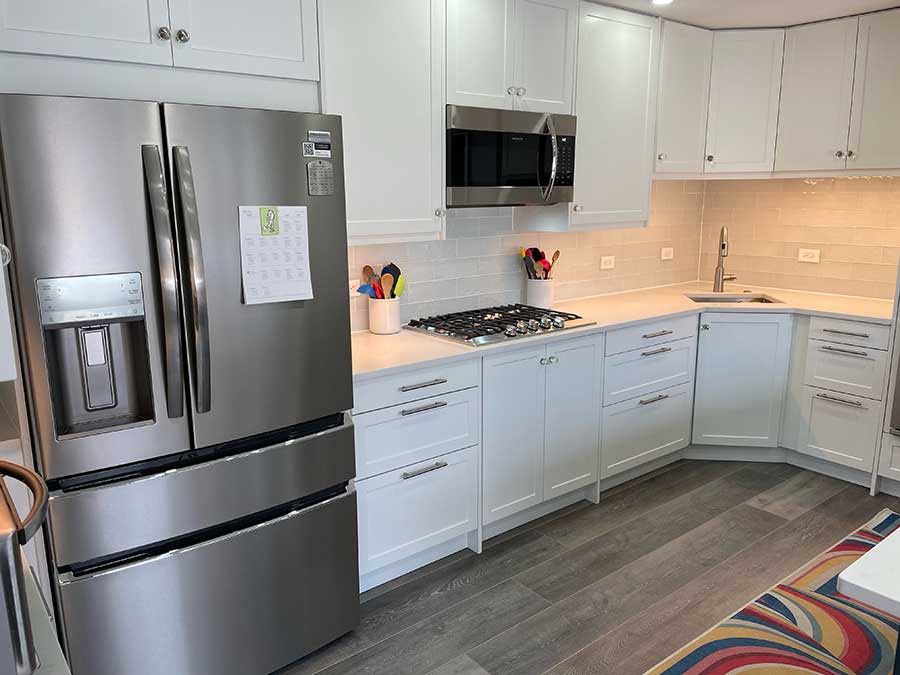 Frank was also able to include five chairs, from Room and Board, so there is plenty of comfortable seating for the family without sacrificing space or workflow. The kitchen is complemented by VCT flooring from Floor and Décor.
Wise Advice
Benji offers some words of wisdom for future IKEA remodelers.
"Definitely engage with a design company like IKD. We briefly considered doing the design ourselves using the IKEA Home Planner but we definitely didn't have the capability to do this on our own. IKD has the designers that come up with unique ideas and are able to take a wish list and turn it into fruition. The space looks and feels much larger than it did before. It's so bright and light filled and has made the kitchen our favorite room in the house!" he concludes.
Benji's IKEA kosher kitchen is a study in using the available footprint to create a practical and stylish IKEA kitchen. There are many custom options available with IKEA cabinets to find storage — like Benji did for his kitchen. In fact, the need for creative storage solutions made his kosher kitchen more efficient and unique. Our design team is here to do the same for your project.
Get a Professional IKEA Kitchen Design – All Online

Work with our certified kitchen designers to get a personalized kitchen designed around your needs and vision. If you're interested in learning more about our service, make sure to check out our IKEA Kitchen Design Services.