She also opens-up about her frustrations with poor kitchen designs.
If you're unsure of the nuances of the IKEA kitchen remodel process, cabinet installation may be the biggest pain point for your project. That shouldn't be too much of a surprise. Knowing how to take proper measurements, navigate supply chain issues and know budget-friendly ways to keep your project moving forward all require an experienced touch.
That's why IKD recently sat down with Paula, co-owner of Hive Kitchen Remodelling in Renton, WA, to discuss the advantages for IKEA customers working with certified IKEA cabinet installers and professional designers to keep your project under budget and on time. This includes how (and when) to add kitchen cabinet hacks to avoid project delays, and other tips for navigating the recent supply chain issues that have affected IKEA's cabinet deliveries since COVID-19 began; as well as the overall benefits of working with experienced design professionals who understand what will make your IKEA kitchen look and function as well as it can.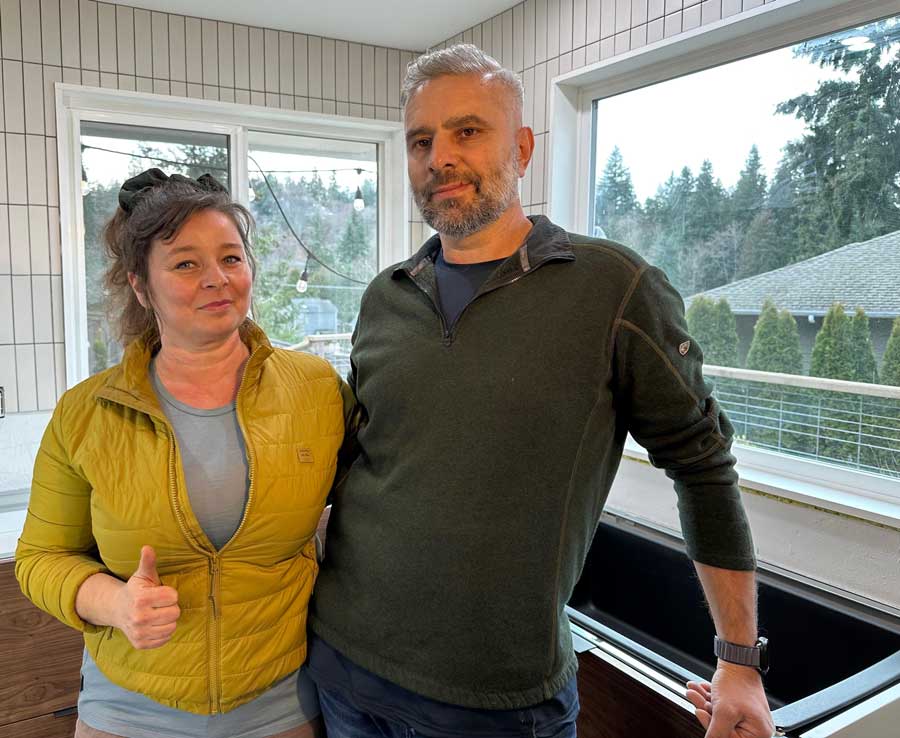 So any IKEA customers looking to better understand how a certified IKEA cabinet installer can make your kitchen remodel project go smoother, will definitely appreciate the following interview.
Let's hear from Paula!
Personalized IKEA Kitchen Designs
Created by Certified Designers

IKD: So, you're based in Washington State?
Paula: Yes. Seattle, actually. We recently relocated here about nine months ago.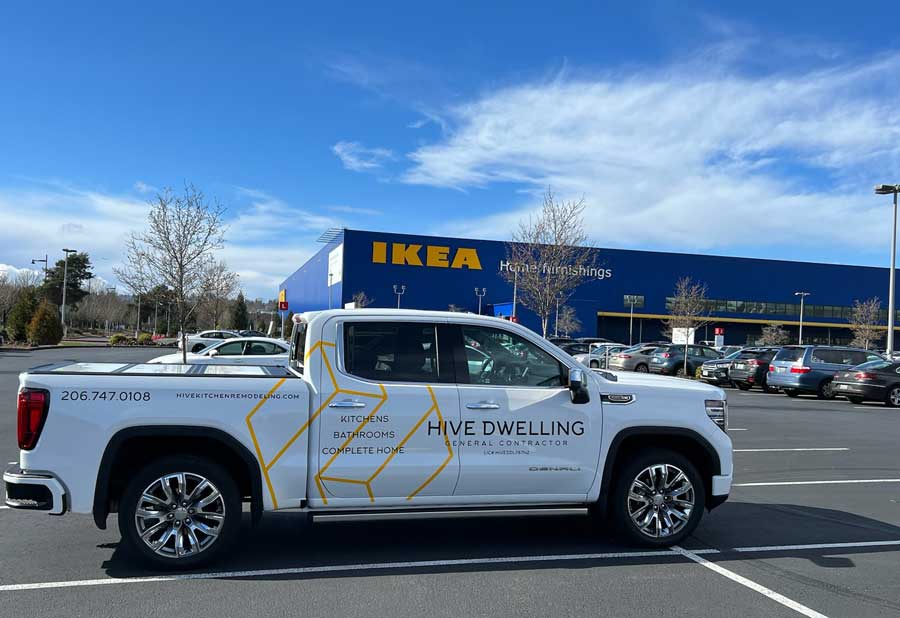 IKD: It's impressive how many different services that you provide on top of cabinet installation; measurements and kitchen planning. Can you talk about the history of your company and how you got involved with installations?
Paula: We've been working with IKEA for 15 years. It was a natural match to us. Now a lot more people are familiar with the assembly, the installation and with the do-it-yourself aspects and not having to pay contractors. Europeans are more hands on because they typically don't have the same funds as people in the United States. That's why IKEA was booming there. Now we're booming here. And for us, it was a natural match. It was for us really easy to adapt to the IKEA model. And since then, we've been working with IKEA through their ups and downs. And we've had periods of time where they have issues with their in-house installers. Those were really crazy times for us because we had to pick up on the additional work that was available.
We're in a similar situation since we only have one IKEA in the Seattle area. There is one in Renton. We specifically chose to move into Renton because it's about eight minutes from our house. We do offer the complete package, including ordering; pick-up or delivery. If there's anything missing or anything that's not available, we'll go back and forth [to IKEA for the customer], so it's convenient to have an IKEA close by.
IKD: So typically, how do your customers find you?
Paula: Google. And since we're listed as a preferred installers for Kokeena and Semihandmade, our customers can easily find us. People are desperate for installers. So if you do a quick Google search for IKEA kitchen remodeling you'll find us on the first page.
IKD: Are cabinet hacks something your firm does a lot of for its customers?
Paula: We better! We also provide hacks not just for media units or laundry units or kitchens, but we're forced to incorporate cabinet hacks because of the IKEA supply issues. Whenever a certain cabinet size is not available, hopefully we have the next size up and we'll adjust because there's so many delays, especially with certain cabinets being very popular. The 24"s are very popular, the 30"s are very popular. So we do a lot of hacking around that for practical reasons, not necessarily for aesthetic reasons.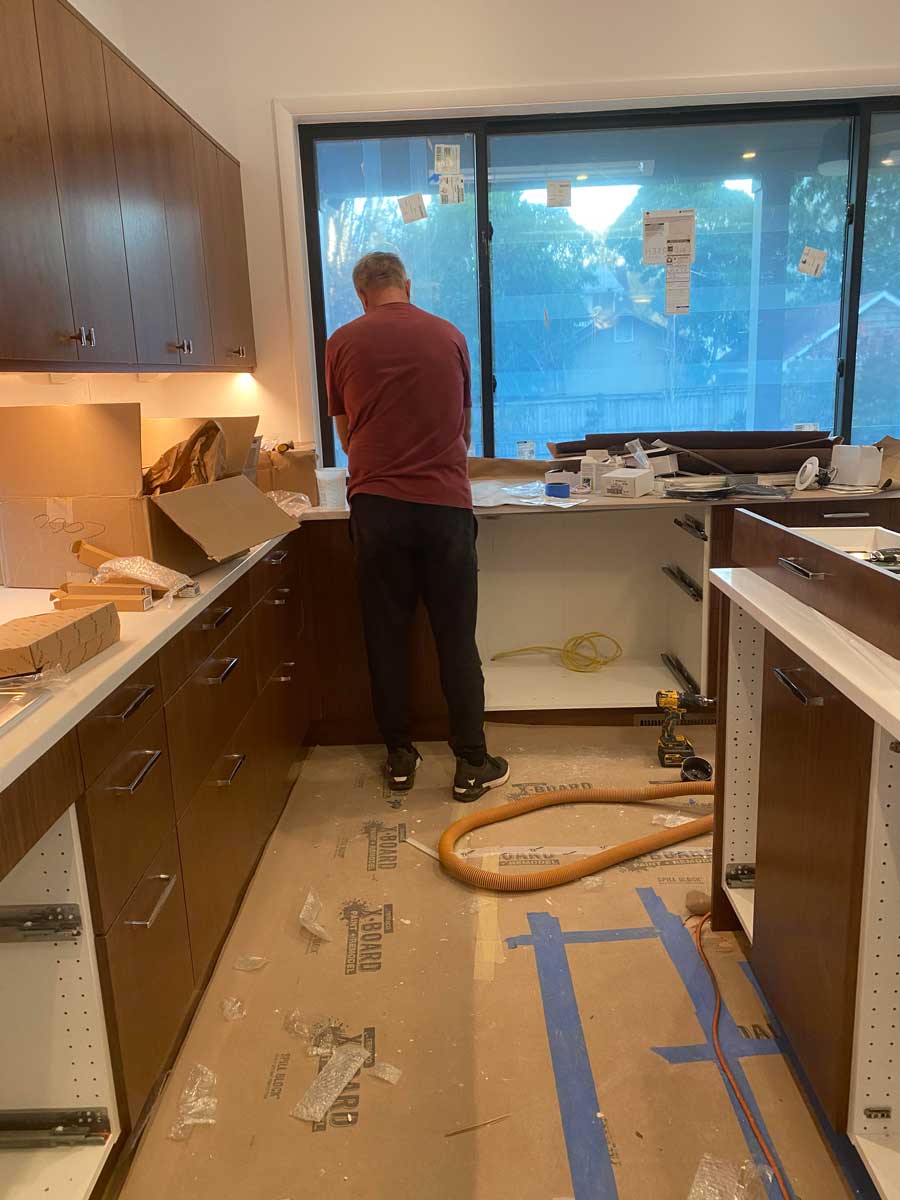 IKD: How do the customers respond to those services?
Paula: They're very appreciative that we have ideas in our back pocket. They are okay with having hacks if they didn't necessarily plan on it because they understand why we would have to decide to add a hack. For example, a whole kitchen renovation could be delayed, if certain size cabinets are not installed, they're more than appreciative having a kitchen sooner.
IKD: So how do you charge for the hacks, typically?
Paula: We'll have to put a price on that, but we charge very little because we're also happy whenever our customers agree with the hack solution because that means we can move to the next project — much better than having an unfinished project. We have a hack that we like, and our customers love a lot, which is the 5″ tray cabinets. This one works well when the measurements were not done correctly, but unfortunately, the measurements are bad. With one recent kitchen we had to redesign the entire kitchen and the customer had to return most of her kitchen because her measurements were so far off.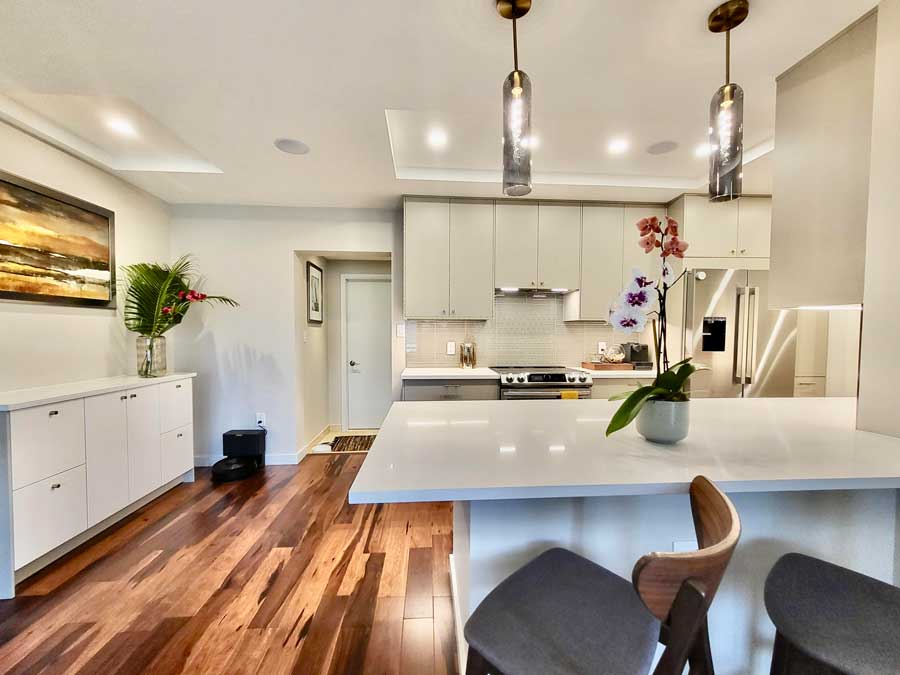 IKD: Can you talk about the value to the cabinet installation process working with a designer who knows how to do proper measurements and a complete design plan?
Paula: What my customers have told me, and through my own observation, is that IKEA planners — especially in this area — don't account for plumbing in the layout. They don't account for the actual kitchen measurements. Measurements and the design go hand in hand, if you want to not waste your money. Working with designers like IKD means that even if the customer doesn't have the right experience, the designer tells them exactly what to do in a way they can understand it. So the most valuable thing to do would be of course, starting with the measurements. Then they send it to a professional, and then you have a well-designed beautiful kitchen, with top to bottom cabinets; proper placement of drawers and corner cabinets; and no accessories on this are absolutely necessary. You cannot have a functional kitchen without a design made by someone who has experience with IKEA specifically. I've worked with certain architects, and they didn't understand IKEA's sizing, European standard sizing. And we mentioned that we have to make certain adjustments to the architectural plan, based on the standard sizing, and it was always a beautiful collaboration. Actually, I just today received a quote from someone that's building an addition. I'm going to have to talk to the architect before they begin, just to make sure that we have a beautiful kitchen.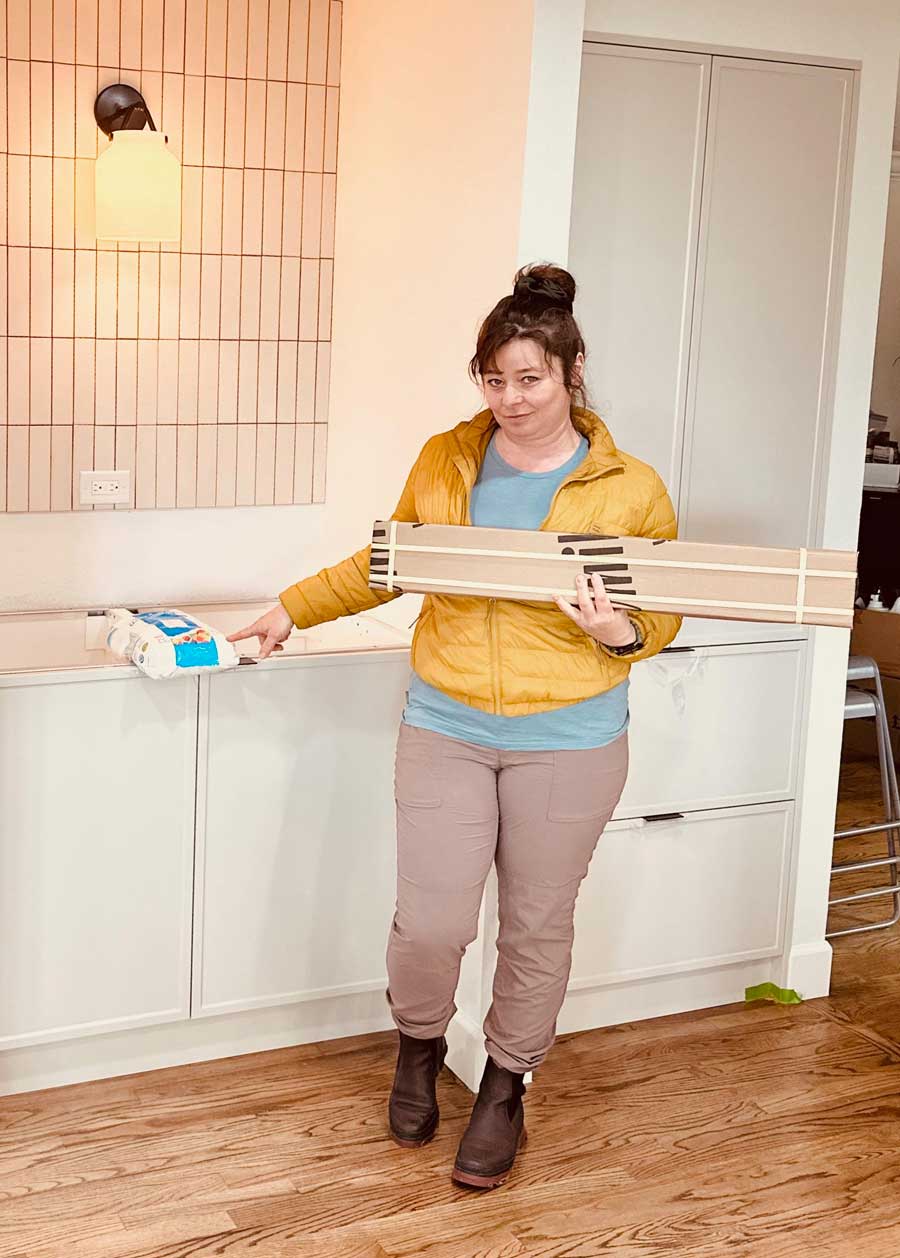 IKD: So from your experience, what are some of the qualities of a truly outstanding IKEA kitchen design?
Paula: Listen to your designer. They are experts from experience and dedication to their work. We are geared towards making sure that our customer is extremely happy at the end. I would say, listen to your designer.
IKD: What can the homeowner do prior to the installation that would make it be easier for you so that it's a quality installation?
Paula: First of all, find someone that has experience. I work closely with my customers because we offer complete renovations. I tell them to send me a picture with what you love — even if it's not an IKEA kitchen. I will make sure that through design and through presenting samples that the design is cohesive. And I do ask for a budget. It may sound like it's a trick question for people, but I do wonders with a small budget.
I'm really dedicated to my customers and I understand people don't want to spend a lot of money, I do ask for a budget. If they want to give me the budget, it's in their own interest.
For example, if they were to say they say they have a budget for a $5 backsplash I'll match it to $10 and let's do something beautiful that will stand out. Of course, for selfish reasons I want the final kitchen to produce a good picture and I want them to recommend me afterward.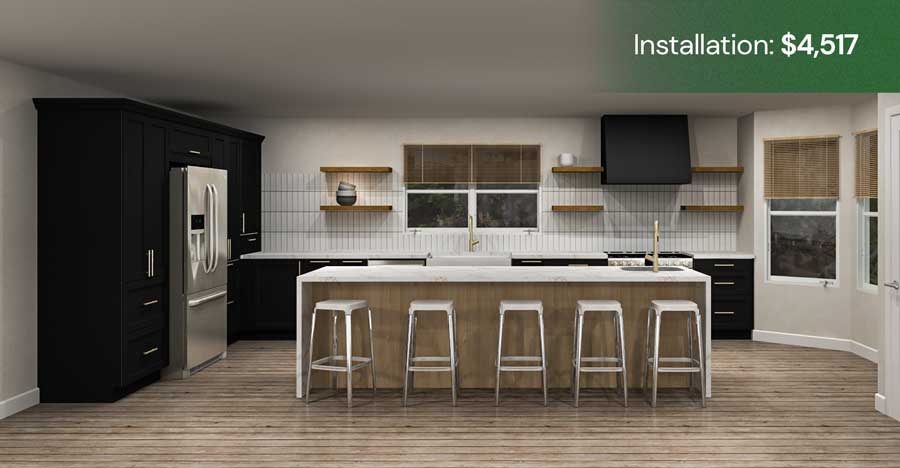 IKD: What is the average budget that you're, that your customers are coming to with?
Paula: It varies quite a bit. We're working on a kitchen right now. We did a little bit of a negotiation because they wanted a lot of things renovated and we ended up on an $82,000 budget for a quite large kitchen with the lounge area renovated and we're also working with Semihandmade with this one. We've also had an IKEA kitchen with a laminate countertop, butcher block for about $3500. That's just the install. Just a basic install can be in the range of thousands, but if we're talking about full renovations, it depends on the scope of the work.
IKD: Can you walk us through the installation process with your company? What can customers expect?
Paula: We are quite efficient and we can offer a big turn-around. For a medium-sized kitchen with demolition, backsplash, and a little bit of drywall work, will take between eight to ten days, possibly sooner. We send workout dates and we ask them every day if they have any concerns, questions or notes.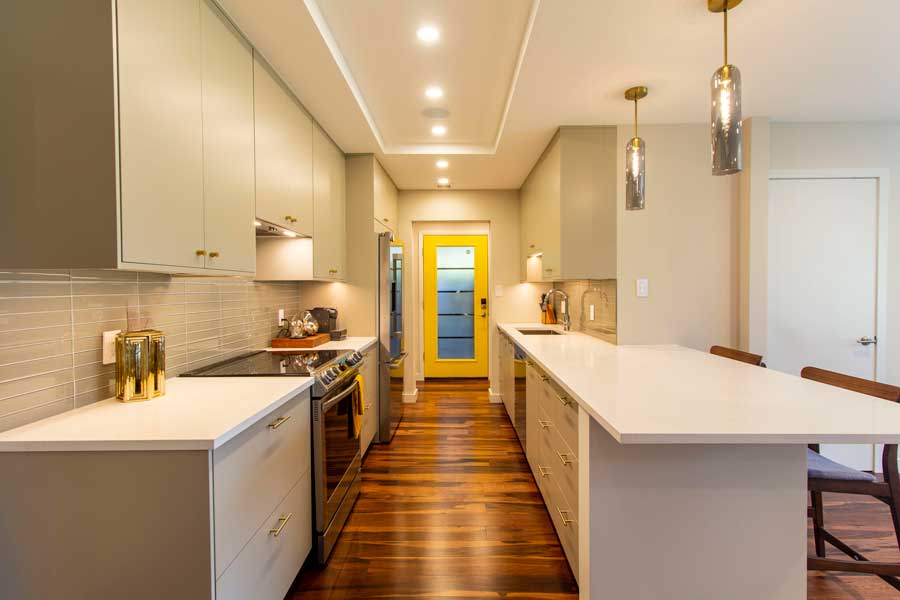 IKD: So the installations are just done by you and your husband or do you have a general contractor?
Paula: Yeah, pretty much. And we do have help based on the size of the project. But my husband is the main guy that is doing most of the work and he's extremely experienced — he knows it all.
IKD: How far geographically will you travel for a project?
Paula: Portland, OR. We have to go to Portland because there are customers desperate for installers. Primarily we serve the Seattle metro area.
IKD: Are the customers submitting designs to you using the IKEA Home Planner?
Paula: Yes.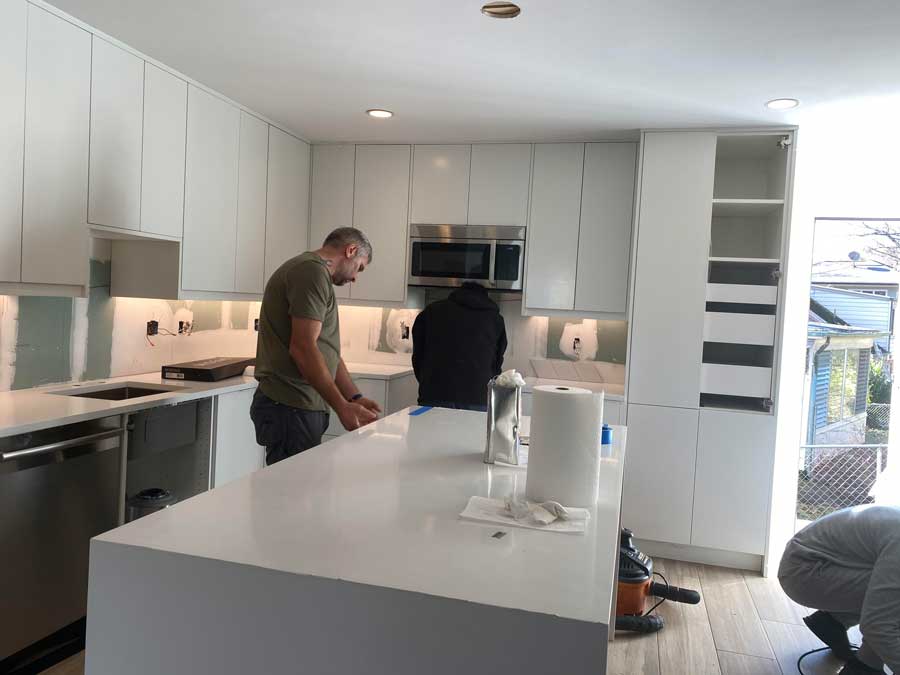 IKD: Do you notice a difference between a Home Planner design that has been set up with the help of a professional designer compared to an enthusiastic DIYer?
Paula: I have a guy that has been working on his kitchen for two years. I'm sure he started out enthusiastically! If you don't have the middle person, the designer, with tons of experience, then you're going to have someone ask about your storage needs, or do you have a large family or how many kids in the house. They also will inform you about budget issues, because as we know, drawers are more expensive than doors. A professional designer will be able to create a minimum storage if you don't want to spend too much. A professional designer would explain codes to them as well. As the installer it becomes a little bit frustrating when we go to the customer's home and even if they don't send us the design, we will still respect our appointments. We'll go to the customer's home to look at the kitchen. They have such expectations. Right away they want to know availability. Well, my availability would be three months from now, if you had the cabinets by then, if you were willing to pay for a professional design. We've had to reduce customers because of this exact scenario. They were very adamant that their design was perfect, and from our opinion, it was not. It is crucial, crucial, crucial.
I would say to installers that do that, they're not professional IKEA installers. You might say they can put together a cabinet, but the end result is not going to be something they would be proud of.
IKD: Are there any other things you've had to do to deal with the supply chain issues to try and make things go a little bit smoother?
Paula: In the beginning there was a learning curve and we didn't know how bad it could become. We had customers that started stocking cabinets and they were really excited to start their renovation. But then we had to wait two months for the last panel or the last door to arrive.
I'm advising my customers, if possible, and if they have the space to store everything they need, to acquire all of the parts before they start. Then we have a tentative start date based on the order it arrived. Of course, we're flexible. Usually we can work around the date and I can talk to my other customers. Everybody's usually very nice and understanding because they understand there's so many supply issues. I'm trying to serve everybody correctly.
IKD: Have you seen where there's less backorders or the inventory situation has gotten better over the past six months? Would you say that almost every job is still missing something?
Paula: I've noticed in the past few months, things have gotten better, I've spoken to IKEA personnel and they've also noticed an improvement. It's definitely getting better in the past few months. Most of the parts that are missing are definitely cabinets. It's the most popular ones, the 24"-30"s. Those are the ones that we've had renovations because you can start the kitchen renovation with all the base cabinets installed and can solve the fronts later.
IKD: Do you have any specialized tools that your firm uses when you're on the job?
Paula: my husband is a big Bosch fan. He loves his Bosch Impact Hammer Drill. He loves his miter saw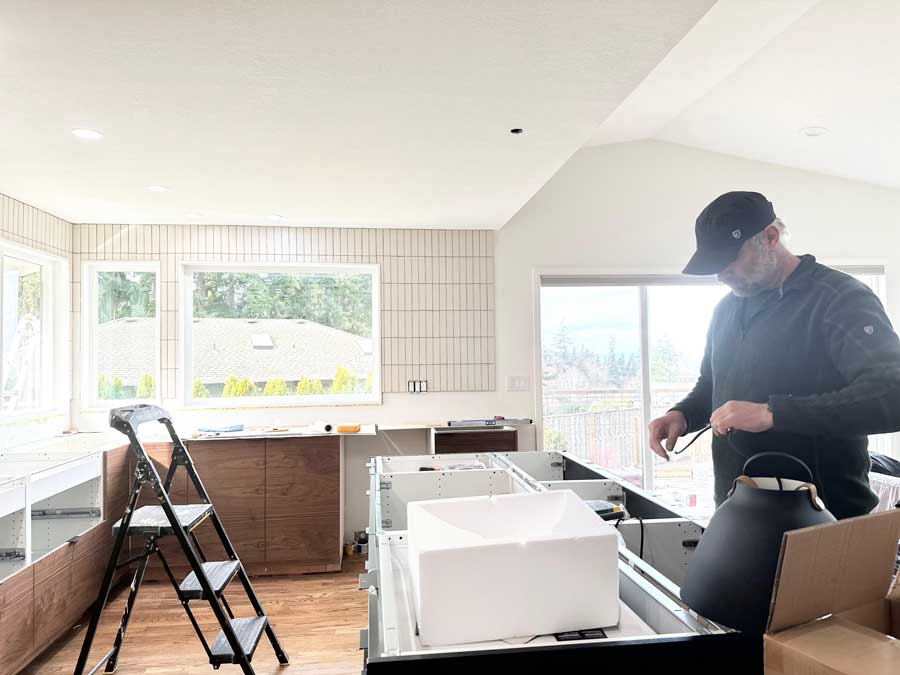 IKD: What are some of your favorite parts about what you do? You know, is it seeing that you know, quality craftsmanship, you know, and the finished product?
Paula: We get along extremely well. At work if we have any disagreements they are not work related at all. Work is smooth and we get along just fine. Perfectly. I didn't have an Instagram or barely any social media before I came here. I don't necessarily appreciate it but it's a must.
Get a Professional IKEA Kitchen Design – All Online

Work with our certified kitchen designers to get a personalized kitchen designed around your needs and vision. If you're interested in learning more about our service, make sure to check out our IKEA Kitchen Design Services.