A review of how a homeowner, installer and IKD worked together before remodeling
You want to remodel your existing kitchen ) because you know it's not being maximized to its full potential. Perhaps you're an avid baker and need better workflow and storage, or you enjoy entertaining friends and family. Great. You even have a design theme in mind, using IKEA cabinets to create plenty of new storage. The problem is you're not interested in installing your IKEA kitchen cabinets yourself. And since you've decided not to hire a general contractor (meaning you'll need to take accurate measurements; order the right cabinets and take inventory, among others), you know you'll need to hire professionals to correctly finish the job.
This was the case for customer Ryan from Huntersville, NC, who turned an original kitchen featuring outdated, dark cabinetry into a bright, open kitchen with lots of storage space and a large center island.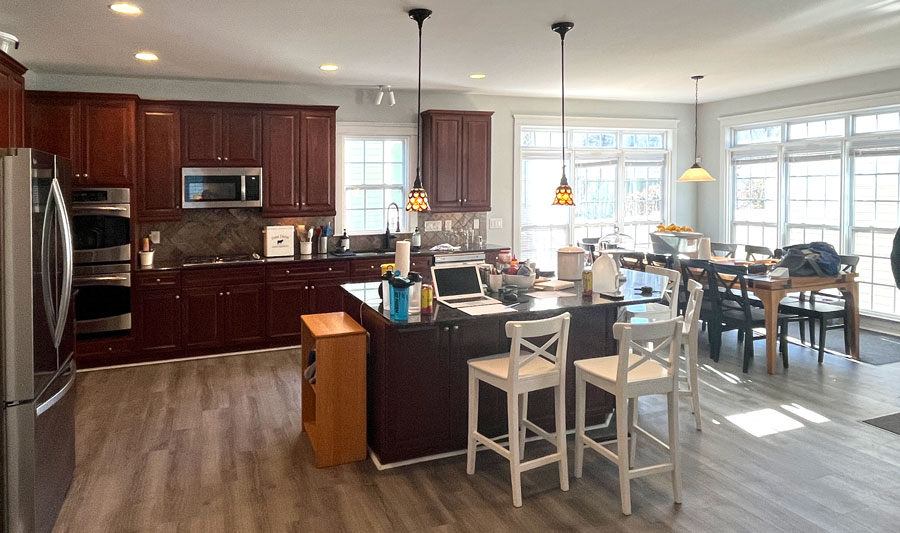 "Our biggest concerns with our remodel were maximizing the space in order to make it as functional as possible. We were a little worried about taking our own measurements, but it all worked out. IKD's process for measuring was very clear," Ryan explains.
However this was definitely not a DIY project (Ryan and his spouse did do the demo themselves to save money and took the lead in ordering the cabinets) as he insisted on hiring skilled professionals. Therefore, Ryan worked with IKD designer Albert to combine IKEA's SEKTION kitchen system and matte white IKEA AXSTAD doors for the upper and base cabinets. Other products include: An IKEA FOBATTRA cover panel; an IKEA FORBATTRA toe kick; an IKEA FIXA countertop support fixture; a chrome plated IKEA FIXA diffusion barrier and an IKEA UTRUSTA shelf in white.
The kitchen remodel also included one IKEA cabinet "hack" around the Z-Line range top cabinet. This included custom cutting one cabinet frame for a one-of-a-kind modification.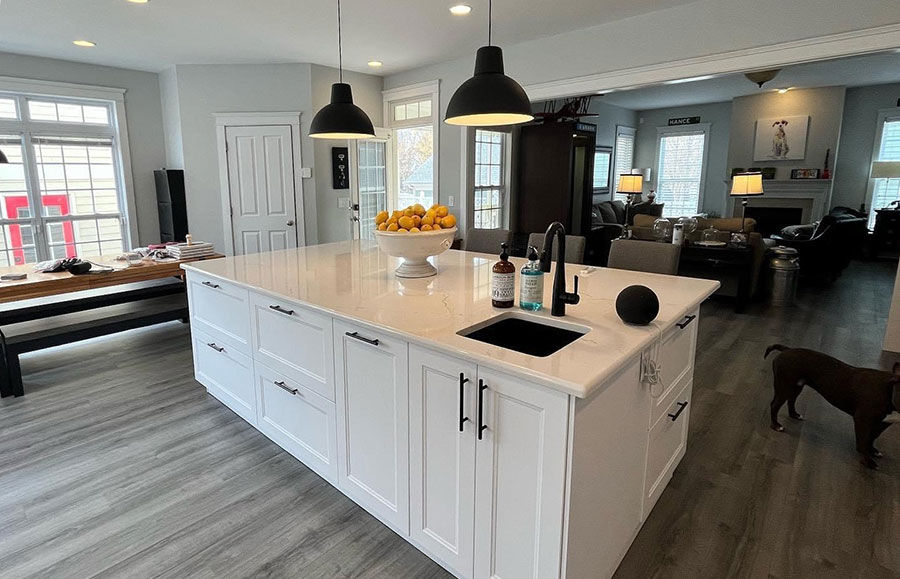 Combining the IKEA total price ($8,363) and the Extra Items list ($2,512) Ryan's kitchen cabinets were completed for only $10,875 — helping keep Ryan under his total budget. Overall, Ryan spent $51,000 for his kitchen, which included labor, as well as purchasing additional can lights; adding under cabinet lighting and adding plumbing for the Karran prep sink. This also included closing off a door that wasn't in use and adding an external vent for the range hood and cutting a 6″ hole to the exterior. So as you'll see, it's very possible to transform your kitchen in an affordable way using IKEA cabinets.
Let's see how Ryan's IKEA kitchen came together!
Personalized IKEA Kitchen Designs
Created by Certified Designers

Taking The Lead
Ryan and his spouse were able to schedule out the cabinet delivery and timing of the remodel process themselves.
"We didn't use a contractor, so figuring out the timeline and organizing all the skilled trades was a little challenging, but it all worked out," Ryan explains.
Ryan looked at the overall pieces needed once demo was done to better understand the order of things. Having built a previous home, he had an idea on the order required and did research on the trades people needed.
When he ordered his cabinets, he was concerned about IKEA cabinet availability having read stories about IKEA cabinet delays. He reports that all of his cabinets were in stock except for three drawer fronts — which became available within a few days — and everything was delivered on the same day. He admits that he ended up needing a few extra shelves for the refrigerator and double oven custom cabinets after the primary cabinet installation, because he decided to do some extra customization and those items were out of stock for a while.
In total, from demolition to completion, the kitchen remodel took four weeks and he was without a useable kitchen for only three weeks.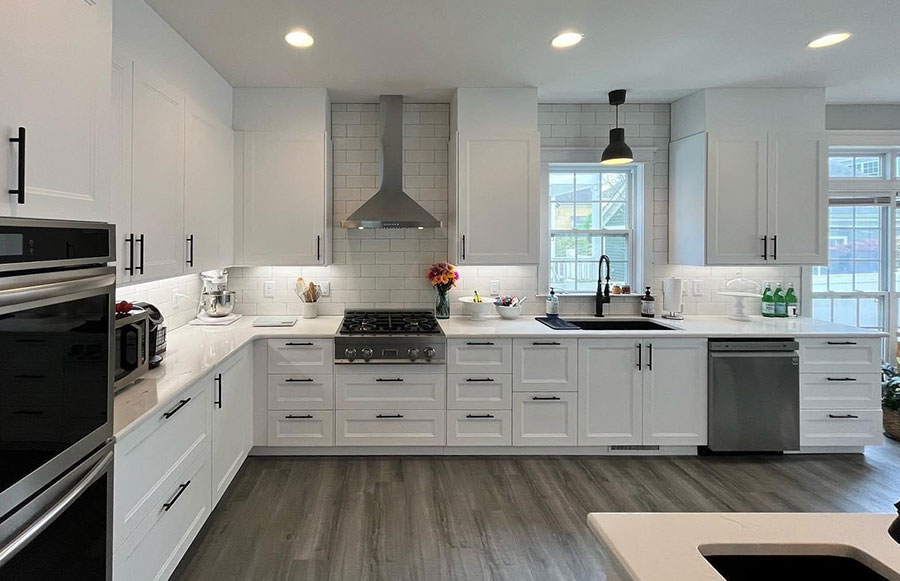 Right The First Time
Picking the right cabinets — and hiring the right professionals to design and install them — was key to Ryan's IKEA kitchen.
"We had read many reviews on IKEA cabinets and they were very positive. IKEA cabinets bring great value for the price. They offer a 25-year warranty on the cabinets and they are very well made. We also love the design features and the organization feature of our IKEA cabinets," Ryan says.
He selected white IKEA AXSTAD cabinets and hired Charlotte Cabinet Installation who Ryan says returned several damaged cabinets pieces because the installer wanted everything flawless. In fact, Ryan trusted his installer's judgement so much that he allowed the installer to make cabinet installation choices based solely on Albert's design plan.
Ryan adds that using a professional design plan allowed him to maximize the use of the space and suggest things that he might not think of. He cites the IKD list of vetted installers as well as the Extra Items list as two important factors in his decision to work with a professional design team. According to Ryan, it costed him less than $4,000 for the installation in total, which included spending approximately $150 for haul-away of the boxes.
Modern Marvel
As an avid baker who entertains family often, Ryan's new IKEA kitchen needed to provide the storage, function and aesthetics that his previous kitchen did not.
"We really wanted mostly drawers on the lower cabinets and IKD delivered on that wish. Other than the 'Super Susan' in the corner, the two under-sink cabinets, and IKEA cabinets on the back of the island, we have all drawers on the lower cabinets. This is super functional," Ryan says.
With Albert's design guidance, Ryan combined IKEA's SEKTION kitchen system with matte white IKEA AXSTAD cabinets in order to brighten the space. The overall square footage of the original kitchen footprint didn't change but some surface areas did. For example, he enclosed a doorway which added an additional 40″ of countertops and 40″ in useable cabinets. This included upper cabinets along the perimeter. For example, the upper cabinets are featured above the LG refrigerator; above the double oven and running past the Cambria countertops toward the range hood. Additional upper cabinets are seen above the LG dishwasher and countertop area on the other side of the main Karran sink. With a 108″ ceiling, the wall cabinets run to approximately 94″ high.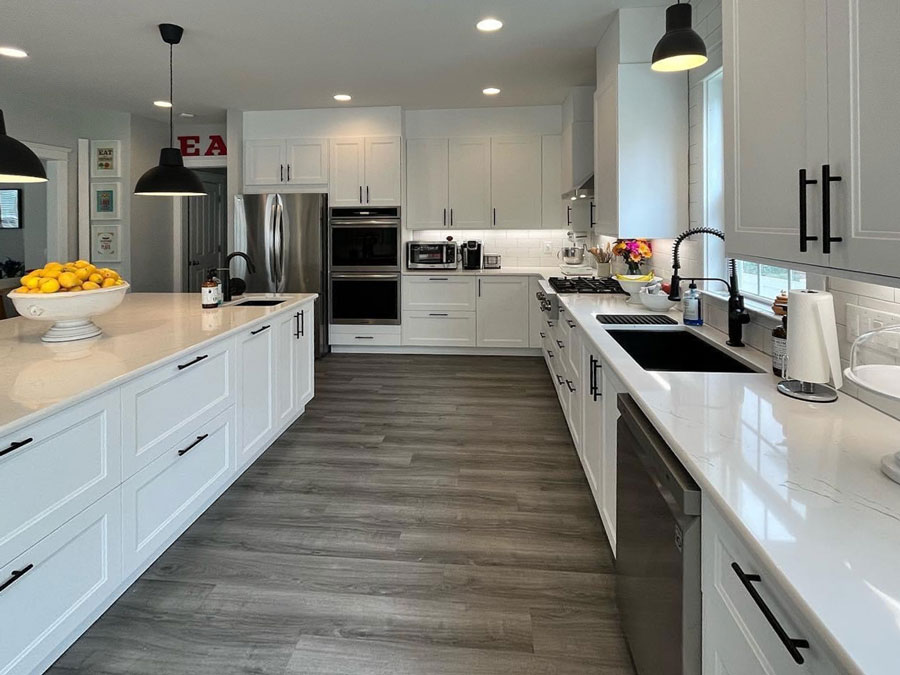 Ryan also did not want any open space above the cabinets to collect dust. So Albert designed trim to sit atop the cabinets which go straight up the ceiling. The required items were included on the "extra items" list.
The base cabinets as well as the must-have drawers are featured prominently throughout this IKEA kitchen, including seen under the countertop area next to the refrigerator and under the Z-Line range top. This makes cooking a breeze as all utensils, plates and cooking items are literally at arm's reach and easily slide out for easy access. The drawers also reduce bending and searching for items as well.
Rounding out the product lineup are: Cabinet pulls from Lowe's. Kohler sink faucet; Delta prep sink faucet; Karran sinks (main and island sink) IKEA lighting and under cabinet lighting provided by local electrician, among others. Overall, this layout creates tremendous storage opportunities and an easy workflow for food prep and clean up – even while entertaining multiple guests!
Custom Cabinets
Ryan's open floorplan kitchen also features a unique IKEA cabinet 'hack,' as well as other custom configurations.
"We wanted a double oven as well as a range top and IKEA didn't seem to provide a dedicated double oven cabinet — only an oven-microwave cabinet — or a cabinet designed for a range top with knobs on the front. IKD was able to create custom cabinets for these appliances. It looks fantastic!" Ryan says.
To accomplish this, Albert custom fit a 90″ (h) IKEA tall cabinet (plus a 4.5″ (h) toe kick) as well as two 15″ (w) x 30″ (h) IKEA AXSTAD door fronts for above the double oven and a 5″ (h) low IKEA MAXIMERA drawer and filler to create clever storage below for baking trays and other cookware.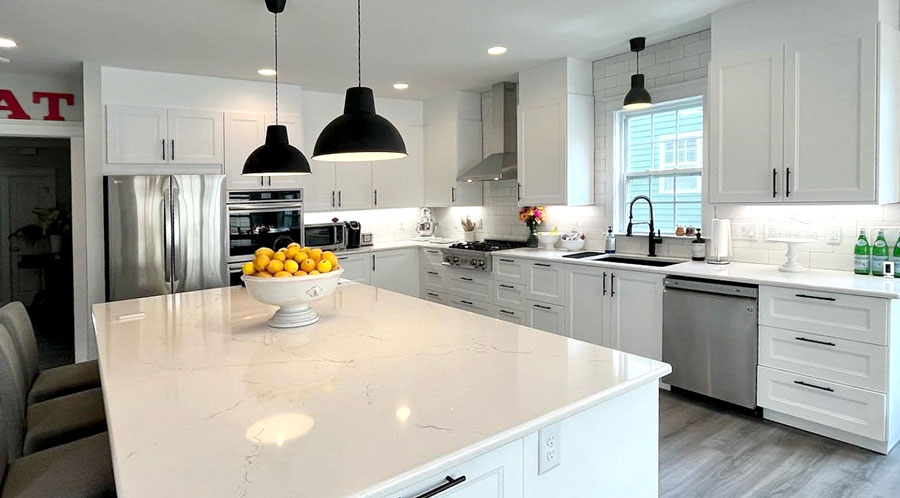 For the Z-Line range top knob hack, Albert modified a 30″ (w) x 24″ (d) IKEA box to 23-5/8″ (h) plus two medium 10″ (h) white IKEA MAXIMERA drawers (plus filler and the range top), respectively.
Continental Divide
Ryan says the 9′ (l) x 5′ (w)center island is his favorite part of the kitchen.
"We joke that it's not an island, it's a continent. It's not only the focal point of the kitchen, but really the hub of our home. It's massive, beautiful, and functional," Ryan explains.
The island is certainly the centerpiece of the design and it features a combination of IKEA AXSTAD door fronts and MAXIMERA drawers. (Ryan points out that the island was designed approximately 2′ longer with the new layout).
The island is large enough to comfortably seat four people, and features Cambria white countertops with a veining effect; a secondary Karran prep sink and plenty of storage options to house cleaning supplies; dog food; and other plateware or seasonal items when entertaining. This is an ideal setting for guests to enjoy a drink and converse with Ryan and his spouse and an equally perfect spot to lay freshly baked pastries!
(A standard trash pullout was incorporated into the island as well.)
Parting Advice
Ryan concludes with parting advice for other future IKEA remodelers.
If you don't hire a contractor, really think through the steps and what order you'll need to have the trades come in to do the work. And hire a good cabinet installer and use IKD for the design. An IKEA kitchen remodel doesn't have to take months to complete (if you do it right)," he says.
He also says to stay on top of everything from demolition to the finished product. In the last week of his kitchen project, he and his spouse were only waiting on their backsplash and the rangehood, so their IKEA kitchen was really ready for use after only three weeks of inconvenience.
As you can see, Ryan's modern farmhouse kitchen was not only transformed stylistically, but functionally as well. And done in a timely, affordable manner. Our design team is here to do the same for you and your IKEA kitchen. Let's get started now!
Get a Professional IKEA Kitchen Design – All Online

Work with our certified kitchen designers to get a personalized kitchen designed around your needs and vision. If you're interested in learning more about our service, make sure to check out our IKEA Kitchen Design Services.