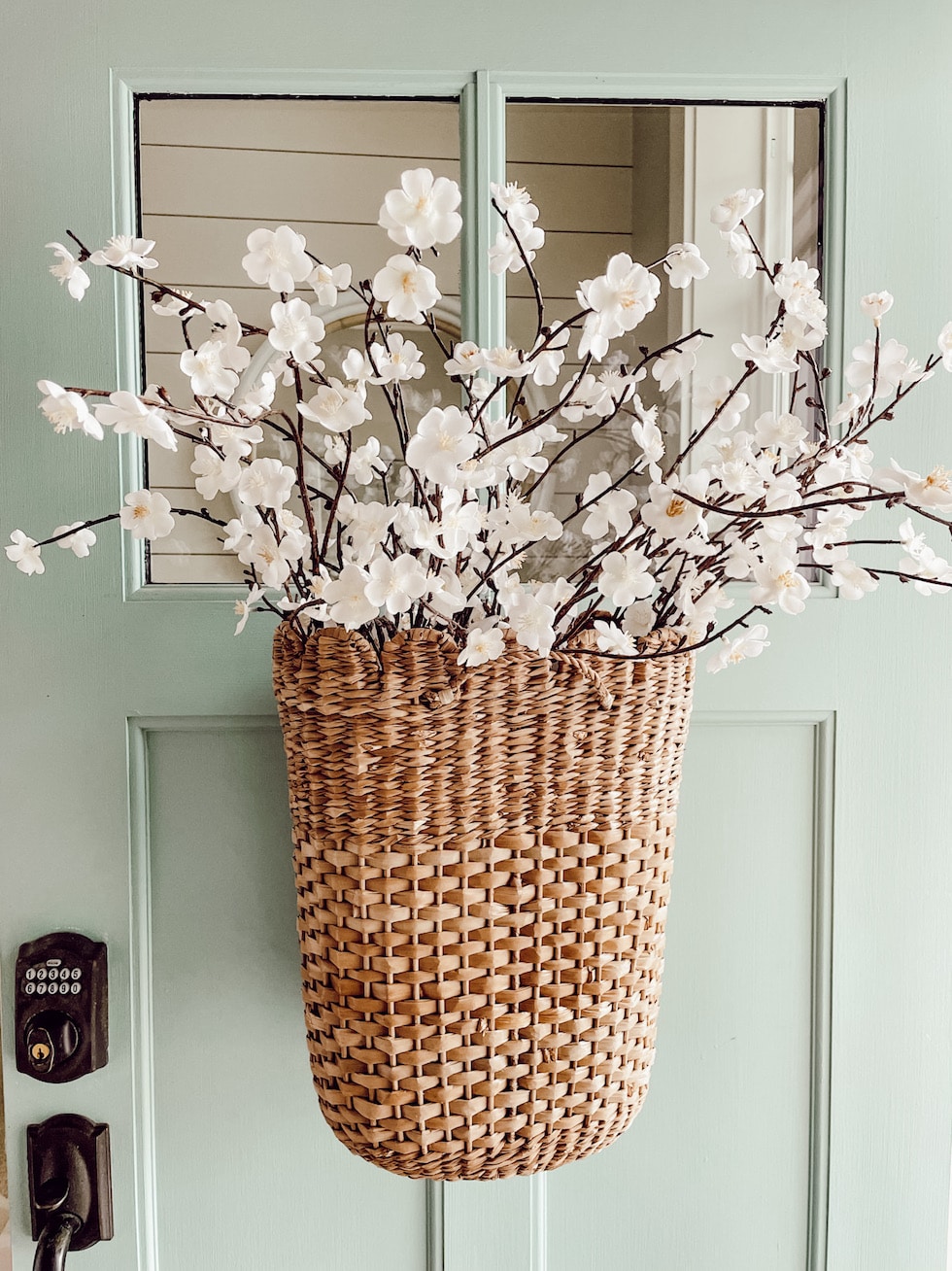 Want inspiration for how to decorate your home for spring? Today's post has lots of ideas to make your home oh-so-springy with staple spring accessories (that you might already have!). You'll find lots of helpful tips and advice featuring pretty and practical ideas (many of which I've used in my own home over the years), plus a spring mood board!
Spring decor basics (a few ideas!): vessels, blooms, botanicals, throw pillows, spring mugs, light layers, candles, artwork, plants (real or faux), books, trays, baskets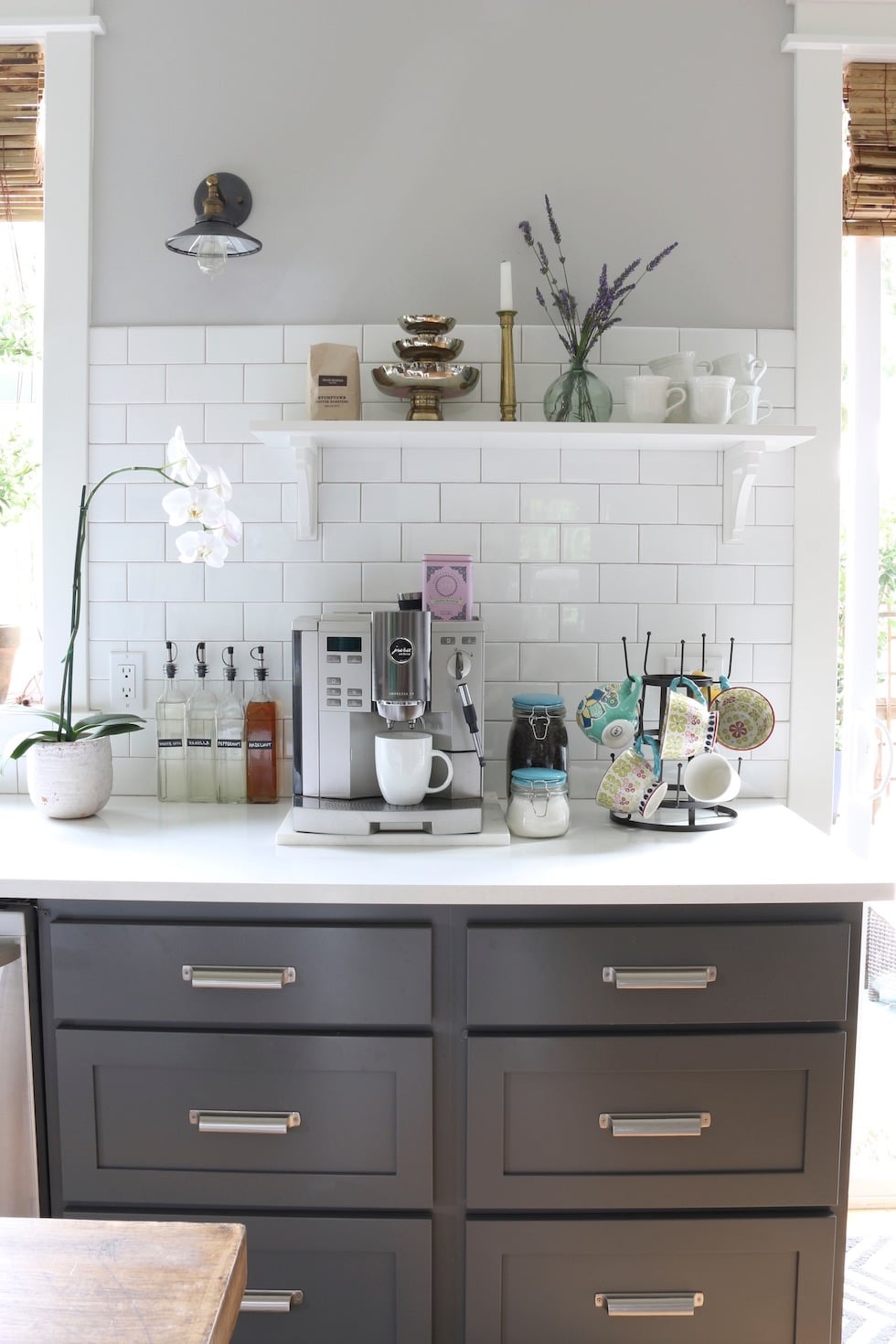 1. Adds Sprigs of Spring Flowers in a Vase
Snip some flowers from your yard, or divide a bouquet into smaller bud vases. You can even use dried florals, like lavender. They last a long time so you get a lot of bang for your buck!
2. Layer in Lightweight Throw Blankets
Change up your decor with a lightweight throw blanket! These mudcloth throw blankets are absolutely perfect for tossing over furniture as an added layer of texture, pattern, and color. They're reversible, lightweight, soft, and machine washable! I shared about these last summer and still really love them, I got them in several patterns (grey/taupe and white Swiss cross, a blue and white geometric, a blue and white Swiss cross blanket, and this floral one. Read more about these blankets and see more photos here.
3. Spring Doormat
A fresh spring doormat can lift your spirits as you enter your home. You can even layer in a pretty patterned rug underneath.
Related Sources: Plaid Rug // Homebody doormat is from this shop–I don't see the homebody design available anymore but here is a similar one! // Amazon Doormats // Amazon Outdoor Rugs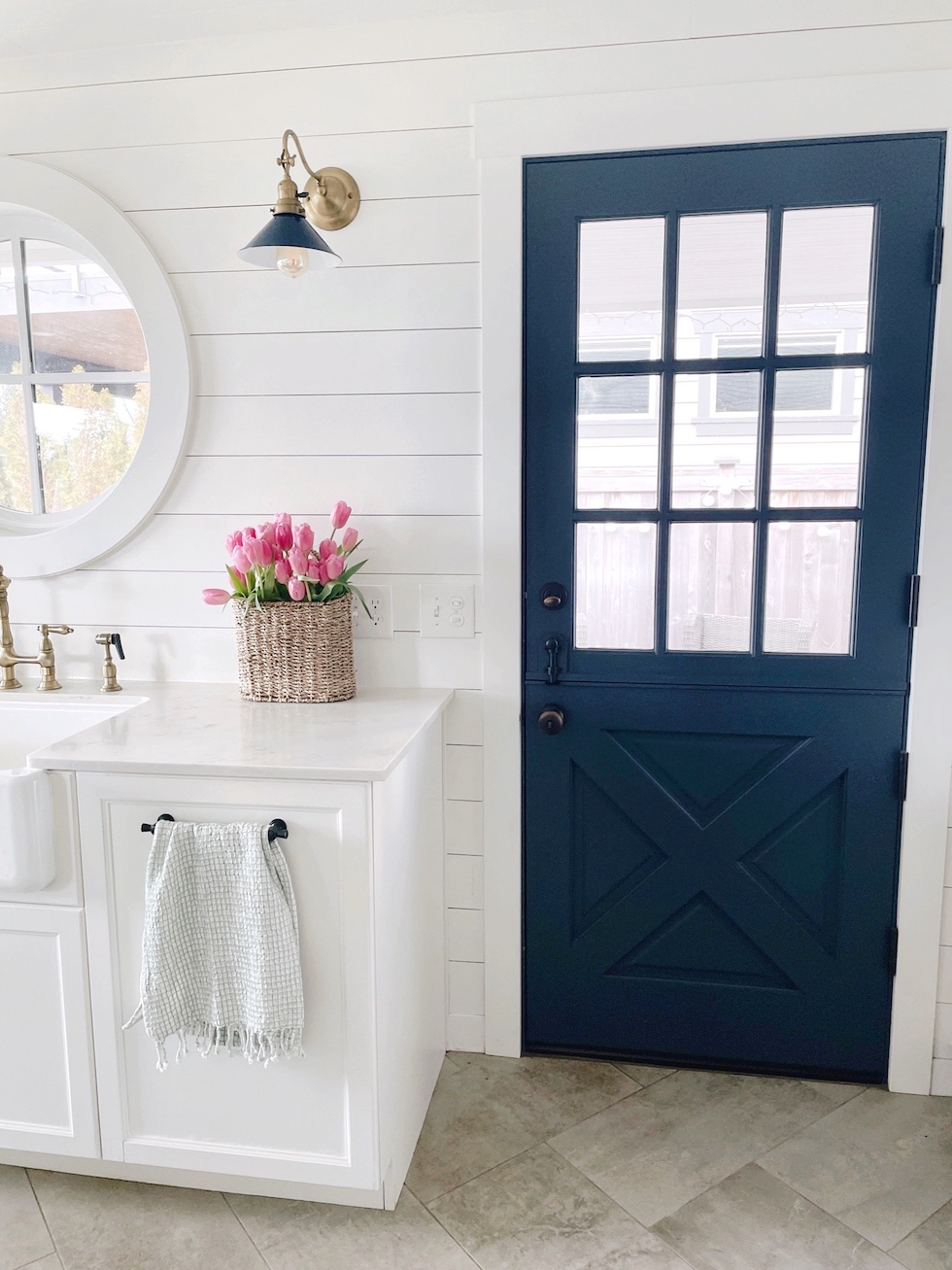 4. Display Tulips in a Basket
Treat yourself to a grocery store bouquet but instead of a vase, try setting the vase or a jar in a narrow basket! It adds a fun texture.
Related Sources: Baskets // Kitchen Details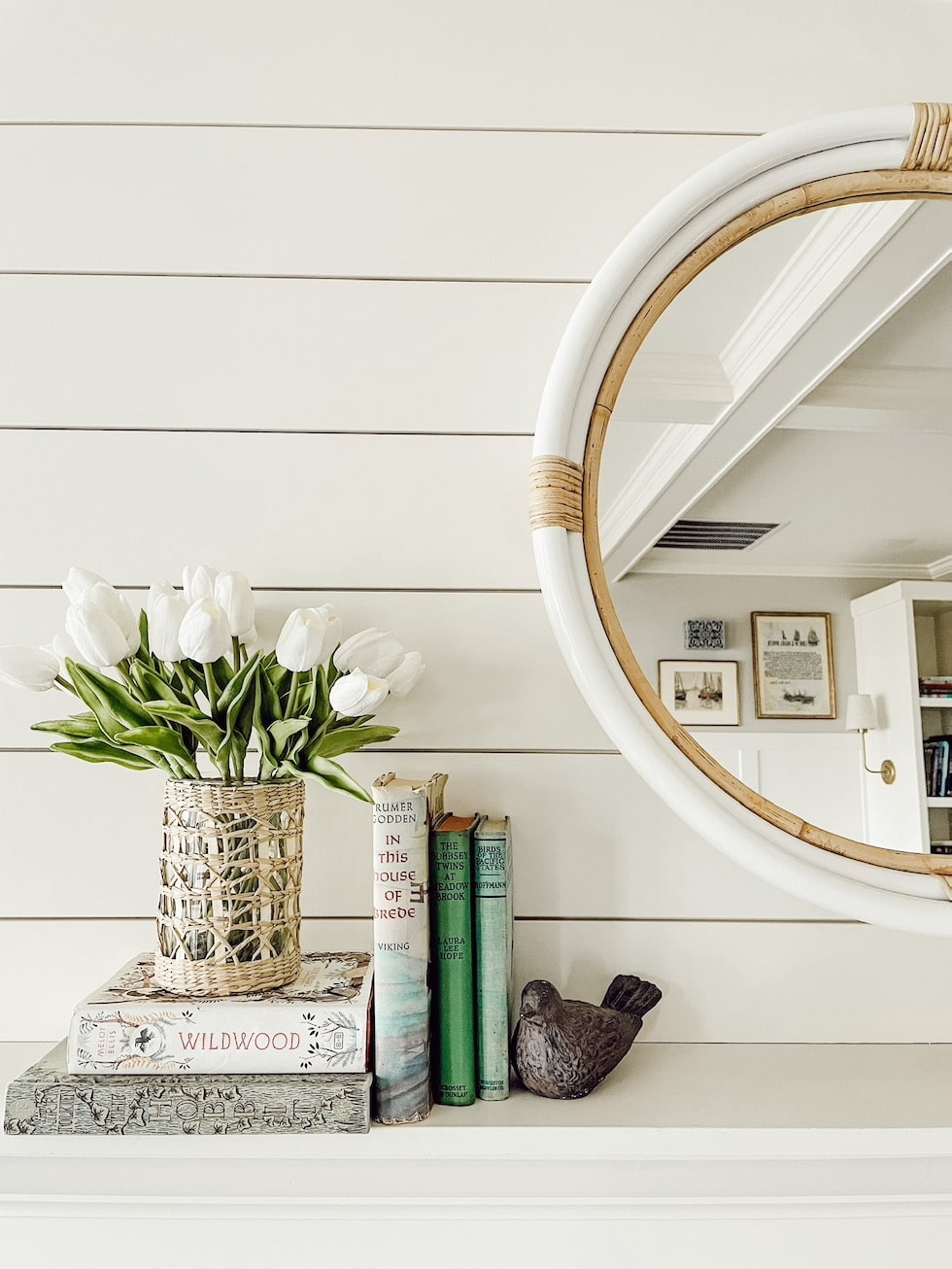 5. A Simple Spring Mantel
Style your mantel or a shelf with a few simple spring accessories like birds, flowers and books!
Related Sources: White Faux Tulips (look and feel so realistic!) // Seagrass Vessel // Rattan Mirror
6. Spring Clean Furniture
Vacuum or spot clean (according to manufacturer instructions) your upholstered furniture. Dust wood pieces. Wash or dry clean slipcovers. I love furniture with washable slipcovers, so we got these affordable white washable slipcovers for our IKEA Ektorp chairs. We also have this sofa with a slipcover, too. Read more about these slipcovers here.
7. Style Your Coffee Table
Set out a book that inspires you (binding color, topic or cover photo!), display spring objects like shells into a pretty bowl, or add any botanical element like a plant or flowers. Use a large rectangular or round basket to corral items or create a firm surface on an ottoman.
Related Sources and Posts: Coffee Table Book – Island Whimsy: Designing a Paradise By the Sea // More Favorite Design Books // Similar Blue and White Centerpiece Bowl // Similar Basket Tray // Rug Source (machine washable) // How to Decorate a Coffee Table in Any Season
8. Make A Teacup Garden
Plant violas in wide mouth tea of coffee mugs! Water sparingly to keep moist without making them soggy. Bonus, you can use the flowers as garnish for food, too!
Related Sources: Mugs are from here // Rattan lampshade
9. Freshen Your Bedding
Say good-bye to winter layers, drab colors and refresh your bed! Wash all bedding, curtains and vacuum rugs, too! Swap out the bedding fresh patterns, lighter, airier shams and blankets! I love this white waffle weave blanket (seen above).
Related Sources: Similar Block Print Quilt // Blue and White Striped Sheets // Pom Pom Striped Tassel Curtains // Similar Pillow Shams // Wood Bead Chandelier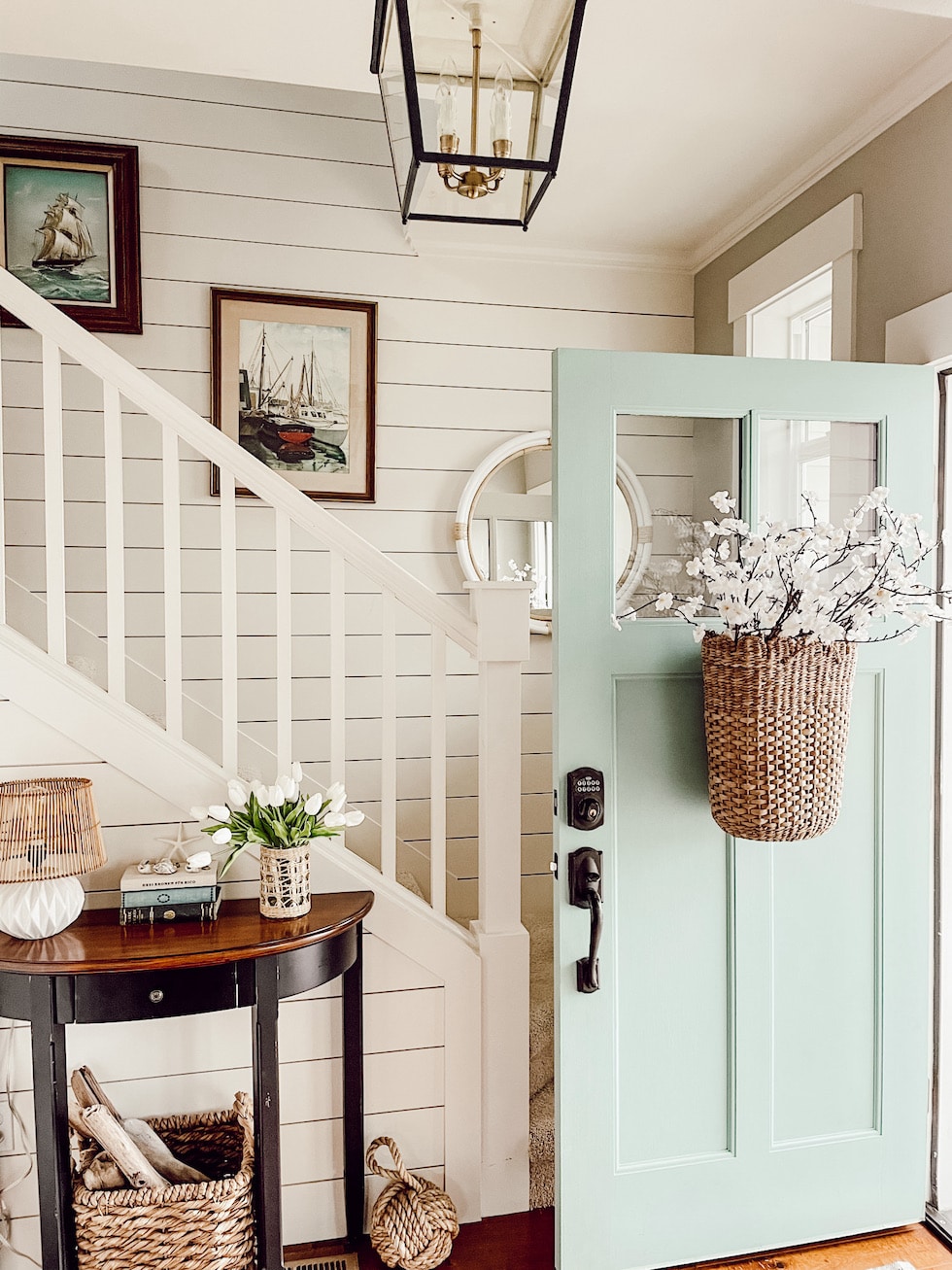 10. Spring Door Basket
Make a spring door basket with branches or other botanical elements. Hang the basket from a hook on the door or a ribbon secured to the top of the door.
Related Sources and Posts: Similar Door Basket // Similar Faux White Spring Flower Stems // See more photos of our spring entry here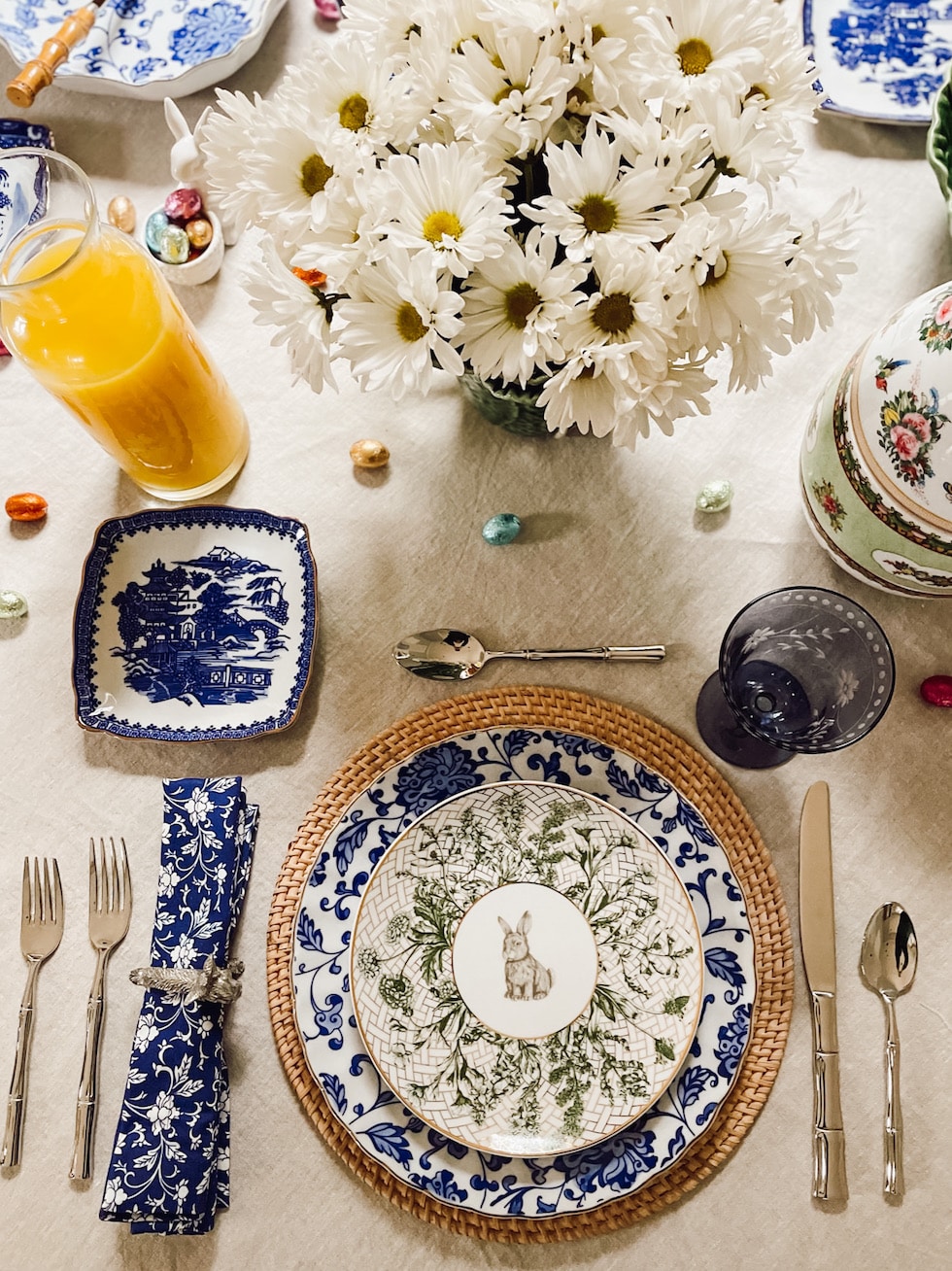 11. Set a Spring Table
Have fun styling a spring table with a mix of dishes, linens and accessories. Find table setting tips and all of the sources here.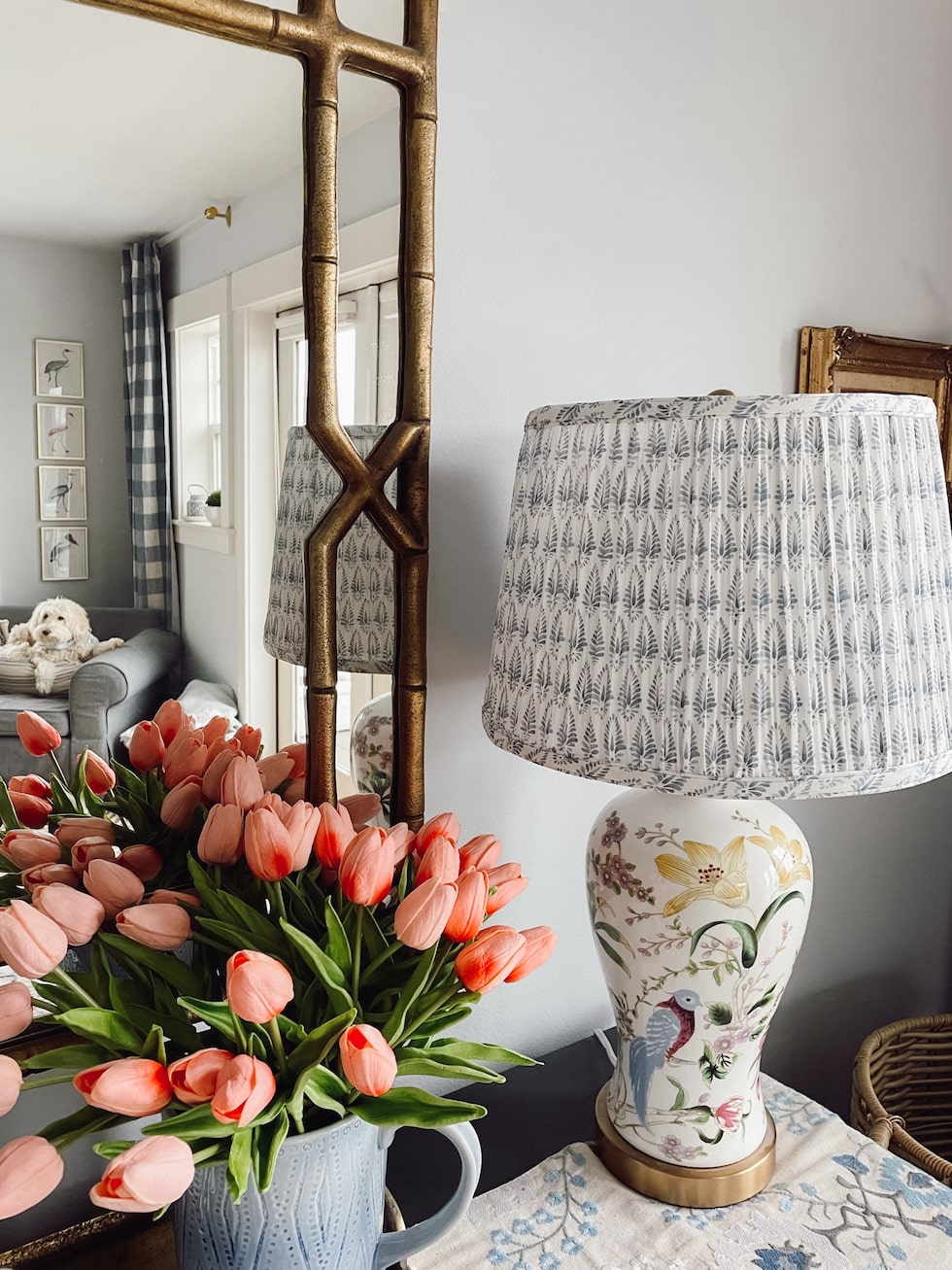 12. Update a Lampshade
Lampshades can be gently vacuumed to dust them or even covered with fabric or a new look! Or start fresh! See more pleated lampshades in my home, more inspiration photos and sources here.
Related Posts and Sources: Pleated Lampshade // Similar Lamp // Tulips // See more of my bedroom here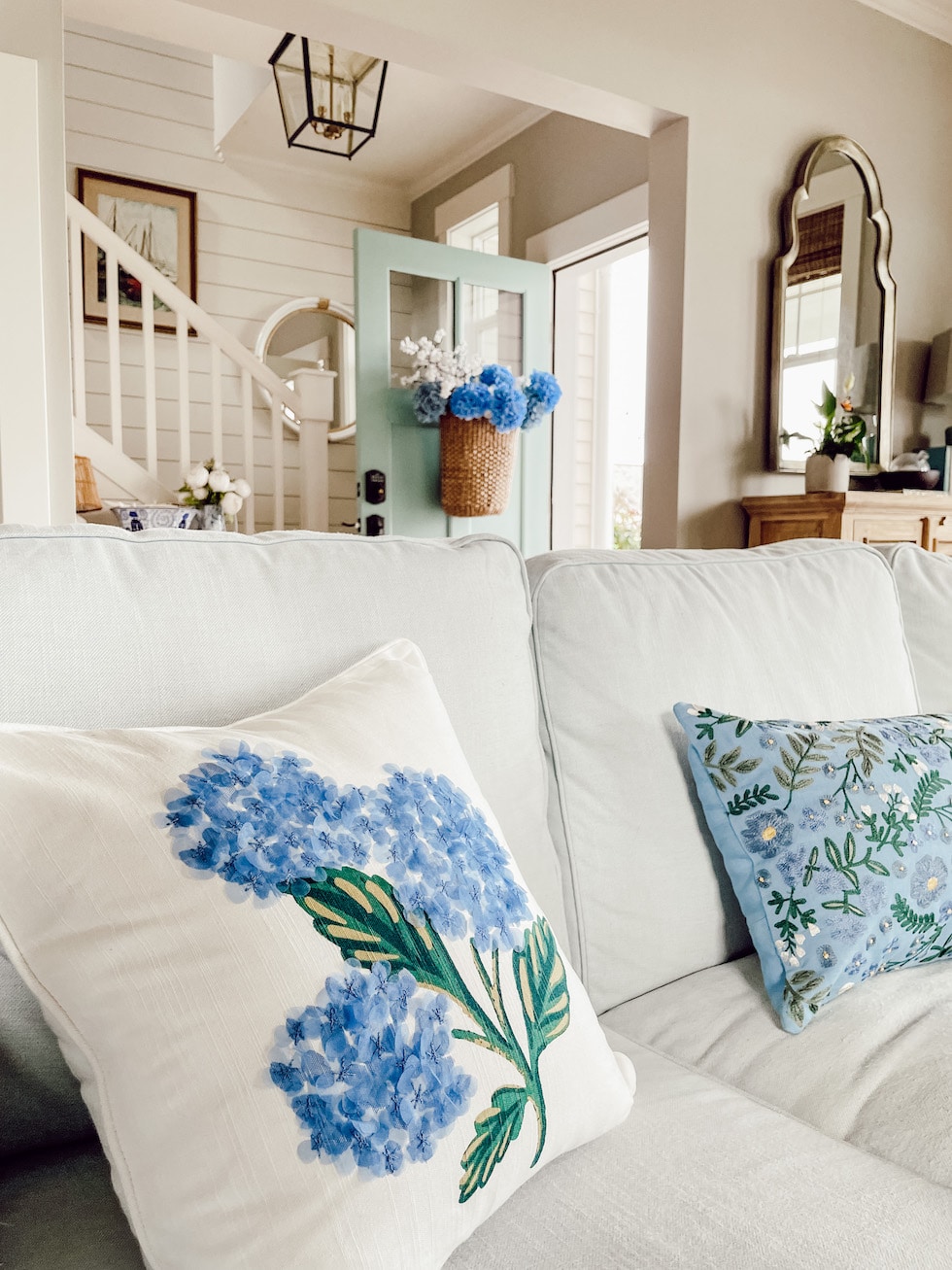 12. Spring Statement Pillows
Make a spring style statement with color and pattern!
Related Sources: Hydrangea Pillow // Floral Pillow // Faux Hydrangeas (in door basket) // Ceiling Lantern (color options)
13. Spring Mugs
Put away your winter mugs and swap for your favorite spring looks! Find some of my favorite mugs here.
14. Rearrange A Shelf
Swap out dishes, accessories, books for spring colors and style!
15. Change Your Curtains
Take down heavy or winter fabrics and replace with lighter, airier, and fresher colors and patterns
Related Sources: Similar Curtains // Woven Shade on Door // Rug (machine washable) // Similar Tufted Ottomans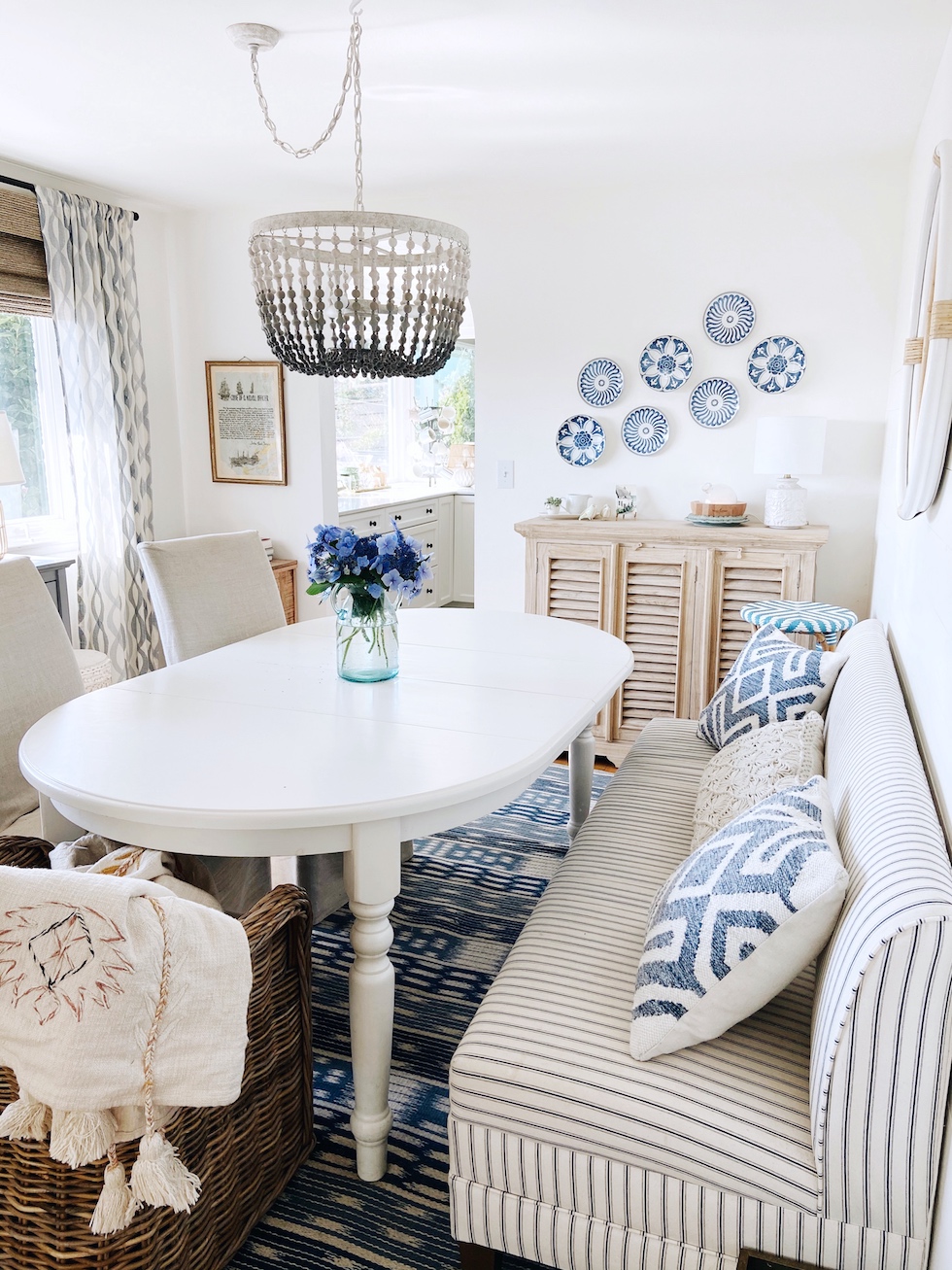 16. Hang Plates on the Wall
Plates can add style to your walls! See how we hung these plates here.
Related Sources: Blue and White Plates // Striped Banqeutte Bench (fabric options)
17. Spring Bunnies
Hippity hoppity! Easter bunnies make adorable spring accessories and centerpieces.
Related Post: Bunny Accessories and Easter Decor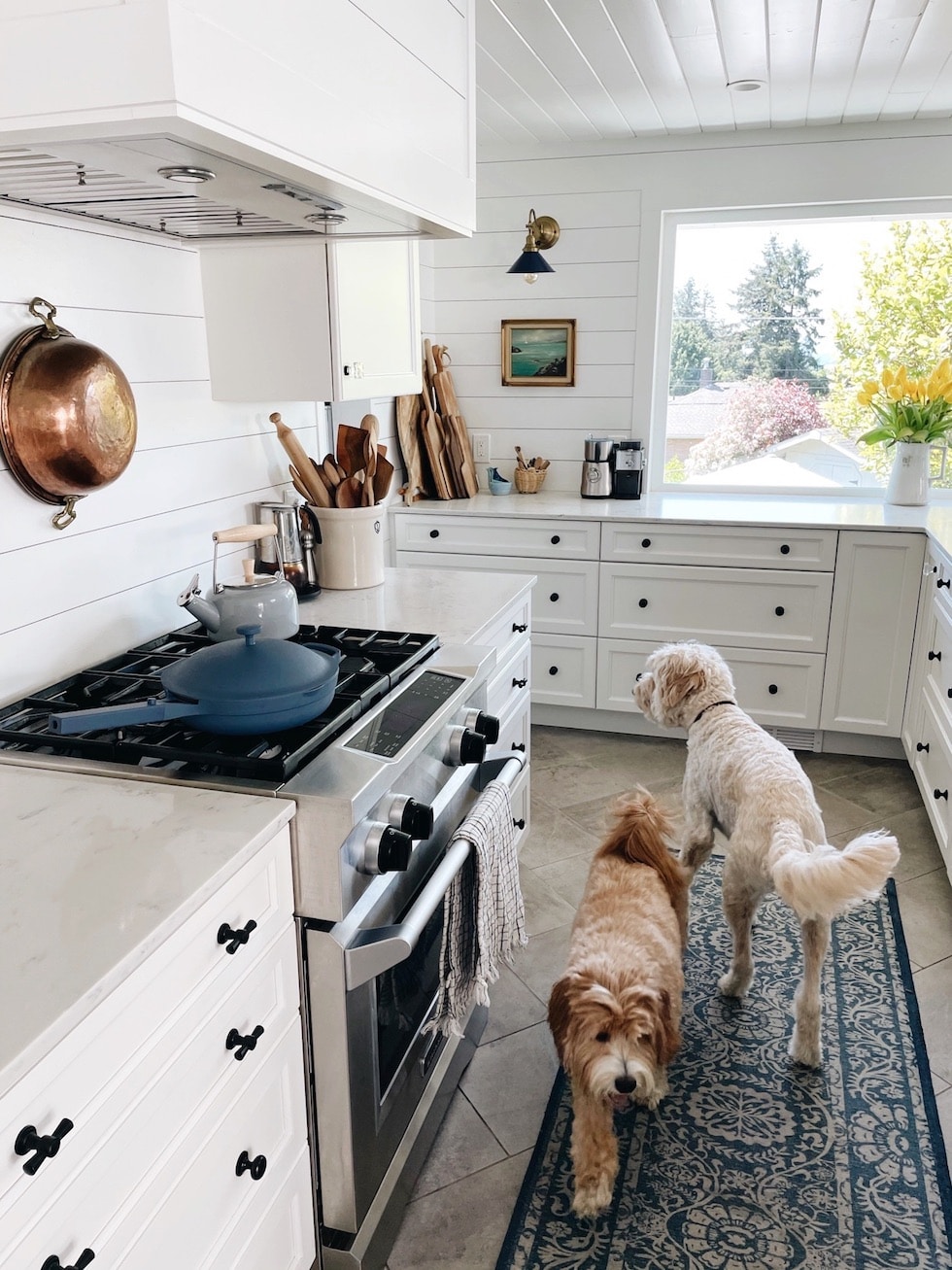 18. Swap Your Rug
Fastest way to update your style for spring? Add a pretty rug or runner to the kitchen! These are washable rugs so they're perfect for messy areas and pets, too.
Related Sources: Rug // Blue Pan // Kitchen Details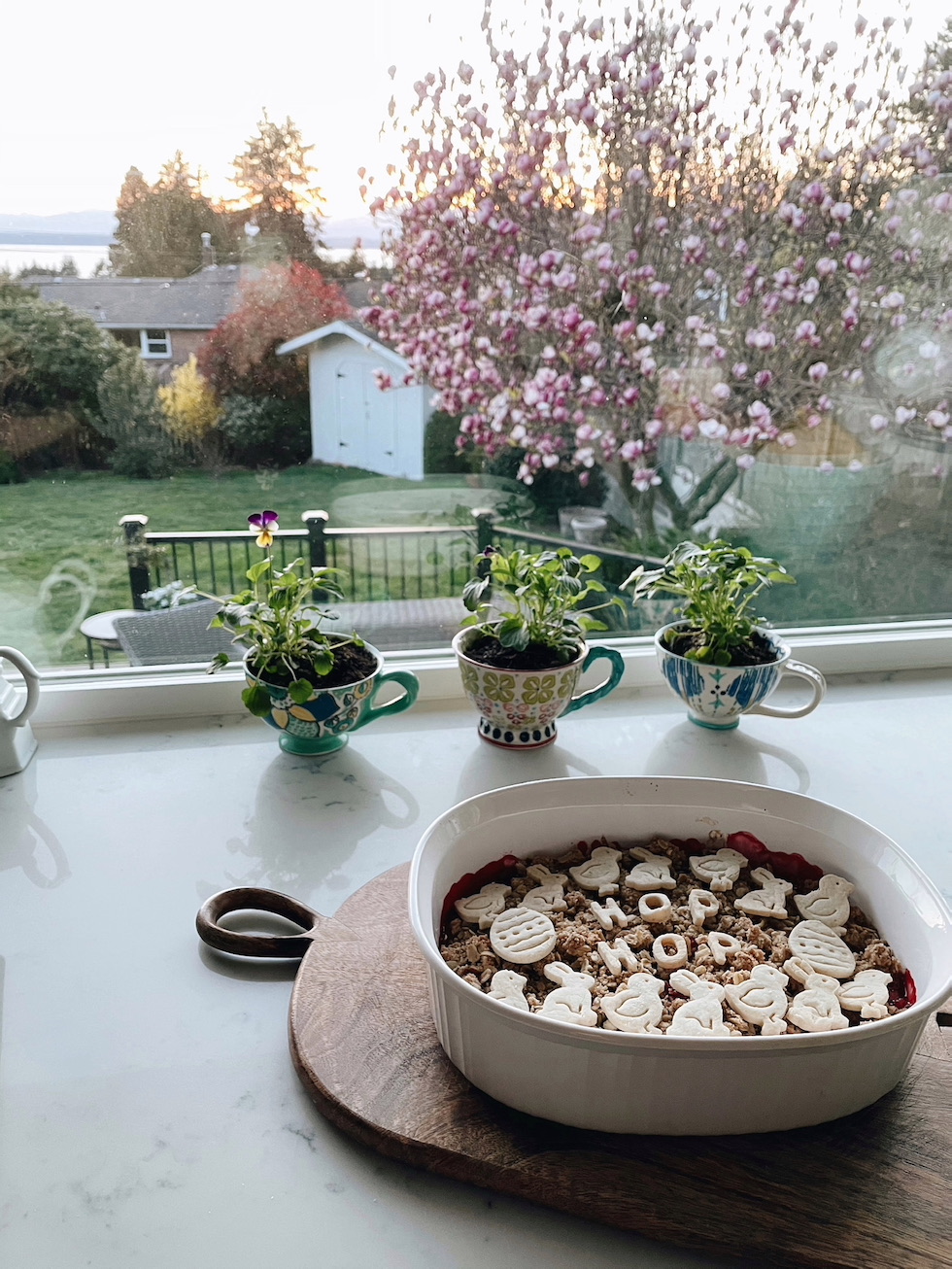 19. Add Spring Style to Your Brunch Table
Make spring FUN for the whole family by baking something yummy with spring cookie and pie crust cutters! This strawberry crisp was so delicious and simple to make (an so adorable with those Easter shapes!).
Related Post and Sources: Simple Strawberry Crisp Recipe // Bunny, Egg, and Chick Easter Pie Crust Cutters // Alphabet Cookie Cutters
20. Faux Tulips
If you love tulips but want them to last longer and to be able to use them all season, invest in some faux! These ones look and feel SO realistic! I have them in light pink, coral, and white.
21. Fun Taper Candles
Candles don't have to be limited to winter decor, look for fun colors and shapes for spring! These twisty taper candles are so fun (they come in multiple colors), and there are even battery operated twisty taper candles like these!
22. Change Your Art
Hang botanicals, seascapes, landscapes, whatever your favorite spring scenes are!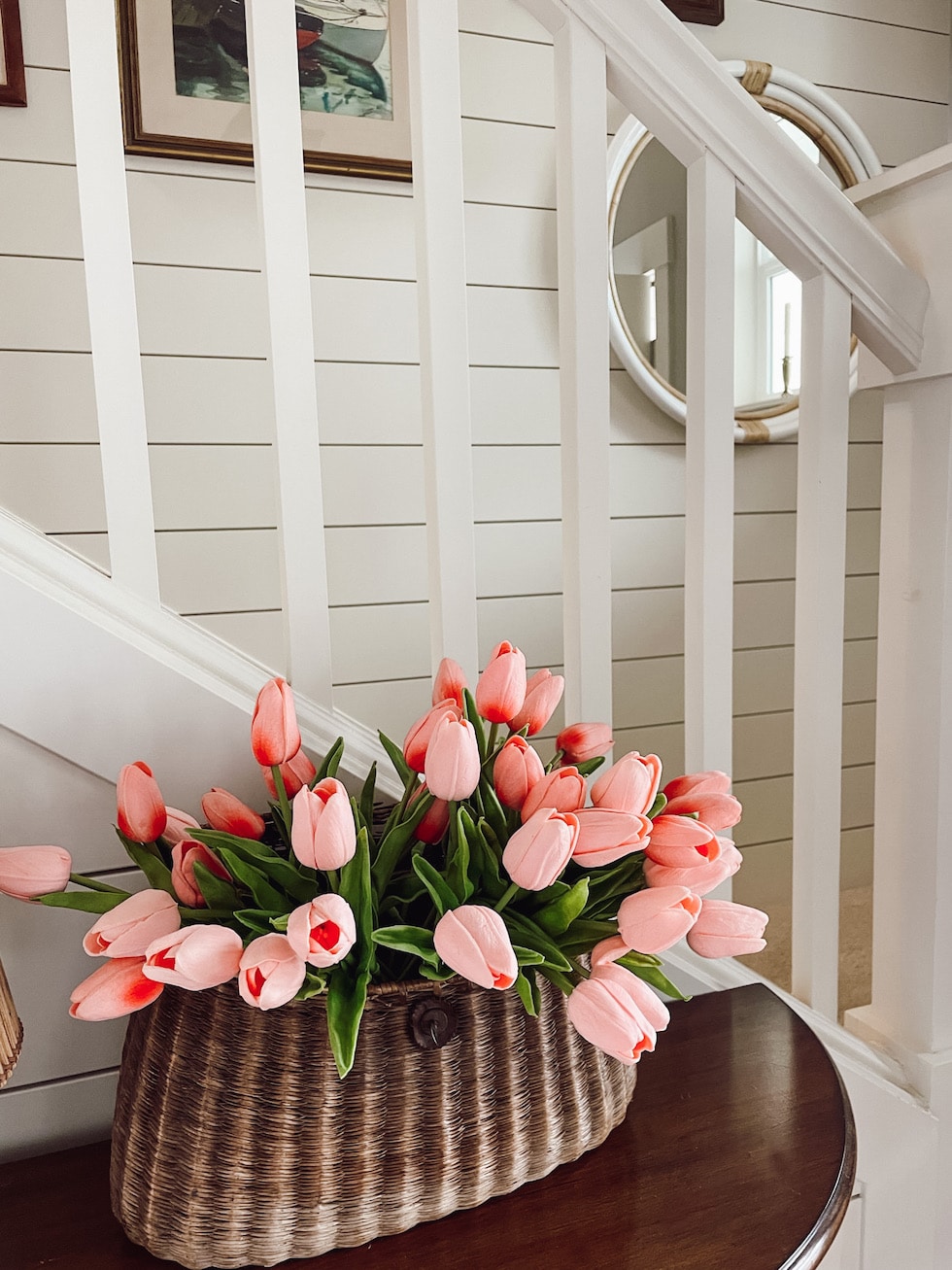 23. Add Charming Vintage Pieces
Spring is for yard sales and antique shopping! Pick up vintage pieces that not only add character to your home but give you simple options for display and creativity, too! I love this fisherman's basket I found at a thrift shop (here's a similar one on Etsy).
24. Collect Spring Statement Pieces
I don't have a lot of seasonal specific pieces (I don't have room to store much) but I do think having a few statement pieces you can bring out (or even use year round) can be so fun to show your personality!
Related Sources: Brass Bunny Candle Holder // Faux tulips in light pink and coral,
Find more spring decorating inspiration posts on The Inspired Room here!