This Post May Contain Affiliate Links. Please Read Our Disclosure Policy here
I have always loved having pretty dishes and table settings, especially in SPRING! Today I wanted to give you a sneak peek at our beautiful new spring dishes and Easter table settings and accessories from Williams Sonoma.
Our kitchen and dining room renovation isn't finished yet, but of course I'm already gathering all my favorite accessories and table settings so I'll be ready when the rooms are :-D. Decorating will be so fun!
Our cabinets are being delivered Friday (!) so it's getting close! I love dishes so much that one of my "must-haves" when designing our new kitchen and dining room was ample space for pretty dishes :). We incorporated some glass cabinets, a dish display hutch, bookcases in the dining room that can double as space for seasonal accessories or dishes.
When Williams Sonoma reached out to see if we would like to show some of their gorgeous tabletop lines, of course that made us extra excited for spring and decorating the new kitchen and dining room. We found so many gorgeous pieces we couldn't wait to share with you. Of course we will show you these pretty dishes in our kitchen and dining room when they are complete, but I couldn't wait to give you a little peek right now.
I know what you might be wondering…where is this table set up when you don't even have a room to put it and you're in the thick of remodeling construction chaos? Well, if you could only see the whole scene around it! Courtney and I pulled our dining table right into the torn our kitchen and set this up so we could have a surface to show you the dishes! Don't tell anyone 😉
SIX OF MY FAVORITE TABLE SETTING TIPS: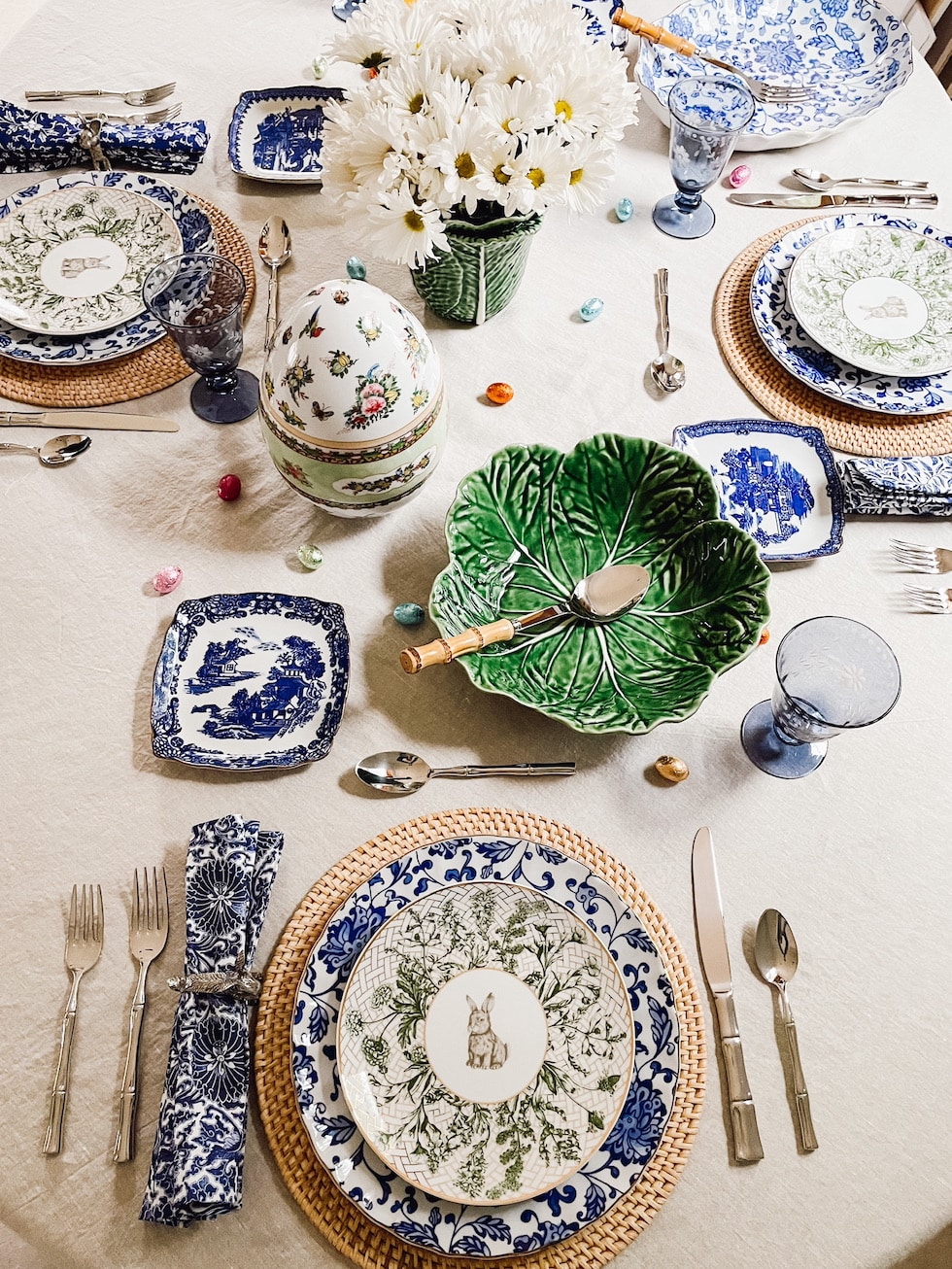 Mix and match table settings for a charming look
One of my favorite tips for setting a table is to mix and match dishes! I absolutely adore having pretty dishes to use. I find that an informal mix of colors and patterns makes the table feel so inviting and charming.
Build a dish collection over time
Mixing and matching is also an accessible way to build a dish collection over time. My husband loves that he can buy me a new bunny for the table (for example). I enjoy that I can pick up adorable new salad plates or a pretty pitcher. Everything doesn't have to match! So even if you only want to have one set of dinner dishes, you can still collect various pretty table accessories. Rather than a full set of one dish pattern, I love to have an assortment of bowls or platters and salad plates to mix and match with every day pieces.
Create a mood board or try out options on your table!
To get the vision for this spring table, we made a mood board of some favorite pieces! They are from different collections which gives it that same collected over time feel that I think is SO CHARMING! You can make a mood board on a computer, but it's even more fun to just lay out your dishes and table settings to see what you like together! Try different dish combinations and even some unexpected mixes and accessories! It's fun to putter around the dining room and play with dishes.
Tablecloth, napkins and chargers add more colors, patterns + textures
Once you have an assortment of dishes, the fun begins! We used a neutral linen tablecloth from Williams Sonoma, which is a lovely backdrop for any dishes in all seasons or settings. With the beautiful woven chargers we were able to add an additional layer of texture, too. You could also mix in a patterned tablecloth for even more pizzaz! Have fun with seasonal patterns and colored napkins. They can be fun to collect if you enjoy setting tables for a variety of occasions.
Create special family memories around the table
As we were setting up this table, we reminisced about family traditions involving spring tables, pretty dishes and accessories. You might think dishes are just to look at or to eat off of, but they really can help create additional memories of special holidays and family times.
Source for above: Tiered Egg Treat Jar
In my book Simple Gatherings I shared that adding special touches can make your gatherings all the more memorable.
The adorable bunny accessories and the Easter candy from Williams Sonoma felt so nostalgic! We have many wonderful memories of getting dressed up for Easter, Easter egg hunts with the little foil eggs and so many family brunches around a spring table set with pretty dishes and so many cute bunny accessories and centerpieces.
Setting this table even in the chaos of the remodel gave us so much to look forward to and made us even more excited for the many memorable family gatherings that will take place in this home with the people we love!
Dishes can make memories for generations to come
Don't underestimate the investment you can make on future generations not only by the memories you make but through your choice of dishes and table accessories! The etched glass pieces (goblets, and carafe) reminded me of goblets and pitchers my grandma had! So special to have that memory of her. My mom always had beautiful floral dishes that graced our tables in spring.
I'm thrilled to have these pretty dishes to create these special memories with my own kids and future grandkids, too! And I hope they will carry these stories and traditions of pretty dishes and family holidays to future generations!
Speaking of fun memories, my kids used to love when we would sprinkle colorful foil chocolate Easter eggs around the table. It's special to continue those simple traditions even now! You're never too old to enjoy a sweet touch and whimsical addition to the Easter table! It's almost like an Easter egg hunt right there at the table, ha!
Blue and White Dinner Plates // Scenic Appetizer Plates
Williams-Sonoma always has the CUTEST seasonal treats that make great gifts, I love what they have for Easter this year! The chocolate praline foil eggs are what we sprinkled around the table (they are delicious!), and we had the Easter chocolate Bunny Bark in the tiered egg treat jar. So fun! See more below.
These mini chocolate egg cartons would make an adorable place setting (or addition to an Easter basket!)
Bunny Bark // Chocolate Praline Eggs
Sources (scroll and click the thumbnails below for details):

---
---
We can't wait to share these with you in our new kitchen and dining room SOON!
Thank you to Williams-Sonoma for partnering with us on this post!
See more dinnerware from Williams-Sonoma here, they have so many beautiful collections and lovely styled tablescape photos to be inspired by, too.