This Post May Contain Affiliate Links. Please Read Our Disclosure Policy here
I'm here with a renovation update! The projects have begun on our kitchen and dining room (and the addition, too, which I'll share more about in a separate post, soon!). Today I thought you might enjoy seeing what's going on around here!
With the peninsulas removed and the openings between these two rooms raised, the impact was even more dramatic than I expected! The entire main floor feels so different and not just because it's all been gutted. Of course, everything will change further (and the space will shrink back down again LOL!) when the cabinets go in. And it'll feel different when the flooring goes in and windows are added to the dining room, too!
But, what I've noticed with the progress so far is that the flow between the rooms, the sight lines and the way the light filters through more effortlessly has already improved.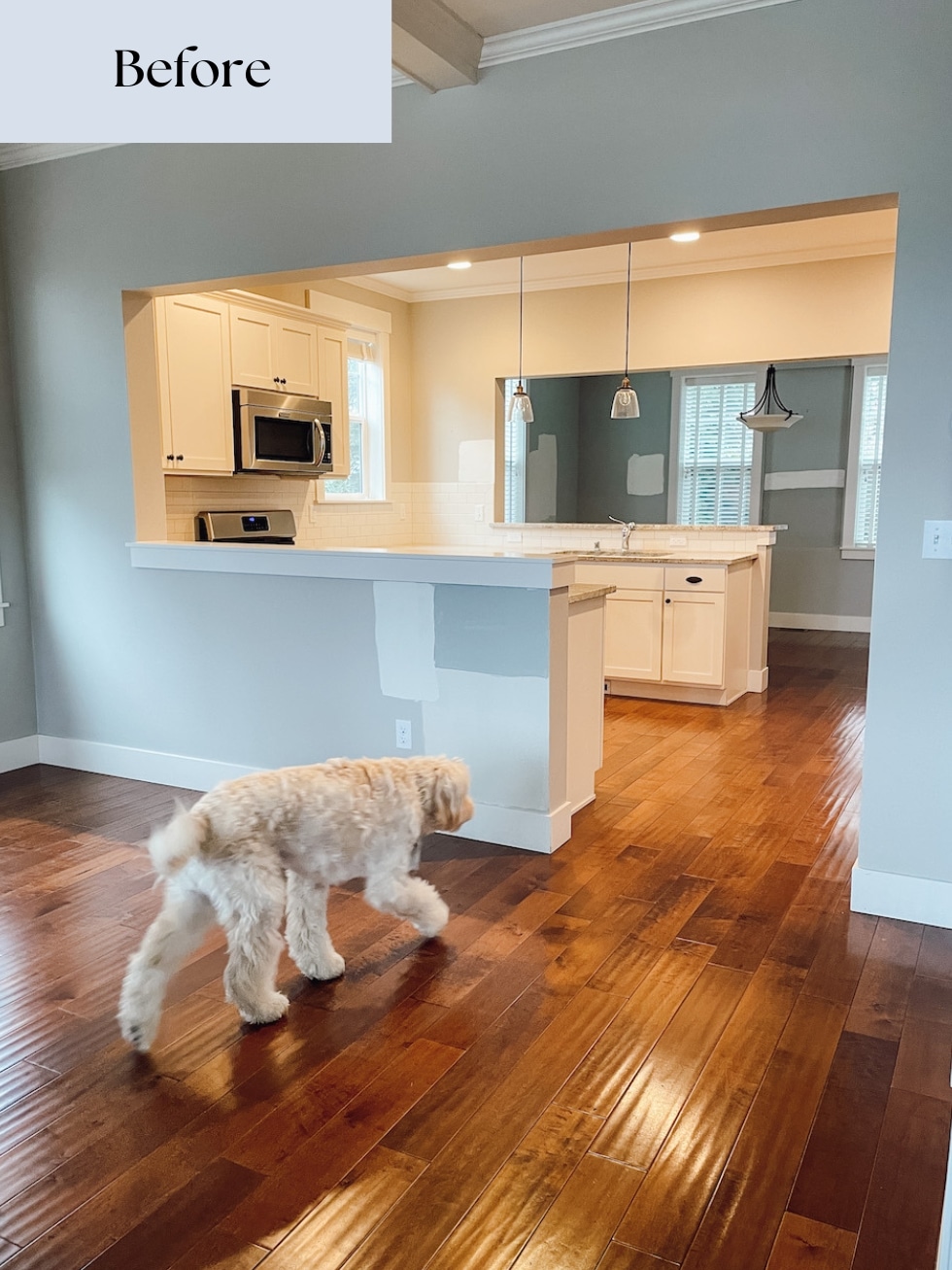 For point of reference, here's what it looked like right before this project started about a week ago! See all of the elements that divided the space and hung down? Don't get me wrong, it was a charming space. And this arrangement works for many people! We were quite happy and content with our home as it was, so this isn't going to be one of those before and afters where everything was awful and we came in and fixed it. Not at all! We just had the opportunity to make changes. These changes made sense to work on at the same time as the small addition for my parents in the back.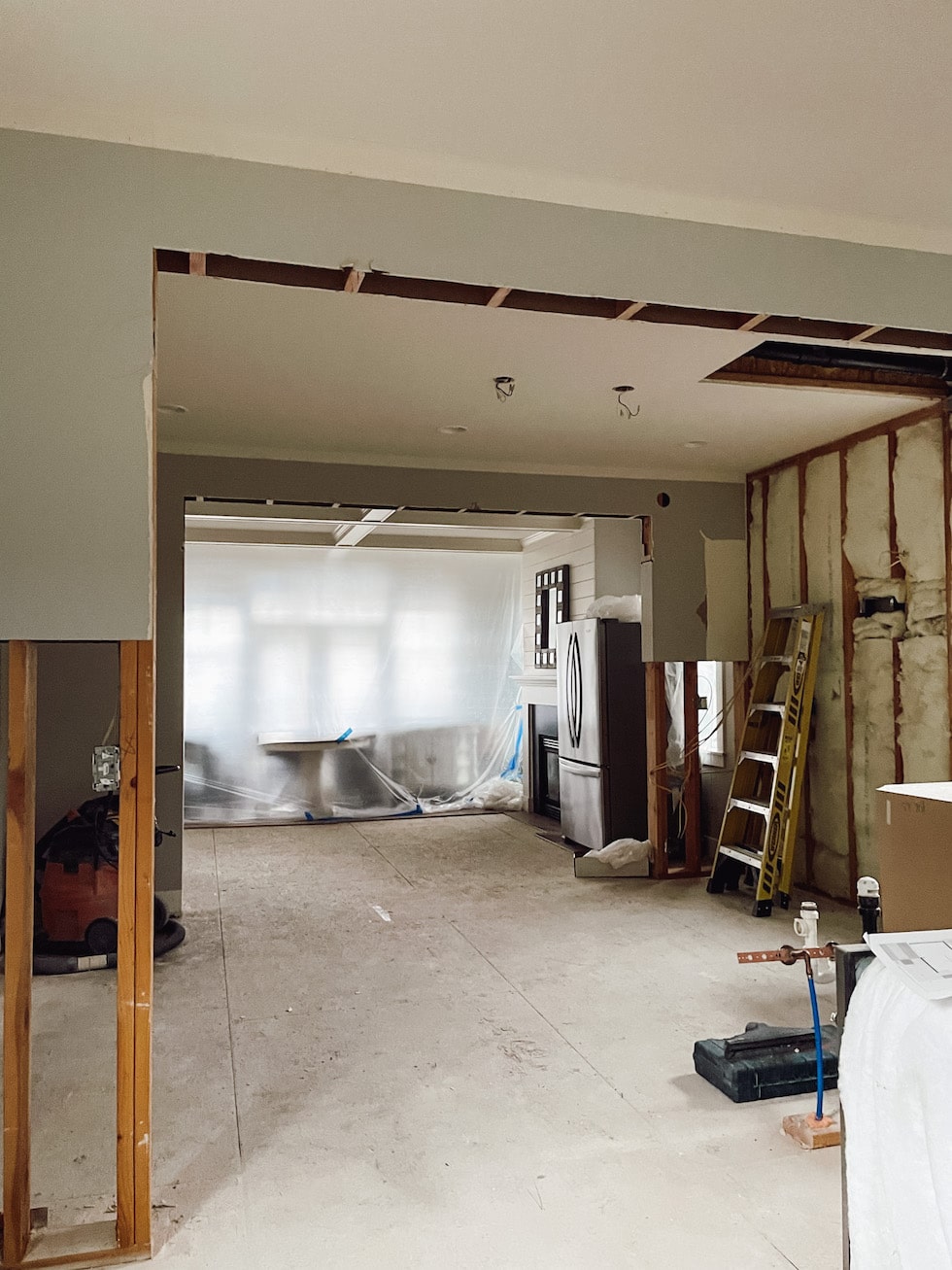 I've often thought it would be fun to build a home from scratch. That way I could have a say in everything from the start! I laugh to myself when I think about all the times I've remodeled homes. But then again, it's fun to make a home your own in whatever way makes sense, wherever you live. We love to do that!
Someone asked me once why we didn't choose a home that "met our needs" better to begin with. Well, I have plenty to say on that! Short answer for now… this is the house we chose to make our forever home. It is not only going to meet our needs but it's making our dreams come true in so many unexpected ways!
Would we have been content to find more …. or less? Of course. But THIS is the home we found after years of being open to a move and keeping our eyes open to possibilities! This dream came along at just the right moment for us. And it led us to a season where we're able to make some updates, too! Will it make a mess for awhile? Of course! But we don't regret that or making it our own. We only feel joy and so much gratitude to be right here making this our home.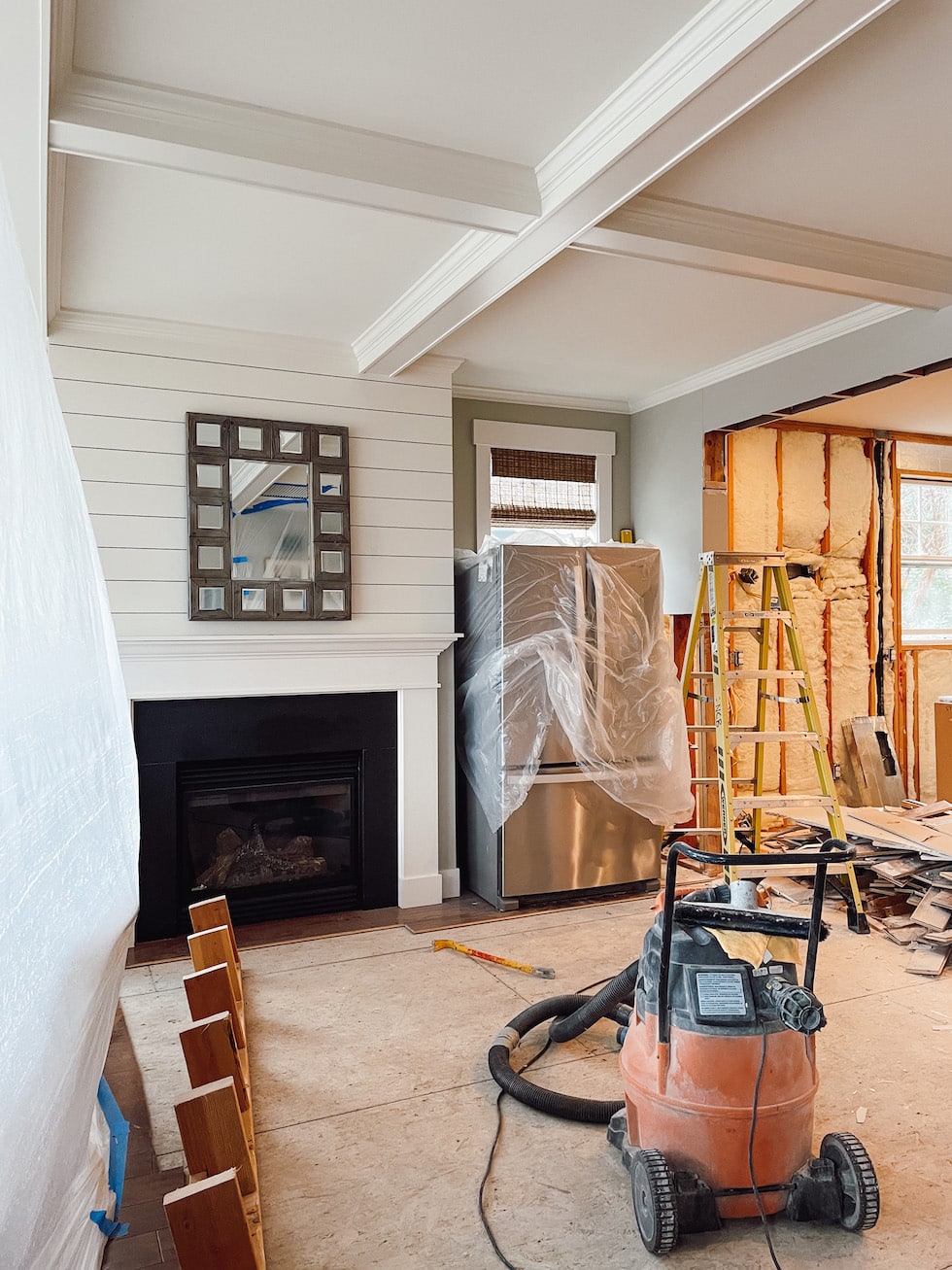 If you're in an existing home or exploring a possible move, it is worth thinking about all of the possibilities if a remodel or even small updates would be an option for you! I know to some it seems scary or overwhelming to remodel. Sometimes it's not cost as effective as starting from scratch with a new home, but other times it absolutely is. No matter what, it may be the best decision for YOU!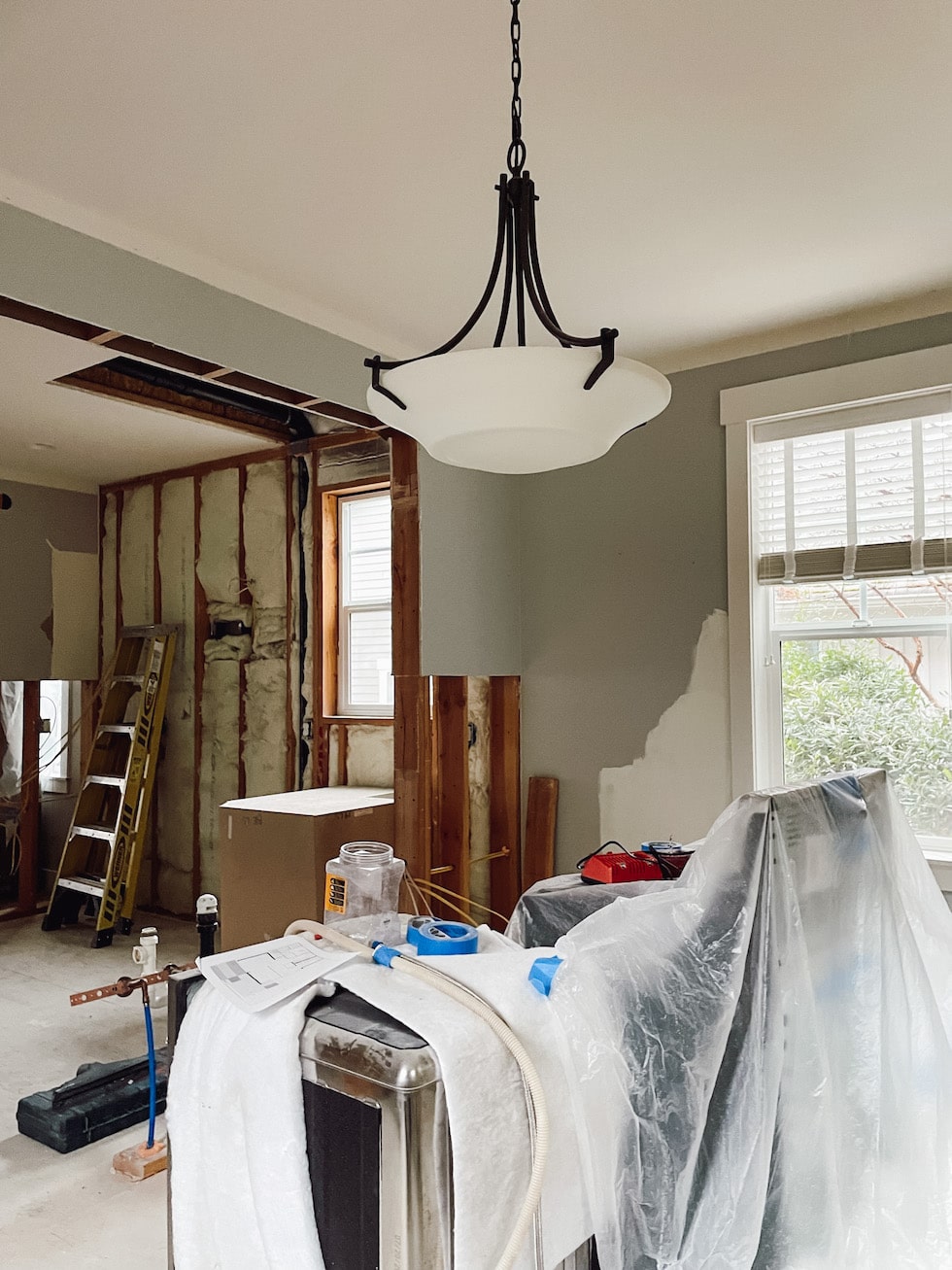 Lifting the header openings between rooms (or even removing walls or adding or rearranging windows) could be a project worth considering (with an experienced contractor, don't knock down walls until you're sure it's not going to make your house fall down). It doesn't always turn out to be a simple or doable option, but for us, it was!
Even though it was also possible in our case to remove the entire wall, we chose not to. I LOVE that there is some definition and distinction between these spaces with just the small walls. It makes it feel cozy, but still open. Also, keeping the walls made sense with our cabinetry, so there was no need to take them down.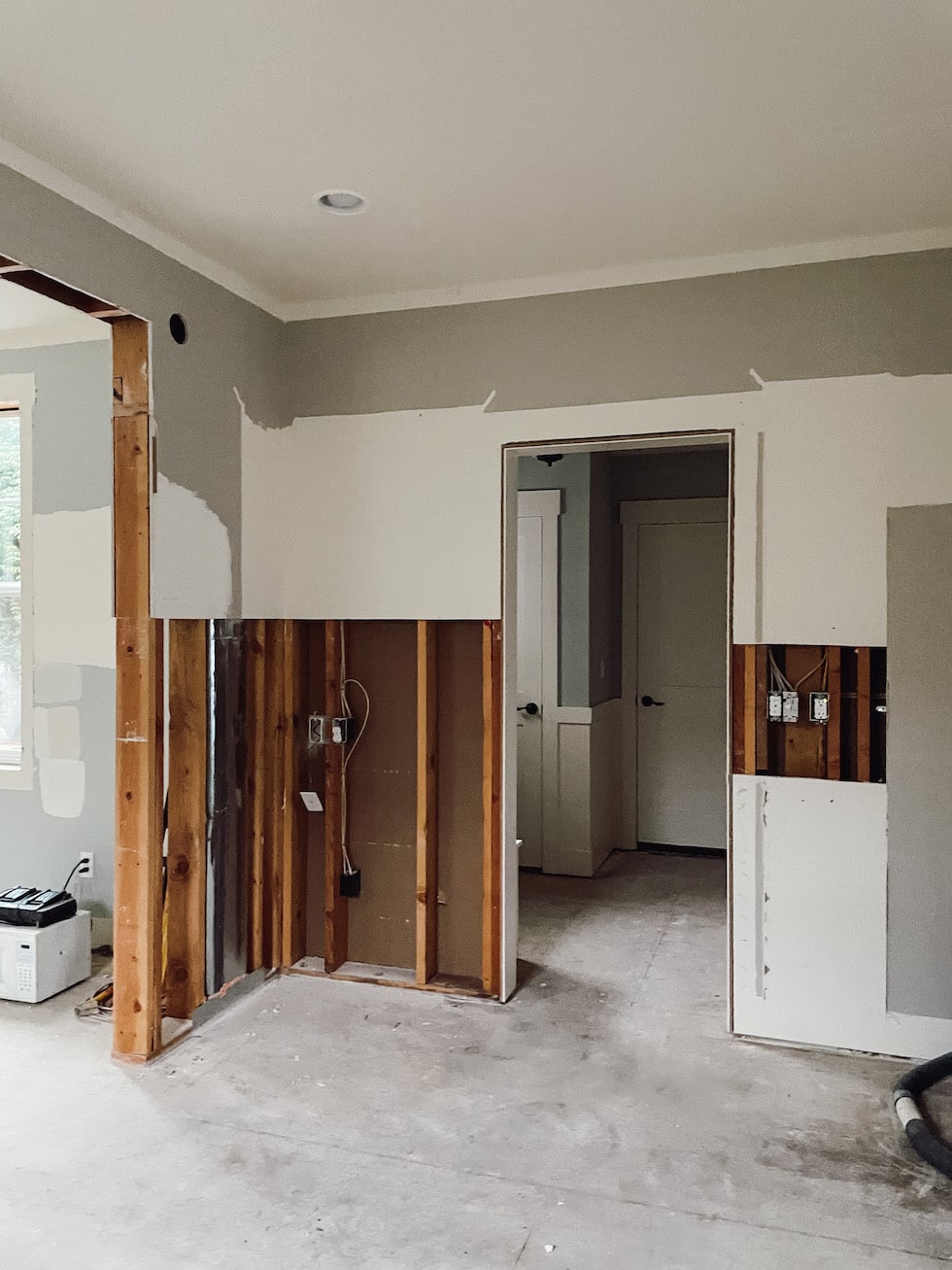 Even though the whole main floor will remain the same size as it was to begin with (small!), this new arrangement will work well for us.
Some of you asked about our mudroom! It will still be here, with a few minor changes for now. We will still have access to the garage door from the mudroom, but this exterior door to the backyard can't stay due to the addition.
It's a bummer to lose the natural light, but on the positive side, there will be three new windows going into the dining room which is within view of the mudroom. Before there was only one tiny window in the kitchen and soon we will have a whole wall of windows.
The windows from the previous dining room are being moved here to this new dining room wall where you see the small window. They'll be surrounded by narrow bookcases. While there is no special view there (but there are lovely green bushes!) windows will bring in so much more natural light. Also there is no privacy issue, it's just a side of a home where there is a garage.
To regain access to the backyard, we're adding brand new double French doors with sidelights and transom to the new kitchen! It will lead to a small landing / deck and into our little backyard. So while we lose or have to alter some features with the addition, most of it can be gained back in another way or even better than it was before!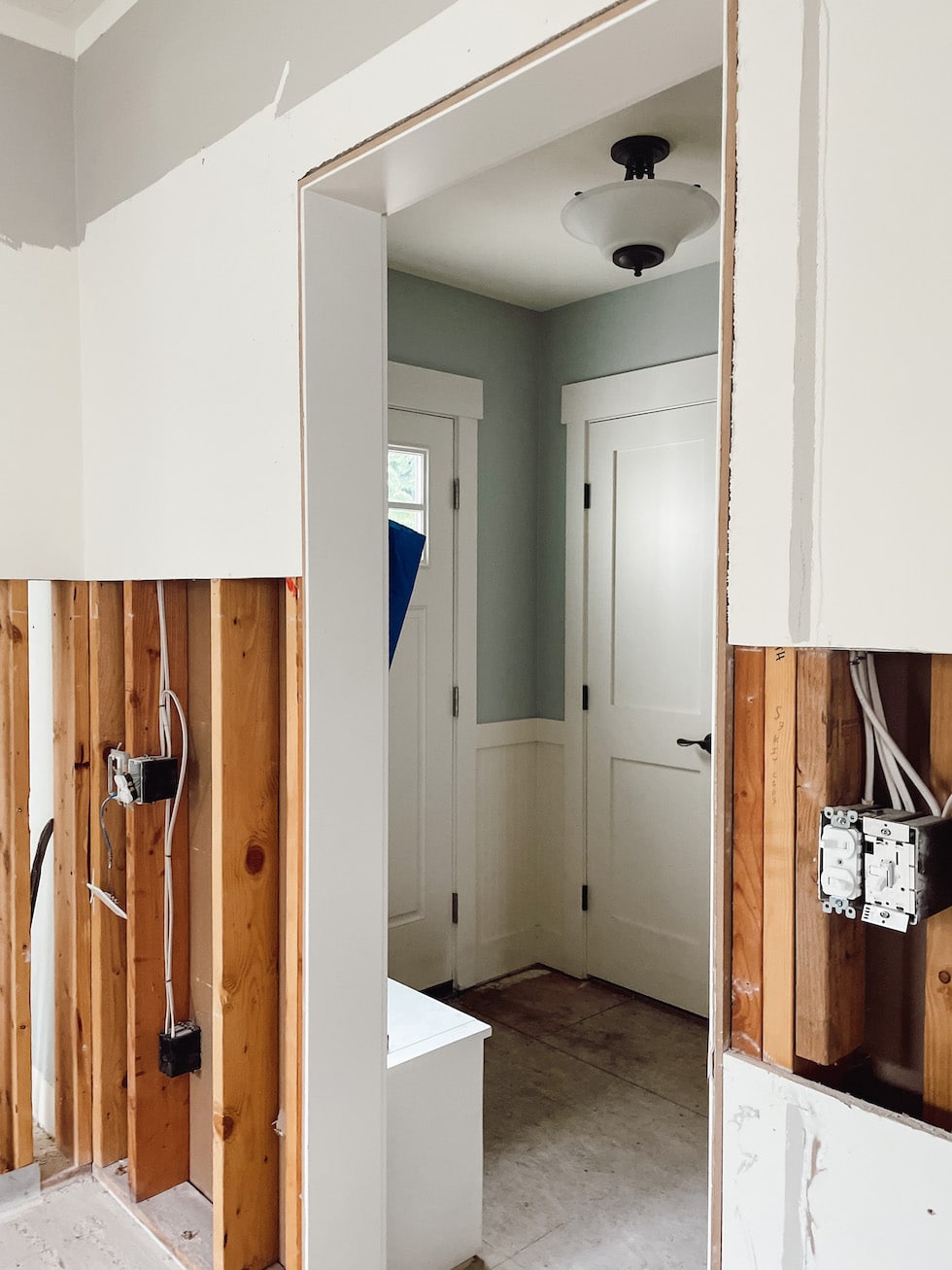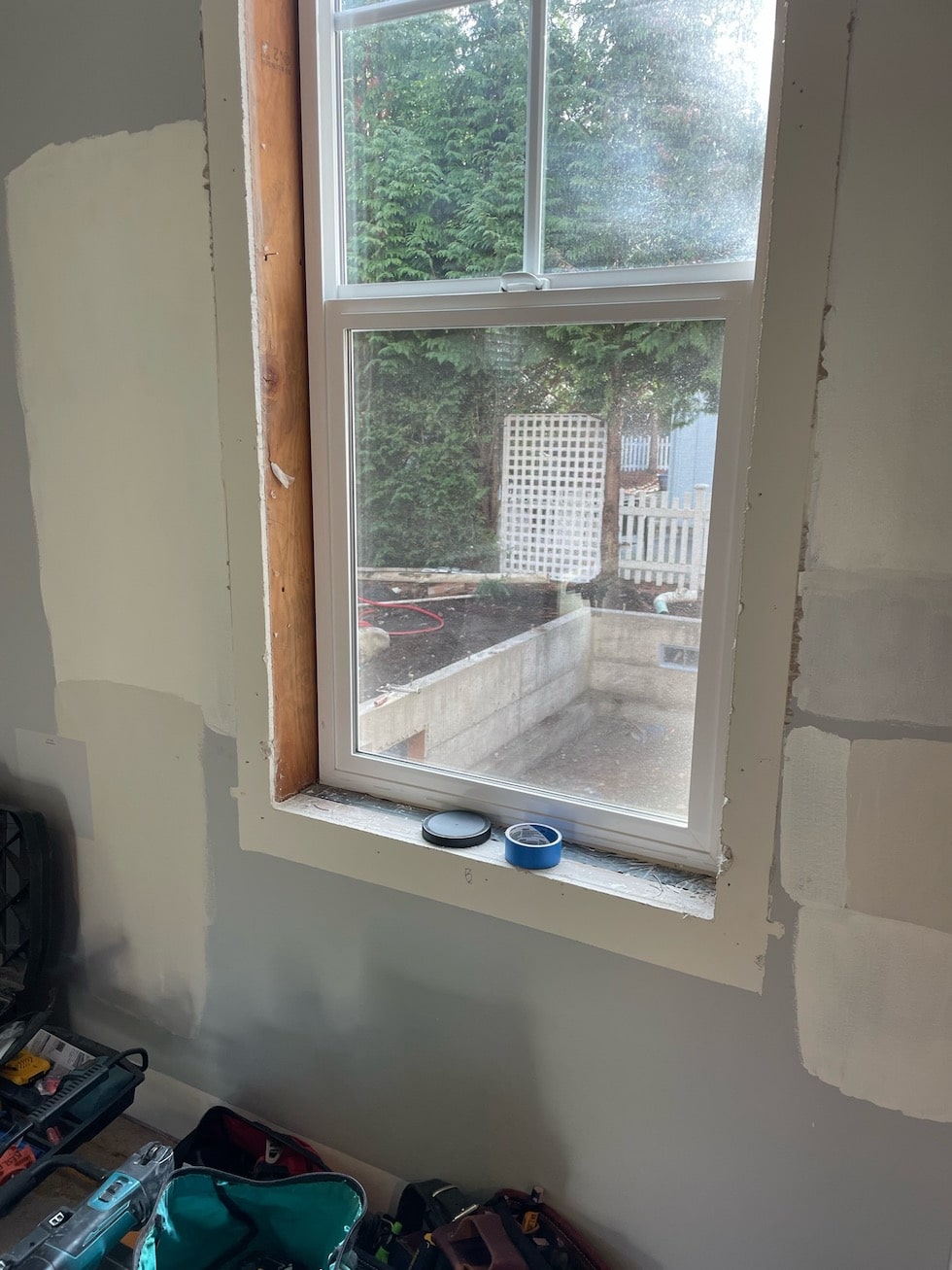 Here you can get a little peek at the addition! I will return with updates specifically about it. But for now you can see that the foundation is there. Today they will begin framing!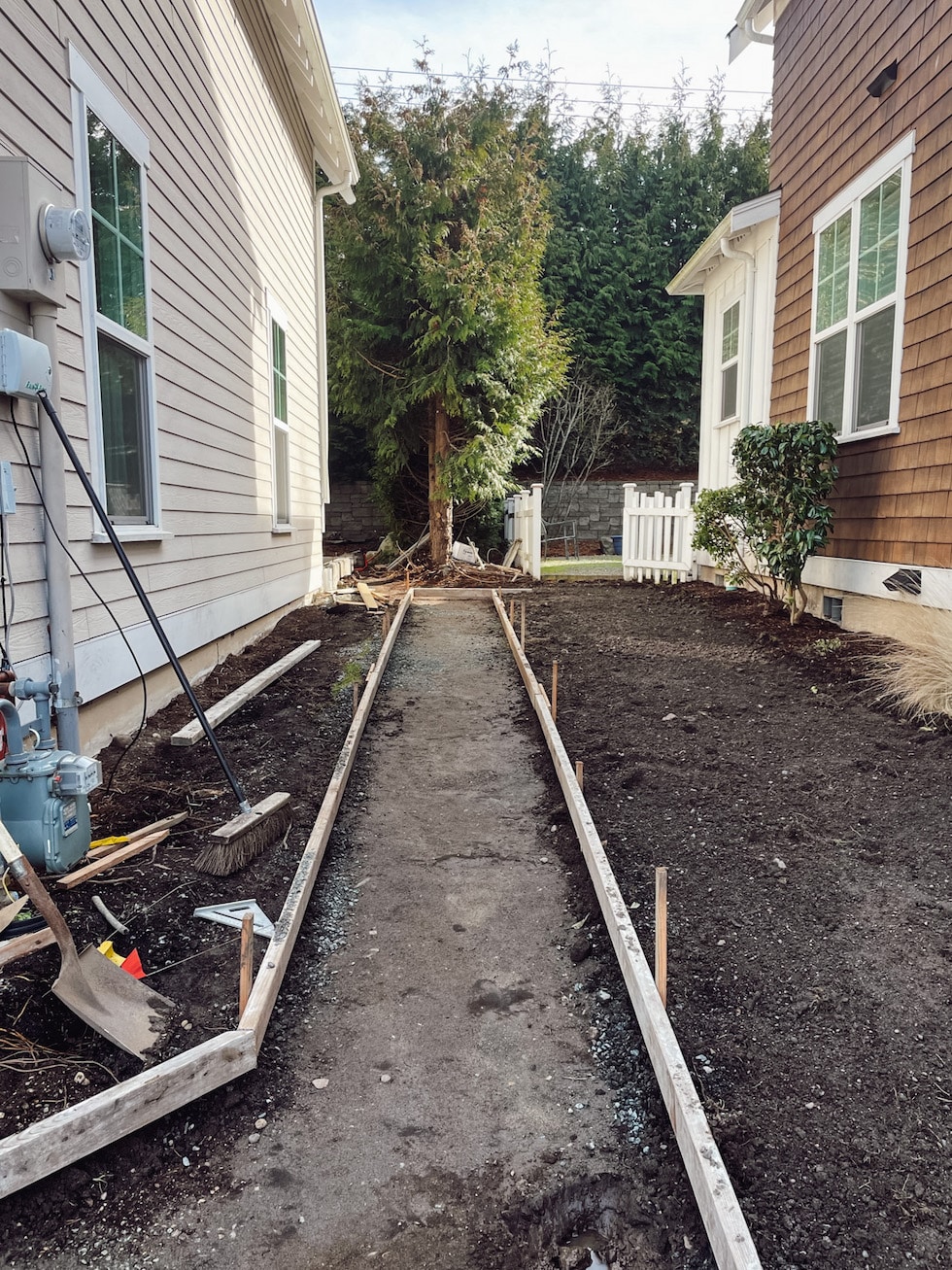 There are also some outdoor projects happening, too. We're adding a little bit to our driveway to give it more breathing room (and an extra parking spot) plus there will be a walkway from the driveway to the backyard. Sounds like tomorrow they are pouring the concrete and I just saw they delivered sod already!
Hope you enjoyed a little progress report and I'll share more as more happens!
Make sure you're subscribed to my emails HERE to get all future updates, and follow along on Instagram too.
More Posts about Our Kitchen Remodel:
My New Kitchen Floor Plan + Parents' Addition and Exterior Elevation
Adding Character in a Kitchen Remodel: The Tale of Our New Range and Faucet
Our New Kitchen Design Mood Board (and five questions that helped me make decisions!)